Combining the good looks of the MacBook Pro and the versatility of Surface Book 2, the HP SPectre x360 13 is a versatile do it all hybrid 2-in-1 laptop that combines the power of eight generation Intel Core i processor with amazing good looks and well thought out features.
HP Spectre x360 13 The Strong Hybrid to Take On The World
A bigger Spectre x360 15 with 15.6-inch display is also available but we prefer the ultra portable HP Spectre x360 13. The do it all machines is the only device you will need combining laptop, tablet with stylus and presentation machine in one.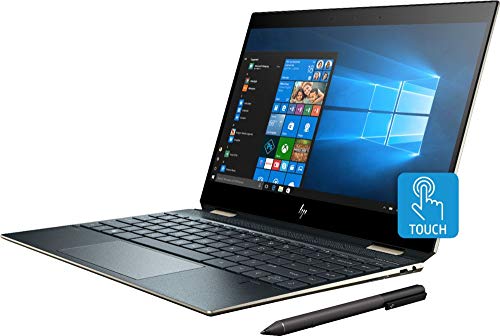 Configurations Available
HP Spectre 13 x360 13.3 Inch Full HD Touch-screen Convertible Laptop with Stylus – (Dark Ash Silver) (Intel Core i5-8265U, 8 GB RAM, 256 GB SSD, Full HD IR Webcam, Windows 10 Home)
This may be the entry level machine in the range but it is by no means entry in terms of performance. Powered by 8th generation Intel Core i5-8265U with 8GB memory and generous 256GB SSD storage, it will plow through any computing tasks with ease. If you are strapped for cash and still wants all the versatility of the HP Spectre 13 x360, this is one to go on your list.
HP Spectre 13 x360 13.3-Inch Full HD Touch-screen Convertible Laptop with Stylus – (Dark Ash Silver) (Intel Core i7-8565U, 8 GB RAM, 512 GB SSD, Full HD IR Webcam, Windows 10 Home)
The middle of the three HP Spectre 13 x360 on offer is one with the faster Intel Core i7-8565U with 8GB memory and huge 512GB SSD storage. Here is a machine you can comfortably stay with for years to come. It will take on any computing tasks with flying colours. If you have a bit more cash to burn and want longevity knowing that your investment will last, this is the machine for you.
HP Spectre 13 x360 13.3 Inch Full HD Touch-Screen Convertible Laptop with Stylus – (Dark Ash Silver) (Intel Core i7-8565U, 16 GB RAM, 1 TB SSD, Full HD IR Webcam, Windows 10 Home)
Ramping up on the specs in terms of memory and storage is the chart topper. With 16GB instead of 8GB memory and 1TB instead of 512GB SSD storage, this machine is perfect for those working with huge files, videos and graphics. Even if you don't there is plenty of storage for captured photos and videos from your smartphone or tablet. If money is no object and you want it all, power, memory and storage in a compact and lightweight machine, look no further.
HP Spectre 15 x360 15.6-Inch 4K Convertible Laptop with Stylus – (Dark Ash Silver) (Intel Core i7-8750H, 16 GB RAM, 1 TB SSD, NVIDIA GeForce GTX 1050 Ti Graphics, 4 GB Dedicated, Windows 10 Home)
Compare this to the top of the range HP Spectre 15 x360 with 4K display, discrete processor in the form of NVIDIA's GeForce GTX 1050 TI with 4GB dedicated memory, 1TB SSD and 16GB RAM Memory above, the HP Spectre 13 may seem short but by no means a slouch.
Thin and Light with Premium Design to Match
Ultra portable convertible with super thin and light profile, the HP Spectre 13 x360 is our choice for those that travel with their laptops. It won't weigh you down and will fit in any bag or folio case. It is built for both productivity and leisure with good looks to match.
The aluminium body is strong yet light. On either side of the far corners are what HP calls gem cut design, a one of a kind 45 degree angular corners, one with a power button and one with USB-C port. Good looks doesn't have to come at the price of function.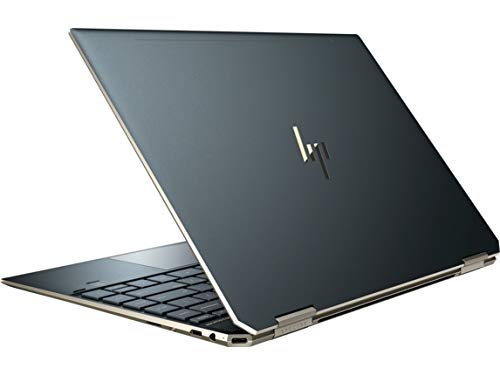 The aluminium chassis is finished in Poseidon Blue with Pale Brass accents making it stand out from the crowd. This is definitely a head turner. Geeks and fashionistas alike will take a second look and admire its slim lines and premium design. HP has managed to combine style, modern good looks, simplicity and function all into one.
Powerful Processors
With 8th generation processors, the Intel Core i5 and Intel Core i7, the laptop will power through anything you are working on.
Intel Core i5-8265U: Average CPU Mark 7985
Clockspeed: 1.6 GHz
Turbo Speed: 3.9 GHz
No of Cores: 4 (2 logical cores per physical)
TDP Down: 10 W Up: 25 W Typical TDP: 15 W3
Intel Core i7-8565U: Average CPU Mark 8988
Clockspeed: 1.8 GHz
Turbo Speed: 4.6 GHz
No of Cores: 4 (2 logical cores per physical)
Typical TDP: 15 W
Average CPU Mark based on cpubenchmark.net at the point of writing.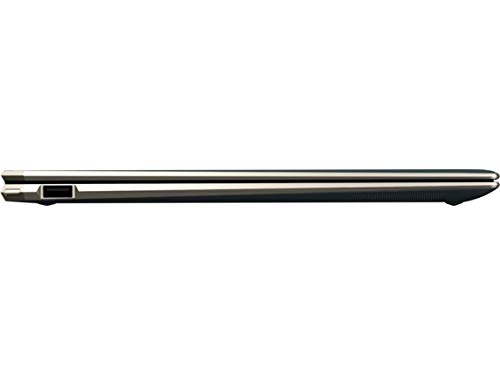 Bright Yet Efficient Display
One of the reasons you will see in the later part is how well the machine copy with continuous screen-on use. This is owing to the 1 watt display panel. It operates hand-in-hand with the battery, managing the power consumption efficiently to prolong the usage time.
The 13.3-inch display uses an IPS panel with anti-glare coating. At Full HD resolution, that's 1920 x 1080 pixel for super sharp image. Not 2K or 4K sharp but at this size, it really doesn't need all those pixels.
Now, it may be battery kind but the display is not at all sub par in terms of performance. It is capable of pushing bright and colour accurate images while maintaining an extensive battery life. Together with the HP Command Center, it will keep the device running cool and that you continue to enjoy an efficient system.
Customise performance, fan speed and noise, and external temperature to meet your every requirement.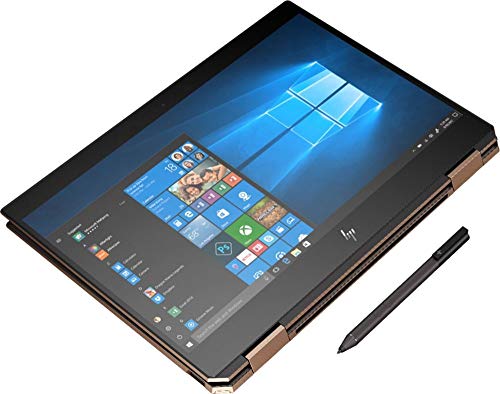 HP Spectre x360 13 on Amazon
Versatility
Like all hybrid 2-in-1 PCs, the key is in the hinge. With fully articulate hinges, you can flip the screen 360 degrees changing from regular laptop mode to presentation to tent to tablet mode. The display is protected with Corning Gorilla Glass for scratch and crack resistant. It also offers some structural integrity given how slim the unit is.
In laptop mode, the illuminated three stage keyboard allows you to work effortlessly. Typing on the laptop couldn't be easier with its efficient keyboard layout. Keystrokes feel reassuring with tactile feel and satisfying click.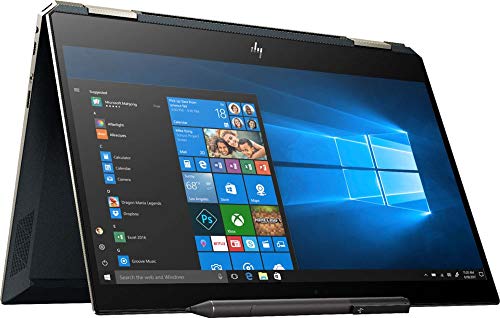 Stylus Included
Talking about versatility, use the companion HP Pen with Windows Ink in laptop, tablet or tent mode. It certainly is easier to manage than touch alone, allowing for pin accuracy pointing, pen like sketching and natural handwriting. Each stroke of the pen moves naturally and we are amaze at just how responsive the stylus is.
The HP Pen is pretty responsive and is a treat to use. There is nothing like the good old pen input especially in tablet mode. It rivals the like of Lenovo's pen and even the Apple Pencil.
Security
Three security features make this HP Spectre 13 x360 stand out. First is the HP Sure View screen. This helps keep what's on your screen safe from prying eyes ensuring your privacy and security against lurkers and hackers.
For authentication, login safely with the built-in fingerprint sensor.
Finally, those who would rather not have anybody watching over them via the onboard webcam can be assured of their privacy with the dedicated webcam kill switch. Turning off the webcam stops any applications or hackers from tapping in.
The webcam kill switch and privacy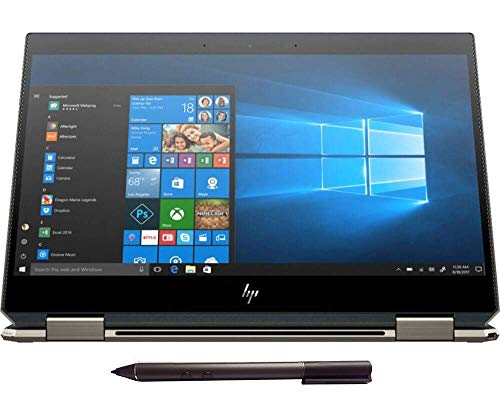 Sounds Great Too
A pair of B&O expertly tuned speakers pumps out clear and crisp sound. Don't expect floor shaking tunes, it is after all only a compact system but the Bang & Olufsen professionals know how to make the most of small speaker and tight spaces. The speakers are pretty awesome and powerful for a device this size.
Long Lasting Battery
The extensive battery life is one of the best in class. It is capable of lasting up to 22.5 hours long. However, the conservative figure with mixed use and variable brightness puts this more around the 15 hour mark. At that kind of battery life, it's already longer than most laptops.
Connectivity
Apart from the USB-C on one of the angular corners, there a further USB-C port, a microSD card slot and a USB 3 Type A port, yes a full size USB port. In your face MacBook Pro. Finally, for audio if you want to get personal with your favourite headset, there is a 3.5mm audio jack. This many ports is pretty impressive for a laptop this slim and light.
Final Thoughts
Nothing can come close to the versatility of the device. It does cost more but think of the savings you will make from having just the one device. Not a laptop and a tablet or presentation device but all wrapped in one. A productivity machine that does it all. The display is not Ultra HD but offers plenty of details, sharpness, colour accuracy and above all, given the IPS technology and Gorilla Glass protection, manages vivid colour and sufficient brightness.