HP Spectre 13 ultraportable received an update in 2018 with a new colour option, slim and light weight design, new 4K display and the use of the new 8th generation Intel Core i7 and Core i5 processors.
If you are looking for a high performance ultra portable that also looks good, then the HP Spectre 13 is definitely for you. With the latest 8th generation Kaby Lake quad core processor, the laptop chews and spits out anything you can throw at it.
Here is how the Intel® Core™ i7-8550U Processor performs in comparison to the 10 most commonly used processor in the market right now. As you can see from the chart, the only processor faster than it is the 7th generation power hungry (45W) Intel Core i7-7700HQ. The new generation Core i7 is energy efficient and only requires 15W of power at base frequency which is good for cooling and a slim profile laptop.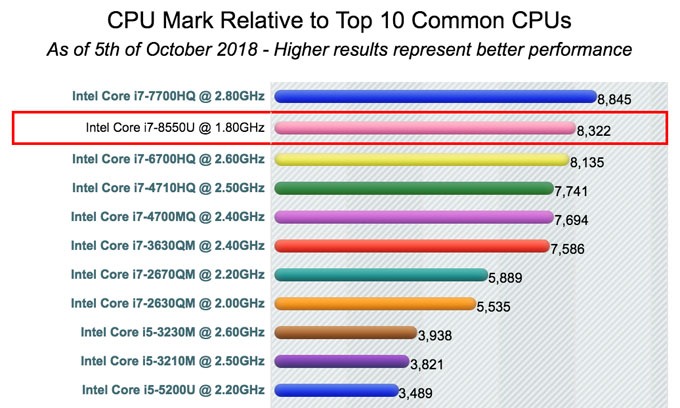 Source: www.cpubenchmark.net
Other laptops that may be on your radar if you are considering the HP Spectre 13 are the Dell XPS 13 and ASUS ZenBook 13. Although, the placement of the web cam on the Spectre 13 is much better one given that it is higher up in its usual place even though you have a slightly bigger top bezel to content with.
The new HP Spectre 13 in Ceramic White is our preferred ultra portable with a 13.3-inch 4K Ultra HD touchscreen display. The 4K IPS display is wrapped in micro-edge bezel and edge-to-edge Corning Gorilla Glass NBT. This means that the camera is also protected behind the same tough glass and is hidden in the black bezel. The white version still spots a light gold edging, the hallmark of the Spectre range and is crafted from a combination of carbon fibre and aluminium. When the lid is shut, it measures a mere 10.4mm making this one of the thinnest and lightest laptops around.
Previous HP Spectre features a Dark Ash gray metallic finish with pale gold edging. You can still find the same colour scheme being used on the HP Spectre x360 12-inch and 13.3-inch Convertible laptop.
Powered by Intel Core i7-8550U (1.8GHz boost to 4GHz) quad-core processor, 8GB RAM and 512GB SSD storage, it is the premium version of the other ultra portable from HP, the HP Envy 13. An Intel Core i5 version is also available with the same 8GB RAM memory but half the storage with a 256GB SSD.
Built with an 8th-Generation Intel i5 processor and highly stylish looks, this HP Spectre is a glamorous laptop that will power through your work requirements. With an Ultra HD screen, Bang & Olufsen's dual speakers and a Solid State Drive (SSD), you're all set for a superior multimedia experience.
Power processor
Thanks to the power of Intel's 8th-generation processor, your software will open quicker and when requested, the laptop will shut down faster too, saving you time. The processor handily features a 'Turbo Boost' feature that will unleash more grunt when required.
M.2 Solid State Drive
The 256GB M.2 Solid State Drive (SSD) gives you the capacity to store your documents and media, while ensuring quicker and reliable access to your files and programs. SSDs are far faster than regular hard drives; in addition to this, M.2 has been created replace existing technology and to exploit the full capability of high-speed PCI Express storage. Ingeniously, SSDs don't use moving parts to work, which makes them far more dependable and also quieter.
Stimulating screen
The 13.3", Ultra HD screen (3840 x 2160 pixels) is designed to deliver a beautiful image for a great gaming and multimedia experience. It features In-Plane Switching (IPS) to allow for nearly 180-degree viewing angles for group viewing enjoyment, so no one misses the picture.
Helpful Ports
The HP Spectre has two Thunderbolt 3 ports, which handily are USB compatible, along with a USB 3.1 Type-C port, so you can link up your printer and add a keyboard and mouse combo for even more ease. Additionally, Bluetooth convenience lets you beam data wirelessly between your chosen devices.
It is slimmer and lighter than the HP Envy and for that, you only get 8 hours battery life. Real world battery life may be a bit disappointing as we are pushed to get up to 5-6 hours per charge on regular use. However, you can top up quickly with Fast Charging. If you prefer a 2-in-1 hybrid profile, the HP Spectre x360 or HP Spectre 15 are your options with a 13.3-inch and 15.6-inch 4K UHD touchscreen displays respectively. While HP's attempt at minimal bezel and nearly borderless display is commendable, it is still bigger than compared to Dell XPS or Huawei MateBook X series. However, it does this without moving the web camera and sensor from its usual place on the top bezel which some would prefer.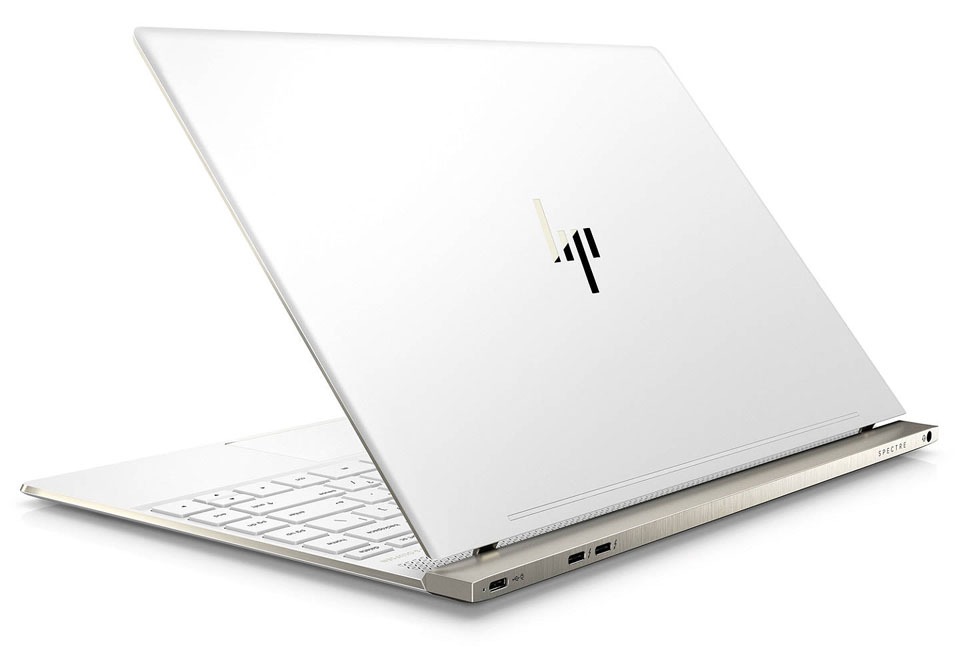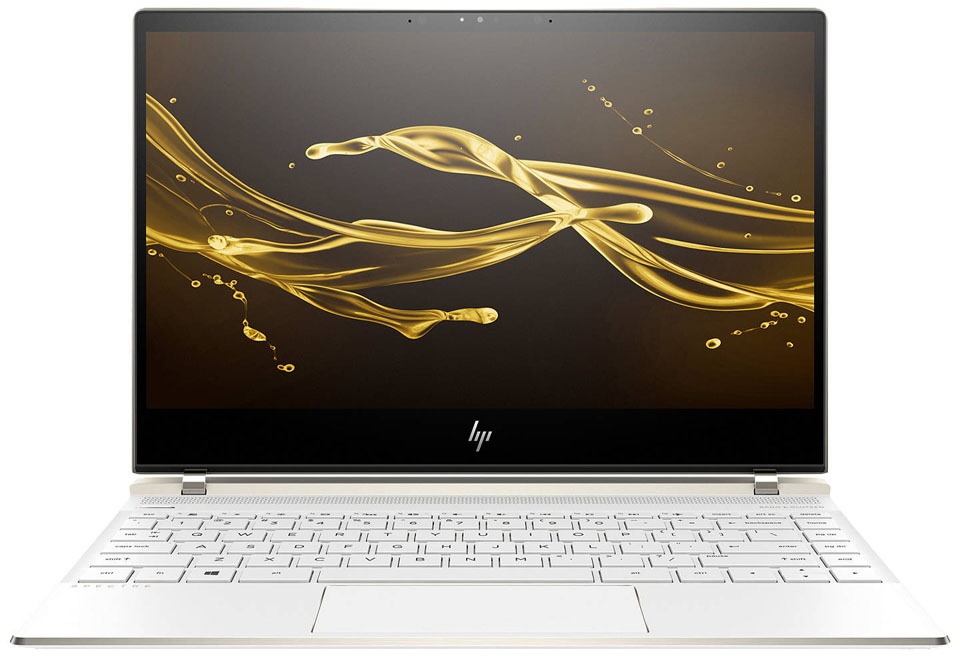 Recommended: HP Spectre 13 Laptop, Intel Core i7, 8GB RAM, 512GB SSD, 13.3″ 4K Ultra HD, Ceramic White/Gold
Dimensions and Weight: 30.82 x 22.42 x 1.04 cm, 1.11kg
Specifications:
Intel® Core™ i7-8550U (1.8 GHz base frequency, up to 4 GHz with Intel® Turbo Boost Technology, 8 MB cache, 4 cores)
33.8 cm (13.3″) diagonal 4K IPS micro-edge WLED-backlit multitouch-enabled edge-to-edge glass (3840 x 2160)
8 GB memory; 512 GB SSD storage
Only 1.11kg and 10.4mm thin; Windows Hello ready webcam; HP Fast Charge; Bang & Olufsen Audio; 2 x USB-C™ Thunderbolt™ ports
Windows 10 Home 64