ASUS ROG Zephyrus G14 was a runaway success as a gaming machine. Take that same formula throw in a full-size keyboard and second display, plus the latest AMD Ryzen 5000 series chip and Nvidia GeForce RTX 3080 mobile GPU, and you have yourself the ultimate gaming laptop.
Not that long ago we looked at the ASUS ROG Zephyrus G14, an ultraportable laptop powered by AMD Ryzen 9 4900HS combined with Nvidia GeForce RTX 2060 GPU. Take that same configuration and switch up a few notches and you get yourself the ASUS ROG Zephyrus Duo SE.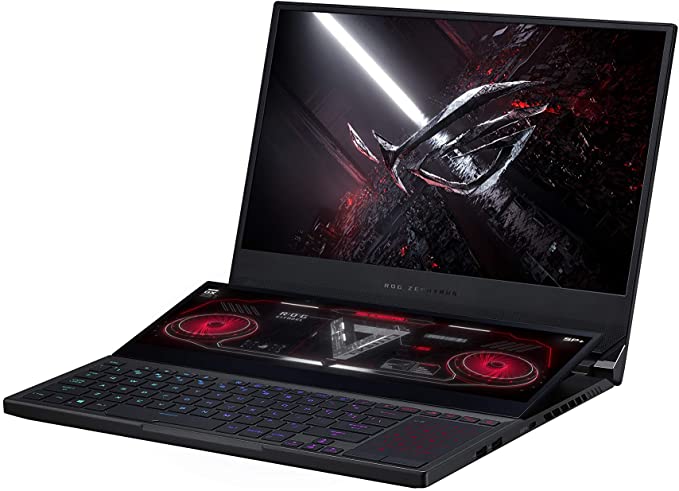 Search ASUS ROG Zephyrus Duo SE on Amazon
Yes, we skipped the ASUS ROG Zephyrus G15 with single display in favour of the Duo variety. We are after all looking for the ultimate gaming machine. If you feel, a second display isn't your thing, you can always fall back to the ASUS ROG Zephyrus G15 also equipped with AMD Ryzen 9 5000 series chip and GeForce RTX 3080 or RTX 3070 GPU.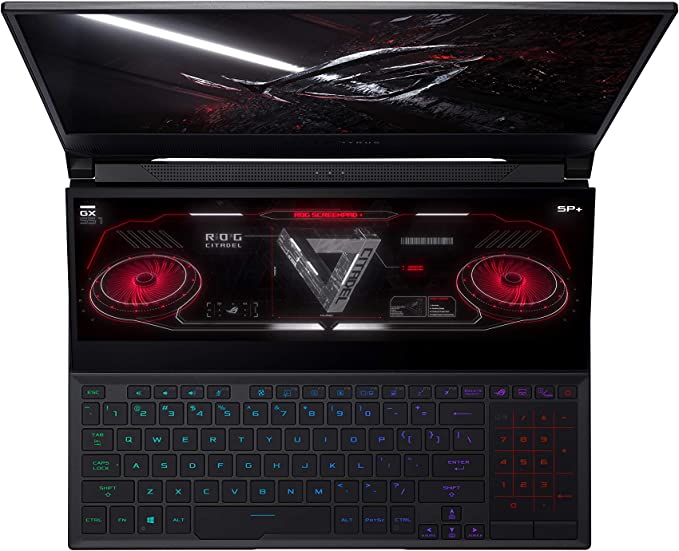 Duo for Dual Display and Dual Storage Configuration
We have seen the dual display configuration on Zephyrus Duo 15 with Intel processors. So what do you get apart from the extra display? The ROG Zephyrus Duo 15 SE comes pre-configured with dual storage drive setup as standard. It uses two 1TB Samsung PM981PCI-E3 solid state storage via its high performance NVMe PCIe 3.0 interface. But it does not stop there.
To squeeze as much performance from those SSD drives as possible, the dual storage is configured to RAID0 for optimum speed. The 2TB RAID 0 storage array is capable of speeds of up to 6961MB/s on write and 5499MB/sec on read, no ordinary standalone SSD storage can come close.
To give you an idea of the order of perfomance gain you get from the array, the fastest SSD storage, the Samsung 970 Evo Plus SSD registers speeds of up to 2700MB/s. On a different profile and size, but mentioned here as a reference, the Intel 760p Series SSD storage is capable of 3056MB/s and 1606MB/s and the Intel Optane 905P U.2 SSD achieved 2600MB/s and 2200MB/s on read and write respectively. All figures are nowhere near those achieved by the RAID array on the laptop.
However, it does however come at a price. RAID 0 or striping as it is known offers amazing performance by effectively halving the time it takes to read and write data by splitting it and reading or writing them simultaneously on both drives. But, it does not come with redundancy. Meaning you cannot rebuild lost data in case of a damaged drive like those offered on RAID 1 and RAID 5. But, to expect both performance and redundancy from a laptop is a tall ask. We will take the RAID 0 configuration for gaming any day.
RELATED: ASUS ROG Zephyrus Duo 15 – The bet of ZenBook Pro Duo and ROG Zephyrus in one
The New Generation AMD Chip and Powerful GPU
At the core of the laptop is the new generation Zen-3 powered AMD Ryzen 9 5900HX mobile processor, second only to the flagship AMD Ryzen 9 5980HX. The 8-core CPU is capable of a maximum clock speed of up to 4.6GHz and comes with a total of 16MB L3 cache and 4MB L2 cache. This is an improvement over the Zen-2 architecture. You can read more about this on how AMD aims to set high benchmark scores with the Ryzen 5000 series. For extra processing cycle, the CPU can be overclocked up to 50W when GPU is active and 90W on its own.
Next, we have a first on a gaming laptop, the GeForce RTX 3080 graphics unit. There are two lower models with GeForce RTX 3070 and GeForce RTX 3060 paired with Ryzen 9 and Ryzen 7 processors respectively. But this is the top of the line GeForce RTX 3080 with NVIDIA's Ampere technology and a whooping 16GB GDDR6 memory, double that of the RTX 3070 while the RTX 3060 only comes with 6GB GDDR6. For gamers, note that with ROG Boost, the graphics adapter can be pushed up to 1645MHz at 115W or 130W with Dynamic Boost.
It is a serious gaming beast! I got 50-60 frames (usually closer to 60) in Cyberpunk on ultra with DLSS ray tracing on, which is good enough for me. Even the cooling is as close to perfect as you can get in a laptop. I stayed around 80 degrees Celsius the entire time on performance mode, and the fans didn't sound like a jet plane.
Together with 16GB DDR4 memory onboard, and the option to upgrade to a maximum of 48GB, we are talking about a machine that will last a long time, give its processor and graphics overhead. You will never have to worry about upgrading your machine for years to come.
The unit will blaze through processor intensive tasks like 3D rendering, photo editing and streaming. Extra memory means better multitasking and fast storage offers super fast game and apps load time. Finally, the powerful GPU offers best in-game experience.

Connectivity and Ports for Everything
Another thing that it is not short on are connectivity options and ports. The laptop comes with onboard WiFi 6 for fast wireless connection, Bluetooth 5.1 and Gigabit Ethernet. Shame that there is now 2.5Gbps Ethernet support but it is unlikely that as a gaming machine, having that extra bandwidth is going to make a difference.
As for physical ports, you get a total of three USB3.2 Gen 2 ports, 2 Type-A ports and 1 Type-C port on the right edge. 1 microSD card reader, DC-in and 3.5mm combo jack on the left. This leaves one USB3.2 Gen 2 Type-A, HDMI 2.0b and RJ45 port on the rear. The single Type-C port supports both Power Delivery (PD) and DisplayPort. The HDMI 2.0b supports up to 4K UHD video output at 60Hz.
It's worth noting that due to slim bezel and and full width secondary display, there is no room for a web cam. This can be a problem for some but most people would rather use their mobile devices for video calls anyway. Disappointed, yes, but not the end of the world for a gamer.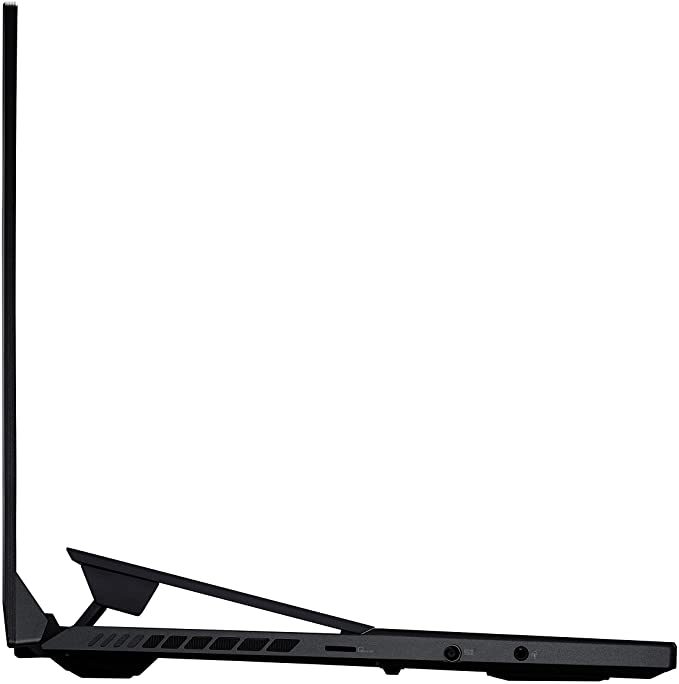 Sweet Dual Display Setup
The second screen is a full width 14-inch 4K display that supports touch with a resolution of 3840 x 1100. ASUS calls this the ScreenPad Plus. When deployed it sits at an angle, 13-degrees tilt, enough to not get in the way of the main display. It's wroth noting that the second screen will deploy automatically as you open the lid of the laptop which is pretty cool. But that is not all, it serves as a vent to chuck out all those heat from both the CPU and GPU. Talk about clever design.
There are many tricks you can do and ways to use the secondary display thanks to ASUS's include application that lets you do among other things create customisable shortcut and app screens. For gamers, dedicated apps for Fortnite, CS:GO and League of Legends will float your boat. Game casters rejoice as the second screen offers broadcast control and feed view as well as chat stream. Creatives will benefit from the ScreenPad Plus too with content creation toolbars and options, timeline, layers and other contextual menu moving off the main screen to the touchscreen.
As for the main display, this is a full 15.6-inch 4K UHD display with 16:9 aspect ratio and 3840 x 2160 pixel resolution. Unlike the ScreenPad Plus, the main display does not support touch but has a wide colour gamut 132.7% sRGB and 100% Adobe. It is Pantone validated and is super fast and smooth at 3ms response time and 120Hz refresh rate. If that is still not enough, it support FreeSync and supports wide viewing angle to IPS level.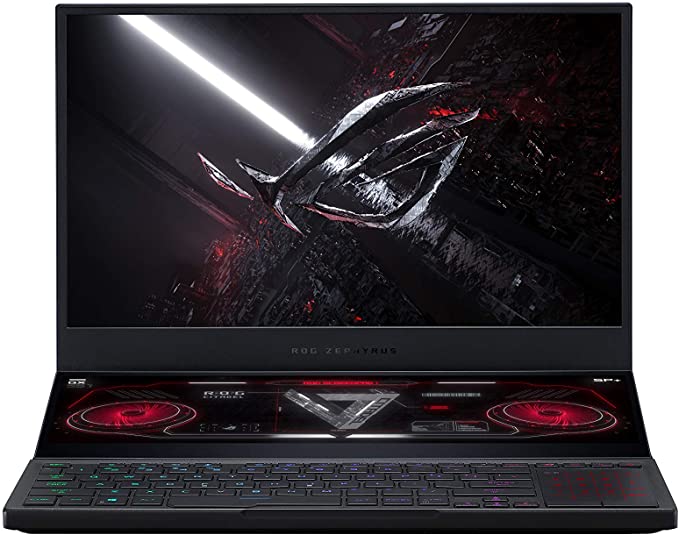 Keyboard and Trackpad
No, the ScreenPad Plus is in no way replacing the trackpad even though it supports touch. There is still a full size touchpad albeit aligned vertically and located on the right of the keyboard. The chiclet keys have a good 1.4mm pitch. You do however have to rest your palm on the tablet, which is what you would normally do if you have an ordinary keyboard so no complains there. But, we would still use a full size mechanical gaming keyboard for gaming mouse. Gaming on a small laptop keyboard just doesn't do it unless one absolutely has to. Back to the chiclet keys, these support per-key RGB lighting and is compatible with AURA Sync, so you can customise the lighting to your hearts content with Aura Creator. Now if you have to use the onboard keyboard for a prolonged period, ASUS has included a palm rest to be placed in front of the keyboard.
Weight and Thickness
Even with the dual display, full size keyboard with Aura Sync Lighting, dual storage, 90WHrs 4-cell Li-ion battery and discrete graphics, the Zephyrus Duo 15 SE still only weighs 2.48kg. That's 480 grams heavier than MacBook Pro 16. Dimensions wise, it measures 2.09cm thin when the lid is closed. Remember, this is an all metal chassis so you have to give it to ASUS but being able to squeeze these many components and features into a slate.
Battery Life
Not big on battery life, especially for a beast like this that can take on any gaming desktop in its path, the ROG Zephyrus Duo SE still manages up to three hours of normal usage. But, start any game and that battery life whither away quicker than you can reach for the charger. Some reviewers had better luck with up to 6 hours without engaging the GPU. This comes as no surprise for a slim laptop that needs to power two display, a high performing processor that draws 50W to 90W of power and an equally powerful GPU that is in no small way going to suck up every drop of battery life there is once you start gaming. We give it an hour tops so be prepared with your adapter.
Loud and Clear
Thanks to its four speaker configuration and amplifier, there is no real need for external speaker so one less thing to worry about in order to enjoy your game or stream movies and TV shows. Two of those are 4W speakers while the other two are 2W tweeters. Together they offer a full range of sound and support for Dolby Atmos surround sound for an immersive entertainment and gaming experience.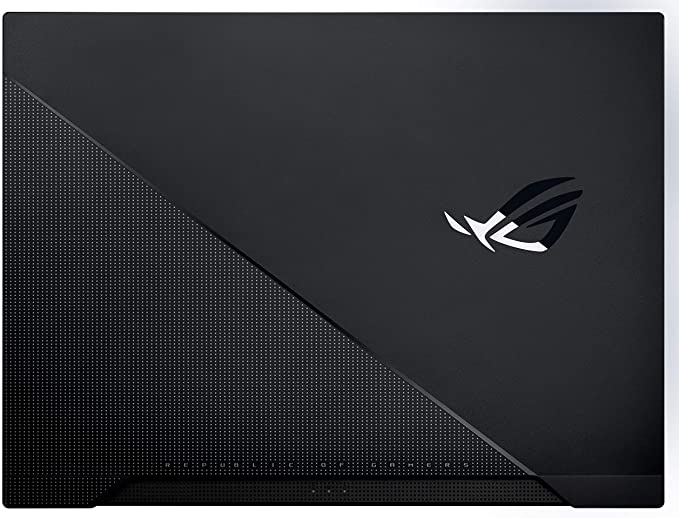 Search ASUS ROG Zephyrus Duo SE on Amazon
Specifications
CPU: AMD Ryzen™ 9 5900HX Processor 3.3 GHz (16M Cache, up to 4.6 GHz)
Display: 15.6-inch 4K UHD (3840 x 2160) 16:9 anti-glare 120Hz 3ms response time IPS FreeSync.
Secondary Display: ScreenPad Plus 4K resolution 13-degree tilt when deployed
Graphics: NVIDIA® GeForce RTX™ 3080 Laptop GPU 16GB GDRR6 memory
Memory: 16GB DDR4-3200 SO-DIMM (maximum 48GB)
Storage: 1TB + 1TB M.2 NVMe™ PCIe® 3.0 Performance RAID0 SSD
3.5mm Combo Audio Jack, HDMI 2.0b, 3x USB3.2 Gen 2 Type-A, USB3.2 Gen 2 Type-C, RJ45 LAN port, microSD card reader
Built-in microphone array, dual 4W speaker with Smart Amp Technology, dual 2W tweeter
90WHrs 4S1P 4-cell Li-Ion battery with support for Type-C charging
Full size backlit chiclet keyboard with per-key RGB light that supports AAS Aura Sync Lighting
Weight: 2.48kg
Dimensions: 36.0 x 26.8 x 2.09 ~ 2.09 cm