Confined to OEM units only for the first few weeks, but at long last, the AMD Radeon RX 6400 discrete board models are already starting to silently pop in retail stores all over the world. With the "strategically disastrous" launch of the Radeon RX 6500 XT, PC enthusiasts are on the edge about this yet another low-end RDNA 2.0 GPU. Is it even worth investing at this point? And what exactly is the target market of this product?
Spoiler alert: technically no one. To be fair, from a raw performance standpoint (if it can push maximum performance), the card is a marvel of modern direct-board-power low-profile GPU engineering. But practically, it is a complete mismatch to the actual systems that it is going to be installed into.
AMD Radeon RX 6400 Performance Overview
Tech Specs:
| | RX 6400 | RX 6500 XT | RX 6600 |
| --- | --- | --- | --- |
| Process Node | 6nm | 6nm | 7nm |
| Architecture | RDNA 2.0 | RDNA 2.0 | RDNA 2.0 |
| GPU Name | Navi 24 XL | Navi 24 XT | Navi 23 XL |
| GPU Cores | 768, 12 CU | 1024, 16 CU | 1792, 28 CU |
| Infinity Cache | 16MB | 16MB | 32MB |
| RT Cores | 12 | 16 | 28 |
| Base Clock | 2039 Mhz | 2610 Mhz | 2044 Mhz |
| Boost Clock | 2321 Mhz | 2815 Mhz | 2491 Mhz |
| Memory Clock | 2000 Mhz | 2248 Mhz | 1750 Mhz |
| VRAM | 4GB GDDR6 | 4GB GDDR6 | 8GB GDDR6 |
| Memory Bus | 64 bit | 64 bit | 128 bit |
| FP32 Perf | 3.565 TFLOPS | 5.765 TFLOPS | 8.928 TFLOPS |
| Bus Interface | PCIe 4.0 x4 | PCIe 4.0 x4 | PCIe 4.0 x8 |
| PCI Power | none | 1x 8-pin | 1x 8-pin |
| TDP | 53W | 107W | 132W |
| Launch MSRP | $160 | $200 | $330 |
| Retail Average | $170 | $230 | $370 |
As expected, many reviews online by the usual PC enthusiast sources have concluded that the RX 6400 performs very similarly to the Polaris-architecture Radeon RX 570. Because we already know that the RX 6500 XT is basically the Radeon RX 580 version 4.0, it would be natural that the next step below it, would have a relative performance equal to the Polaris tier counterpart. On a pure rasterization level, this is actually very impressive, given that the RX 6400 can achieve this level of performance using less than half the power of its predecessor, as well as within a very slim form factor that is more reminiscent of a very low-end GT-series Nvidia GPU.
The usual caveat to all of this, of course, is the severely limiting 64-bit memory bus and PCIe 4.0 x4 interface. Depending on the game, the system could suffer from as much as a 15 percent reduced performance simply by using "older" PCIe 3.0 systems, most of which likely built in just the last few years (Ryzen 3000, Ryzen 4000, Intel 10th Gen, Intel 9th Gen). Which is unfortunate, since the discrete retail versions of the RX 6400 is theoretically most optimal in revitalizing PCs that are even older than those generations.
Even more appalling for AM4 platform users, is that among the entry-level Ryzen 5000 CPUs introduced last March, only the Ryzen 5 5600 (non-X) supports PCIe 4.0. Meaning the Ryzen 3 4100, Ryzen 5 4500, and Ryzen 5 5500 would basically limit the performance of the RX 6400 simply due to having an "outdated" PCIe connection.
As it is intended to be a single-slot low-end card, the lack of hardware-level video encoding and connectivity limitation to x1 HDMI and x1 DisplayPort does not actually feel as limited as with the RX 6500 XT. Would have still been much better if it had those basic features, though.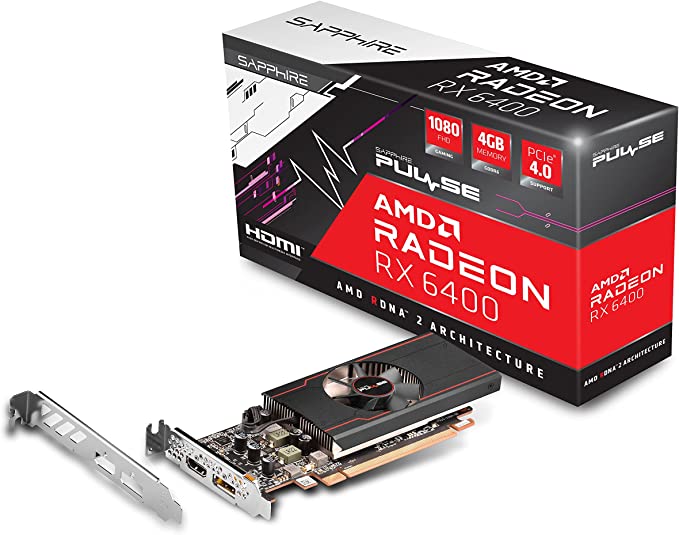 Most important notes about the RX 6400
As part of the RDNA 1.0 and 2.0 series of GPUs, the RX 6400 has full access to the AMD-exclusive Radeon Super Resolution (RSR) feature. RSR would definitely be your best tool in tweaking this low-end GPU to many games that you are about to play on limited settings.
The Radeon RX 6400 has an MSRP of $160, only very slightly cheaper compared to the Radeon RX 570 ($170), which by itself is also just an architectural update of the even older RX 470 ($180). Similar to the undying Nvidia Geforce GTX 1050 Ti, the AMD Radeon RX 6400 continues the undying legacy of its technological predecessor in both price and performance.
It is expected that the RX 6400 will clash with the current GTX 1050 Ti and GTX 1650 markets. Within the brand new (unused) GPUs line-up, the RX 6400 is poised to overthrow the GTX 1050 Ti, which is often retailing at about the same price. Probably not so much for the GTX 1650, since this entry-level 16-series card is not hampered by older systems (PCIe 3.0 x16), and has all the hardware-level encoding features of modern GPUs.
Funnily enough, the Radeon RX 6400 has a full 12 units of RT cores on the board. This is quite notable because raytracing on low-end GPUs is farcical at best, and should probably have been sacrificed to instead maintain hardware-encoding and video output connectivity. (which of course it can't really do due to being originally a laptop die)
With a power draw lower than 75 watts (50+ watts!), the RX 6400 stands as one of the most power-efficient GPUs today that can manage current generation triple-A games without absolutely destroying image fidelity. Not even the Geforce GTX 1650 could do that consistently (there's only one low-profile GTX 1650 model, and it's not even a single-slot)
The most bang-for-the-buck budget CPU for the RX 6400 that won't hold it back (full PCIe 4.0 support) is the Intel Core i3 12100(F). The cheapest is the Intel Celeron G6900 (yup, also has PCIe 4.0 support). Yes, Intel ironically has the best low-end CPU for a low-end AMD graphics card, at least at the time this article is published.
For gamers targeting a simpler 45+ FPS gaming experience, the PCIe limitations of the RX 6400 could be largely ignored. After all, such frame rates are usually already enough for many titles to be playable enough. You still get full driver update support anyway, as well as other perks like RSR. We do strongly suggest a PCIe 4.0 system to unleash its full potential, however.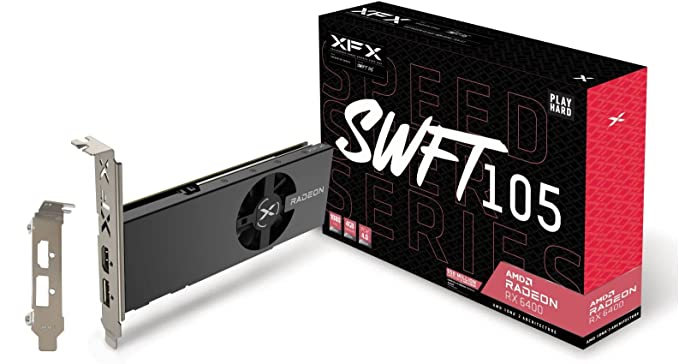 Should You Buy the Radeon RX 6400?
If you are in need of a very sleek, low-profile system, then the RX 6400 is the slimmest option available that can still easily dominate current Ryzen 6000 APUs. As shown by certain YouTubers like ETA Prime, it is very ideal for tiny PC setups. The very constricted space for these units could often allow heat build-up for less efficient components, therefore leading to thermal throttling when used for long periods.
Other than that, there isn't really any other strategic, or even cost-to-performance, use for the Radeon RX 6400. If you want to optimize PCIe 4.0 connectivity anyway, just jump half a tier to the Radeon RX 6500 XT. And if you want the real bang-for-the-buck, super-energy-efficient performance, save up a few weeks/months more to get the much, much better Radeon RX 6600.
Other Alternatives to the Radeon RX 6400
AMD Radeon RX 6500 XT (brand-new) – as mentioned, the price difference isn't really that significant in the grand scheme of things, so why not just extend your budget a bit for this GPU instead. Performance-wise it pairs so much better with an Intel Core i3 12100(F).
AMD Radeon RX 6600 (brand-new) – with the recent price crashes to the GPU market, the RX 6600 stands as the best option for budget high-refresh-rate 1080p gaming. Why? Because it's available everywhere, at very near MSRP! It also has the sipping power efficiency of a GTX 1070/1660 Super while crushing an RTX 2060 Super in pure rasterization performance.
Nvidia Geforce GTX 1650 (brand-new) – strictly the low-profile, no-extra-PCI-power-connector models that are priced (nearly) the same as an RX 6400 in your local area. If there are none, then skip this option.
Nvidia Geforce GTX 1060 3GB (used) – occasionally being offered in the used market at prices considerably lower than a brand new RX 6400. Let's face it, you're not really buying that RX 6400 for the long haul. If you just want a hold-over GPU until the Radeon RX 6750 XT releases, then why not get the classic Nvidia competing counterpart (for the RX 570) with zero performance bottlenecks?
AMD Radeon RX 570 4GB (used) – also occasionally being offered in the used market at prices somewhat lower than a brand new RX 6400. Objective is the same as the 1060 3GB: to keep an older PCIe 3.0 system running optimally without artificial connection bottlenecks. Still officially supported by AMD with driver updates, so no problems on that side. The more recently it was bought by the original owner, the better.