The war is on between Intel and AMD for the domination of the computing space and a new chapter begins somewhere around the fall of this year. AMD had comfortably knocked Intel off its perch with its Ryzen 5000 overtaking the blues in almost every segment and becoming the go-to processor for gamers and content creators worldwide. However, its reign was short-lived with Intel launching its 12th Gen Alder lake processors with a hybrid x86 architecture and taking the sceptre right back from the reds. What's next?
Now AMD is gearing for a comeback. Ryzen 7000 series processors have been teased for release this fall. Armed with a completely revamped architecture in the Zen 4, AMD, which has achieved so much already by reducing power consumption and offering a better performance-to-price ratio is planning to decimate the competition, particularly in the mid-range performance sector that is known to be gamers' paradise. Today we have a full round-up of the Ryzen 7000 leaks and what you can expect from the Ryzen 7000 series.
Zen 4 Microarchitecture
Zen has been a revelation in terms of performance. Intel knew its time to churn out products from the same bagasse was over when AMD launched the first generation of Ryzen processors in 2017. Since then it has been 5 years and thanks to the massive push of Zen, Intel was somewhat forced to innovate. Zen is largely responsible for the innovation we are looking at every year in the industry.
Take the Ryzen 3 3300X for example, a processor that launched more than 2 years ago and is still not readily available. This quad-core multi-threading enabled processor launched for 120 USD and gave nightmares to even overclocked Core i7 processors that were priced 2.5X higher. It even surpassed higher-priced processors from its own line-up. 3.8GHz base clock speed, 16MB cache memory, Premium VR support and Windows 11 support all for just 120 USD. Zen gave us products that we could never comprehend earlier. Intel was forced to offer quad-cores in its Core i3 line up which always had two cores earlier. The same Zen is now gearing for its fourth iteration.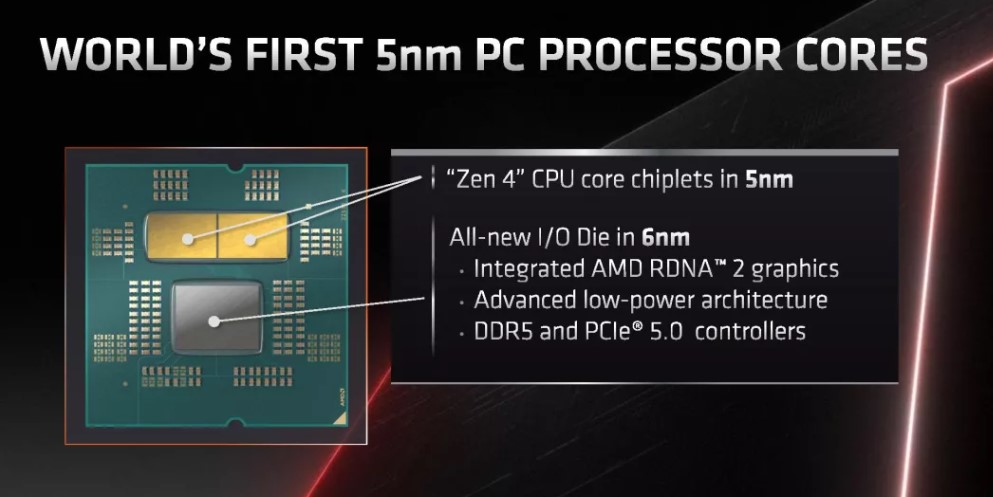 This time there are talks of variations within the same architecture as the desktop Zen 4 processors have been codenamed Raphael, performance Zen 4s are codenamed Dragon Range, sustainable ones for thin and light notebooks are named Phoenix and then there is Genoa and Bergamo for the Epyc series that will also feature a different Zen 4 for cloud computing. There could be a bloodbath when the processors launch, especially after AMD demoed a 16-core Ryzen 7000 finishing off a Blender render 30 per cent faster than Intel Alder Lake flagship, the Core i9-12900K. The processor hit a speed of 5.5GHz during gaming and AMD has claimed that the retail units would surpass 5.5GHz any day like its child play.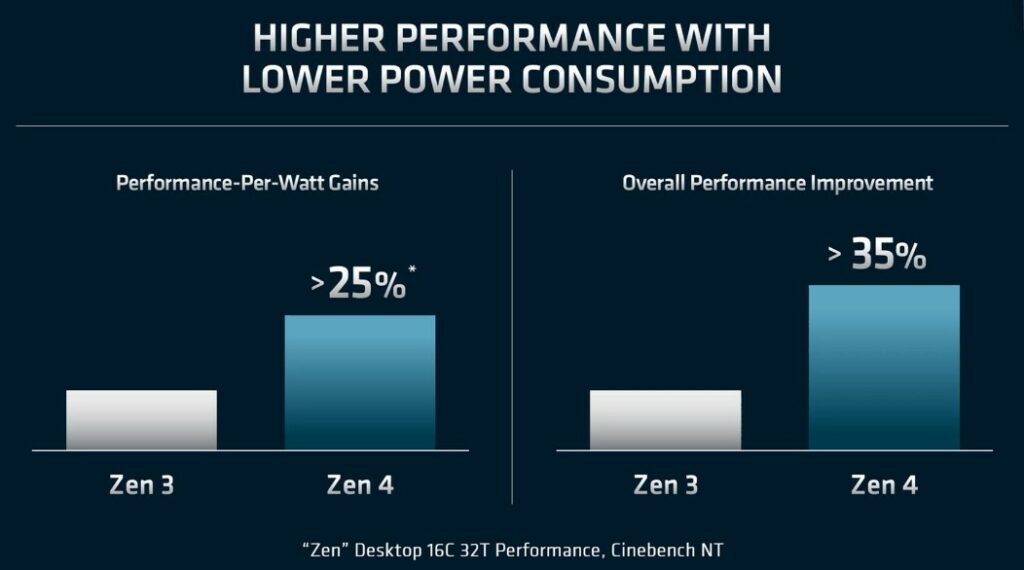 The Zen 4 will ditch the Vega graphics and adopt the RDNA 2 that has featured heavily in the recent Ryzen 6000 mobile series processors. It will have support for AI instructions based on AVX-512 that Intel has been leveraging for performance acceleration and workload management. Although the die topography has not been revealed yet, AMD has announced that the Ryzen 7000 would be built on TSMC's 5nm manufacturing process with dedicated support for DDR5 and PCIe 5.0. The performance gain will be around 10 per cent over the last generation with improvements of over 15 per cent in single-threaded tasks and more than 35 per cent in multi-threaded tasks.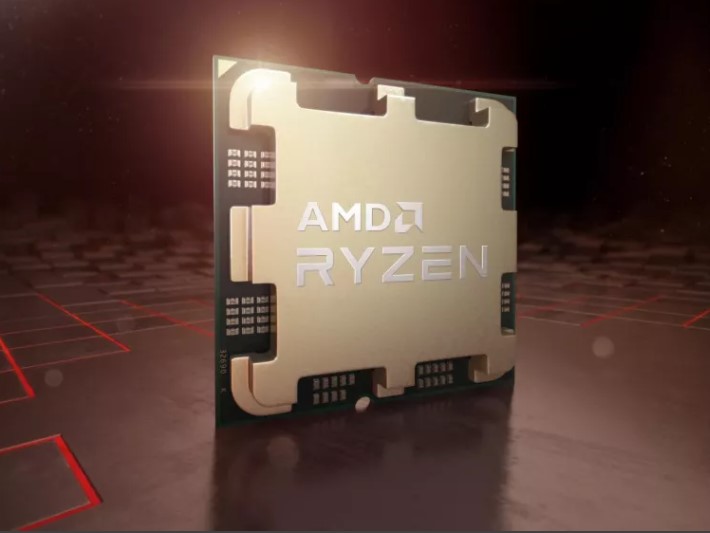 In terms of microarchitecture, the Zen 4 will come with double the L2 cache per core. The revealed images show the capacitors are spread across the PCB. It is for the first time since its inception that AMD has moved away from a Pin-Grid Array socket system to adopt a new AM5 socket designed on a Land Grid Array system with 1718 contact points on the CPU pad. The AM5 socket however would still support AM4 coolers. The heat spreader AMD will use with the Ryzen 7000 processors would be quite thick allowing greater thermal dissipation and users might save a few bucks off an aftermarket cooler. The integrated heat spreader's design however is something new with eight arms as AMD moves away from its all-around seal approach giving the processors a more rugged and meaner look.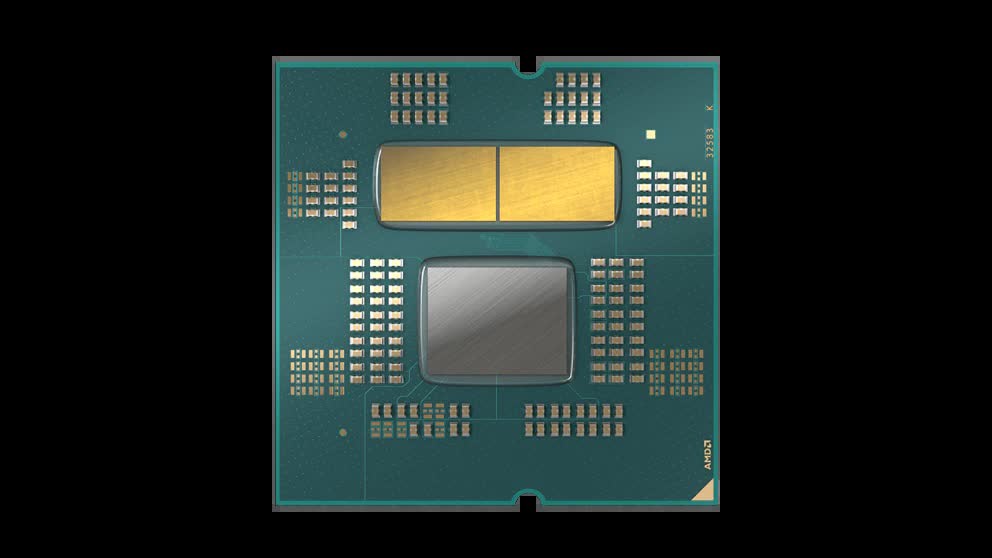 The Ryzen 7000 chip here has two 5nm chiplets side-by-side with each chiplet holding eight cores. For those wondering if AMD will adopt the hybrid core model like Intel, we have doubts as it has already managed to bring down processor TDP in comparison to Intel without compromising on performance and battery life.
There is an I/O die manufactured on a 6nm process below the two-5nm dies that houses the memory controllers for the dedicated DDR5 memory and PCIe 5.0. This 6nm die works on low power which further raises doubts as to whether AMD would adopt Intel's hybrid core model. This larger die has low power management features and an expanded range of low-power states.
The 6nm die bears resemblance to the previous-gen I/O die in terms of size but a better manufacturing process allows it to be much denser and hence pack in more transistors fulfilling the requirements to host RDNA 2 graphics. As feature-rich, as it may sound, this is also supposed to significantly increase costs and users might have to shell out more cash even for beginner-grade processors of Ryzen 7000 series.
The DDR5 memory controller will feature auto overclocking with a new moniker called AMD EXPO which the company claims will offer exceptional overclocking capabilities to DDR5 memory modules.
PCIe 5.0, iGPU and Power Consumption
The AMD Ryzen 7000 might have a peak power consumption of 230 watts but expect the desktop-only models to draw this maximum power off the AM5 socket. AMD in its last-gen laptop processors has already managed to strike the right chords between performance and power consumption and had even gone on to boast 24-hour battery life on some thin and light devices. We can expect something similar this time too with the new releases but for desktops, the numbers have jumped to over 60 per cent and against this; we expect overwhelming performance from the new chips.
Increased power delivery should aid the new processors in both single-threaded and multi-threaded applications as seen from the Blender demo AMD showed earlier. Additionally, a higher peak TDP also allows for a powerful mid-range where we could see 100-105 watt units for mainstream users and 150-170 watt SKUs for extreme users. Our advice in this regard would be to wait until some benchmarks come out from actual usage post the product launch before you splash the cash.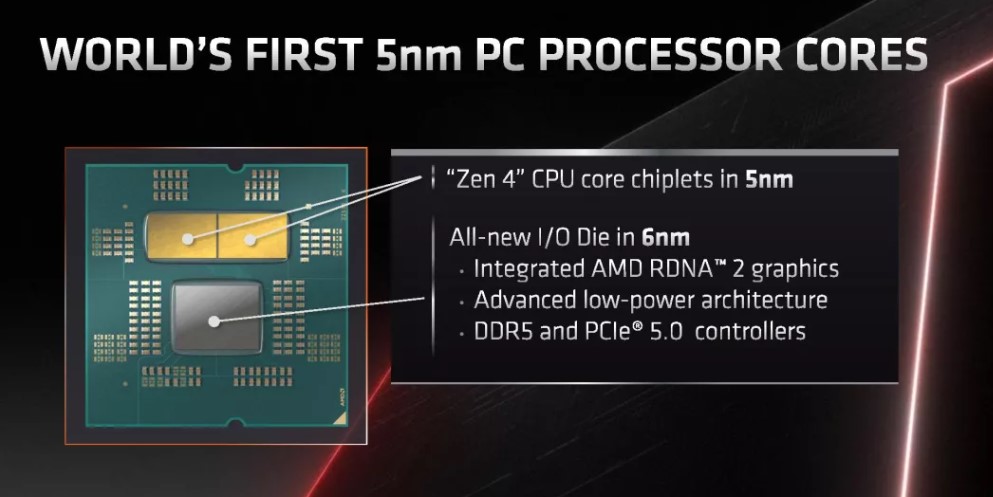 Over to the iGPU, the new Ryzens are set to feature AMD's groundbreaking RDNA2 graphics in every chip. However, AMD has somewhat meeked out that this RDNA2 would be a powered-down version of what we saw with the last-gen laptop processors. They would only offer display outputs sans any gaming performance. The move to tone down the RDNA2 is more to address the weakness AMD had with OEMs where discreet graphics is not a norm. Like, we said in the title, AMD is aiming for global domination, and that is heavily dependent on corporates moving away from Intel for bulk orders of systems from their OEMs.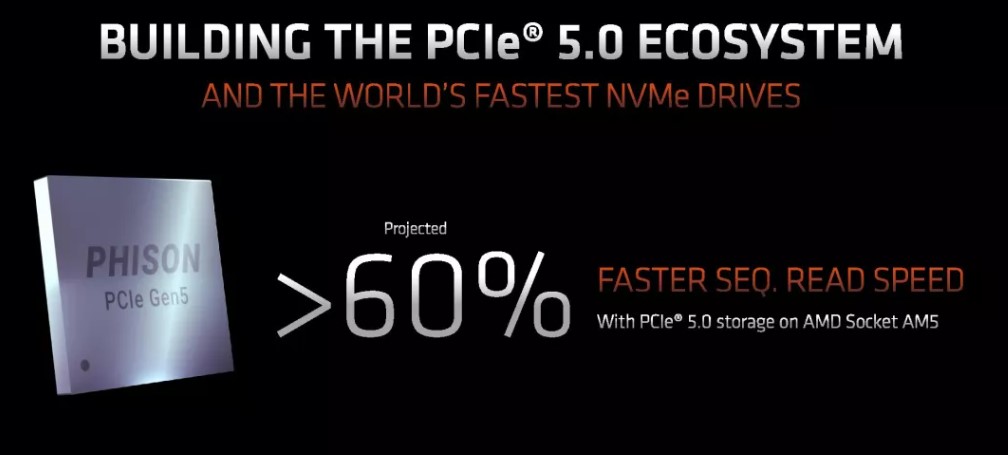 The PCIe 5.0 controller on the I/O die in the Ryzen 7000 will support up to 24 lanes directly from the socket. This is the maximum support for PCIe 5.0 lanes from any socket right now in the industry and AMD is leveraging this advantage by collaborating with some SSD experts like Phison, Crucial and Micron for uber-class SSD drives.
With the introduction of AM5 motherboards, these storage manufacturers are expected to launch their PCIe 5.0 SSDs offering a 60 per cent performance improvement, particularly in the sequential read throughput speeds. Ryzen 7000 processors are expected to leverage Microsoft's DirectStorage which relies heavily on reading throughput speeds to bring down application loading times to a second.
Motherboard Support

From the information available already there should be just three chipsets available with the new AM5 socket. A mainstream B650 series with support for PCIe 5.0 for the high-end models but limited voltage support during overclocking. This chipset will have the latest PCIe only for the NVMe storage port. Graphics slots would still conform to PCIe 4.0 standards. Next is the Enthusiast grade X670 series with full support for overclocking and PCIe 5.0 in the storage and primary graphics slot.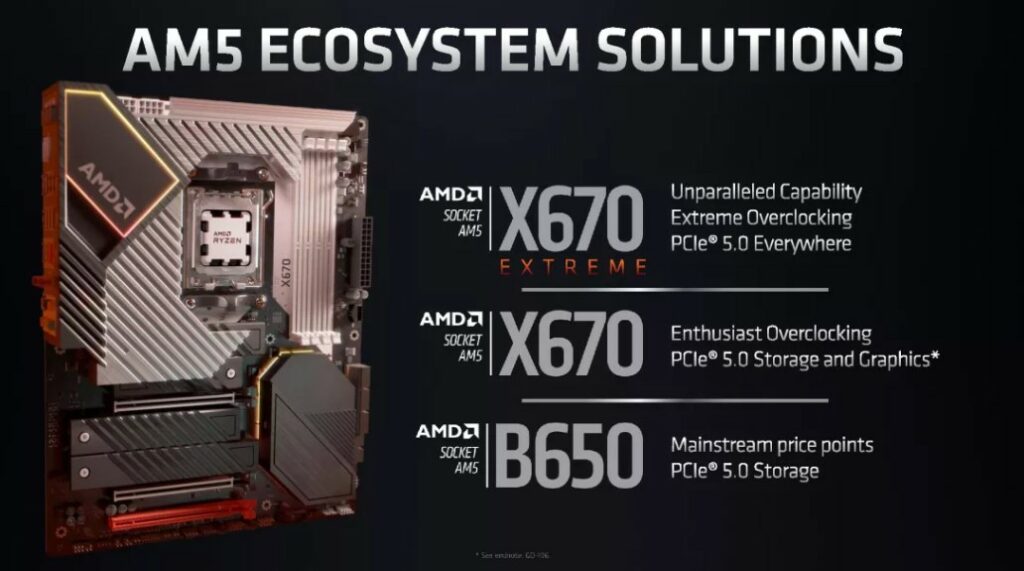 Finally the X670 Extreme chipset with the full support of PCIe 5.0 across all connectivity ports. Users should be able to find all 14 SuperSpeed USB ports, DBS-powered Wi-Fi 6E, and Bluetooth LE 5.2 on these high-end boards. The X670 Extreme boards are designed for extreme overclocking and use the Ryzen 7000 processor's SVI3 power infrastructure to deliver exceptional power through support for more phases and faster voltage response. Each of the AM5 motherboards has support for up to four display connections with the onboard RDNA2 itself supporting HDMI 2.1 FRL and DP 1.4 HBR3 connection natively.
Conclusion
The new Ryzen 7000 comes with a lot of promise and power to take the game to Intel. Raw power in terms of processor clock and boost speed and better price to performance is what AMD will pip Intel with its 7000 series processors. However, the new AMD processors would only match what Intel has already achieved with its Alder Lake chips in terms of connectivity. We expected AMD would go ahead of the catch-up game it has been playing all along with this new release but Intel is excellent at playing to the advancements of the industry's ecosystem.
With the Ryzen 7000, AMD has managed to close the gap by a large extent but it still needs to achieve a lot to get ahead in the race. Intel will probably surpass the benchmarks the new Ryzens will send with their 13th Gen processor releases as and when they launch.