In the domain of luxury laptops, there are quite a few contenders that pack a punch. The 13-inch MacBook Pro, Dell XPS 13 and the HP Elite Dragonfly G2 are some of the laptops that have garnered quite rave reviews amongst professionals looking for compact computing power on the go.
The Huawei MateBook X Pro, first unveiled in 2018 had managed to raise eyebrows and topped most top 10 luxury Ultrabook listicles around the world. This time Huawei has come back with an improved version of its 'Best in Class' award winner, the MateBook X Pro 2021.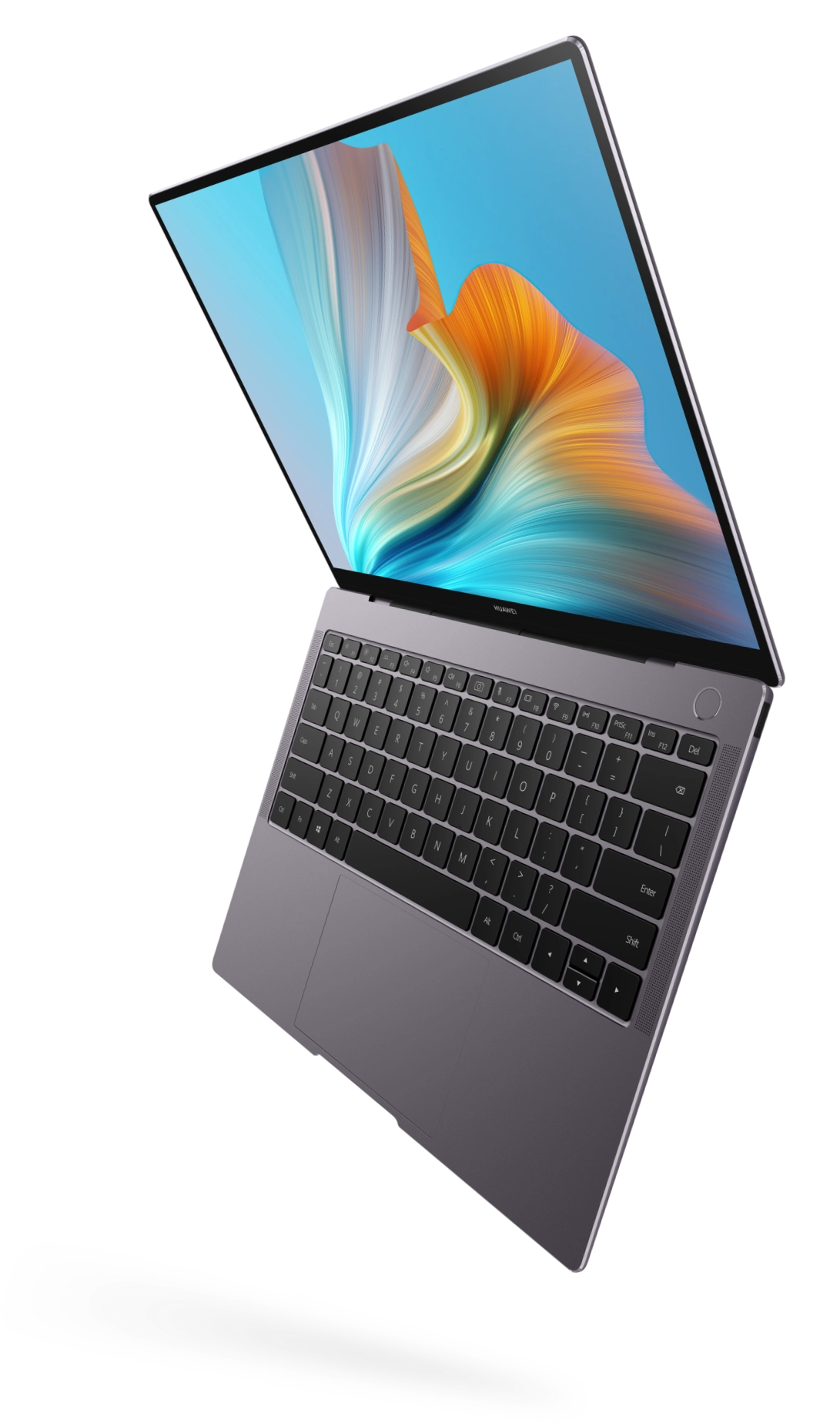 Huawei MateBook X Pro (2021)
While Huawei's new MateBook X Pro 2021, does come with updated specifications, it is still plagued by worldwide availability issues. For the time being it is mostly available in the Chinese and European markets with a promise that it will make the laptop available in the US market soon through third-party websites like Amazon. The laptop comes with several niche features but a high price tag that places it above even the MacBook Air and there are good reasons for that. Beyond its premium design, it also comes packed with powerful components, see specification below.
CPU: 11th gen Intel Core i7-1165G7
RAM: 16GB LPDDR4-4167
Graphics: Intel Iris Xe
Screen: 13.9-inch (3,000 x 2,000p) touch-enabled
Storage: 1TB PCIe M.2 SSD
Ports: 1 x USB 3.2 Gen 1 Type-A, 2 x USB Type-C, 1 x 3.5mm headphone combo jack
Connectivity: Intel Wi-Fi 6 AX 201 (2×2), Bluetooth 5.1
Camera: 720p, under keyboard
Design and Display
The Huawei MateBook X Pro almost nails it in terms of design, yet there are some aspects to frown upon. It is available in Space Grey and Emerald Green options of which the latter looks better with a Teal-ish hue (see image below). The laptop looks gorgeous and stands out amongst most other silver or grey products usually seen in this segment. The lid has a metallic gold Huawei logo embossed that allows the teal hue to pop.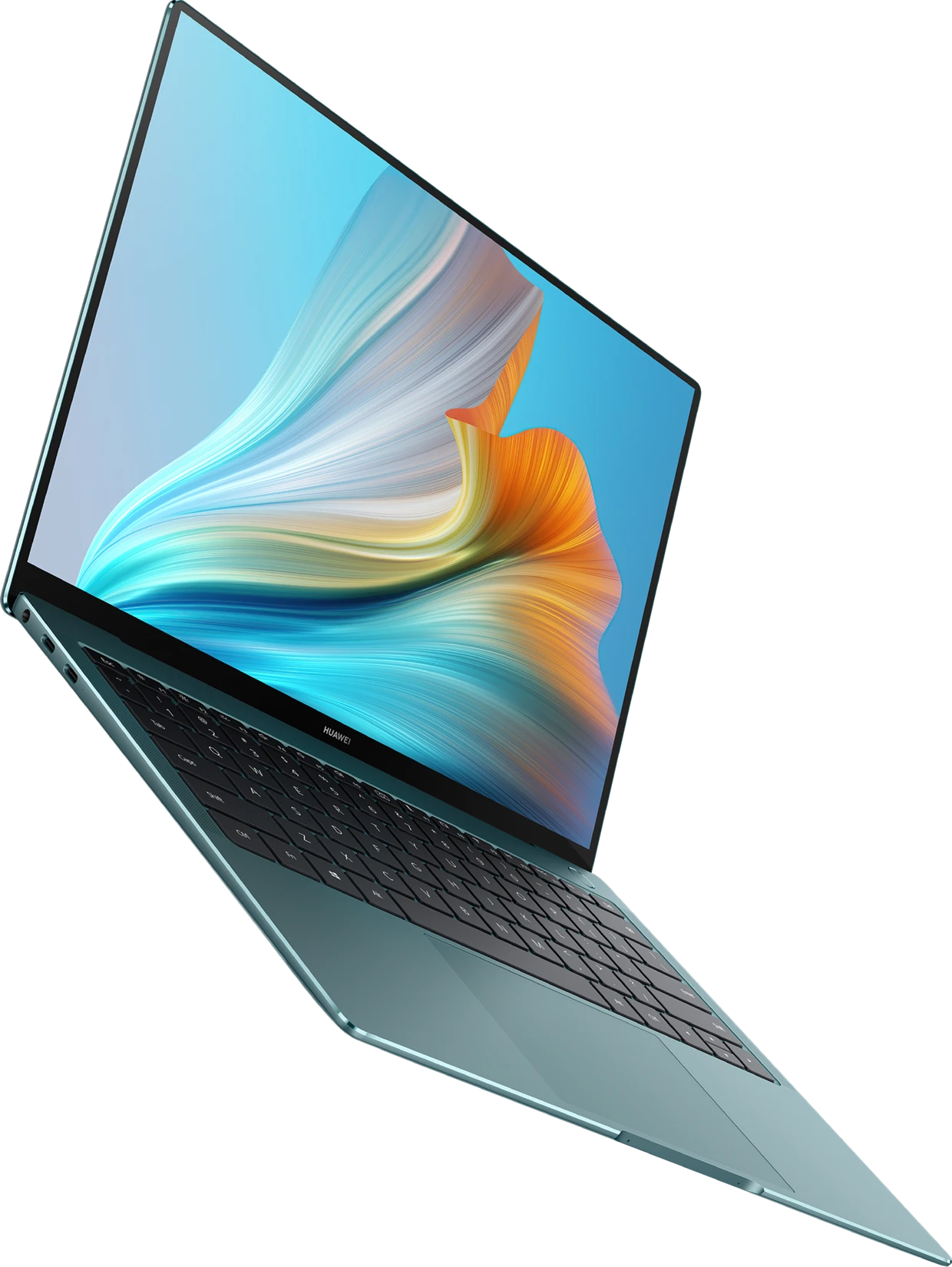 MateBook X Pro Display Source Huawei
The laptop comes in an ultra-thin build but it does carry a bit of weight at 2.9 pounds (1.33kg). Yet it is portable enough and compact enough to be carried around in a small bag pack easily. The lid hides a 13.9-inch display carrying a 3000 x 2000-pixel resolution on a 3:2 aspect ratio packing 260PPI. The small bezels make the screen dazzles and it is a joy to work or watch anything on it. The display is vibrant and comes with a 65 percent DCI-P3, 100 percent sRGB and 66 percent Adobe RGB colour coverage. For gaming, however, the display is a thoroughly unsuitable one as it has a high response rate. Brightness is pretty evenly distributed with a typical brightness of 450nits, 500 nits at its peak.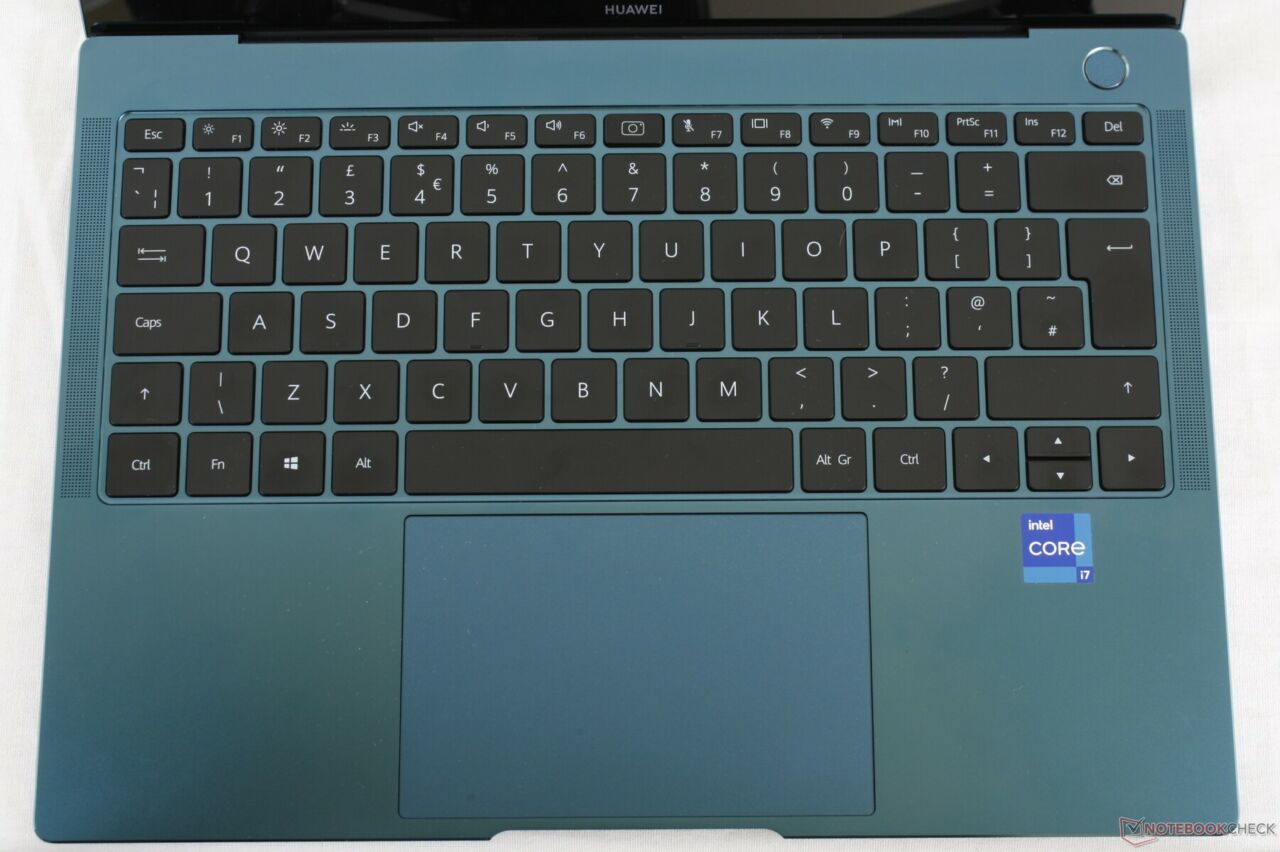 Finally, the display is touch-sensitive with excellent sensitivity and a glossy finish that can result in too many finger smudges appearing on usage. The glossy screen, however, becomes a nightmare to use under sunlight or other bright environments due to excessive glare. It is definitely a pleasure to use door as the LTPS panel has a wide viewing angle of 178 degrees. The overall build quality of the laptop is very solid with little to no bend or creaks at all even when going through rough use. The aluminum chassis may have added to the hefty price tag of the device but it does gives it a lot of structural firmness.
Performance
The MateBook X Pro comes with an updated 11th gen Core i7-1165G7 processor that has a base clock of 2.8GHz and a boost clock of 4.7GHz and 16GB of LPDDR4 RAM. The performance might not seem blazing fast on paper due to the power-optimized processor but the laptop is extremely snappy and responsive during regular usage. Performance-wise, the MateBook X Pro barely follows suit with other luxury laptops.
The Core i7-1165G7 processor is a whole lot faster than the older generation CPUs found in the older MateBook X Pro models but the same processor in the new MateBook X Pro is surprisingly slower than the same processor on other laptops with the same CPU. Both single and multi-threaded benchmarks are 10-15 percent lower on average than the scores of its competitors. In some cases, the scores fall below even last-generation Core i5-1035G7. However, this underperformance of the CPU is not unexpected as the same phenomenon was observed in older models of MateBook X Pro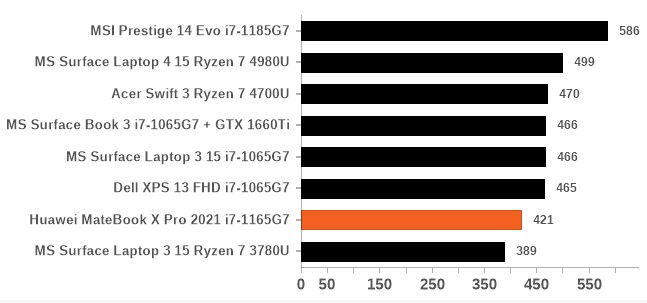 Benchmark applications like PCMark 10 test can replicate typical tasks that you might end up doing on your laptops such as spreadsheets, video calls and regular web browsing. On such test, the Huawei MateBook X Pro is close to the HP Spectre x360's 4,721 at 4,459 points. For perspective, the leader of the group, Dell XPS 13 achieves 4,816 points. Geekbench 5.4 performance benchmark score is 4,191 which indicates that MateBook X Pro falls short of the average score of its competitors. It seems more like an optimization issue as the Zenbook 13, with the same processor performs much better at 5,032. Video transcoding speed is average with the MateBook X Pro transcoding a 4K video to 1080p in about 17 minutes using HandBrake.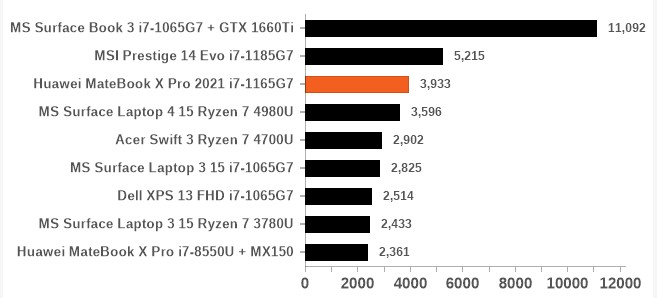 Graphics are handled by an integrated Intel Iris Xe graphics processor that though nowhere near as robust as discreet graphics cards can still manage some of the latest games at playable frame rates. Gaming performance is just manageable with DOTA or CS: GO running at a playable framerate with graphics settings turned up high. It is powerful enough to run some yesteryear titles and low-requirement FPS and MOBA titles.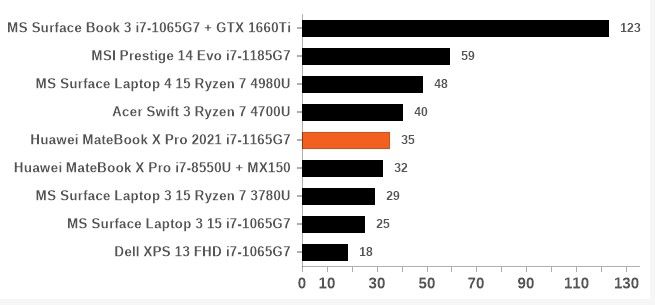 Heat management has been dealt with using two cooling precision fans inside. The underside does get a little hot but remains under manageable limits even during heavy multitasking sessions. The fans work well to vent out the heat without the fan noise becoming disruptive. There are no unnecessary bloatware and features like Huawei Share works well while sharing content between your Huawei phone and the laptop.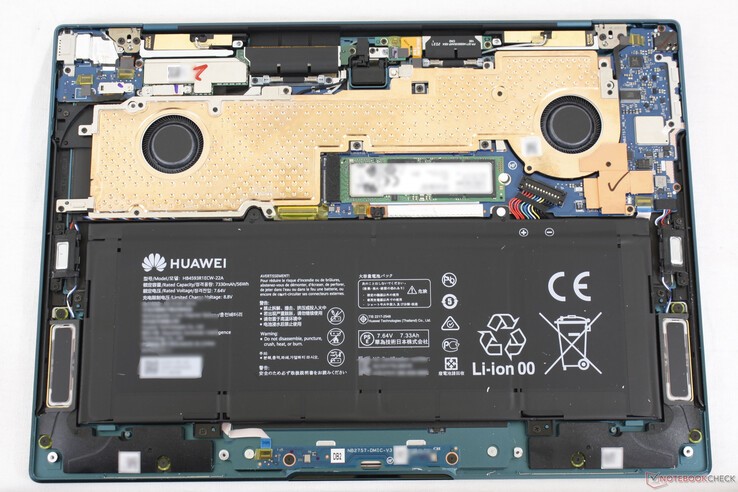 Storage and Battery Life
The MateBook X Pro comes with 1TB SSD NVMe and your unit could come with either Samsung, Western Digital, Lite-On, or Toshiba SSDs connected to the only internal header. If you need more internal storage you will need to discard your old SSD. Storage speed is excellent with Huawei opting to go for a high-performance gaming SSD of almost every OEM in the MateBook X Pro.
The MateBook X Pro 2021 is equipped with a 56 Wh battery which in the absence of a discreet GPU does return decent backup. The only Achilles Heel is the high-resolution display which eats up a lot of juice even when brightness is dimmed down. On average, a fully charged battery lasts for about 10 hours on video playback.
Huawei ships the luxury laptop with a 65 W Type-C charger that charges the laptop consistently between 48-52 W and brings it up to charge in about 90 minutes.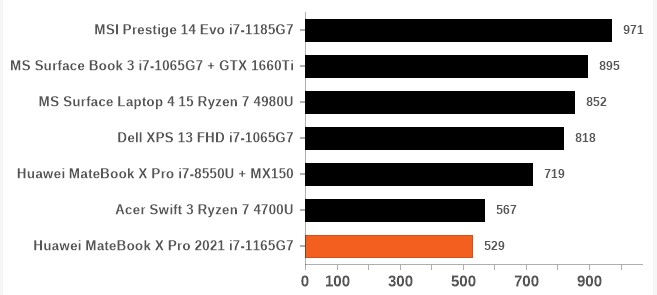 Keyboard, Connectivity and Audio
Similar to most ultra-slim laptops, there aren't a lot of ports to connect peripherals. On the left edge, you'll find a 3.5mm headphone combo jack and two Thunderbolt USB-C ports, one of which acts as the charging port for the MateBook X Pro. On the right side, there is a USB-A port. The keyboard has soft underlighting to illuminate the keys. They feel a little shallow when pressed but still manage to return a 'click' that sounds much better than the butterfly keyboard found in Apple devices.
The only unacceptable feature in the MateBook X Pro is it's under the keyboard webcam which again creates a quirky nostril angle with its 720p shooter. The colour is unpredictable and switches between being washed out and faded depending on lighting conditions. At times the subject is overexposed to the extent of being blown out completely. Finally, in the absence of a physical LAN port, there is Wi-Fi 6 and Bluetooth 5 to handle connectivity requirements.
The power button has an embossed fingerprint sensor that is very reliable and detects fingerprints in an instant. Huawei has tried blending the top firing speakers into the design by placing them under the vents. The audio lacks a bit of bass but the clarity is impressive for a slim laptop. Volume levels are high and vocals come out crisp thanks to Nahimic powered audio.
Conclusion
The Huawei MateBook X Pro fails to justify its high price tag. It should not be as underpowered as it currently is. It needs better optimization for improved performance. In some areas, the performance is laudable such as in display, gaming and heat management. However, when it comes to processing power, the laptop feels underpowered. While it checks all the boxes for being a luxury portable computing device, the overall value for money quotient is much below expectations. There are far better options available to the user in terms of Dell XPS 13 or 15, Asus VivoBook and even the MacBook Pro 13, all of which are available at a cheaper price than the MateBook X Pro. If you are still considering the laptop, only get this if you can find a good offer.