These new generation tablets show plenty of promise especially when they support multi level sensitivity stylus like those on the Apple Pencil. The tablets themselves come with a plethora of apps that support the stylus.
Top 8 Best 10-inch Tablets with Stylus
These 10-inch tablet with stylus are mainly based on Android operating system with others based on Windows and iOS.
Quick Look at Our Line-up
After the success of iPad Pro 9.7-inch, Apple has made a swift move to replace it with a bigger 10.5-inch version. The new iPad Pro 10.5-inch is not much bigger in dimension to its predecessor thanks to its even narrower bezel. Getting a bigger display while keeping the overall size small does help go a long way. It makes using the device with Apple Pencil much easier and keep it small and light enough to take with you everywhere.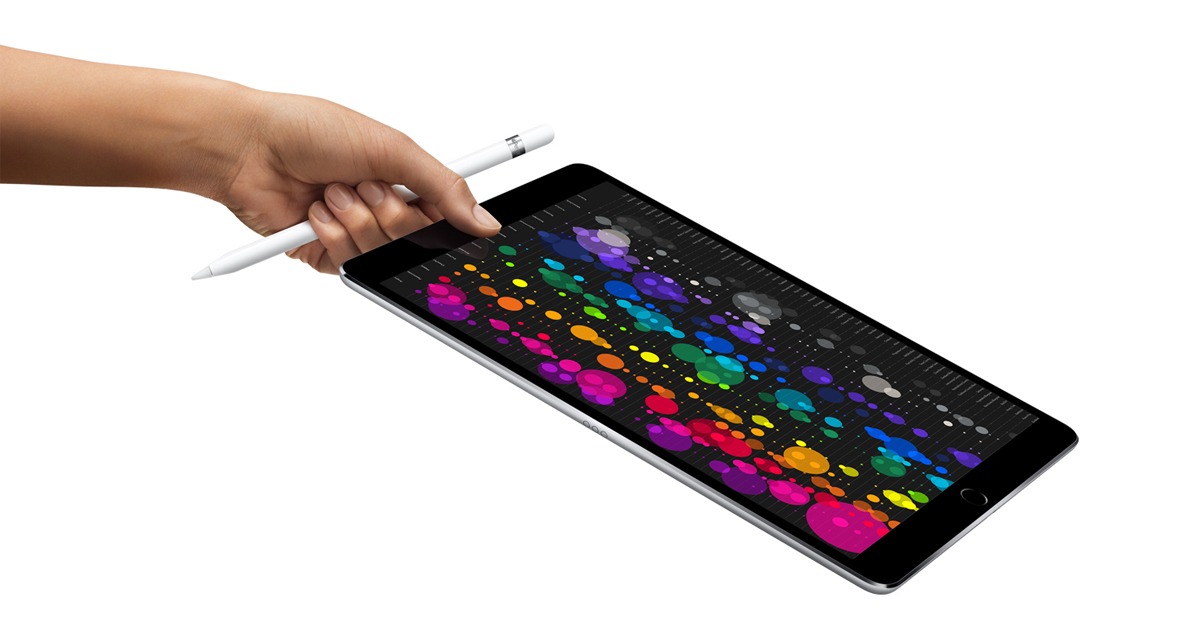 Samsung Galaxy Tab S3 has a smaller 9.7-inch AMOLED display. Depending on the model it comes with either a QXGA or 4K UHD AMOLED resolution. The tablet has a superbly precise and pressure-responsive Samsung S Pen Stylus which never needs to be charged. The stylus has great angle sensitivity (4096 pressure sensor level) with the intelligence to translate, magnify, navigate and create with a full palette of brush and pen types. This premium tablet has a glossy glass front and back giving it a stunning look.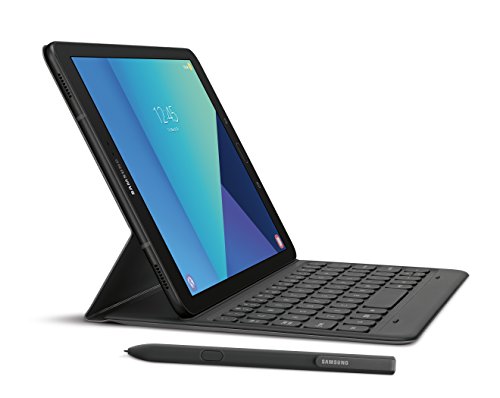 In the audio department, you get a powerful quad speakers, tuned by AKG, calibrate with your movements as you rotate the Galaxy Tab S3, and intuitively reflect what's playing on-screen. You can easily switch from touch to type with a feather light keyboard although the keyboard is sold separately. The keyboard automatically pairs with the tablet when come into contact and never needs charging.
The biggest plus for the Samsung Galaxy Tab S3 is the High Dynamic Range on a Super AMOLED display, the Galaxy Tab S3 delivers cinematic vividness, detail and deep contrast to a screen that fits in your hands. It has a maximum resolution of UHD 4K (3840 x 2160)@30fps. Some models are QXGA AMOLED (2048 x 1536 pixels).
Display: 9.7-inch QXGA (2048 x 1536) sAMOLED
Processor: Qualcomm APQ 8096  (2.15GHz + 1.6GHz) for WiFi model or Qualcomm MSM 8996 (2.15GHz + 1.6GHz) for LTE enabled model
Memory & Storage: 4GB RAM memory + 32GB storage and microSD card slot support up to 256GB
Battery Life: up to 12 hours
Cameras: 5MP F2.2 front facing and 13MP AF (F1.9) main camera
Dimensions & Weight: 237.3 x 169.0 x 6.0 mm, Wi-Fi: 429g, LTE: 434g
---
Another entry from Samsung, this time the budget tablet Galaxy Tab A with 10.1-inch display and S Pen. The S Pen allow you to take note, draw on photos, create custom animated GIFs and more. With the S Pen, you have so many ways to express yourself. Write, draw and edit with precision. Take screenshots. Select brush and color options to draw on photos or create custom animated GIFs. Plus, you can jot down a quick note without unlocking your screen and even translate unfamiliar words while traveling.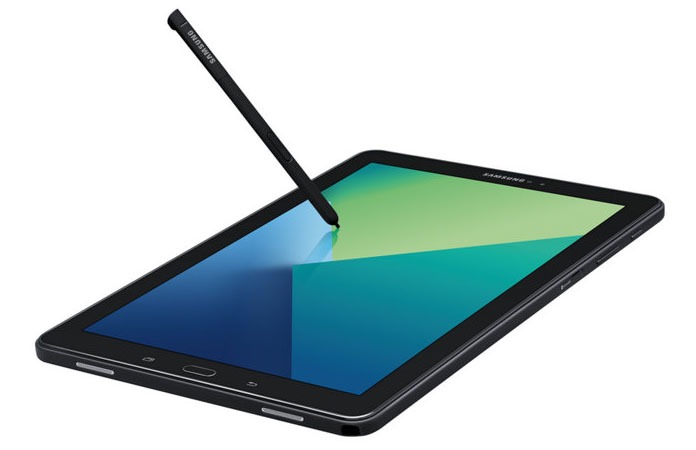 The stunning 10.1-inch Full HD high-resolution screen lets you binge-watch your favourite show or video-chatting with friends. Powered by an Octa-core processor and together with a long-lasting battery, it offers continuous use of  up to 14 hours of internet time. Given its budget price point, it only comes with 16GB internal storage but it does have a microSD slot that supports up to 256GB of extra storage, enough to store movies, music and photos. Samsung's custom Android OS lets you multi-task. Open two apps side by side so you can do two things at once. Chat while you're watching shows or email while you're gaming. Not sure how you can manage the later, perhaps with great difficulty.
Display: 10.1-inch WUXGA(1920 x 1200) TFT PLS display with S Pen support
Processor: Octa-Core(1.6GHz), Exynos 7870
Memory & Storage: 3GB RAM memory and 16GB ROM storage. MicroSD supports up to 256GB
Battery Life: 14 hours internet use, 13 hours video playback
Camera: 2MP front, 8MP rear facing camera (AF with flash and Full HD 1920 x 1080 recording at 30 fps)
Dimensions & Weight: 10.0" x 6.46" x 0.32" and 1.22lbs
---
This razor thin and feather light tablet from ASUS, the ASUS T102HA 2-in-1 tablet is ultra portable and exceptionally adaptable. Built from magnesium-aluminium alloy for durability, it is fitted with a 2-cell battery that'll last up to 11 hours. With its integrated kick-stand, it looks pretty much like a mini Surface Pro. The Smart Hinge design offers stepless kickstand up to 170° of movement so you can set the display at any angle for typing, browsing or watching. The tablet also has an auto-scanning fingerprint sensor and support Windows Hello to unlock your device.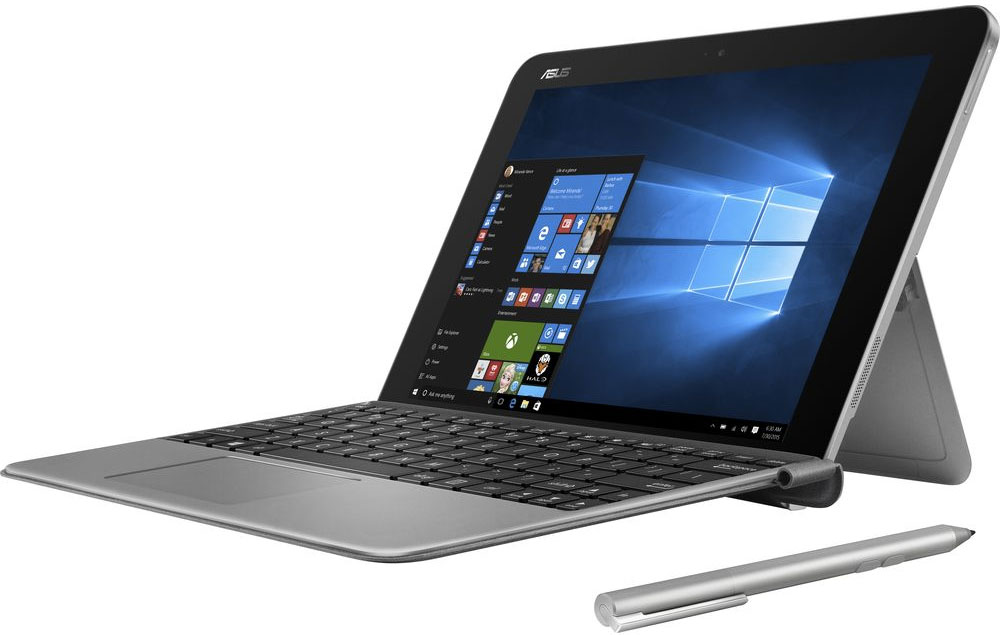 The display pushes up to 400cd/m² brightness for bright, vivid and clear images. The dual side-mounted stereo speakers create an immersive surround-sound effect, and exclusive ASUS Tru2Life video enhancement and TruVivid direct-bonding technology make sure you always see the best possible images, with sharp, realistic videos and fewer annoying reflections.
The device has an ultra-slim keyboard design to help keep it compact and light. The precision touch pad has palm-rejection technology and Windows gesture support for speed and comfort. The keyboard has 1.5mm key travel, making it a real pleasure to use, and an anti-dust fibreglass construction to keep it looking clean.
Display: 10.1-inch LED Backlit 1280 x 800 pixels
Processor: Intel® Atom™ x5-Z8350 Processor 1.44 GHz / 1.92 GHz (Turbo Boost)
Memory & Storage: 4GB RAM memory and 64GB ROM storage
Battery Life: up to 11 hours
Camera: 2MP web cam
Dimensions & Weight: H1.4 x W25.9 x D17cm 790 grams
---
It may not come with a stylus but you can use almost any object as a stylus on the touchscreen with Lenovo AnyPen technology. It is powered by a quad-core 2.4GHz Intel processor and it has an amazing battery life of up to 18 hours. The best thing has to be that it comes with a built-in projector great for entertainment or business presentation capable of projecting image of up to 70-inch in size on the wall or ceiling. That's not all, it also has 4 JBL speakers to deliver the audio you need, truly a portable cinema system. Remember, you can use pencil or basic plastic stylus so you do not need to pay over the odds for an optional stylus.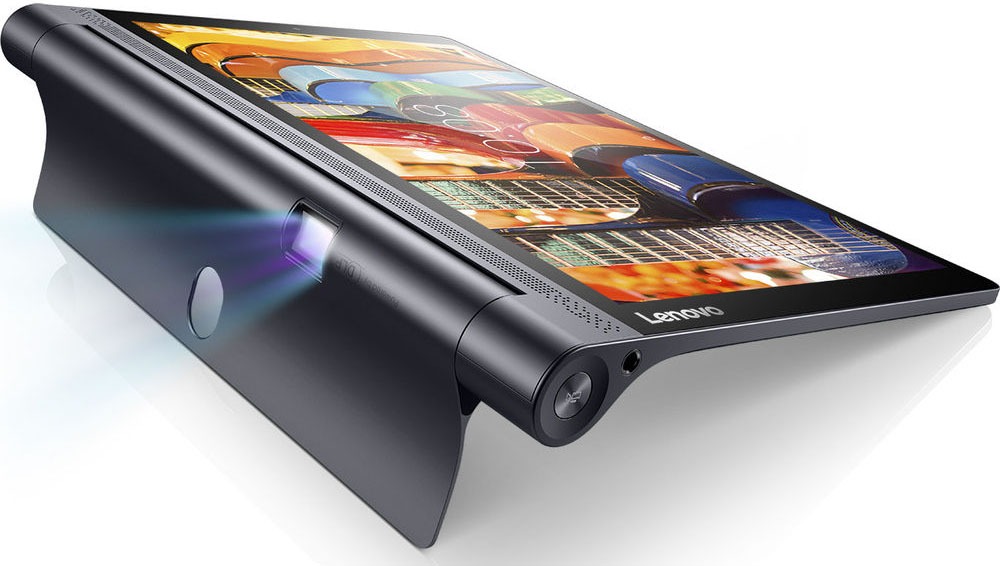 Display: 10.1-inch IPS with 2560 x 1600 pixel resolution (299PPI)
Processor: Intel® Atom™ Processor x5-Z8550 2.44GHz Quad-Core
Memory & Storage: 4GB RAM memory, 64GB Storage and up to 128GB microSD card
Battery Life: 18 hours
Camera: 5MP
Dimensions & Weight: 179 x 247 x 4.68 mm (H x W x D), 665 grams.
ALSO: Lenovo Yoga Tab 3 10.1-inch Android Tablet – Qualcomm Snapdragon APQ8009 1.3GHz Quad-Core processor, 2GB RAM, 32GB Storage, 1280 x 800 pixel resolution
---
Huawei is marketing this as an entertainment tablet with four speakers (2 treble and 2 bass) for surround sound with advanced Harman Kardon technology. Apart from Apple's iPad Pros the MediaPad is also the only tablet in this line-up that features a fingerprint sensor for secure identification, seamless login and access to apps with support for multi-users.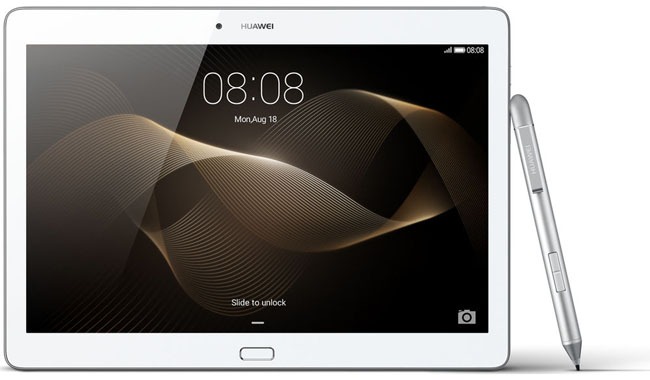 Like Apple's Pencil on iPad Pro, the M-Pen stylus is an ultra-sensitive pen with 2048 pressure levels to simulate the friction of pen on paper. For multi-tasking, you can use gesture control; swipe left to go back to previous screen and right for multitasking management screen and move on to the next page.
While the 16GB model is affordably priced, the 64GB variety pushes the price up. Still you get a well designed tablet with non-conductive vacuum-coated metallic unibody at 7.35mm thin with the thinness edge measuring only 5mm. Available in Luxurious Gold and Moonlight Silver. Again, the best thing here is the stylus is included and not an optional extra.
Display: 10.1-inch IPS 1920X1200 FHD Display
Processor: Hisilicon Kirin 930, Quad 2.0GHz + Quad 1.5GHz processor
Memory & Storage: 2GB (standard edition) / 3GB (premium edition) RAM, 16GB (standard edition) / 64GB (premium edition) storage
Cameras: 13MP rear facing autofocus F2.0 camera with flash, 5MP front facing camera
Battery: 6600mAh battery
Dimensions & Weight: 239.8mm x 172.75mm x 7.35mm, approx. 500 grams
---
The Lenovo Yoga Book takes stylus input seriously, with a dedicated writing space, a digitiser, a stylus that doubles as a real writing pen, various apps that support writing, sketching and drawing and fold flat profile that supports display and writing side by side.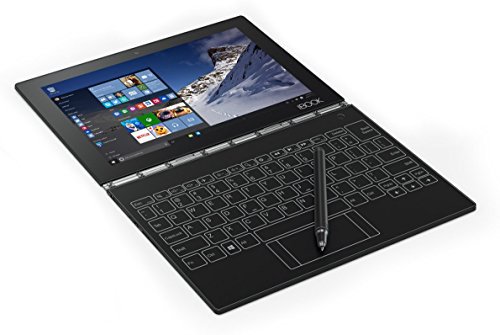 At just under 2 lbs, the Lenovo Yoga Book is the world's thinnest and lightest 2-in-1 android tablet. A Windows 10 Pro 64-bit version is also available. On-Demand Halo Keyboard With Haptic Feedback  makes every task easier. You can make notes or sketches using a stylus with real ink. All notes are instantly digitized when you write with the Real Pen stylus.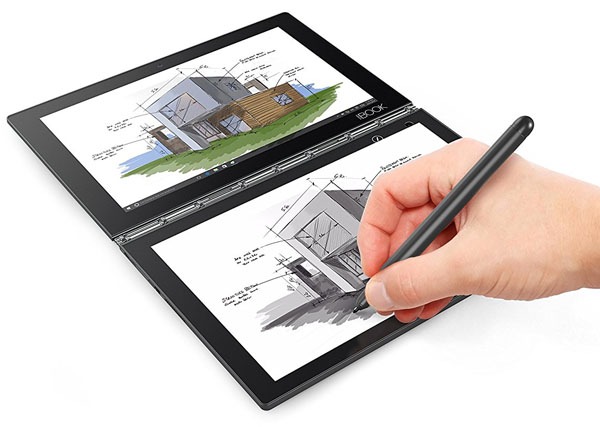 Type on the Halo keyboard that appears when you need it – and vanishes when you don't. Get things done on our custom version of Android that lets you be productive like never before. Thin, light, and stylish, 10.1 inches Yoga Book sets your imagination free – anytime, anywhere.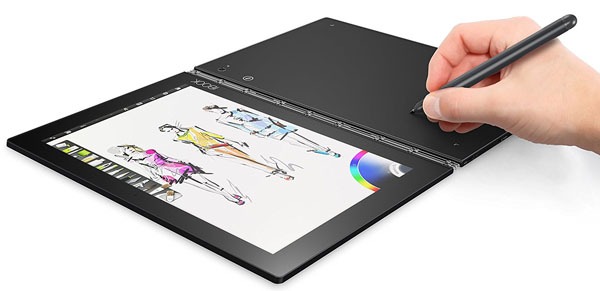 Do more with one notebook: type, take notes, browse the web, even draw. With up to 15-hours of battery life, it's designed to go all day. Its maximum screen resolution is 1920 x 1200 pixels. 2.4GHz Intel Atom processor, 64GB SSD and 4GB RAM let you enjoy Cinema-Level Sound and Video.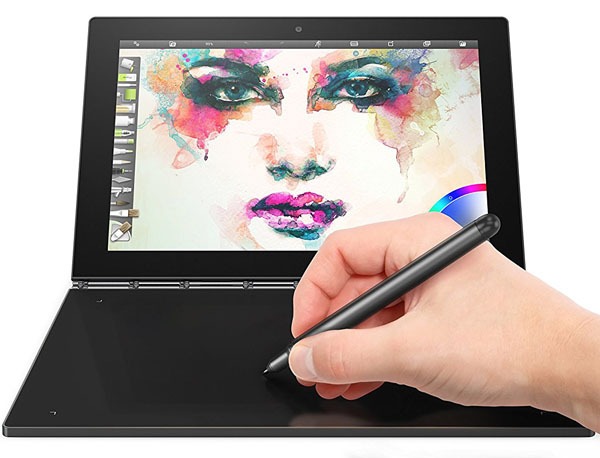 ---