Bigger 12-inch tablets or tablets with detachable keyboards that support stylus is a great tool for designers, creatives, students, businesses or simply your everyday user.
Here in this post we explore some of the best tablets with expansive displays that allow for more room to express yourself with the pen or simply to jot down some notes.
Top 5 Best 12-inch Tablets with Stylus Input
These machines are based on Windows operating system offering full desktop experience with the keyboard or tablet mode when detached or converted. Granted that some of these are bigger than 12-inch such as the Surface Book 3 detachable with 13.5-inch display and Surface Pro X with 13.0-inch display, these would still fall in the large tablet category.
Quick Look at Our Line-up
The new iPad Pro 12.9 from Apple supports stylus input with Apple Pencil 2 that charges wirelessly when magnetically attached to the side. You will however need to purchase the stylus separately. The devices has incredible power and with the right app, you can accomplish even the most complex work. The 12.9-inch model is the slimmest of all tablets in our line-up and with the Apple Pencil 2, you can take the iPad Pro's capabilities and versatility even further.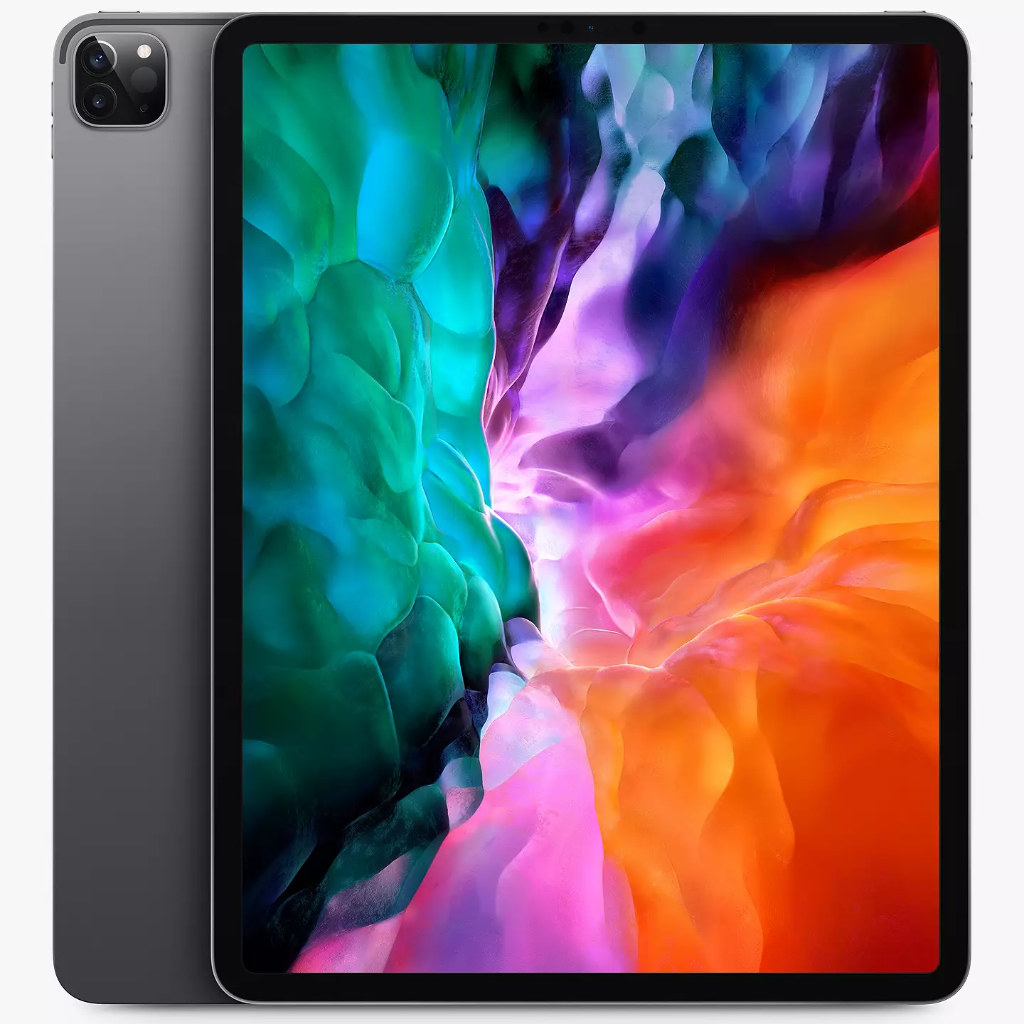 Search Apple iPad Pro 12.9 on Amazon
With its 12.9-inch Retina display at 2732 x 2048 pixel resolution, everything looks sharp and crisp with ProMotion, P3 wide colour gamut and True Tone technology. The new generation device is even brighter at 600 nits making it least reflective and more visible in any lighting condition. The A12Z processor is only slightly faster than previous A12X but is still more powerful in some benchmarks when compared with than the iPad Air 4 with A14 Bionic. It can take on complex tasks like editing 4K video with ease. It also has all 8 GPU cores firing for leading graphics performance pushing fluid motion, effects and rendering with plenty of visual details without stuttering. Apple promises to make the iPad even better with iPadOS. Definitely one to consider if you are an Apple fan and know your way around the iPad.
| | |
| --- | --- |
| OS | iPadOS 13.4, up to 14.4 |
| CPU | 4-core 2.5 Ghz + 4-core 1.6 Ghz |
| Display | 12.9-inch 2048×2732 4:3 120Hz IPS |
| Size & Weight | 280.6 x 214.9 x 5.9 mm, 631/633 g |
| Memory | 6GB |
| Storage | 128/256/512GB, 1TB |
| Back Camera | 12+10MP, 4K, 1080p, 720p, 30/60/120fps |
| Front Camera | 7MP, 1080p 30fps |
| Battery | 9720 mAh |
---
Microsoft Surface Book boasts a 13.5-inch PixelSense 10-point multi-touch display with a resolution of 3000 x 2000 pixels is the highest resolution tablet and at 13.5-inch it is also the biggest tablet in our list that supports a stylus, known as the Surface Pen. It's great for presentations, updating excel spreadsheets and create documents. With 256GB solid state flash memory (option for 512GB and 1TB) and 8GB RAM (option for 16GB and 32GB) coupled with either an Intel Core i5 or Intel Core i7 processor, this tablet is super fast.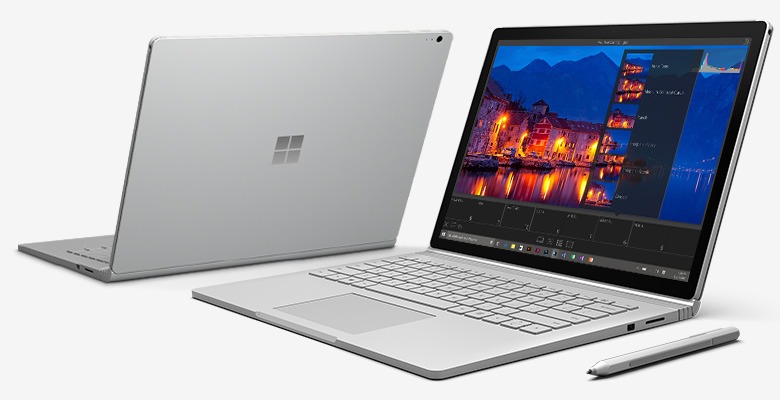 When detachable, the display screen works in perfect harmony with Microsoft's OneNote and Surface Pen. As mentioned before the standard unit without performance base averages up to 12 hours between charge. With the keyboard base, you are looking at up to 15.5 hours battery life. It is also worth noting that the Intel Core i7 model comes with discrete graphics, the GeForce GTX1650 Max-Q for better graphics performance. Finished in silver and made from magnesium alloy casing with a minimalist design with the only physical buttons being the power and volume, there is plenty to like. Surface Pen is available separately.
| | |
| --- | --- |
| OS | Windows 10 Home |
| CPU | Intel Core i5-1035G7/i7-1065G7 |
| Display | 13.5-inch 3000×2000 3:2 Pixel Sense |
| Size & Weight | 312 x 232 x 13/15-23 mm, 1.5/1.6 kg |
| Memory | 8/16/32GB |
| Storage | 256/512GB, 1TB |
| Back Camera | 8MP, 1080p |
| Front Camera | 5MP, 1080p |
| Battery | Up to 15.5 Hours |
---
The seventh generation Surface Pro launched now comes with 10th generation Intel processor but it has the same profile and design as its predecessors. Using the proven kick-stand, it now comes with even lower working pitch for Studio Mode. The higher powered models based on Core i7 supports Microsoft Surface Dial just like the Surface Studio desktop. Like its predecessor, the Surface Pro is available in a variety of processor, memory and storage combinations.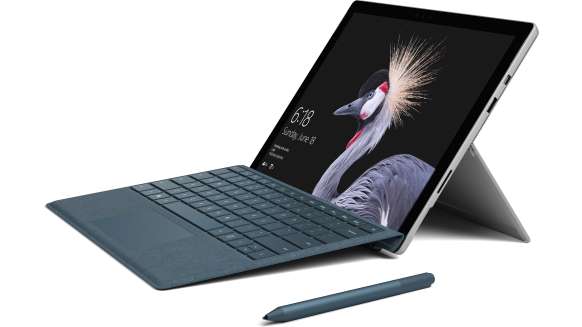 The tablet or rather laptop as what Microsoft would have you know with the tagline "The Most Versatile Laptop" has a high resolution 12.3-inch PixelSense touchscreen 2736 x 1824 (267 PPI). With a productivity focused 3:2 aspect ratio display, the panel supports both Surface Pen and touch. Battery life lasts up to 10.5 hours per charge enough to power you through the day although higher model may not last that long. The best part of the Surface Pro, like other Windows Tablets and 2-in-1 laptops in the line-up is that it lets you run full desktop apps. Pick the right package for your budget and the optional Surface Keyboard, Surface Mouse and Surface Pen and you have a complete all-in-one device, your laptop, tablet and desktop replacement rolled into one. Even though the design is a bit dated now, the Core i7 model comes in black and supports both USB-C and WiFi 6.
| | |
| --- | --- |
| OS | Windows 10 Home |
| CPU | Intel Core i5-1035G4/i7-1065G7 |
| Display | 12.3-inch 2736×1834 3:2 Pixel Sense |
| Size & Weight | 292 x 201 x 8.5 mm, 775/790 g |
| Memory | 4GB, 8GB, 16GB |
| Storage | 64/256/512GB, 1TB |
| Back Camera | 8MP, 1080p |
| Front Camera | 5MP, 1080p |
| Battery | "Up to 10.5 Hours" |
---
The Galaxy Tab S7+ is a premium Android tablet with a stunning Super AMOLED display. The 12.4-inch display in itself is worth reaching for your wallet as it is capable of the most stunning and visually engaging viewing experience. With a super high 120Hz refresh rate, everything looks buttery smooth. As for the stylus, the S Pen is included and like iPad Pro, charges when magnetically attached. Unfortunately, the location of the S Pen 'charging pad' is around the back, an odd place to have. Still, the tablet works well as both as an entertainment and productivity device with super charged quad firing audio tuned by AKG, with support for Dolby Atmos, and DeX mode for Windows like experience. And, to take your further and longer, the huge 10,090mAh battery capacity offers all day use up to 15 hours. Finally a 5G option is available which on a tablet is a first.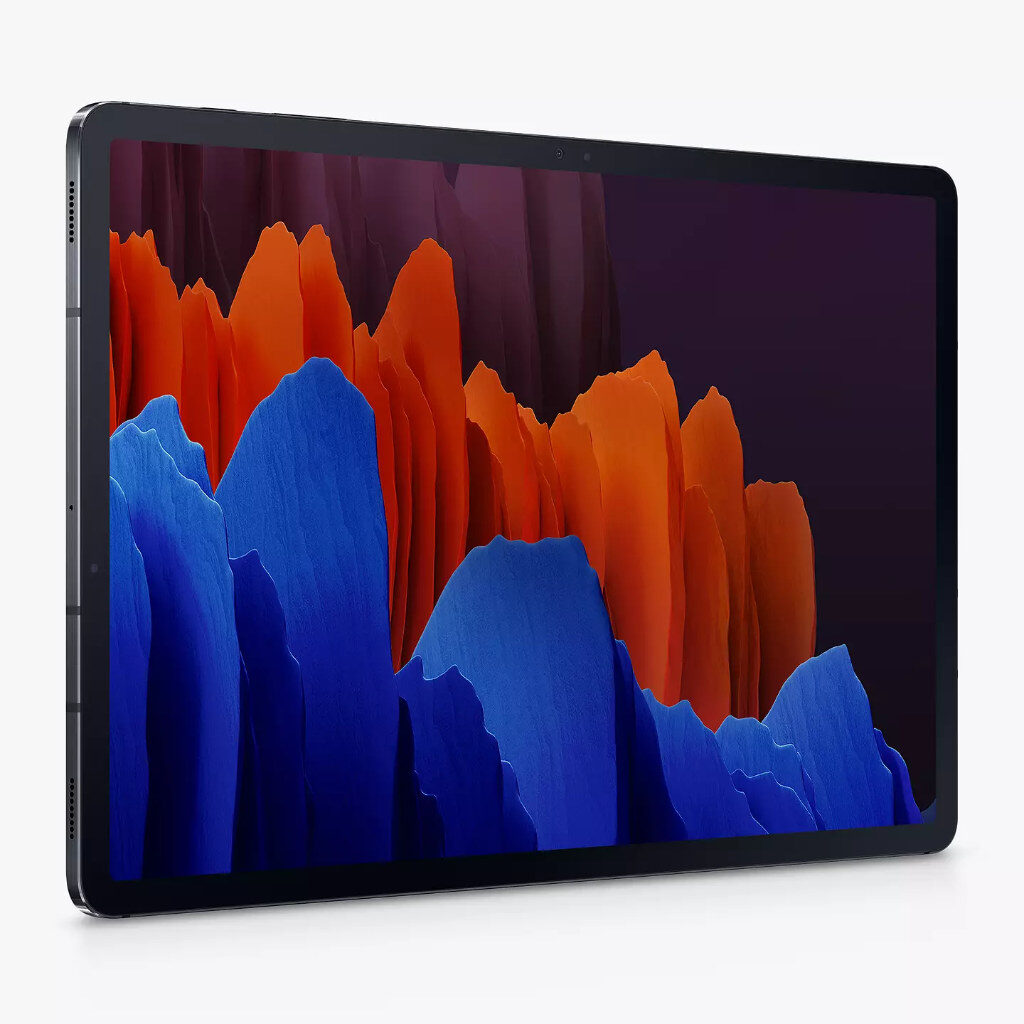 | | |
| --- | --- |
| OS | Android 10, up to 11 or One UI 3.1 |
| CPU | 1-core 3.09, 3-core 2.42, 4-core 1.8 (Ghz) |
| Display | 12.4-inch 1752×2800 16:10 120Hz S-AMOLED |
| Size & Weight | 285 x 185 x 5.7 mm, 575 g |
| Memory | 6GB (on 128GB storage), 8GB |
| Storage | 128/256/512GB, 1TB |
| Back Camera | 13+5MP, 4K, 30fps |
| Front Camera | 8MP, 1080p 30fps |
| Battery | 10090 mAh |
---
Not Microsoft's first tablet to use ARM chip and won't be the last. Judging from the way things are going, especially with Apple going out on its own with Apple Silicone. And, how the M1 was successfully deployed across the MacBook Air, MacBook Pro laptops and Mac mini desktop, Microsoft will be working closely with Qualcomm to produce more ARM based device. The Surface Pro X is not much bigger than Surface Pro thanks to its all display design and ultra narrow bezels. From that almost similar footprints it is able to squeeze a 13-inch display and a beautiful one at that. This is a solid and super slim device we wish Surface Pro 7 would be, and thanks to its mobile chip, it is silent and comes with 4G LTE options. While the standard user will have everything they ever need from the tablet, power users looking for more applications will struggle looking for native apps.   Both keyboard cover and Surface Slim Pro are sold separately with the cover now featuring a storage space for the slim pen.

| | |
| --- | --- |
| OS | Windows 10 Home (ARM) |
| CPU | Microsoft SQ1/SQ2 |
| Display | 13-inch 2880×1920 3:2 Pixel Sense |
| Size & Weight | 287 x 208 x 7.3 mm, 774 g |
| Memory | 8GB, 16GB |
| Storage | 128/256/512GB |
| Back Camera | 10MP, 4K, 1080p |
| Front Camera | 5MP, 1080p |
| Battery | "Up to 15 Hours" |
---
Following closely to Surface Pro 7 rule book with slight nip and tug here and there is the HP Elite x2 G4. Some calls it the ideal 'upgrade' and what Surface Pro 7 should aim for design wise with its slim size bezels but we like the direction Surface Pro X is taking. As for the HP Elite x2 G4 (a mouthful, I know), it comes with a super bright screen capable of up to 1000nits on the 13-inch model. Even the brightest Ipad Pro 12.9 above goes up to only 600 nits, with the average at 500nits. And it does not stop there, the 3:2 aspect ratio display is super sharp with 3000 x 2000 pixels. Unfortunately, the 12.3-inch model only comes with Full HD resolution 1080p and capable of 400 nit brightness. Still, the tablet comes with WiFi 6, USB-C, Thunderbolt and headphone jack and 4G LTE option.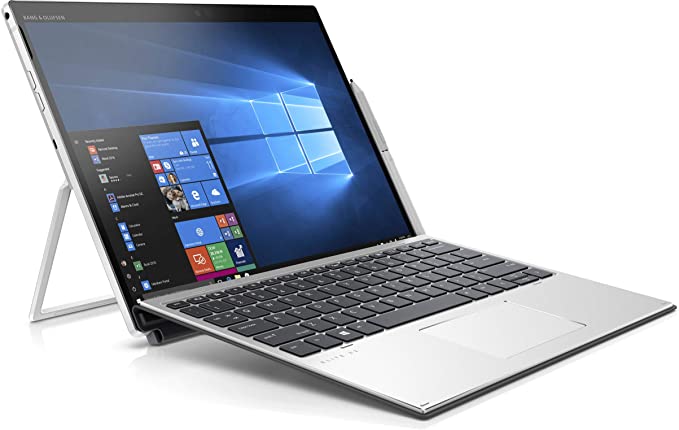 | | |
| --- | --- |
| OS | Windows 10 (various versions) |
| CPU | Intel Core i7-8565U/8665U vPro, Core i5-8265U/8365U vPro |
| Display | 12.3-inch FullHD 400 nits or 13-inch FullHD / 3000 x 2000 pixels 3:2 IPS 1000nits |
| Size & Weight | 289.3 x 221.9 x 14.2 mm, 1.17 kg (tab+keyboard) |
| Memory | 8/16GB |
| Storage | 128/256/512GB, 1/2TB |
| Back Camera | 8MP |
| Front Camera | 1080p |
| Battery | 6500 mAh |
---
Older Generation 12-inch Tablets & Detachables with Stylus Input
The predecessor to the fifth generation Surface Pro, the Surface Pro 4 is still available in the market at reduced prices. Even Microsoft Store is doing a deal, bundling it with Bower & Wilkins P3 Series 2 On-Ear headphones. Based on the 6th generation Intel processors, it still has plenty of life. If you can put up with shorter battery life and rather save some money, you can't go wrong with the Surface Pro 4.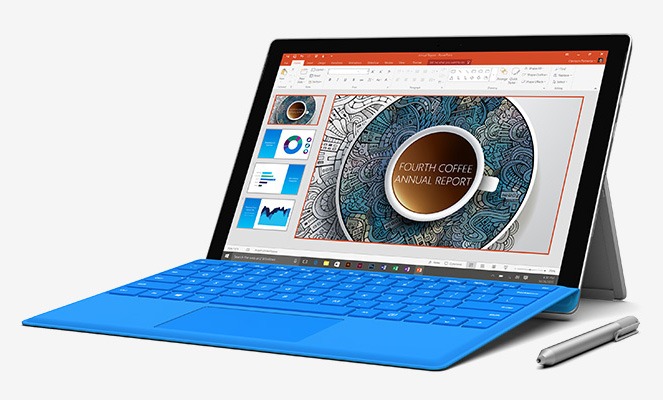 Display: 12.3-inch PixelSense display, Resolution: 2736 x 1824 (267 PPI), Aspect Ratio: 3:2, Touch: 10 point multi-touch
Processor: 6th Gen Intel Core m3, i5, or i7
Memory & Storage: 4GB, 8GB or 16GB RAM and 128GB or 256GB SSD Storage
Cameras: 5.0MP front facing HD camera, 8.0MP rear facing autofocus camera with 1080p HD video recording
Battery Life: 9-12 hours of video playback depending on configuration
Dimensions & Weight: 11.50 x 7.93 x .33 in (292.10 x 201.42 x 8.45 mm), i5/i7: 1.73lbs (786grams), m3 1.69lbs (766grams)
---
The hybrid PC has a 360-degree hinge, the HP Spectre x360 Convertible 13 flips from you conventional laptop to stand mode to tent mode to tablet mode effortlessly. The reason for it being on this list is simply because it comes with stylus and sleeve. It features the new 7th Gen Intel Core i7 processor and 512GB SSD, enough to take on anything you can throw at it.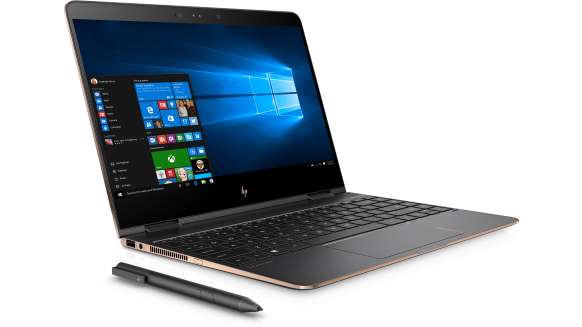 Notable features include the razor-sharp 13.3-inch Full HD 1920 x 1070 pixel resolution touchscreen to make it easy to zoom, flick, or tap your way through all your content and up to 16 hours battery life per charge to power you through all day and into the night. It does not stop there, the 2-in-1 PC comes equipped with Bang & Olufsen HP Audio Boost quad-speakers to match that screen for superb entertainment and gaming.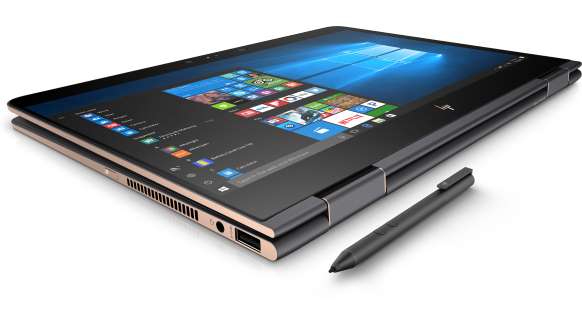 Processor: Intel Core i7-7500U 2.70GHz with Turbo Boost Technology up to 3.50GHz
Display: 13.3-inch diagonal Full HD IPS BrightView WLED-backlit touchscreen (1920 x 1080), 10-finger multi-touch support
Memory & Storage: 8GB/16GB RAM memory and 512GB/1TB SSD storage
Battery Life: Up to 16 hours battery life
Camera: HP TrueVision FHD IR camera with dual array digital microphone
Dimensions & Weight: 307 x 218 x 13.90 mm and 1.32kg
ALSO: A bigger 15.6-inch HP Spectre 2-in-1 Hybrid PC is also available.
---
ASUS Transformer 3 Pro feels a little bulky than compared to say Samsung Galaxy TabPro S, Huawei Matebook or iPad Pro 12.9-inch. At first glance is looks a lot like the Surface Pro and Surface Pro 4 with those square edges, the kick stand and magnetic keyboard. It goes surface deep with a lot of fire power inside, the sixth generation Intel Core i7 processor and PCIex4 Gen 3 SSD storage and SATA3 interface. To push it further, you can even connect an optional ROG XG Station 2 for gaming grade graphics or Audio Pod for better audio with quad-speakers, 360° surround sound and 5.1 channel virtual surround.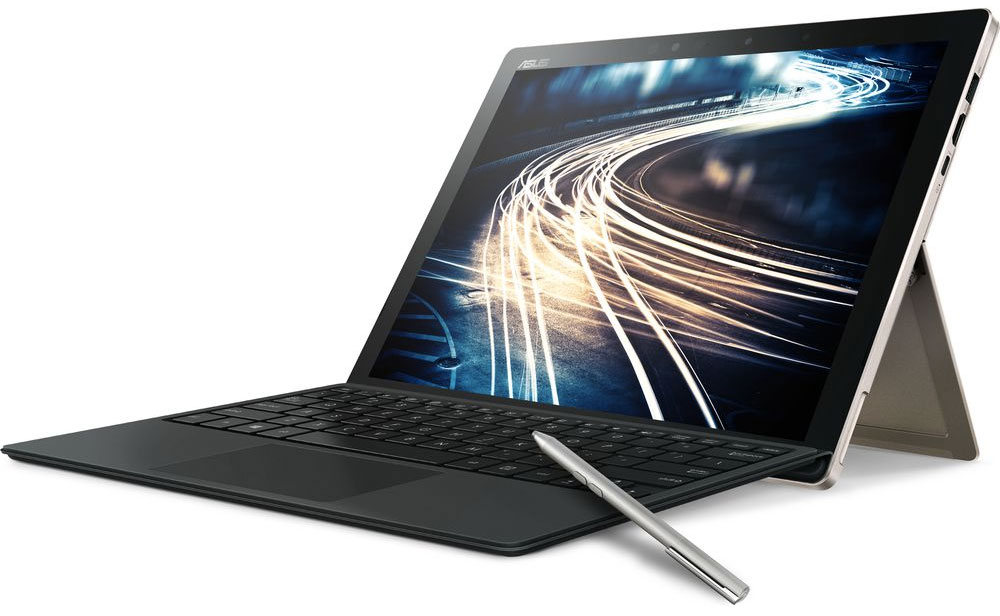 It weighs a bit more compared to Surface Pro or Surface Pro 4, but not by a lot, at 800 grams and measures 8.35mm thin. The integrated metal kickstand has a 155° step less hinge and can go up to 170° angle. What really makes the Transformer 3 Pro stands out from the rest is the 3K display, packing 2880 x 1920 pixels with an extra-wide colour gamut of 121% sRGB and 85% NTSC for more vivid and accurate colours. The high-precision ASUS Pen with 1024 levels sensitivity lets you jot down your notes and ideas, annotate photos that you've taken with one of ASUS Transformer 3 Pro's two cameras, front or back.
Display: 12.6-inch (16:9) LED backlit WQHD+ (2880 x 1920) 60Hz Glare Touchscreen with 85% NTSC
Processor: Intel® Core™ i5 6200U Processor or Intel® Core™ i7 6500U Processor
Memory & Storage: 4GB / 8GB LPDDR3 2133MHz SDRAM Onboard Memory and 256GB/512GB SATA3 M.2 SSD storage with multi-format card ready
Cameras: 2MP front facing IR camera and 13MP rear camera
Battery: 39 Whrs Polymer Battery with quick charge 60% in 60 minutes.
Dimensions & Weight: 298.8 x 210.1 x 8.35 mm (WxDxH), 800g
---