ASUS released 3 new ZenFone 3s, leading the pack is ASUS ZenFone 3 Deluxe with its a blazing fast 2.15GHz processor, whooping 6GB RAM memory and fast UFS 2.0 ROM storage up to 256GB but can it beat the likes of iPhone 6S Plus, Galaxy S7 edge, Xperia Z5 Premium and LG G5.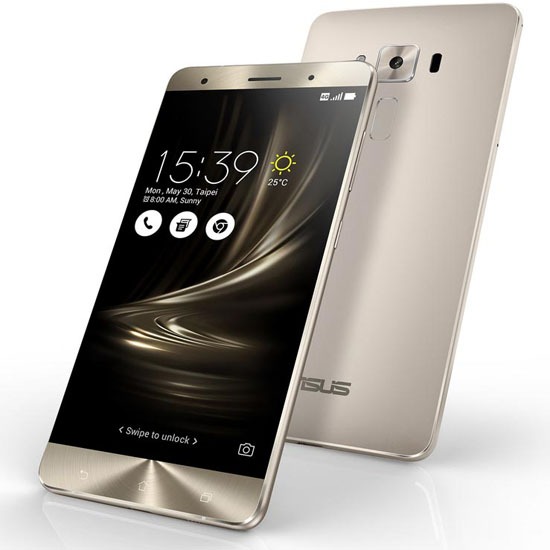 The ZenFone 3 Deluxe has a huge 5.7-inch bigger display, faster Snapdragon 820 processor clocking at 2.15GHz and more memory at 6GB RAM. It also uses fast UFS 2.0 ROM storage with a starting size of 64GB with 128GB and 256GB options available.
It also improves on design over the ZenFone 3 with a full metal unibody with invisible antenna. The thinnest point, the edge only measures 4.2mm. The backplate is curved and is thicker in the middle up to 7.5mm where the camera is located.

Using the finest aerospace-grade alloy and precision milling with 0.14mm diamond-cuttin technology. The metal surface is finished with hyper fine sanding process, polished to a beautiful smooth anodized finish.
What we like best is the display, with an ultra small 1.3mm slim side bezel and a high 79% screen-to-body ratio the 5.7-inch device does not feel big.
Its Full HD Super AMOLED display offers plenty of contrast (3,000,000:1) for vibrant colour and uses Tru2Life technology for maximum intensity. For protection, it uses Gorilla Glass 4 glass cover.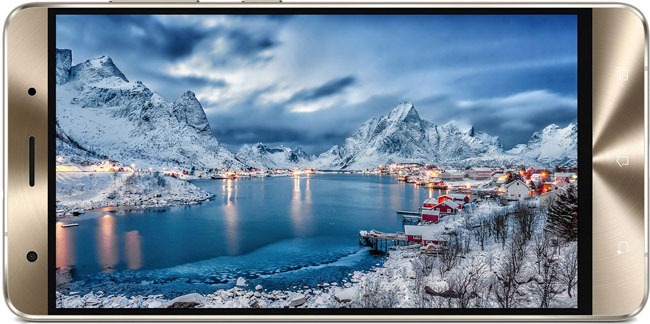 The display also has always-on technology, the screen keeps vital information in constant view for whenever you need it — without waking up the whole display.
For connectivity the ZenFone 3 Deluxe comes with 4G Cat 13 LTE supporting up to 600Mbps (subject to network provider). It also uses the USB-C 3.0 connector and is capable of fast-charging pushing the battery level up to 60% in 39 minutes.
Even with all this power and connectivity, the 14nm processor is 300% faster than compared to ZenFone 2 Deluxe and 30% more efficient. The Adreno 530 graphics is also 64% faster.

As with the ZenFone 3, the Deluxe has a finger print scanner in the middle just under the rear facing camera for ease of reach.
In the optics department, it also has a better 23MP camera again with TriTech auto-focus. PixelMaster 3.0, ASUS's speak for photography on the smartphone enhances the onboard 23MP sensor with large f/2.0 aperture lens and subject-tracking TriTech auto-focus to offer superb result.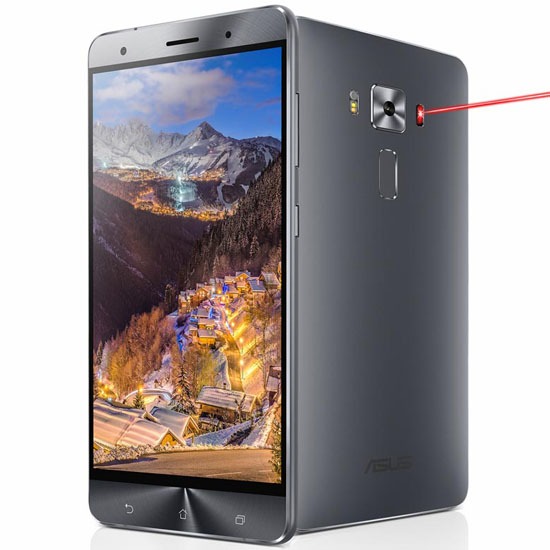 In Super Resolution mode, it can capture 92MP image and does this with super quick 0.03s instant auto-focus applying both optical and electronic image stabilisation. The term TriTech auto-focus refers to the three focusing technologies – laser, phase detection and continuous auto-focus.
While shooting photos, the four-axis optical image stabilizer (OIS) senses and prevents your hand movements from blurring photos. And for videos, a three-axis electronic image stabilizer (EIS) keeps your handheld videos rock steady.
TriTech, OIS, EIS and Deep Trench Isolation (technology that prevents photons of light from leaking from one pixel on the sensor to another) plus Colour Correction sensor offers clearer and better picture.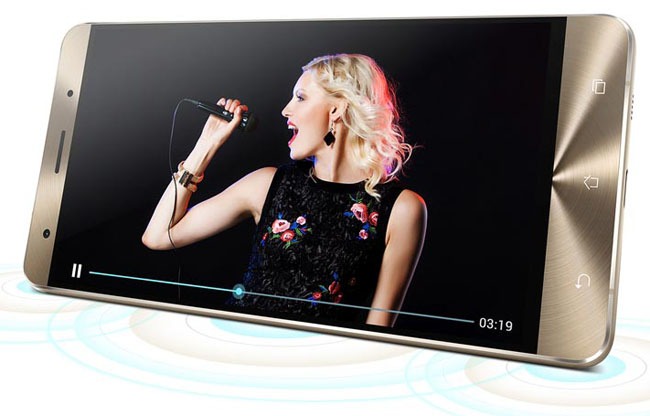 Like the ZenFone 3, the ZenFone 3 Deluxe has SonicMaster and High-Res Audio certification. It pumps out your tunes and sound from an advanced five-magnet speaker construction, metal voice coil and expansive sound chamber.
For immersive listening, plug in your favorite compatible headphone or earbuds and experience true High-Res audio quality studio-grade 24-bit/192kHz playback that's 4x better than CD quality.
Finally, the ZenUI skin now in its third iteration, version 3.0 offers sublime front end improvements over the standard interface while adding productivity features for things like eather updates with real-time animations, time using the clock widget and depth of parallax scrolling when swiping through the apps.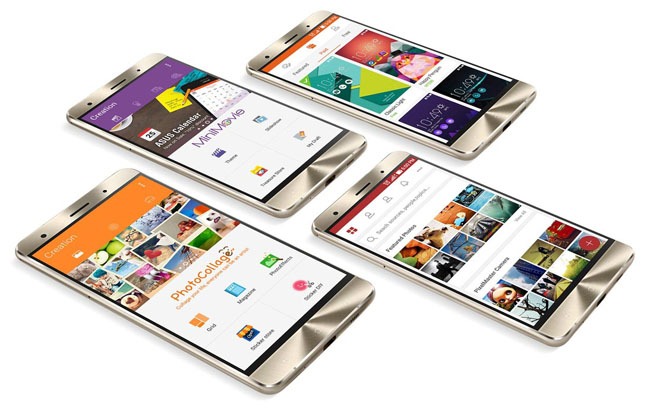 Here is the five way shootout with the big guns:
Display
While Asus ZenFone 3 Deluxe has the biggest display compared to other flagship in this comparison, it also among the lowest in resolution. Still, its Full HD with 1920 x 1080 pixel is plenty for most applications and as it is a Super AMOLED display, there is plenty of contrast and brightness to bring out the image. It may not have super high pixel density as the Xperia Z5 Premium but shares the same resolution as the iPhone 6S Plus and that we think is enough.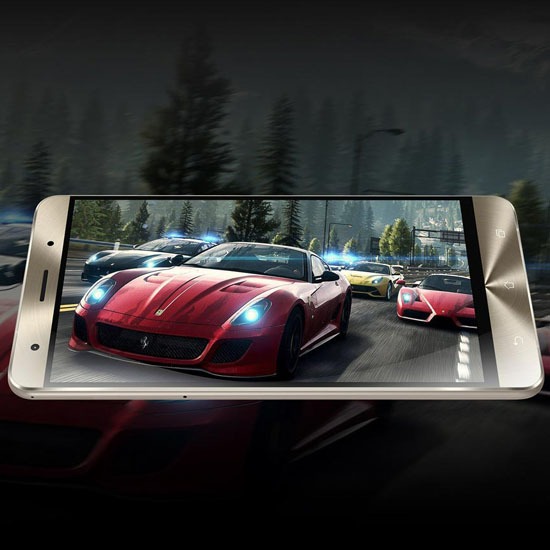 Processor
The ZenFone 3 uses the same Snapdragon 820 processor clocking at 2.15GHz found on other flagships such as the Samsung Galaxy S7 Edge and LG G5. Depending on the the market, you may find an even faster model based on the Snapdragon 821 clocking at 2.4Ghz. This puts it significantly faster than other flagships here.
Memory and Storage
Where Asus ZenFone 3 Deluxe really shows its true colours, apart from the chart topping CPU is the whooping 6GB RAM. No flagship come any where close to this amount of memory. Samsung Galaxy S7 Edge and LG G5 are the only smartphones with 4GB RAM, while Sony Xperia Z5 Premium and iPhone 6s Plus have 3GB and 2GB RAM respectively. Asus did not stop there, it has also thrown in big storage options at levels previously unheard off on smartphones topping at 256GB.
Battery
We have yet to see any official figures from ASUS but the ZenFone 3 Deluxe has a respectable 3000mAh capacity battery with quick charge technology. At 3000mAh capacity, it is in the middle of our list with Samsung Galaxy S7 Edge having the highest capacity battery at 3600mAh and LG G5, the lowest at 2800mAh. It is also a non-removable battery, unlike LG G5, the only flagship with removable battery.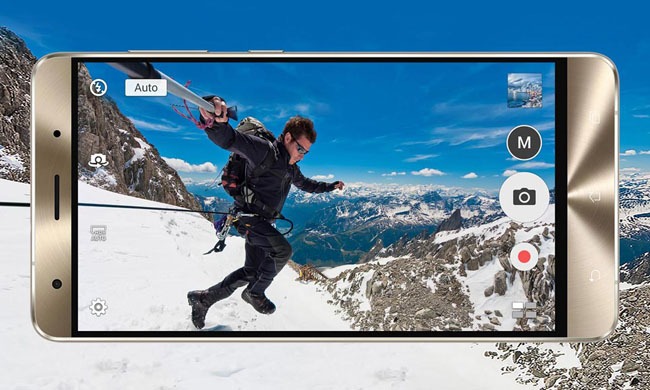 Dimensions and Weight
For a device with 5.7-inch screen, the Asus ZenFone 3 has a super slim body and small footprint. It is a little on the heavy side, only lighter than the iPhone 6S Plus but you can quickly forgive that given it is only 4.2mm thin around the edge and 7.5mm thin near the middle making it the slimmest phone in our line-up, very impressive indeed.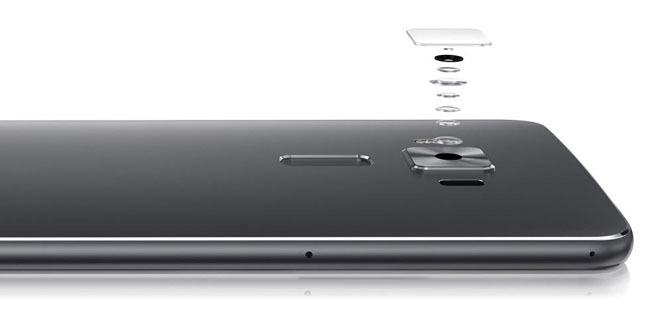 Cameras
Finally, we compare the specifications of the cameras both front and rear on these flagship phones. ZenFone 3 Deluxe is the only smartphone with the highest rear facing camera at 23MP and the highest front facing camera at 8MP. The only other smartphone that has a super high resolution main sensor at 23MP is Sony's Xperia Z5 Premium, while LG G5 is the only other phone with 8MP front facing camera.
Asus ZenFone 3 Deluxe: 23MP Rear Camera, f/2.0 aperture, 6 P Largan lens, Auto Focus, 0.03 second laser auto-focus, 32 second long exposure, 4-axis, 4 stops Optical Image Stabilization for steady photos
Dual-LED real tone flash 8MP from Camera , f/2.0 aperture 85˚ wide-viewing angle with PixelMaster Camera Modes: Back Light (HDR) Mode and Low Light Mode – 

HIGHEST RES. REAR FACING CAMERA & FRONT FACING CAMERA

iPhone 6S Plus: 12-megapixel iSight camera with 1.22µ pixels Auto Focus with Focus Pixels, Live Photos, Optical Image Stabilization, True Tone Flash, Panorama (up to 63 megapixels), Auto HDR for Photos, Exposure control, Burst mode, Timer mode, f/2.2 aperture, five-element lens, Hybrid IR filter, Backside illumination sensor, Sapphire crystal lens cover, Auto image stabilisation, improved local tone mapping, improved noise reduction, face detection, photo geotagging. Video Capture:  4K video recording (3480 x 2160) at 30fps, 1080p HD video recording at 30fps or 60 fps, 720p HD video recording at 30 fps, Optical Image Stabilisation for Video, True Tone Flash, Slo-mo video support for 1080p at 120 fps and 720p at 240 fps. Time-lapse video with stabilisation, Cinematic video stabilisation (1080p and 720p), Continuous autofocus video, improved noise reduction, take 8MP still photos while recording 4K video, Playback zoom, 3x zoom, Face detection and Video Tagging. 5-megapixel FaceTime HD Camera with support for 720p HD video recording, Retina Flash, f/2.2 aperture, Auto HDR for photos and videos, Backside illumination sensor, Exposure control, Burst mode, Timer mode and Face detection.
Samsung Galaxy S7 Edge: 12 MP, f/1.7, 26mm, phase detection autofocus, OIS, LED flash, 1/2.6″ sensor size, 1.4 µm pixel size, geo-tagging, simultaneous 4K video and 9MP image recording, touch focus, face/smile detection, Auto HDR, panorama. Video recording: 2160p@30fps, 1080p@60fps, 720p@240fps, HDR, dual-video rec. Front Camera: 5 MP, f/1.7, 22mm, dual video call, Auto HDR.
Sony Xperia Z5 Premium: 23MP Rear Camera, 5520 х 4140 pixels, phase detection autofocus, LED flash. Supports Geo-tagging, touch focus, face detection, HDR, panorama. Video capture 2160p at 30fps, 1080p at 60fps, 720p at 120fps with HDR support.  5.1 MPFront Camera, with 1080p, HDR video capability –

HIGHEST RES. REAR FACING CAMERA

LG G5: Dual Rear Cameras 1st – 16MP (f/1.8) Normal / 2nd – 8MP (f/2.4) 135˚ Wide angle laser autofocus, OIS (3-axis), LED flash. Front 8MP Normal Camera. Geo-tagging, touch focus, face/smile detection, panorama, HDR. Video capture main camera: 2160p@30fps, 1080p@30fps, HDR, stereo sound rec. Video capture front camera: 8 MP, f/2.0, 1080p@30fps. –

HIGHEST RES. FRONT FACING CAMERA