The race is on and the Reds are showing no intentions of slowing down. After years of being piped and forced to take the back seat in the CPU race, AMD is taking the fight to the Blues year after year thanks to its Zen microarchitecture.
Just when we thought that AMD is going to sit back and enjoy their cash cow, the Zen 3, they have come up with a refreshed version, the Zen 3 Plus.
AMD has launched not one or two but ten hyper-charged processors for mobile computing. Till now, AMD has only got computer enthusiasts more excited with every release of Ryzen and they in fact seem to have picked up the pace even after Intel managed to rope in Raja Koduri, a long-time AMD spearhead, in 2017.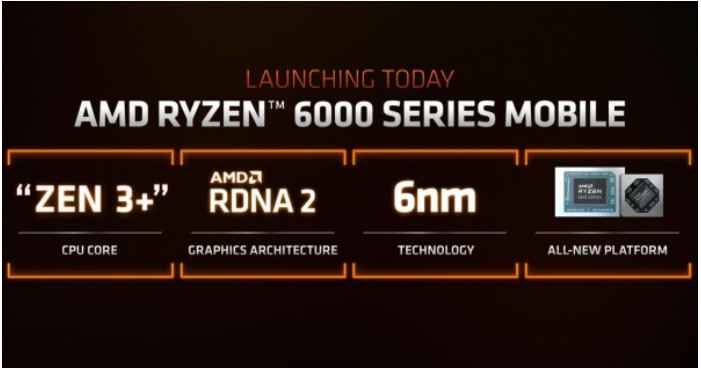 Ryzen 6000 series is here, RDNA 2 is here, above all Zen 3 Plus is here and so are we to look at what they have on the table. On the laps I mean.
Zen 3+ Microarchitecture: More Power, More Battery, More Gaming
AMD ups the ante with Zen 3 Plus core in the Ryzen 6000 series. It is an improvement on the already impressive Zen 3 rather than a completely new microarchitecture. Expect generational improvements in the Zen 4-powered processors that should arrive sometime later this year. Branded as 'Rembrandt' chips, the Zen 3 Plus processors is built on a 6nm process that allows the company to stuff in more features and essentially cores, both efficiency and performance ones on the die.
According to AMD, the new Zen 3 Plus powered chips have good power to performance percentage and much better battery life. This new microarchitecture allows AMD to offer only performance cores in the Ryzen 6000 processors. Placed together in a group of eight or six, these cores are promised to be more power-efficient and offer more performance than Intel's 12th Gen's efficiency and performance cores. AMD never had something like an Intel Evo and hence battery life was an issue with Ryzen laptops but with the revamped design, some ultrathin laptops could have a 24-hour battery tag on them.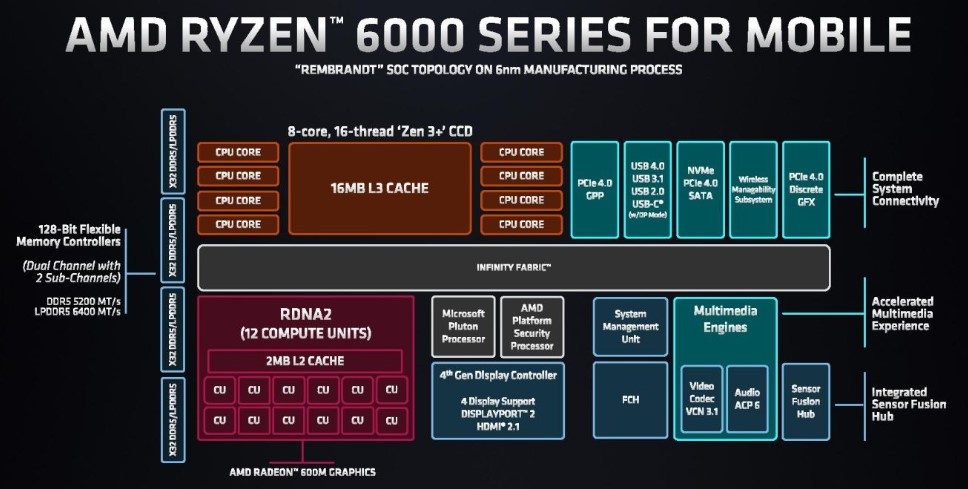 From the SoC topology, we find a movement from DDR4 and LPDDR4X to DDR5 interface along with their supported speeds. There are two 128-bit memory controllers with two sub-channels that result in four 32-bit channels that combine and deliver a huge throughput over DDR4/X memory.
However, DDR5 is extremely new tech and that would prompt higher pricing for even the low-end models. Next, there is a new Microsoft Pluton co-processor that adds more functionality and security in addition to AMD's proprietary Platform Security Processor. The Pluton processor would handle the TPM and other OS-directed features.
Power consumption now gets a new boost thanks to a large number of improvements to the core design that focus on deeper sleep states resulting in over-the-top battery life in some Ultrabooks. One look at the core design and you would spot the support for PCIe 4.0, USB 4.0 NVMe SATA connectivity through PCIe 4.0 and PCIe 4.0 supported Discrete GFX that points to future-proofing. After this, it feels there could be a good amount of time, especially due to the still ongoing chip shortage that AMD does something innovative for mobile computing.
The Graphics: Built-in Radeon 680M and 660M GPU
The new microarchitecture also brings in RDNA 2 graphics and simply put, gaming laptops with discreet graphics cards have tough times ahead for them. To be honest, Radeon Technologies, AMD's graphics arm could never leave a mark on mobile gaming as Nvidia has and it seems, this time the Reds are hell-bent on taking on the Greens along with the Blues. AMD brings Radeon 600M graphics in the Zen 3 plus with two iGPUs, Radeon 680M and 660M that are perfectly capable of running even the latest AAA titles on at least Full HD.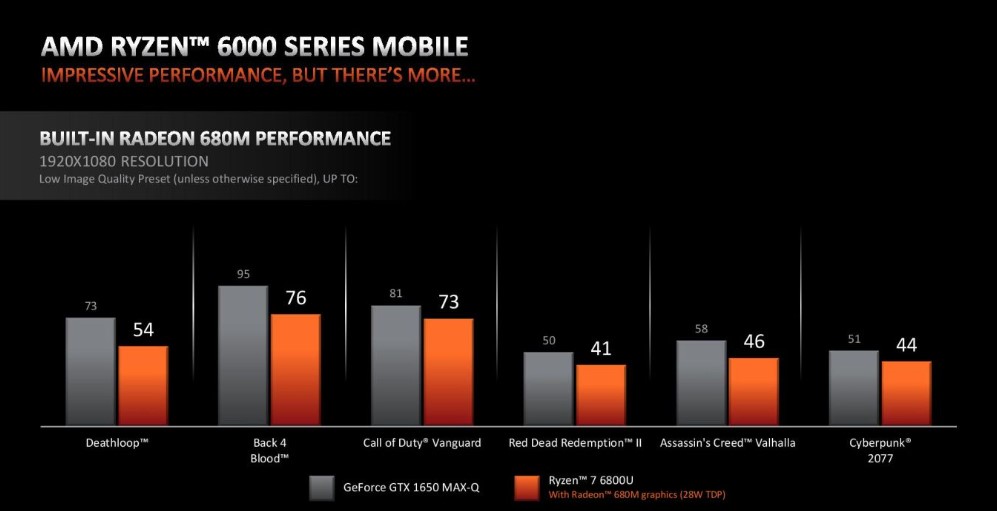 We don't know what the future holds but as long as AMD backs up its claims with a thick supply stream of silicon, discreet graphics has a fight on its hands here. How AMD does it? The Radeon 680M powered by the Navi engine has 12 cores that can go up to 2.4GHz with four render backends. Results? 3.4 TFLOPS of FP32 and 6.8 TFLOPS of FP16. The execution units are up to 50 percent larger than the ones in Vega.
Want to know what happens if you enable FidelityFX Super Resolution or Radeon Super Resolution on the Ryzen RDNA 2 powered Ryzen 6000 chips? It's goodbye discreet graphics cards. Here is how it looks.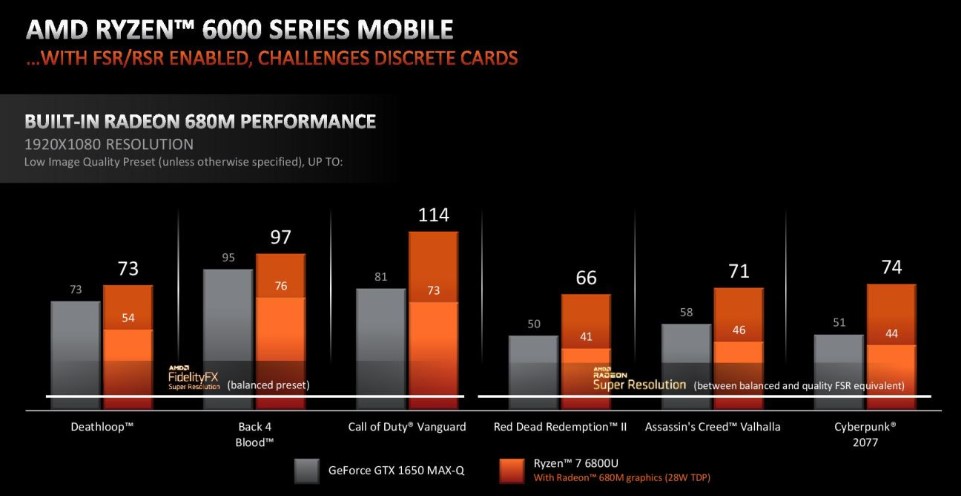 In the real-world usage scenarios, however, we are certain that the picture can't be this rosy for the Ryzen 6000 as there are truckloads of conditions that apply to these results but even then, the claims are bold enough and AMD is a brand big enough to not overstate figures this massively.
The Platform
If there was something AMD lacked, it was a platform on which it could interconnect the latest innovations all at the same time like Intel. With Zen 3 plus AMD seems to have finally addressed this drawback. In addition to the powerful performance, RDNA 2 graphics and superb battery life, there are a host of other improvements brought in by this improved microarchitecture that will now allow AMD to target the only sector it lacked, a platform where the latest innovation and improvements can co-exist.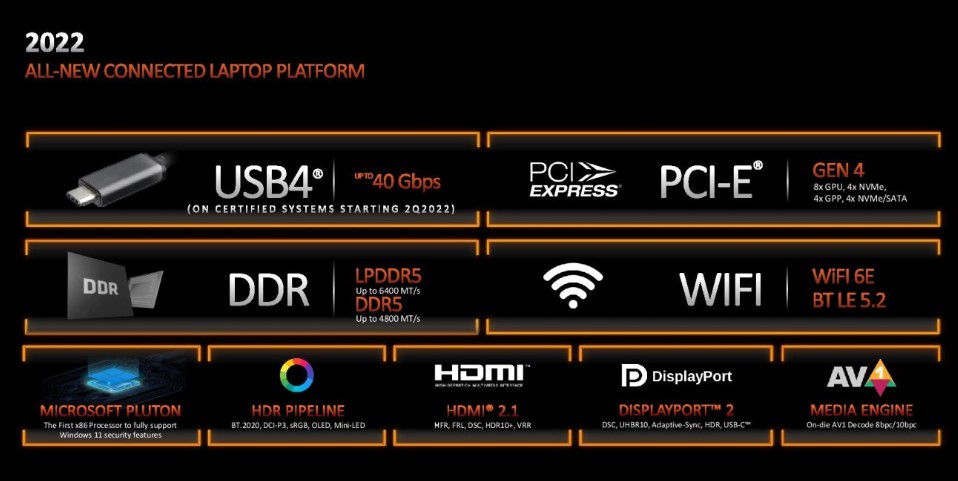 This is a challenge for Evo and even Intel knows it. 40Gbps connectivity with USB 4.0, PCIe 4.0 connectivity both for graphics and storage, high bandwidth supported DDR5 memory, latest Wi-Fi 6E, HDR Pipeline, HDMI 2.1 and DisplayPort 2.0. The Zen 3 plus has laid out high standards that laptop manufacturers must conform to with the Ryzen 6000 series processors in the systems.
The Processors
Now that we are done understanding what the new processors bring in and how they do it, it's time we take a look at what is really on offer. There are ten Ryzen 6000 processors announced which can be divided into three categories. They are thin and light, thin enthusiast and ultra enthusiast, see table in the graphic below.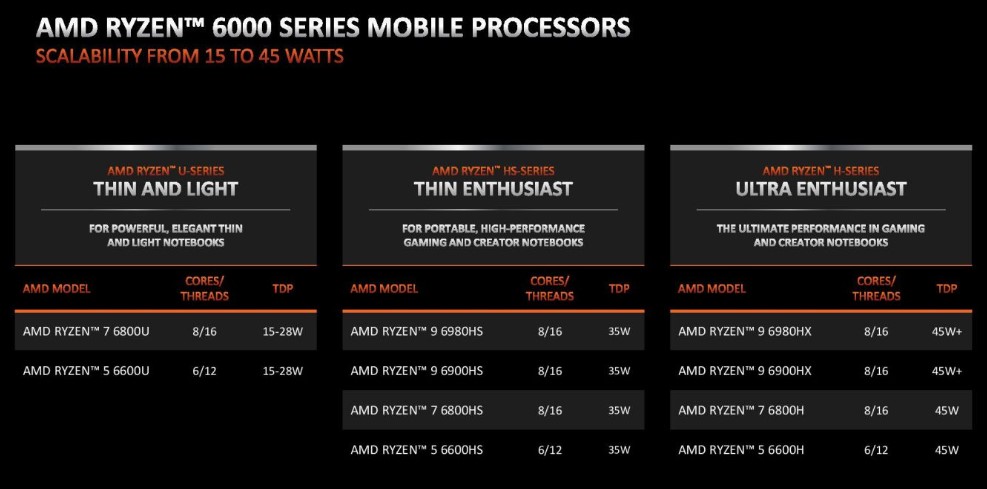 The U Series
All the models featured above come with RDNA 2 graphics but only the top models feature the better iGPU Radeon 680M with 12 cores. In terms of performance as announced, even the thin and light U series processors have eight and six performance cores unlike the equal number of efficiency cores of Intel and they operate at a low TDP of 15-28 watts depending on load.
These are the ones AMD claims would return a mammoth 24-hour battery back-up. The icing on the cake is that you can even game on the thin and light notebooks that these processors would power. The 6800U in particular has a peak speed of 4.7GHz and a twelve-core GPU with 20MB cache memory.
The HS Series
Next comes the mid-rangers where four different processors carrying the HS tag allow serious gaming and content creation. Barring the 6600HS the other three feature eight efficient performance focussed cores and they operate at a higher fixed TDP of 35 watts. These processors make use of new features like Panel Self Refresh and SVI3 for improved battery life but deliver unmatched performance.
AMD wants them to be used with the same thin chassis but users would be able to play mainstream games, run the heaviest of content creating applications and do a lot of multi-tasking. These 35-watt processors come with a twelve-core iGPU barring the 6600HS and their boost frequency ranges from 4.5GHz to 5.0GHz. This is probably going to be the sweet spot for gamers and content creators on the go. Expect most OEMs to stick to the HS series Ryzen 6000 processors to offer laptops at a balanced price point.
The H and HX Series
Finally, the uber class processors for the priciest laptops. The core configuration and variants remain the same as the HS series but the TDP is higher at 45+ watts. When compared to the Alder Lake-H processors of Intel which could go as high as 115-watts TDP, we can see a bit of reality in AMD's claims of a much better battery life with the Ryzen 6000 series.
Nevertheless, these uber-class SoCs are designed for the most demanding systems and power users. Powered with RDNA 2 graphics, users can go all guns blazing on these machines without discreet graphics cards. These four SoCs headed by the Ryzen 9 6980HX with a boost frequency of 5.0 GHz, a combined L2 + L3 cache of 20MB and a twelve core iGPU 680M can handle any latest game at Full HD resolution. High-resolution video editing, compiling and rendering everything needs more cores and AMD has crammed plenty of these inside its Zen 3 plus microarchitecture.
Conclusion
Bold claims, with some evidence but a choked supply line. That is all we can say for now as even after a few months of release, Ryzen 6000 powered laptops are hard to find. Partly due to the global chip shortage. The bottom line, however, is that even if the numbers do look a lot inflated, in real-world usage there could just be a 5-10 percent drop and that would still make the Ryzen 6000 processors tough competitors to beat.
Alder Lake P and H series processors are excellent and are the main competitors but with Ryzen 6000, AMD as always has thrown the gauntlet. It seems like a never-ending war between two behemoths, one who ruled undisputedly for years before a harsh reality check and the other who is hell-bent on dethroning the former, for good.