Trend is a relative terminology that changes with time. Once a taboo becomes a trend in no time. Innovation to reduce footprint and make gadgets more portable is the current trend now. Cable boxes with wires are now history with smart TV or dongles working over wireless Internet taking over entertainment in the living room. In the computing industry, lightweight laptops with small and thin chassis have brought somewhat of a revolution.
Yet there is a niche market for laptops with bigger displays without hampering portability. Hence, we have for you today some laptops that have at least 15–16-inch displays, even 17-inch but have a maximum weight of 1.65kg. And if you are quick to jump to conclusion and consider them slouches then you are in for a surprise as each of these laptops comes with powerful specifications and is extremely capable of handling day-to-day operations.
1. Samsung Galaxy Book Pro 15.6-inch – Slimmest and Lightest Pick, 1.05kg
Weighing in at just over a kilogram and having a thickness of just over a centimeter, the Galaxy Book Pro is a premium slim and lightweight laptop priced at around the thousand dollar mark. It has an AMOLED display supporting Full HD resolution that just dazzles and no matter what you run on it, it shines thanks to the high color coverage. The laptop has a premium sleek build that tapers along the bottom edge and a matt finish lid that imparts an exquisite look in line with a Pro-line device.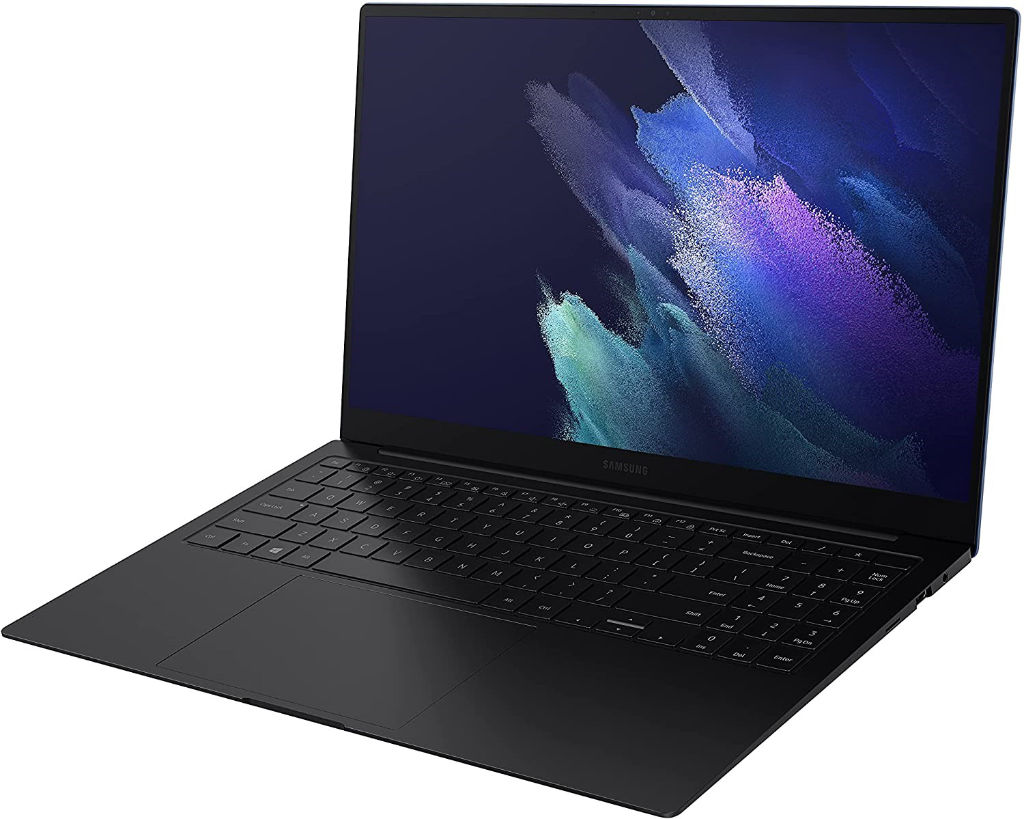 Performance numbers are pretty good with an 11th Gen Intel Core-i7 1165G7 chip powering the laptop through daily chores. It is game-ready thanks to Intel Iris Xe graphics but the slim chassis design prevents heavy thermal management features and vents. You can expect office applications to run smoothly even when they are used simultaneously with resource-hogging applications such as Chrome. There is another variant with 8GB RAM which carries a slightly lower price tag but retains the same premium feel and design elements.
Galaxy Book Pro has a lot to offer and Samsung has made sure you stay excited longer thanks to a massive 20-hour battery backup. This has been made possible through Intel Evo platform and concentrated cells used in the battery. There is a 512GB super-fast SSD for storage but provisions for expanding internal storage are absent. Wireless connectivity options are some of the best you would see with a backlit keyboard and chicklet-type keys having minimum travel distance. There is a USB Type-C Thunderbolt 4 to extend the display, one USB Type-C port and a USB 3.1 port.
2. LG Gram 16Z90P 16-inch – Biggest Battery, 1.1kg
The LG Grams are marathon devices that just refuse to die. It could win numerous accolades and compete with the best there is if judgments could have been made solely on battery life. The best thing is, irrespective of the display size and internal specifications, its battery just refuses to back down thanks to the Intel Evo platform. This 16-inch laptop has an IPS LCD with 99 percent DCI-P3 colour gamut and wide viewing angles with razor-thin bezels at the sides. It might not be the slimmest laptop but it is still very lightweight at just 1.1 kilograms. The LG Gram is available in various specifications and screen sizes.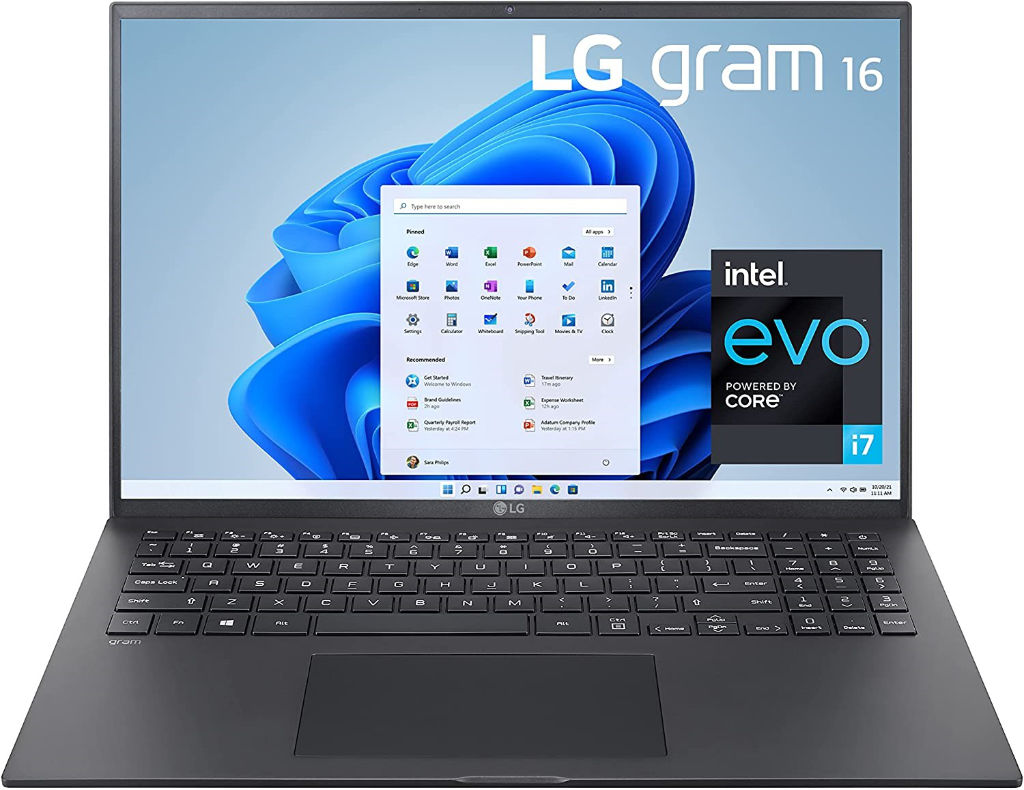 This 16-inch display variant sports an Intel Core i7-1165G7 processor that has quad-cores and doubles the number of threads. At around $1500 there is 16GB DDR4 physical memory operating at a high 4266MHz speed that allows you to run multiple heavy office applications with ease. For graphics, there is Intel Iris Xe that can run a few latest titles and most older titles. High-speed RAM also allows content creation and high-resolution editing of videos and photos. However, as with most slim and lightweight devices, thermal management features are scarce and the laptop is expected to heat up on prolonged use.
The Gram we picked comes with a fast 256GB SSD which is perhaps a bit low for the premium price tag it carries but you can increase the storage with additional internal SSD or HDD drives or pick one with 512GB SSD. Physical connectivity options are plenty with two Thunderbolt 4 ports and two USB-A 3.2 ports. The keyboard is improved with the keys having a larger keystroke distance and expanded keycaps. Built-in Alexa and military-grade durability rounds off an overall excellent but a bit pricy laptop in the LG Gram 16Z90P.
3. LG Gram 17Z90P – Biggest Display, 1.35kg
If the Gram 16 excited you, the Gram 17 would mesmerise you with its big 17-inch IPS display and over-the-top features albeit at a premium price. The build, however, doesn't change much and we still have a slim chassis with minimal heat dissipation vents but the 99 percent DCI-P3 enabled display is one of the biggest you would see on a laptop that weighs just 1.35 kilograms. The physical features of the Gram 16 and 17 are extremely identical with the bigger sibling retaining the physical connectivity ports and thin bezel along with the improved keyboard and touchpad.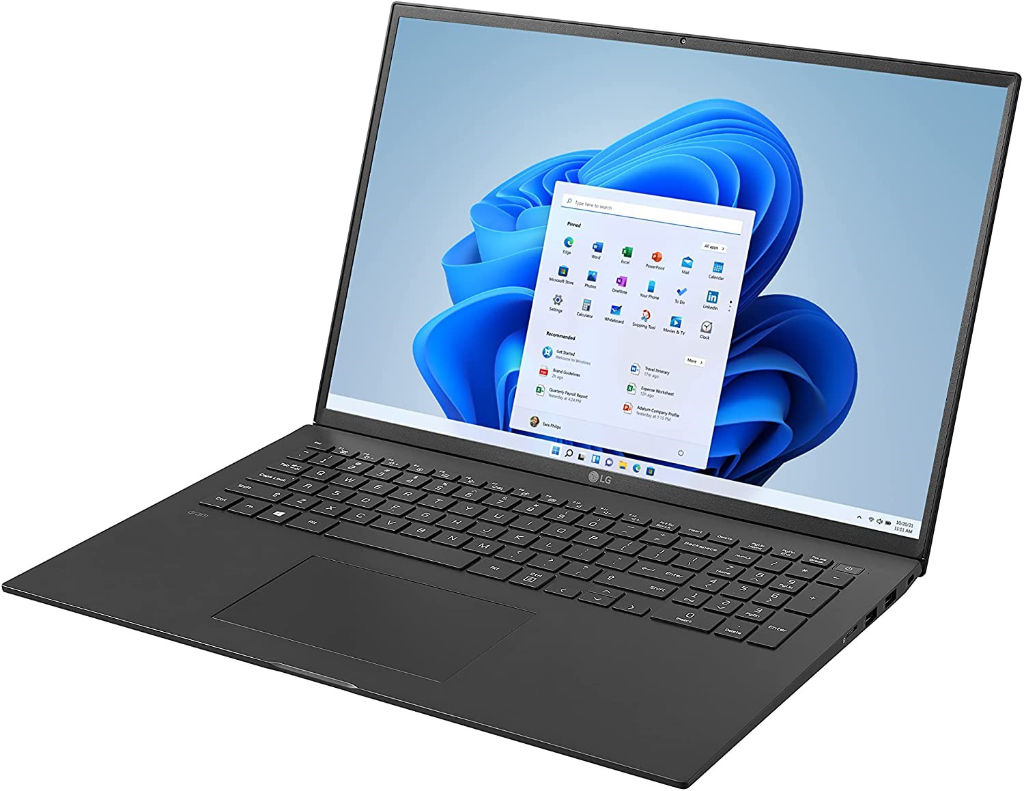 The processor in the LG Gram 17 is the same power-efficient Intel Core i7-1165G7 quad-core chip of the Gram 16 that comes coupled with 16GB physical memory enabled superb multitasking capabilities. The graphics processor is the same Iris Xe that allows a bit of gaming and content creation. An added feature in the 17-inch Gram is DTS:X Ultra-powered 3D audio features that offer a rich audio experience through the built-in stereo speakers.
The bigger Gram shares the same durability features as the smaller Gram with over 7 durability tests making the laptop rugged and suitable for heavy use. Storage is a lot more in the Gram 17 with a terabyte of high-speed SSD space for storing and accessing files offline. The USP of a Gram is always its battery and even with a 17-inch display the Gram 17 manages close to 20 hours of battery life.
4. Samsung Galaxy Book Pro 360 – Most Versatile, 1.39kg
An advantage of laptops that are lightweight and have big displays is that they are a perfect fit for Super AMOLED panels. In the Galaxy Book Pro 360, Samsung uses an excellent 15.6-inch FHD resolution display. A cherry on top is the touch support on the Super AMOLED panel. This is the only 2-in-1 convertible on our list and comes with an S-pen. Weighing at less than 1.5 kilograms and sporting a sleek and convertible design in addition to a battery-efficient processor, the Galaxy Book Pro 360 is our most versatile pick. The laptop comes with a huge 1TB super-fast proprietary SSD for storage.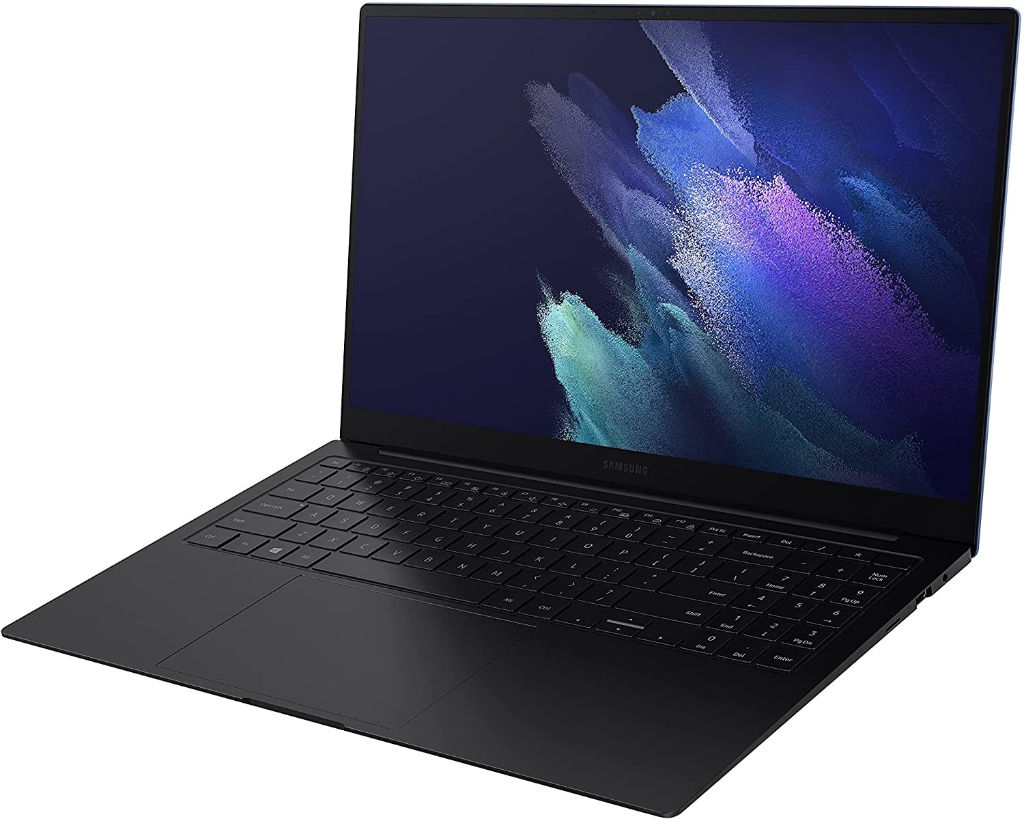 Intel Core i7-1165G7 processor no longer makes headlines as it is one of the most widely used processors in the mid-range category. In addition to the 4.7GHz processor, the laptop has 16GB of physical memory offering lightning-fast usage and multi-tasking. The Galaxy Book Pro 360 is a classic example of style and technology fused with impeccable quality and productivity. The convertible manages casual gaming with the help of Intel Iris Xe graphics but supports Thunderbolt 4 which allows you to connect high-speed peripherals and external graphics enclosures.
The Galaxy Book Pro 360 has a chicklet type backlit keyboard and adequate connectivity options from Bluetooth 5.1 and Wi-Fi. A couple of USB Type-C ports and a Micro-SD card reader are all the physical connectivity options you can find. There are a couple of AKG powered 4-watt speakers with Dolby Atmos support and dual-array digital microphones to aid in video calls. For a device featuring a display so exquisite, the battery provides an impressive 16-hour of typical use on a full charge. The package includes the S-Pen and a fast charger.
5. Samsung Galaxy Book – A Lighter Galaxy Book, 1.55kg
The Galaxy Book is a stripped-down version of the Galaxy Book Pro 360 that leaves out the convertible design and AMOLED touchscreen display for a plain and simple 15.6-inch Full HD display that supports 10-touch multi-input. Like all of our other picks today, the Galaxy Book sports the Intel Core i7-1165G7 processor with a peak speed of 4.7 GHz.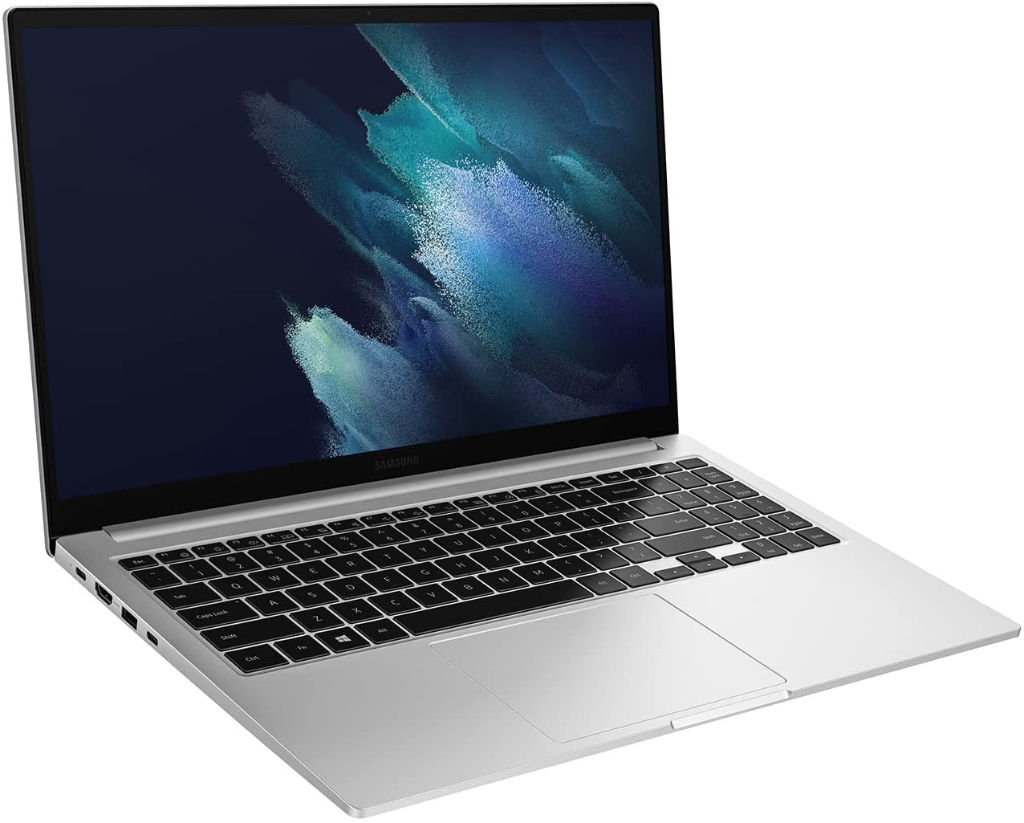 The lighter Galaxy Book is priced considerably lower than the Pro 360 but still has 16GB LPDDR4X which makes it a capable multi-tasking device. The internal graphics solution from Intel Iris Xe allows casual content creation and gaming while the storage has been reduced to a 512GB SSD. Samsung markets the device as ideal for academic use and light professional use. This Galaxy Book does not feature any backlit keyboard and weighs a tad more than 1.5 kilograms with a slim tapered build.
Connectivity options in the Galaxy Book are similar to the Pro 360 with Wi-Fi 6 supporting 802.11 ax protocol and Bluetooth. Connecting high-speed peripherals is not an option due to the absence of Thunderbolt ports. There are a couple of USB Type-A 3.2 ports and a couple of USB Type-C ports. The 2W speakers support Dolby Atmos and the laptop comes with genuine Windows 11 installed. Overall, even at a cheaper price, the Galaxy Book could seem marginally overpriced for the value it provides.
6. Huawei MateBook D15 – 1.56kg
Huawei MateBooks come with sharp looks and great performance features without burning holes in your pocket. The MateBook D15 features powerful a dazzling display, a powerful processor and good gaming prowess that makes it your all-weather companion. It dazzles at multitasking allowing you to make style statements with its premium looks and features.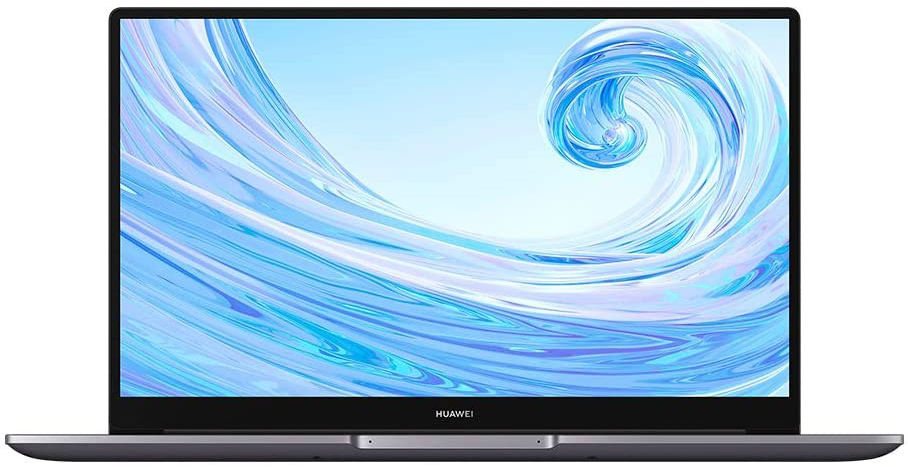 The MateBook D15 features a slim bezel IPS Full View display with an 87 percent screen-to-body ratio. The 15.6-inch FullHD display has good viewing angles and excellent colour reproduction. It has a 16:9 default aspect ratio and TUV Rhineland certification that reduces the exposure of your eyes to the harmful blue light emitting from the screen. It weighs a meager 1.56 kilograms making it a powerful but lightweight device to carry around.
After a host of laptops with the Intel Core i7-1165G7 processors, even we are delighted to see a Ryzen 5 3500U in the MateBook D15. This AMD processor has four cores and eight threads with a max boost clock of 3.7GHz that excels at multi-tasking. For graphics, there is the Radeon Vega 8 Graphics processor in-built allowing you a fair bit of gaming. Unlike other laptops on the list, the MateBook comes with low physical memory with just 8GB DDR4 RAM and 256GB SSD storage. However, Huawei allows you to extend the storage with up to a TB of hard drive space.
The MateBook uses a fast 42Wh charger for fast charging and has a lot of physical connectivity options alongside Dual-Band Wi-Fi and Bluetooth. Physical connectivity ports include 2 x USB 2.0 ports and a 3.5mm audio jack on the right edge and an HDMI port with a USB 3.0 port and USB-C port on the left. The USB-C port acts as the charging port. In a nutshell, the Huawei MateBook D15 packs good punches with a good display and powerful processing.
7. HP 15
One look at the HP 15 laptop and it oozes class. With a professional build and beastly power, this laptop is a premium category business offering that can turn heads at work. It is loaded with quality and can handle almost anything you throw at it barring mainstream games at hi-resolution.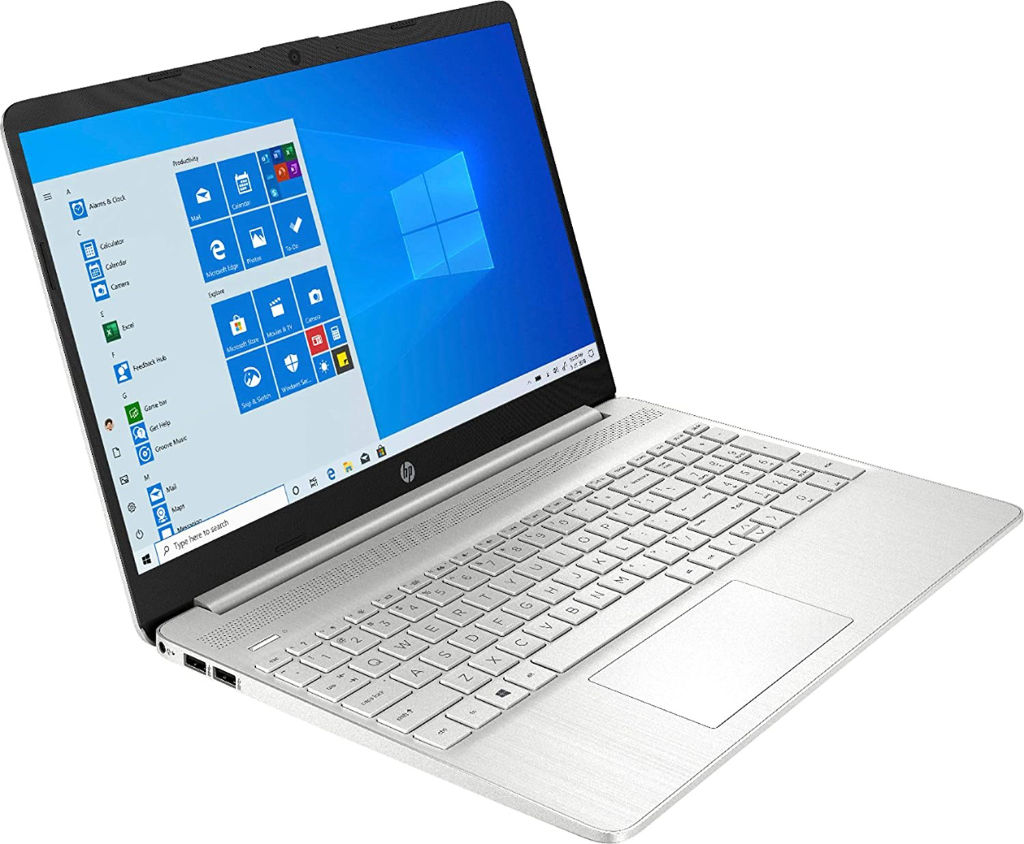 The HP 15 is a flagship category laptop with killer specifications and a brushed finish built. Unless gaming devices, HP laptops don't do well with bezels except if you go for their premium range and this too has thick bezels around a 15.6-inch touch-enabled IPS display. The FHD panel has low peak brightness but good contrast and colour gamut. HP keyboard is a pleasure to use and it also features a full-fledged number pad.
The laptop is powered by a uber-class Ryzen 7 processor. The 4700U is an ultrabook category octa-core chip but does not come with multi-threading. The base clock on this is 2.0GHZ with a boost clock going to the north of 4.0GHz. A huge cache memory ensures lightning-fast response and processing power when the laptop is tasked with heavy business and productivity applications. The HP 15 comes with 64GB DDR4 physical memory which we frankly feel is overkill and just inflates the price a bit. You can of course pick up a standard model with 16GB RAM.
Some light content creation is also in thanks to the in-built Ryzen 7 Mobile Graphics Processor.
Storage is abundant with a 2TB SSD under the hood but connectivity options lack present generation features. We still have last-gen Wi-Fi and Bluetooth is stuck at version 4.2. Physical connectivity features are limited to a SuperSpeed USB Type-C port, dual SuperSpeed enabled USB Type-A port and an HDMI version 1.4b port. Overall, with huge physical memory and local storage, the HP 15 is built for the long run.