Let's cut to the chase, here is a convertible laptop for those who want to make a fashion statement. With its cover crafted from 100% genuine leather over space grey metal chassis, the HP Spectre Folio is a work of art. It has a stunning premium design in an ultra slim and light chassis yet packs plenty of punch with an 8th Generation Intel Core i7 chip, 19 hours battery life and 4G LTE connectivity to boot. It's everything you want in an ultra versatile machine. The Folio is pitched with ultraportables with screen at 13.3-inch. At this size, we are talking MacBook Air 2018 with 13.3-inch display and MS Surface Laptop 2. Although, both these devices are strictly laptops.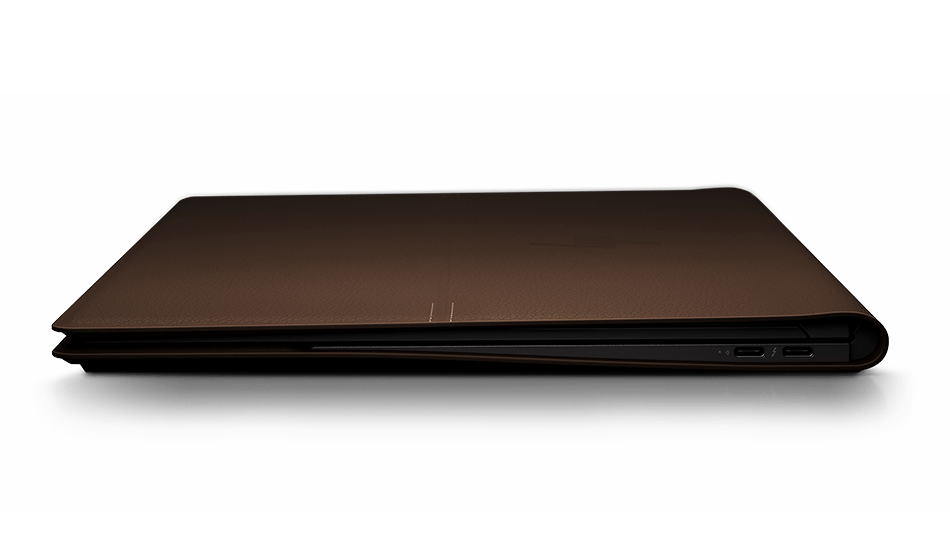 Premium, Versatile and Durable Design
The durable chrome-tanned leather cover makes the HP Spectre Folio looks just like a super slim folio when the convertible laptop is closed. Made from 100% leather, precisions crafted and designed to be a fashion icon. Everything about the device screams quality and elegance. It is an unmistakable design and definitely a head turner. As a folio, it even comes with a pen holder, although the placement of this is on the short edge in the right of the display. This means when in laptop mode, you can reach for the stylus easily.
The leather does not stop just at the cover, it flows through to the sizes offering extra protection for the edges and towards the front below the keyboard doubling as luxurious palm rest. Just like the fabric treatment on Surface Laptop 2. It does however create a bulge around the hinge when in laptop position. There is a second hinge, one that works like a kick stand found on Surface Pro 6, halfway up the back of the screen. This lets you bring the display forward to rest it on the ridge between the keyboard and palm rest. Reason that will become clear below. Move this further and it lies flat on the keyboard. No flipping 360° hinge that exposes your keyboard and trackpad.
The HP Spectre Folio weighs only 1.49 kg and measures 15.2mm thin.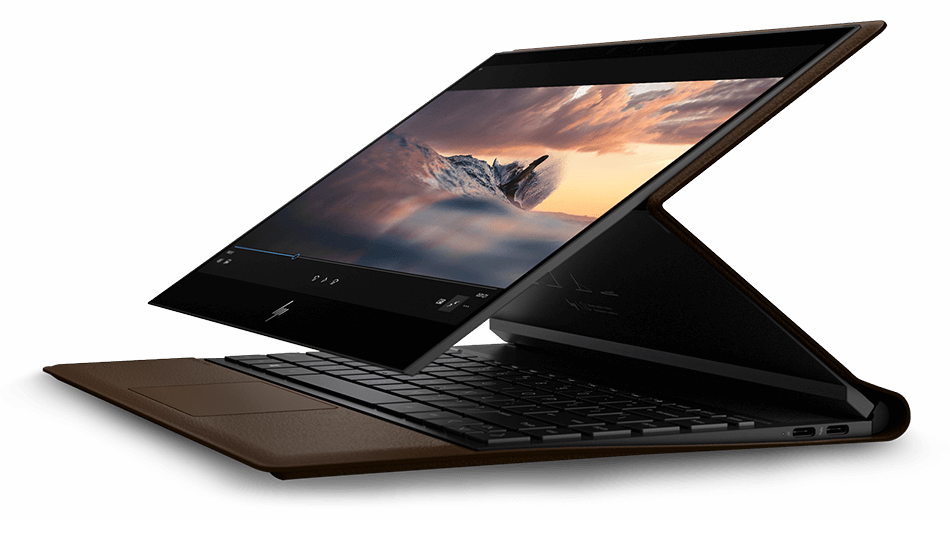 Versatile with 3 Adaptable Working Positions
The folio design is extremely versatile. the leather cover and case lets you use the convertible device in three different modes. Use it as a standard laptop for work or fold down the screen and use it in tablet mode. A digital tilt pen, the HP Pen is included to let you take notes, navigate, draw, doodle, edit and create your masterpiece. Finally, a third position, what we like to call the presentation mode, lets you watch a movie or present your work, simply slide the screen to the forward position.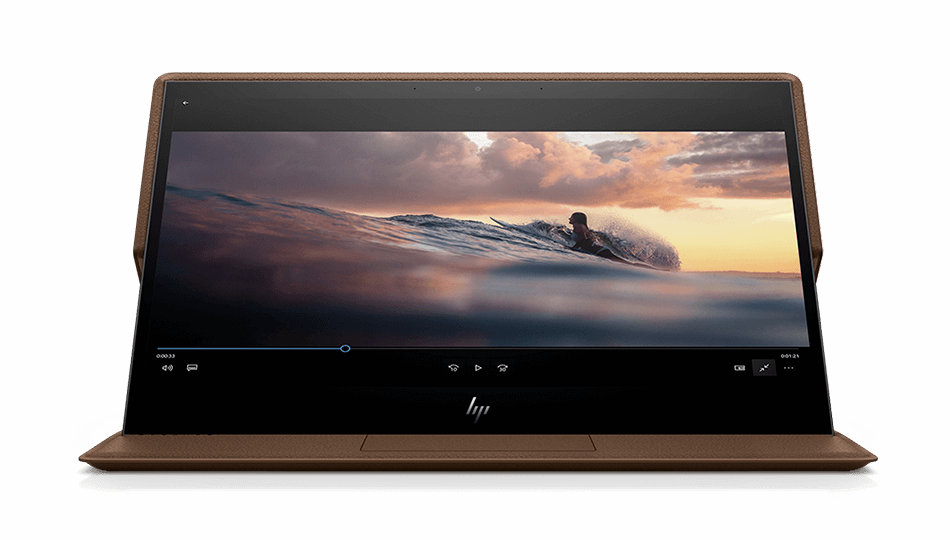 Powerful Yet Efficient
But, it is what goes inside that interests us. Using the latest 8th generation Intel Core i7-8500Y processor, the device is both nimble and kind to the battery. A low base frequency of 1.5GHz offers sufficient processing power for everyday computing. When more processing power is required, the CPU kicks up a notch with Intel Turbo Boost Technology to float the processing speed up to 4.2GHz. The chip offers plenty in way of performance, although not the blistering kind but together with the fast 256GB PCIe based flash storage and roomy 8GB RAM memory, it keeps the system running smooth, responsiveness and fast loading.
HP has got the balance right in picking the energy efficient Core i7-Y processor. The 5W CPU offers speed while ensuring that the battery last long enough to carry you way through the day and night. It also carries the benefit of passive cooling which means totally silent operation even when pushed using a fan-less design.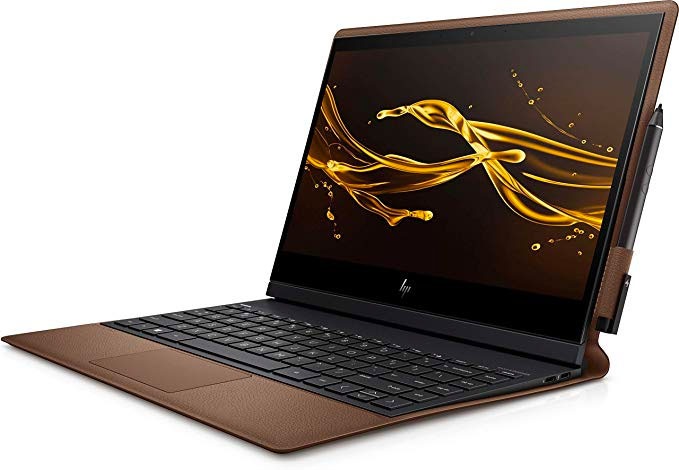 However, if you need something to handle more than just the normal day to day tasks like browsing the web, streaming videos, checking emails or knocking out the business report, then you want something with more power.
Superb Display
The 13.3-inch display is covered in Corning Gorilla Glass 4 for durability. This allows it to withstand pokes and glides with the HP pen or with greasy fingers. The screen pushes Full HD resolution with 1920 x 1080 pixel resolution. At 13.3-inch, that amount of pixel is enough for crystal clear images, couple with IPS technology, it offers ultra wide viewing angles of 178°. The left and right bezels are tiny. The top bezel is narrow, just big enough to accommodate the wide field camera and infrared sensor. The bottom bezel however is huge but not so big that it stands out. Here is where you find the HP logo which can also be found embossed on the leather cover around the back.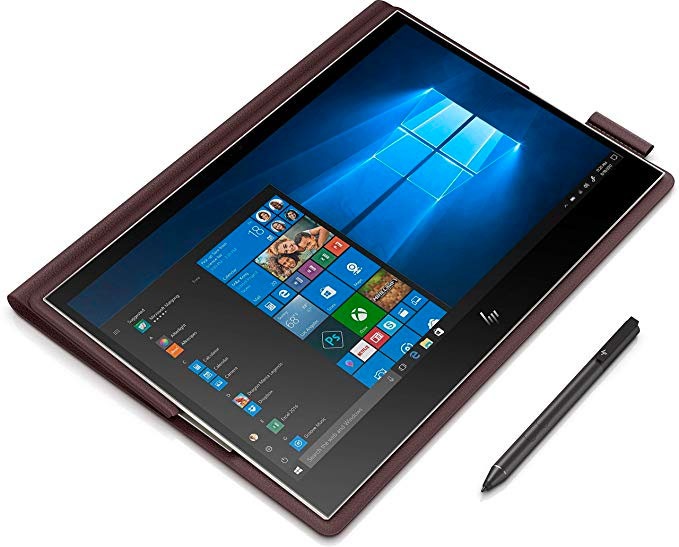 HP Pen
The convertible laptop comes with a stylus. While this digitiser pen only supports 1024 levels of pressure, it's included free at no extras. This is more than we can say for Microsoft. The pen feels responsive and smooth on the display and drawing feels precise. And, while there are sharper displays out there such as that found on the MacBook Air 2018 at 2560 x 1600 pixel resolution and the Surface Laptop 2 with a native resolution of 2256 x 1504, the Full HD display with pixel density of 166ppi is enough for both the pen and to enjoy you apps, the web and movies.
Class Leading Battery Life
This is where the Folio excels. Competitors have been pushing the limits of how much juicy you can squeeze from your battery, especially important on ultraportables. The use of low power processor allows the generous sized 54Whr battery shine. HP claims up to 19 hours of continuous use. However, in reality, it's more like 16 to 17 hours with mixed use. The MacBook Air 2018 lasted around 10 hours while Apple claims that it can manage 12 hours. For Surface Laptop 2, it lasted around 9.5 hours with mixed use while Microsoft claims up to 14.5 hours on video playback.
Everything Else
The front facing web cam allows you to log in through Windows Hello. It uses the infrared sensor and an 88-degree, wide-angle field of view, video camera. On login, take advantage of the wide angle field of view to group chat with friends and family.
4G LTE is included and is not locked down to any provider so you are free to stick any data SIM offering ultra fast Gigabit class 4G LTE connectivity even when you are nowhere near any WiFi hotspot.
In the physical ports department, there are two Thunderbolt 3 ports capable of data transfer up to 40Gbps and 1 USB Type C 3.1 Gen 1 port capable of data transfer up to 5Gbps.
All three ports support power delivery with HP Sleep and Charge, meaning you can connect the adapter to any of the ports to charge its battery. Any of the three ports also support DisplayPort 1.2 with video output up to 4K resolution.
You also get 1 headphone and microphone combo socket.
Specifications
Intel® Core™ i7-8500Y (1.5 GHz base frequency, up to 4.2 GHz with Intel® Turbo Boost Technology, 4 MB cache, 2 cores)
33.8 cm (13.3″) diagonal Full-HD (1920 x 1080) Corning® Gorilla® Glass 4 display
8GB RAM with 256 GB PCIe® NVMe™ SSD storage
HP Fast Charge; Windows Hello ready webcam; Tilt Pen Included; 4G LTE Connectivity (just add your data SIM)
Windows 10 Home 64