In our quest for the fastest portable SSD based on NVMe and USB3.2 interface, we inadvertently come across more affordable mid-range options with transfer rates up to 1050MB/s. These are by no means slow. In fact for most laptops and applications, these would be the right purchase. Here are some of the best mid-range 2TB External SSD USB-C Drives.
The Right Tech For The Money
Splurging out on the latest tech is not always the right idea especially when it comes to cost. You are paying a premium for speeds that you might never use or not isn't quite compatible with existing hardware. Case in point, the fastest USB-C portable storage with speeds up to 2000MB/s requires USB 3.2 Gen 2×2 interface when your laptop of desktop can only support the slower USB3.2 Gen 2. You wouldn't go out and buy a whole new laptop. So, investing in a suitably priced gadget to match your hardware's requirements may just save you some money for future upgrades. Here, we look at mid-range and spacious portable SSD external storage with USB-C connection. With the right USB 3.2 Gen 2 interface, it will achieve transfer rates of up to 1050MB/s.
1.
LaCie Portable SSD 2TB External Solid State Drive
The LaCie range of portable drives have always been our favourite. It has a sleek, no-nonsense, minimalist design with an all-metal chassis finished in silver to match your MacBook or Windows Laptop. But, what is most important is that it is capable of up to 1000MB/s write and 1050MB/s read speeds that lets you work on files directly on the drive.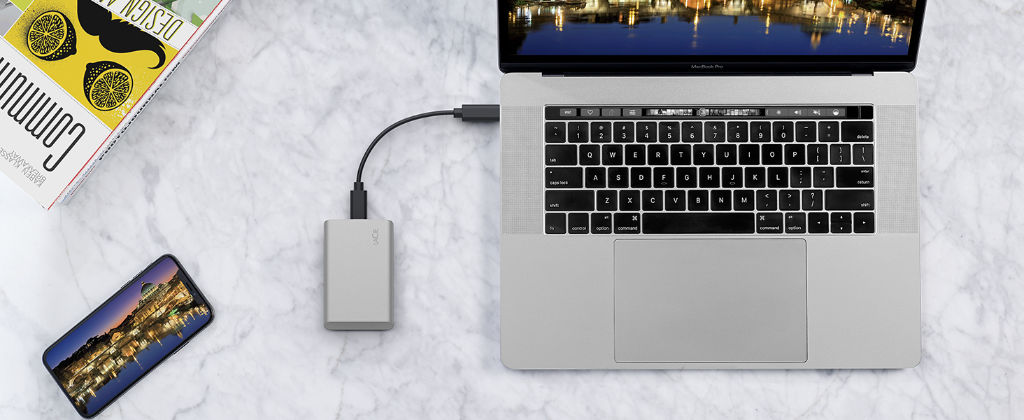 500GB, 1TB or 2TB
1050MB/s read
1000MB/s write
2.
SAMSUNG T7 Shield 2TB, Portable SSD, up to 1050MB/s
The popular Samsung T7 is now available with a rugged rubber exterior. Subsequently, the clever marketing gurus in Samsung adopt the name Shield. Available in 1TB or 2TB sizes, the Samsung T7 Shield is now IP65 rated to withstand water and dust. Plus, with that rubber sleeve, it can survive a drop of up to 9.8foot. Two cables C-to-C and C-to-A are provided and with the right USB3.2 Gen 2 interface, the drive will rock up to 1050MB/s read and 1000MB/s write speed. You only need to pick from one of three colour choices; beige, black or blue.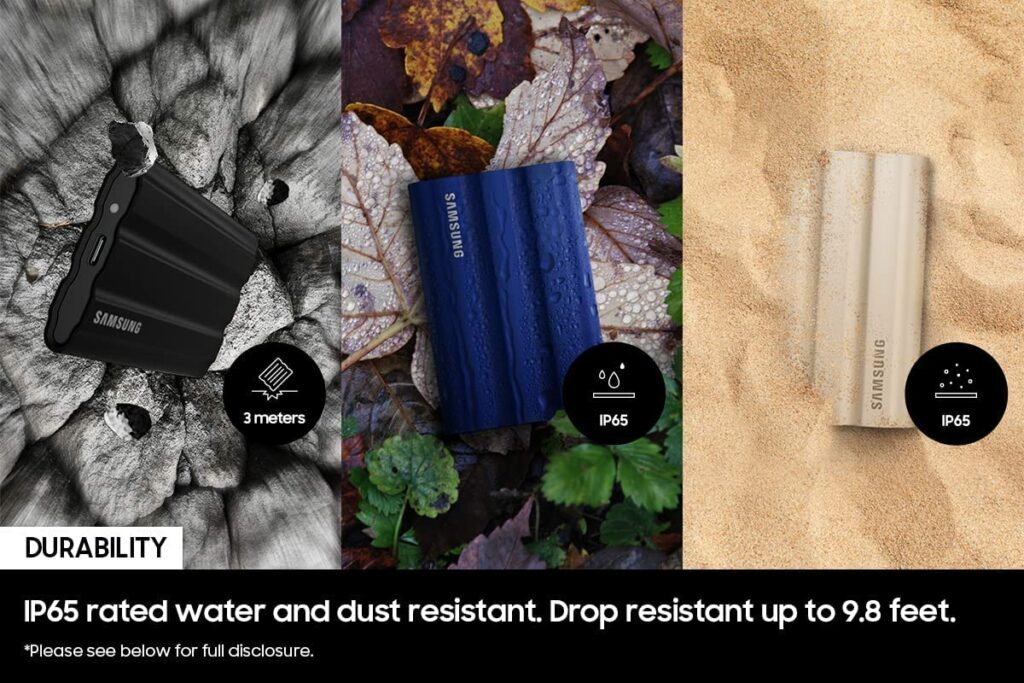 1TB or 2TB
1050MB/s read
1000MB/s write
Drop proof up to 9.8 foot, IP65 Dust and Water Resistant
There is also a version without the rubber sleeve, known simply as the Samsung T7 Portable SSD with a solid and rugged all aluminium unibody construction that can still survive a drop of up to 6 foot if you rather have a slim unit in blue, red or gray.
3. SanDisk 2TB Extreme Portable SSD
We've seen the Extreme Pro version in our previous post, this has the same rugged and portable design capable of withstanding a drop from up to 2 meters. It is also IP55 rated against water and dust. To make sure you do not leave it behind, hook it up to your backpack or laptop case using the carabiner loop. Storage size options starts from 500GB to 1TB, 2TB or 4TB, all capable of speeds of up to 1050MB/s read and 1000MB/s write with compatible device.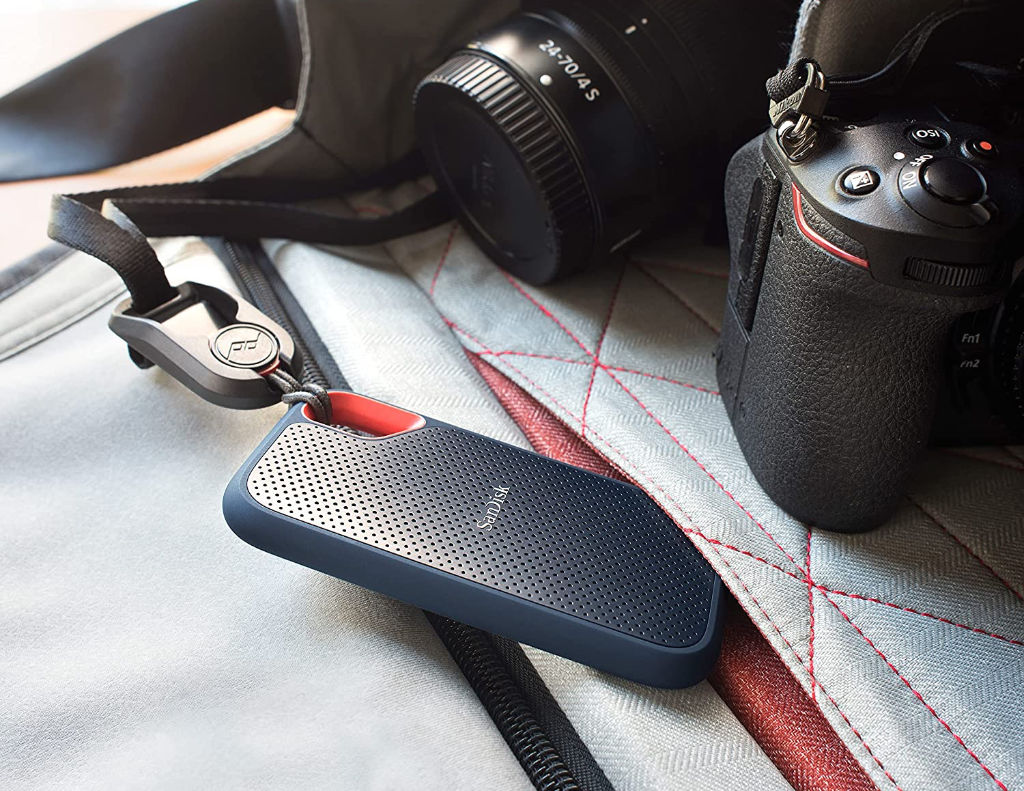 500GB to 1TB, 2TB or 4TB
1050MB/s read
1000MB/s write
Drop proof up to 2 meters, IP55 Dust and Water Resistant
4. Crucial X8 2TB Portable SSD
Not as exciting as the other portable SSDs featured here but is fast nonetheless. The Crucial X8 Portable SSD is only available in one colour, black. It may look flimsy but it is actually designed with an anodised aluminium core and will survive whatever you can throw at it, extreme heat, shock, vibration and even drop from up to 7.5 feet. All we need to know is that it will deliver the 1050MB/s read speed required to qualify being here. As before, remember to check if you have a compatible USB 3.2 Gen 2 interface.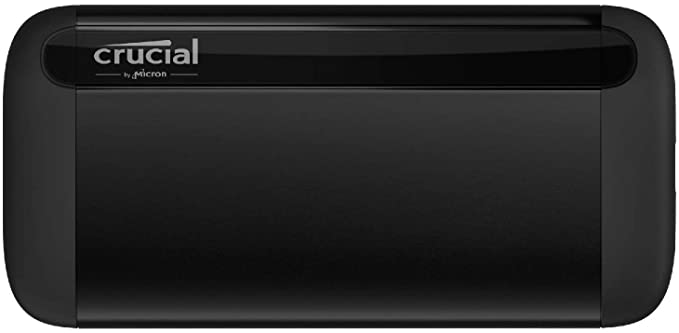 1TB, 2TB or 4TB
1050MB/s read speed
2m drop proof (7.5-foot)
USB-C 3.2 GEn 2 with USB-A connector supplied
5. SanDisk Professional 2TB G-DRIVE SSD
Another SanDisk in our list, this time with a more office-like, professional design versus outdoor. The G-DRIVE series is an ultra-rugged entry besting even the SanDisk Extreme Portable SSD above with a higher IP67 rating against Dust and Water. The image below makes it look like a towering giant. In reality, the SanDisk Professional G-DRIVE SSD is pretty small and narrow. Just a little taller than a deck of cards, see our featured image. Beyond the usual pro-grade performance required to be on this list (up to 1050MB/s speeds) when connected to a USB3.2 Gen 2 port, it is worth noting that, for its ultra-rugged design, it can withstand a huge 3m drop and 2000 pounds crushing weight.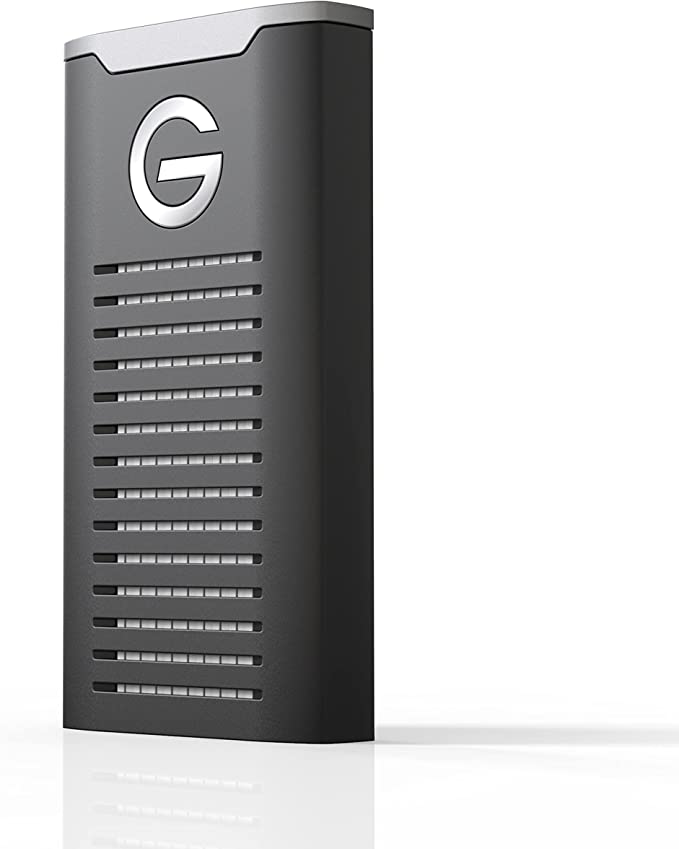 1050MB/s Read
1000MB/s Write
IP67 Water and Dust Resistant
Up to 3M drop and 2000lb crush resistance
Final Thoughts
The medal for the toughest portable SSD in our list goes to SanDisk Professional G-DRIVE SSD. This is followed by Samsung T7 Shield and in third place is SanDisk Extreme Portable. In reality, any of these SSDs would be tough enough to take with you to college, commute or travel. For most parts, you will appreciate the balance of performance and price. It is not as expensive as the top tier external SSD drives but not too slow that you had to sit around and wait for things to appear.