Content Creation is relatively a new term that was not mainstream even a decade ago. The concept of ideation and creation of content has been around for a long time but the term Content Creation got associated with it with the advent of digital media. Many might argue that content creation is only associated with the capturing and editing of video content but in reality, it goes beyond that and involves the creation of any form of entertainment or educational material that can be circulated or expressed through any medium or channel.
What you are reading now is an example of simple content creation. A video of Far Cry 5 gameplay on Twitch or recording of the gamer's in-game reaction is also an example of content creation. The content here is fully video-based and might have gone through editing before being published on YouTube.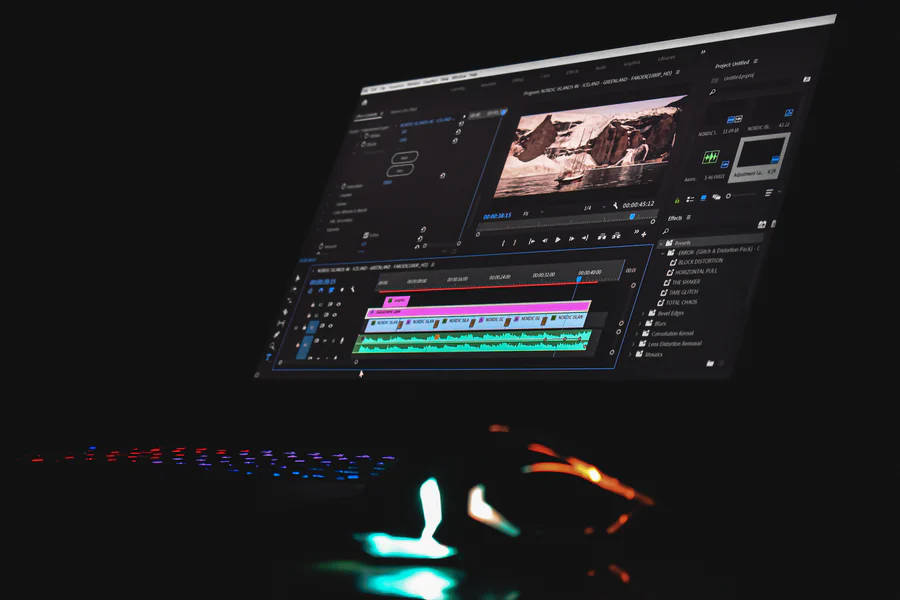 Content Creation Today
In the digital age we are living in today, the term content creation mostly focuses on creating and editing videos and other graphics-heavy content. Hence the need for a device that is tailor-made for working with videos. Today we will explore the factors you should keep in mind when choosing a laptop for creating content and also look at some of the top contenders.
A Screen Where the Content Shines
Content creators aim to produce content with stunning visuals to ensure their content sells well. For this their content is graphics-heavy. A laptop's display must produce accurate colours with good precision in shades, good brightness, and contrast. Since the aim here is to make it look attractive to the viewers, it must look attractive at the creator's end. Hence such laptops would do good to have a high-quality display.
Here are the basics:
A. Colour Space
The display could be borderless or with thin bezels with accurate colour calibration and brightness. A good contrast ratio is essential to ensure that different shades of a single colour are distinctly distinguishable from each other. The DCI P3 colour gamut coverage (in percentage) or Adobe RGB coverage (also in percentage) becomes an extremely important factor for laptops meant for digital content creation. The former, for more for video while the latter is for graphics and prints.
PANTONE is another organization that is internationally acclaimed for using its proprietary Colour Matching System to ensure that the colour space of a display is accurate and matches a colour chart. Hence, a display with PANTONE certification should be an essential factor when choosing a laptop for content creation. (Presently only some GIGABYTE laptops offer displays with such certification). It is proof that the display is capable of reproducing a high percentage of PANTONE colours for better accuracy.
B. Panel
When it comes to creating digital content, nothing beats a good panel. The panel's focus should be more on the colour reproduction and contrast ratio than refresh rate or response time. In other words, a panel that supports medium to high resolutions but focuses more on displaying accurate colours could be considered.
From a pool of available display panels, AMOLED (sometimes known as OLED) is 25% more colourful than the normal LCD panels. AMOLED panels produce the most vivid colours and purest black. It uses self lighting pixels and not LED backlighting like in the case of LCD. The difference in shades is distinctly visible and is adequately bright. In addition to this, AMOLED cut out 40 percent of the harmful blue light that is generated by LCD screens.
Considering the hours a creator has to invest in creating awe-inspiring content, blue light emission could be a decisive factor for you to go with an AMOLED panel. However, if you still want to stick to an LCD, it is advisable to go for a panel with IPS technology that offers wide viewing angles and precision colours.
C. Resolution and Refresh Rate
As a content creator, you probably won't be gaming on the laptop hence refresh rate should not be a matter of concern. You would do good with a 60Hz or at max a 90Hz display. However, it's the resolution that you may not choose to compromise on. You could go for a 4K, 4K UHD, or a QHD resolution display. High-resolution displays have much more finesse than Full HD. There are more pixels packed in that 15 or 17-inch screen that allows you more detailing while examining your graphic content. If you do decide to game, however, picking a laptop with a refresh rate higher than 144Hz will turn your drawing laptop into a piece of an excellent gaming device.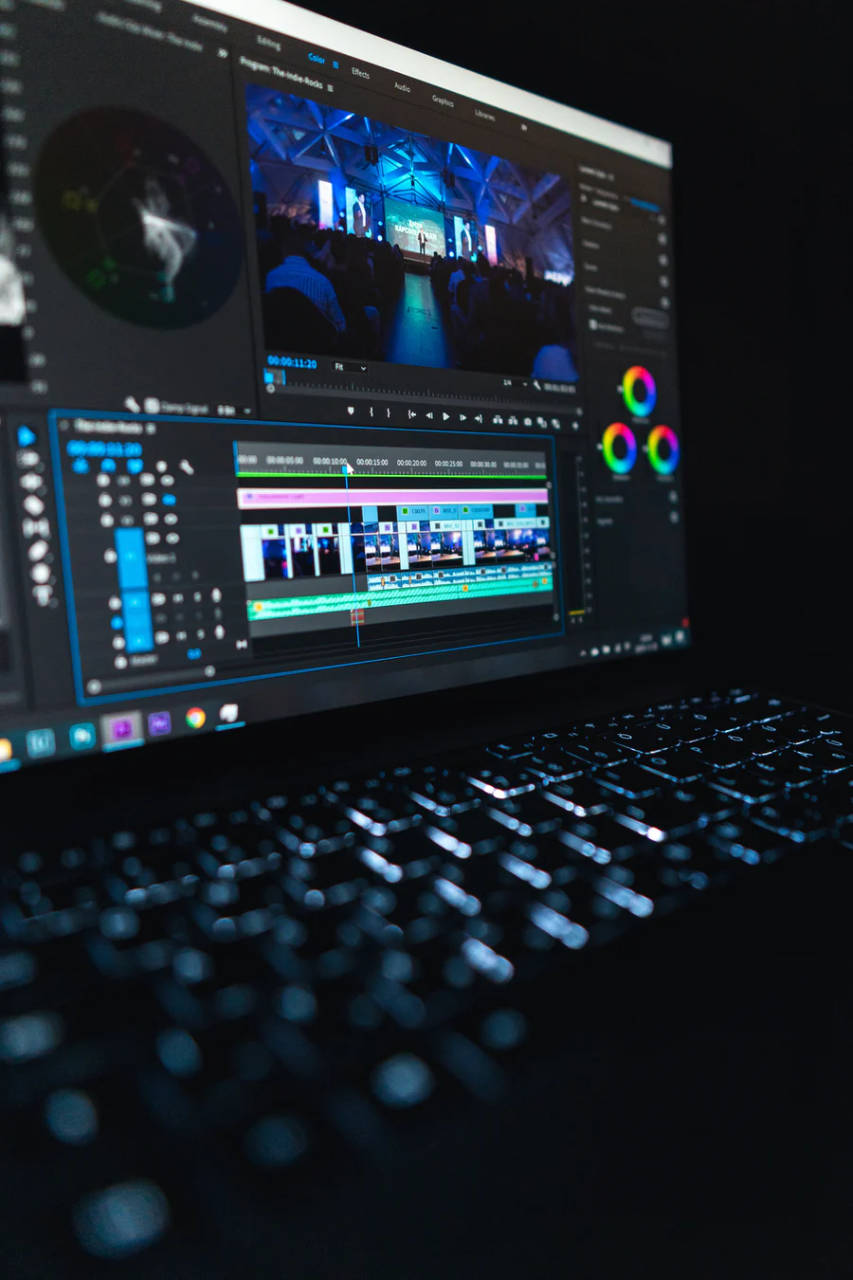 Power to Process the Creation
Now that we are done with the display, time to go inside the laptop and decide on the processing power a content creator's laptop needs.
A. Core Count and Multi-Threading
Gone are the days when laptop CPUs were dubbed to be slower due to their reduced clock speeds than their desktop counterparts. Now even laptops have SKUs that can reach 5GHz speeds. However, let us not jump for an Intel i9 or an AMD Ryzen 9. Let us first understand the mechanism here.
Content creation is a multitasking-enabled endeavor and designers work on editing multimedia content. The more the cores and threads, the faster would be the processing power. Hence, multicore processors enabled with Hyperthreading or Multi-threading is the single most important aspect of a content creation laptop.
Here is a Cinebench R15 multicore benchmark between different laptop CPUs. If we note, AMD 5000 series processors are running away with the trophy here.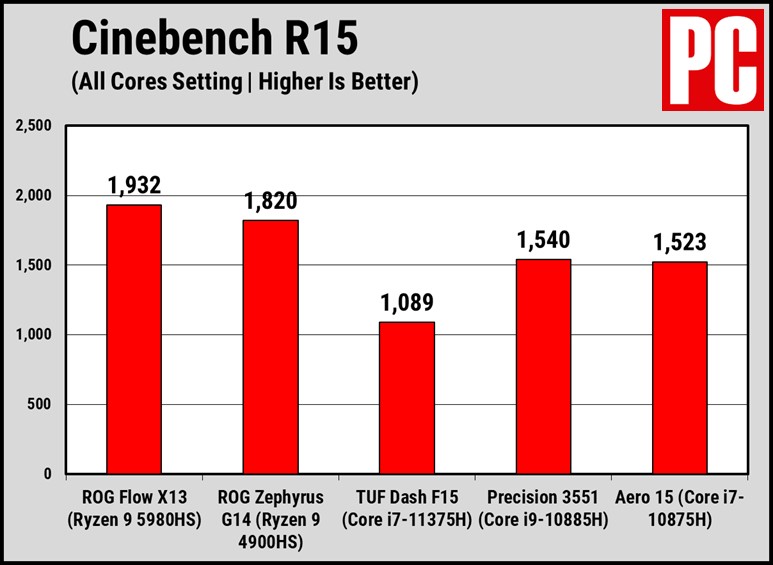 PC gaming studios are gradually shifting towards games that are multicore dependent but the transition is quite slow. A vast number of games are still single-core dependant and hence single performance is dominant in gaming. The clock speed of a CPU plays a major role here instead of the number of cores or threads.
B. Task at Hand
A creator should choose the processor depending on the content being created. In the case of Intel, the difference between i3, i5, i7, and i9 is the number of cores and their clock speeds. In AMD there are some major spillovers between Ryzen 3,5,7 and 9. Our suggestion here is based strictly on the load a specific type of content would put on a processor.
Since 11th Gen Intel Tiger Lake-H Processors just launched earlier in May, there is a still dearth of their performance numbers. These processors can take on Ryzen 5000 and have been touted to have about 15-20 percent better average performance than 10th Gen Intel Processors and almost 10-15 percent better than Ryzen 5000. We will try to list the 11th Gen counterparts wherever possible.
Graphic Design and Image Editing
Usually, the load is the least in this type of content and a quad-core processor with clock speeds hovering just above 4 GHz would be enough to get the job done. In this case, one would run applications like Photoshop or Lightroom for editing images that a quad-core processor would be able to easily handle. If the Photoshop outputs are of high DPI, then we would advise you to go for a multi-threading enabled Hexa-core processor. The recently launched Ryzen 5 5600H would be a good choice. The choice could be the quad-core Core i5 10400H or the hexa-core 10500H (11th Gen Core i5-11500H) if you prefer Intel.
Here is some more insight into the performance of the two rival processors.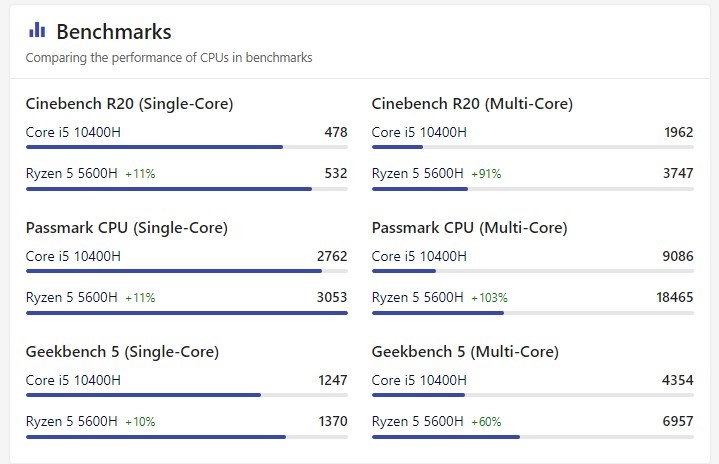 Here is the CPU Mark Scores for all the mentioned CPUs. The 11th Gen Intel processor is breathing on the shoulders of its AMD counterpart.

Video Editing and 3D Designing
Autodesk Maya or Houdini is much more intensive and you would need a beefier CPU if you were to design in 3D. Film editing, designing complex animations, and creating animated videos too would have you looking for a more powerful CPU. In this case, the choice could be an octa-core i7- 10875H (11th Gen Corei7-11800H) or an i9-10885H (11th Gen Core i9-11900H) processor. AMD fanboys could go for the Ryzen 7 5800HS or Ryzen 9 5900HX.
Cinebench 20 puts the latest 11800H at par with AMD 5900HX.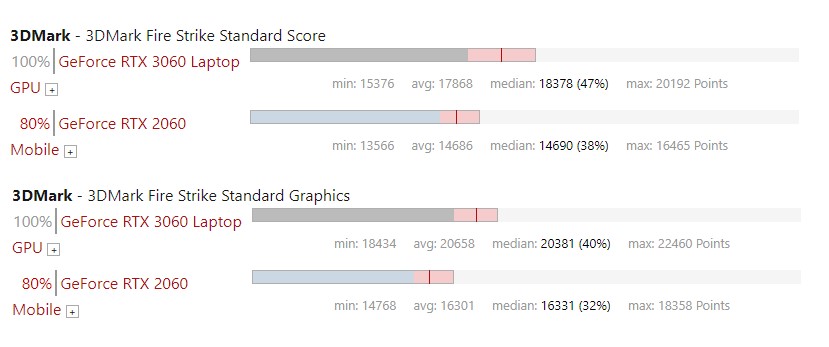 Here is the CPU Mark score for the recommended processors. We see that Intel 11th Gen is trading blows with the Zen 3 powered Ryzen 5000 processors.

3D Modelling and Rendering
Finally, the cream of content creators who want nothing but the best content and have set high benchmarks for themselves would need chart-topping CPUs. Editing complex animations and videos in extreme resolutions, working with large stereoscopic 3D models, and creating virtual-reality-based 3D content could be made possible using an Intel Core i9-10980HK (11th Gen Core i9-11980HK) or AMD Ryzen 9 5980HS or 5980HX. Here is the 10980HK going toe to toe with the 5980HS in Geekbench 4.1.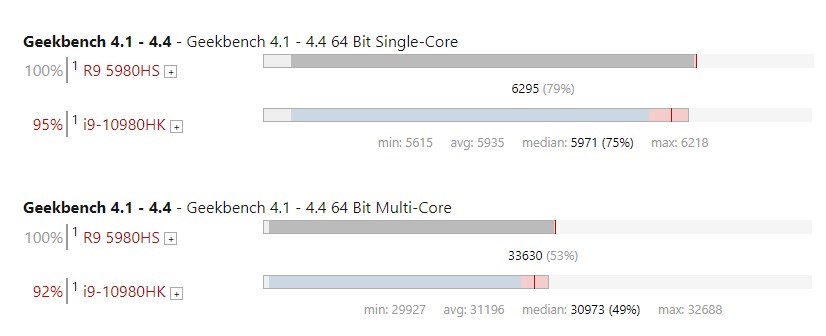 Here are the benchmarks from CPU Mark. Here Intel's latest 11th Gen processor surpasses the Ryzen 9 by almost 1000 points.

A GPU That Innovates
The GPU is single-handedly responsible for handling graphics-intensive tasks and hence just like the CPU, there are 'tiers' according to content being created. Since we have already segmented the content type earlier let us keep this section short and simple.
For the content that deals with the designing and processing of two-dimensional photography, the bare minimum requirement for a laptop is a GTX 16XX series graphics card. Applications like Adobe Photoshop need power GPUs to run. The choice here is between GTX 1650 and GTX 1660 Ti. Let us look at a benchmark to decide.
Here is a comparison of the performance of different laptops. Note that MSI GS65 Stealth uses the GTX 1660 Ti.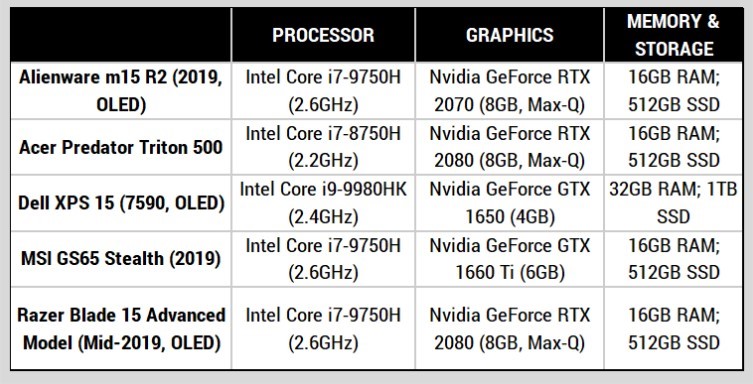 Photoshop Performance.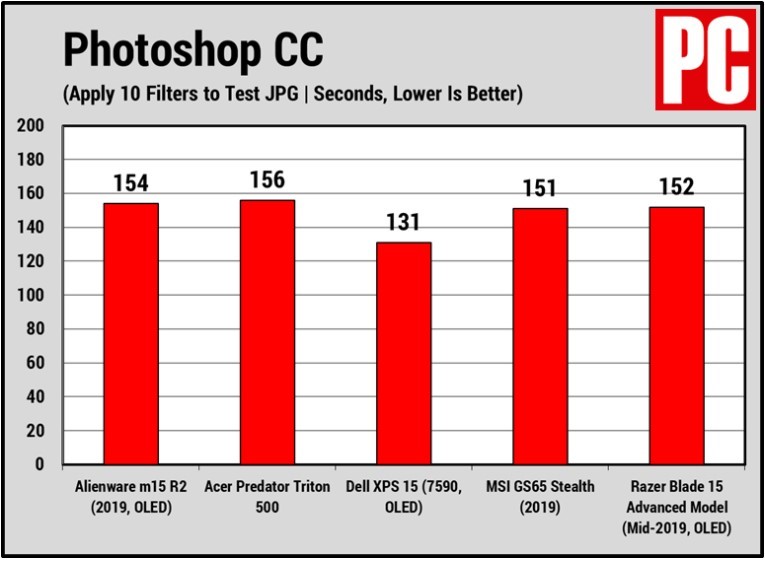 For advanced graphic content dealing with 3D animations, or working on video editing applications like Adobe After Effects and DaVinci Resolve, one needs more processing power. Ray Tracing enabled last-generation Nvidia cards like the RTX 2060 or Max Q enabled RTX 3060 would suffice.
Here is a benchmark comparing RTX 2060 mobile and RTX 3060 mobile.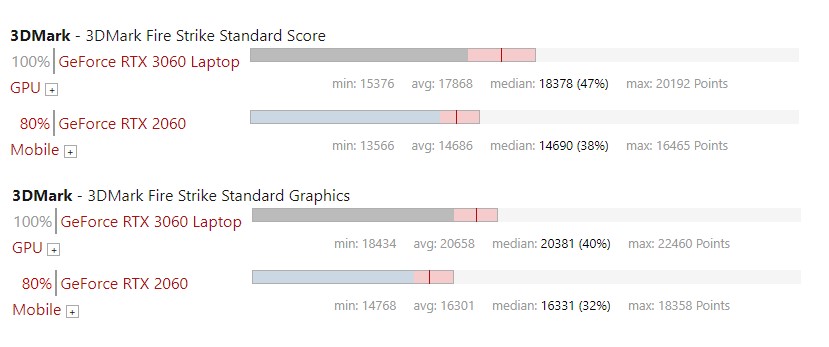 For the 'habitual' content creators we recommend nothing short of the best out there. Working on 3D Artificial Intelligence-related content needs the best money can buy and one should go for the latest generation Nvidia cards such as the Max Q enabled RTX 3080 or RTX 3070.
Our Recommendations
Finally, the section most people usually wait for. The section that screams, "Cut the explaining, just tell me which one to get". Here are our top picks.
Type of Content

Name of Product

Specifications

Price

Light Content: Designing and Image Editing

Dell XPS 15

CPU: 10th Gen Intel Core i5 – i7

Graphics:  NVIDIA GeForce GTX 1650 Ti 4GB GDDR6

RAM: 8GB – 64GB

Screen: 15.6″ FHD+

Light Content: Designing and Image Editing

MSI GF 65

CPU: 10th Gen Intel Core i7

Graphics:  NVIDIA GeForce GTX 1660 Ti 6GB GDDR6

RAM: 8GB – 64GB

Screen: 15.6″ FHD+

Medium Content: Video Editing and 2D Animation

Asus ROG Zephyrus G15

CPU: Ryzen 7 4800HS

Graphics:  NVIDIA GeForce RTX 2060 Max-Q

RAM: 16GB DDR4

Screen: 15.6″ FHD IPS Panel

Medium Content: 3D Designing and 3D Animation

Gigabyte Aorus 15G

CPU: 10th Gen Intel Core i7

Graphics:  NVIDIA GeForce RTX 2070 Super Max-Q

RAM: 16GB DDR4

Screen: 15.6″ FHD, 300Hz, IPS Panel

Heavy Content: 3D Modelling and Rendering

Alienware M15 R4

CPU: 10th Gen Core i9

Graphics:  NVIDIA GeForce RTX 3080 8GB GDDR6

RAM: 32GB DDR4

Screen: 15.6″ FHD, 300Hz

Heavy Content: VR Content Creation

Alienware X17 R1

CPU: 11th Gen Core i9

Graphics:  NVIDIA GeForce RTX 3080 16GB GDDR6

RAM: 32GB DDR4

Screen: 17.3″ UHD, 120Hz
Conclusion
The biggest drawback of laptops even today is the thermal throttling. To counter the heat build-up in the small chassis, a laptop CPU slows down to generate less heat causing lag and eventually crashing out. Even the GPU is susceptible to the same and hence it's important that laptops must have good thermal management systems. Liquid cooling, a greater number of vents, and cooling fans are some of the features one must ensure a content creator's laptop is equipped with and it's good to go.