When I saw the Dell Inspiron 17 5000 and its configuration, I had to take a second look. All new sleek design, high performance components, dual storage option, dedicated graphics card, large display in one with a moderate price tag. It just looks too good to pass on.
Before this, I had a Dell Vostro 17, a Core i7 laptop with NVIDIA graphics that I used as my main machine until I decided to get an all-in-one desktop. Purchased in 2010, the Vostro 17.3-inch laptop still works with plenty of life left. Running Windows 10 with upgraded 8GB memory and 1TB SSD, it still have enough power for everything one needs. But if I had to choose a successor, it would be the Dell Inspiron 17 5000 series. A mid-range laptop, the Inspiron 5000 laptop, particularly the model reviewed below has everything going for it.
Dell Inspiron 17 5770 Laptop (2018)
This laptop has everything, a powerful 8th generation Core i7 processor, generous 8GB of memory (upgradeable to 16GB), fast 256GB Solid State Drive and ample 2TB Hard Disk Drive storage. It even comes with a discrete Radeon 530 graphics card with dedicated 4GB VRAM. Plus, the availability of a full size HDMI, reversible USB-C and three full size USB 2.0 and 3.1 ports, for expansion. It even has a DVD writer in case you pick one of those up for a movie in.
You may ask, who uses a DVD writer these days. If it was going to be your only machine, the optical drive may come in handy to access old backups, music CD or DVD collection.
Complete with a Full HD display with 1920 x 1080 pixel resolution, full size keyboard with numerical key pad, spacious touch pad and fingerprint scanner, it offers everything one would want from a desktop replacement machine.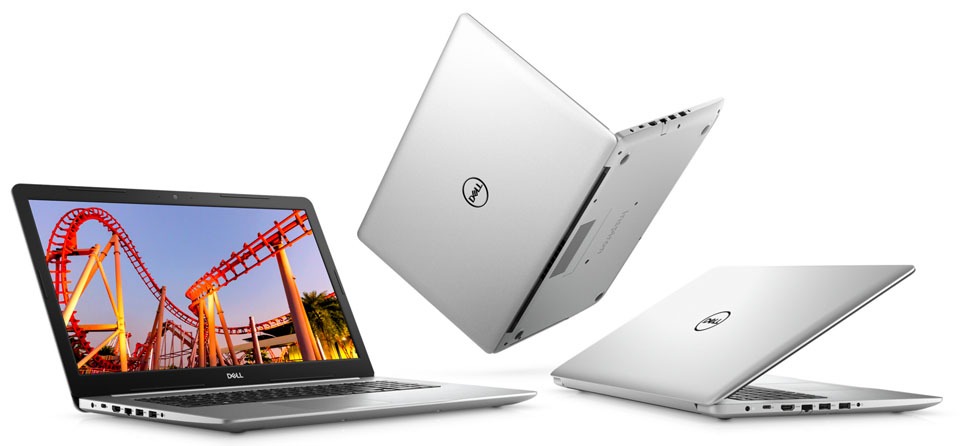 The design is also much improved from the 2017 version. It now features a slim design (25mm) with super slim lid, a floating chassis design with a slim edge look towards the palm rest. Although, the thickness is nearly equal all the way through. Two colour options are available, premium silver metallic finish or black. Both of which looks the part. Previous generation Inspiron 17 5000 has a glossy playful polish with shiny finish. Also gone are the extra large rounded corners. New generation Inspiron 5000 series has a more serious business like look.
Dell claims that the design does not only look good but is life proof too with rigorous reliability tests being performed before it gets the green light. These tests includes temperature up to 65%, opening and closing of the hinge, keyboard, touch pad and power button tests. The laptop has also been subjected to torsion force. Both the lid and base survived Dell's twisting tests with no damage to the internals.
All being said, the biggest draw of the device is still its moderate price tag. This is such a good value machine. Like my Vostro, it is going to be a worthwhile investment and will go on to serve you for years to come.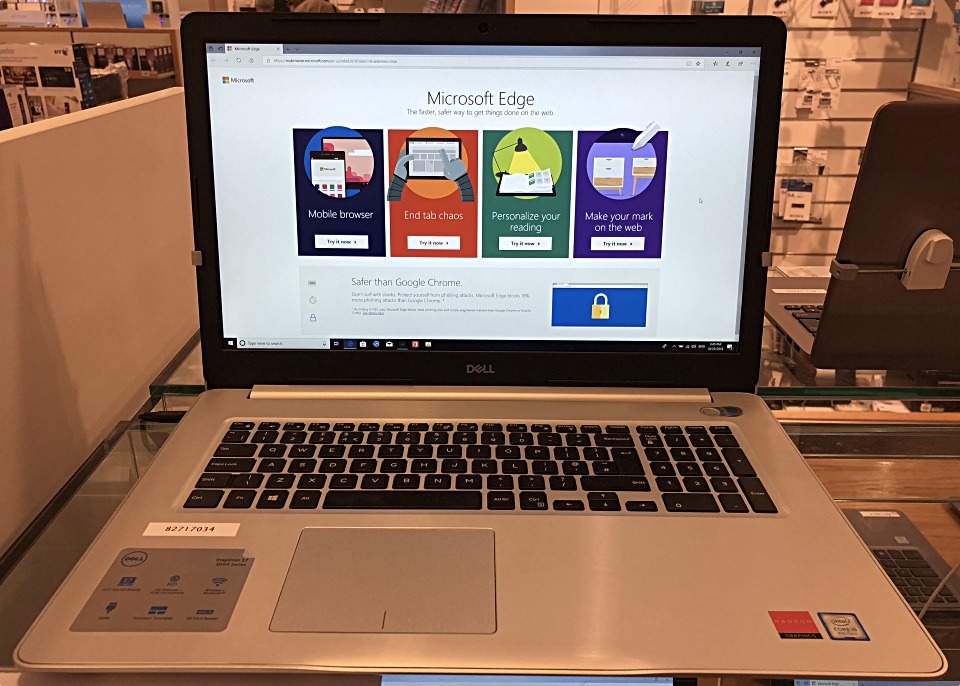 Choosing the Right Inspiron 17 5770 Laptop
Before we begin, let's set some things straight. This article does not consider the entry level model with Core i3 processor nor any iterations without the discrete Radeon 530 graphics card. It also only looks at laptops with at least a Solid State Drive.
Don't choose just any Inspiron 17 5000, configure it to the specification to suit you but with at least Core i5 or i7 processor, 8GB RAM memory, 128GB SSD storage with 1TB HDD and Radeon 530 graphics with 2 or 4GB VRAM.
If this is going to be your main machine, we recommend that you pay particular attention to the processor, storage and graphics. The following are our recommended configuration:
Core i5 or Core i7 processor
8GB or 16GB RAM memory
128GB or 256GB SSD storage
with 1TB or 2TB HDD if more storage is required
Discrete Radeon 530 graphics with 2 or 4GB VRAM dedicated memory
Being Dell, different hardware configuration will be offered under the same model number. So long as you follow our recommendation above, you won't go wrong.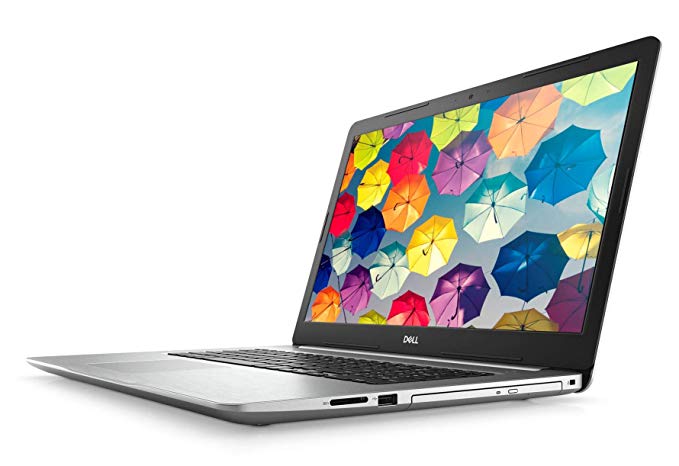 Dell has also released the Dell Inspiron 17 5000 with AMD Ryzen 5 and Ryzen 3 APU. The AMD Ryzen 5 2500U Zen chip with Vega 8 graphics is equal to the Core i5 part. With a high maximum clock speed of 3.6GHz, AMD Ryzen 5 promises even better graphics performance with on-die Vega graphics architecture.
Top 5 Things You Need to Know About the Dell Inspiron 17 5000
We choose 5 key areas of the laptop that you need to know. These are the processor, storage, display, keyboard and touchpad and interface ports.
1. Powerful Processor
Make no mistake, this is a powerful notebook. Based on the 8th generation Intel Core i processors, the laptop will devour any task you throw at it at great speed. Both the Core i5 and Core i7 processors are just as powerful. Our recommended processor options are listed below:
Intel® Core™ i5-8250U Processor (6MB Cache, up to 3.4GHz)
Intel® Core™ i7-8550U Processor (8MB Cache, up to 4.0GHz)
It would be nice to have the option of Intel® Core™ i7-8565U Processor (8MB Cache, up to 4.6GHz), available on the premium Inspiron 17 7000 series with a higher performance gain and an Average CPU Mark of 9057 (PassMark). That's 8.6% faster than the Core i7-8550U and 18.1% faster than the Core i5-8250U but as it is not an option, we will have to stick to what is on offer.
Let's take a look at how the two processors compare in PassMark and GeekBench scores
PassMark Performance Comparison

| | | |
| --- | --- | --- |
| PassMark | Single Thread | Average CPU Mark |
| Intel® Core™ i5-8250U | 1993 | 7669 |
| Intel® Core™ i7-8550U | 2151 | 8340 |
Based on PassMark Average CPU scores, there is little gain from going with the Core i7 compared to Core i5, only 8.75%. For those looking to save some money, choose the Core i5 model. You can use the money saved to pick a bigger Solid State Drive or more memory.
GeekBench Peformance Comparison

| | | |
| --- | --- | --- |
| GeekBench | Single Core | Multi-Core |
| Intel® Core™ i5-8250U | 3585 | 10966 |
| Intel® Core™ i7-8550U | 4209 | 12923 |
The GeekBench scores offer a wider gap in performance. The Core i7 is rated 17.85% higher compared to Core i5 in the multi-core scores. Again, for the budget conscious, going with a slightly slower processor may mean more money for bigger memory and storage.
Together with boosted bandwidth offered by the 8GB DDR4 memory, the system exhibits increased performance allowing for smoother multitasking and handling of bigger files and data. Choosing 16GB DDR4 memory means even more room for more browser tabs, editing bigger files and running more applications simultaneously.
Going on the CPU benchmark alone does not paint a true picture of the laptops performance but you get a good idea of which processor to pick. The
2. Dual Storage for Performance and Space
Here is a laptop that lets you have both, the performance of fast solid state drive (SSD) and the abundant storage space of a hard disk drive. Our model comes with 128GB SSD and 1TB of HDD storage. If that is not enough, double up to 256GB SSD and 2TB of HDD storage. Picking a dual drive configuration, Solid State Drive and Hard Disk Drive, improves boot-up speed, multi-tasking and file swap.
Again, if you are short of cash and can live with an external hard drive, flash drive or memory card for space, pick the 128GB SSD with 1TB HDD option. However, do watch watch the space on the primary drive. Choose to install some of your programs or move your documents and data to the secondary 1TB HDD to leave more space for the operating system and updates.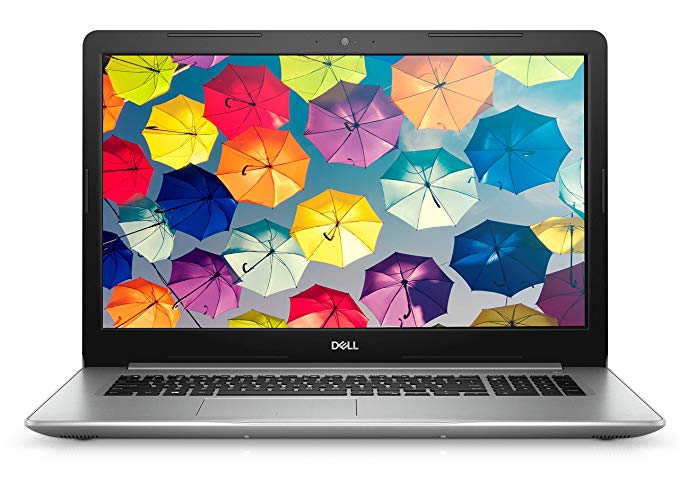 3. Good Display with High Contrast but Average Brightness
Supported by a powerful Radeon Graphics 620 GPU with 4GB dedicated graphics memory, the 17.3-inch Full HD screen is great for gaming, watching movies and TV shows as well as editing photos. For most application, the Full HD resolution at 1920 x 1080 is plenty, offering ample room to spread out the windows.
Unlike its smaller sibling, the Inspiron 15 5000, the anti-glare LED backlit display has a lot more contrast. We put the two side-by-side and can safely say that the wash-out and faded shin that plague the 15.6-inch display in Inspiron 15 is fortunately not carried over. The black on Inspiron 17 5000 is definitely deeper.
While the display works well in normal lighting condition i.e. shaded or indoor, it performs poorly under direct sunlight or when outside. There is just not enough brightness to push those pixels through. But, you probably don't want to be carrying and working on the 17-inch laptop outside.
It is however a non-touch screen. For touch enabled display, choose the premium Dell Inspiron 17 7000.
4. Good Keyboard and Touchpad
Being a full size laptop, you benefit from spacious palm rests and a full size keyboard that includes a full numerical key pad to the right. This also means that the trackpad is off centre to compensate for the num pad. It is not a bad thing as there is plenty of space all around. The keys feel sturdy, offering plenty of feedback with sufficient key travel and support. The actual full size keyboard is also recessed into the base keeping it level with the track pad and away from the screen when the lid is shut. All this makes for a good typing experience. The only thing it doesn't have is back lit for the buttons.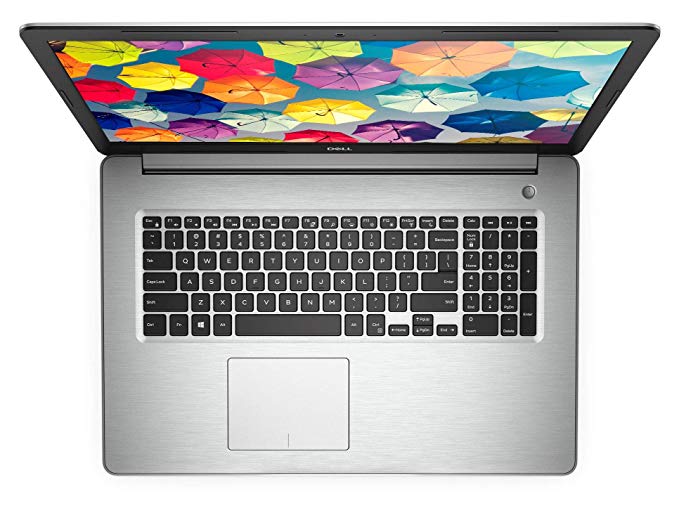 The off centre track pad, common with big laptops is responsive and offers good gliding action with sufficient friction from its slightly rough finish but not too much that it stops your finger part way. With a big 105 mm x 80 mm touch area, the track pad offers plenty of input surface, allowing the cursor to glide over the screen. The two clickable corners are marked by a small line between them. These buttons feature short travel and silent operation.
5. Plenty of Ports
The laptop does not let us down in the interface department either offering a range of connectivity options including a full size HDMI port, reversible USB-C and full size type-A USB 2.0 and USB 3.1 ports and more.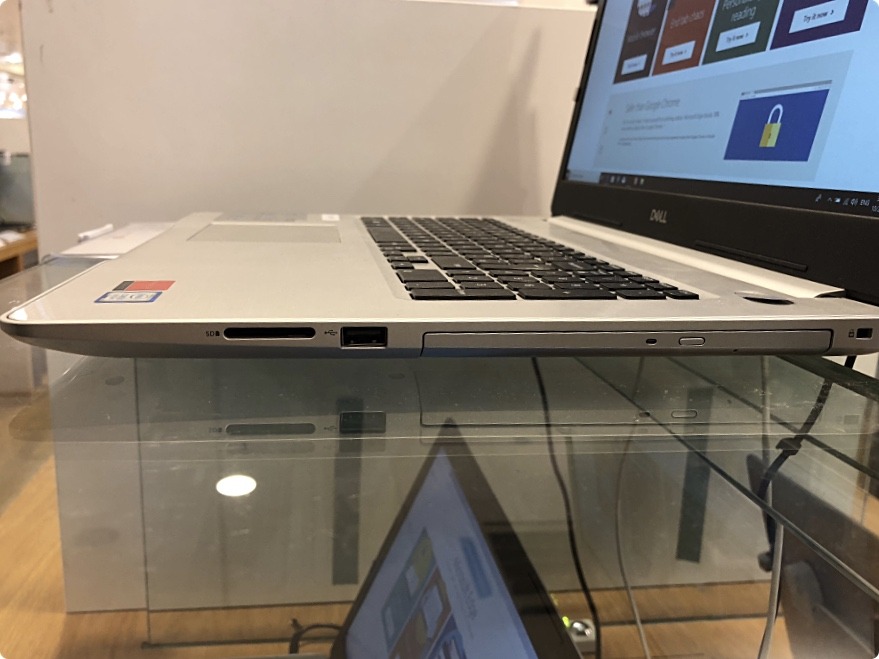 All ports are easily accessible and available on either sides of the laptop. On the right (above) you have the noble security lock slot, the DVD optical drive, a Type-A USB 2.0 port and a full size 3-in-1 ((SD, SDHC, SDXC)) media card reader.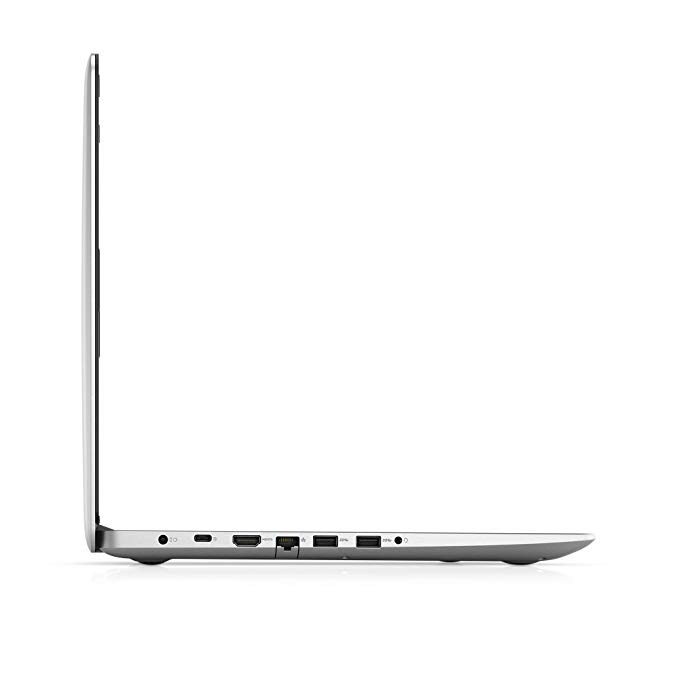 On the left (above) you have the power socket, USB 3.1 Gen 1 Type C, HDMI 1.4 port, 10/100 Ethernet port, two Type-A USB 3.1 Gen 1 ports and audio jack. The single USB 3.1 Gen 1 Type-C port is only available on models with discrete graphics and is capable of supporting PowerDelivery and Video. If a reversible USB-C port is important to you, please check before placing your order. This is useful to hook up more than one external monitor.
Final Thoughts
The Inspiron 17 5000 is a true laptop replacement machine if you pick the right configuration. There isn't a great deal of difference in performance gain choosing between the Core i5 or Core i7 processors but what is important is to kit it up with at least a 128GB Solid State Drive. If you want this to be your desktop replacement, stay away from the entry level Core i3 model.
While the display lacks brightness, it has good contrast and at Full HD resolution, it offers sufficient sharpness and detail. You can always use the USB-C or HDMI port to hook up a big 4K monitor for a bigger display. Get the right configuration and you are looking at a laptop that will run for years.
Adapted from our original post published on colourmylearning.com