When choosing different components and parts for your PC, the one component that is usually largely overlooked by beginners is the power supply, or PSU. Oftentimes, when the build is complete, the power supply budget is simply squeezed to finally meet what they can afford.
This… is highly NOT recommended.
Think of the power supply as the engine of your car. While you can deck the car with all the features that you can to make its use or operation comfortable, the engine will still be its most important component for it to even do its most basic job.
When choosing a power supply, it is important NEVER to skimp on its budget. This does not mean that you should get the most expensive, or the highest ever rated available. But you need to at least establish a quality baseline, because your choice could directly affect the fate of your entire PC build.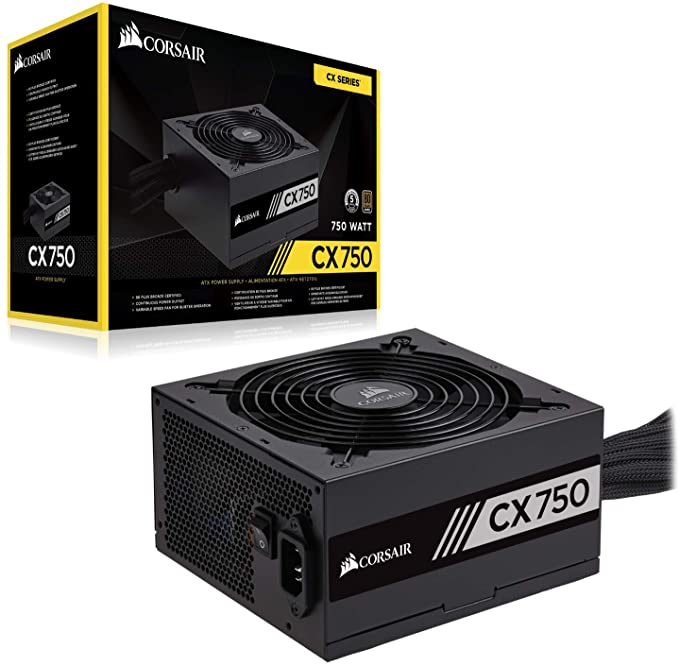 PSU Specifications: What are the important specs to consider when buying your power supply unit
As with other PC components we have already discussed, power supplies also have many different technical specifications, but there will only be a few that would be important when building your first Custom PC. These includes:
1. Power Rating
Sometimes known as Wattage – this is the quantitative amount of power that your power supply can draw from the outlet and provide to your system. To learn how much power your power supply would need to provide to your system, you can check out various wattage calculators from popular power supply brands, or when assembling together your PC using an online system builder.
PSUs are available from a power rating of 420W to 850W with the average at 500W. Older or replacement power supply units for commercial desktops from the likes of HP, Dell and Lenovo can be from as low as 250W.
Generally, your CPU and GPU would be the highest contributors to the wattage requirement, but you should also take note of other sources, for example, if you are using three or more storage devices.
Official calculators:
https://seasonic.com/wattage-calculator
https://www.coolermaster.com/power-supply-calculator/
System Builders:
https://pcpartpicker.com/list/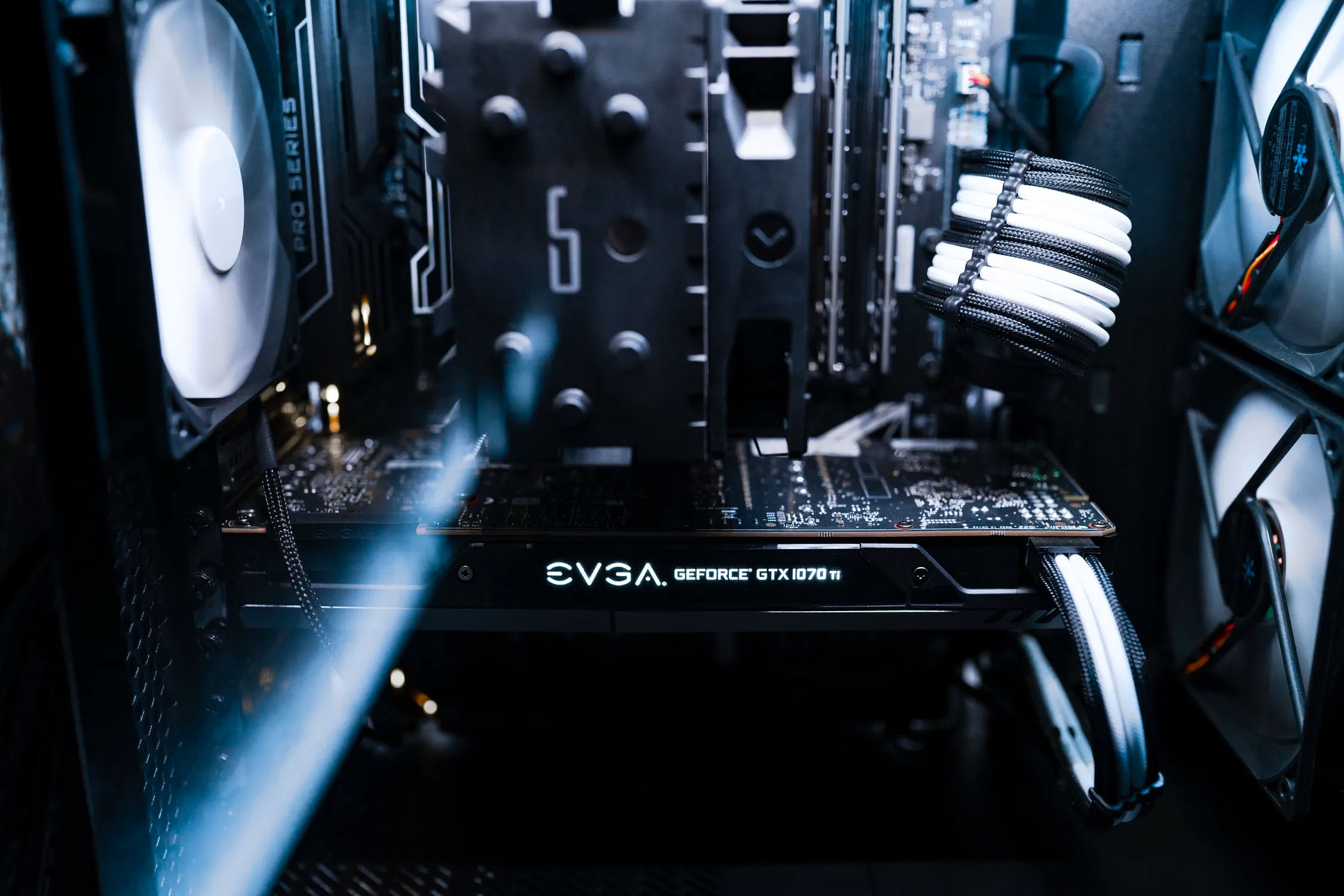 2. Form Factor
Power supply and case go hand-in-hand. Your chosen power supply unit needs to be compatible with the form factor of the case or motherboard that you will be using. If you need a recap on that, follow back on our very first article in the starters' PC guide series. Most PSUs are currently compatible with the ATX form factor, but do take note of other special models that are specifically tailored for other builds (PSU for server systems, microATX and Small Form Factor for example).
3. Input Voltage
This is the voltage value required to make the power supply work. This will largely depend on the standard supply voltages in your country. For example in the United States, the supply voltage is 110~120V, while in Europe, it is 220~230V. Certain power supplies might have switches that can toggle between different input voltage types. This is especially important when ordering PSUs from overseas, as there is a chance that the power supply input voltage might not match the supply voltage provided in your country.
4. Operating Temperature
This is the standard temperature when your power supply is operating under load. Lower of course is better, but more specifically, it is directly related to your PSU's de-rating curve. Simply explained, this is the rate of power provided at a particular temperature. The typical rated operating temperature of most power supplies is 40°C, though some of the higher rated ones can be at 50°C.
5. Modularity
This determines whether the individual connector wires of your PSU are detachable or not. Modular versions of PSUs are usually more expensive, but they can be very convenient for people who want less cable management, by connecting only the ones needed in their particular build. This help keeps the build tidy. When choosing your PSU, your options with regards to modularity are; non-modular, semi-modular or fully modular, see an example of a fully modular PSU below.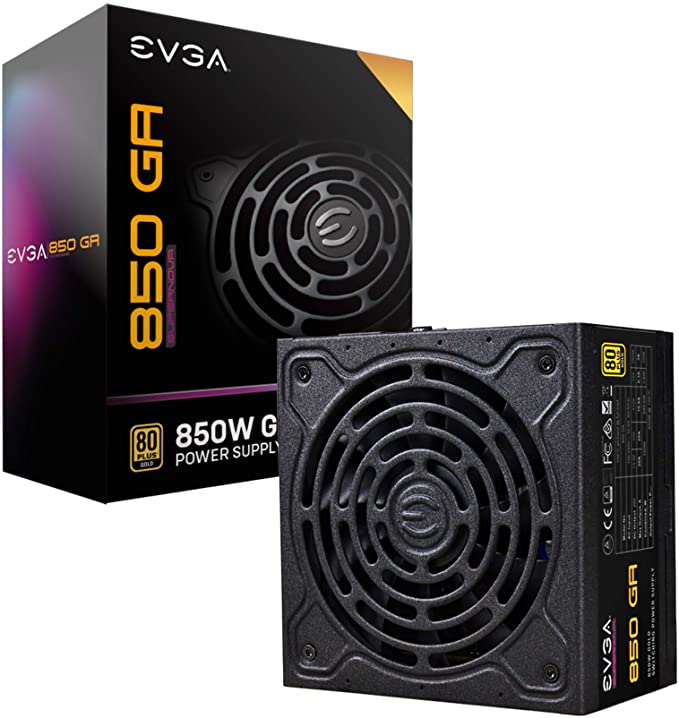 6. Air Flow
This is the amount of air that can flow through the PSU at a given point in time, which of course would also correspond to its operating temperature. This will be affected by the size of its cooling fan, the speed of the fan, the case design and the type of hardware used for the fan. Also, keep in mind that the orientation of the PSU on your PC case would also have an effect to its overall air flow.
7. Noise Level
Noise Level is the sound level your PSU would create during operation. Its fans are one cause, but a PSU might also create what is called a coil whine. Basically, this is an electrically induced noise when it is in operation. There are no officially listed noise ratings for each PSU specification, so you would have to refer to a review or a product listing to check, see example of a noise level against load chart below.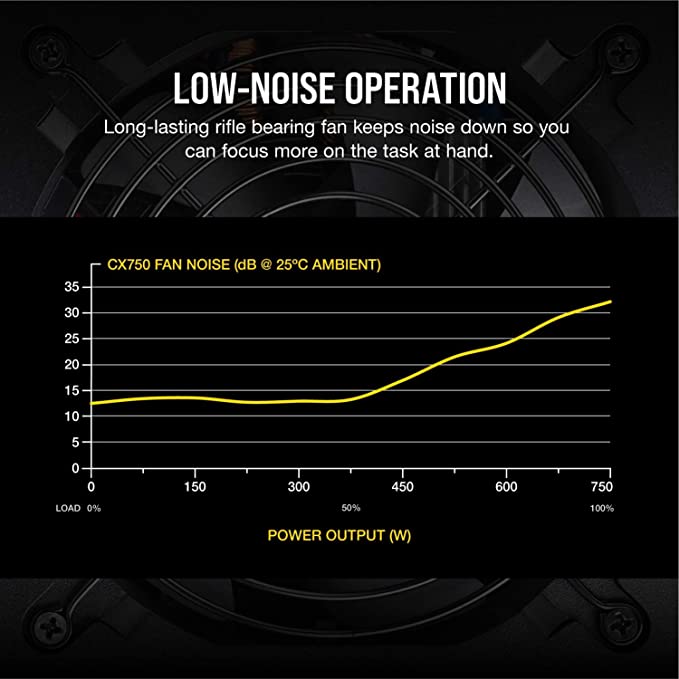 8. RGB Lighting
With the commonality of RGB PC components nowadays, even PSUs can come with a variety of different light show effects. If this is something that you fancy, then go for it, though this might artificially bump up its price. And no, this isn't an RGB storage device. You don't have to worry about the LEDs causing significant negative effects on your PSU's operating temperature. GAMEMAX, a high-end gaming power supply is a good example of a PSU with RGB lighthing.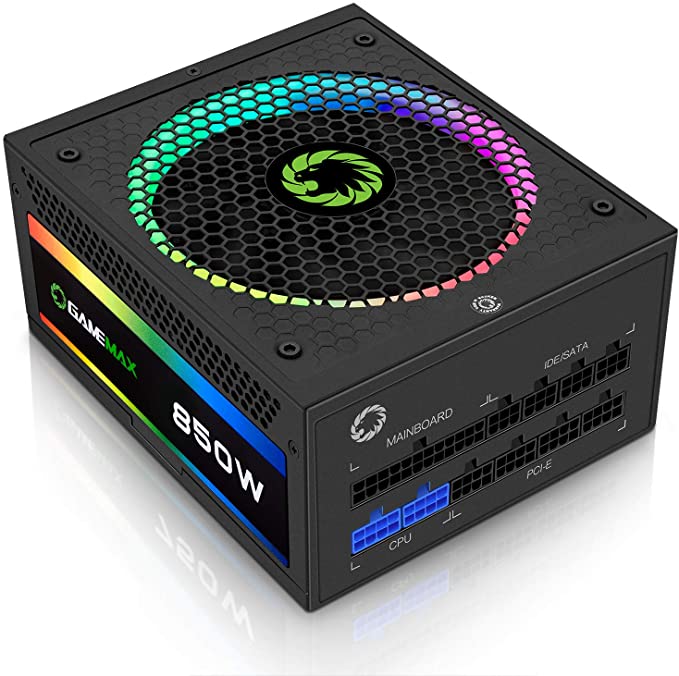 Other Specifications
Most of the other very technical specifications of power supplies will usually be confusing and/or intimidating for the starting PC builder (requires extensive knowledge of electronics), so these won't be necessary to learn for now.
PSU Output Connectors: Cables with connectors for the different components in your PC
Each component of your PC is powered differently compared to the rest. Thus, a power supply would typically provide several different connecters for this purpose. Do take note that all wires or connectors leading to power draw pins (those not used for ground and/or other purposes) would almost always provide 12V for each connector. Here is a list of the different connectors you need to know for your build: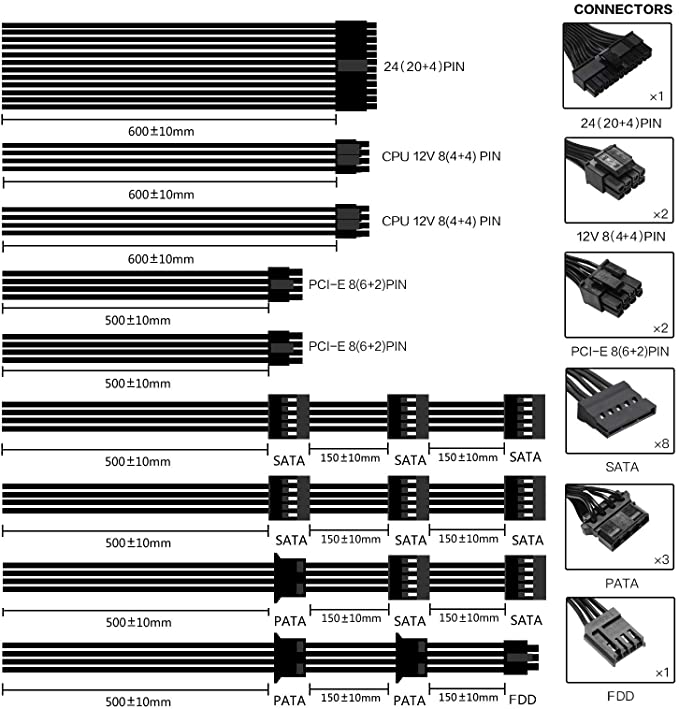 A. 24-pin (20+4) Connector
This is also known as the motherboard connector. As its alternative name suggests, it plugs directly to the motherboard (usually on its right side), supplying it with power. It is usually split into 20 pins and 4 pins, so that it can be fitted to motherboards that need 20 pins. But for 24-pin motherboard connections, you only have to snap them back together to fit.
B. 8-pin (4+4) Connector
This is the CPU connector. It is usually plugged at the upper side of the motherboard, near where the CPU is installed. Like the 20+4-pin connector, the 8-pin CPU connector is split to a 4+4-pin configuration to accommodate lower-end motherboards that only require 4-pins.
C. 8-pin (6+2) Connector
This is also 8-pin, but the different 6+2 configuration means that it is a PCI connector. It is used to provide additional power to PCI peripherals that might require it, such as graphics cards. A typical PSU would usually provide two 6+2-pin connectors, to accommodate for higher-end GPUs that might need more than one connection.

D. SATA Connector
This is the connector that provide power to SATA devices. The connector also has a specific pin orientation, so that you would never be able to connect it incorrectly on your HDDs and SSDs. At least four to six SATA connectors will be available to most power supplies. This is offered as a single cable with one-to-many connectors. One end of the cable is connected to the power supply with the other end connects to the various SATA devices.
E. Peripheral Connector
There are also traditionally called molex connectors. They were once very commonly used to power older IDE devices, though they can still be occasionally used if the build includes older (non-SATA) optical drives. Today they are mostly reserved for extra components, such as case fans. Most PSUs will provide at least three or four peripheral connectors.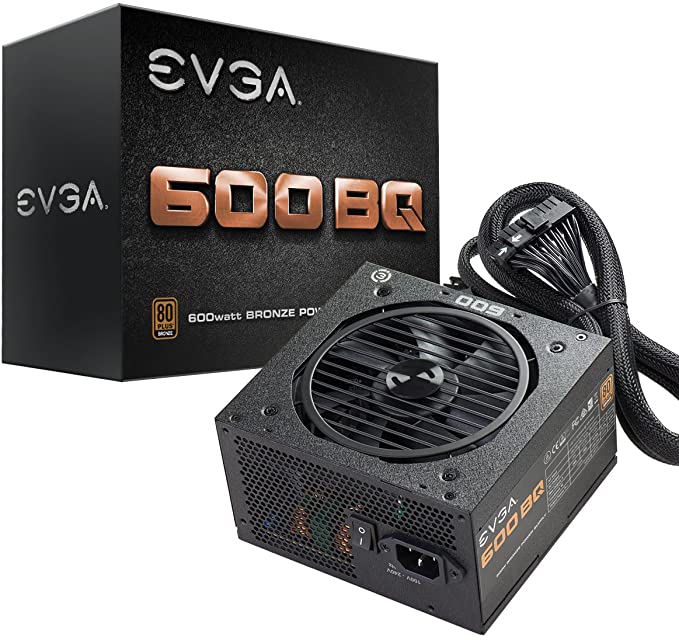 F. Floppy Connector
Also known as Floppy Disk Drive (FDD) connector, these small 4-pin connector is attached to the back of floppy disk drive. These are no longer supported on today's motherboards unless you are working on an old system. For modern PC build, you can happily skip this one.
G. Cable Extensions
One more thing to add, cable extensions for power supply connectors do exist. They are often available in one entire set, and are made for those who might need the extra wiring length, or those who want specific wire color schemes for their PC builds. Probably also useful for those who regret buying PSUs with ketchup n' mustard cables.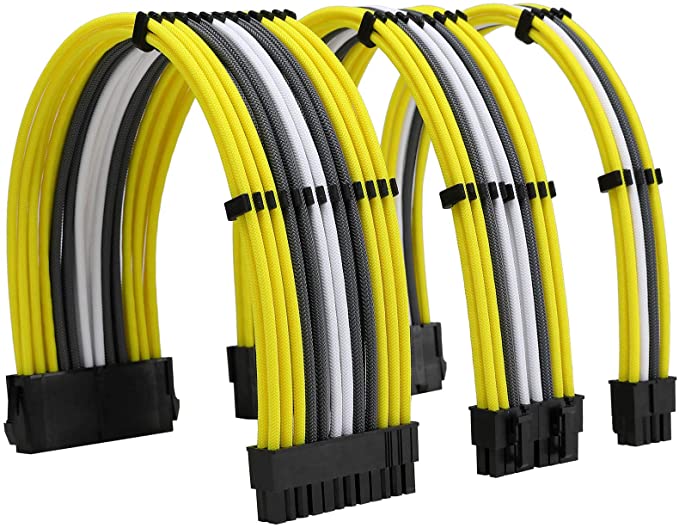 The 80 Plus Rating: What is it and why you need to know about it
The 80 Plus is officially described as a voluntary certification program that helps foster energy efficiency in PSUs. A PSU with an 80 Plus certified power rating will have 80% or more energy efficiency at 20%, 50%, and 100% rated power loads. There are five different levels achievable with an 80 plus rating, namely: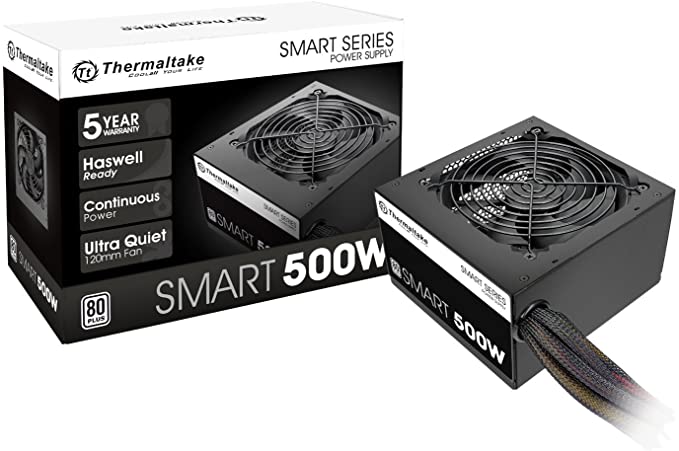 80 Plus Type

Power Load (at 115V)

20%

50%

100%

80 Plus (White)

80%

80%

80%

80 Plus Bronze

82%

85%

82%

80 Plus Silver

85%

88%

85%

80 Plus Gold

87%

90%

87%

80 Plus Platinum

90%

92%

89%

80 Plus Titanium

92%

94%

90%
As you might have guessed, it is quite imperative that any PSU that you plan to purchase have this certification rating. Not only does it indicate the level of efficiency you can get, but it also instils further confidence in a PSU brand, lowering the chances of your PSU failing prematurely.
WARNING: Some off-brand power supplies may have weird certifications such as "85 Plus". These are most definitely fake certifications, making the particular brand and model even less trustworthy to purchase.
Will my Power Supply Explode?
One very, very common "hysteria" in purchasing PC power supplies is the possibility that a lesser known model, or anything less than premium, have the potential to explode, as well as damage or destroy your PC components when used at heavier power loads. Indeed, there have been quite a number of both documented and rumoured online cases of horror stories involving power supply failures, ranging from complete PC meltdowns, to one's entire house burning to the ground.
However, these are most likely cases of confirmation bias and parroting, where the worst cases are usually restated over and over, and it generates uncertainty among the PC enthusiast crowd. Today, most power supplies of well-known and reputable brands would usually incorporate good components to ensure continued operation, and in the case of an actual failure, several fail-safes that would prevent the power supply from ever damaging your PC components.
That being said, safety is still an absolute must, and so we recommend checking out this tier list to know if you power supply will be good at what particular purpose and level of power load.
Final Words
Power supplies, as simple as they might seem compared to other PC-operation intensive components, are still very important. They supply the very power needed by these data crunchers storage and graphics processing unit to work. So, it is important that you allocate a significant portion of your budget to ensure its steady and reliable operation through the years.
While we already mentioned earlier that you do not need to always choose the most expensive or the highest rated power supply possible, you do need to spend some time having a good look at your options and getting to know the specifications as mentioned above.
Edited by Samuel J Tan