The current GPU shortage has been a nightmare for gamers. Offline shelves are empty, out-of-stocks banners are displayed on online portals and the handful of available cards have been marked up heavily with sellers sensing market opportunities to charge high prices for subpar cards.
The Radeon RX 6600 seems to be good intent on AMD's part to provide gamers with a mid-range solution amidst the current global shortage in which it's almost impossible to get hold of a proper mainstream gaming card without paying close to double the price announced at the time of launch.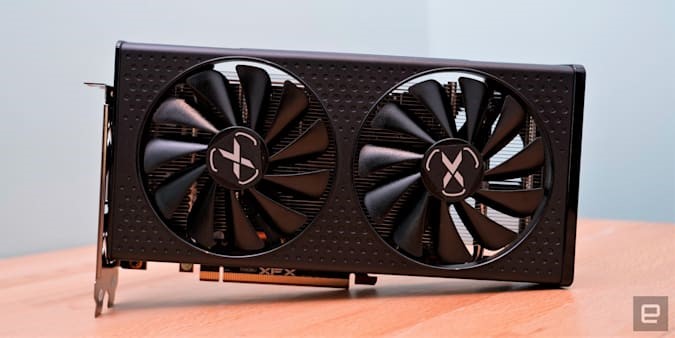 Search XFX Radeon RX 6600 on Amazon
AMD's announcement should be treated as welcome news by gamers as at $329 the AMD Radeon RX 6600 is a genuinely powerful card for anyone planning to game at 1080p. The card does come with some of the path-breaking innovations like AMD's new Fidelity FX Super Resolution that would boost visuals in games such as Far Cry 6, Resident Evil Village, or COD: Black Ops Cold War.
There is however a question that needs answering. How much of a mainstream offering is the RX 6600 when the more powerful Radeon RX 6600 XT could cost you just $50 more (under normal market conditions.) Also, third-party manufacturers have already started launching the RX 6600 at close to $100 more than the minimum price of AMD which begs another question. $500 (where it will eventually reach within a fortnight after launch) for a card that is excellent at only 1080p?
The intent is there, but would it be of any help? Let's find out.
Design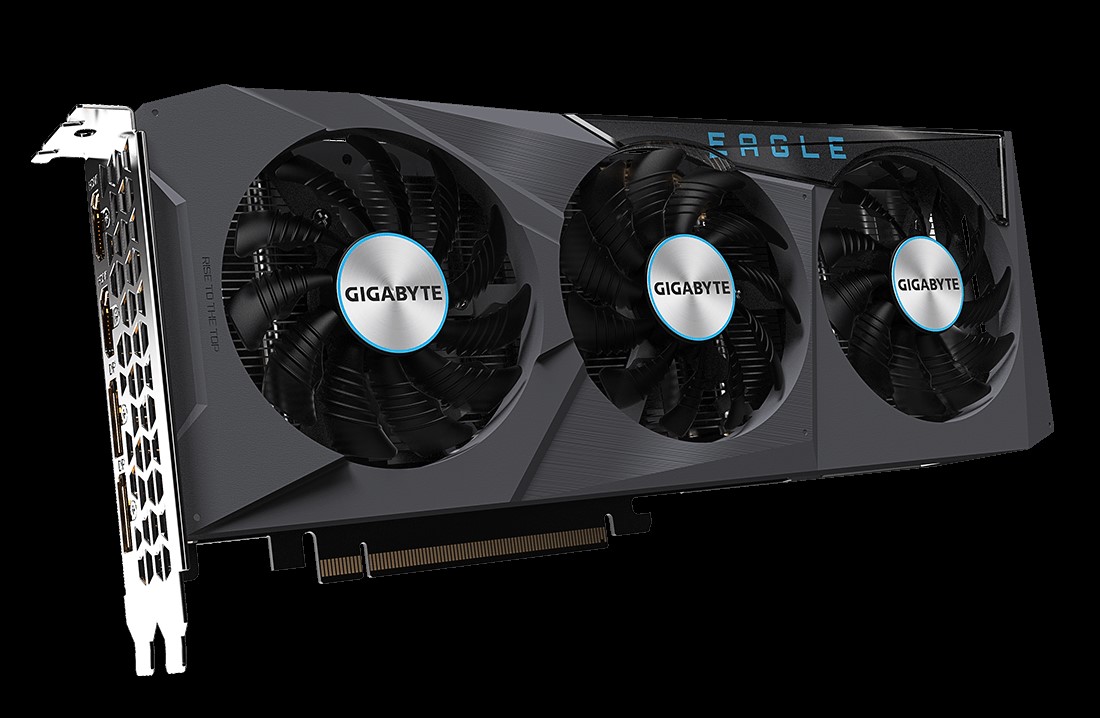 Search Gigabyte RX 6600 on Amazon
With the RX 6600, AMD will not launch any in-house version and there would only be cards from third-party manufacturers like Asus, Gigabyte, MSI and others in the business. The Gigabyte Radeon RX 6600 Eagle above is a nice offering for reference that most other cards might follow. The Gigabyte card comes with a gunmetal shroud and for the chipset being on the cheaper side in comparison to costlier chips, plastic with a metal finish dominates both the shroud and backplate.
There might be other manufacturers who might come up with LED-lit cards to woo aesthetics-loving users but the card in itself should be meaty with a two-slot design. Cooling features should be adequate with manufacturers going for at least 2 huge cooling fans on a metal heatsink. The Gigabyte card above uses three silent cooling fans that never make a rumble.
The card needs about 100 watts of power and comes with an 8-pin power connector. The power requirements again prove the calibre of the card and with proper cooling, the temperatures should never cross past the 60-degree Celsius mark which is ice cold for graphics cards. At the back end, there are four ports in total with dual DisplayPort 1.4 and two HDMI 2.1 ports.
Architecture Chipset and Features
Like the other card of the RX 6000 series, the RX 6600 is based on the new RDNA 2 architecture and is technically a trimmed-down version of the Radeon RX 6600 XT. The new card comes with 28 Compute Units which is lower than the 32 found in the 6600 XT. There are a total of 1792 Stream Processors and 28 Ray Accelerators that aid in ray-tracing.

Search PowerColor Radeon RX 6600 on Amazon
The video memory remains the same 8GB GDDR6 VRAM as in the RX 6600 XT and on the same 128-bit bus but the performance is lower owing to a peak bandwidth of 224GB/s that is more than enough for the 1080p gaming segment as targeted by this card. AMD is not pitching this new card as a high-end showstopper but rather one that runs the latest games at high details on a 1080p resolution.
At the medium price range of $329, 28 Ray Accelerators might not be quite as good as Nvidia's technology found in the RTX 3060 but they are sure to get the job done albeit at the cost of lower performance. AMD's new card comes with a PCIe 4.0 interface and has a GPU clock that can go up to 2044 MHz with the boost clock running at 2491 MHz. It has a peak texture and pixel fill rate of 279.0 GT/s and 159.4 GP/s respectively.
AMD has followed the trend of its other graphics cards with the unique Infinity Cache that enables high-speed memory bandwidth. This is what enables AMD to launch the card as a 1080p expert at a medium price range. It is this 32MB Infinity Cache memory through which the RX 6600 achieves a staggering 224 GBps of memory bandwidth.
On the software side, AMD has caught up well with Nvidia's DLSS with its Fidelity FX Super Resolution that works a bit differently from Nvidia's resolution scaling tech. It is less powerful but offers better customization options. There are a lot of amazing titles like Far Cry 6 that allow upscaling on the RX 6600.
The software is open for use and is sure to pave way for more games to offer support for FSR in the future as even Nvidia users would be able to use the tech with their graphics cards. AMD's FSR would allow more development than DLSS due to this open system configuration.
However, the performance as we said before is still lower than DLSS as a change from Quality to Ultra Quality pretty much retains similar quality levels in-game but massively boosts framerate.
The Radeon RX 6600 also supports Smart Access Memory or the Resizable BAR and the CPU access to the graphics card's memory enabling a performance boost in most games.
Performance
The Radeon RX 6600 is being marketed as a mainstream 1080p graphics card and it does deliver on what has been promised but the mainstream gaming community is longing for 1440p. In that regard, the card somewhat manages to offer decent gameplay in the same titles where it offers more than 60 fps in the Full HD segment. 1080p gaming is extremely smooth in even heavy titles. You could try and enable ray tracing on some games that support it but the card would start struggling a bit to cope up. Frame rates might go under 45 fps in some titles with ray tracing on always on mode.
In comparison to the more powerful RX 6600 XT, the new card is strangely about 15 percent less powerful and costs exactly 15 percent lesser. AMD recommends the card to be pitted against Nvidia's RTX 3060 or last generation RTX 2060 but better DLSS and ray tracing in the Nvidia cards would have a slight edge here. Overall, according to the current market scenario, there is a dearth of options but $329 for a 1080p might seem too much for a card that struggles the moment we step into the 1440p category.
Here is how the graphics card fares in amongst its competitors in Horizon Zero Dawn, a Playstation Games now launched for PC and using a heavy graphics Decima engine.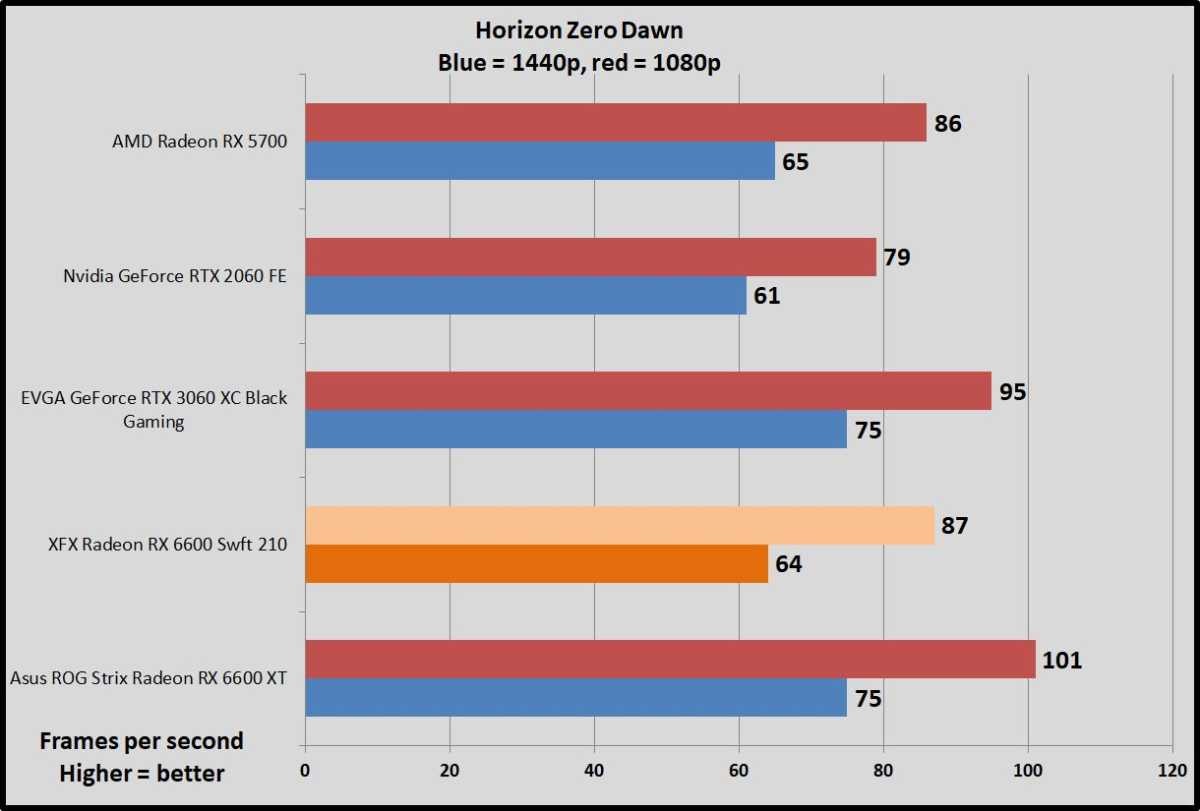 Gears Tactics is a game that runs on Unreal Engine 4 and is made for DirectX 12 capable graphics processors. It is a scalable game as the best settings automatically change and scales based on the available hardware. This might just give a good impression of the capabilities of the RX 6600.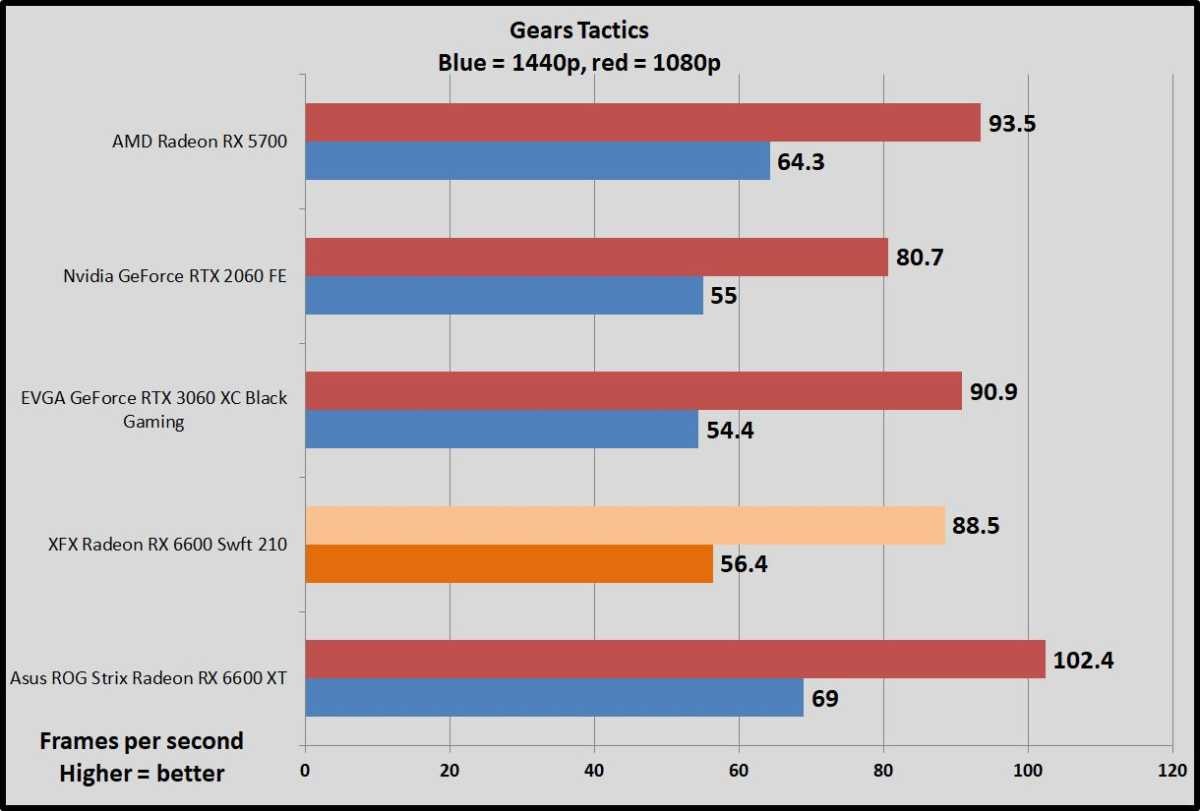 Not everyone can do Metro: Exodus and it was the same for our new friend from AMD. It started crawling and manged to reach just 35 fps and that too with ray tracing, DLSS and Hairworks disabled.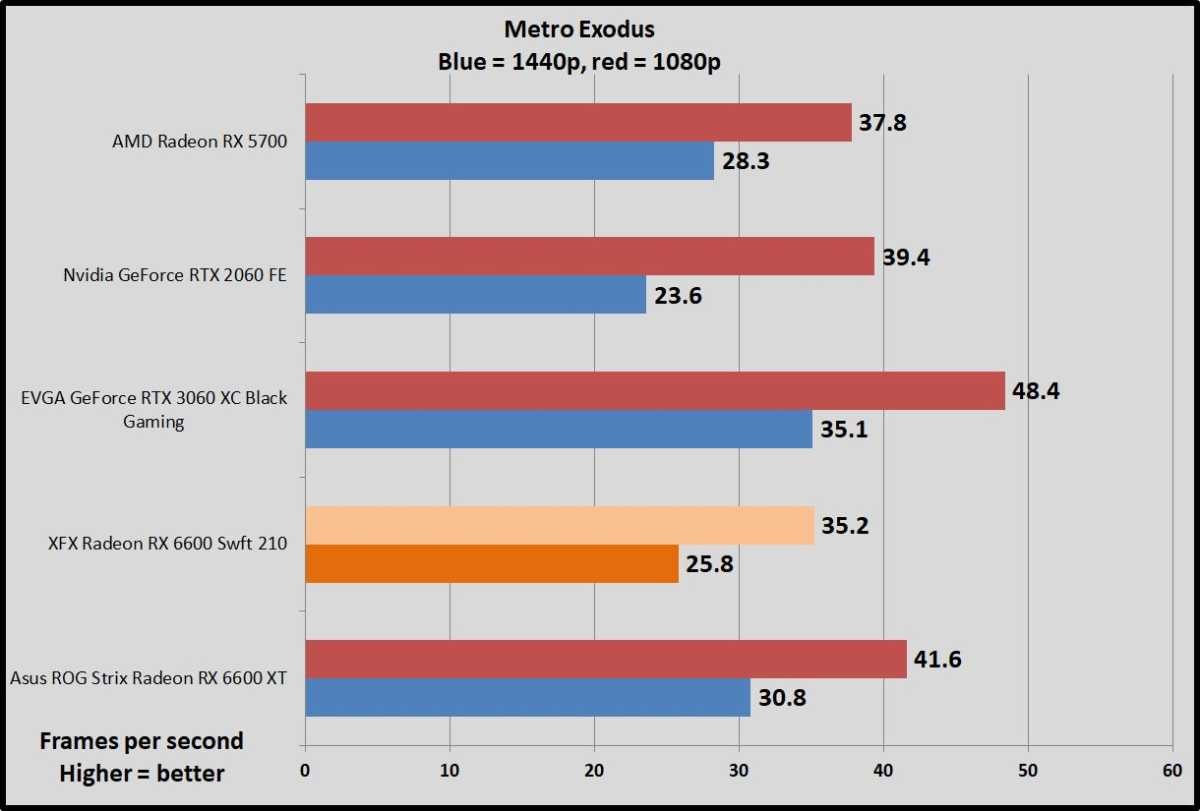 RX 6600 Against the Alternative
The RX 6600 is a direct competitor to the RTX 3060 owning to the same price bracket. However, the Ray Accelerators of the AMD card are not up to the mark when compared to the prowess of even the entry-level ray tracing card of Nvidia. If better graphics quality is your only concern you should go for the RTX 3060 which can manage more than decent performance in the 1440p segment too.
However, the masterstroke of AMD has been in the pricing as the RX 6600 is particularly aimed at tapping the short-term demand created for a cheap mainstream card especially after all RTX cards are now retailing for almost double their MSRP. Still, in terms of pure performance, the last generation RTX 2060 or Radeon RX 5600 XT is much better positioned to offer better performance than the RX 6600 if only you could land one of them at around $350.
Conclusion
The RX 6600 is an excellent 1080p card but not at all good for future-proofing as the community is slowly moving towards 1440p gaming. Its ray-tracing is good only for entry-level but the resolution scaling is excellent. It seems this new card is here to only address short-term shortage issues and would fade away as soon as chip supply is restored and prices gain some normalcy. Practically speaking, third-party manufacturers are going to mark up the prices heavily and make this $330 card into a $450 card where it would simply lose all its significance and use.