Apple announced their latest display, the Apple Studio Display 27-inch 5K and no it is not as expensive as the Pro Display XDR but at $1599, it is still a pricey monitor. And, it doesn't stop there, if you price it up with height adjustable and nano-texture glass that price tag will move up to $2299. So what are you best options?
While the inclusion of on board 12MP web cam with Center Stage and Apple's Bionic A13 and no doubt, the high quality sound we will be getting with the spatial audio capable speakers, is it worth the premium for a 27-inch 5K resolution display. Here we explore the many cheaper options that are available right now.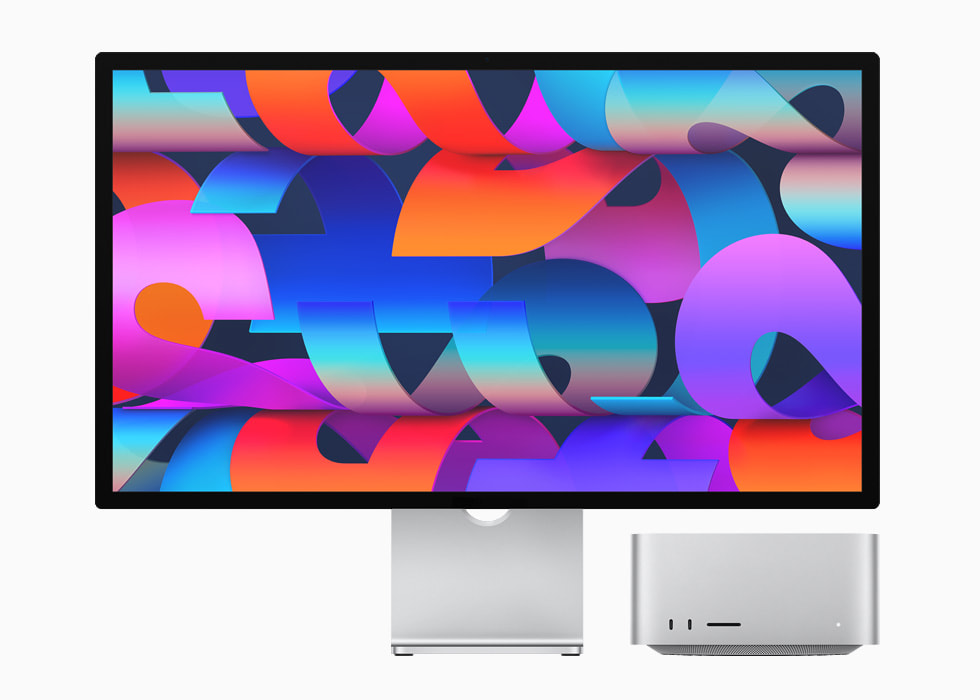 Before we dive right into the list, here are some core requirements we need our alternatives to have:
At least 4K resolution, 5K at best (5120 x 2880 pixels)
High pixel density for sharpness, close to 218ppi
Colour: support 1 billion colours, Wide colour P3 and True Tone technology or equivalent
High brigthness, around 600 nits. We would accept 350 to 500 nits for standard office use
Connectivity: USB-C ports (one Thunderbolt 3 port)
Tilt-adjustable (−5° to +25°) and height adjustable option (total of 105 mm) or VESA (100x100mm) mount option
You are right to assume that the specifications are drawn from the Apple Studio Display. These are are reference when choosing suitable alternatives. And before you proceed further, you need to know that there aren't many 27-inch 5K monitors out there but mainly 4K, so you have been warned. Still there is plenty of pixels on a 27-inch panel to ensure that the image stays sharp.
1. LG 27MD5KL-B 27-inch UltraFine 5K IPS Display
Straight off the bat is the LG 27-inch UltraFine 5K (5120 x 2880) monitor with IPS panel. It has been around for a while (more than five years to be precise) and is usually paired with Mac mini in the physical Apple Store. Out of the box, it is compatible with MacOS with wide colour gamut (DCI-P3 99%) and plenty of USB-C ports (3) and one Thunderbolt 3 Port. The latter supports 94W Power Delivery to also charge your MacBook Pro or iPad Pro when connected. This is close to the 96W host charging offered by the Studio Display. The panel is also suitably bright with a peak brightness of 500nits. Price wise, it is available at around $1295, a bit more expensive that what we would like to pay but it is one of the few 5K monitors around. Included in the price is height and tilt adjustable stand.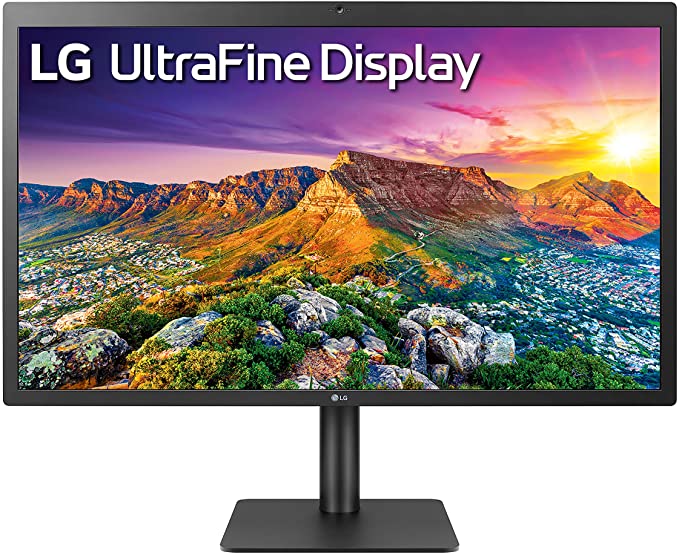 2. LG 27UN880-B 27-inch Ultrafine UHD IPS Display
Not exactly a like for like match with the Apple Studio Display in terms resolution, but still a very capable monitor is the LG 27UN880-B with ergonomic stand. It only comes with 4K resolution and the USB Type-C port supports a lower 60W Power Delivery to charge your device versus 96W on Apple Studio Display but it does have a great advantage. The ergonomic stand is one that mounts securely to the edge of the table so early takes up any room on the desk. It is also one of the most flexible stands among the monitors here. The ergo stand supports extends, retracts, swivels, pivots above the stand height and tilt adjustments the Apple Studio Display is capable of. If you want a bigger display, a 32-inch version is also available, also here in our list below.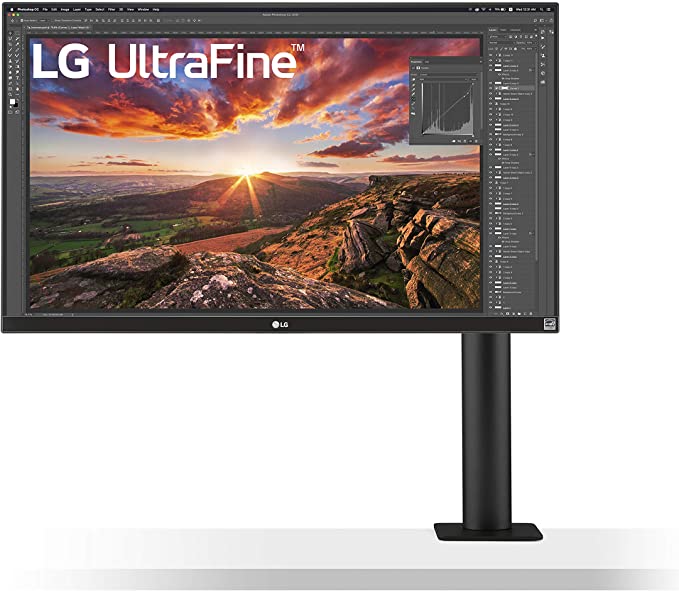 sRGB 99% Color Gamut
VESA DisplayHDR 400
USB Type-C
Ergo Stand
3. LG 27UN850-W 27-inch Ultrafine UHD IPS Display
A step down from 5K on the Studio Display, the 27UN850-W is yet another 27-inch monitor from LG. At 3840 x 2160 pixels or 4K Ultra HD, it is no match for the Apple Studio Display's 5K resolution but is priced to compete. In fact, at around $480, it is only a fraction or less than one third the price of the Apple Studio Display and it includes a one of a kind ergonomic stand, which is both height, tilt and swivel adjustable at no extra. The is a free standing one rather than a table mounted version like on the LG 27UN880-B above. Think, all those savings could be put towards another monitor or two. The Mac Studio supports up to 3 monitors and 1 big screen TV.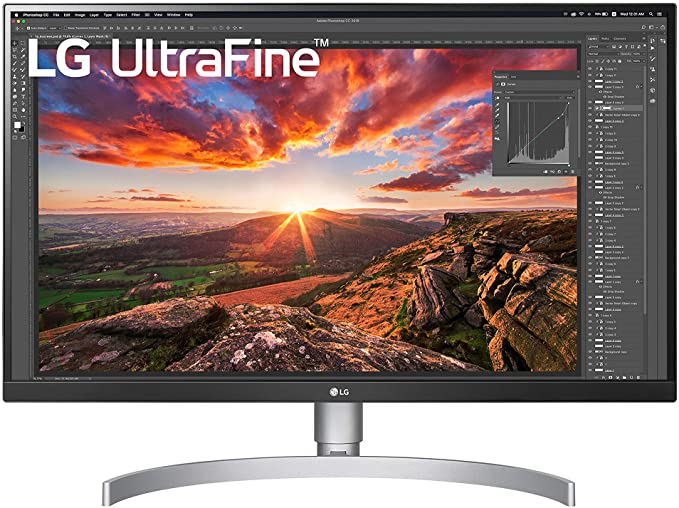 ALSO: LG 27UL500-W 27-Inch UHD (3840 x 2160) IPS Monitor with Radeon Freesync Technology and HDR10
27-inch UHD (3840 X 2160) IPS display
SRGB 98 percent color gamut.
Viewing Angle:178º(R/L), 178º(U/D)
Radeon free sync technology
HDR10 Compatible
Brightness:300cd (typ) 240cd (Min)
4. BenQ PD2700U 27-inch 4K UHD HDR Monitor
If colour accuracy and wide colour gamut is of paramount importance, especially for graphic designers, then the BenQ PD2700U 27-inch 4K monitor is one to consider. The unit is factory calibrated so you are assured of 100% Rec.709 and sRGB coverage with more than a billion colours. The screen also support eye-care, making sure that there is minimal blue light and glare. 60Hz refresh rate keeps the image flicker free. Apart from graphic designers, those working on CAD/CAM applications, animation and photo editing with different modes to suit the type of work you are doing. It is even Pantone validated and verified by CalMAN and has a tilt and height adjustable stand that also pivots, all for an affordable price. What it does not have is USB-C connector so you will have to rely on the HDMI connection from your MAC mini or use an adapter cable for your MacBook Pro.
UPDATE: Consider the new BenQ EW2780U, a 4K HDRi entertainment display that supports USB-C connectivity and charging.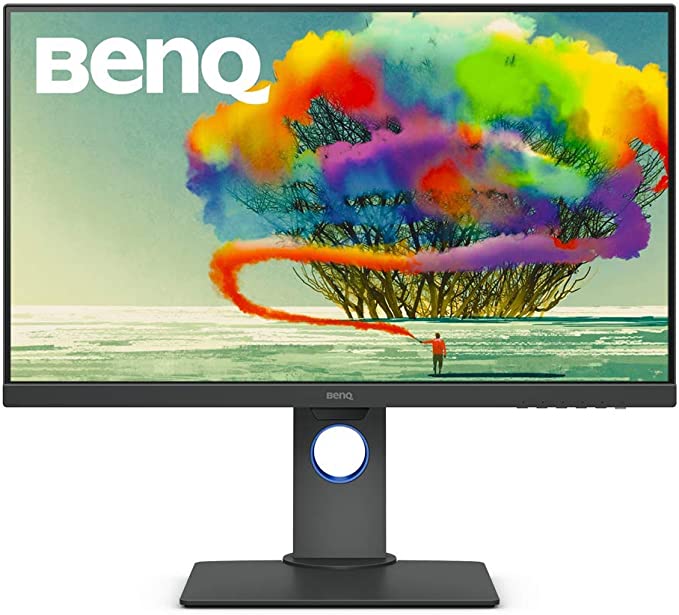 5. ViewSonic VP2768a-4K 27-inch Premium IPS Monitor
Finally we have the ViewSonic VP2768a-4K. As the model number suggests, it is also a 27-inch 4K monitor and comes with an ergonomic stand. If you like the professional modes and wide colour gamut that the PD2700U supports but wishes for USB-C connectivity than your prayers are answered. The VP2768a-4K not only supports 100% sRGB Rec 709 wide colour gamut but comes with USB-C connectivity on top of DisplayPort, HDMI, Ethernet and USB. It is also Pantone validated and is mounted on a versatile stand that supports tilt and height adjustments as well as swivel and pivot.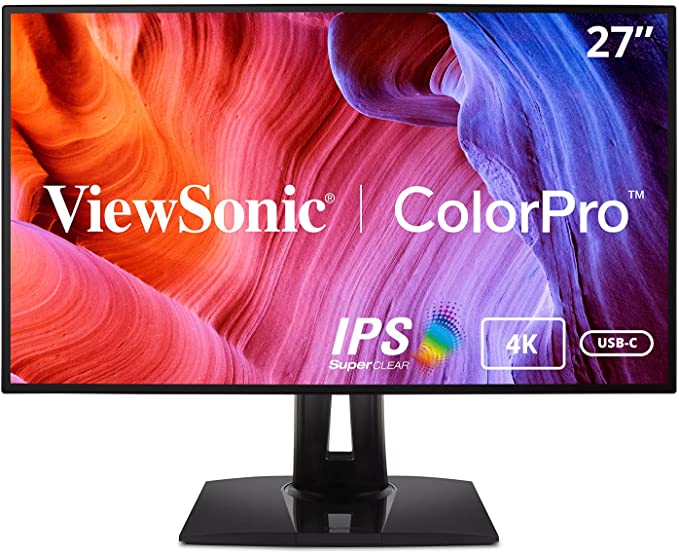 BONUS: LG 27EP950-B 27-inch UltraFine UHD OLED Pro Display
A 27-inch that is right up there in terms of brightness and image quality to the Studio Display with true black and ultra high contrast is yet another entry from LG. Why didn't we start with this you ask, well it's the price. At $2999, it costs twice the Studio Display so it is not for the faint hearted. You do get wide colour coverage, 99% Adobe RGB or DCI-P3 and VESA Display HDR 400 as well as fast response time. The USB-C port offers 90W power delivery and the included stand is height, tilt and pivot adjustable.
Other Monitors Worth a Look
HUAWEI MateView 28.2-inch 4K UHD Monitor is right up there in terms of looks and design, it even won the reddot design award in 2021. It is super thin like the Studio Display and comes with ultra slim 6mm bezels, almost even on all sides. Other surprises include the superb sound quality and thoughtfully integrated versatile stand. It even includes a pair of noise cancelling microphones and produces 98% DCI-P3 wide colour gamut at a peak brightness of 500nits. Plus it is productivity oriented with a 3:2 aspect ratio.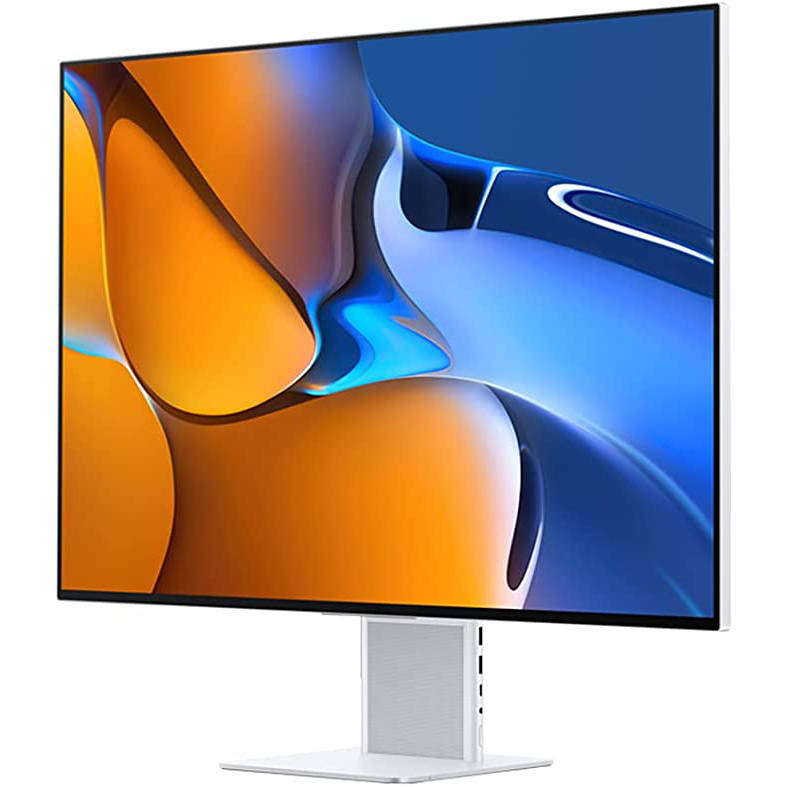 4K UHD(3840×2160) IPS display
1 Billion Colours,
Ultra-thin design
60 Hz Refresh Rate
HDR400
MiniDP, HDMI, 2xUSB-C,2xUSB