Ultra portable and gaming machines don't always go hand in hand but this is set to change with the latest generation Intel Core i7 processors and NVIDIA's GeForce GTX mobile GPUs.
The new Razer Blade 14 launched in 2017 is a product of a new generation gaming machine. The previous Razer Blade Stealth 12.5 or 13.3 doesn't count as it does not have a discrete GPU and rely on the onboard Intel® HD Graphics 620 or the optional Razer Core external plug and play desktop graphics via Thunderbolt™ 3 (USB-C).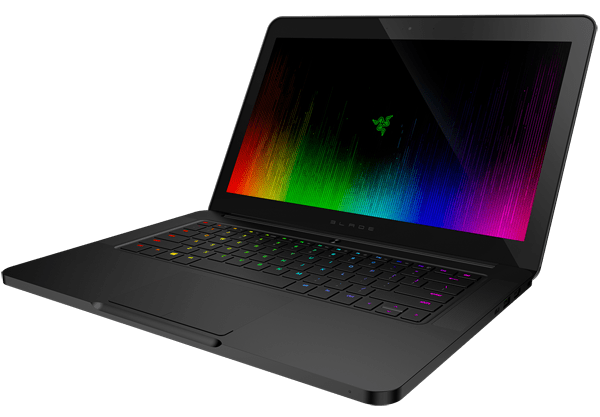 The Razer Blade 14 being the middle child between the Stealths comes with its own NVIDIA GeForce GTX 1060 display card from the GeForce TX 10-series. The display card has 6 GB GDDR5X memory at speed of 8 GBps and bandwidth of 192 GB/s. The GPU engines clocks in at a chart topping 1506 MHz with boost frequency at 1708 MHz and it capable of supporting almost every gaming technology and standards is out there.
The thinnest gaming laptop from Razer with the latest 7th Gen Intel Core i7 Processor, and the latest NVIDIA GeForce GTX 1060 GPU.
GPU aside, what makes it truly portable is the new 7th Gen Intel Core i7-7700HQ processor. Clocking at 2.8GHz frequency, the quad-core processor has a Turbo Boost feature, which automatically increases the speed of active cores – up to 3.8GHz when needed. Together with 16GB of fast memory and up to 1TB of super fast PCIe M.2 SSD storage and that all important GPU, pixels will be flying at you in all directions even at 4K.
If lugging around a 15-inch or 17-inch desktop replacement gaming machines is not your thing and you would rather spare your shoulder and back the weight, the Blade is your best choice. It comes in a small 14-inch frame and only measures 17.9mm thin. And, if you have to know it weighs a minuscule 1.86kg and for a laptop this thin and light, it certainly packs a lot in terms of power.
One of the new generation ultra light and super thin gaming laptops that even comes with a power supply unit so compact and small, you can chuck in your backpack together with your laptop and never realise its there.
The power supply has its own conventional socket on the laptop instead of charging over Thunderbolt 3 port freeing up the 40GBps Thunderbolt 3 port for external gaming monitor, storage or other peripherals, even the Razer Core plug and play desktop graphics unit.
You also get a dedicated HDMI port if you don't have a Thunderbolt 3 to HDMI adapter handy or wishes to connect more than one display. Other connectivity options include three USB 3.0 ports, two on the left and one on the right. For input, you get the Chroma keyboard with keyboard backlighting.
For display, choose from two great display options, Full HD or 4K UHD, or connect a VR headset for an even more immersive gaming experience.
All that is packed in a tight and well designed thin and light unibody aluminium chassis for durability.
And, if you are wonder, the laptop is VR ready offering the lowest latency, and plug-and-play compatibility with leading headsets—driven by NVIDIA VRWorks™ technologies. The laptop is future proof and supports VR audio, physics, and haptics that let you hear and feel every moment of your game.
Key Specifications
14″ IPS Full HD Matte 16:9 Ratio, 1920 x 1080 or 4K UHD
Intel® Core™ i7-7700HQ Quad-Core Processor with Hyper-Threading 2.8GHz / 3.8GHz (Base/Turbo)
NVIDIA® GeForce® GTX 1060 (6GB GDDR5 VRAM)
16GB dual-channel onboard memory (DDR4, 2400MHz)
Up to 1TB SSD (PCIe M.2)
Killer™ Wireless-AC 1535 (802.11a/b/g/n/ac + Bluetooth® 4.1)
Ports: USB 3.0 port x3 (SuperSpeed), Thunderbolt™ 3 (USB-C™), HDMI audio and video (4K at 60Hz) output
Built-in webcam (2.0MP)
Anti-ghosting keyboard with Chroma backlighting
Built-in 70Wh rechargeable lithium-ion polymer battery
4.10 lbs / 1.86 kg