It has been three years. Almost exactly to the month today, the Ryzen 5 3400G created ripples across a different dimension of the ever-growing CPU race… Fast forward to today, we have from the 5000 series, the Ryzen 3 5300G as the new entry-level unit. Does it mark the return of the entry-level champion?
Well, maybe not quite that big a deal for some but the Ryzen 5 3400G did provide a nice budget alternative for gamers who wished for something better than a 3200G but would also function as an instant stopgap, presumably before grabbing a 5500 XT or 1650 Super in a few months or so. It passed the legacy of the Ryzen 2000 APUs in proving that something like an RX 550 can now be shrunk down as an integrated GPU.
Continuing that legacy, the Ryzen 3 5300G is now the updated candidate for the perfect balance of performance and budget as a complete build. More sensible than the Rzyen 5 5600G and Ryzen 7 5700G, it heralds once again the return of the entry-level build champion.
Ryzen 3 5300G Specifications
| | |
| --- | --- |
| Socket | AM4 |
| Core | 4 |
| Threads | 8 |
| Base Frequency | 4.0 Ghz |
| Turbo Frequency | 4.2 Ghz |
| TDP | 65 W |
| Architecture | Zen 3/Ryzen 5000 (Cezanne) |
| Process Size | 7 nm |
| Cache | L1: 64K (per core), L2: 512K (per core), L3: 8 MB |
| iGPU | Radeon Vega 6 (6-GPU core, 1700Mhz) |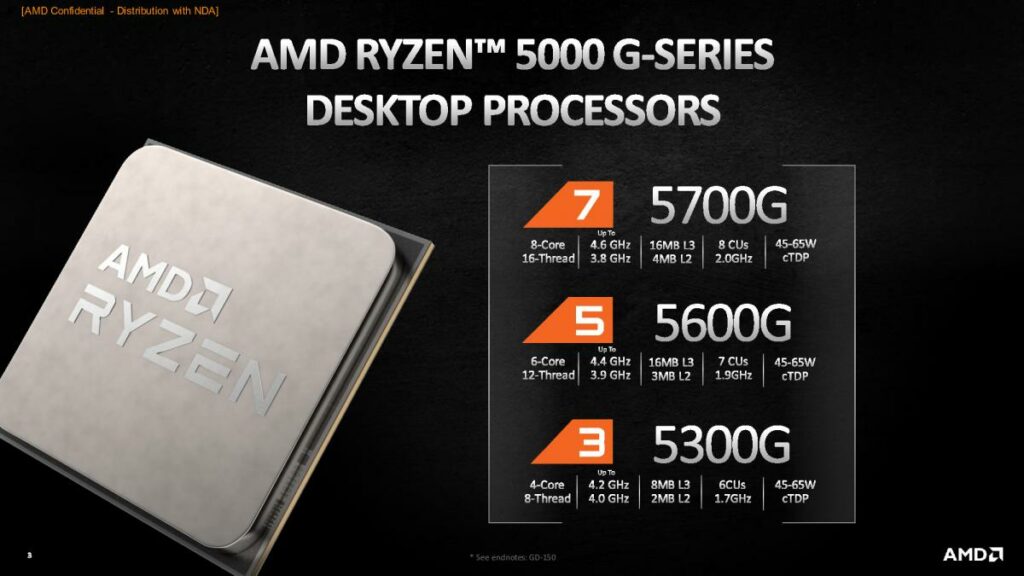 The Budget Stopgap Folly of Ryzen 5 and 7 APUs
One of the biggest criticisms of the Ryzen 5 5600G and Ryzen 7 5700G is that while they perform excellently as Zen 3 CPUs, their use cases are very hard to pinpoint.
First, it is too expensive when compared with an equivalent CPU/GPU combo that would provide the same, or better, graphical performance. Since the iGPU once again performs strategically near 750 Ti/RX 560 levels, pretty much any entry-level 4-core/8-thread CPU off the recent generation (Ryzen 3 3100, Core i3-10100F, etc.) plus the equivalent 2nd-hand discrete GPU, would be able to aggressively compete in price.
Second, someone who can purchase such mid-tier and high-end CPUs would presumably also have the budget to complete an entire system. In that case, why settle for the inferior Ryzen 5 5600G? You can just go for the better-performing 5600X (of the same price range), then pair it with the finalized discrete GPU that you would have added to the 5600G in the following months after its launch.
Expensive CPUs with competitive iGPUs tends to always have mobility and form factor as justifications. If it is part of a laptop, for example. Or of an all-in-one. Or of a barebones PC. The iGPU is usually there only to add graphics functionality, to keep a small PC profile while keeping the main focus on the CPU's pure productivity potential.
In the case of Intel, both the F SKU and the non-F SKU variants perform exactly the same, and are built exactly the same. You have the option to get the iGPU version if you have a use case, but also have the option to just ditch it, and neither would affect their respective performance-to-cost ratio.
The Ryzen 5 3400G is, of course, an exception. It is a 4-core 8-thread CPU, and its MSRP is significantly less than $200. It would have technically be priced at a Ryzen 3 CPU today, had the 3200G not been introduced as a 4-core 4-thread solution.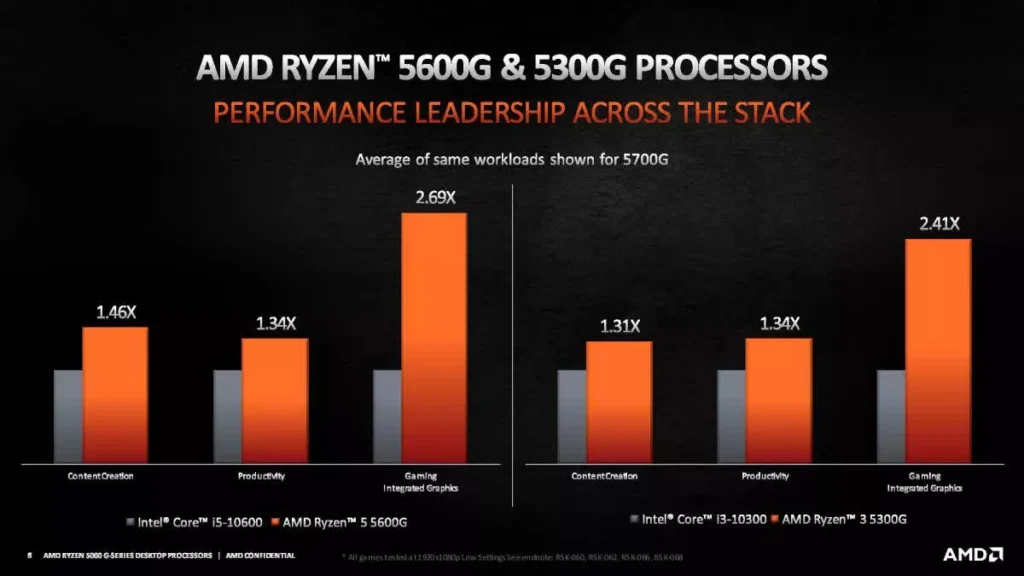 Ryzen 3 5300G Budget Champion Highlights
Now to be fair, the Ryzen 5 5600G's mid-tier price range does make it still quite viable for an independent APU build. At least in the current GPU crisis, snagging a 6-core/12-thread CPU with a good iGPU would ensure that you have great task overhead, and something that you can reliably game on for perhaps half a year or so.
But if we are to optimize what you can do with the iGPU, then it is more sensible to lower the cost down until we reach relative parity… but infused with modern design architectures. The Ryzen 3 5300G clears this technical requirement quite nicely, due to several seemingly simple, but key factors:
It has four cores and eight threads – Even if the Core i3-9100F (or even the Ryzen 3 3200G) can still admirably perform well both in gaming and productivity in 2021, the general consensus is that a 4C/8T CPU is now the average minimum when it comes to advanced tasks that you would expect of a gaming-capable PC. For reference, you can check benchmarking performances of the Core i3-10100F/10105F and the Ryzen 3 3300X around the web.
It is a true, Ryzen 5000-series SKU – reinforcing its 4C/8T configuration is the fact that it is a true, bona-fide Zen 3 CPU. This is unlike the older Ryzen 3000 and 4000 APUs, which are actually one generation lower than what their numbered designations would suggest (for example, the 4350G is actually still Zen 2, the 3400G is actually Zen+, etc.)
It costs the same as a Ryzen 5 3400G – as we already mentioned, the estimated MSRP (still not officially announced) of the Ryzen 3 5300G puts it significantly below $200, at around $150. This makes it even more a direct successor of the 3400G. It continues its amazing value in building a very low cost, but still competitive system makes sense even if the upgrades are to be added later down the line.
Set for official desktop release outside of OEM systems – unlike the much sought after Ryzen 3 PRO 4350G will no longer be an OEM-only CPU. Though it was initially released for OEM like the 5600G and the 5700G, it is also slated for an independent product release in the same year. This, along with its architectural upgrade, already makes it the superior option even if we are to compare it with pre-owned 4350G units.
Much higher potential overclocking gains – we are not referring to actual OC values or if you can win better at the silicon lottery with it. This simply means that the option to overclock already increases its bang-for-the-buck value by default due to being a lower-end component.
In addition, because it is an unlocked CPU, we can reliably expect that its lower 1700Mhz GPU can be overclocked further, negating its graphics performance difference with the 5600G and 5700G even more.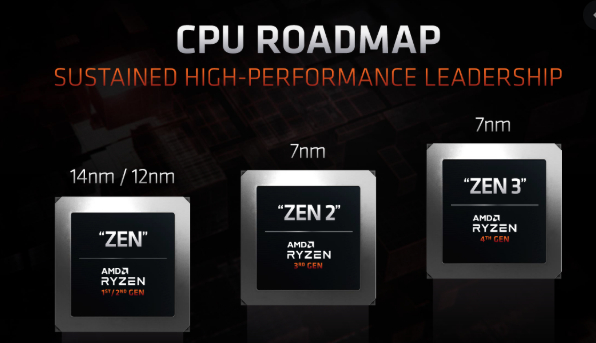 Ryzen 3 5300G Notable Specs Comparison List
Ryzen 3 5300G
Ryzen 3 PRO 4350G
Ryzen 5 3400G
Core
4
4
4
Threads
8
8
8
Base Clock
4.0 Ghz
3.8 Ghz
3.7 Ghz
Turbo Clock
4.2 Ghz
4.0 Ghz
4.2 Ghz
TDP
65 W
65 W
65 W
Architecture
Zen 3 (Cezanne)
Zen 2 (Renoir)
Zen+ (Picasso)
Process Size
7 nm
7 nm
12nm
Cache
L1: 64K (per core)
L2: 512K (per core)
L3: 8 MB
L1: 64K (per core)
L2: 512K (per core)
L3: 4 MB (shared)
L1: 96K (per core)
L2: 512K (per core)
L3: 4 MB (shared)
iGPU
Radeon Vega 6
(6-GPU core, 1700Mhz)
Radeon Vega 6
(6-GPU core, 1700Mhz)
Radeon RX Vega 11
(11-GPU core, 1400Mhz)
Even without looking at actual benchmarks and physical design of the die, we can see where the improvements of the 5300G mostly go, and why it more closely resembles the 3400G than the PRO 4350G beyond just being an independently released CPU. At the very least, though, it seems that the 5300G uses the very same Radeon Vega 6 iGPU that the 4350G had, infusing it with its updated architecture and almost double the L3 cache.
As such, based on these side-by-side specifications alone, when pitted directly with their iGPU gaming performance, we can predict that the Ryzen 3 5300G should be ahead by at most two to five frames than the Ryzen 3 3400G. It may not seem much, but it is paired with considerably higher CPU-side processing efficiency, as well as notably lower total system power consumption (an important factor when overclocking these APUs).
Viability in Today's GPU Crisis
As with everything build-wise, it all comes down to cost. Would the Ryzen 3 5300G really be introduced with a $150 price tag? If you can get it at or very near MSRP, then it is an absolute steal. Apart from the current cost of memory modules (which are also on their cycling upward trend), building a sub $400 system with very component-efficient upgrade paths for 1440p gaming is once again possible even within the current GPU crisis.
As part of an OEM system, however, its value is not as guaranteed. As shown by countless pre-built units over the last year or so, companies that offer these systems are absolutely adamant about lowering build costs by using a single-channel configuration and very low-end motherboards. If you can somehow guarantee that the OEM system will have dual-channel (3200Mhz or higher) memory, WILL NOT USE an A320 or A520 motherboard, and would at least be decently priced ($500 to $600), then yes, they are also very viable.
As for its upgrade path, you can refer to previous top-of-the-line 4-core/8-thread CPUs to predict what it can do with a discrete GPU. If the iGPU-less 3300X can do wonders with a 5700 XT or 2060 Super, then the 5300G should be able to perform just as well with something like a 3060 Ti or a 6700 XT.