In our last discussion of the Ryzen 3 5300G, we took a glimpse at how the three newest APUs have fared against the design they were intended for. The verdict, is that the Ryzen 3 5300G emerged as the best choice for the price-to-performance ratio that should be expected out of these "integrated" chips. Here we look at the entire 5000G series APU family and consider if these are merely stop-gap or viable gaming machines.
Now that all three Ryzen 5000G CPUs have been out there in the open as both retail and OEM products (the 5300G remains OEM only), we ask the question on a more general scale:
Are AMD Ryzen 5000G desktops the way to go as a stop-gap solutions? Or is the good old method of game now sell later with used discrete GPUs the most economical option given the current global chip shortage? The latter including picking the CPU of your choice and buying a used older generation discrete GPU to ride out the storm.
AMD Ryzen 5000G Desktop Discussion Overview

Why Do These Product Listings (SKUs) Even Exist?
CPU + iGPU Performance Observations
Let's Talk About Availability
Inevitably a no-G for the 5000G?
What does the competition looks like?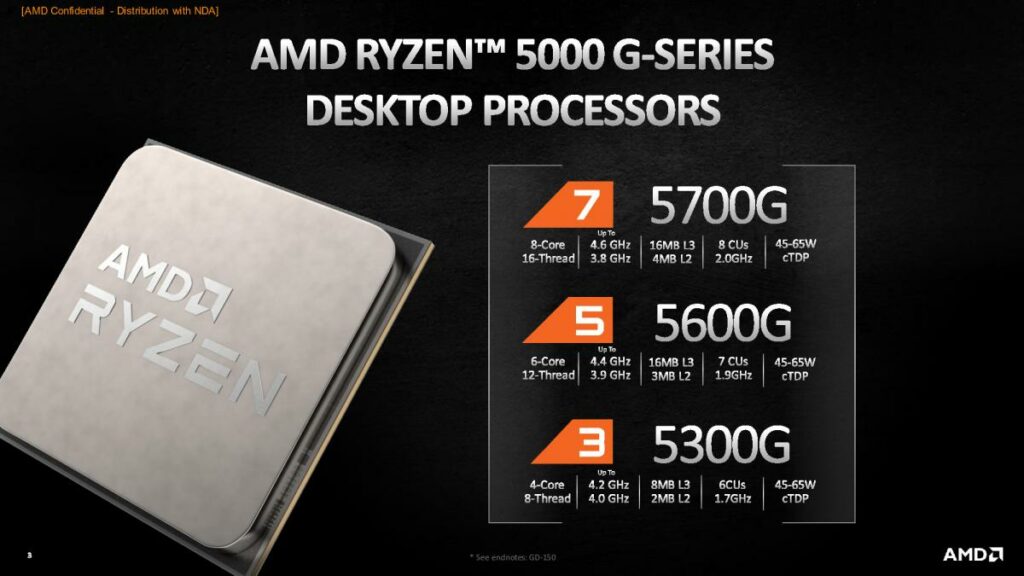 Why Do These SKUs Even Exist?
Before the launch of APUs (Accelerated Processing Units), when AMD was facing its dwindling days, trending downward and fairing poorly with every product launch, the idea of developing an iGPU that's worthy of being a replacement to any low-end discrete GPU already existed. While Intel continued to make very small, incremental tweaks to their generational lineups, AMD prepared something truly big for its comeback Ryzen CPU lineup, the Vega CU-powered iGPUs. That and the entire Ryzen line of processors was a turning point for AMD.
As such, the Ryzen 5000G series basically continues the legacy started by its earlier Zen predecessors. Expectedly, the implementation itself did not change for the last three generations of their release. For the most part, a modern Ryzen APU is still designed as an integrated, ready-to-use system that provides the entire basic suite of features for a modern desktop including graphics. This is without relying on something like a GT 730 or 1030 for HD output or multiple displays. It stands all on its own, while benefiting from Ryzen's memory-dependent architecture to push the combined performance of the CPU and iGPU to levels that can indeed make the GT 1030 technologically obsolete.
The main advantage of the current lineup, at least compared to previous APUs, is using the highly advanced Zen 3 architecture and combining it with the same Vega compute units. There is yet again a slight increase in the number of CUs (usually one or two more), as well as tweaking base iGPU clocks, at least for the 5600G and 5700G.
CPU + iGPU Performance Observations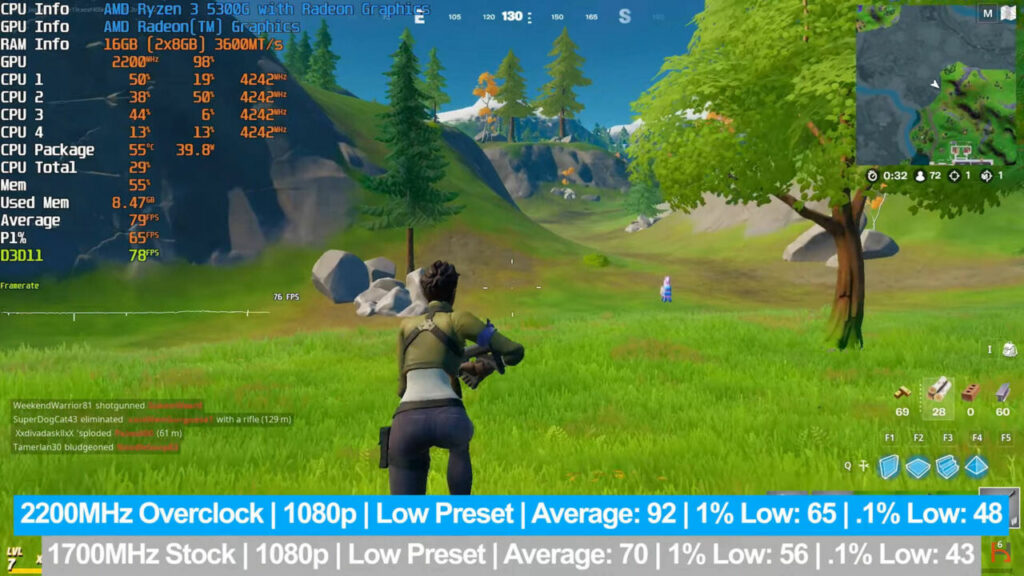 (Image Credit by Hoosier Hardware)
At this point in time, the Internet already covered every single aspect of each of the 5000G APUs. The general conclusion is that like the 4000G, they produce some of the most efficient (both in power draw and cost) productivity performance margins that might not reach their direct retail counterparts, but at least comes very, very close to it. This is thanks to the native Zen 3 architecture design, plus the very tiny tweaks to their Vega CU configurations.
As for direct numbers, though, resources TechSpot, Gamer's Nexus, and AnandTech have the following observations: (credits to Dr. Ian Cutress, Steve Walton, and Steve Burke)
Ryzen 3 5300G Performance
4 cores and 8 threads; 4GHz base and 4.2GHz boost clock.
6 Radeon Vega GPU cores at 1.7GHz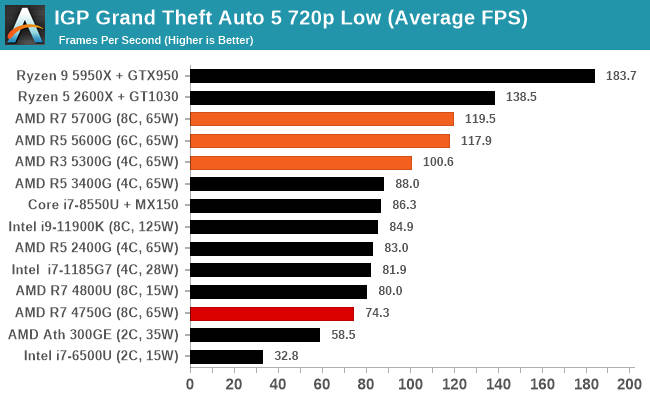 Ryzen 5 5600G Performance
6 cores and 12 threads; 2.9GHz base and 4.6GHz boost clock
7 Radeon Vega GPU cores at 1.9GHz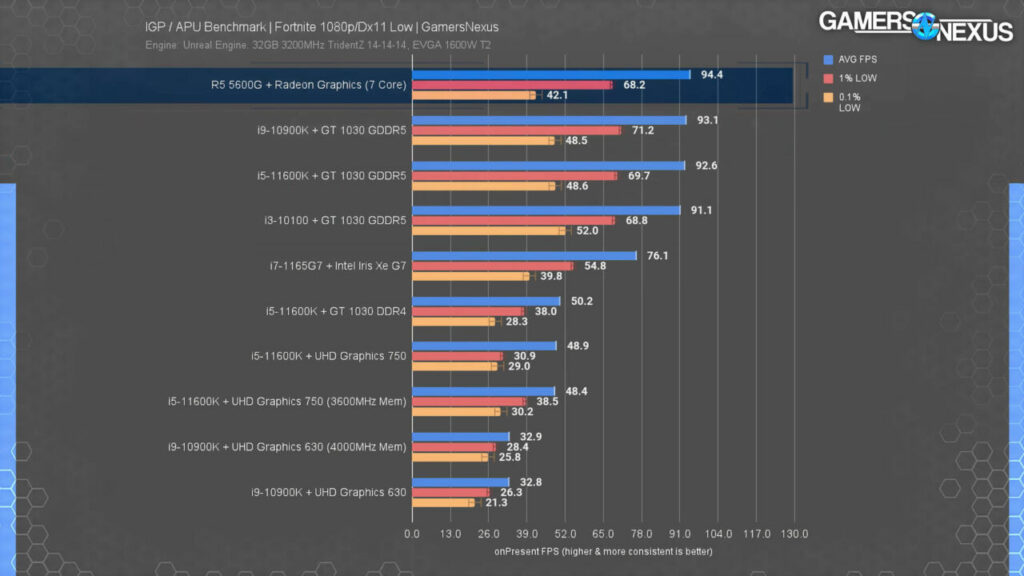 Ryzen 7 5700G Performance
8 cores and 16 threads; 3.8GHz base and 4.6GHz boost clock
8 Radeon Vega GPU cores at 2GHz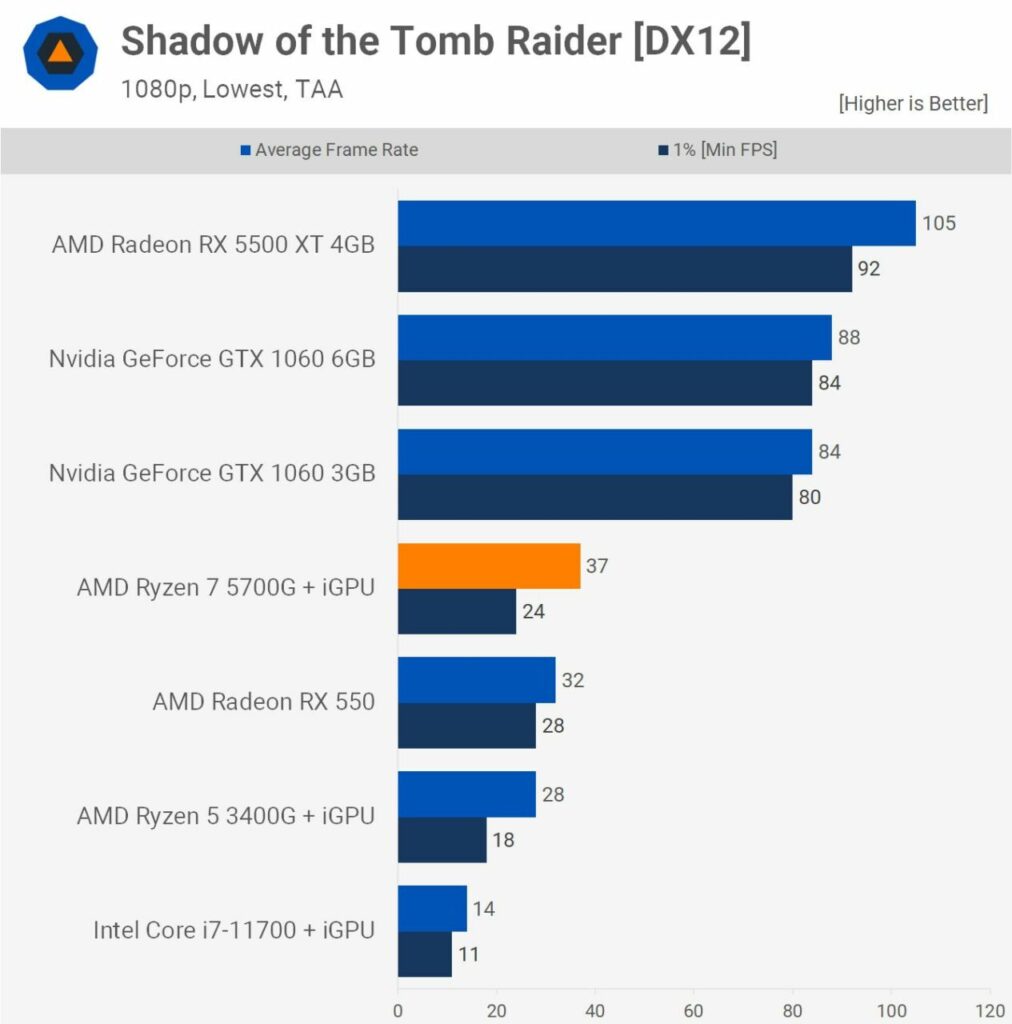 As we can see, all three Ryzen 5000G APUs pretty much perform at around the same level, with the caveat, of course, that the higher-end CPU will crunch a good number of frames more for more CPU-intensive titles. The potential to game on 1080p is certainly there, but like the PRO 4650G, or even the older 3400G, major sacrifices to graphics settings have to be made. Relatively older titles, low-asset games (such as fighting and racing games), and emulators would certainly have a fun time with the 5000G. But we have to begrudgingly conclude, that they are nowhere near the stop-gap or wait-over solution for people who could afford a 5800X or 5950X in the first place.
It is worth noting that the Ryzen 5000G series still relies on AMD's Radeon Vega 8 architecture and not the new RDNA2 architecture. The latter is reserved for Radeon RX 6000-series discrete graphics, if you can manage to get your hands on one.
Let's Talk About Availability
If there is one thing that the 5000G series would be absolutely great for, though, is that they could be bought with somewhat relative ease as an all-in-one, ready-to-use system from OEM manufacturers. The HP Pavilion Desktop TP01 is one such pre-built desktop. There are, of course, a few very important precautions.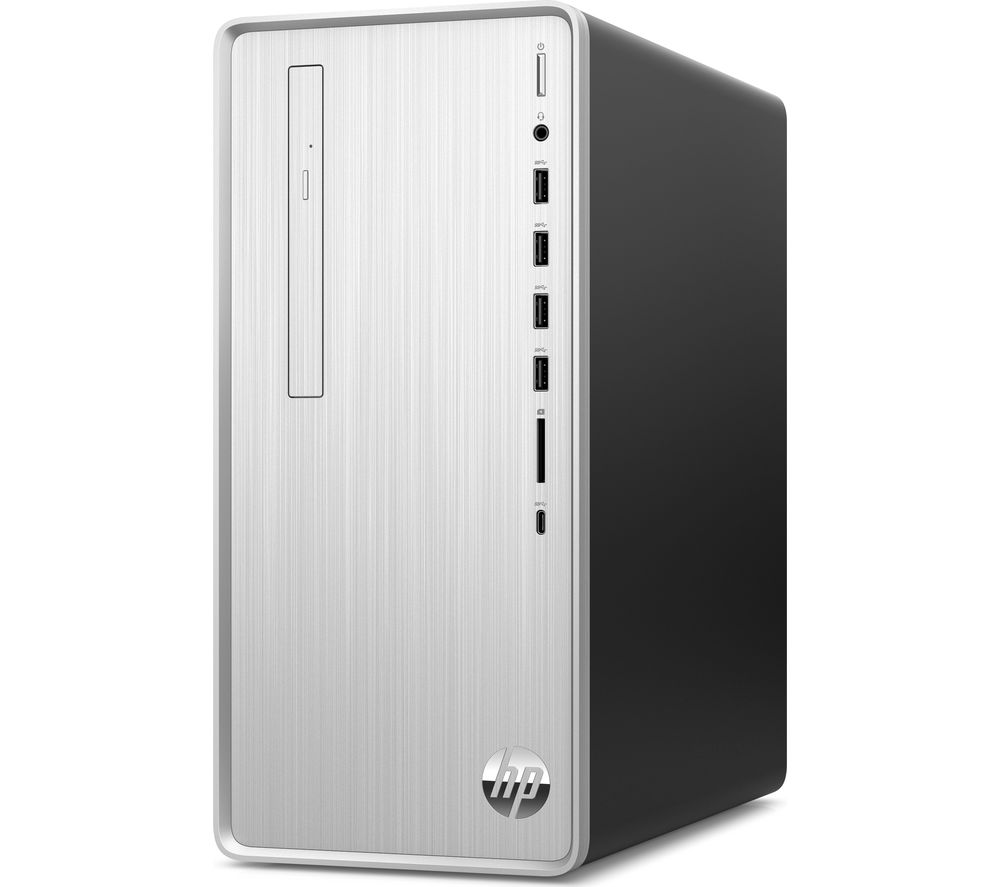 The CPU cooler needs to be substantially robust, especially for 5600G and 5700G units.
The OEM unit must absolutely have its memory in dual-channel configuration.
BONUS: Your country of origin should not suffer from "Ryzen Tax"
Overcome these past hurdles alone (along with a few PC-generic ones like having an SSD boot drive, good port availability, etc.), and the cost quite easily becomes a non-issue for most units that are available out in the wild. This is especially the case for the 5600G, although depending on your retailer, they might actually be too popular, and thus be an indirect victim to the storm that it is supposed to mitigate.
But in case you're not interested in fully furbished OEM and system integrated (SI) units, the 5600G and 5700G are also available for retail as separate boxed CPUs. So long as your local tech store sells them at MSRP, then a DIY project for an iGPU rig can easily be commenced at a moment's notice.
As for the 5300G, it continues to be somewhat of a unicorn among tech-related stores, even worldwide. They are currently OEM-only, and AMD hasn't announced yet so far if there are plans to release them as a separate retail product. Keep in mind to avoid any 5300G OEM-unit bundled with a discrete GPU, though, as those products are usually way too expensive than the sum of both its GPUs (integrated and discrete).
Is it a Go or no-G for the 5000G?
The Ryzen 5000G has shown once again that with an integrated all-in-one system, very competitive productivity benchmarks are possible, while still being able to tweak GPU settings to match something similar to an RX 560 4GB.
Unfortunately, that's actually its main weakness: to be used as an all-rounder system, or a current-generation iGPU rig. While the 5300G functions effectively as the generational replacement for the 3300X, the 5600G and the 5700G present very vague use cases, as their introductory price is already teetering at the very edge of what can be considered as an economical stop-gap.
Don't misunderstand. Their value as stand-alone APUs (and even more so when simply used for CPU workloads) is absolutely amazing. YouTuber ETA Prime had already showcased several builds demonstrating the compact and versatile gaming power of all Ryzen 5000G CPUs. In addition, if your projected time before getting a GPU span for more than a year, the Ryzen 5 5600G may be the way to go to "keep the ship afloat."
But beyond this, and if you are expecting to upgrade successfully to a discrete GPU in just mere months, then the tried and tested method of getting the best CPU for your budget plus a second-hand GPU will still be the most optimal choice. Bite the bullet and get a Ryzen 5 5600X for MSRP, and search for the cheapest 4GB VRAM competitive GPU you can find on the used market. After that, you can recoup your losses on the GPU part by reselling the old one after upgrading.
What does the competition look like?
Naturally, this would be Intel's 11th generation Core i3, Core i5 or Core i7 equivalent. In true marketing fashion, AMD would have you know that their Ryzen 5 5600G will outperform Intel Core i5-11600 and their Ryzen 7 5700G would outperform Intel Core i7-11700. They even offered performance gain figures for a range fo benchmarks including games and content creation applications. We have included these charts below.