Before we dive right in and find the best home printers for printing your photos at home, let's quickly go through the main requirements for short listing a professional photo printer. There are so many brands and options available in the market that it can become very confusing if you're not sure exactly what you're looking for. This article aims to give you enough information to know precisely what you need in terms of printer functionalities and the top choices to go along with it.
There are primarily three printing technologies that are currently in existence. These are inkjet, dye sublimation, and laser. Laser is by far the most expensive of printer types, and for most home usage purposes. For this reason, we can eliminate laser printers for our list. Dye sublimation printers are required for event photography. Especially when you are looking to hand out prints at an event and there is no time to go to a printing lab. Most of the home printers are of an inkjet type. These are significantly cost-effective, easy to operate, and offer high-quality prints at a low cost.
Top Choices for Home Photo Prints – seven printers you can buy in 2022
1. Canon PIXMA PRO-200 wireless Photo Printer [

BEST FOR AFFORDABLE PRO QUALITY PRINTS

]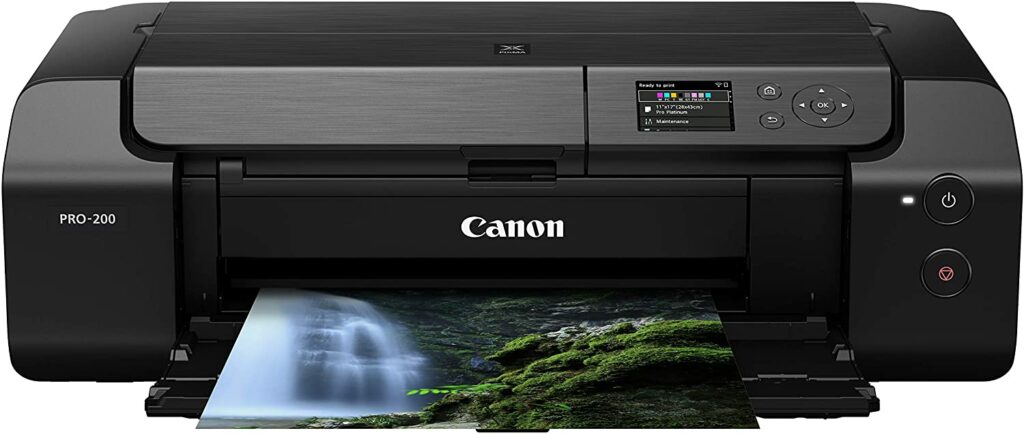 Search Canon PIXMA PRO-200 on Amazon
This cost-effective home printer can handle more than just photo prints. It has an array of 8-color dye-based ink system that promises a better color gamut than the standard CMYK-color-based printers and smoother tonal gradations.
This is an all-around printer superb for everyday household prints and capable of handling decent quality photo prints on an array of print media. Borderless prints are possible on 13 x 19-inch media. Additionally, if you're interested in non-borderless prints, you can easily print 13 x 39-inch media, allowing you to print larger than traditional A4 media on your home printer.
A 3-inch LCD on your printer lets you fine-tune and adjust settings before starting prints. Using the display, you can also do regular maintenance and check ink tank levels.
2. Epson Expression Photo HD XP-15000 Inkjet Printer [

BEST ALLROUND PHOTO PRINTER

]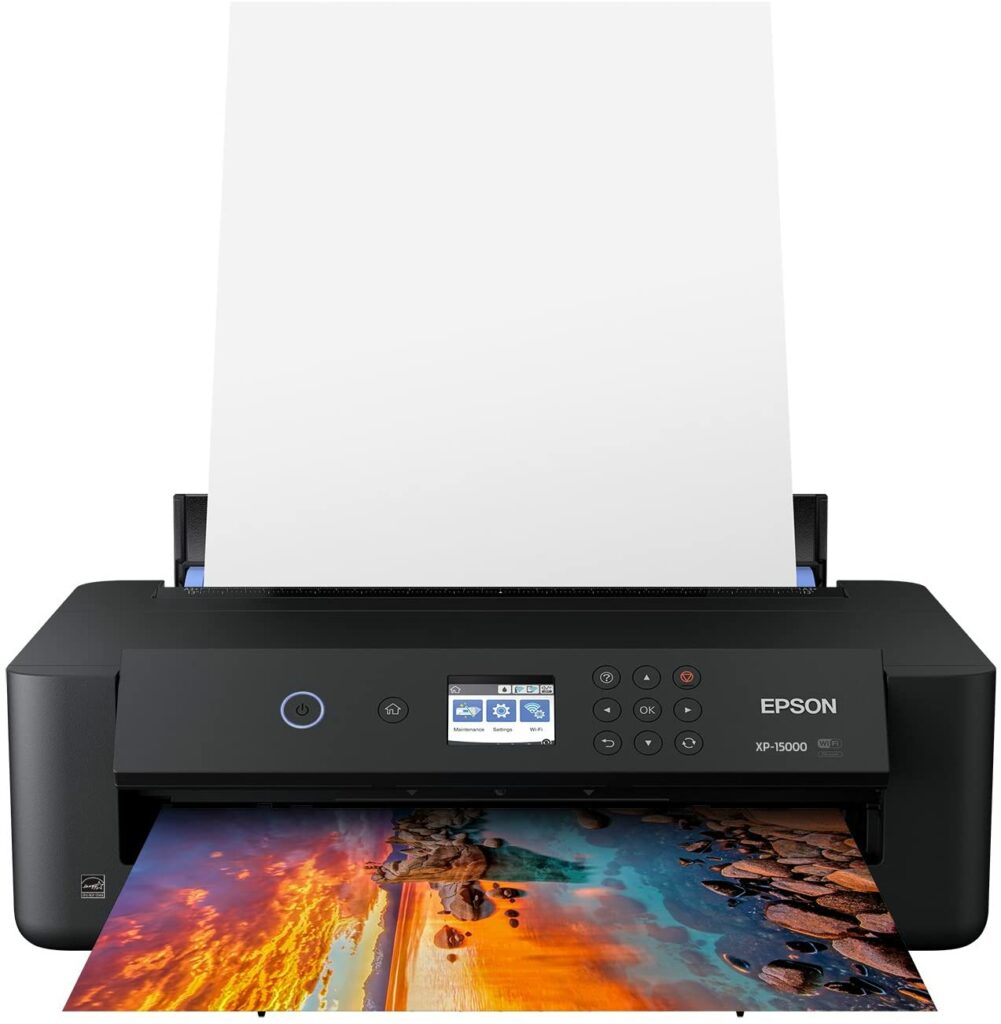 Search Epson Expression Photo HD XP-15000 on Amazon
When discussing affordable home printers for professional photo printing, you can't take the Epson Expression Photo HD XP-15000 out of the equation. It's one of the best inkjet home printers for printing large format photos at home.
Let's start with the print resolution of the printer. The printer has a max resolution of 5760 x 1440 dpi. With that resolution, the maximum printing area is 13 x 44-inch. With that, it can print up to 13 x 19-inch (Super B or A3+) borderless prints that are gallery quality
The Epson is a cost-effective printer that uses a six-color Claria Photo HD ink set. That includes a red and gray color that helps in a smoother color gradation and perfect color reproduction. However, you have to note that performance will not be the same as Epson SureColor P900 or the Canon imagePROGRAF PRO-1000. This is because these printers have a higher color gamut and are capable of better color gradations.
But this is an all-around printer for all home printing requirements. And to assist that, there are two paper feeding options available in the printer. The front feeding option facilitates auto duplexing, and the rear feeder tray allows the printer to handle dedicated photo printing media like glossy paper.
3. Canon imagePROGRAF PRO-300 13-inch Photo Printer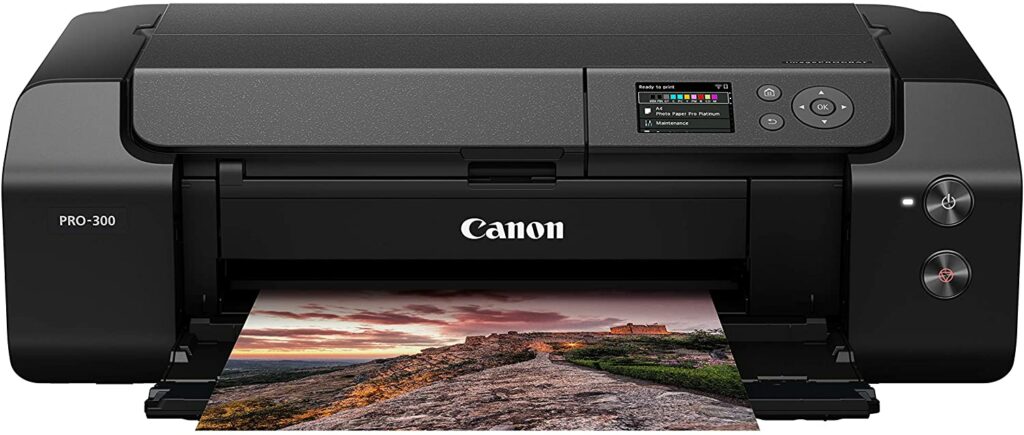 Search Canon imagePROGRAF PRO-300 on Amazon
The Canon imagePROGRAF PRO-300 is a top choice for home printing. It uses pigment-based ink, not dye-based, which is best for archival purposes. You can use a print from this printer and hang it on a wall; it should last for years without fading.
The printer uses 9 LUCIA PRO pigment-based inks for a broad gamut of colors and smooth color gradations. Along with these, the printer also has a Chroma Optimizer that enhances the print quality when printing on a glossy print medium and flattens the print surface for enhanced results.
Matte black and Photo black colours have dedicated nozzles that ensure you never have to switch them out.
The maximum printing width of the printer when printing in borderless mode is 13-inches, and the maximum medium size is 13 x 39-inches. The maximum resolution you will get with this printer is 4800 x 2400 dpi.
A 3-inch colour display window helps to do some fine-tuning before starting the print. Overall, this is an excellent printer for home photo printing. The pigment-based ink is expensive, but you get a reasonable life expectancy for your prints.
4. Epson SureColor P900 17-inch Photo Printer [

WIDE FORMAT PRINTING

]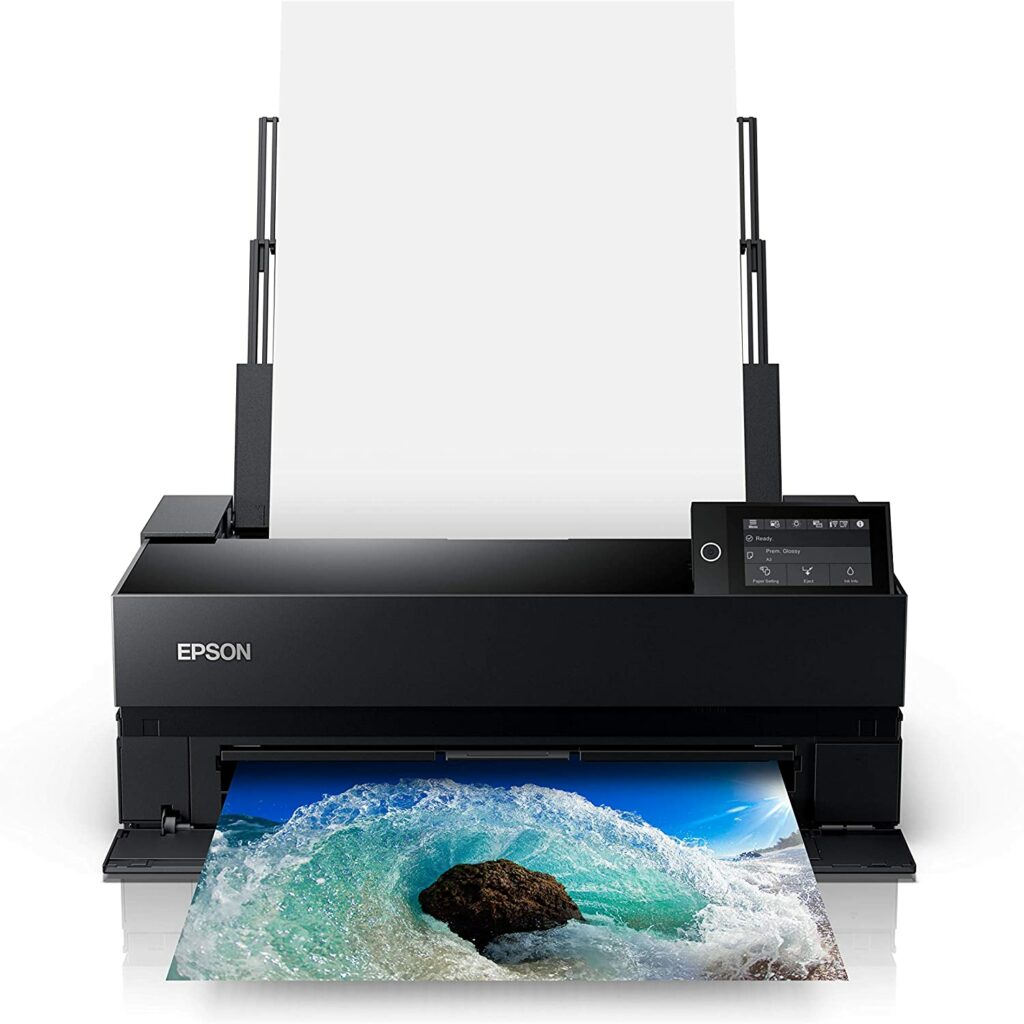 Search Epson SureColor P900 on Amazon
One of the facets of a good printer is its color gamut. The higher the number of color cartridges that the printer uses, the better is going to be the color gamut and the color gradations. In that sense, this printer uses ten UltraChrome PRO10 ink cartridges.
The maximum print resolution is 5760 x 1440. Did you always want to print gallery-quality fine art paper prints at home? The Epson SureColor P900 can print borderless 13 x 19-inch prints that are stunning to look at. The printer can print on a wide range of media, including glossy and metallic glossy photo paper.
The printer has a Carbon Black Mode that makes stunning deep blacks eye-catching.
There is a 4.3-inch display window to allow the user to check the status and do fine tunings and other adjustments before running a print job. The printer is compatible with various connections, including USB 3.0, Ethernet, and Wi-Fi, for efficient connection with any compatible device.
5. Canon imagePROGRAF PRO-1000 Printer [

BEST FOR WIDE FORMAT PRINTING

]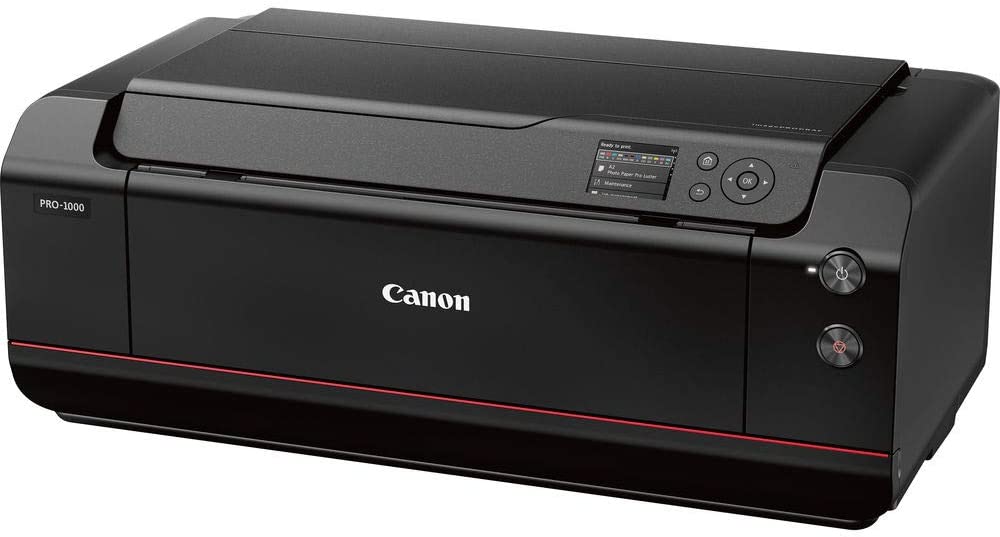 Search Canon imagePROGRAF PRO-1000 on Amazon
The imagePROGRAF PRO-1000 is a wide format printer. The only thing that we don't like is that the printer does not support more than 2400 x 1200 dpi print resolution. But everything else is top-notch.
The most prominent media that the printer can handle is 17 x 22-inch (sheet media). We wish there were a way to fit roll paper into the printer tray! At 17-inch wide, it can print high-quality borderless prints.
The red line on the printer is reminiscent of Canon's L series professional lenses. Does this mean this one, too, is a professional printer? We sure hope so.
The large print head is supported by an 11-color LUCIA PRO pigment-based ink system that produces a high color gamut for your breathtaking full-color images and a smooth tonal gradation that looks exceptionally natural on high-quality fine art media.
Along with the 11-color ink tanks, you also get a Chroma Optimizer that puts the luster in your prints.
This cartridge helps improve the overall color consistency of the pigment-based ink. On print media, that translates to a uniform layer of print that feels smooth to the touch and lasts for years.
6. HP Sprocket Select Printer [

BEST FOR PORTABILITY

]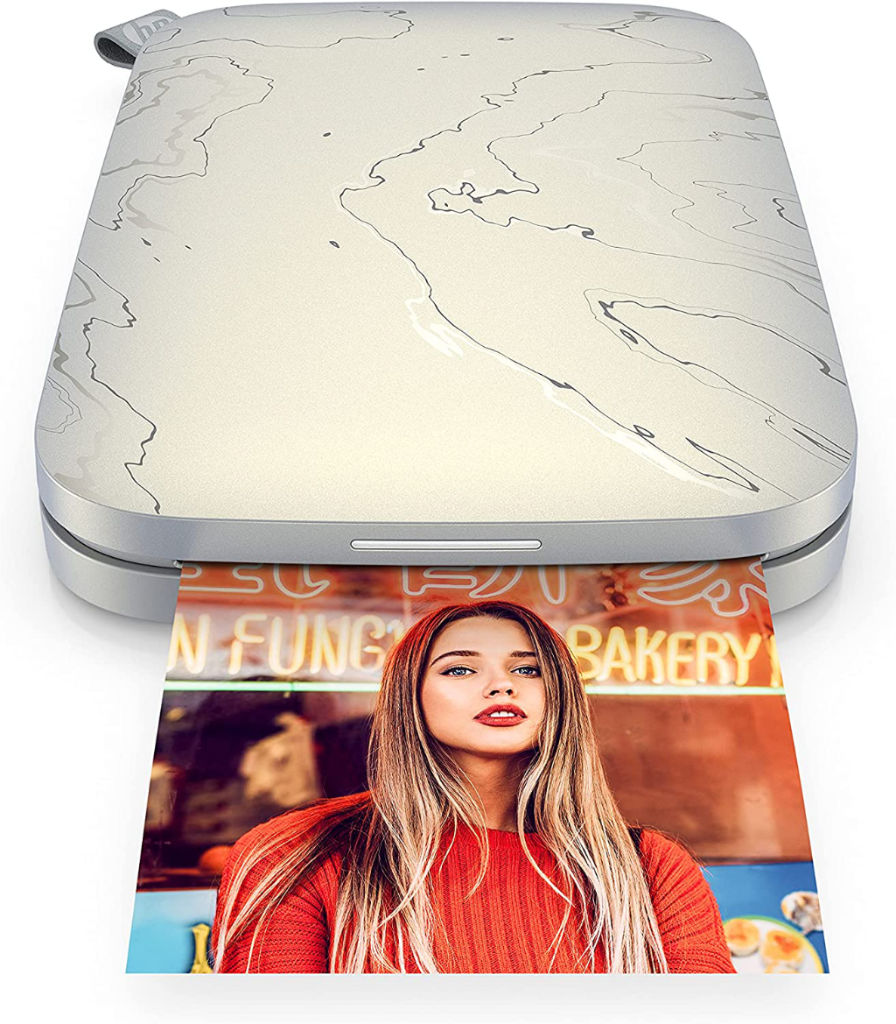 Search HP Sprocket Select on Amazon
The HP Sprocket Select is a fun little printer that will work as your go-to printer for small prints, stickers, etc. Always wanted to have a printer with you as you move around? HP Sprocket Select is your solution. Want instant prints to hand out at a birthday party? HP Sprocket Select is an excellent printer for that too.
The Sprocket Select uses a ZINK printing technology (ZERO Ink). The special paper also comes with sticky back. You can peel off the stick back cover, and your prints magically transform into stickers that you can stick on most surfaces. The paper used for printing measures 2.3 x 3.4-inch and the maximum printing resolution of the printer is 321 x 600 dpi.
What's more, you can also spruce up your prints using the proprietary HP Sprocket app. You can use filters to liven up the images on your smartphone or the app's editing tools to fine-tune your pictures before you hit the print button.
Powering the printer is a rechargeable lithium-ion battery that lasts for several prints. This is a highly portable device weighing just 181 grams. You can easily fit it inside your pocket or tuck it in your bag as you step outside, and you have a printer you can impress your friends and family with.
7. Kodak Step Wireless Printer [

BEST FOR MOBILE PRINTING

]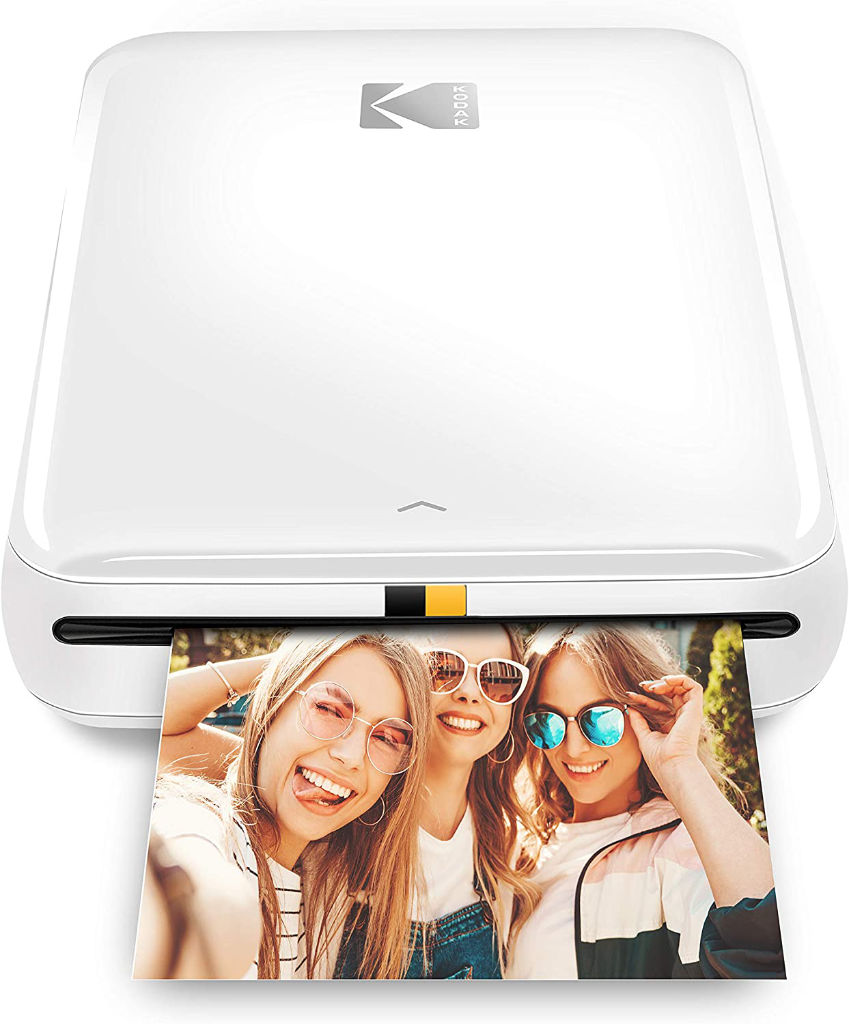 Search Kodak Step Wireless on Amazon
Using a similar ZINK technology as the HP Sprocket Select, this printer is a compact portable option for people who love to print on the move. The ZINK technology eliminates the need for the printer to use expensive ink and also cuts down on the size of the printer. The printer connects to any Bluetooth (and NFC) enabled device so that you can easily connect with the printer on the go and print. The magic happens when you insert 2×3-inch sticky back paper embedded with dye crystals that come to life when exposed to heat. The print quality is excellent and lasts long without smudging or tearing.
Along with the printer, you get the Kodak App that allows you to connect to the printer, fine-tune images, and make necessary edits before running a print job.
Conclusion
The best printer overall for home prints is a toss-up between the Canon imagePROGRAF PRO-1000 and the Epson SureColor P900. You could go with either printer and get high-quality prints on fine art media right at the comfort of your home. For everyday and all-around printing jobs, including photo prints, you can go with the Canon imagePROGRAF PRO-300 or the Epson Expression Photo HD XP-15000. Finally, for portable printing solutions and specific sticky-back prints, HP Sprocket Select or the Kodak Step Wireless are great options.
RELATED: Best Inkjet Printers with Refillable Ink Tanks: Stop using throwaway cartridges