Inkjet printer manufacturers are working on such small margin when selling their printers that they clawback by hammering users with expensive replacement cartridges. This resulted in a market for remanufactured, re-filled or recycled and third-party cartridges and refill kits. As a response, the manufacturers have instead come up with inkjet printers incorporating refillable ink tanks.
Some consumers even attempted to refill their own cartridges with third party ink refill kits. The result may not be as good as a replacement original cartridge and can be messy at times but ink refill kits cost only a fraction of new cartridges.
Cheaper In The Long Run, Not More Expensive
Refillable ink tank printer is a big win for both consumer and the environment as it comes with higher printing capacity. The big ink tanks are easier to refill and there are no throwaway cartridges, so less waste. Plus, the printers are more robust even suitable for medium to high volume printing.
They may not be as cheap as printers that use conventional cartridges but in the long run, refilling the ink tanks will save customers a lot of money. These refill kits from the manufacturers are not all that expensive. The old pricing model has turned on its head. Manufacturers are selling expensive printers and offering cheaper refills.
This is not to say that all inkjet printers with refillable ink tanks are super expensive. There are at least three different categories of printers. The affordable small home or home office use variety, a higher workgroup or office version and the more expensive enterprise printer. Each offering different speed, print capacity and features to match.
Wait There Is More
On top of that, they come with the convenience of a scanner and photocopier function with a flatbed scanner built in. Higher models even come with automatic document feeder. As for connectivity, these units support for printing via WiFi, Apple AirPrint and Google Cloud Print as well as support for companion app that lets you scan and manage the printer.
Top 5 Best Inkjet Printers with Refillable Ink Tanks
The market for inkjet printers with refillable ink tanks is dominated by Epson. Other manufacturers include Canon and HP. Brother choose to sell their printers bundled with replacement cartridges to last up to a year. We start by looking at the affordable Epson eco-thank ET-2000 series followed by the mid range ET-3000 and high-volume, business class ET-4000 series. In between we look at offerings from Canon and HP.
Here is an affordable model by Epson, the EcoTank ET-2720 All-in-One printer is a compact home printer with print, copy and scan functions. It comes with a convenience of a 3.7 cm LCD display on a super slick touch panel. Apart from wireless connectivity, the printer also uses USB, supports Apple AirPrint, Google Cloud Print and Epson's own Epson iPrint app for mobile printing and scanning.
It has an average yield of 4500 pages black and 7500 pages colour and can print up to 10ppm in black and white and 5ppm in colour. As for scanning, it takes a little longer for the flatbed scanner to scan in colour than it takes in mono, 28 secs (colour) vs 11 secs (mono).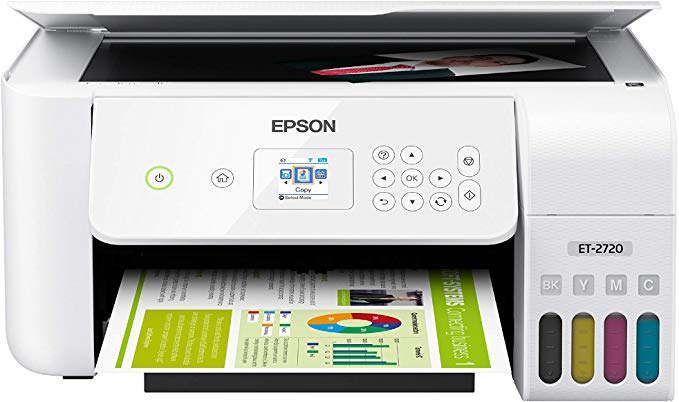 Epson EcoTank ET-2720 on Amazon
Print, Scan, Copy: 3-in-1 inkjet with cartridge free printing
Save up to 90% with low cost replacement ink bottles vs ink cartridges
4500 pages in black, 7500 pages in colour
WiFi Direct with mobile printing support via Epson iPrint app
borderless 4″ x 6″ photo, colour flatbed scanner 2400 x 2400 dpi
1.44-inch LCD screen and SD card slot, printing with out PC
memory card slot and double sided printing on higher model ET-2760 only
gimmicky wireless voice activated printing for shopping or to-do list from Alexa or Google Assistant

Small

100 sheets tray, 10 ppm black, 5 ppm colour.
If you are after double sided printing and memory card slot, choose the higher ET-2760 shown below.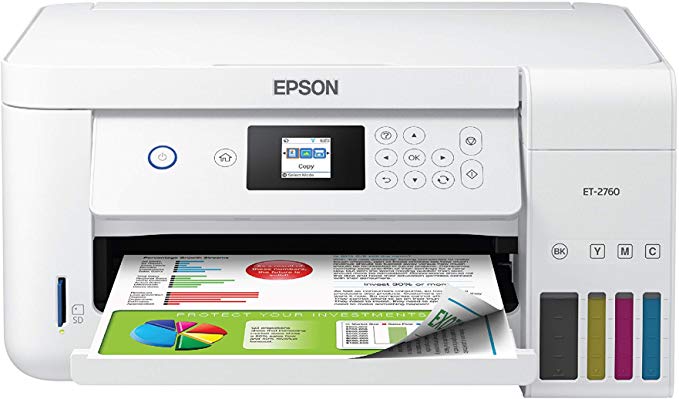 ---
We chose the G4210 over the higher G6020 because of the included Automatic Document Feeder. The G4210 is a little slower; 8.8 ipm black and 5.0 ipm black versus G6020's 13.0 ipm black and 6.8 ipm black. It also has a small paper tray capacity of 100 compared to 350 sheets on the G6020. But we can't complain especially when the print volume is almost the same.
The G4210 prints up to 6000 pages in black and up to 7000 pages in colour, the G6020 achieves 700 pages more in colour. A small gain compared to the 20 sheet ADF unit sitting on top of the printer's scanner. As for connectivity, the Pixma G4210 supports wireless printing including AirPrint, Morpria, Google Cloud Print and Canon Print App. As a side note, the printer is supplied with 3 bottles of black ink and a set of colours offering a total of up to 18000 prints in black and 7000 prints in colour.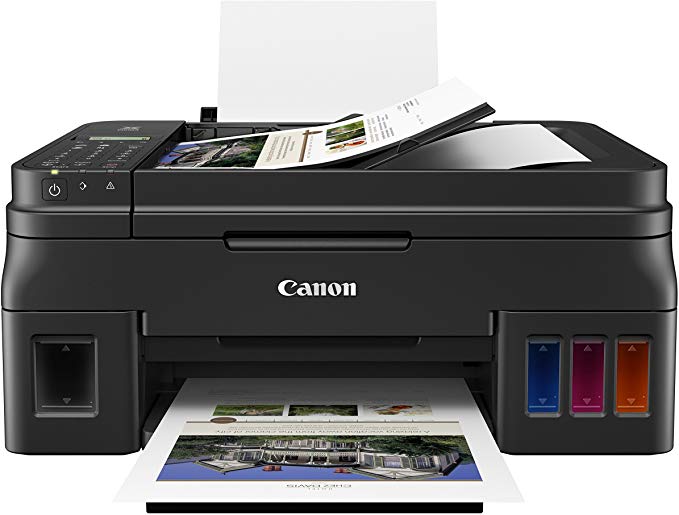 Search Canon Pixma G4210 on Amazon
We mentioned the faster Canon Pixma G6020 with a bigger tray capacity but no automatic document feeder. For the latter you will need the chart topping Canon Pixma G7020, shown below.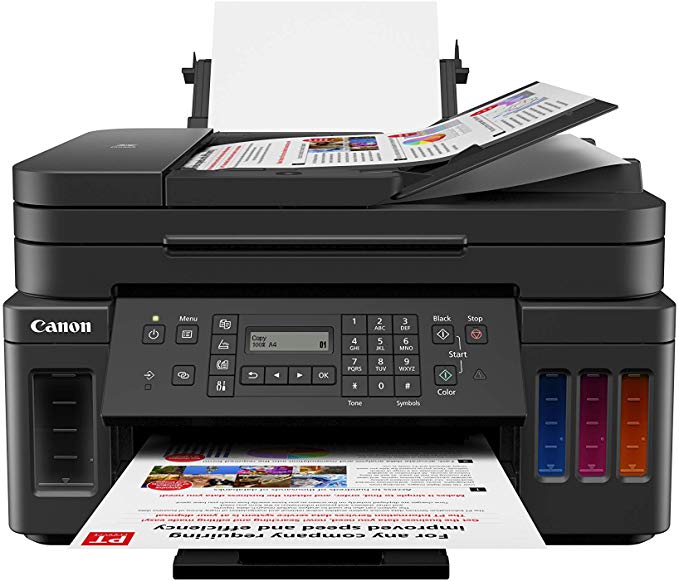 ---
The EcoTank ET-4760 is a replacement for the equally successful ET-4750 work horse but does it measure up as a high quality business printer. The new ET-4760 also comes in white and has a huge 250 sheet paper tray. It also carries an Automatic Document Feeder with 30 sheet capacity and auto double sided printing, but no double sided scanning and copying. On top of that, you can control the settings easily via the big 2.4-inch touchscreen colour display. However, the print volume is no different to that of the 3000 series which is a little disappointing. It churns out up to 7500 pages in black and 6000 pages in colour prints. Again, you get the usual wireless connectivity options; WiFi, WiFi Direct, voice activated printing and for business, Ethernet, USB and Fax. It is worth noting that the ET-4760 is the only model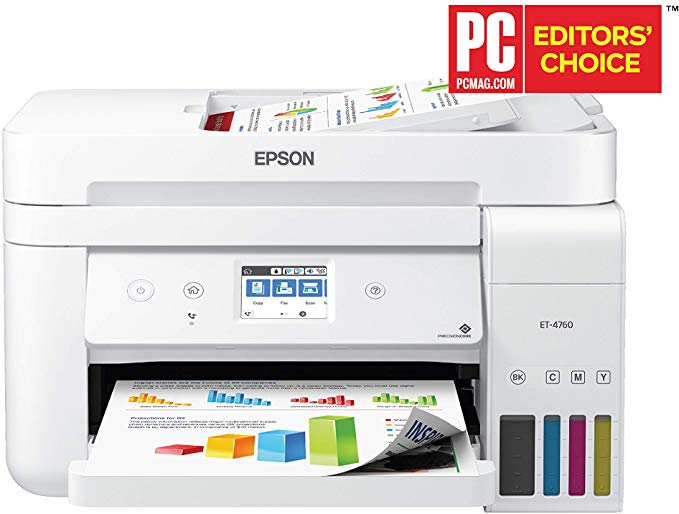 Search Epson EcoTank ET-4760 on Amazon
The predecessor to the above, the EPSON EcoTank ET-4750 All-in-One Wireless Inkjet Printer with Fax is still in the market and may be cheaper if you are not fussed about voice activated printing.
---
If you like the EcoTank 2000 series from Epson, you are going to love the EcoTank 3000 series. It has a bigger black in capacity, perfect for office document printing, with a combination of colour and text. In fact, the black print output is almost double at 7500 pages while the colour is a close 6000 pages. It still spots the 2.4-inch colour display and friendly soft touch control panel. Aside from the bigger black in tank, you also get an Automatic Document Feeder with 30 sheet capacity. It also comes with a 150-sheet paper tray and automatically does double sided printing. Unfortunately, the ADR unit and scanner only scans on one side so no double sided copying. Otherwise, enjoy the usual modern day connectivity options like wired and wireless printing, voice activated printing and mobile app support. The only thing absent is a memory card slot.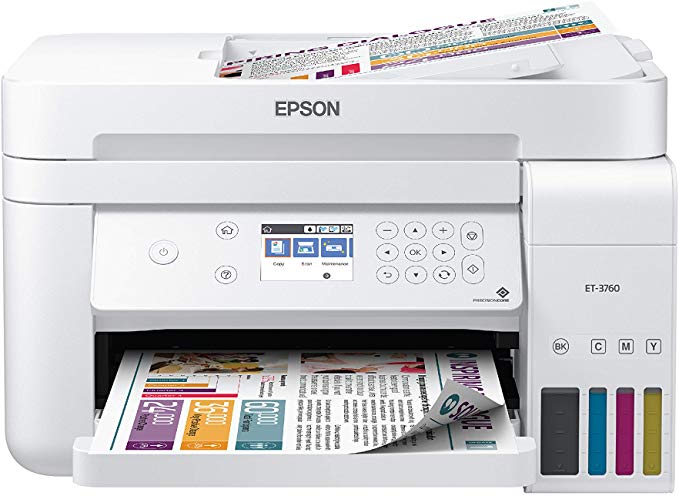 Search Epson EcoTank ET-3760 on Amazon
Also available without the ADF unit is the Epson EcoTank ET-3710 A4 Print/Scan/Copy Wi-Fi Printer below.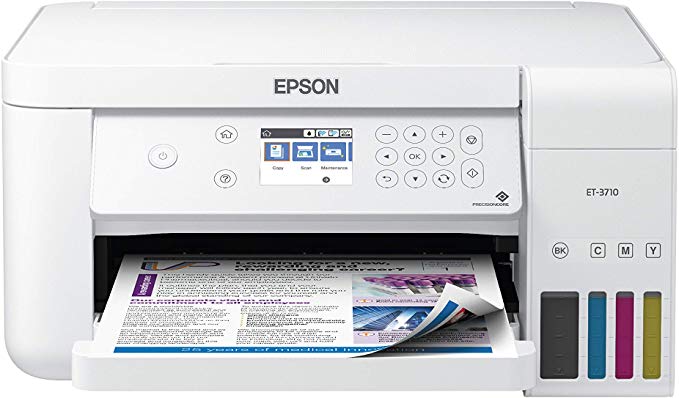 ---
5. HP Smart Tank Plus 570 Wireless All-in-One Printer
At the time of writing, the printer is offered with up to 3 years worth of ink refills. Apart from being a compact unit, the HP Smart Tank Plus 570 has the added advantage of an automatic document feeder with a 35 page capacity. That and it's ability to print, scan and copy as an All-in-One printer. The printer churns out up to 12000 pages in black and 8000 pages in colour. This is almost double the capacity when combined compared to the 2000 series from Epson. It does stop there, the printer supports dual band WiFi and the ability to scan, snap and print from anywhere via HP Smart app on the mobile phone. It even supports access to Google Drive and Dropbox so you can print your documents from there too.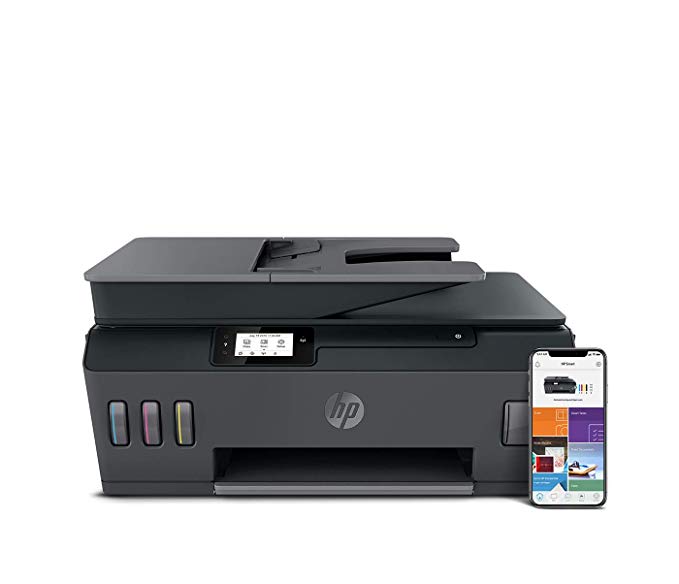 ---
BUDGET OPTIONS
1. Epson EcoTank ET-2711 A4 Print/Scan/Copy Wi-Fi Printer
This budget entry may not have an LCD display or fancy soft touch control panel but it has an ink tank nonetheless capable of delivering up to 4500 pages in black and 7500 pages in colour. Don't be deceived by its understated and simple look. Under the hood, you still get all the capabilities of a full fled all-in-one printer. It scans, copies and prints. And, it does this over WiFi, WiFi Direct, Epson iPrint app or via Epson Email Print. If all you need is a printer that gets the job done with minimal fuss and without spending too much, the ET-2711 is for you.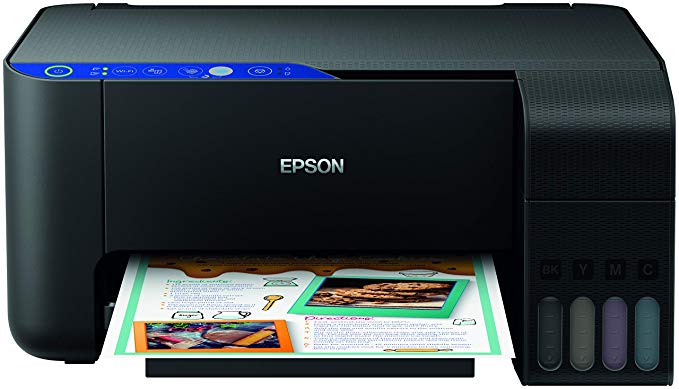 2. HP Smart Tank Wireless 455 All-in-One Printer
Another budget entry but this time from HP. The HP Smart Tank Wireless 455 again spots a very basic look, no fancy screen or big control panel. Not even a proper out tray. But, like the other inkjet printer with ink tanks, it supports easy refilling using resealable bottles from HP. At the time of writing, the printer is offered with up to 2 years of ink for up to 8000 pages in colour and 6000 pages in black. The usual printing options include wireless and mobile printing and scanning. It even creates borderless prints.