If you are looking for performance and value from an ultra portable laptop, look no further than those powered by AMD Ryzen 7 4700U. Yes, Ryzen 5000 series chip may be out but these are reserved for power hungry gaming machines. These AMD Ryzen 7 4700U laptops will deliver on everything you need and more.
AMD Ryzen 7 4700U Specification & Performance
Before we continue, lets take a quick look at AMD's 7nm process Octa-Core processor. The chip from 4000 series family has 8 cores and supports 8 threads. As a system on chip, it also comes with 7 core GPU clocking at 1600MHz making it a well rounded system. That embedded AMD Radeon Graphics is enough to let you play Fortnite and League of Legends with no hiccups. While the CPU's base frequency is 2GHz, it can boost up to 4.1GHz at a push and has fast 4MB L2 cache and 8MB L3 cache on-board.
Key Features
AMD Ryzen 7 4700U Processor
Octa-core
2.0 GHz / 4.1 GHz
8 MB L3 cache
For an idea of the chips performance, here is the Average CPU Mark score compared to other CPUs in its class. The AMD Ryzen 7 4800U may not be as fast as its power hungry cousin, the AMD Ryzen 7 4800H but is ahead of 9th and 10th generation Intel CPUs.

And, here is how it compares to some of the more popular CPUs, for examples the 11th generation Intel Core i7-1167G7, Intel Core i7-1185G7, Intel Core i7-10750H and Intel Core i7-10850H, all of which it left to bite the dust, see the following graph from PassMark. There are a couple of CPUs such as the Apple M1 that did better than the Ryzen 7 4700U but that is to be expected given the advancement Apple made with their own silicon.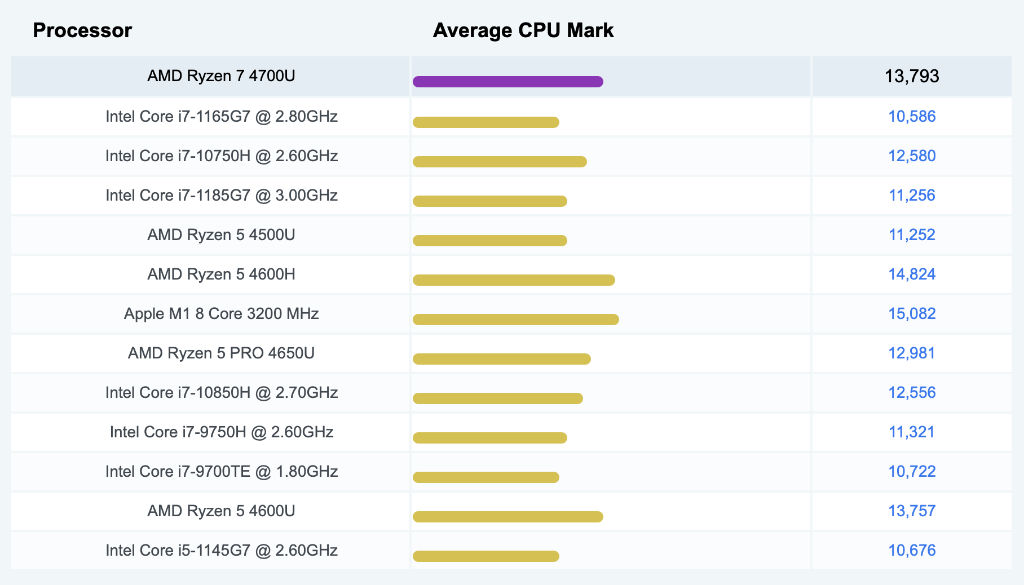 Top 8 Best AMD Ryzen 7 4700U Laptops
On our list is a couple of 2-in-1 laptops and other clamp shell laptops to fit everyones requirements. These laptops are based on powerful and energy efficient Ryzen 4000 series chip. With Ryzen 7 4700U and integrated Radeon Graphics, these machines are great for professional use, content creators and designers and well as for some light gaming. Every laptop here has something going for it that is unique and different to offer.
1. LENOVO Yoga Slim 7 14-inch Laptop –

Best for Long Battery Life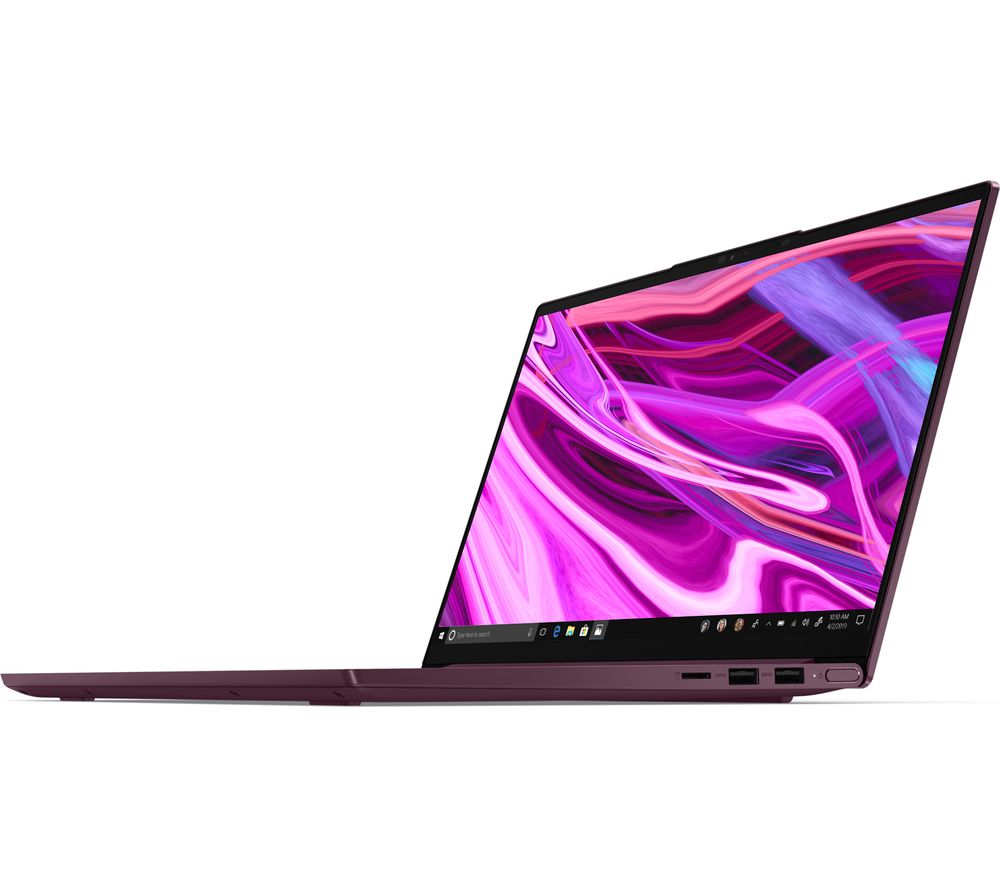 Search LENOVO Yoga Slim 7 14 on Amazon
AMD Ryzen 7 4700U Processor
RAM: 8 GB / Storage: 512 GB SSD
14-inch Full HD screen 300nits
Battery life: Up to 17.5 hours –

BEST BATTERY LIFE

15.1 x 320.6 x 208.2 mm (H x W x D), 1.33kg
The Lenovo Yoga Slim 7 got everything right in the ultra portable space. From the ultra slim 15.1mm thin body and super portable weight at 1.33kg to the premium aluminium finish and colour matched keyboard, it is everything you would want from a laptop. The premium features doesn't just stop at the looks, the 14-inch Full HD display supports Dolby Vision and covers 100% sRGB colour gamut. Plenty for work and entertainment powered by integrated AMD Radeon graphics.
Even for a slim and ultra portable device, it is not short on connectivity ports. There are a couple of USB 3.2 Gen 1 ports on the right next to a microSD card reader. On the left side, there are two USB 3.1 Type-C, one with PowerDelivery sandwiching a HDMI 2.0 port. Then there is the necessary 3.5mm combo jack. To complete the system as an entertainment machine the onboard speakers support surround sound with Dolby Atmos standard.
But the biggest bonus has to be the extreme long battery life. With up to 17.5 hours on a full charge, it will work as hard as you are and if you forget to charge it overnight, it will probably still last you, for up to two days worth of work. When you run flat, a quick 15 minutes charge will give you 2 hours of battery life to keep you going again and up to 50% level in 30 minutes.
A few drawbacks, we wish the web cam can be better and the speakers could be a little louder. Otherwise, the keyboard and graphics is brilliant and the build quality is good.
2. HP ENVY x360 13.3-inch AMD Ryzen 7 2 in 1 Laptop –

Best for Versatility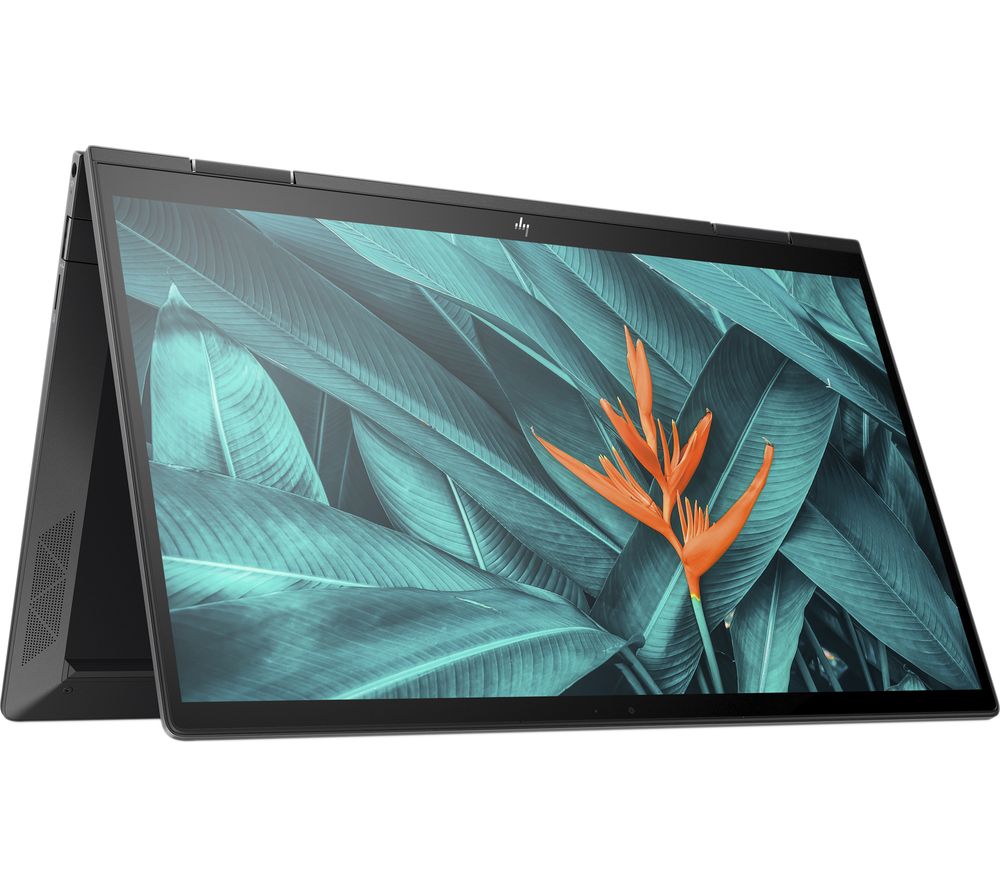 AMD Ryzen 7 4700U Processor
RAM: 16 GB / Storage: 512 GB SSD
13.3-inch Full HD touchscreen 300nits
Battery Life: up to 13 hours
16.4 x 194.6 x 306.5 mm (H x W x D), 1.32kg
Finished in nightfall black, the ENVY from HP has always been one to bring value and performance to the hands of many. In this iteration, it relied on AMD Ryzen 7 4700U, spacious 16GB memory and ample 512GB storage to do the trick. It even feels premium to touch with its sandblasted anodised texture.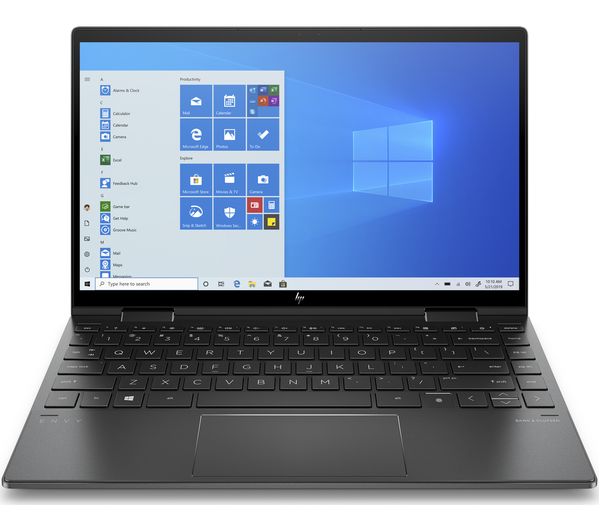 This is also the first 2-in-1 convertible laptop on our list with a full 360 degree hinge and touchscreen. The display packs Full HD resolution and is wrapped in micro-edge bezel with a high screen to body ratio of 88% and protected edge to edge with Corning Gorilla Glass NBT. It achieved this without moving the webcam position. It was even able to put a camera shutter and microphone mute button for hack proof privacy. Unfortunately, the stylus is optional, but you know you have the option to buy one if you need it.
3. ACER Swift 3 14-inch Laptop –

Best for Large Storage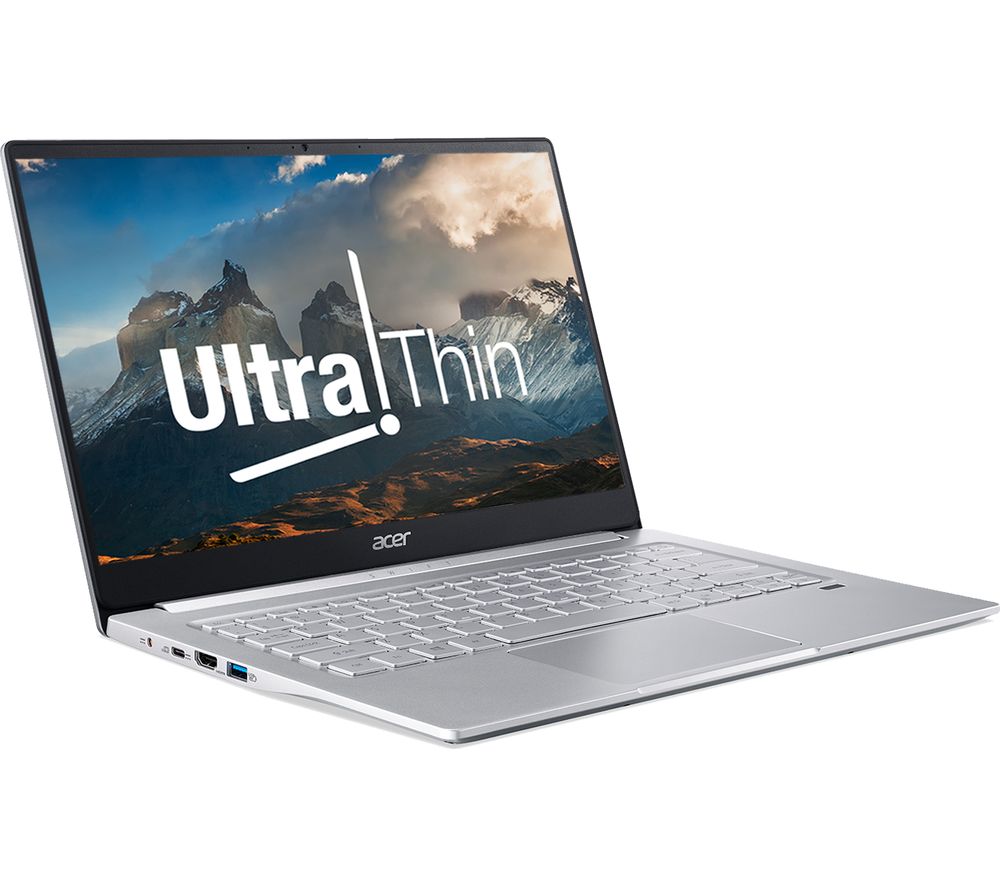 Search ACER Swift 3 14 Laptop on Amazon
AMD Ryzen 7 4700U Processor
RAM: 8 GB / Storage: 1 TB SSD –

DOUBLE STORAGE

14-inch Full HD screen
Battery life: Up to 11.5 hours
15.9 x 323 x 218 mm (H x W x D), 1.2kg –

LIGHTWEIGHT
Back to a normal clamp shell laptop, the ACER Swift 3 like the ACER Aspire 5 is at the affordable end of the spectrum, but this one comes with a 14-inch display while the Aspire 5 has a full 15.6-inch display. As an ultra light weight machine, it may look look any machine in silver but a big advantage it has over other laptop here is the huge 1TB SSD storage. That is double the size of storage compared to all the laptops on our list. The Full HD 14-inch panel may not support touch but is sharp all the same, LED backlit with IPS for wide viewing angle. Another advantage of the Swift is its compact, 15.9mm slim and lightweight, 1.2kg chassis, one of the lightest around even with the aluminium chassis.
4. HP Pavilion 15 15.6-inch Laptop –

Best for Full Size Display with Touch Support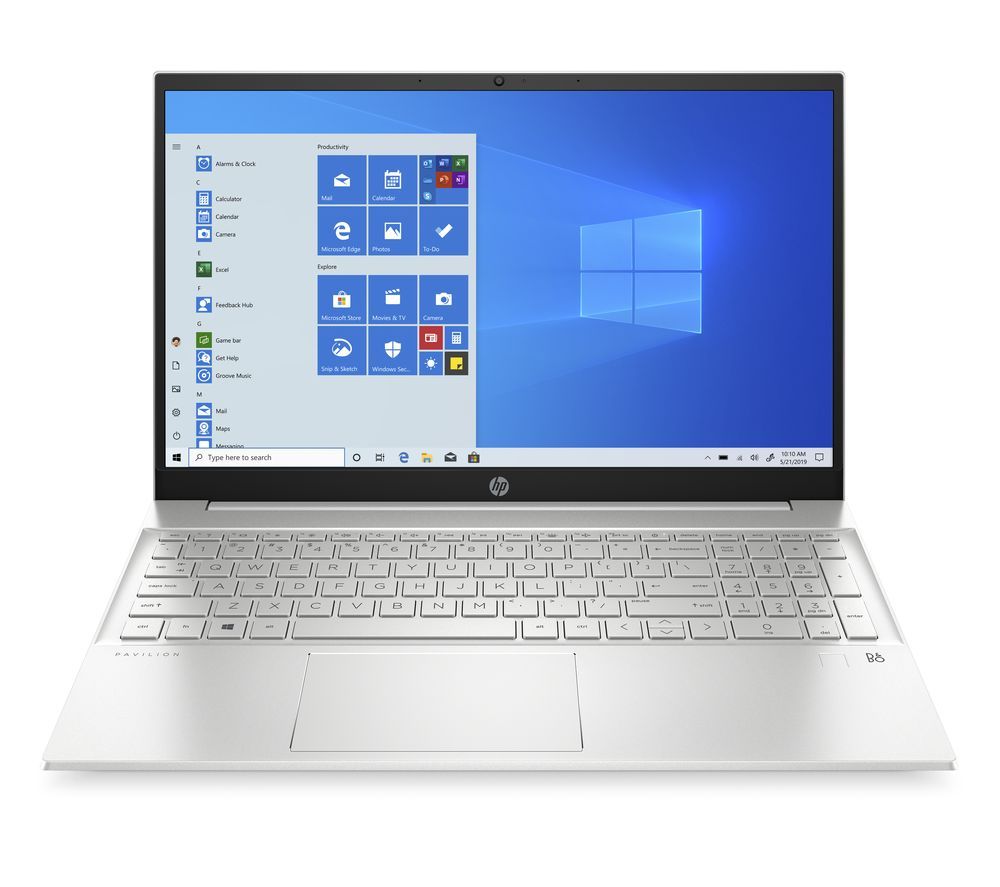 Search HP Pavilion 15 on Amazon
AMD Ryzen 7 4700U Processor
RAM: 16 GB / Storage: 512 GB SSD
15.6-inch Full HD touchscreen 250nits
Battery life: Up to 7.5 hours
17.9 x 234 x 360.2 mm (H x W x D), 1.75kg
Like the ENVY above, it comes with double the memory at 16GB and while it does not convert into a tablet, it still has a 15.6-inch Full HD touchscreen. This makes it the first full size laptop with touch support on our list. Our only disappointment with the Pavilion 15 is its short 7.5 hours battery life. While it is sleek and slim at 17.9mm it could do with a longer battery life. HP claims the HP Fast Change will bring it back up to 50% in about 45 minutes. Still, we love it for its silent and responsive operations. Quick boot-up, fast application loading, good graphics are the order of business and you can certainly rely on the machine for overall great performance.
5. LENOVO IdeaPad Flex 5 14-inch 2 in 1 Laptop –

Best for Versatility & Value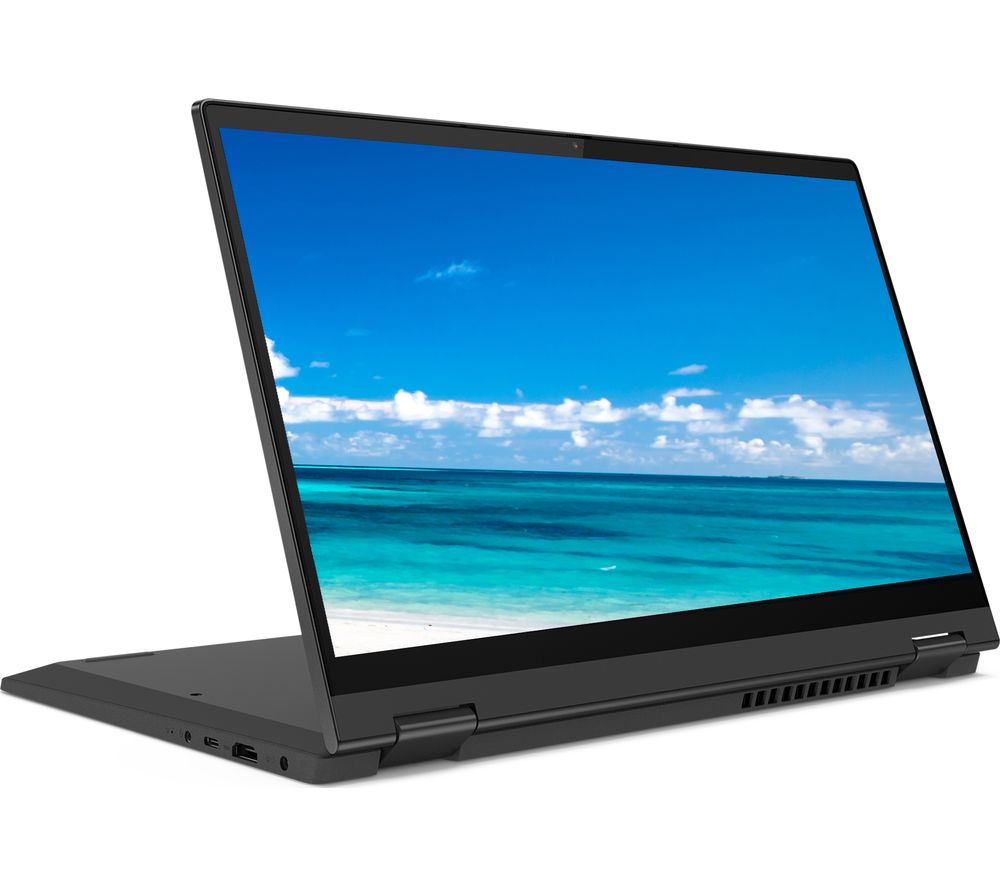 Search LENOVO IdeaPad Flex 5 on Amazon
AMD Ryzen 7 4700U Processor
RAM: 8 GB / Storage: 512 GB SSD
14-inch Full HD touchscreen
Battery life: Up to 12 hours
17.9 x 321.5 x 217.5 mm (H x W x D) 1.5kg
Two IdeaPads from Lenovo made it to our list, this one is the IdeaPad Flex 5 with a 360 degree hinge. This is the other convertible machine that made it on our list and it does not disappoint. Mainly thanks to its super affordable price tag, long all day battery life and slightly bigger 14-inch display (compared to the ENVY 260 above). Now it may not have the same build quality but it is sufficient for day to day use. It also features a physical shutter for its web cam and support for stylus going beyond touch interface. Again, that stylus is not included so you are going to have to buy it separately if you need one.
6. LENOVO IdeaPad 5 14-inch Laptop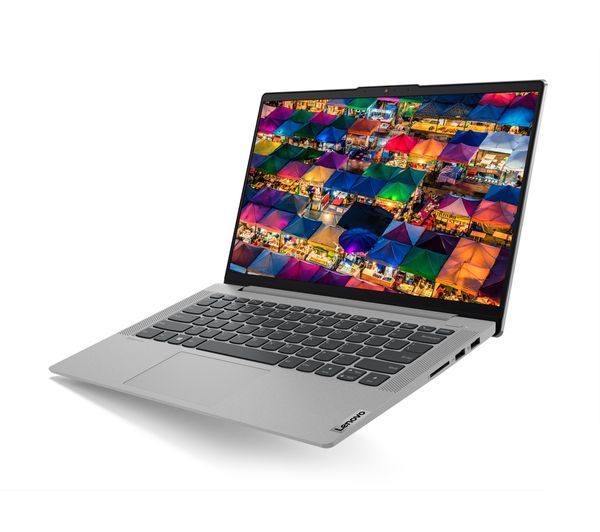 Search LENOVO IdeaPad 5 14on Amazon
AMD Ryzen 7 4700U Processor
RAM: 8 GB / Storage: 512 GB SSD
14-inch Full HD screen
Battery life: Up to 11.5 hours
17.9 x 321.5 x 211.6 mm (H x W x D) 1.39kg
Following closely to the Flex is this standard LENOVO IdeaPad 5, a standard clamshell laptop with standard display without touch support. With this, LENOVO manages to squeeze the price down further. The 14-inch display has a slim 17.9mm height, lightweight 1.39kg body and super small bezels achieving 90% active area ratio. Other notable features include webcam with privacy shutter, fingerprint reader on the power button, Dolby Audio speakers and an aluminium chassis.
7. ASUS ZenBook 14 14-inch Laptop –

Best for Lightweight Design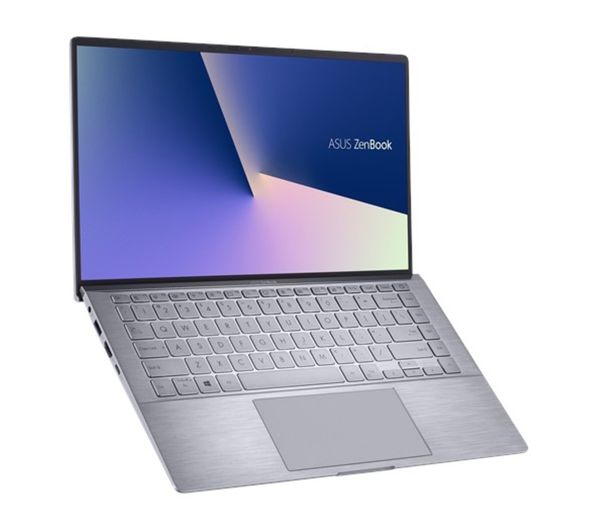 Search ASUS ZenBook 14 on Amazon
AMD Ryzen 7 4700U Processor
RAM: 8 GB / Storage: 512 GB SSD
Graphics: NVIDIA GeForce MX350 2 GB –

DEDICATED GRAPHICS

14-inch Full HD display
Battery Life: up to 12 hours
16.9 x 319 x 199 mm (H x W x D), 1.15kg –

LIGHTEST
Here is a sleek, fast and beautiful entry from ASUS. On top of the integrated AMD Radeon Graphics, it also comes with discrete NVIDIA GeForce MX350 with dedicated 2GB graphics memory. This may be a top of the line GPU like the RTX 30 series but it is a dedicated GPU nonetheless and will offer you that extra frame rate and graphic speed you need for some titles. We love the NanoEdge bezel that surrounds a vivid and crisp 14-inch Full HD panel.There is only one problem, the backlit keyboard isn't quite bright enough but as I do not look at the keyboard while I type, I don't see this as a show-stopper. Others might thing differently though.
8. ACER Aspire 5 A515-44 15.6-inch Laptop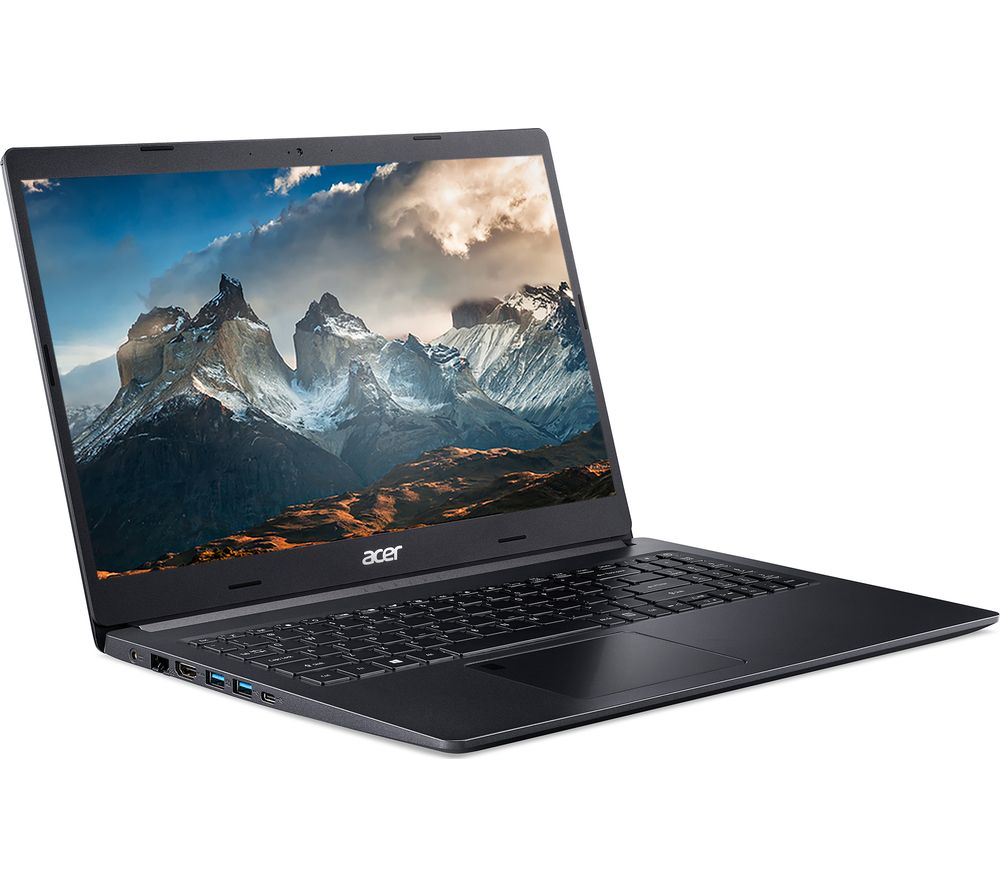 Search ACER Aspire 5 on Amazon
AMD Ryzen 7 4700U Processor
RAM: 8 GB / Storage: 512 GB SSD
Full HD screen
Battery life: Up to 10 hours
17.95 x 363.4 x 250.5 mm (H x W x D) 1.9kg
Apart from the HP Pavilion 15 above, here is the other full size 15.6-inch laptop. The panel comes with Full HD resolution, IPS technology for wider viewing angles and Acer BlueLightShield to protect your eyes. As for design, the chassis comes with a sandblasted aluminium cover for that professional touch and the hinge lets the system pulls in more air from the bottom for better cooling.  And, while it is slim, it is not exactly light. At 1.9kg, it is a whole 150 grams heavier than the Pavilion 15. Our problems with the laptop is the lack of lip on the lid to facilitate opening and no SD card reader. The former means you will have to try and peel it open with your fingers and nails. Otherwise, it is a fast and quick loading machine and sounds really good with powerful speakers.