For the best gaming experience, you need the best monitor that you can lay your hands on. And when it comes to the best monitors, 4K is the overwhelming favourite. Even an enthusiast gamer would love to have his or her hands on a 4K monitor. Though you can splurge and go overboard to own an 8K monitor, we think that would be unnecessary. For all practical purposes, 4K is more than enough. We are going to deliberate about the best 4K monitors for gaming today.
Top 5 Best 4K UltraHD Monitors for Gaming
We looked at dozens of 4K Ultra HD monitors. We have looked at several parameters including resolution, pixels per inch, contrast, refresh rate, response time and aspect ratio. Overall, these are the ones that are the best of the lot:
1. Acer Nitro XV273K 27-inch Gaming Monitor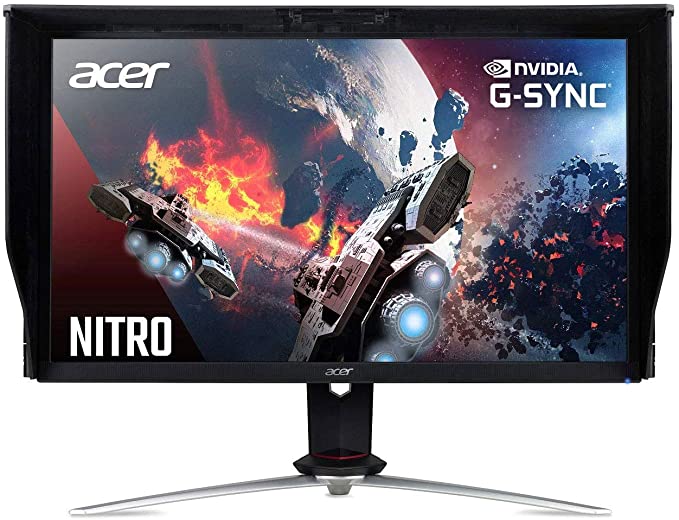 Search Acer Nitro XV273K on Amazon
Screen size – 27-inch
Display resolution – 4K/UHD 3840 x 2160 pixels
Panel type – IPS
Refresh rate – 144 Hz
This 27-inch monitor is slightly more expensive than the ASUS VG289Q that we just read about above. The monitor offers a resolution of UHD/4K. With it, you get NVIDIA G-Sync to offer you a smooth gaming experience.
Every gamer worth his salt loves a high refresh monitor and in that respect, the Acer Nitro XV273K does not disappoint. It offers a 144 Hz refresh rate for a superior gaming experience.
In terms of colour accuracy, the monitor offers 95% of the DCI-P3 colour space as well as 130% of the sRGB colour space. You also get VESA DisplayHDR 400 certification for excellent contrast and colours.
Flexibility is the name of the game. You can pivot, swivel, tilt and adjust the height of the monitor for the perfect gaming experience. And if bright distracting ambient light is something that distracts you the light shields help you to get rid of that.
2. Acer Predator XB273K 27-inch UHD Gaming Monitor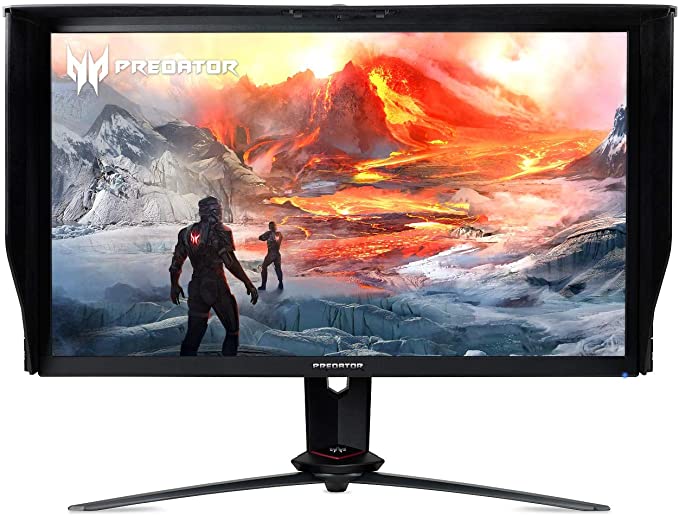 Search Acer Predator XB273K on Amazon
Screen size – 27-inch
Display resolution – 4K/UHD 3840 x 2160 pixels
Panel type – IPS
Refresh rate – 144 Hz
This is one of the best 4K gaming monitors in the market. The 27-inch panel comes with IPS technology but what is even better is the mind-boggling 144 Hz refresh rate. This is the sort of monitor that enthusiast and advanced gamers would love to have their eyes on. Now you would be able to play your favourite games at their highest recommended refresh rates.
90% DCI-P3 colour gamut is supported resulting in a wider supported colour range and better gaming experience.
In terms of physical attributes, you get a set of shade shields that reduce glares and prevents loss of colour contrast and improves the overall viewing experience. The three bezel-less sides also give adds to the viewing experience.
The presence of G-Sync technology in the monitor ensures a smoother gaming experience.
One benefit over the previous model that I discussed above is that this one can slide up and down to adjust the viewing level.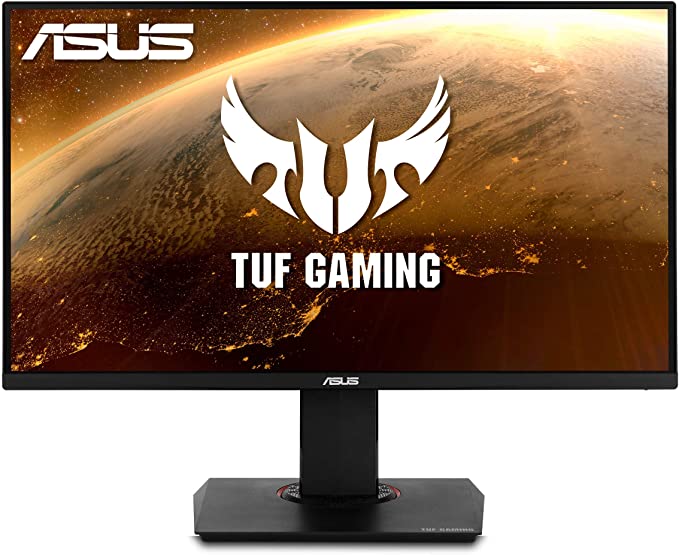 Search ASUS TUF VG289Q on Amazon
Screen size – 28-inch
Display resolution – 4K/UHD 3840 x 2160 pixels HDR10 compatible
Panel type – IPS
Refresh rate – 144 Hz
One of the few 144 Hz refresh rate equipped UHD/4K gaming monitors that you can get. And that too at a very pocket-friendly price. Just under $350, this is the best budget 4K monitor.
You can pivot, tilt, swivel and even do height adjustments to the monitor based on the kind of work you are doing or game that you are playing.
In terms of display, the large 28-inch display offers 4K/UHD resolution along with HDR10 for high dynamic range and excellent contrast. The monitor comes equipped with AMD FreeSync technology for a smooth gaming experience. Adaptive-sync technology works with NVIDIA G-Sync as well. So no tearing and jittery motions. Plus, Shadow Boost gives those dark images more detail by boosting the brightness without over-exposure.
The monitor supports 90% of the DCI−P3 colour gamut for accurate colours. Another interesting feature of the monitor is the multi HDR mode. You can choose the HDR mode you need depending on the gaming scenario.
4. LG 32UN550-W 32-inch UHD/4K monitor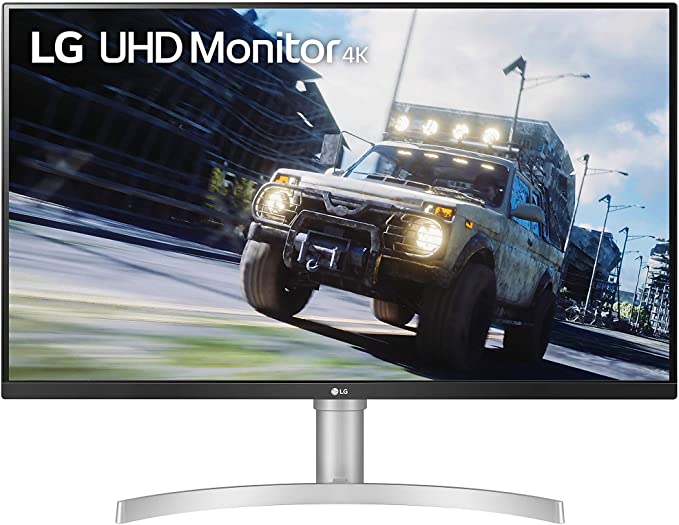 Screen size – 32-inch
Display resolution – 4K/UHD 3840 x 2160 pixels
Panel type – VA
Refresh rate – 60 Hz
This gaming monitor offers a UHD/4K display resolution of 3840 x 2160 pixels. The refresh rate is on the lower side at 60 Hz. You would be able to play a lot of games at a decent refresh rate but not the ones that need a higher refresh rate for the best playing experience. So, games like Counter-strike, Overwatch or PUBG are games that will struggle with the lower refresh rate.
DCI-P3 90% colour gamut with HDR10 promises better colour accuracy and higher contrast especially when playing games with beautiful richer and contrasty colour graphics.
The design is sleek. Three sides are virtually bezel-less. The monitor comes with AMD FreeSync for better fluidic motions for your favourite games. There are two built-in speakers (5W x 2).
The stand has a fixed height. That said the monitor is compatible with third party stands and mounts. There is a VESA 100mm mount.
5. LG 27UN850-W 4K IPS Gaming Monitor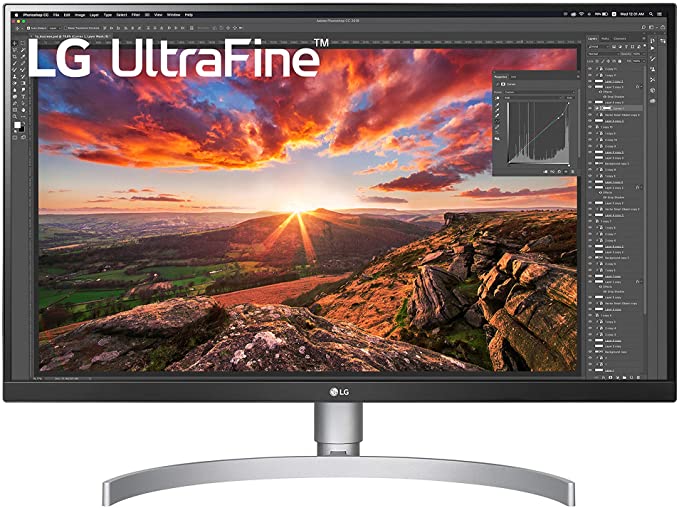 Screen size – 27-inch
Display resolution – 4K/UHD 3840 x 2160 pixels
Panel type – IPS
Refresh rate – 60 Hz
The LG 27UN850-W is a value for money monitor. Its long list of specs means it gives maximum bang for your buck. The LG 27UN850-W offers a refresh rate of 60 Hz.
Add to that the sleek design and physical features of the monitor. The adjustable stand allows you to adjust the height and orientation of the monitor as per your preference (tilt/pivot/height adjustment/swivel). Three sides of the monitor are almost bezel-less giving a sleek viewing experience.
The monitor panel is IPS type and offers DisplayHDR 400 for maximum dynamic range. The supported sRGB colour gamut (99%) ensures that the colours that you see are true. This monitor is also suitable for photo and video editing.
What To Look For in a Gaming Monitor
A. Resolution – How much do you need?
I have got to admit 4K is the new standard. 4K is like four times the resolution when compared to a standard Full-HD display and therein lies the charm of a 4K screen. In terms of dots that is 3840 x 2160 pixels when compared to 1920 x 1080 pixels. But just increasing the number of dots will not matter much if the actual real estate of the screen does not change.
With the screen size remaining the same if you continue increasing the number of pixels, you will experience a sharper image quality. But when you put two small displays side by side, there is no discernible difference in image sharpness. Only when you move to a larger screen will you be able to feel the difference. More pixels does make images sharper and colour crispier.
For a 4K monitor, thus, we recommend a minimum screen size of 27-inch or larger. Anything smaller than that and we feel you are better off using a Full-HD resolution.
That said, a lot of others will opine that a vast majority of gamers and content consumers don't use 4K monitors. The reason being the lack of Internet speed and non-abundance of 4K content. But I think 4K is still worth investing in.
B. Monitor panel type
The most popular of all panel types is IPS or In-Plane Switching. This offers the highest contrast and image sharpness by a long margin. They also offer the best colour rendition when compared to the other panel types available in the market. Plus, it has wider viewing angles.
The second most popular is the TN type also known as Twisted Nematic. These panels types offer the fastest response. Plus, they are cheaper too. But the greatest issue with them is colour accuracy and colour contrast.
There is a third type too. These are the Vertical Alignment (VA) Panels. What they offer is a sort of a middle ground between the quality display of IPS panels on one side and the fast refresh rates of TN panels on the other. The problem with these type is that they have a slower response time when compared to TN panels. And this often results in ghosting. Beginner gamers will have no major issues with this as they offer the best of two worlds (contrast and response rate).
Other than panels above, there are OLED and mini LED panels. OLED technology are more commonly found on mobile devices such as tablets and smartphones. While OLED is becoming more widely available, especially on big screen TVs and smartphones, these super slim self emitting panels are only just making its way into laptops and monitors. Each pixel is self lighting giving it deeper black as they can be switched off completely, brighter and more vibrant colours and higher contrast.
Mini LED is the next level of back panel lighting for LCD. Standard LCD panels are edge lit. This causes light bands, halos and bleeds. Mini LED takes lighting further by introducing an array of lights directly on the back of the LCD with thousands of lighting zones that can be switched up or turned off completely. The result is, super bright panels, even brighter than OLED with high contrast. Depending on the number of lighting zones, lighting is still relatively low resolution compared to lighting on a pixel level.
C. Refresh rate
Refresh rates are all about how quickly the image gets refreshed with a new image by the display. As you can imagine, the higher the refresh rate smoother is the quality of the video and of course your gaming experience. While everyday computing will work simply fine with a 60 Hz refresh rate, the gaming experience requires a minimum of 120 Hz or higher. We recommend a minimum refresh rate of 144 Hz for the best gaming experience.
D. Response time
Response time is an important attribute when you are playing games. Response time denotes how quickly the individual pixels can switch from one colour to another and is measured in milliseconds. Sometimes, however, the measurement is about how quickly the pixel moves from grey to grey or black to white and then black again. Faster the response time the lower are the chances of the screen experiencing ghosting.
E. Aspect Ratio
The standard aspect ratio for gaming monitors is 16:9. That is about the same as your average TV display or your laptop screen. For casual gamers using an HD screen 16:9 is fair game. Not for advanced gamers. Gamers who are looking to invest in a 4K display would prefer a better aspect ratio. Something in the line of 21:9. However, such a ratio is more likely to be a
Final thought, what is the primary role of your monitor?
Even before you start deliberating about the top choices available you should make up your mind as to what the primary role of the new monitor is going to be. Are you looking for a new gaming monitor? Gaming aside, are you looking for something with a wide colour space, excellent brightness levels and 4K resolution? Gaming aside, are you looking for a lifestyle monitor or are you looking for something that is to become your work and photo/video editing setup?
Yes, you can probably get a monitor that does most of these. But you are only going to needlessly increase your spending if you are looking for features that you are hardly going to use. It is always best to invest in a monitor that fits a specific use. That way you invest the least and get the maximum bang for your buck. Now, if gaming is your top priority, go for a 4K display with high refresh rate. If you are looking for a balance between work and play, choose a sufficiently big 4K monitor with wide colour gamut.