RealMe is a brand that has raised some eyebrows lately with its value for money smartphones and extending its reach from the Asian subcontinent to European markets. In June 2021 it became the fastest brand to ship 100 million devices globally and it achieved this feat in just 36 months. It now has its eyes set on the laptop market, with their first offering, the RealMe Book (Slim).
The Oppo spinoff that was founded in 2018 and has since developed an eerie reputation of progressing by copying the designs of its competitors. Even though their handsets are well built, they look like cheaper copies of some of the costlier brands. Recently, their CEO Madhav Sheth was even trolled on Twitter by Xiaomi for stooping so low as to copy even its anniversary celebrations.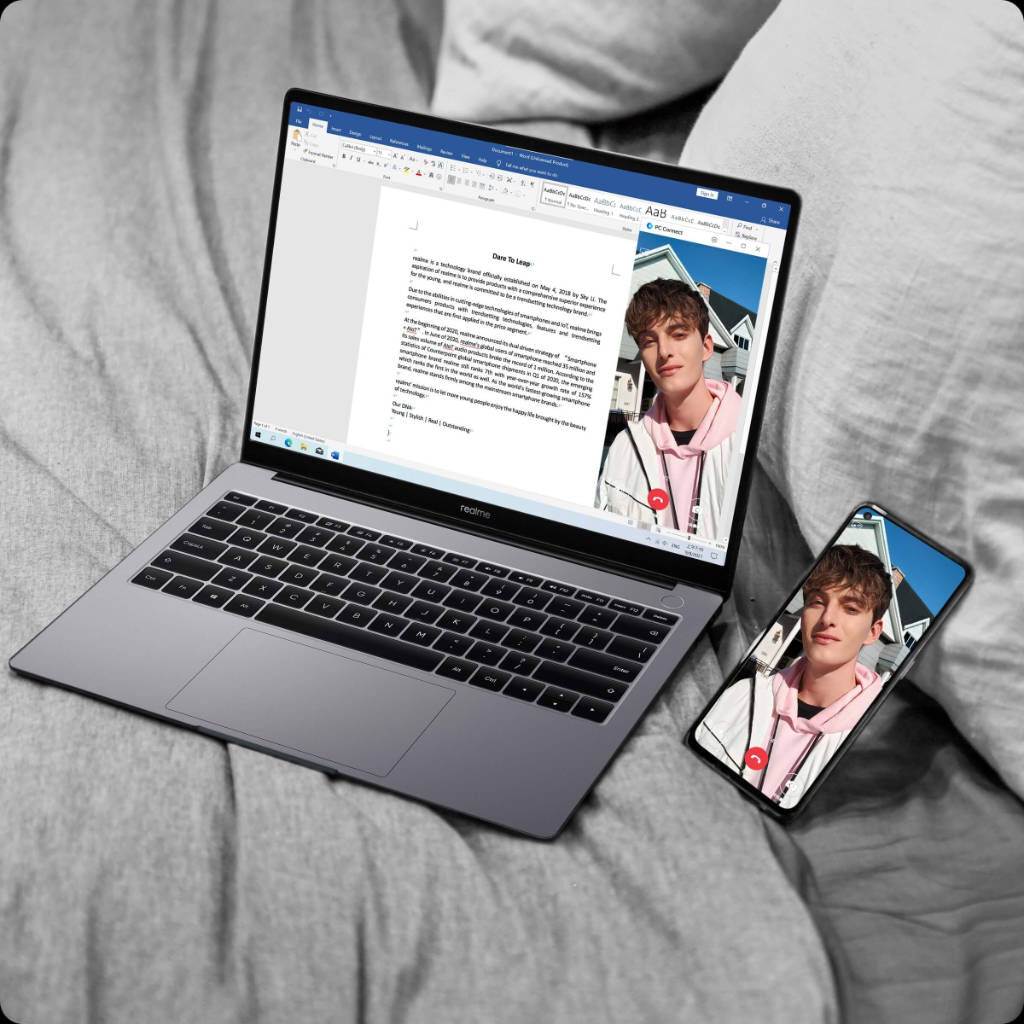 Taking 'Inspired by' literally by the words, RealMe has now come up with a laptop. We knew it had eyes on bigger things right from its advent but many are touting the Windows-based RealMe Book Slim, which by the way does have impressive specs, to have design elements strikingly similar to the MacBook Pro.
RealMe Book (Slim) vs MacBook Pro
Is RealMe Book's naming scheme and design a hint at its next target? If the company is planning to take on Apple, then are these two devices in the same league? Is RealMe biting more than it can chew? Let us find out.
Here is how the Slim fares against the phenom.
| | | |
| --- | --- | --- |
|   | MacBook Pro (M1/ Intel Processor) | RealMe Book Slim (i5/ i3) |
| Display | 13.3-inch Retina IPS Display (2560×1600 pixels), 500 nits brightness | 14-inch 2K Full Vision (2160 x 1440 pixels), 400 nits brightness, 3:2 aspect ratio |
| Processor | M1/ 10th Gen Core i5/Core i7 | 11th Gen Core i5/Core i3 |
| RAM | 8-16GB (M1)/16-32GB (Intel) | 8-16GB 4266MHz/3733MHz |
| Graphics | Octa Core GPU/Intel Iris Plus | Intel Iris Xe/Intel UHD |
| Storage: SSD | 256GB-2TB (M1)/512GB-4TB (Intel) | 512GB/256GB |
| Thunderbolt 4 | Yes/No | Yes/No |
| Wi-Fi | Wi-Fi 6/Wi-Fi 5 | Wi-Fi 6/Wi-Fi 5 |
| Battery | 17 Hrs/ 10 Hrs | 11 Hrs |
Design and Display
RealMe Book Slim was compared with the MacBook Pro in the launch event with its sleek and minimalist design. The notebook was successfully in doing so in trying to emulate the MacBook Pro but within a strict budget. It is lightweight at less than even 1.5 kg and is thinner than the MacBooks at 14.9mm.
The lightweight design is made possible with the use of an aluminium alloy chassis. The chassis is available in Real Grey and Real Blue colour options. The build is premium and the thin chassis allows it to be portable and perfect for working on any surface. With its durable aluminium chassis, it can also slip easily in any bag pack and go everywhere with you. On top of that, there are a good number of connectivity ports in both the Core i3 and Core i5 variants. But there are no card slots and HDMI ports.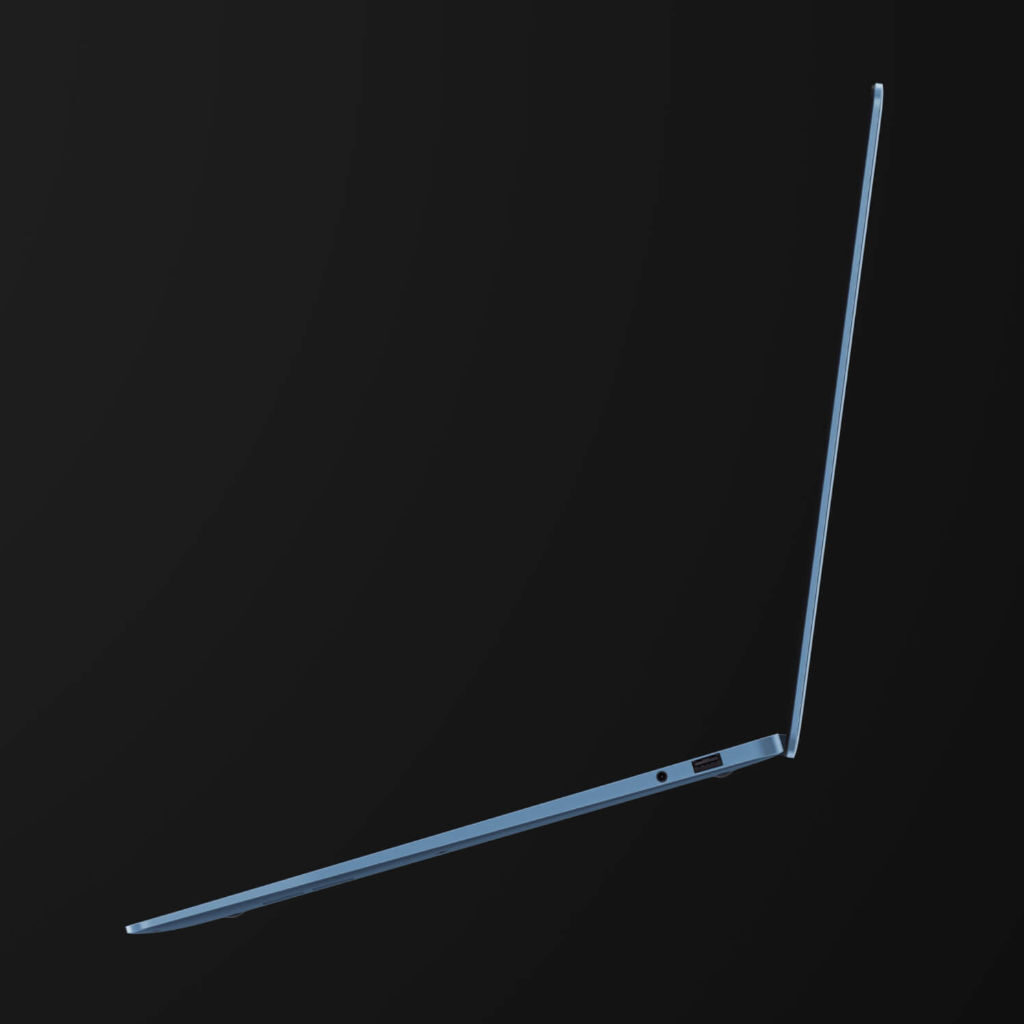 The MacBook Pro is a bit bulkier and comes with the Thunderbolt 4 port in only the M1 much like RealMe opting to leave Thunderbolt 4 out in its Core i3 variant. Physical LAN ports are missing on both the devices with the MacBook weighing a bit more than the Slim.
Both the devices use a 2K resolution panel for display but the Retina Display in the MacBook uses an IPS grade panel with a maximum resolution of 2560 x 1600 with 227 pixels per inch. RealMe goes all guns blazing in this segment with a 2K Full Vision display that has 2160 × 1440-pixel resolution. The screen scores 100% in sRGB colour space but has a lower peak brightness of 400nits in comparison to the MacBook Pro's 500nits.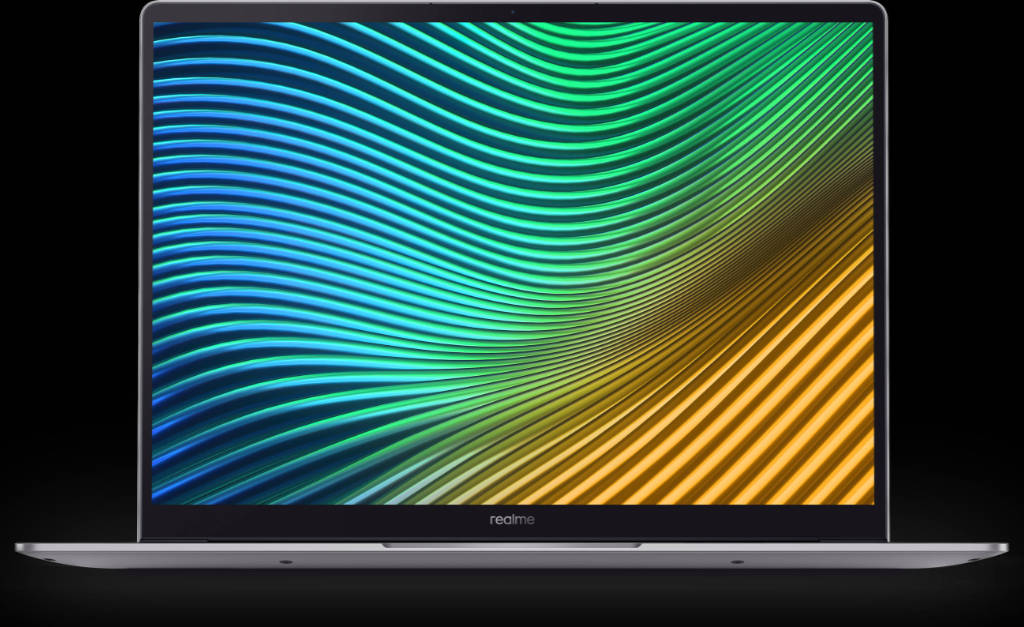 The bezels on the RealMe notebook are very slim with just 5.3mm on the side and 8.45mm on the top resulting in a 90% screen-to-body ratio. The Macbook Pro comes with thicker bezels but a regular aspect ratio unlike the 3:2 in RealMe Slim that brings in black borders while watching movies and videos. Both panels are IPS LCD with the Slim having a glossy finish and the MacBook using True Tone Technology for lively colours. Both devices come with excellent colour accuracy and viewing angles.
Performance and Memory
Both the MacBook Pro and RealMe Book Slim come with different processors and memory combinations to choose from. Apple's M1 Octa-Core and Intel's 10th Gen Core i7 for the former and 11th Gen Core i5-1135G7 and Core i3 1115G4 for the latter.
The M1 in MacBook Pro is miles ahead of the Slim's Core i5-1135G7 in terms of performance. But the Intel processor, a quad-core, hyper threading enabled, 3.8GHz processor is by no means is a slouch. It offers extremely snappy performance on the Slim. Regular productivity tasks are smooth with the processor able to handle multiple business and productivity workloads simultaneously.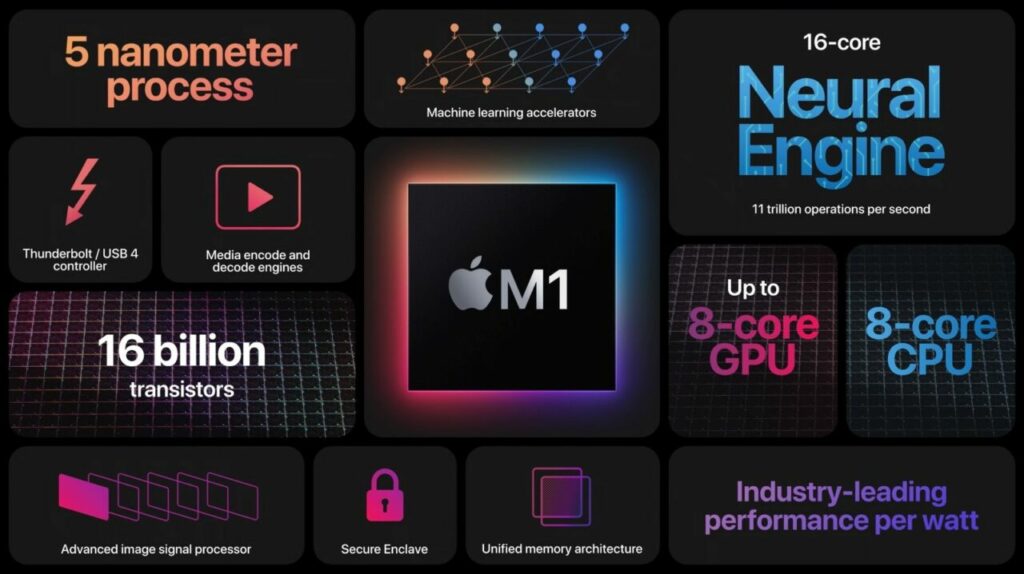 The octa-core 3.2 GHz Apple M1 chip comes with a 16-core Neural Engine that is excellent at whatever it is tasked with. It has an even distribution of performance and efficiency cores and an octa-core graphics processor in the same chip that is good for mainstreaming gaming along with heavy multitasking and content creation.
The RealMe Book Slim on the other hand comes with Intel Iris Xe graphics with the Core i5 model which can run most older games and few newer titles at high resolution and graphics settings while the Core i3 variant comes with Intel UHD graphics that manages casual gaming at low resolution and details.
Here are benchmark scores of the two processors.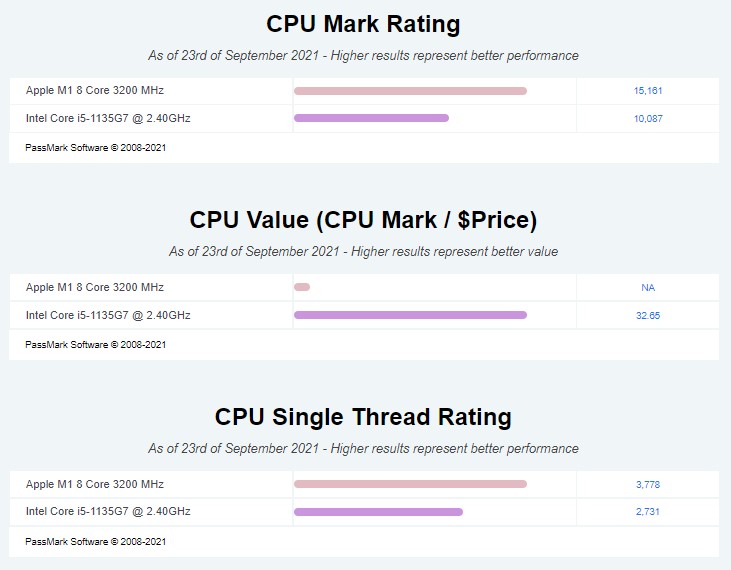 Both devices use LPDDR4X memory that is tuned to offer blazing fast speed during regular use but a large number of background services in Windows OS in comparison to a much-refined MacOS results in the MacBook Pro offering consistent speed and stable performance over an extended period. The Slim comes with a maximum of 16GB RAM clocking 4266MHz speed while the MacBook Pro comes with just 8GB physical memory (M1 variant) operating at 3733MHz speed.