Just like the HP Envy 13 but convertible, the HP Envy x360 13-inch 2-in 2018 features a flip hinge and solid build. Opting instead to use the AMD Ryzen 5 or 7 processors with AMD Radeon Vega 8 Graphics APU, this little number does not only perform well, but comes with a gaming streak too.
It has been a while since I considered looking at laptops based on non-Intel chips. One of my previous laptops, and trust me, I had many, was based on the AMD Turion 64 X2 processor. It was a reliable high performance laptop in its days and offered many good years of service. But it wasn't the most energy efficient and would run down my battery faster than you can say plug me in.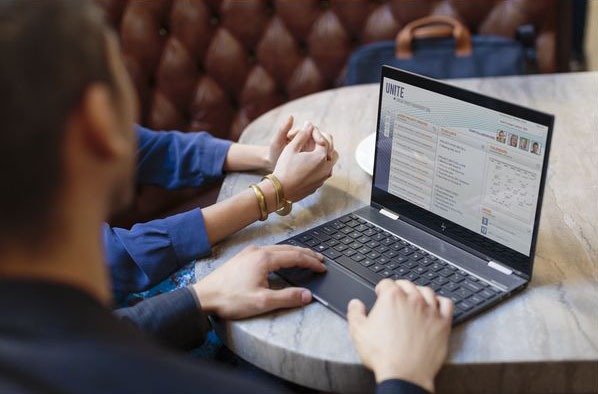 AMD Painting the Town Red
AMD is back on the mobile CPU map once again with the revolutionary Ryzen Mobile APU. It combines AMD's x86 Zen cores with SenseMI intelligence and Radeon Vega graphics architecture. The comeback meant once again consumer has more choices and the market, more competitive.
The combination is also a welcome news for gamers as the AMD Ryzen processor with Radeon Graphics brings better gaming experience to ultra thin and ultra light laptops. Ultra portables are known to just rely on embedded or integrated graphics. The Radeon Vega graphics engine offers smooth and high gaming frame rates apart from support for multiple, up to 3 display outputs with up to 1080p and 4K resolution, HDR and FreeSync 2.
Having all that power usually meant that the battery life will have to give but not the case for this 15W TDP chip. Unlike my Turion 64 X2 days, laptops based on the new AMD Ryzen chip have amazing battery life offering users all day computing and plenty of time to enjoy TV shows and movies. Laptops based on the chip claims up to 10 hours or more battery life.
Here is a look at AMD's mobile processor line-up:
| | AMD Ryzen 7 7200U | AMD Ryzen 5 2500U | AMD Ryzen 3 2300U | AMD Ryzen 3 2200U |
| --- | --- | --- | --- | --- |
| Graphics Model: | Radeon™ RX Vega 10 Graphics | Radeon™ Vega 8 Graphics | Radeon™ Vega 6 Graphics | Radeon™ Vega 3 Graphics |
| # of CPU Cores: | 4 | 4 | 4 | 2 |
| # of Threads: | 8 | 8 | 4 | 4 |
| Max Boost Clock: | 2.8GHz | 3.6GHz | 3.4GHz | 3.4GHz |
| Base Clock: | 2.2GHz | 2GHz | 2GHz | 2.5GHz |
| Default TDP / TDP: | 15W | 15W | 15W | 15W |
Source: AMD
AMD Brings Gaming to Ultraportable
The HP Envy x360 13.3-inch convertible laptop is available with AMD Ryzen 5 2500U or AMD Ryzen 7 2700U. At the time of launch, the processors outperform Intel's 5th Gen. Broadwell and 7th Gen Kaby Lake R chips. PCMark 8 scores are higher than those attained by the dual core Intel Core i5-5200U and Intel Core i7-7500U in most categories.
Since then, Intel has introduced their 8th generation processors. The Whiskey Lake and Coffee Lake processors are commonly available in mid to high-end laptops. With that, let's jump straight into the performance of the common Ryzen 3, 5 and 7 mobile processors compared to other common mobile processors in the market right now.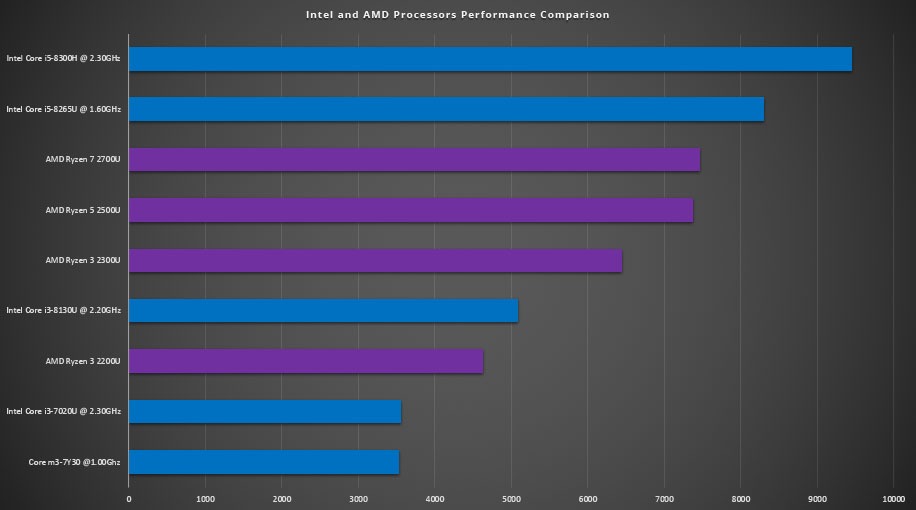 Source: cpubenchmark.net
The Ryzen 5 2500U and Ryzen 7 2700U may outperform the dual-core Core i5-5200U and Core i7-7500U but it lags behind the 8th generation quad-core Core i5-8265U and Core i5-8300H, see Pass Mark CPU benchmark above.
If you can see pass the small shortfall in CPU performance, the real gain of the APU is in the graphics side of things. The Vega 8 and Vega 10 graphics engine outperform Intel 620 UHD graphics embedded graphics with Kaby Lake processors. You can see this on Techspot's 3DMark comparison where the Ryzen 5 2500U on HP Envy x360 consistently outperforms even laptops based on Intel® Core™ i7-8550U quad-core processors by a huge margin, between 2 to 2.5 times. Take a look at one of the 3DMark benchmark below.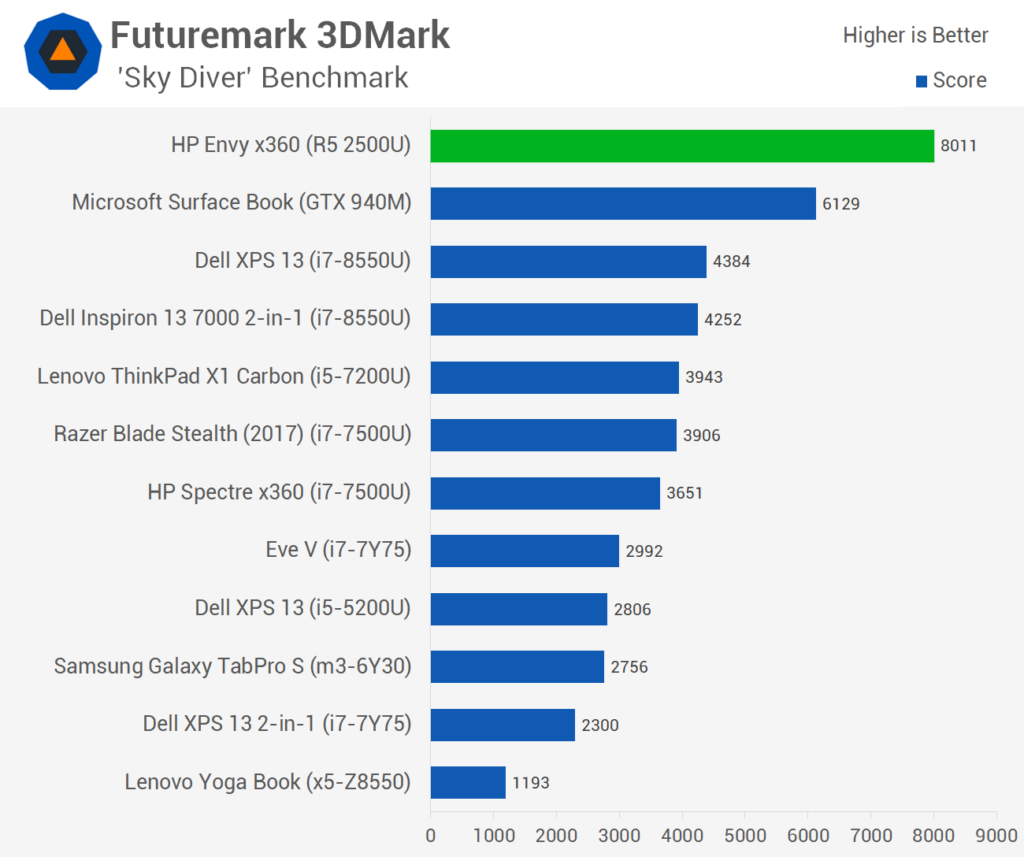 Source: techspot.com
If this isn't proof enough, Techspot ran further tests on a number of titles namely, Tomb Raider, Metro Last Light, Civilization VI and Grand Theft Auto V. On all instances, the Ryzen 5 2500U APU outperforms the Dell XPS laptop with Core i7-8550U achieving nearly and sometimes double the Average Frame Rate. Here is the Average Frame Rate scores (FPS – Frame Rate Per Second) for Grand Theft Auto V.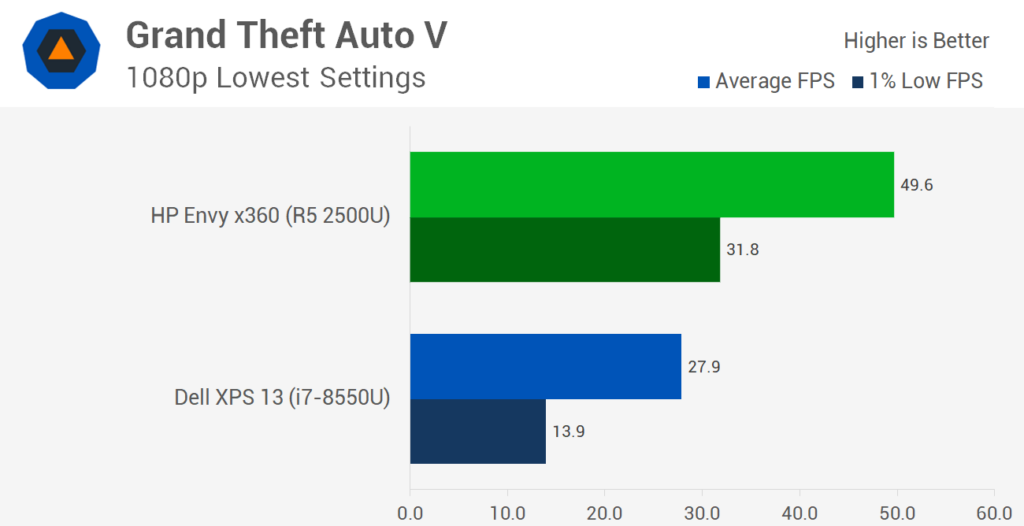 Source: techspot.com
For more benchmark charts and evidence of how the HP Envy x360 with Ryzen 5 2500U's gamin prowess, see Techspot. Techspot has this to add:
Ryzen 5 2500U demolishes the Core i7-8550U. The integrated Vega 8 GPU is considerably more powerful, to the tune of more than 2x in GPU heavy benchmarks. It manages to achieve this while keeping to the same 15W TDP as Kaby Lake…
What Else Is Out There
While the Ryzen 5 2500U with Vega 8 GPU trounces previous generation dual core and current 8th generation quad-core i5 and i7 processor with embedded graphics. What about laptops with discrete graphics? A more up-to-date view of the APU's performance is presented by PC Perspective where it compared the Ryzen 5-2500U against a range of Intel Core i5 processors including a Core i5-8250U with NVIDIA MX150 discrete GPU. As expected, Ryzen 5 2500U outperforms all devices by more than 2x except when compared to Core i5-8250U laptop with NVIDIA MX150.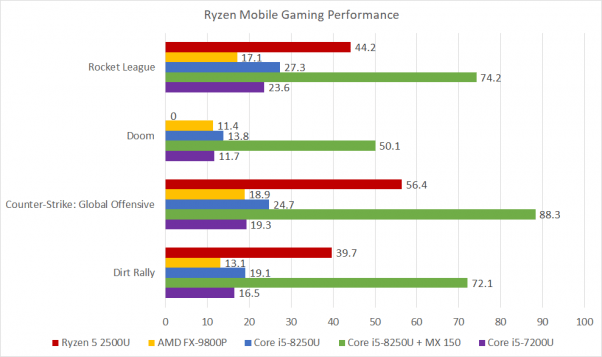 Source: www.pcper.com
Ryzen 5 2500U with Vega 8 GPU lost out to Core i5-8250U with NVIDIA MX150 with NVIDIA discrete GPU with the latter being around 50-80% faster. However, it has to be said that the CPU + GPU pair are typically on bigger laptops with 15 or 17-inch although we did find a HP Envy 13.3 Laptop (not convertible) with Intel Core i5 with NVIDIA GeForce MX150 2GB discrete graphic.
HP Envy x360 13-inch Convertible 2-in-1 Laptop Review
Enough of the benchmarks, let's take a look at the laptop itself. The 13.3-inch device is compact owing to its super slim bezel as well as compact and ultra slim design. Available in metal grey finish only, HP calls this Dark Ash Silver, the laptop has all the hallmarks and makings of a premium device. The build quality is second to none. It has a minimalist design with angular and square edges and corners. We love the strong metal hinge with the letters ENVY etched on one of them.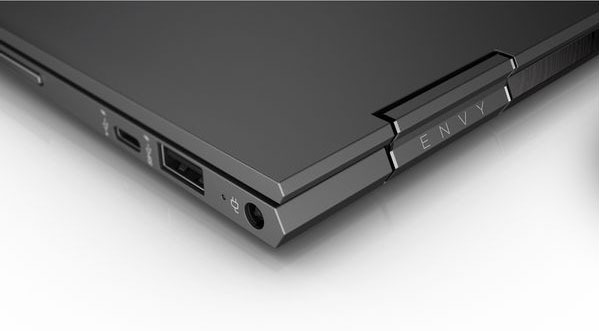 The aluminium cover lid is strong and does not flex like on some ultraportable which is important as you are likely to switch between tablet, tent, presentation and laptop mode with the device. The hinge also supports flat on the table operation for ease of collaboration and sharing. It measures a mere 14.9mm thin when closed and weighs a portable 1.3kg, a truly thin and light laptop with the versatility of converting into a tablet when needed.
The 13.3-inch Full HD display is wrapped with tiny top and side bezels. HP calls them micro-edge display. The Full HD 1920 x 1080 pixel resolution display employs IPS technology for wide viewing angles (178 degrees). At Full HD it offers plenty of details, is bright and offer good colour saturation and constrast. What is a convertible if not for the touchscreen? Touch is responsive and smooth. The display is protected with durable Corning Gorilla Glass NBT to withstand small bumps and scratches.
The slower AMD Ryzen 5 2500U (2GHz boost to 3.6GHz) model with AMD Radeon RX Vega 8 comes with 8GB of memory and 128GB SSD storage. For more power and bigger storage, opt for the AMD Ryzen 7 2700U (2GHz boost  to 3.8GHz) model with AMD Radeon RX Vega 10 GPU. The higher model still comes with 8GB of memory but has a much bigger 512GB SSD storage.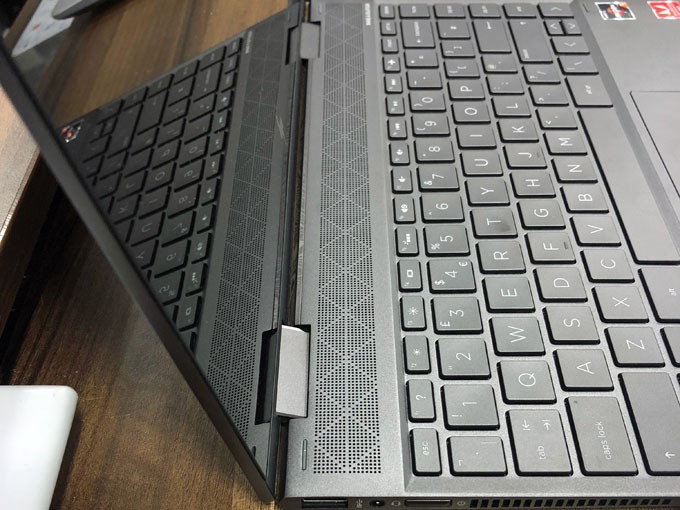 The laptop features 4 upward firing speakers tuned by Bang & Olufsen. The speakers are located above the the keyboard, just after the function keys. About an inch high and runs the full width of the laptop, the speaker grill is made of a series of small holes with cross patterns. With HP Audio Boost, it can hold a high volume without the sound cracking. There is plenty of details with strong high and mid range don't expect ultra low bass. It is after all only small tiny speakers in a super sleek and ultra slim body.
The speaker grille does take up a big chunk of the real estate on the base and with a full size keyboard, it leaves little room for palm rest and touch pad. The full size backlit keyboard has sufficient travel and feels firm with good feedback. Like the palm rest, the touch pad in this case is a bit squash. A squeezed rectangular touch pad may not to everyone's taste. But, we got used to it after as it is pretty responsive and supports gestures.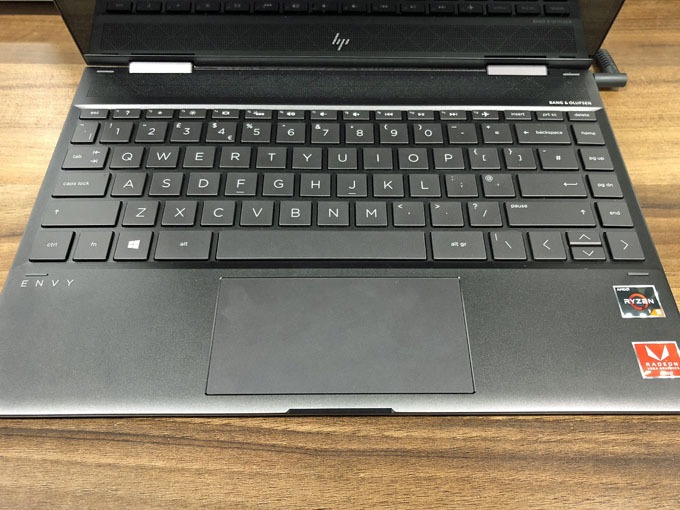 Battery wise, while HP boast up to 11 hours of battery life, in reality, with mixed use, it is more like 7 – 8 hours. If you use the device on and off, it should last you through the day. Techradar reports getting up to 5.5 hours on their video loop test. It's enough for you to watch at least 2 full length movies on a long haul. Fast charging support lets you bring the battery level back to 50% from empty with 45 minutes of charging.
While there is no USB-C charging you get plenty of ports for an ultraportable. On the right, there is a round power socket, a full size USB 3.1 Type A port, a reversible USB-C port and finger print reader. The USB Type-C 3.1 Gen 1 reversible port supports up to 5Gbps data transfer, power delivery and display output.
To login, use Windows Hello with the infra-red web cam or my preferred route, just swipe your finger over the sensor on the right edge of the laptop. On the left side, you get again a full size USB 3.1, audio combo socket, power button, air vent and microSD card reader. All ports support HP Sleep and Charge, not that you can charge the laptop but continue charging your mobile devices while the laptop is in sleep mode.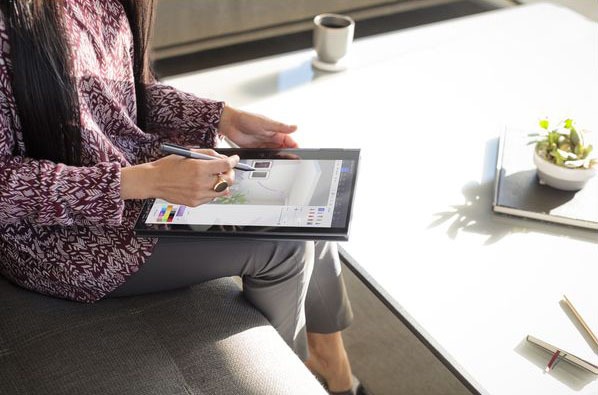 Overall, the HP Envy x360 not only looks good with premium and versatile design but performs well too powering through everyday computing tasks. It even lets you carry out gaming on the go, a rare breed of light and ultra slim convertible with discrete graphics or in this case on-die GPU. The one thing we miss is the stylus. The pen input is included in its bigger siblings, the HP Envy x360 with 15.6-inch display with either AMD Ryzen or Intel Core i processors but is absent on this model.