Have you noticed how YouTube has been flooded with user content in the past few years? Have you noticed how innovative content from a host of creators has taken over the Internet? Even the education system is gradually shifting from conventional textbooks and notebooks to audio-visually aided content that is engaging and effective for learners of all ages?
As new possibilities come up on the horizon, innovations come up to aid the possibilities. The education and entertainment sector today stands solely on audiovisual content and what more to aid the creators than their laptops on which they can create on the go.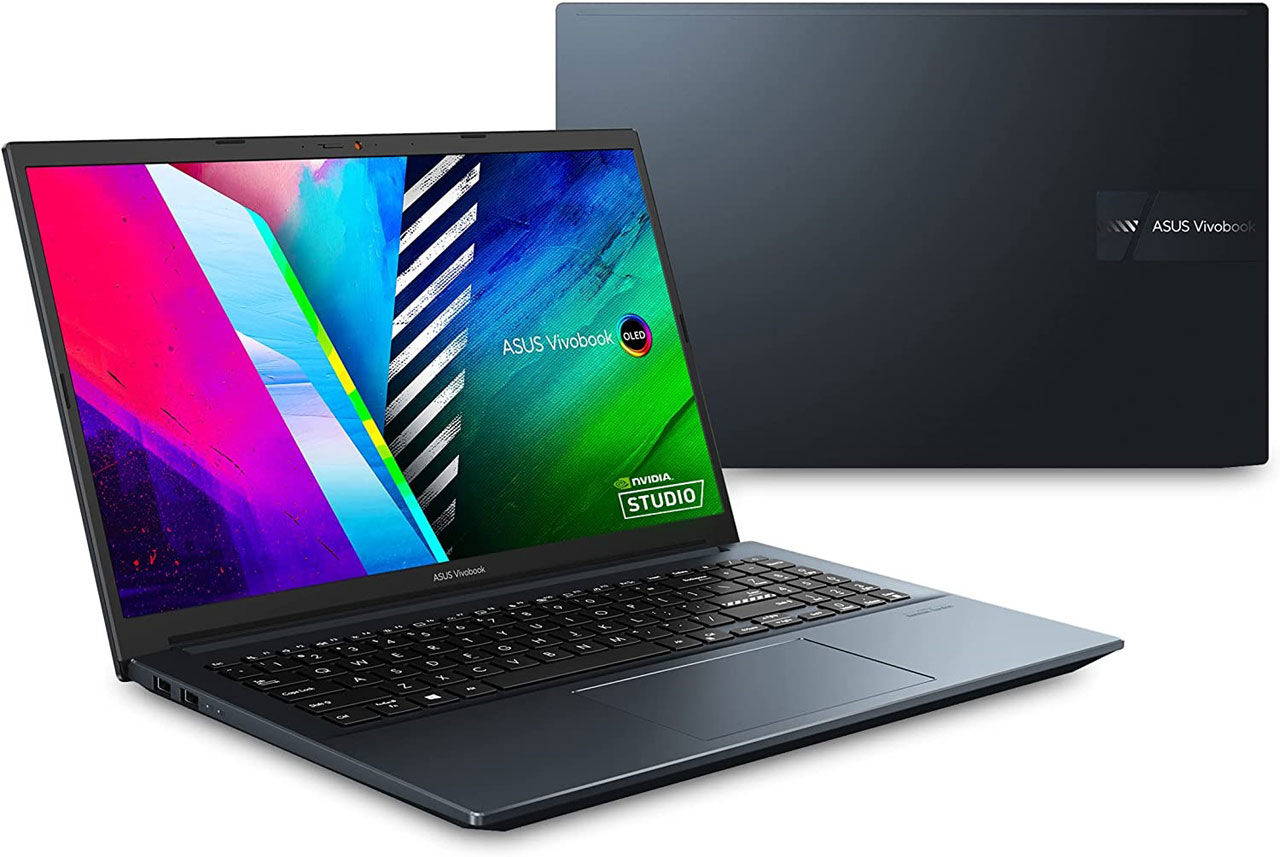 Picking the Right Laptop for Creators
Typically, a content creator's device need not match toe-to-toe with a top-end gaming laptop but should definitely have more horsepower than your office notebook. It is something that fills the gap between slim-and-light notebooks and gaming laptops. Something that can do with a subdued visual appeal but needs a powerful enough CPU and GPU to drive high-resolution video rendering. Something that is portable enough but opens up to smoothly edit any 2K and/or even 4K videos and photos.
That's what we have for you today. The Asus VivoBook Pro 15 OLED ticks most of the boxes as a content creator's laptop. With the wide colour gamut and out-of-this-world contrast ratio on an OLED display, you couldn't pick a better laptop to stream your gameplay, find new angles to capture videos from and new ideas to capture your audience's imagination with your content. Take a look at our chosen model below.

Specification
Asus VivoBook Pro 15 OLED

DISPLAY

15.6-inch Full HD OLED

CPU

AMD RYZEN 7 5800H

RAM

16GB DDR4

GRAPHICS

NVIDIA GeForce RTX 3050

STORAGE

512GB M.2 NVMe

WEIGHT

1.65 kg
The Asus VivoBook Pro 15 OLED
The VivoBook Pro 15 OLED is a highly optimized laptop that comes pre-installed with Windows 10 but there is a free upgrade to Windows 11 now that it released. In addition to the already impressive main specifications, there are some other nice-to-have features as well in store. Read on.
1. Design and Display
Well, there is a big giveaway in the name of the laptop itself. OLED displays though spectacular, have found their use more in the smartphone and tablet industry than laptops. The OLED panel on the VivoBook Pro 15 is Pantone validated and comes with high contrast, wide colour gamut, 16:9 aspect ratio and an impressive 84 percent screen to body ratio. The display is a true RGB panel. HDR support is a common these days but it is even DisplayHDR True Black 600 certified giving the panel VESA's highest certification for OLED displays.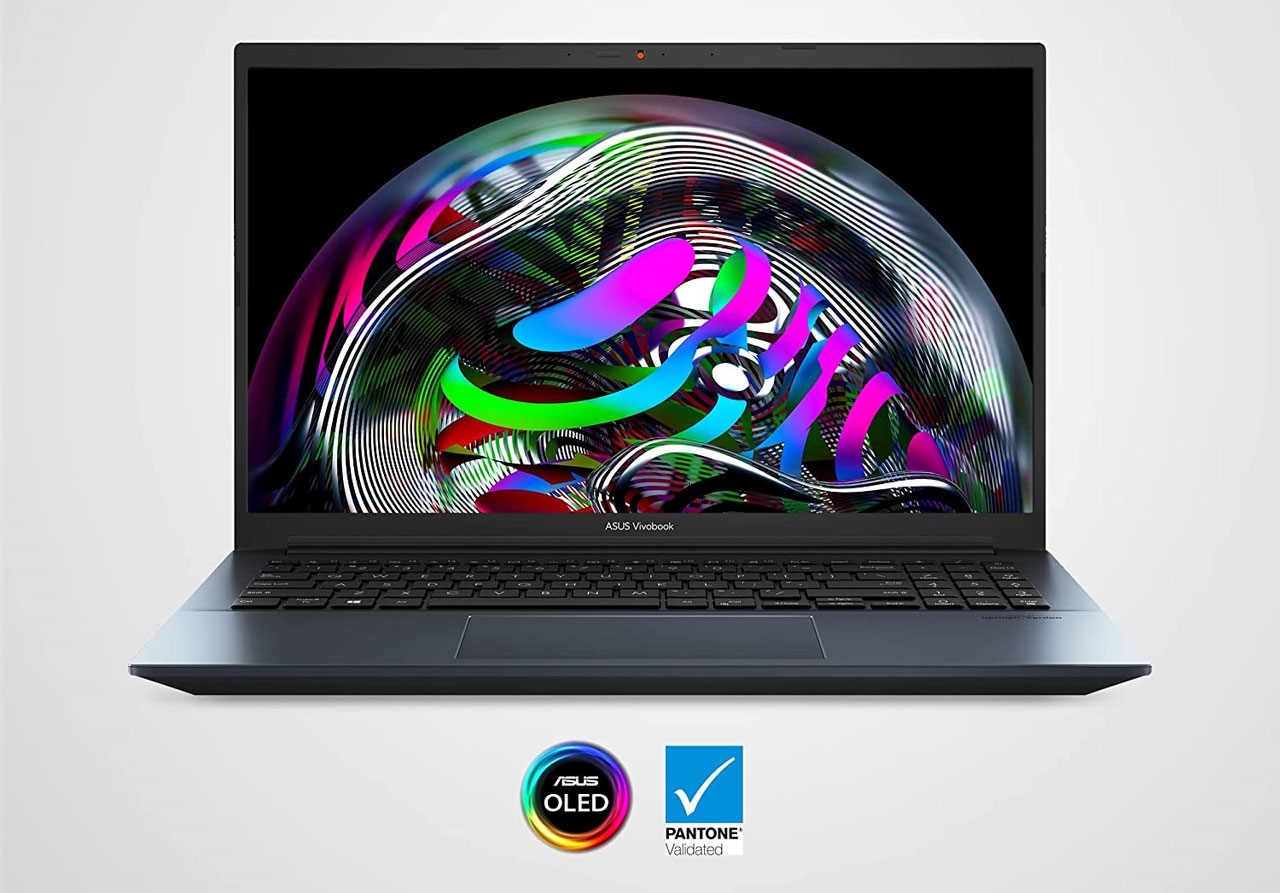 The display on the VivoBook Pro 15 OLED is splendid and comes with reduced blue light emission but sadly due to the lack of any native colour management system on the Windows OS you might find everything displayed as oversaturated which however by no means is a drawback of the laptop or the panel but of Windows itself. However, for most content creators working on colour managed applications like Adobe Photoshop or Illustrator, the display is going to leave you speechless.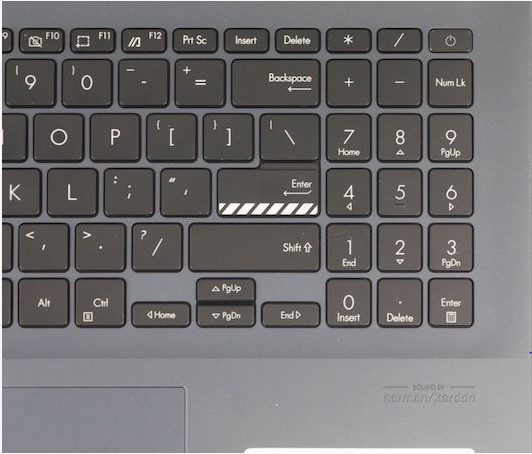 The main chassis is polycarbonate but there is aluminium cladding on the top lid that gives the laptop a solid look and feel. The laptop feels extremely tough and rigid and retains a professional look all at the same time. The keyboard offers plenty of feedback and features a full number pad however with the form factor being just 15.6-inch, the keys are tightly packed. Three levels of backlight go well with the grey coloured keys that have a decent travel distance of 1.35mm. The overall layout along with the oversized but highly responsive trackpad is good but ROG keyboard lovers might be left asking for more.
2. Performance
Talking of performance, the Ryzen 7 5800H powered VivoBook Pro 15 OLED is one of the best processors out there for creators. It is an octa-core, multi-threaded processor with a peak speed of 4.4 GHz. That is some serious power and with sixteen threads you can expect your video renderings to go smooth as butter without any hiccups or hesitation.
This Zen 3 CPU is tailor-made for multitasking and it felt as though the 5800H finds is designed for use in content creation. To ensure the laptop is ever ready to take in more load, there is a massive 16GB of soldered DDR4 memory module operating at 3200MHz speed and a CAS latency of 22 to make those video editing sessions a dream. Here are some benchmarks showing our contender obliterating the competition.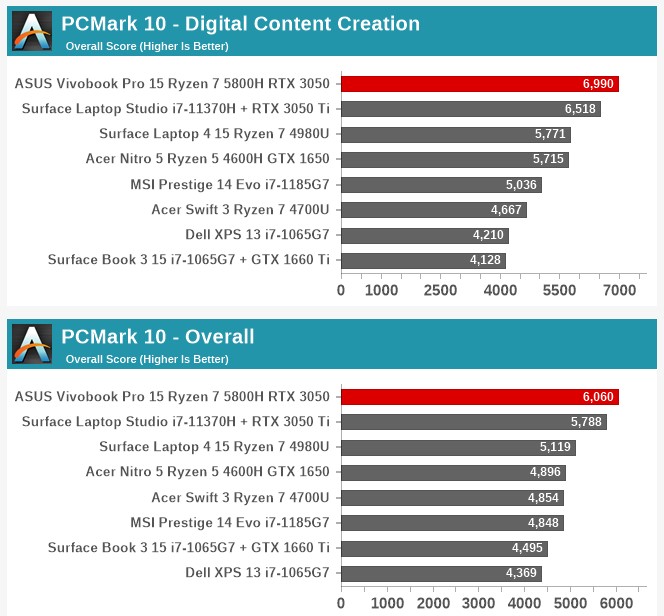 3. Quick at Transcoding
These benchmarks all points to the Ryzen 7 5800H as the king of content creation with its extreme multi-tasking capabilities and superb Zen 3 micro-architecture. With Zen 3 microarchitecture, AMD has indeed come up with a diverse portfolio of CPUs that seem like they are custom-made to serve different purposes. Here are some more numbers, this time from Handbrake where the VivoBook Pro 15 OLED was tasked to transcode. Sixteen threads and dedicated RT-powered graphics (more on that in a bit) use the NVENC in Handbrake for extremely quick hardware transcoding.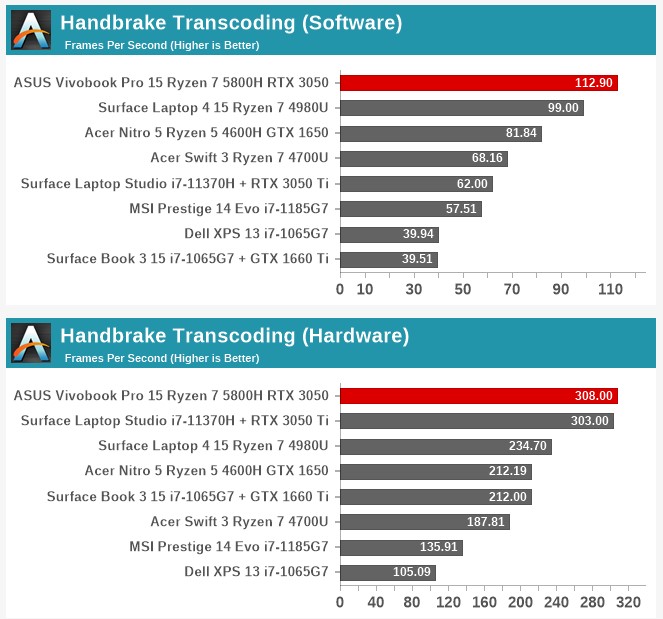 The Ryzen 7 5800H comes with integrated Vega graphics but you won't need any of it thanks to a Max-Q enabled Nvidia GeForce RTX 3050L graphics. Due to the discreet graphics card, content-creating applications would be able to leverage the graphics processors and accelerate workloads aiding you, especially while rendering. Pushed on by Nvidia, developers are now optimizing their applications to utilize the Ray-Tracing cores to boost quality and improve the overall performance of the laptops while creating content.
The RTX 3050L in the VivoBook Pro 15 OLED has a 4GB GDDR6 video memory and over 2000 CUDA cores which might be the lowest amongst RTX cards but still offers much better graphics processing than the best integrated graphics solutions. Thankfully we have some numbers for you. Here is how Asus's new laptop fares against the much costlier Surface Laptop Studio and Surface Book 3.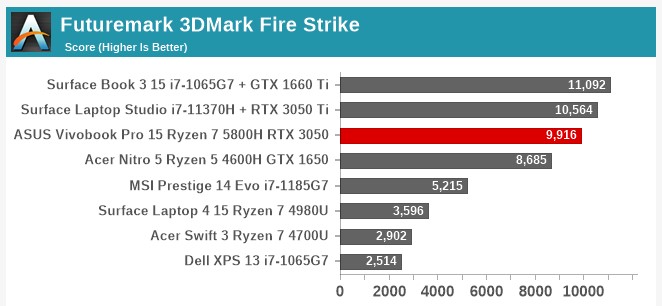 4. Storage Connectivity and Battery
The VivoBook Pro 15 OLED has an in-built 512GB SSD that is connected to a PCIe 3.0 slot that limits the operation speeds in comparison to PCIe 4.0 slots. Yet, the average access time and bandwidth speed of the Hynix drive are still commendable as seen from different benchmark tests. File access speed is extremely fast and at times it even manages to tread blows with laptops that are powered by PCIe 4.0 storage drives.
The laptop is Wi-Fi 5 enabled and somewhat struggles to hit high network speeds. This is perhaps due to the fewer resources and effort AMD has put in over the years developing its own processor ecosystem in comparison to Intel's Evo. Although, day-to-day computing should not be an issue, yet if wireless speed is your priority, you could look for laptops with Wi-Fi 6.

In terms of physical connectivity options, there are a host of ports on the Pro 15 OLED. There are two USB 3.2 Gen 1 Type-A ports on the right edge while the left edge dons a headphone combo jack, a microSD card slot, an HDMI port, a USB-C 3.2 Gen 1 port and a USB 2.0 port. What might be a bit unfit in the current generation is Asus resorting to a barrel-type charger which is perhaps because of a 120-watt AC adapter that removes any possibility of charging via USB-C port on maximum load. The 63-watt battery offers varied battery life mainly due to the OLED display. On average you should manage a decent 7-8 hours which by the way is considerably lower than any Evo-powered laptop.
5. Some Sweet Add-Ons
With the important specifications sorted, it's time we look into the good-to-have specs and the first thing to catch your attention would be the privacy slider on the webcam. It is a nifty little feature and is particularly useful if you are a privacy-focused user.
We feel that laptops meant for productivity should have good speakers for creators to playback their content for a trial run before releasing them on the web and the Harman Kardon speakers on the Pro 15 OLED is loud enough with decent bass and clarity.
Symmetrically placed dual-cooling fans powered by IceCool Plus technology help keep the heat at bay. This is particularly helpful as the octa-core multi-threading enabled processor is sure to generate heat when used for longer periods.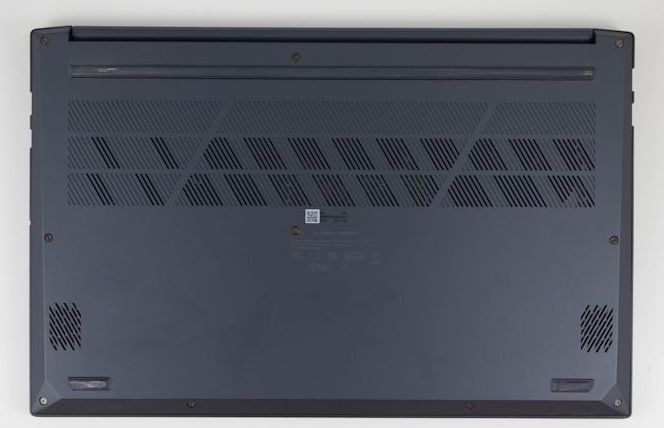 We feel the overall package is good enough for any content creator as it has all the important processing and video capabilities that they expect from their devices. The icing on the cake is a free bundle of Adobe Creative Cloud that is valid for 3 months and needs to be activated post-purchase. Low storage space and relatively lesser battery life are perhaps the only possible reasons over look this unit.
Conclusion
Powerful, stylish and nicely priced. The Asus VivoBook Pro 15 OLED has a lot of pros and very few cons. The processor is a beast and the built-in RTX 3050 Max-Q combine well to help create excellent content. The display is mesmerizing and with its 16:9 aspect ratio and a True Black technology that allows crisp images in even the darkest background. With this laptop, they are limited only by their own imagination and perhaps a bit by the battery back-up.
Now if you love the ASUS Vivobook Pro 15 OLED and want even more out of it, switch up to the AMD Ryzen 9 5900HX version. This also maxes out the storage with a 1TB SSD and you still get 16GB RAM memory and the discrete graphics NVIDIA GeForce RTX3050. Don't expect a world of a difference in terms of performance. UserBenchmark compared both processors with the same user average benchmarks and rate the Ryzen 9 5900HX with a mere 3% gain in effective speed. The biggest advantage for creators would be the 1TB PCIe SSD storage. More space for apps, video, photo and data. The same laptop is also available with 11th Generation Intel Core i5 or Core i7 processors. We leave you with more photos of the laptop.
Search ASUS VivoBook Pro 15 OLED on Amazon