Daring to be different, ASUS launched its first proper dual-screen concept laptops, the ZenBook Duo and ZenBook Pro Duo in 2019. A year later, the 2nd generation devices to take advantage of the 10th generation Intel Core processors were launched. Here, we look at what's hot and what's not about the laptops.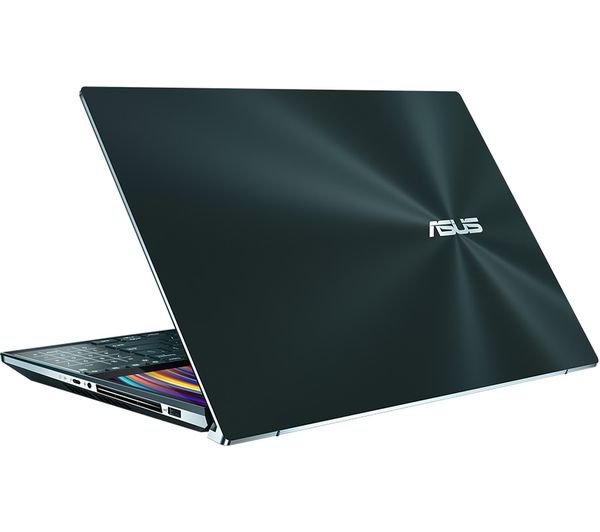 Make no mistake, the ASUS ZenBook Pro Duo is a pro-level device with a huge 15.6-inch 4K UHD OLED main display, Intel's 10th generation Core i7 and Core i9 chips, up to 32GB of RAM memory and above all RTX2060 GPU with 6GB of dedicated graphics memory. If nothing else, the price tag clearly reflect this.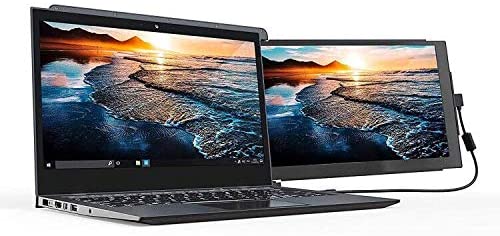 Even before the ZenBook Pro Duo, we have seen enthusiasts and mobile workers adding third party USB powered external displays to their laptops. Some even mounts to the back of the laptops lid and slides out when needed. It's for the creatives and power users like these that the ZenBook Pro Duo are built for.
Secondary Display Or Touch Pad
The secondary display or ScreenPad Plus as ASUS calls it sits above the keyboard. It is not only an additional display, but a big touchscreen at that. ASUS may have used a small display as a touchpad in earlier generation laptops but this is pushing the idea of a touchpad with a screen to its limits. In fact, one can say that it is no longer a touchpad as a separate physical touchpad that doubles as a num pad is included next to an offset keyboard.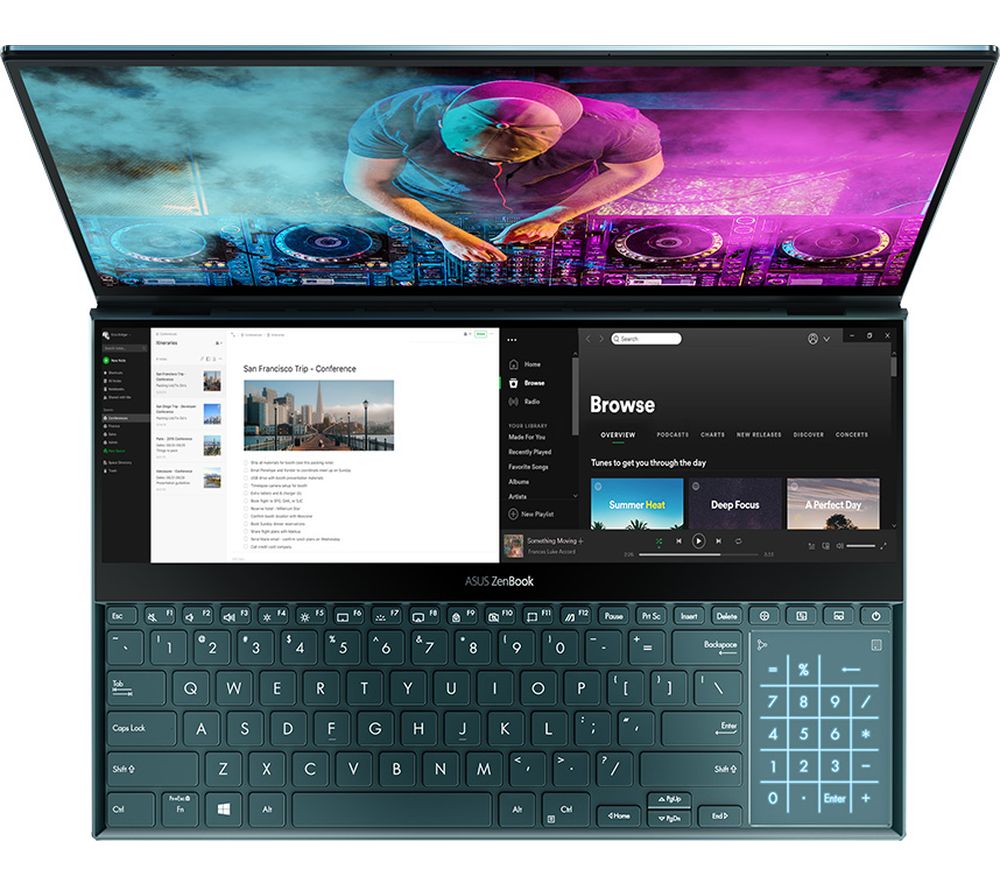 You may recall Apple's Touch Bar, which changes according to app in focus. The integration here is not as sleek but you can still pull up common keyboard shortcuts used by the different apps and show them as quick buttons. For multi-tasking, dock up to three different apps in the second display for quick access and view. ASUS also presented a couple of Corel apps to show how these too can take advantage of the screen real estate.
Performance: Two + One Models
There are three different models on offer with two carrying the ZenBook Pro Duo name while the third drops the Pro label and is simply known as ZenBook Duo.
Top of the range is the Intel Core i9 model with 32GB of RAM memory and 1TB of SSD storage. This model costs £2999. However, you need to be a serious power user to truly make the most of this machine. Next, is the cheaper Intel Core i7 model. This iteration comes with half the memory at 16GB RAM and half the storage at 512GB. Even at this specification, I would still consider it an overkill. What is important is, you get to keep the difference, some £500 as the Core i7 version costs £2499. Both models come with the same Radeon RTX2060 GPU and The 15.6-inch 4K OLED UHD touchscreen making them powerful enough for mobile gaming.
The third model, the ZenBook Duo makes do with Intel Core i7 processor, 16GB RAM memory and 512GB storage. It also has a less impressive 14-inch Full HD display powered by GeForce MX250 GPU with 2GB of dedicated graphics memory.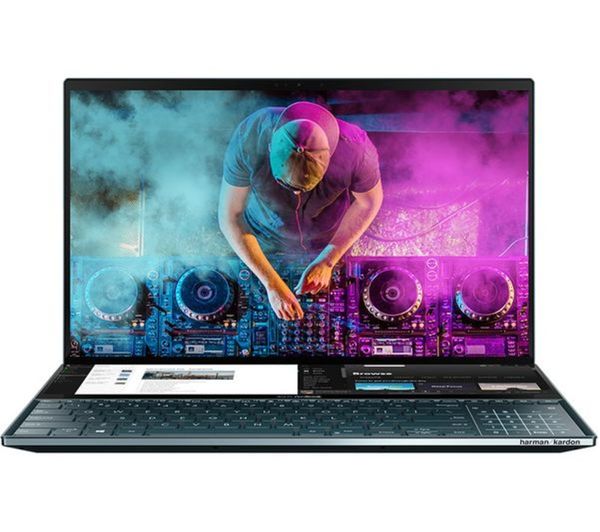 Multi-Touch Multi-Display Laptops
While the main 15.6-inch display is an 4K UHD (3840 x 2160) OLED panel, making it brighter, sharper and better contrast with 100% colour gamut in both sRGB and Adobe RGB, the smaller display is a standard LCD with IPS technology. It measures 14-inch diagonally and is a touchscreen with matching pixels width wise at 3840 x 1100 pixels.
ASUS still calls this a 4K display even though it only has around half the number of pixels due to its shorter height of 1100 pixels. In all fairness, it does have the same pixel density and while the second screen is smaller, there is no discord in moving from top to bottom display and vice versa like you do when moving between monitors with different resolutions.
Performance wise, the lower display is not as bright as the main display and you really have to use the stand or tilt the laptop to get the best viewing angle for this display. It also has a lightly matte finish. As they are placed side-by-side, it is easy to immediately notice the difference. You can certainly tell that the second display is dimmer and has a lower contrast.
That said, you are meant to use the main display primarily for work, while the secondary display is more for controls or quick multi-tasking not for actual work. A big bonus is that both displays are touch enabled, although you cannot swipe and expect to drag windows with your finger from one to the other due to the break between the two screens. Use the app window shortcut to send apps between the screens with a tap or pointing device to drag.
On all models, the stand, stylus and palm rest are included as standard. The screen is stylus ready to take notes, sketch and edit on the ScreenPad Plus. The store flat foldable stand adds further height to the base of the laptop over the height afforded by the ErgoLift hinge.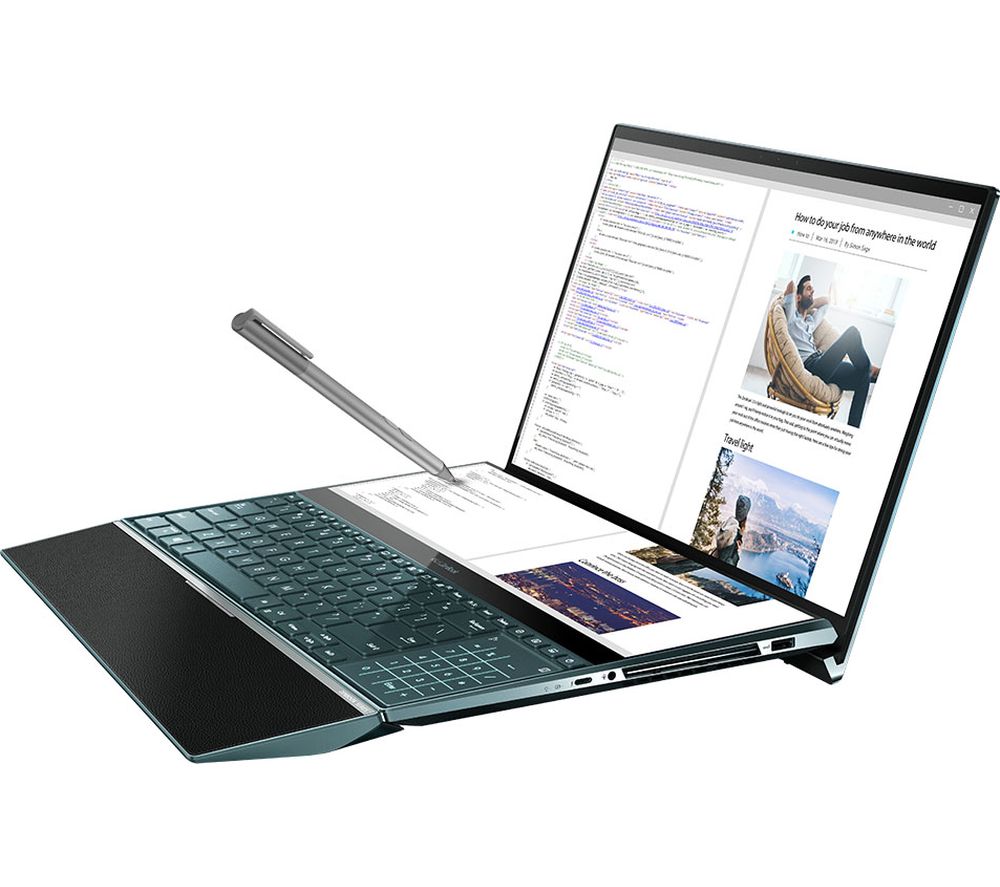 Apps To Take Advantage of The Displays
There is a handful of app that lets you make the most of this display beyond just being a second screen. There is App Switcher, to easily move windows between the two displays. ScreenPad Plus launcher is a custom start menu that lets you pin your own favourite apps on the secondary screen for quick access. It is also here where you can create groups of apps to open with a single click depending on what you are working on. These can open on the main or straight to the second display.
Then there is the ViewMax function, switching the secondary display into 'extended' mode, allowing your app window to flow over both screens top to bottom for a less scrolling and a seamless tall view. Next, the organiser function divides the second display into two or three columns for various apps.
Other features include swapping screens with Task Swap, custom quick start for up to 5 apps on both screens with Task Group, scroll through used apps via App Navigator and switch between them, and finally the Quick Key app that lets you access standard shortcut keys with a single tap. Much like the Touch Bar, the latter when activated adapts based on the active software window. Other features include handwriting recognition, access to settings and quick guide.
App Gallery
What's Hot and What's Not
Finally, we are getting to pros and cons of the ASUS ZenBook Pro Duo. Here, we discover what is hot and what is not with feedback and reviews from actual users and our own experience.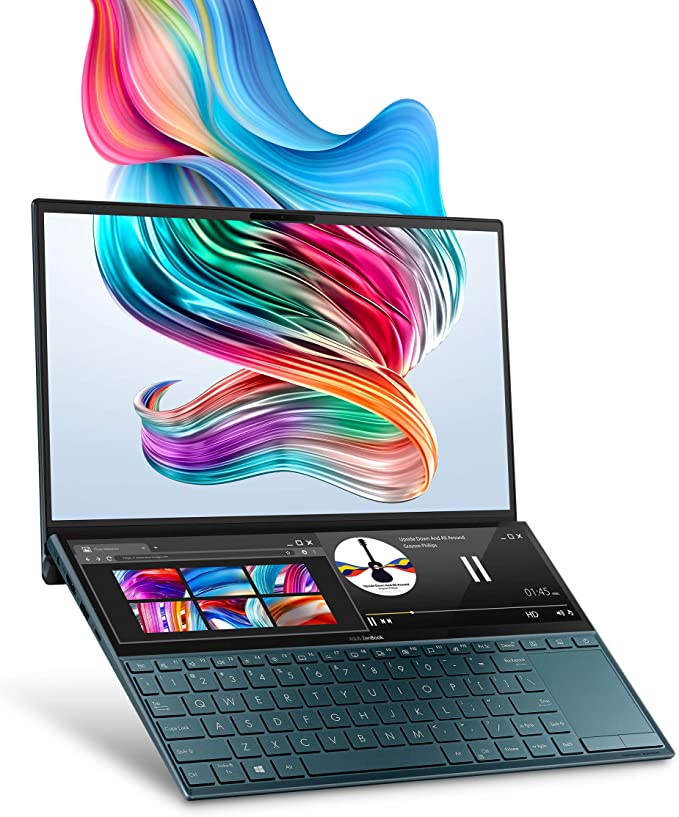 What's Hot
Here is a selection of feedback on what is hot about the ASUS ZenBook Pro Duo and ASUS ZenBook Duo.
Anyone working on desktops with multiple display will feel absolutely at home. Once you get the hang of it, you are going to miss it you go back to a conventional laptop
The cleanest and sleekest way to have a multiple monitor experience on a laptop without adding external displays.
This is a seriously powerful machine, pro-level specification and hardware.
Those ultra small bezel are so small, you hardly notice it. Wrapped in all aluminium precision chassis in Celestial Blue colour and asymmetric Zen inspired spun metal finish on the lid
Keyboard offers tactile and responsive typing experience with full size keys and good travel distance of 1.4mm.
Touchpad turns into a numerical keypad by tapping the button at the corner. This turns on the LED back light to show the numbers.
Screen is beautiful and the second screen is a really nice idea in such a small form factor both 14-inch and 15.6-inch. ASUS's execution of NanoEdge means bezels are kept tight and all surfaces on the base of the laptop are used efficiently.
Keyboard is nice to work on once you get used to the trackpad being off to the side, rather than on the palm rest.
The processor handle most things really well. As a videographer I find the performance fast and responsive even when working with large files and the fans are almost silent.
This laptop is made for the creative. We are still finding new ways to use the dual screens and now we can't imagine not using them.
The screens are bright and the colours vibrant.
Love the duo screen, so helpful with multitasking, and all the functionality to personalise it to how you want it, having gone back to Windows from Apple I'm really happy. All round, much better laptop.
Look and feel is top-notch and the performance is taken to the current extreme.
ASUS really has a handle on the bloatware. Most of the included software is useful and compliments the hardware nicely, especially for the multi-screen use.
Premium product, impressive picture quality and performance, second screen is fabulous and very easy to get used to. It's a joy to work with.
Keyboard feels great and the laptop is good looking.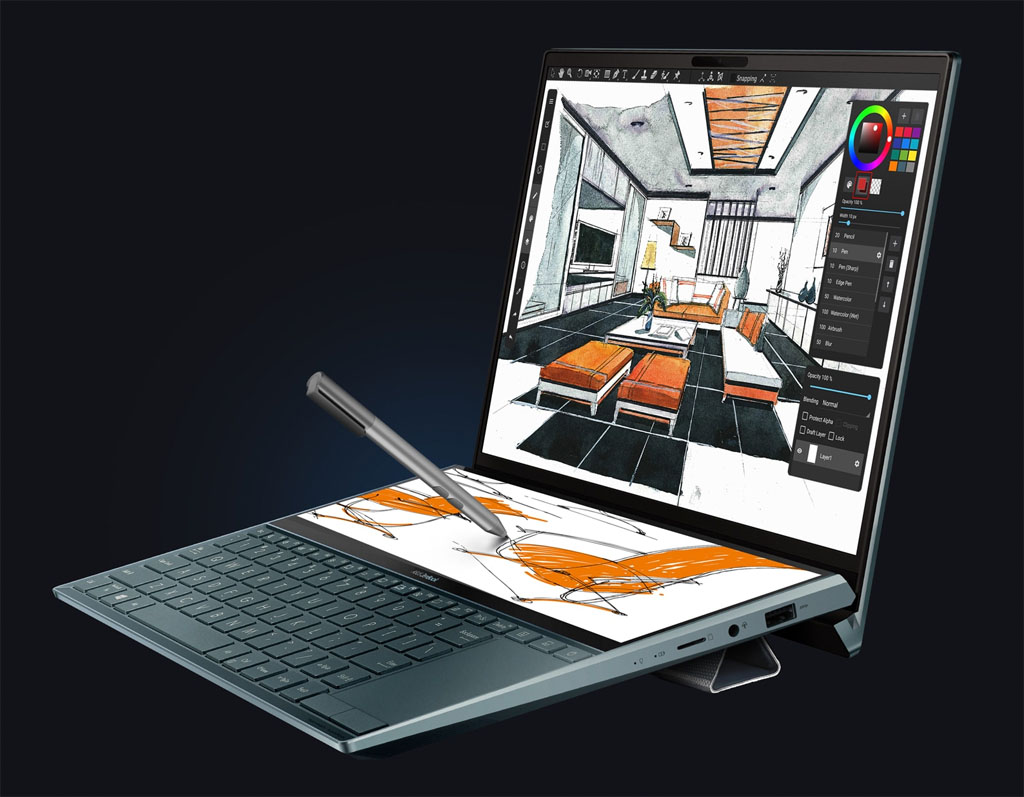 What's Not
Here is a hand-picked selection of what's not so hot about the laptop based on reviews left for the device.
Your average user is not likely to make the most of the dual display
Also, all that power, the processor, bucket loads of memory, 4K displays and powerful GPU are simply an overkill again, for the average user.
They full-size keyboard is off center and the touchpad felt a bit small.
Battery life isn't amazing, I'd say around 2 hours off the mains but I haven't done much within to make it more battery efficient
The camera isn't brilliant either but that's only really required for video calling. I also purchased a separate mouse as I didn't find the track pad responsive enough, but it's all down to personal choice.
Not enough connections, no SD CARD READER, battery life almost none, you could hardly get 2.5 hours just surfing on internet, if you do more demanding tasks then you get 1 hour maximum.
Others report up to 5 hours use, the battery life under standard usage (video streaming + web + office files) has been in the 4-5 hour range with intermediate to high screen brightness.
Second screen is not bright enough. Terribly heavy.
Poor sound quality, poor battery life, relatively heavy. Body is a fingerprint magnet.
The trackpad/numpad integration looks cool but needs some work. If you intend to make extensive use of the numpad this might not be the best choice as there is no tactile response.
Main screen is a bit too reflective.
Camera isn't great.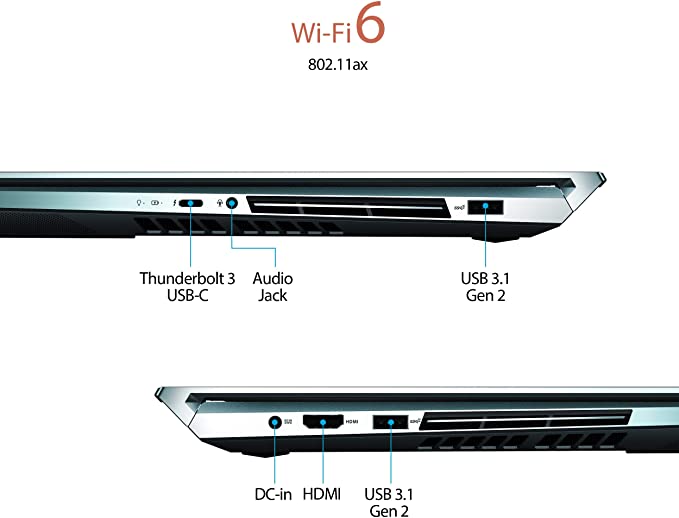 Technical Specifications
ZenBook Pro Duo UX581LV
| | |
| --- | --- |
| Processor | Intel® Core™ i9-10980HK processor |
| | 2.4GHz octa-core with Turbo Boost (up to 5.3GHz) and 16MB cache |
| | Intel® Core™ i7-10750H processor |
| | 2.6GHz hexa-core with Turbo Boost (up to 4.5GHz) and 12MB cache |
| Graphics | NVIDIA® GeForce RTX™ 2060 6GB GDDR6 VRAM |
| Display | 15.6" OLED 4K (3840 x 2160) 16:9 touchscreen |
| | 5mm-thin bezel with 89% screen-to-body ratio |
| | IPS-level wide-view technology |
| | 100% DCI-P3 |
| Memory | 16GB / 32GB 2933MHz DDR4 |
| Storage | 1 TB PCIe® NVMe™ 3.0 x4 M.2 SSD |
| | 256 / 512GB PCIe® NVMe™ 3.0 x2 M.2 SSD |
| Interface | 1 x Thunderbolt™ 3 USB-C™ (up to 40Gbps and DisplayPort) |
| | 2 x USB 3.2 Gen 2 Type-A (up to 10Gbps) |
| | 1 x Standard HDMI 2.0 |
| | 1 x Audio combo jack |
| | 1 x DC-in |
| Keyboard and ScreenPad Plus | Full-size backlit with 1.4mm key travel |
| | 14" 4K (3840 x 1100) touch display |
| | 178˚ wide-view technology |
| | Precision touchpad (PTP) technology supports up to four-finger smart gestures |
| | Integrated LED-backlit numeric keypad on touchpad |
| Sound | ASUS SonicMaster stereo audio system with surround-sound; smart amplifier for maximum audio performance |
| | Array microphone with Cortana and Alexa voice-recognition support |
| | 3.5mm headphone jack |
| | Long-travel voice coils for improved low-frequency response |
| | Certified by Harman Kardon |
| Camera | IR webcam with Windows Hello support |
| WiFi | Intel Wi-Fi 6 with Gig+ performance (802.11ax) |
| Bluetooth | Bluetooth 5.0 |
| Battery | 71Wh 8-cell Rechargeable Li-Polymer Battery Pack |
| Power Supply | 230W power adapter |
| | Output: 19.5V DC, 11.8A, 230W) |
| | (Input: 100-240V AC, 50/60Hz universal) |
| Weight & Dimensions | Height: 2.4cm (0.94 inches) |
| | Width: 35.9cm (14.13 inches) |
| | Depth: 24.6cm (9.68 inches) |
| | Weight: 2.5kg (5.51 pounds) |
| Included | ZenBook Pro Duo (UX581) |
| | Discrete palm rest |
| | Detachable laptop stand |
| | ASUS Pen |