To keep your gaming laptop or portable workstation running cool, especially when running demanding applications and graphic intensive games, use an active fan-powered laptop cooling pad. One of these affordable cooling mats will help prolong the life of your laptop and avoid damage due to overheating.
Plus, as these are USB powered, they can be powered directly from the laptop, from a USB power adapter or from a portable power bank. It is a great investment considering how much your high-powered laptop would cost. Any of these cooler pads will drastically improve the onboard heat management system and cool down your laptop considerably allowing it to run more efficiently and safe.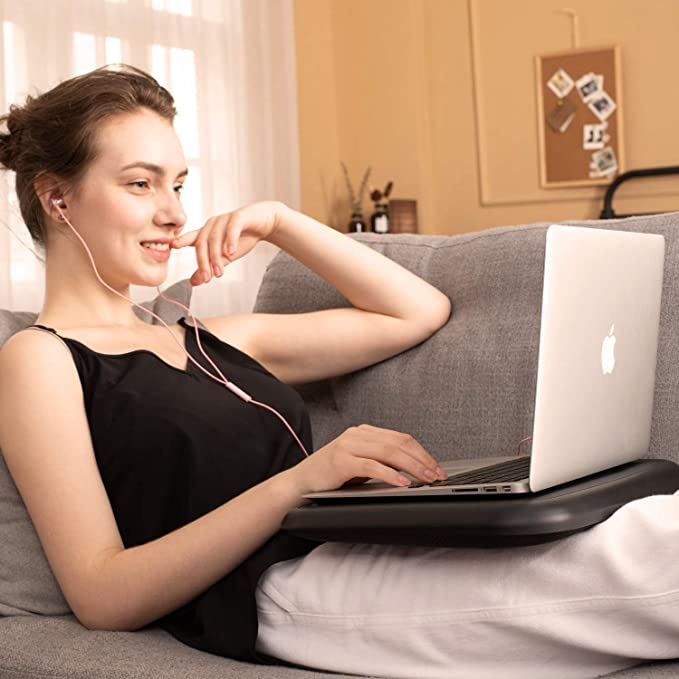 Must-have Features for a Laptop Cooler Pad
Here is a list of standard features found among laptop cooling pads:
support up to 17-inch laptops
multi-fan design to push hot air out of the laptop, from 2 to 6 fans available
some with the ability to control the speed of the fan to find that perfect balance between the noise from the fan and air flow
near silent fan that runs on speeds of up to 2000 RPM
plenty of ventilation with metal or plastic grid, mesh and vents
ergonomic with fixed or collapsible feet to raise the laptop for better working angle
suitable for on the desk and for some, on the lap use
soft cushion or neoprene exterior support for working on the lap
USB powered, can be powered directly from the laptop, from a USB adapter or using a portable powerbank
comes with USB hub on board so you do not lose any port on your laptop
small and portable so you can pack it with your luggage
cool lighting on the fan for added ambient light and lighting effect
striking designs and colour accents, great choice for gamers.
Top 5 Laptop Cooling Pads with Active Fan-powered Cooling for Mobile Gaming
For each of the units featured here, we have indicated at the end of each line, the number of active powered fan used.
A design that stands out the most, the KLIM Wind laptop cooling pad has angular designs and is large enough to support laptops up to 15.6 and 16-inch. Anything bigger than 16-inch will still work but will extend over the edges. The four quiet fans (26dB) spin up to 1200RPM and the mat can be propped up at an angle with two rear foldable legs. A couple of foldaway pegs help keep your laptop in place when the rear legs are deployed. There is an LED light (available in red, blue, green or white) under each fan for added effect.
I purchased the KLIM Wind Cooler and it arrived today. I can report back that on its first use with all 4 fans running full monty, the exhaust fan on my laptop was actually cool, not warm, but COOL. This was whilst playing a game notorious for causing my laptop to get very hot.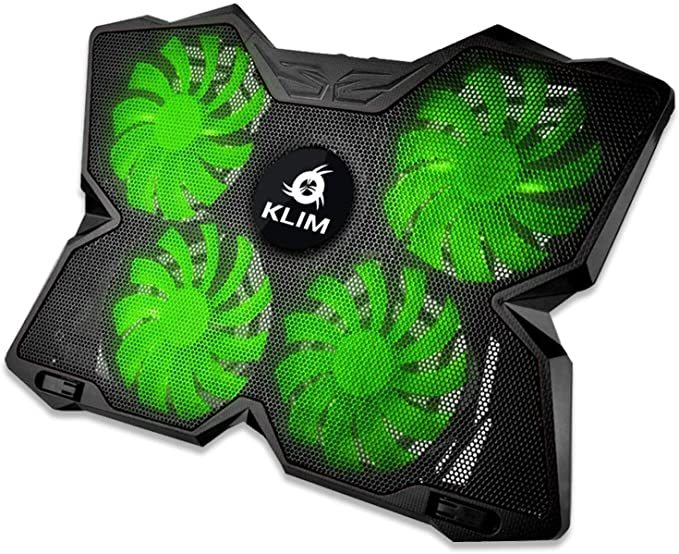 Suitable for Laptops: up to 16-inch
Number of Fans: 4 quiet fans with up to 1200RPM speed, USB powered
Weight: 721 grams
Dimensions: 40.1 x 27.2 x 3.1 cm
Lighting: Red, Blue, Green, White
---
With its lightweight design, weighing only 699 grams, this HAVIT laptop cooling mat pad can support up to 17-inch laptop. The top of the unit is metal mesh while the base is made from high quality ABS plastic. Two fold-flat stands let you use the cooling pad at two different angles to best suit your viewing and typing angles. To store away safely, the USB cable is detachable and there is an onboard port replicator so you do not lose a port on your laptop to power the mat.
I was tired of hearing the loud fan within my laptop kick into overdrive whenever I was doing video/photo editing with lightroom/photoshop. I was put off by the low price initially but eventually after 2-3hrs of searching bought this one. To anyone weighing up the pros and cons I can save you an hour or so of contemplating by saying this will perform as good as any pad 3 times its price.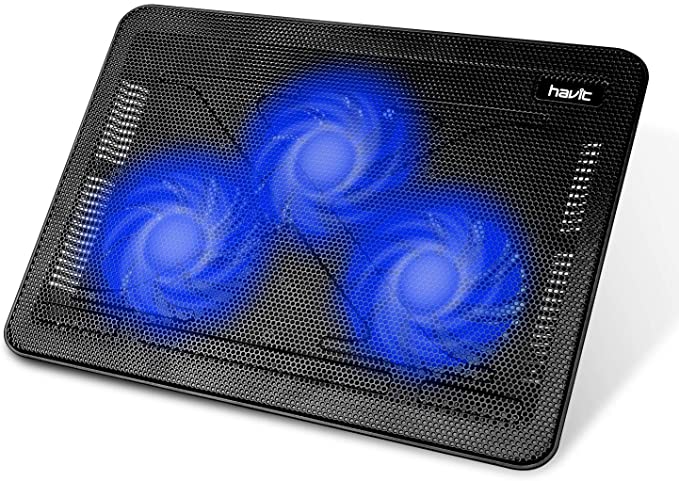 Suitable for Laptops: 12 to 17-inch
Number of Fans: 3 whisper quiet fans up to 1100 +/- 200 RPM USB powered with 60 cm cable

Weight: 699 grams

Dimensions: 2.8 x 38 x 28 cm

Lighting: Blue and On/Off switch
A new model from HAVIT with switchable RGB via soft touch button to set one of 15 different lighting effects is also available. This is also powered by three quiet fans with a height adjustable flip out stands and extra USB pot from the hub.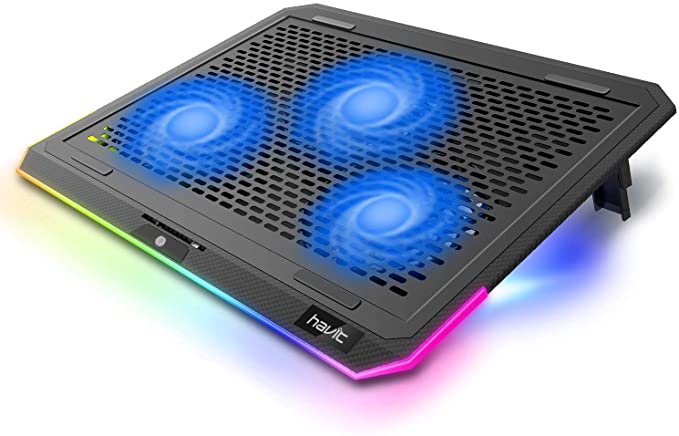 ---
With the same metal mesh surface and ABS plastic base design, this TECKNET cooling pad is identical to the HAVIT above with three active fan, two adjustable levels and an extra USB port from the built-in dual port USB hub (one is used for power). It will keep laptops up to 17-inch cool during operation and Blue LED light on each fan.
Out of the box, this is a deceptively light and simple laptop cooler: plug it into a powered USB outlet and go. Very, very quiet and does it's job so well that I can no longer fry eggs on my gaming laptop (I'm starving…lol). Height adjusts by flipping out two stable and sturdy legs. Easy to store, too, as it fits an average computer backpack. For the price, this is amazingly cool.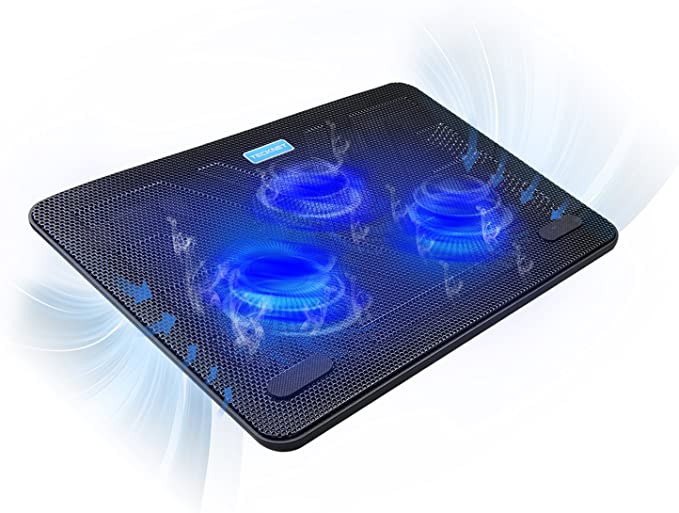 Suitable for Laptops: laptops up to 17-inch
Number of Fans: 3 quiet fans up to 1200RPM speed USB powered with extra USB port via built-in dual USB port hub.
Weight: 721 g
Dimensions: 28 x 2.7 x 38 cm
Lighting: Blue LED light with on/off switch
---
Another Tecknet entry, this time with a whooping 5 fan setup. The highest number of fans in our line-up. It also has a hybrid metal mesh and plastic chassis with more attention to detail. Of the five fans, four goes up to 1500RPM speed while the fifth one goes up to 1000RPM. All fans come with blue LED lighting for effect. Like other laptop cooling pads featured here, it comes with a dual USB port hub, with pass-through collector so you do not lose any connectivity from your laptop. Two flip out legs let you change the incline and tilt the stand for better comfort when working over a long time.
I was searching for a cooler for my new laptop and came across this particular model, I was at first sceptical about the cooler until I actually received it and tested it out. I plugged in the usb port and turned on the laptop and cranked up the dial on the side to max and I am pleasantly surprised – the fans aren't that loud even on full throttle. I can physically feel the air escaping from underneath my laptop near where my hands rest which is a good sign.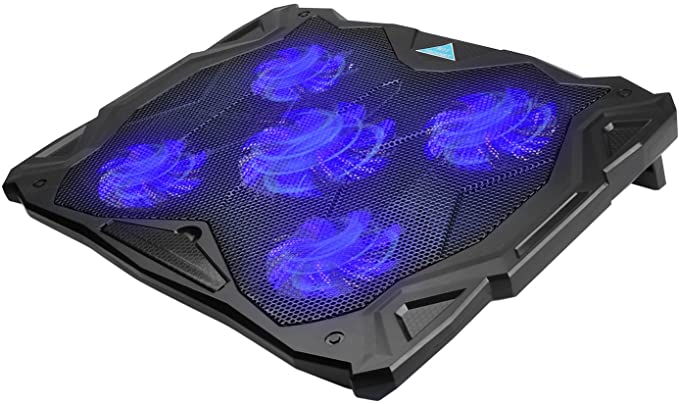 Suitable for Laptops: 12 to 17-inch
Number of Fans: 5 active cooling fan with 4 at 1500RPM and 1 at 1000RPM speed. USB powered, together they push 48 cubit fit air per minute. Whisper quiet but noisier than other 3 fan pads, but the fan speed can be adjusted.

Weight: 898 grams

Dimensions: 40 x 30 x 3.4 cm

Lighting: Blue
---
The fixed height non-collapsible cooling mat for laptop from Tragus is made from lightweight plastic covered soft neoprene which makes it easy to carry around and comfortable on the lap. It has enough room for a large laptop up to 17-inch. The USB plug and cable to power the fans can be tugged safely away when not in use. The two fans are strategically placed near the middle of the mat under the plastic mesh and openings for maximum air circulation.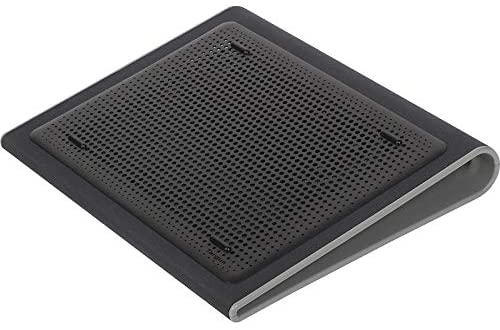 Suitable for Laptops: up to 17-inch

Number of Fans: 2

Weight: 948grams

Dimensions: 28 x 34 x 4.4 cm

Lighting: None
An Ultraslim Chill Mat flat option is available from Targus, suitable for desk use.
---
This Nobebird laptop cooling pad not only stands out from the rest due to its five active fan arrangement, red accents and red lighting but it comes with a 7 level height adjustable stand. Most cooling pads only offer 2 working angles. Of the five USB powered ultra quiet fans with red LEG lights, four are 85mm diameter spinning at 2200RPM while the last one, a larger 140mm goes up to 1100RPM. The speeds of both the large and small fans can be controlled separately. Finally, a dual USB port hub located conveniently on the right edge above the speed dials lets you connect your peripheral and to power the cooling pad.
My first impression was that it's very lightweight yet sturdy and robust being make of a black metal mesh. I couldn't work out how to set it up until I checked the included assembly instructions. Two legs at the rear are held up by another two at a desired level of your choice. There is also a bit underneath which you take off and insert it in a slot to stop your laptop sliding down the pad. One USB cable is also included which plugs into one of your laptop USB ports to power the five red led fans. I do admit that I'm a sucker for led lights and to have a cooling pad with non pulsing led lights is cool. The speed of the fans are controlled by two rotating switches at the side of the pad. I remember when I first set it up, my laptop was already running hot to the touch. After less than ten minutes, my laptop was totally cool after using this. I was genuinely amazed and will probably extend the life of my laptop. Two USB ports in total, one to power the fans and led's and a spare to do with as you like.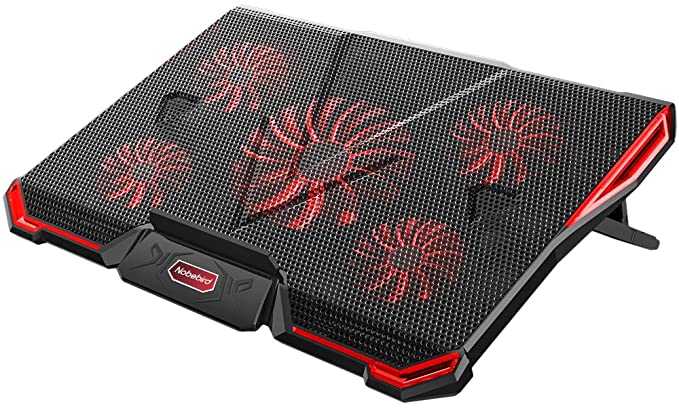 OTHERS
KLIM Comfort Laptop Cooling Tray

1 FAN