Most gamers would think monitors are for PCs and a TV is more suited for gaming on consoles. However, for a PC user who likes to game on consoles, the monitor is a must-have component. The latest generation of consoles like the Sony PlayStation 5 and Microsoft Xbox Series X and S have changed the notion quite a lot and the popularity of monitors amongst console gamers is on the rise.
This is so as these new consoles now come with advanced features that TVs are not capable of handling. With the demand for monitors picking up traction, console gaming has become a much immersive experience with gamers now able to enjoy the action from much closer to the display than they could with TV sets.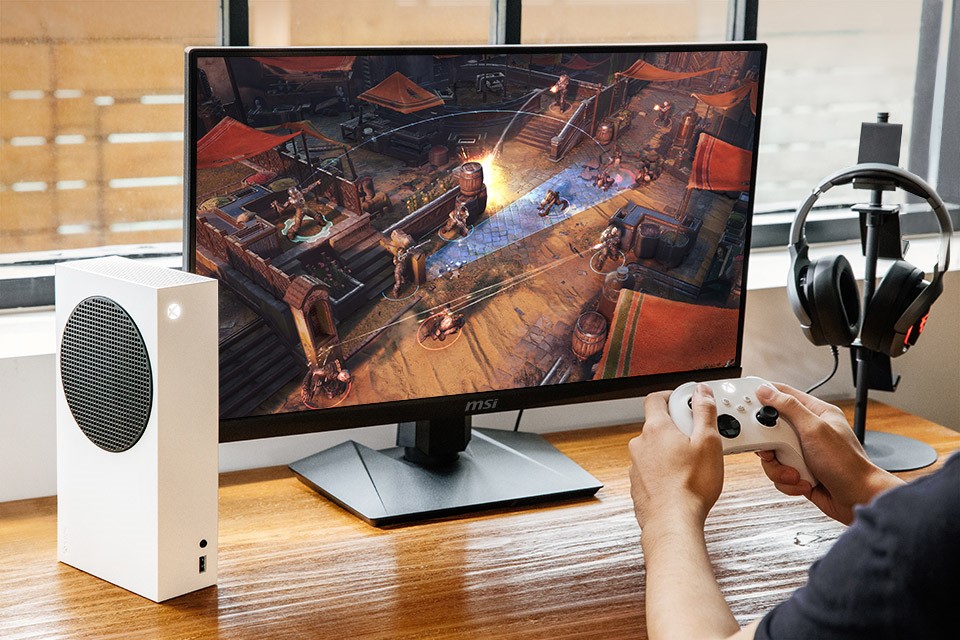 Choosing the Right Monitor for Your Gaming Console
However, picking up any monitor for your console would not benefit you as along with the advantages, consoles have few limitations too. Not every high-end monitor would offer the best of what your console has to offer. If you are looking for a monitor to game on your console, then you are right place.
Let us look at why console gamers should opt for a monitor? Well, earlier generation consoles like the PS4 used APUs where a single unit performed the function of a CPU, GPU and memory controller. These all-in-one units could process frames at just 60Hz which is the average frame rate of a TV set and hence gaming on TV units was fine.
The latest generation consoles, however, come with a lot more processing power. These consoles have a CPU die with a separate GPU unit processing the graphics which results in faster processing, higher frame rate and improved detail in games. TV sets are limited through their manufacturing process as they don't have the necessary hardware to handle the improved graphics. Hence, switching to a gaming monitor is a wise option if you wish to lap up everything these new generation consoles have to offer.
Let's look at the factors you should keep in mind while choosing a monitor for your gaming console.
1. Game of Panels
The first thing to consider is the panel of the monitor. There are three broad panel types to choose from. Each has its pros and cons and users should choose a panel depending on the experience they seek from gaming.
IPS Panels
In-Plane-Switching technology or IPS panels are the best if your priority is viewing angles and colour reproduction. These panels have excellent colour coverage with high contrast ratios and a wide colour spectrum. IPS panels produce vibrant colours consistently with the colour coverage equally spread throughout the panel. If you are into cinematic single-player games like Assassin's Creed, a monitor with an IPS panel is what you should aim for.
IPS monitors, however, are plagued with slow response time issues. You can spot plenty of panels with fast response time but they come with a huge price tag. Slow response time causes IPS monitors to suffer from ghosting and motion blur issues in which fast-paced actions games may become a nightmare. Sometimes a glowing effect called IPS glow is observed in the IPS monitor's corners which changes when the viewing angle is changed.
The LG 27GL650F-B is a highly rated IPS monitor with HDR10 and would go well with consoles if you are planning to game on Full HD.
Vertically Aligned Panels
If you are looking to hit the sweet spot between colour accuracy and response time, monitors with VA or Vertically Aligned panels are an excellent choice. They are a great value for money option for gamers looking for a balance between quality and performance. An advantage with VA panels is their exceptionally high contrast ratio which allows for the widest colour spectrum where different shades of a single colour can be distinctly differentiated from each other. The Samsung Odyssey G9 comes with a massive 49-inch VA panel with a peak brightness of 1000nits and high contrast ratio.
VA panels sacrifice some quality for faster performance. However, they are not the fastest panels around and many VA panels have a fairly high response time.
Samsung Odyssey G9
Twisted Nematic Panels
Finally, Twisted Nematic or TN panels are most liked by gamers who play competitive games a lot and winning is the priority for them over an extensive visual experience. Monitors with TN panels come cheap and offer excellent frame rates and response time. Motion blur or ghosting is virtually absent in these monitors. These are best suited for fast-paced games and racing titles.
TN panels have a low colour spectrum with the colours lacking vividity. Their viewing angles are awful and from an angle, the action on the screen seems fully greyed out. There are better TN panels available but they cost more than average TN panels.
2. Screen Size and Resolution
Pixel density becomes a decisive factor with monitors as you would be closer to the action and hence there should be the right balance between the resolution you want to game on and screen size. If 1080p is your target resolution, go for a 25-27 inch display. If you want a bigger display you need to increase your gaming resolution or else you might end up stretching the pixels too much impacting the clarity of actions on the screen. The balance between the gaming resolution and display size would help the monitor maintain a stable refresh rate causing lesser instances of drop in frames.
Current generation consoles now support 4K gaming and hence you are free to go above 32-inch for a bigger gaming experience. 4K on a 32-34 inch screen would have the right number of pixels for pristine quality action on the display. However, an important thing to remember is the lack of support for 1440p in PS5. Investing in a big screen 4K monitor seems a better option for new generation consoles. The Asus CG32 UQ is an excellent monitor that balances screen size and resolution.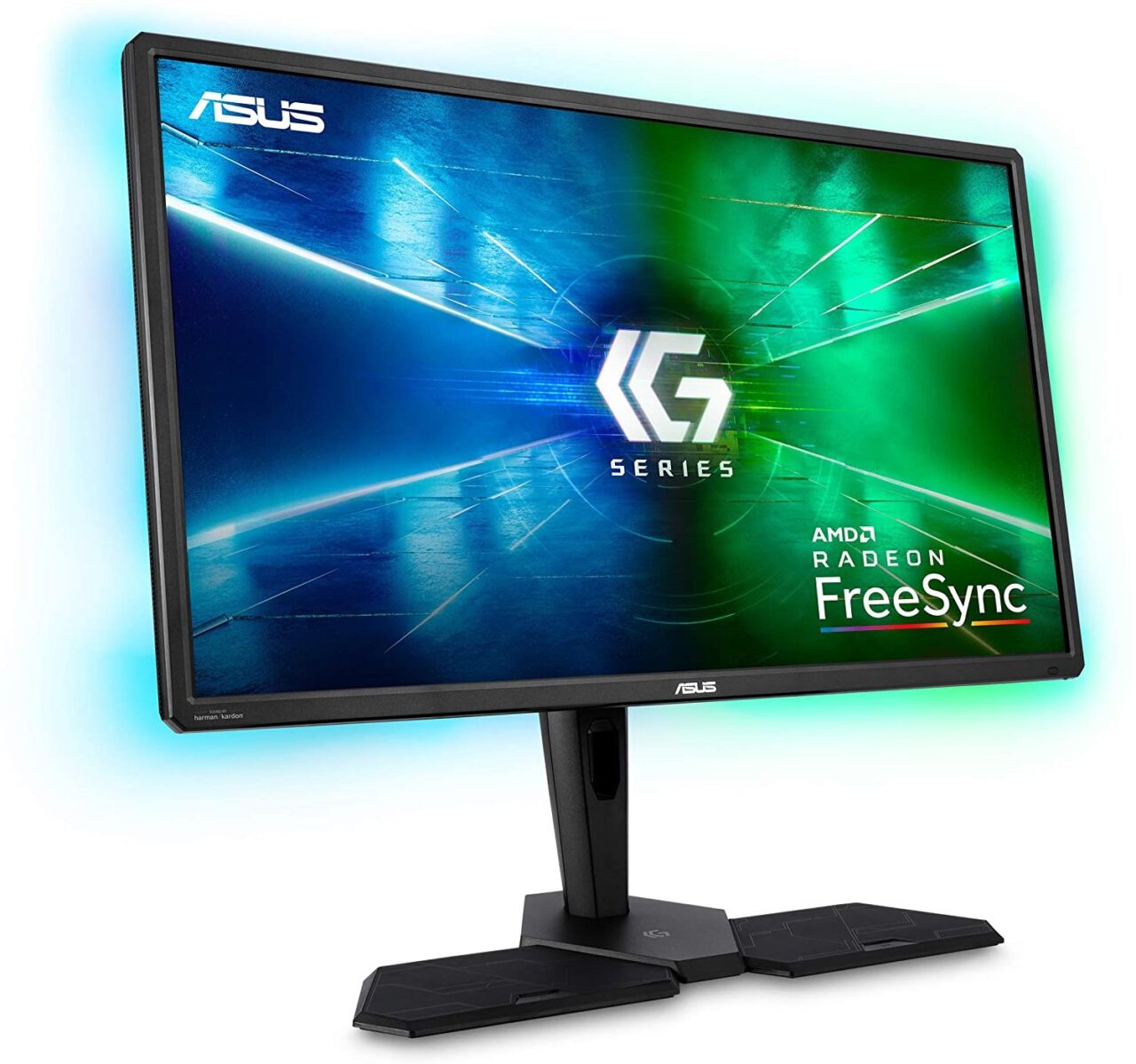 Search Asus CG32UQ Gaming Monitor on Amazon
3. Refresh Rate and Response Time
The latest consoles come with Ray Tracing that massively improves light effects in gameplay with as many as 120 frames processed per second. Hence it would be wise to go for a monitor with at least 120Hz refresh rate. Refresh rate and response time are interrelated to each other as high refresh rate monitors only work well when the response time of their panels is low. The PS5 comes with HDMI 2.1 that supports the 120Hz refresh rate on 4K resolution. Hence your monitor must support these many frames per second at 4K resolution. The Xbox Series X/S also supports AMD FreeSync which makes VRR a must-have feature for your monitor. VRR technology would allow FreeSync to control screen tearing and choppy gameplay. Since VRR technologies work over HDMI 2.0 ports, the monitor must come with at least one latest HDMI port.
Response time determines the pace at which the pixels in the monitor's panel switch colours. Lower response time, causes the colours switch faster reducing chances of blur or ghosting. Monitor manufacturers quote grey-to-grey switch as the response time which is not the true representation of a monitor's response time. Some use Backlight Strobing Technology to enable CRT-like clarity in motion pictures and reduce response time. MPRT or Moving Picture Response Time is also sometimes quoted as the response time of a display which is too is an incorrect measurement of a monitor's response time.
The Acer monitor below achieves WQHD resolution at 144Hz and a low response time of 1ms.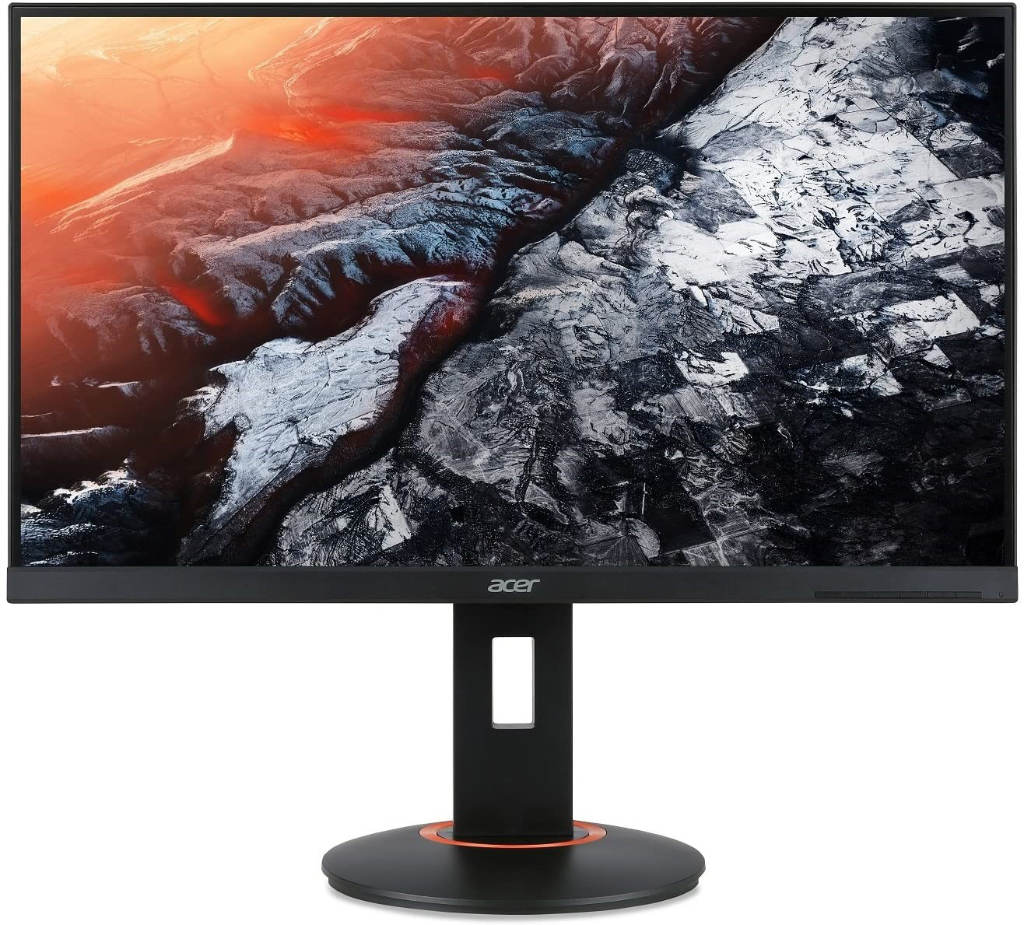 Search Acer XF270HU Gaming Monitor on Amazon
Only a seasoned gamer can spot the difference between 1ms and 5-6ms response time. At a high refresh rate, even a 10ms response time would be enough for excellent gameplay with drastically less motion blur than TVs. However, if you are planning to game at 4K/120Hz you should go for the lowest response time possible.
4. Screen Curvature and Aspect Ratio
Monitor manufacturers are offering many high-quality curved displays nowadays. These monitors wrap around you and cover a large part of your field of view offering an immersive experience. Opting for a curved display is a matter of personal preference but it is advised to stick to the familiar 16:9 aspect ratio for gaming on consoles. A 21:9 aspect ratio on some monitors may look attractive, but custom resolutions like 2560 x 1080 or 3440 x 1440 aren't universally supported on all consoles yet. In addition to this, most games would run on regular resolutions with a 16:9 aspect ratio and anything different would have them leaving out black patches on both sides while gaming.
Here is the AOC CQ27G2 with a 1500R curved screen, VA panel and 2K resolution and most importantly 16:9 aspect ratio.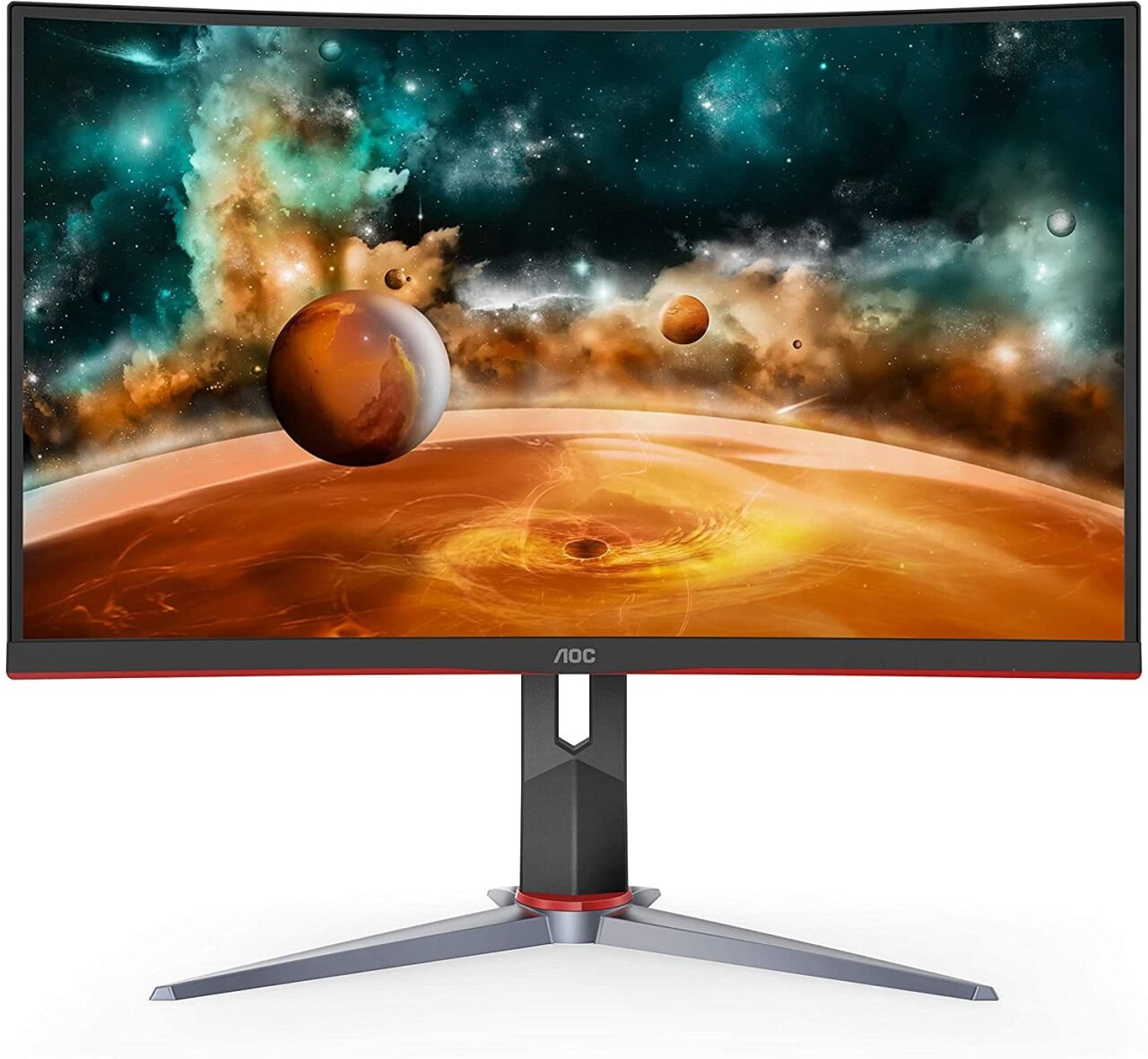 Search AOC CQ27G2 Gaming Monitor on Amazon
5. HDR and Connectivity Features
HDR performance comes next as other than Nintendo Switch, other consoles support high dynamic range. Hence, your monitor should come with HDR support. VESA certified HDR that starts with HDR400 and above ensures excellent colours optimization and adequate brightness for daytime gaming. Panels with HDR allow for improved, vivid and lively colours. The contrast is better utilized and there is more depth in every scene. Plus, these monitors have a broad colour spectrum that displays realistic colour tones.
While choosing monitors, it is advised to go for branded monitors as they have optimized HDR support that make them versatile for a variety of content and not only games. Streaming video providers like Netflix or Apple TV stream HDR-enabled content which would appear washed out if viewed on a poorly calibrated monitor.
The latest Aorus FV43U from Gigabyte is a 43-inch big screen monitor supporting 4K resolution and 144Hz refresh rate over an HDMI 2.1 port.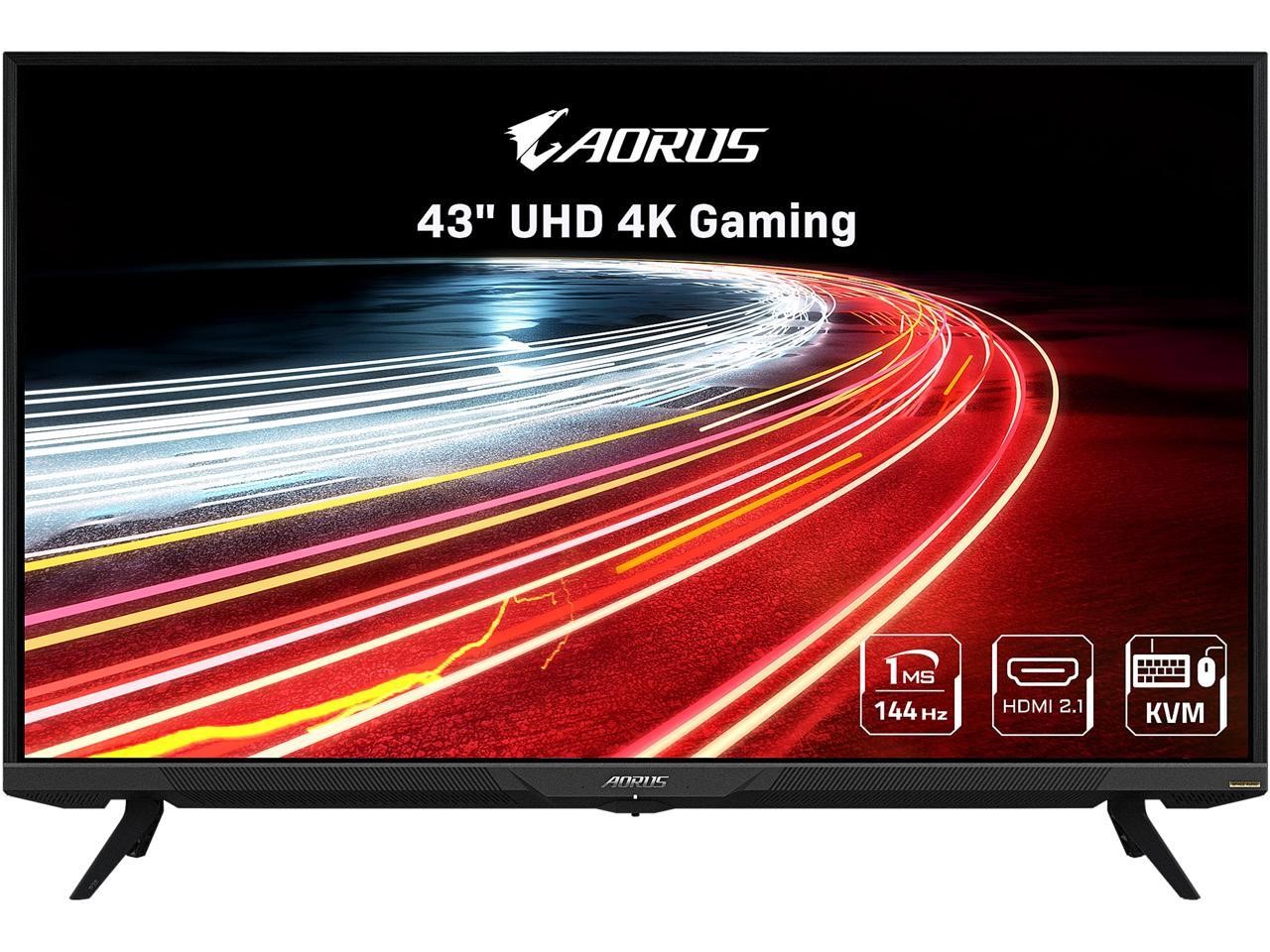 Search Aorus FV43U Gaming Monitor on Amazon
As far as connectivity is concerned a monitor from a reputed manufacturer should have enough HDMI and Display Ports that conform to the latest versions. HDMI is the most widely used connection but when it's about supporting extremely high resolutions and refresh rates, DisplayPort sets high benchmarks. The PS5 offers 120Hz on 4K resolution over HDMI 2.1 hence you need to make sure your monitor has the latest HDMI port. In addition to HDMI and DisplayPort, USB 3.0 downstream and upstream ports would allow you to connect high-speed storage devices and use the monitor in a standalone mode. Finally, an audio out port is helpful if you want discreet gaming.
Conclusion
Choosing a monitor for consoles can be tricky as most high-end gaming monitors with high refresh rates above 120Hz are overkill for consoles. In PC gaming we regularly see monitors above 200Hz refresh rate but they are not suitable for consoles as the maximum consoles can manage right now is 120Hz. However, monitors are usually a one-time buy, so to ensure that you are covered to some extent for newer consoles in the future the maximum you could go to is 175Hz. An ideal monitor however is one that checks most of the boxes and returns an all-round performance.