Sam Mendes' '1917' was made to look like it was shot with a single take giving the viewers a close-up view of the action as it happens. With the camera running alongside the actors and so close to the action, it would be completely impossible to watch had it not use stabilisers (remember The Blair Witch Project?). Now, you too can create an amazing cinematic spectacle with a handheld gimbal and your smartphone.
With the growing popularity of smartphone photography and cinematography, it is easy to see how the gimbal can be on the top of the list of accessories to have for those aspiring to create their own 'blockbuster' home video with Hollywood-esque finesse and quality.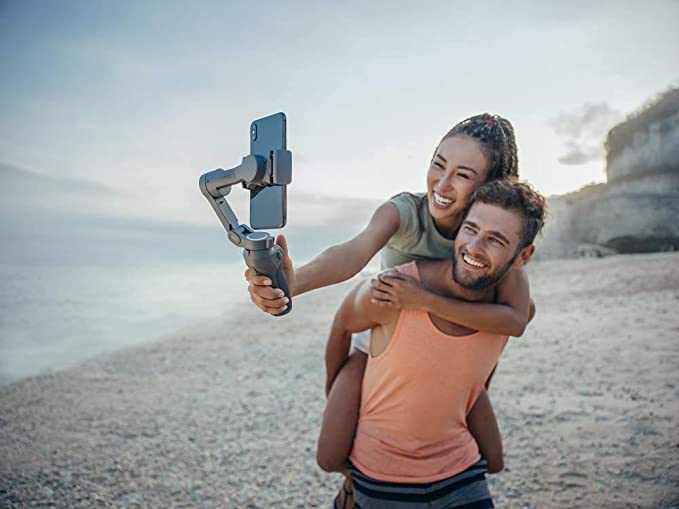 While every flagship smartphones now comes with cameras that support ElS (Electronic Image Stabilisation), it is with these affordable gimbal stabilisers that one can capture ultra smooth video footage especially when panning, tilting and zooming. It can even be programmed to follow your subject automatically and produce other creative footages such as smooth hyper-lapse with tracking, face paced action sequences and sports.
1. DJI OM 4
Top on our list is the latest consumer gimbal from DJI. This time known simply as OM 4, short for Osmo Mobile. All previous generation handheld gimbals since the first generation were called Osmo Mobile (1 to 3). So how is the OM 4 different to the previous version.
The profile and controls stayed largely the same, only how you attach the phone is different. This has been a bug bear since the first generation gimbal. Attaching and removing your phone can be a right nightmare. Plus, every time you reattach your phone to the bracket or clamp, you are likely going to have to re-calibrate it. OM4 has a quick release magnetic clasp with the included magnetic phone clamp and magnetic ring holder. Choose either one to use or have them on two separate phones, and you can quickly attach and detach your device on the gimbal with zero hassle.
Apart from the magnetic quick release design, the 3 axis stabiliser comes smart features like ActiveTrack 3.0 to follow the subject, Story mode for one tap film editing and DynamicZoom for zooming with "Hitchcock effect". Other neat features include CloneMe Pano, that camera trick where you run around behind the camera part way while shooting a pano and Gesture control, where you can have the gimbal and camera on a tripod stand and shoot a selfie or group photo hands-free. Even with all those features, it can still pull off a battery life of up to 15 hours.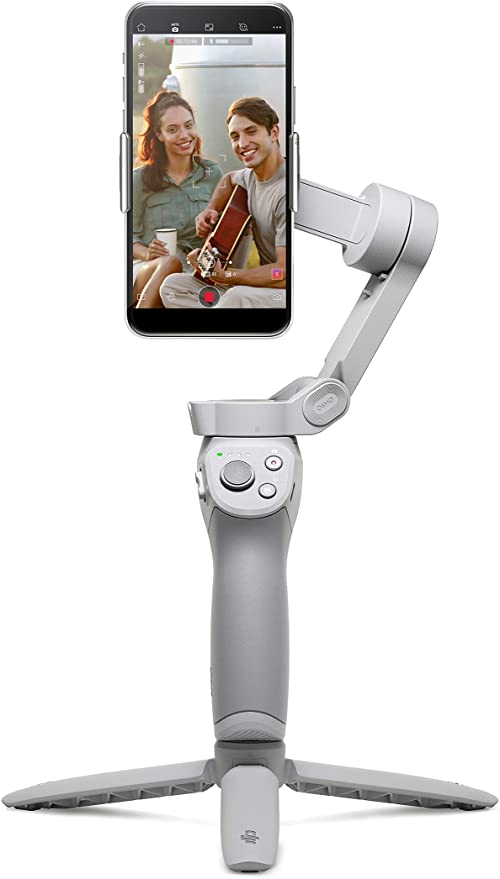 The MIMO app does favour Apple users more with its version for Android being limited in features. Professional photographers and videographers will find it a good replacement for steadicams and complex rigs. It is a pretty solid device with plenty of clearance and strength in the motors to support a big phone particularly the iPhone 12 Pro Max. We would recommend using the clamp mount for a more secure setup.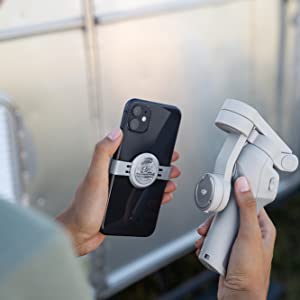 2. DJI Osmo Mobile 3
This is another three-axis smartphone gimbal stabilizer designed to work with all brands and models (except large tabs). Three-axis gimbals are the best because they can correct in three different axes giving you a super smooth video output. It almost feels as if the camera is floating in the air.
The DJI Osmo Mobile 3 comes with gesture control options. That means starting a recording session or clicking an image has become a lot easier than before. All you need is to make a gesture and the DJI Osmo Mobile 3 does the rest.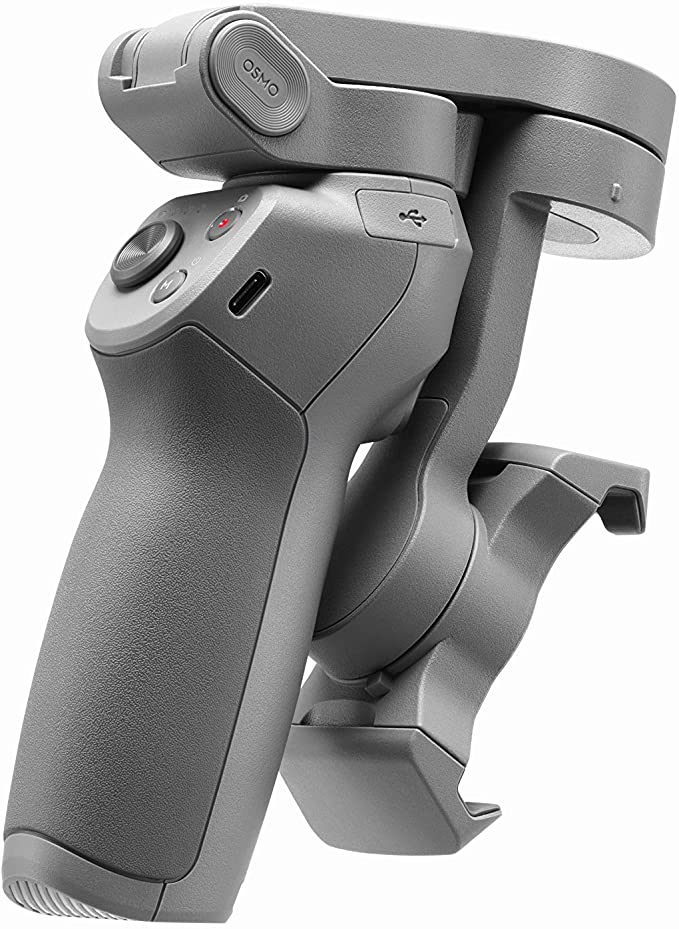 Search DJI Osmo Mobile 3 on Amazon
DJI's ActiveTrack 3.0 is a wonderful technology. It makes creating tracking videos easy with results as smooth as butter. Use this to track people and pets with the viewer getting the same feeling as floating in the air.
There is additionally a Sports Mode which ensures that the gimbal is hyperactive for tracking fast-action sports.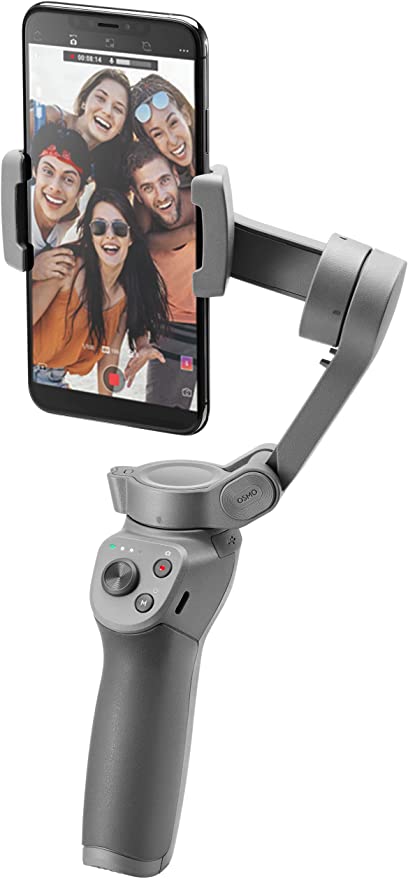 Where the gimbal excels is with the DJI Mimo app, from there you can access a wealth of features, capturing 180° panoramas by stitching 3 x 3 shots together, creating time-lapse, use slow motion recording and capturing fast paced action with Sport Mode. That's on top of the ability to edit and share straight from the app, trigger a recording or snapshot with gesture, track a subject and combine tracking with time-lapse for what DJI calls Hyperlapse videos. Like the OM4, this has a healthy battery life of up to 15 hours.
Other features include an M button that allows you to shoot from practically any angle, a Quick Roll option that lets you switch from landscape to portrait orientation in an instant.
3. Zhiyun Smooth 4 Professional
Zhiyun has a couple of impressive professional gimbals for DSLR and mirrorless cameras but when it comes to consumer gimbals, the Zhiyun Smooth 4 Professional is one to beat. But, as we know, the success of any gimbal rests not only on the hardware but its software, as demonstrated by DJI. However, with Zhiyun Smooth 4, you can use the official Zhiyun app called ZY play or the professional Filmic Pro app.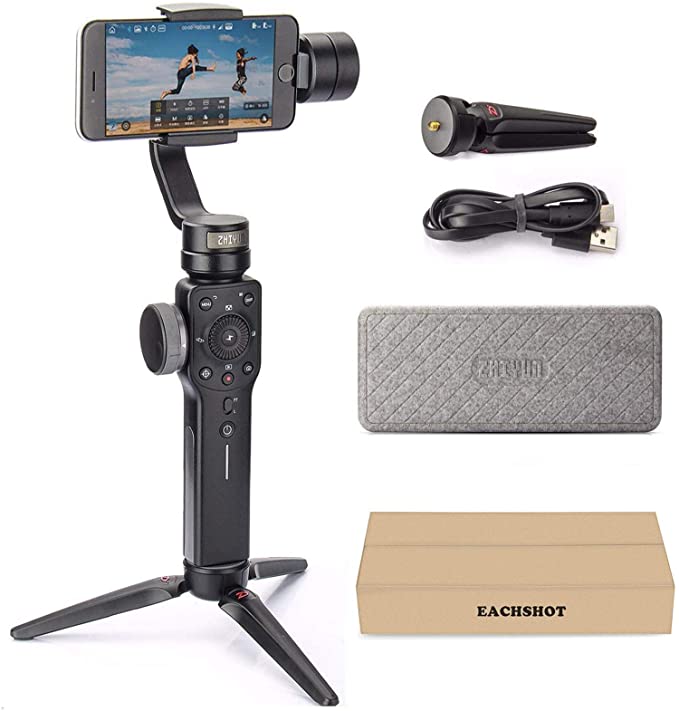 Search Zhiyun Smooth 4 Professional on Amazon
The one thing that makes it stand out from the rest of the gimbals here is the zoom dial. While the likes of DJI has a slider, which I find a little fiddly to use, Zhiyun Smooth 4 comes with a dial that you can reach with your thumb to quickly zoom in or pull-out of the subject. Calibration and balancing is a must as with all gimbals with onboard clamp. Once balanced, you are good to go and it should lasts up to 12 hours on a full charge.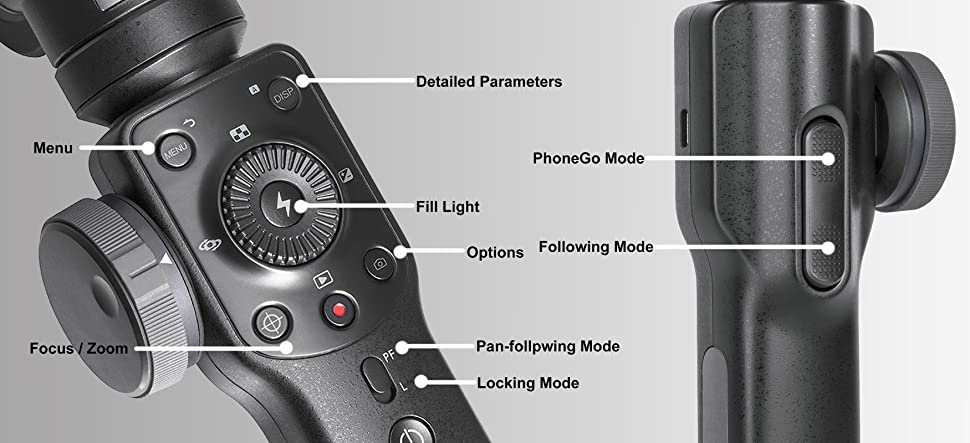 Supported functions include FN switch button to turn the zoom dial into a focus puller, PhoneGo mode for quick scene transition, moving time lapse and object tracking. Also included with the package is a neoprene travel case, charging cable and detachable stand.
MOZA Mini MX has an intuitive control panel, long battery life of up to 20 hours and a tripod that mounts to the top of the handle instead of the base giving it a holstered position with the handle ready to be picked up for any action shots. Other features include quickly transition between landscape to portrait filming using the buttons, capture beautiful time lapse, track subject, dramatic slow motion, and inception mode (more on this in the next gimbal). The one thing to note is the payload capacity, the gimbal is capable of supporting a smartphone up to 280 grams be sure to find out what your oversize smartphone weights before grabbing the credit card. For most phones, even the oversized iPhone 12 Pro Max (226 grams), this would be fine. Also the software takes a bit to get used to and on a full charge, you can expect up to 20 hours of use.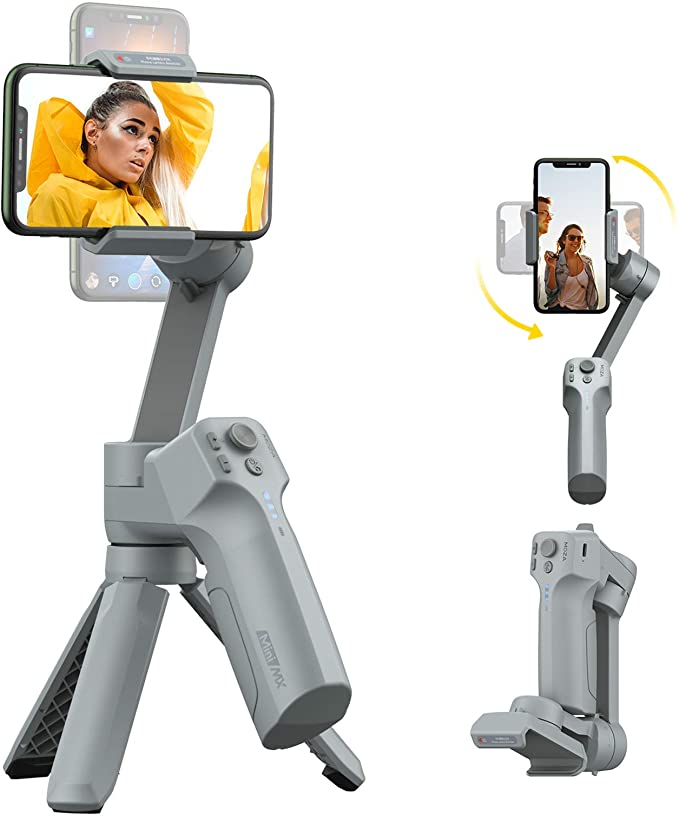 5. Hohem 
3-Axis Gimbal Stabilizer (Hohem iSteady Mobile+)
An ultra budget 3-axis and ultra compact handheld gimbal, the Hohem 3-Axis Gimbal also known as the Hohem iSteady Mobile Plus comes with a camera trick called "inception mode". This feature when triggered rotates the smartphone through a full 360° to capture a roller coaster style footage. It also comes with Sports Mode to capture fast paced action including extreme sports. While it is a great starter gimbal, it is feature rich with support for face and object tracking, various time lapse recording and slow motion with up to 12 hours run time.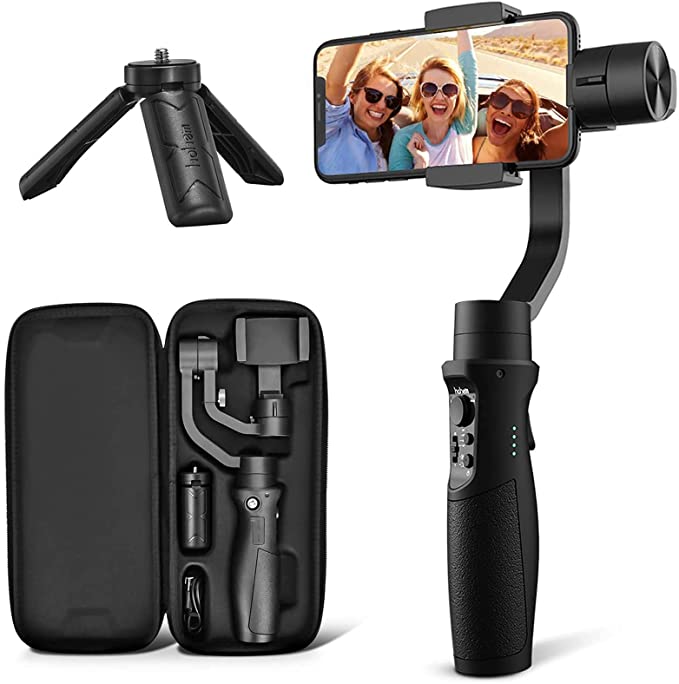 The MOZA Mini-S is a pocket sized gimbal stabilizer that weighs just 260 grams. For a handheld gimbal, that is truly super light. It supports any smartphone you can attach to it. The system operates around its MOZA Mini-S gimbal stabilizer. Built-in features include a one-button zoom and a easy to operate focus control that can rock focus between multiple subjects in the frame. There is also a quick playback button for reviewing your clips.
Take the MOZA Mini-S Essential above and throw in a telescopic pole and what you get is a gimbal with selfie stick reach ability. Get wider, taller and more creative angles with the MOZA Mini-S Pro. It uses a four segment extension rod for a total length of 16.2-inch (41 cm) from 4.6-inch. And, it is able to achieve this without adding any heft to the unit. As with the Mini-S Essential, it is capable of object tracking, time-lapse, inception mode and other creative shooting effects using the MOZA Genie app. From the control panel's d-pad and joystick, you can switch quickly from horizontal to vertical, start a live stream, use the shutter/capture button and perform manual adjustments, all that in a compact and foldable design.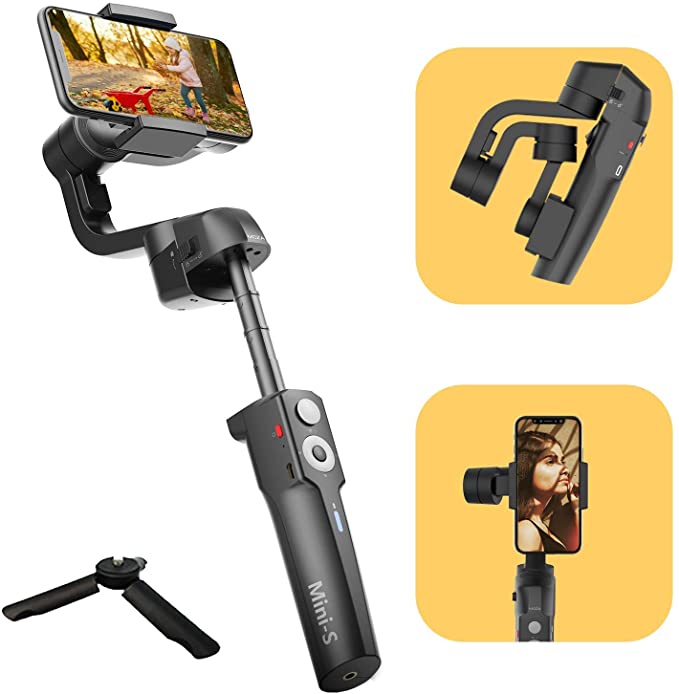 The payload is just about right for a biggish phone up to 240 grams and it is small enough when collapsed / folded to carry the name Pocket. The FeiyuTech VLOG Pocket is a 3 axis gimbal that is super light and compact making it portable and easy to take with you anywhere you go. As gimbals go, the VLOG Pocket supports AI Tracking, time lapse, panorama and overlapping images with multiple exposure. Double click on the function button and it quickly turns from horizontal to vertical position without shutting down. Plus it comes with 3-lock system to keep the joints fixed during transport and up to 8 hours battery life on a full charge.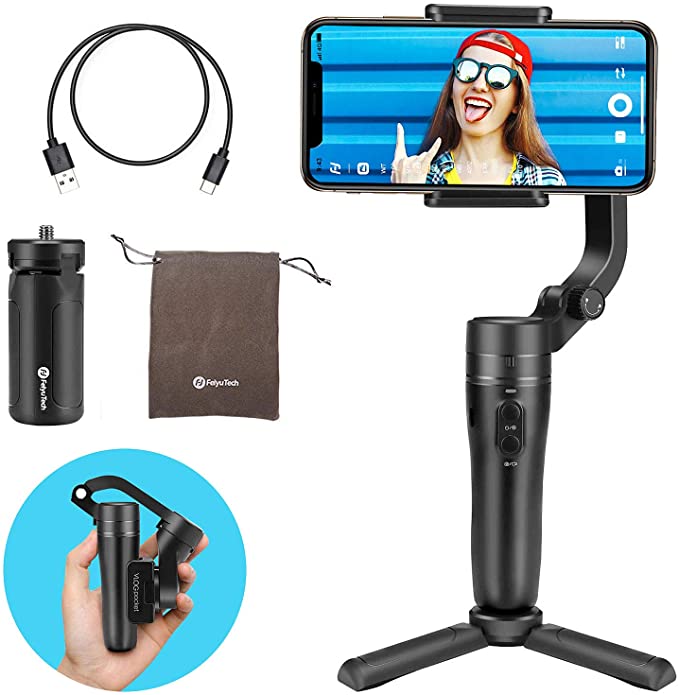 A direct compatitor to DJI OM4 and Osmo Mobile 3 Combo, the Smooth Q3 has a tick up its sleeve, a built-in LED fill light just above the device clamp that you can turn 180-degrees to add light to night shots. It even allows you to set the brightness level and there are three to choose from. Beyond that, you get all the usual features that come with a modern gimbal. These include gesture control, subject tracking, dolly zoom, clone pano, landscape panorama and more.