Alienware has quite a cult following among users looking for a lot of power without thinking about budget constraints. Laptop manufacturers all around the world have tried their mettle with their own offerings but Alienware has always come out on top. It seems that perhaps the time has finally come when some OEMs, taking advantage of continued R&D are bringing forth devices that can challenge the King.
Today we take a look at one such laptop that has powerful internals and an intent to dethrone the King and create a cult of its own. The Gigabyte Aorus 17G.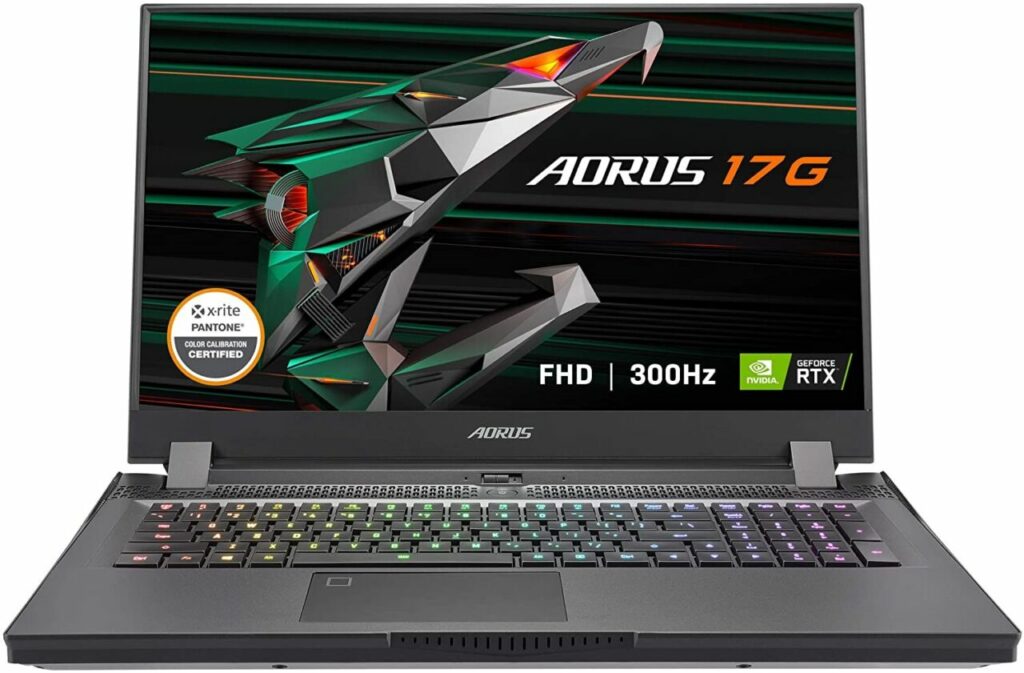 Search Gigabyte Aorus 17G on Amazon
Gigabyte Aorus 17G
Here is a quick overview at the main specification of the two variants of Gigabyte Aorus 17G:
Specifications
 

AORUS 17G YC

AORUS 17G XC

CPU

10th Gen Intel® Core™ i7-10870H (2.2GHz~5.0GHz)

10th Gen Intel® Core™ i7-10870H (2.2GHz~5.0GHz)

DISPLAY

17.3″ Thin Bezel FHD 1920×1080 IPS-level Anti-glare Display LCD

17.3″ Thin Bezel FHD 1920×1080 IPS-level Anti-glare Display LCD

RAM

2x DDR4 Slots (Max 64GB)

2x DDR4 Slots (Max 64GB)

GRAPHICS

NVIDIA RTX 3080 Laptop GPU 8GB GDDR6
Boost Clock 1245 MHz, Dynamic Boost 2.0

NVIDIA RTX 3070 Laptop GPU 8GB GDDR6
Boost Clock 1290 MHz, Dynamic Boost 2.0

STORAGE

2x M.2 SSD slots (Type 2280, supports 1x NVMe PCIe & SATA/ 1x NVMe PCIe

2x M.2 SSD slots (Type 2280, supports 1x NVMe PCIe & SATA/ 1x NVMe PCIe

CONNECTIVITY

LAN: RTL8125 Realtek Ethernet
WLAN: Intel AX200 Wireless (802.11ax)
Bluetooth: Bluetooth V5.0 + LE

LAN: RTL8125 Realtek Ethernet
WLAN: Intel AX200 Wireless (802.11ax)
Bluetooth: Bluetooth V5.0 + LE

PRICE

2699 USD

2099 USD
As you can see from the table above, the main difference is in the choice of GPU used. The AORUS 17G YC user the faster NVIDIA RTX 3080 while the AORUS 17G XC relies on the NVIDIA RTX 3070. Both GPUs come with 8GB GDDR6 memory.
The Story So Far
It has been just a month that Aorus 17G launched and has already garnered rave reviews in a lot of tech portals worldwide. There is a long-conceived notion that mainstream gamers do not prefer gaming on a laptop as desktops are much more suited owing to various factors. Gigabyte has tried to address the concerns of the gamers with a lot of features on the Aorus 17G which were once limited to only desktops. Let start with the build.
A Design to Raise Eyebrows
The Aorus 17G has a tank-like appearance that makes no effort to hide that it is a dedicated gaming device. The machine can be seen as a replacement for desktops with its hefty size and 6 pounds weight. It is not a sleek and skinny device and for many, the chunky design might seem retro. It is definitely not a device for people looking towards gaming on the go.
The chassis is CNC milled aluminium that refuses to creak or budge even when unwarranted pressure is applied. The finish is matt black that refuses to hold fingerprints no matter how you handle it. There are sharp angles at the corners yet has rounded finishing that makes the laptop is a pleasure to hold. Visually, you have to see it for yourself to appreciate the beauty. It will definitely raise eyebrows, among enthusiasts and avid gamers.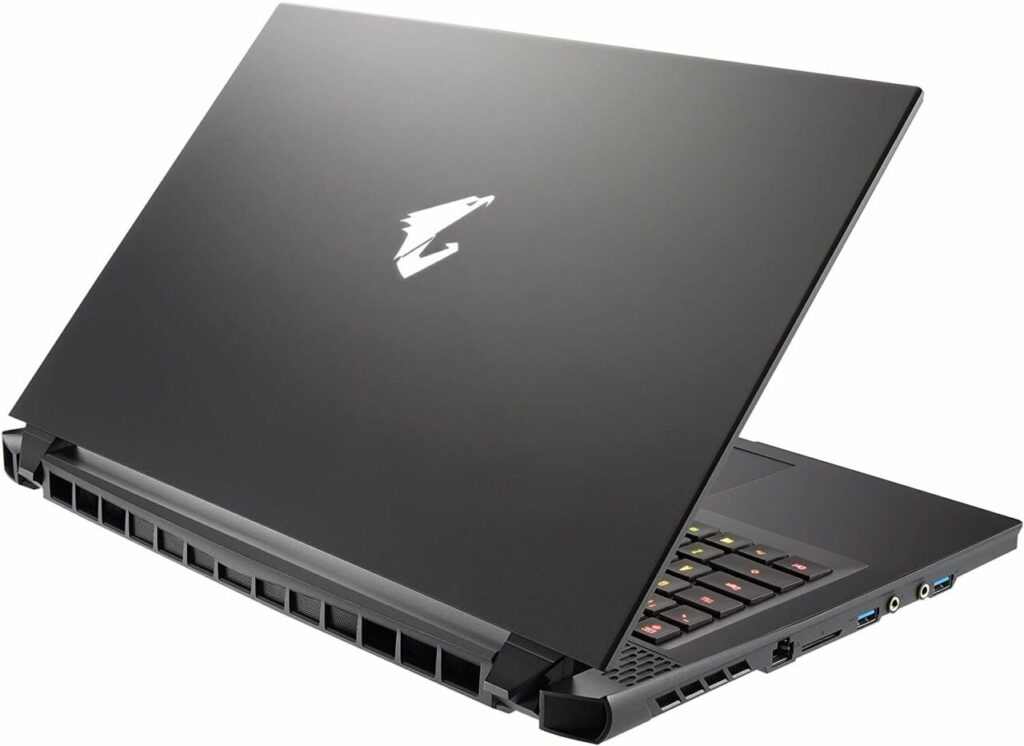 Centrally located on the inner lid of the open laptop is an imposing power button that may seem awkward for those who are looking for aesthetics over utility. Above the power button is the webcam which many would agree is a flaw as it gives a chin first angle to any video call you might want to take on this laptop.
The sides of the Aorus 17G is adorned with three USB 3.2 Gen 1 Type-A ports, an HDMI port, a Mini Display Port. There is also a Thunderbolt 3 USB C port, an Ethernet port and an audio input/output port. See image below for connectivity port layout on the sides. A nifty feature is an SD card slot which makes the laptop a nice choice for people looking for some productivity on this laptop especially those who dabble in photography.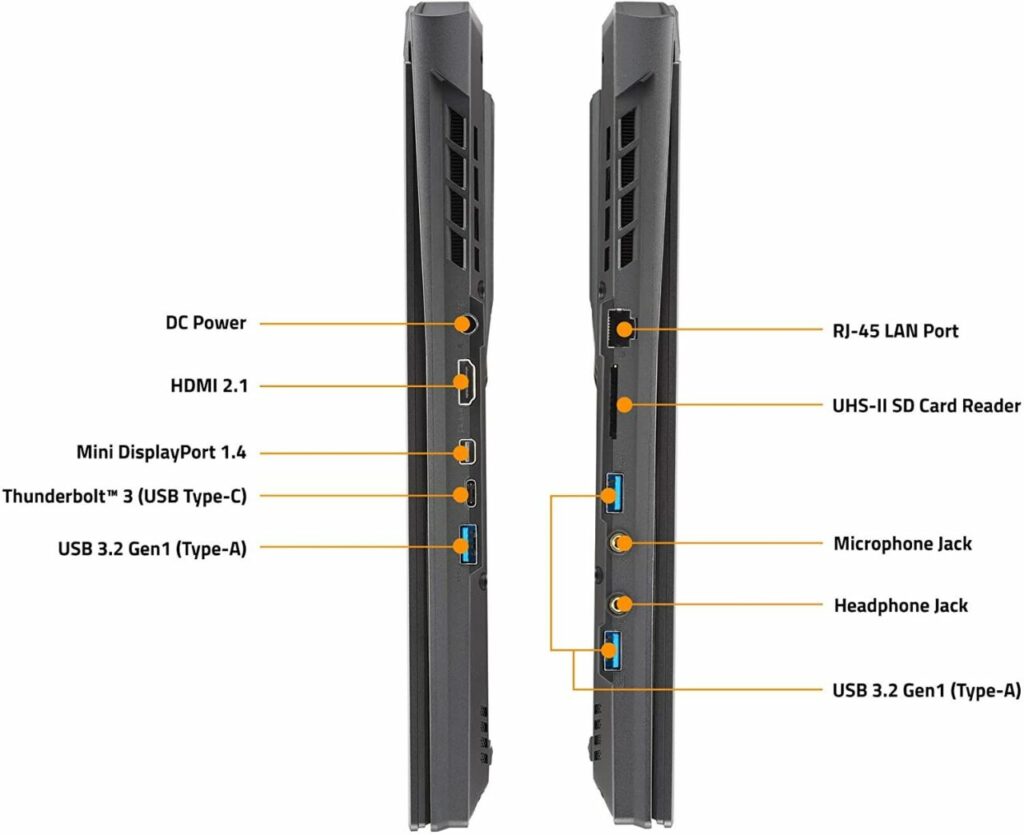 Mechanical Keyboard on a Laptop
Gigabyte has brought the pleasures of a mechanical keyboard on the Aorus 17G. The keys have a 1.6mm of actuation distance and is one of the best keyboards ever seen on a laptop. The OMRON mechanical switches crammed into the small space of a laptop goes the distance and returns a delightful click every time you press them. Forget feather touch, this keyboard is here to win you wars. The keys are RGB backlight. That same RGB light scheme is also passed through to the Gigabyte logo on the lid.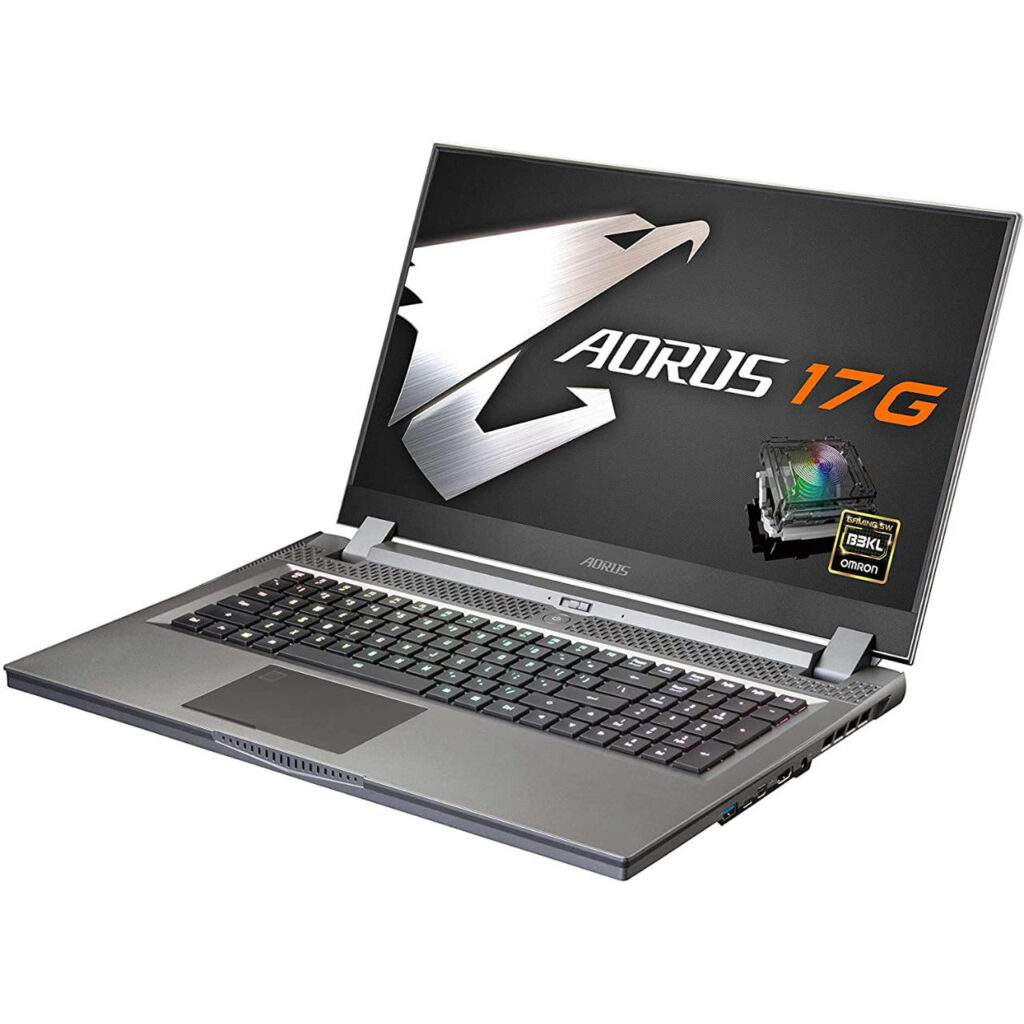 A Display to Drool Upon
You might be jeered for the chunky truck-like looks of the laptop but that is destined to last only until you open the lid. The whole point of placing the webcam towards the bottom edge above the keyboard would seem justified when you look at how narrow the bezels are around the display of the laptop. It has a sheer classy and futuristic look.
Now it's your time to show off and smile back. The refresh rate of the screen is set at a bewildering 300Hz. This refresh rate is here to give you immersive, realistic and life-like imagery on the games you would play on the laptop. The IPS level Full HD panel has an Anti-Glare coating to prolong your gameplays without stress.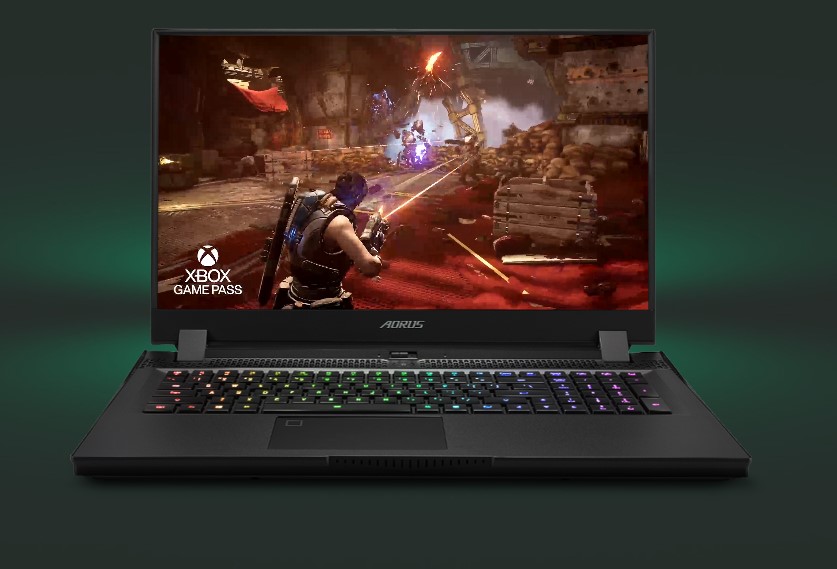 The colour reproduction is crisp and vibrant and many might argue that Gigabyte could have opted for a Quad HD or 4K panel looking at its sheer 17-inch screen. The average brightness is over 300 nits and there is a 98.8 per cent sRGB coverage. The high refresh rate is sure to be a boon for people complaining of motions blurs and delays while swinging guns in different FPS games. The high refresh rate ensures that the display would be ever ready to dish out the frames processed by the powerful RTX 3080/RTX 3070 GPU.
A Performance That is Unrivalled
Remember the Semi Truck in Far Cry 5 fitted with machine guns? Remember the trail of destruction it left of the cultist vehicles and roadblocks? Remember its powerful grunt? It is the same feeling you will have when you turn on this beauty. Many might argue about its 10th Gen Intel Core i7-10870H processor but they need to understand that graphics-intensive games need a top-of-the-line GPU even if the CPU is a generation older. That's is what you will get in Gigabyte Aorus 17G. The crème de la crème of Nivida, RTX 3080/3070 is here to churn out 80+ FPS on max settings on every AAA titles you ask this beast of a laptop to run.
The CPU is capable of hitting 5GHz on load and when coupled with a maximum of 64GB of DDR4 memory and 8 GB of GDDR6 video memory of the RTX 30 series graphics cards, you end up looking at the best gaming laptop at a 2500 USD price point. Don't believe us or still frowning at the 10th Gen CPU? We have a benchmark for you, thanks the the guys at tom's Hardware. This will give you an idea of the laptops performance compared to some of the leading gaming laptops out there.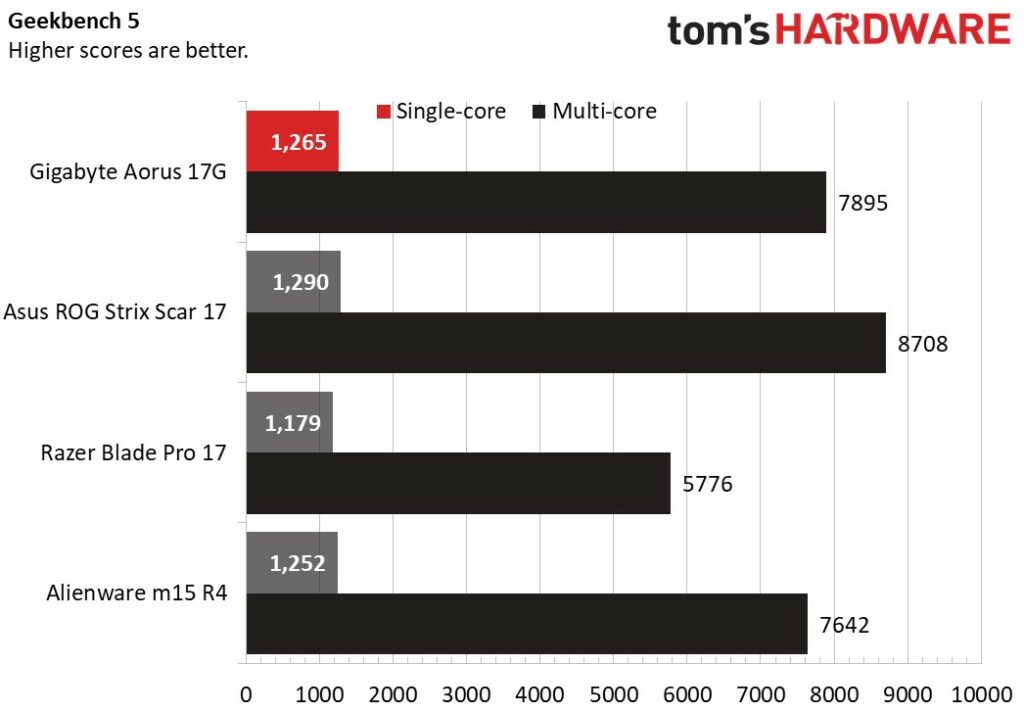 Aorus 17G may become the holy grail of competitive gamers. AAA titles such as Borderlands 3 and Horizon Zero Dawn got 80 plus FPS on Ultra Settings at Full HD. Apex Legends and Dirt Rally achieved a jaw-dropping 150 FPS. The RTX 30 series cards are equipped with Ray Tracing and DLSS which bring advanced visual effects and better frame rates respectively into the already superb mix.
Give That Already Mighty Laptop a Boost
Just as when we thought we are done glorifying the performance of the Aorus 17G, we found out that there is a boost mode called Dynamic Boost 2.0. Although noise from the cooling fans increased more than the performance, it is still a nifty feature for content creators looking to extract the most their laptop has to offer.
On default settings, the laptop is silent and kept cool using Gigabyte's Windforce Infinity Copper Cooling Technology. There are 5 heat pipes for thermal conductivity, 4 sets of outlet vents and dual 12V cooling fans which rotate in opposite directions to ensure maximum heat dissipation in minimum time.
Battery, Storage and Upgradeability Options
The Gigabyte Aorus 17G is a gaming laptop that holds a 99Wh battery. That comes down to almost 5 hours of general productivity and 3 hours of heavy gaming with some reduction in brightness. However, frame rates have been reported to drop when unplugged. To compare, our friend from Alienware manages just 4 hours of productivity.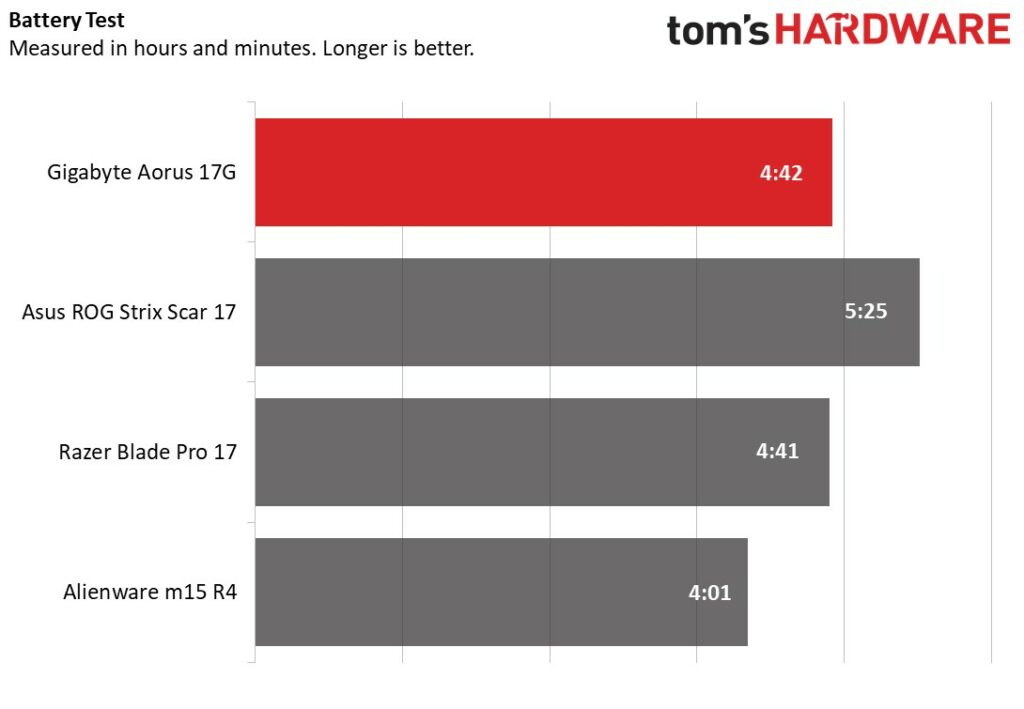 Dual Storage
There are two storage slots available with the Aorus 17G. Dual (Type 2280) M.2 SSD slots and it comes with 1 TB of SSD storage onboard. The read and write speeds of the laptop was found to be a lot underwhelming 1739MB/s and 1360MB/s respectively. The numbers are close to half of some of the others in the competition. This suggests that the install and load times of games and applications might be painfully high. Gigabyte might leave users asking for a lot more in this section.
When it comes to upgradeability, you get similar options as you would get on most 17-inch laptops. The RAMs are unsoldered and there is an option to add a faster SSD in one of the empty slots if you wish. You may also change the networking card for a better connectivity option but we don't think the in-built Wi-Fi 6, Intel AX200 Wireless Adapter (compatible with 802.11ax, a/b/g/n/ac/ax) would get outdated anytime soon.
Few Last Words
Gigabyte has done a lot to make the Aorus 17G stand toe to toe with Alienware. However, some tough decisions have been taken. The webcam is more of a NoseCam. The angle covers some features of the face which a good selfie usually avoids, the nostrils and chin. Storage speeds are not up to the mark and the battery back should have been better from a device claiming to be the best gaming laptop on earth. Many might find the trade-off between screen resolution and refresh rate fairly annoying. Many might find 300Hz is overkill and would have liked 240Hz on a QHD screen.
However, even the latest iPhone has at least 5 per cent of negative reviews. The point here is preference. The Aorus 17G is a very powerful laptop strong enough to give its competitors a run for the money. It consistently comes back with high frame rates on even the most demanding games. The OMRON mechanical keyboard is sure to keep you smiling even if your character dies during crucial gameplay moments. Once you factor in the pricing which is almost $1000 less than its nearest competitor, the deal might seem even sweeter.
Sure, there may be other devices with displays offering more resolution, pixels or brightness but at the end of the day, the Aorus 17G would give you consistent 80 plus frames in AAA titles on Ultra Settings, for less than $3000. Rest is for you to decide.
Alienware M17 R4 Gaming Laptop
Before we go, here is what the competition, the Alienware M17 R4 looks like albeit with a higher price tag. We consider only equivalent classed laptop.
Core specifications:
Intel Core i7-10870H (8-Core, 16MB Cache, up to 5.0GHz Max Turbo Frequency)
32GB DDR4 2933MHz and 512GB (single or 2x256GB PCIe M.2 SSD in RAID0)
NVIDIA GeForce RTX 3070 8GB or 3080 16GB GDDR6
Display options as below:
17.3″ FHD (1920 x 1080) 144Hz 7ms 300-nits 72% NTSC color gamut with NVIDIA-GSYNC technology

17.3″ FHD (1920 x 1080) 360Hz 5ms 300-nits 100% sRGB color gamut with NVIDIA-GSYNC technology
Ports: 
2 USB 3.2 Gen 1 Type-A ports
1 USB 3.2 Gen 1 Type-A with Powershare Technology
1 Thunderbolt™ 3 port
1 Audio Out 1/8″ Port
1 HDMI 2.1b with HDCP 2.2 Output port
1 Mini DisplayPort™ 1.4
1 Killer™ Networks E3100x Gigabit Ethernet NIC port
1 Alienware Graphics Amplifier port
1 Power/DC-In Port
1 MicroSD card slot
Keyboard: Alienware mSeries per-key AlienFX RGB Keyboard with Numeric Keypad
Camera: 720p at 30 fps, HD RGB camera with digital-array microphones in camera assembly
Sound: 4-way stereo speakers with dual tweeters and woofer, 4 W x 2 = 8 W total
Wireless Connectivity: Killer™ Wi-Fi 6 AX1650 802.11ax 2×2 Wireless LAN and Bluetooth 5.1