It's finally here! People have been anticipating the arrival of this particular laptop for months, and it is quite easy to understand why: it's sporting a shiny new Ryzen 4000 CPU.
Specifically, this product is installed with that absolutely wonderful Ryzen 9-4900HS CPU. Combined with the pretty-okay-but-still-superb RTX 2060, it was hyped to be a monster workstation that offers near high-end capabilities under that very thin 0.7-inch (1.8 cm) portable body.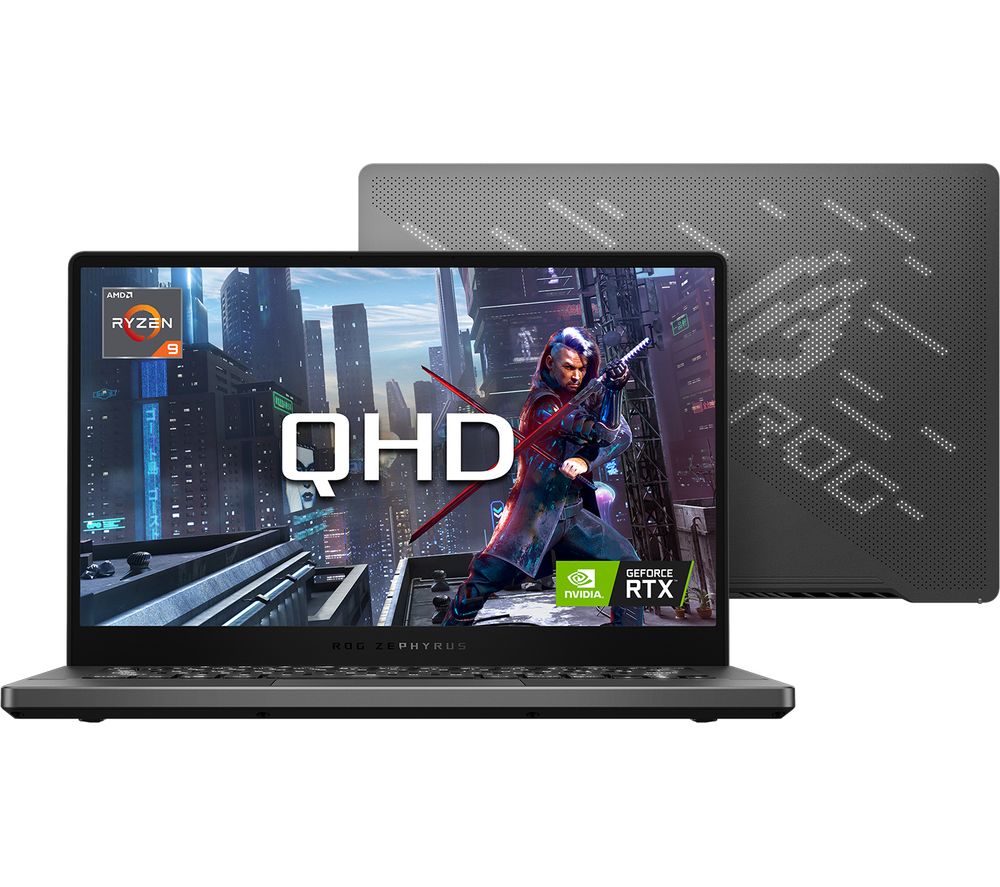 Search ASUS ROG Zephyrus G14 on Amazon
Specifications:
CPU

AMD Ryzen 9 4900HS

Graphics

Nvidia GeForce RTX 2060

with ROG Boost
Memory
16GB DDR4-3200 (8GB on-board, 8GB SODIMM)
SSD
1TB PCIe 3.0 M.2 NVMe
Display
14 inches, 1920 x 1080 120Hz / 2160 x 1440 60Hz
Networking
Intel Wi-Fi 6 (Gig+) 2×2, Bluetooth 5.0
Video Ports
HDMI 2.0b
USB Ports
2x USB Type-C 3.2 Gen 2, 2x USB Type-A 3.1 Gen 1
Audio
2x 2.85W speakers, 2x 0.7W tweeters
Camera
none
Battery
76 WHrs
Power Adapter
180W
Operating System
Windows 10 Home
Dimensions (WxDxH)
12.8 x 8.7 x 0.7 inches (32.5 x 22.1 x 1.8cm)
Weight
3.5 pounds (1.6kg)
Price
starts at $1,500
Discreet High-End Portable Gaming
While a lot of gaming laptops as of late have already adopted more subdued designs, traditionally they were usually shown to have drastically striking visuals that serve to reinforce their branding. You know, Alienware, Razer, those kinds of "instantly noticeable by the corner of your eye" designs.
Subtle, Casual Looks, But Still Techy
However, we are happy to report that the ROG Zephyrus G14 shares the same subtle visuals of its recent predecessors. It is a gaming laptop, but it is absolutely not visually represented as one. It has this clean, organized high-tech look, and for the most part, it looks and feels like a regular mobile productivity machine of the current generation.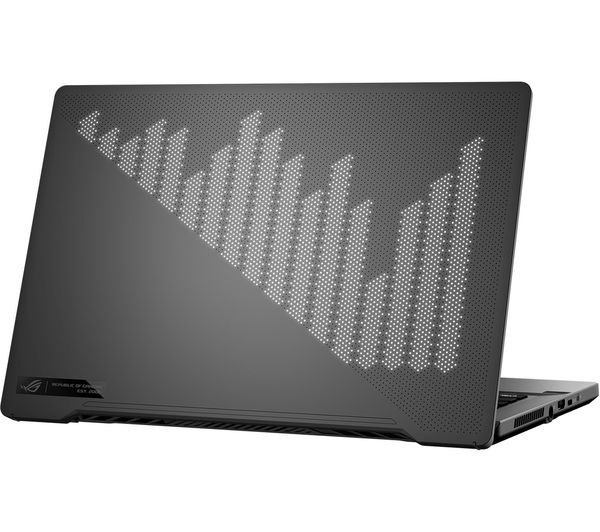 In addition, its 14-inch screen, and its dimensions of 12.8 by 8.7 by 0.7 inches, actually makes it just a tad bit smaller than other products that are meant to compete with it. Emphasis on the "tad bit" there. Obviously it is not a selling point per se, but this kind of reinforces the discreetness of the product as a gaming machine.
Do note though that despite its relatively compact 14-inch screen form factor, it is actually on the heavier side of its size range. For comparison, its 3.5-pound (1.6 kg) weight may seem quite hefty for something like the Dell Inspiron 14 7000, which is almost 20% lighter with its 2.9-pound overall weight.
More than Enough, but Not Quite
At the heart of central operations of the ROG Zephyrus is the much hyped Ryzen 9-4900HS. This is the engine that produces the awesomely balanced combination of efficient power output and vast computing prowess, a feature that was advertised to oblivion on all products installed with it. As expected, when used in tandem with its RTX 2060, it can provide consistent 60+ FPS gaming on almost all current generation triple-A titles.
AMD Ryzen 9-4900HS vs Intel CPUs
More specifically, however it has a performance value that is technically double to most laptops using Intel CPUs of last year. It of course soundly beats the standard staple Intel Core i7-1065G7, and is even far more efficient compared to the gaming staple Intel Core i7-9750H.

AMD Ryzen 9-4900HS VS (Other 8-core) 2020 Intel CPUs
The competition naturally balances out when the Ryzen 9-4900HS is pitted against similar Intel CPUs released during the same period. For example, the Core i9-10980HK and i9-10885H are capable of just outright exceeding the Ryzen 9-4900HS in raw over-clocking and single-thread rating alone. However, the increment is arguably marginal when we also take into account energy efficiency and laptop cost.

As for the Core i9-9880H, it simply waltzes into the competition hoping that its satisfactory performance will not deter potential owners of a ROG Zephyrus G14.
Competing laptops aside, your desktop unit will of course take off at the speed of light compared to the ROG Zephyrus G14. But we have to give some slack to something built as compact as this. For us at least, the ROG Zephyrus G14 is more than worthy for the mobile gaming requirements that you would ever need.
Thermal, Display and Noise Level
Speaking of taking off, thermal control for the ROG Zephyrus is wonderfully superb. In other words, the exhaust fans just go full throttle whenever you try to push it somewhere near its gaming limits. As such it never gets too hot for physical comfort, but you do have to contend with the whirlwind that it produces, sometimes even when seemingly idle.
There are two primary screen resolution choices for this particular laptop: a 1440p one and 1080p one. We immediately chose the 1080p one. Why? One specification: 120Hz. You heard that right. This laptop offers that potentially butter smooth visual performance that would never let you make a wrong split second decision on your games… theoretically.
At this point we have to mention the weird, should we say flaw? Of the ROG Zephyrus. During long play, users will definitely notice some sort of ghosting effect, most likely caused by a response delay. The effect is very tiny, but it's still there. This may or may not bother anyone depending on how hardcore they plan to game on this laptop, but we would just like to at least point out that it's there.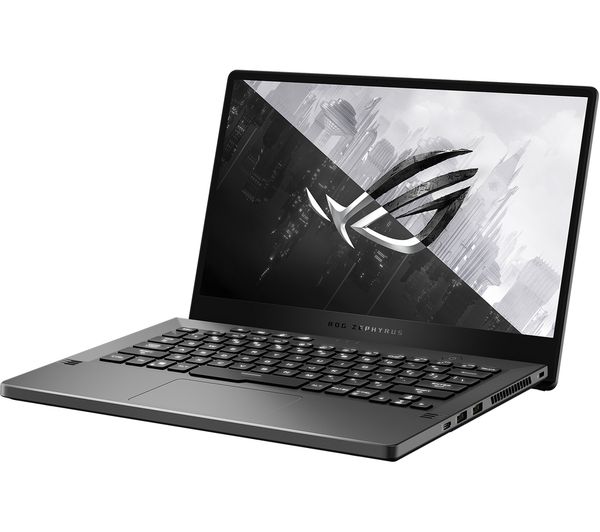 Everything that You Can Expect
The standard magnesium alloy chassis of the ROG Zephyrus G14 gives that good balance of high-quality feel, plus low weight, ideal for just about any laptop today. Sure, this isn't anything outstanding, but it is important to let people feel at ease with any potential prolonged use of the product. The ROG Zephyrus G14 definitely gives a lot of good points in this regard.
Just Your Typical, Average, High-Quality Keyboard
The keyboard itself feels solid, very tactile, and evenly spaced. Nothing special, just a pretty standard hardware input component to this kind of laptop. However, unlike similar Razer gaming laptops for example, the keyboard backlighting seems not too bright enough. This isn't a problem for the black versions, but definitely something to notice on white and silver models, which would make the lighting far less noticeable for some users.
Where is the Thunderbolt Port?
Available ports include two USB A and USB C, but strangely not a single Thunderbolt port in sight. Other things to be found on the keyboard area, such as the fingerprint scanner, the trackpad, hardware buttons, and the ROG launch button are pretty much what you (should) expect. Oh, and this product doesn't have a webcam either.
Good Battery, Okay Speakers
Battery life is about eight hours of regular use. This is not benchmark tested, simply a casual conclusion based on how the laptop was continually used over the course of a single week. It is rechargeable via USB C. But if plugged this way, the laptop will still automatically throttle down its GPU as if it is not connected to a power outlet.
Speakers are… kind of okay. Its performance is certainly not an issue when used by only one person (when viewing media for example), or if you are going to play wearing headphones anyway. But this one is understandable, given the configuration of its audio hardware. There is room for improvement though.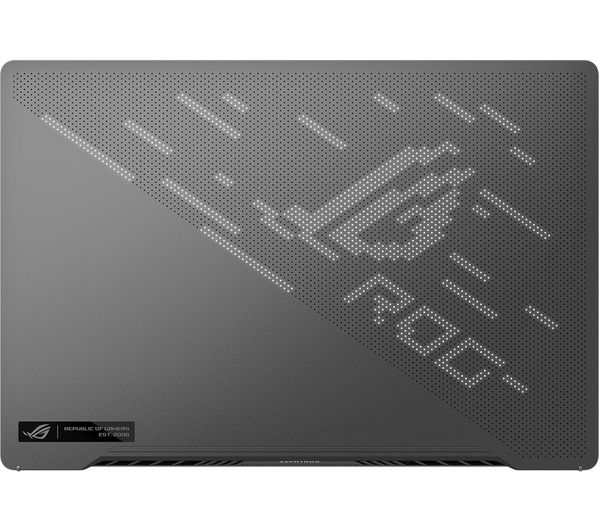 Other Things of Note
One nifty feature of the ROG Zephyrus G14 is the option to be installed with an AniMe Matrix screen on its back side. Quite nifty when you want to put your signature animated label on the laptop, or if you want to simply show off to people who are viewing the unit at the other side.
Lastly, we kind of do have to at least point out that like most previous Asus gaming laptops, the ROG Zephyrus G14 allows better thermal circulation via its slanted position when it is on open clamshell mode. This causes some of the warm air to be vented out right in front of the screen, so do take note.
Conclusion:
The ROG Zephyrus G14 seems to have successfully lived to its hype, in its own way. While the Ryzen 4000 CPU wasn't the "Intel killer" that everyone was hoping speculating it to be, it was still able to take over the competition in overall usage efficiency as a portable high-end gaming machine.
Supporting this is the 120Hz monitor, which definitely helped to make the graphics-crunching power of its CPU and GPU more visually prominent. The GeForce RTX 2060 Max-Q and Ryzen 9 4900HS pairing is great and copes well with compact heat pipes and thermal management system. For long hours of game play, we recommend laptop cooling mat or active cooling pads.
For its feel and design, it has quite a number of QoL (Quality of Life in games) features that make it easier to be used casually. It's lighter and sleeker build for example, doesn't give away its identity as a high-end machine. It can sit among other fancier laptops, but can still work harder than the tougher gaming machines of the last year.
The two relatively minor negative points however, was the loudness of the fan during heavy use, as well as the very tiny, but still somewhat noticeable screen lag that often happens during prolonged use.
As a bonus, you can easily have your own custom look on the laptop by availing the AniMe Matrix screen option. Great for sharing memes on the go.
All in all, if you are looking for a slick laptop that can be used for high-end gaming while being presented visually as a clean and tidy workstation, then this laptop is definitely your thing.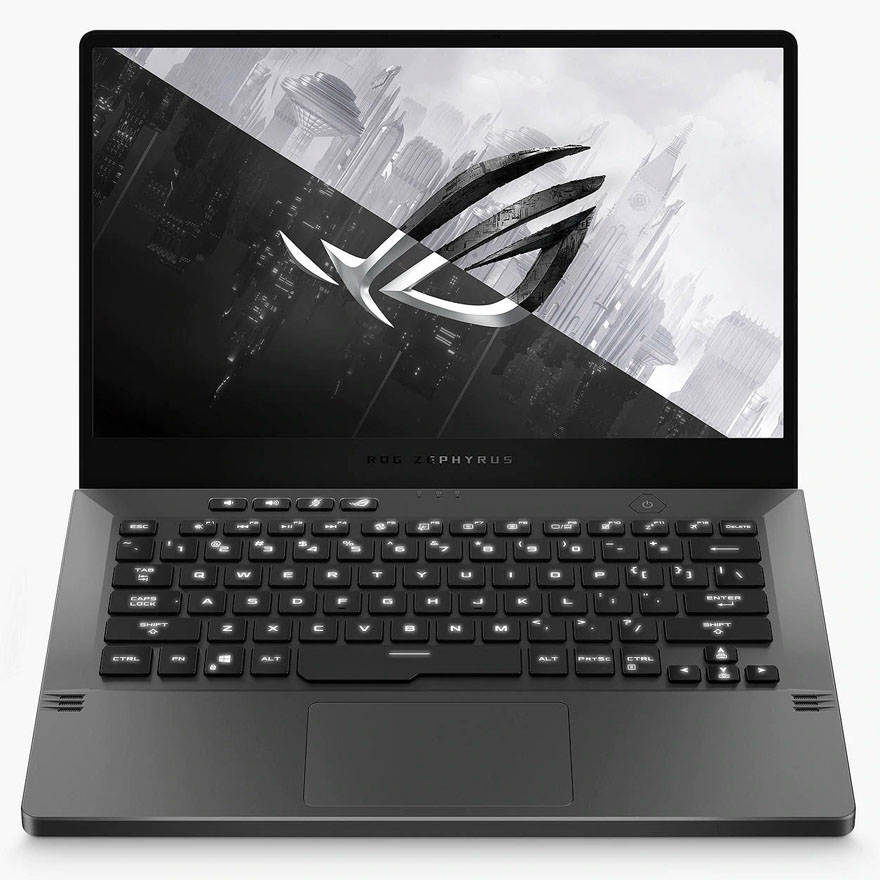 Search ASUS ROG Zephyrus G14 on Amazon