The question in everyone's mind right now especially those looking to get in on the smart wearable action is, it Apple Watch 7 worth the extra when you can get the Apple Watch SE for cheaper.
Before we jump into the comparison it is worth noting that the Apple Watch SE is physically and electronically the same as Apple Watch 5. We explained the differences, mainly software, between the two watches here. Some of us, like myself are still hanging on to the Apple Watch 5, and with the company keeping Apple Watch SE on the shelf, it says something about the useful life of the watch.
RELATED: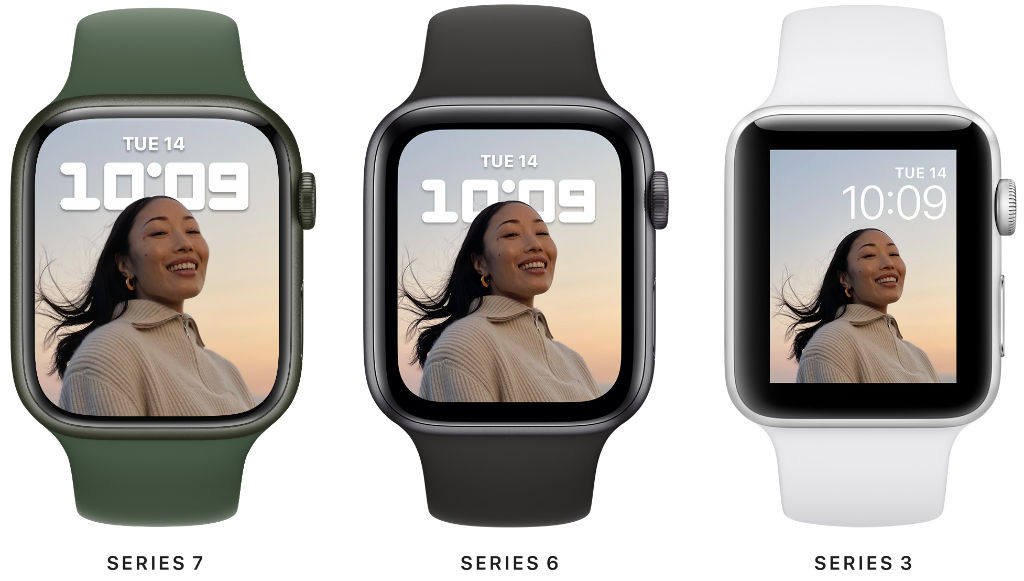 What You Get with Apple Watch Series 7
Full Screen Design: The new series 7 is a leap from series 6, just like the 5 or SE has been a leap from series 3, in that we mean the size of its display. While the case is the same size, the screen has grown by nearly 20% compared to the Watch SE reaching further and nearer to the edges, eliminating the black borders by 40% around the display. This makes the display bigger for better visibility and easier access to the user interface and buttons.
Always-on display: This has always been the main advantage starting with series 5 compared to earlier watches and the Watch SE. While both are based on Retina display, the series 7's display Is always-on. It is also 70% brighter indoors.
Crack resistant front crystal and IP6X: like the glass treatment on iPhone 12 and 13, the series 7 now comes with strong crack resistant front crystal. It still comes with WR50 (water resistant up to 50m depth) like the Watch SE but receives a dust resistant IP6X certification.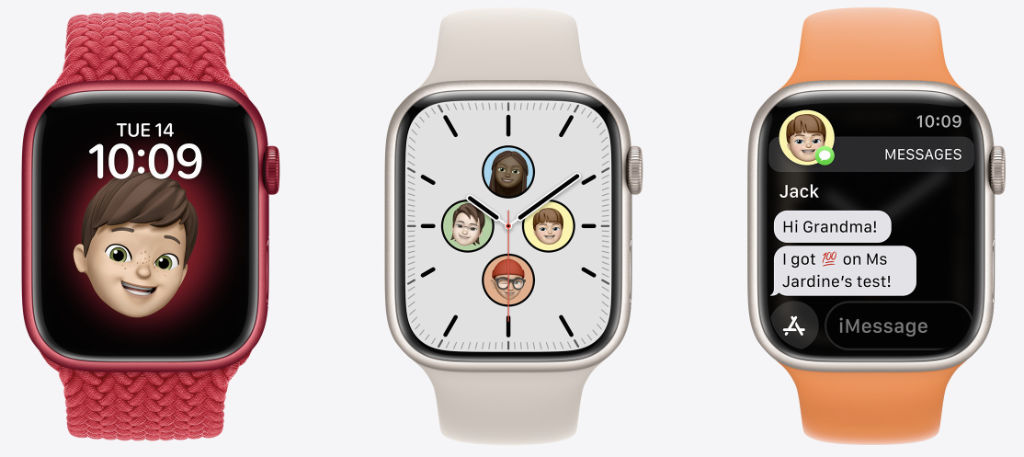 Faster processor: As spec bumps go, the series 7 is powered by the S7 SiP 64-bit dual core processor with W3 and U1 wireless chips. The Watch SE is powered by S5 SiP 64-bit dual core processor.
Faster charging: It supports faster charging up to 33% than series 6 with USB-C cable
More aluminium case colours: green (new), blue, product red, starlight (new) and midnight (new). The standard silver, space gray and gold in series 6 now reserved for SE below, making a clear distinction between the two lines.
More case material options: beyond aluminium, there is high end stainless steel in silver, graphite or gold and titanium in titanium or space black.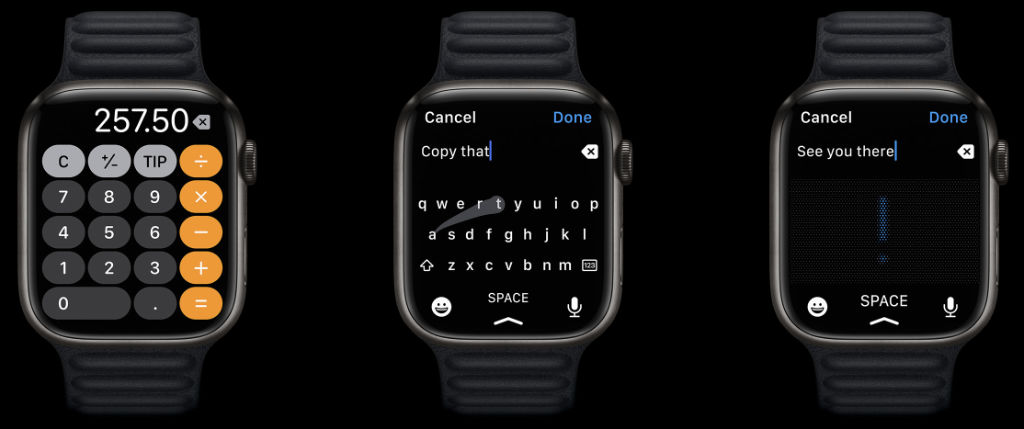 Bigger user interface: with bigger display means bigger buttons for apps like calculator, stopwatch and timer. But beyond buttons, series 7 also gets full QWERTY keyboard that supports both tap and swipe, first on Apple Watch. Apple Watch SE only gets scribble to write, letter by letter with dedicated backspace button and space bar.
Blood Oxygen and ECG sensors: like series 6, the series 7 comes with blood oxygen sensor and electrical heart sensor to power the Blood Oxygen app and ECG app respectively.
Improved sleep tracking: the series 7 goes beyond creating bedtime schedule and routine. It tracks respiratory rate during sleep too.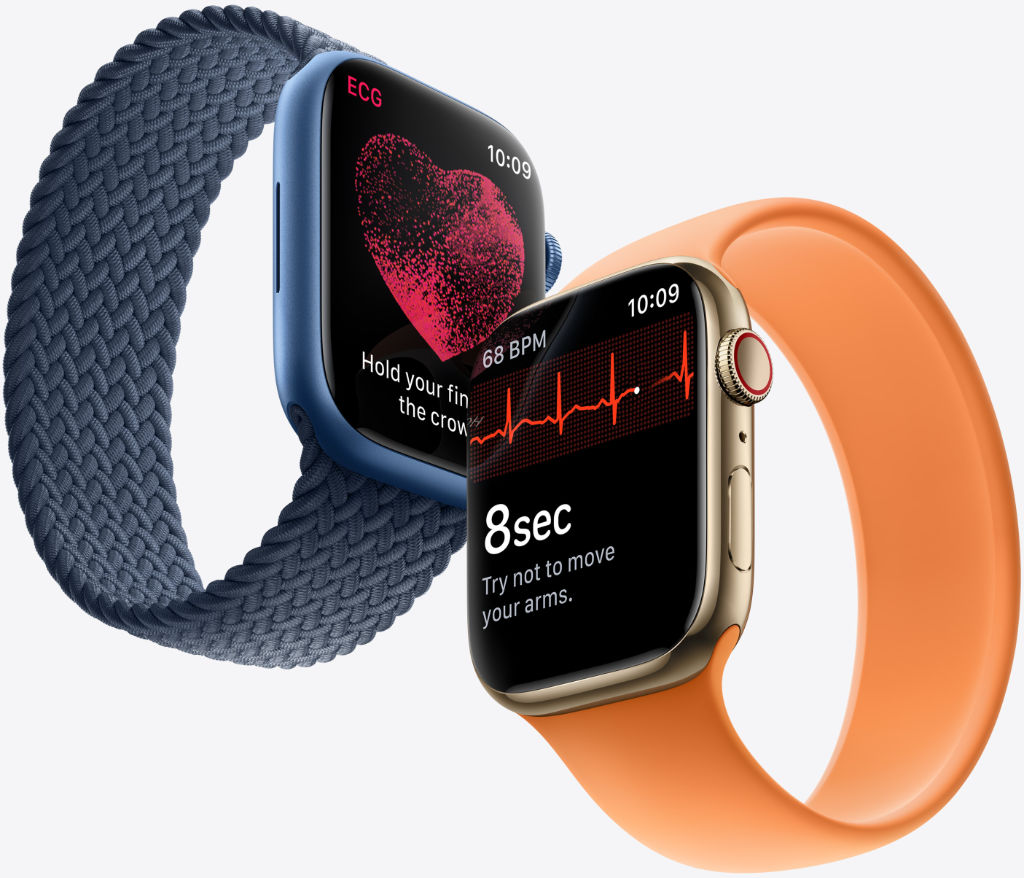 Search Apple Watch series 7 on Amazon
What You Get or Don't with the Apple Watch SE
Rounded Corner Display: The Apple Watch SE's display is already 30% bigger than Apple Watch series 3, with it narrow bezel and rounded corners but no where as big as Watch Series 7. Still, it is plenty to drive the UI and get what you want on the screen although those with big fingers might struggle. In that case, we ask that you pick the 44mm model.
No Blood Oxygen and ECG apps: It will sense high and low heart rate as well as irregular heart rhythm and notify you but there is no blood oxygen sensor and no electrical heart rate sensor onboard, relying only on optical heart rate sensor.
No always-on display: while it is still a Retina display, the always-on feature is disabled when it used to be available on Apple Watch 5, the same watch it is based on.
No tough crystal crack resistant protection or IP6X: while it comes with hardened sapphire glass front, it is not the new and improved crack resistant crystal in series 7. it also does not have dust intrusion protection.
Water Resistant up to 50 meters. The Watch SE is swim proof.
Limited aluminium case colours: only silver, space gray or gold available.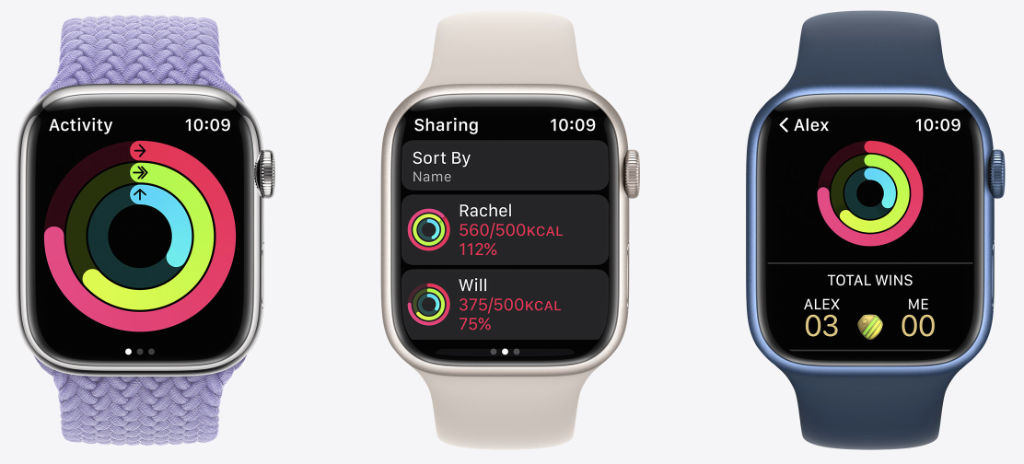 Conclusion
Bigger display aside, based on the list of what you don't get with Apple Watch SE above, you can see that unless ECG and Blood Oxygen sensors are your must-have, there isn't really much you are missing out on in terms of functionality. In our mind, case colours, toughen glass front and protection against dust are merely extras, you won't miss it if you don't have them. That and the extra titanium and stainless steel finishes. In any case, you pay a huge premium for all that anyway with the series 7.
If cost is a main factor, the Watch SE is still a very good watch with many fitness features and integration with Fitness+ for you. At this point, we won't consider series 3 as it is too many generations behind, 4 to be precise. Considering the Watch SE is based on series 5, it is only 2 generations behind. But if the latest and greatest is what is on your mind, series 7 is the go-to.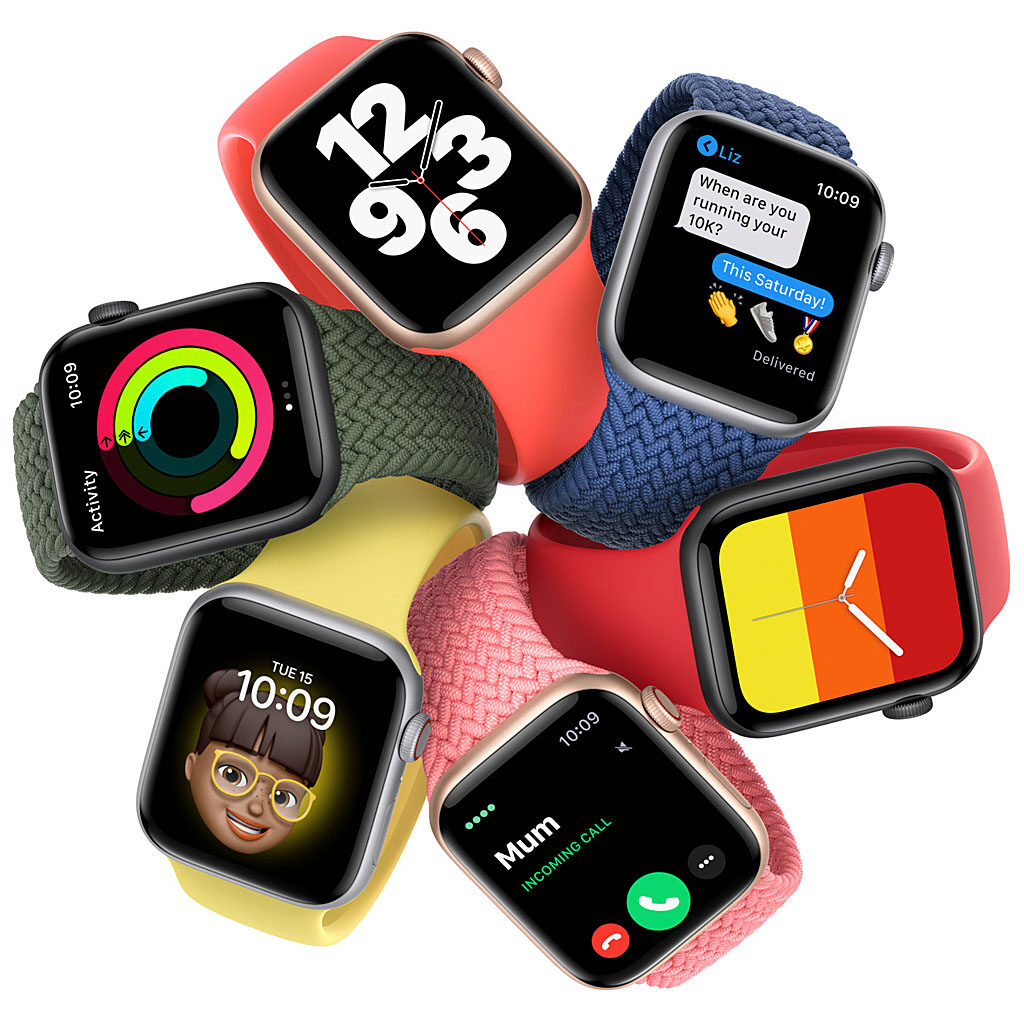 Search Apple Watch SE on Amazon