So, there is a brand new Samsung monitor. You may have heard of it. It's been out and available for the global market for at least four months now. Yes, we are referring to none other than the latest Samsung Smart Monitor M7 and M5 display models, M70A and M50A in some markets. The hype has been worth the wait. But after all this time, are the monitors still going strong? This review will provide a very brief, cursory look.
Large flat panel TVs are the ones getting all the 'smarts', with its own operating system, support for apps and streaming services, user-friendly interface and even voice activate search via remote control. Monitors have stayed largely the same, with two to three input options, and at most, the ability to support to on-screen control panel to change its settings. Not anymore with Samsung Smart Monitors, the company has brought that same smartness to the monitor including a voice activated assistant via the smart remote, minus the built-in terrestrial digital tuner.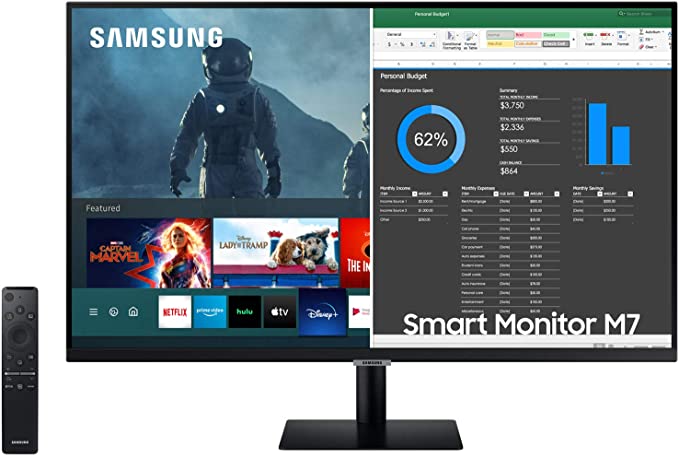 Samsung Smart Monitor M70A and M50A
Since both are effectively the same product except for the display resolution, the M70A comes with Ultra HD 4K while the M50A comes with Full HD 1080p resolution, we shall review them as one when it comes to functions that they share. Then, we will provide a conclusion that gives experience-based considerations for both as separate items.
Main Specifications Overview
| | |
| --- | --- |
| Display | 16:9 32-inch, 4K/1080p (for M70A or M40A respectively), flat VA Panel screen |
| Contrast, Color, Angle | 3000:1, 16.7 million colors, 178-degree viewing angle, 250cd/m2 brightness |
| Response, Refresh | 8ms, 60Hz |
| Dimensions, Weight | 716x424x42mm, 5.4/5.0 kg (stand detached, 4K/1080p) |
| Power Consumption | 150/60w (max), 48/26w (average), 0.5w (standby), on 4K/1080p |
| Operating System | Tizen |
| Notable Technologies | Tap View, Remote Access, ConnectShare, Mobile to Screen |
| Connectivity | WiFi5, BT 4.2, USB 2.0, USB-C*, HDMI 2.0 |
| Ports | x2 HDMI x2 USB 2.0, x1 USB-C* |
*USB-C port/connector available only for the M70A model
Like all other smart TVs, number-based specs never really give a clear indication of just how good or bad a particular model is. Because let's be frank, 4K 60fps using 'only' HDMI 2.0 and VA panels is pretty common at this point, and would never really turn any heads. Nonetheless, we need to quantify these numbers before getting into the real good stuff, namely its integration and connectivity features (feel free to skip to that point below).
Let's first discuss that VA panel feature. The display has been the choice for monitors for quite some time now, since it can provide better color reproduction than the already adequately vibrant IPS technology. In this case, indeed, both the M70A and M50A benefit from all the eye candy advantages that typical mid-range VA panels have.
What is hot and not so hot about the monitors
However, the experience, on its own, is not as perfect as it seems. Both models only have a maximum brightness of 250 cd/m2 and 3000:1 contrast ratio, which will not in any way optimize either your HDR10 or your 16.7-million color variance feature even though HDR10 is supported. No, this does not mean in any way that the picture quality is terrible. It works, and you can do stuff on it just fine. But you need to understand that it would not be up to par with other high-end models using the same VA panel technology.
So what was gained from such a sacrifice? Cost. At maximum, even the 4K M70A is introduced at just a bit over 550 USD (M50A even cheaper at 400 USD) MSRP, making it one of the most accessible 4K monitor with smart TV that offers a decent amount of practical features.
The second thing that we need to mention is, USB-C. Yes, there is indeed a USB-C port and not a Thunderbolt port. The addition is a nice perk to the M70A, giving it an alternative method of getting charge for your devices with up to 65W charging without relying on your standard power brick. Unfortunately, the same cannot be said for the M50A, which omits that feature altogether.
Gamers may wish to look elsewhere. While it supports a Game Mode, the low refresh rate at 60Hz, lack of G-Sync and FreeSync support and black equaliser may hamper game play. There is no refresh rate optimiser or Super Arena Gaming UX present. At most, you get an ultrawide view thanks to its 16:9 screen aspect ratio.
As for the rest, they're actually quite good for home office, remote working, online learning and streaming via Smart Hub. USB 2.0 ports functioning as a hub is quite convenient. WiFi 5 is still as good for wireless connectivity. Bluetooth 4.2 is not an issue at all, since Bluetooth 5.0 wouldn't really provide any direct benefits to both models. And that remote… it's just as functional as any modern remote with voice input support.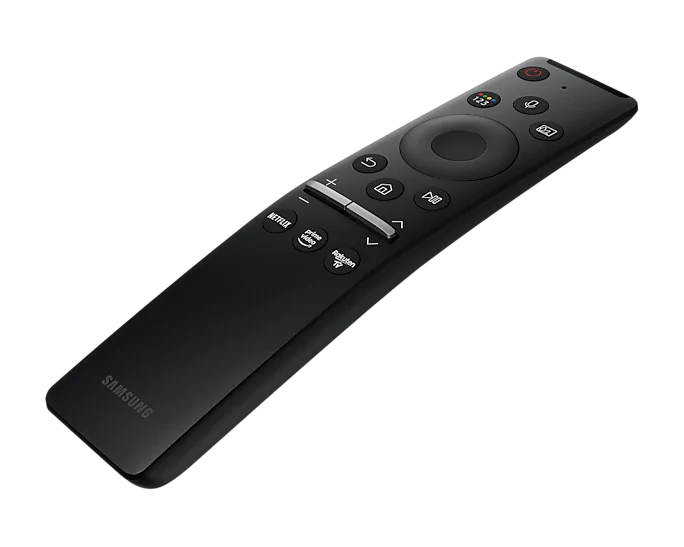 Now with those things out of the way, let's get into the good stuff.
Wireless on the Go, Whatever You Do
Do you need anything connected to your M70A or M50A? Well, just ditch that cable altogether, because no matter what you do, whichever hardware you are going to use, the newest Samsung Smart Monitor has an option that's just right for you. Well, your consoles would most likely still require physical connections. But the rest of your gadgets and mobile devices would appreciate how friendly and easy it is to access the monitor, nothing more than a tap or a snap. Here's a short list of these awesome features:
Wireless Dex – an obligatory addition to any Samsung display. It was quite a nice convenience for us to just whip out our Samsung phones and mirror its screen and connect to a full size keyboard and mouse to utilize the hardware on both as if it was an office PC. With your dedicated PC probably already using a display or two of its own in this office, this feature basically allows the monitor(s) to have an extra purpose.
Just about more on not having to switch on your laptop or PC and still be able to access a PC-like work environment, you can also add this to one corner of the living room so that it can also become an impromptu PC for when you do not want to be restricted by the screen size on your phone. Just… remember to have a mouse and keyboard handy. Phone-track pad mode just will not be as friendly for this mode of use. With Ultra HD 4K resolution at 32-inch, you are going to appreciate being able to move your cursor across the screen quickly and easily.
Screen Mirroring – if your phone supports this feature, then you can dial back down the full office experience to simply making the Samsung Smart Monitor a makeshift giant screen. There's a bit of a setup required, but if you're using Android (which you would be on a Samsung device), you can simply download the SmartThings app to give your monitor a tap on the shoulder before it starts mirroring. Take note, however. While this works almost all the time, there will be a few moments where the phone might actually suggest a more… vigorous approach to accessing this feature.
AirPlay2 – both M50A and M70A also support AirPlay 2 so you can extend or mirror your screen from a MacBook or iOS device including iPhone and iPad. When connected to a MacBook, you will have the option to use the monitor in dual display mode wirelessly. You can then add a Bluetooth mouse and keyboard to your MacBook and turn this into a sort of hot desk at home for members of the family, since WFH is so big now. As for iPhones and iPads, use the monitor to share your video, music and photos effortlessly, streaming media from iOS mobile devices via AirPlay2 turns the device screen into a scrubbing and playback remote.
Dual-Display – this is probably the most practical feature for these types of monitors. As its name suggests, it allows you to plug a display output into, and let it function as a main or secondary display. You can plug just about any laptop you can think of, or even a desktop with multiple display outputs. You just need the right adapter cable(s). We tried it with a few laptops, and it just works. Use the USB-C (with DP signal) or native HDMI 2.0 connections (still actually not bad, to be honest and there are two available) to add a second display on top of the display on your device, or if you already have a main monitor. When connected via USB-C port, it will not only send display signal but works as a power source for your device and allow you to transmit data to the hub.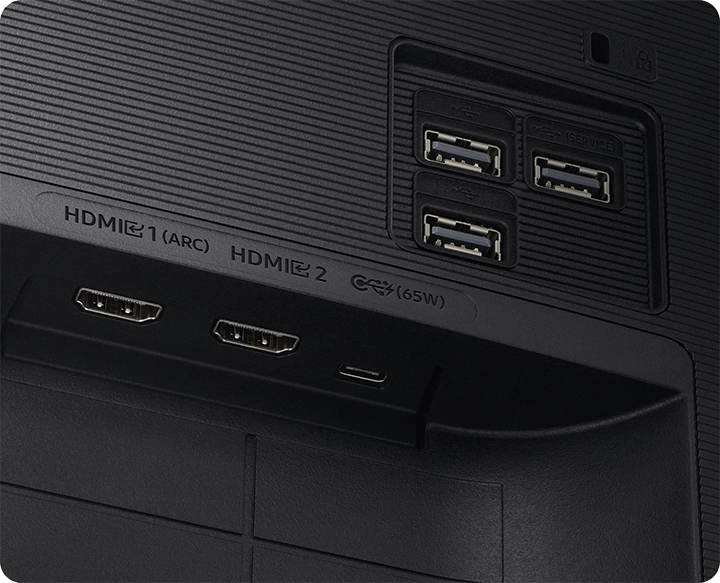 Remote Access – yup, plain old Remote Desktop. Access your primary station and work remote several miles away directly from the monitor. Meters if you don't feel like walking up to your laptop or computer in the home office. Use the onboard app to login remotely to your PC. For this feature to work, you will need either Windows 10 Pro or Mac 10.5 or higher. Compatible network settings are also required.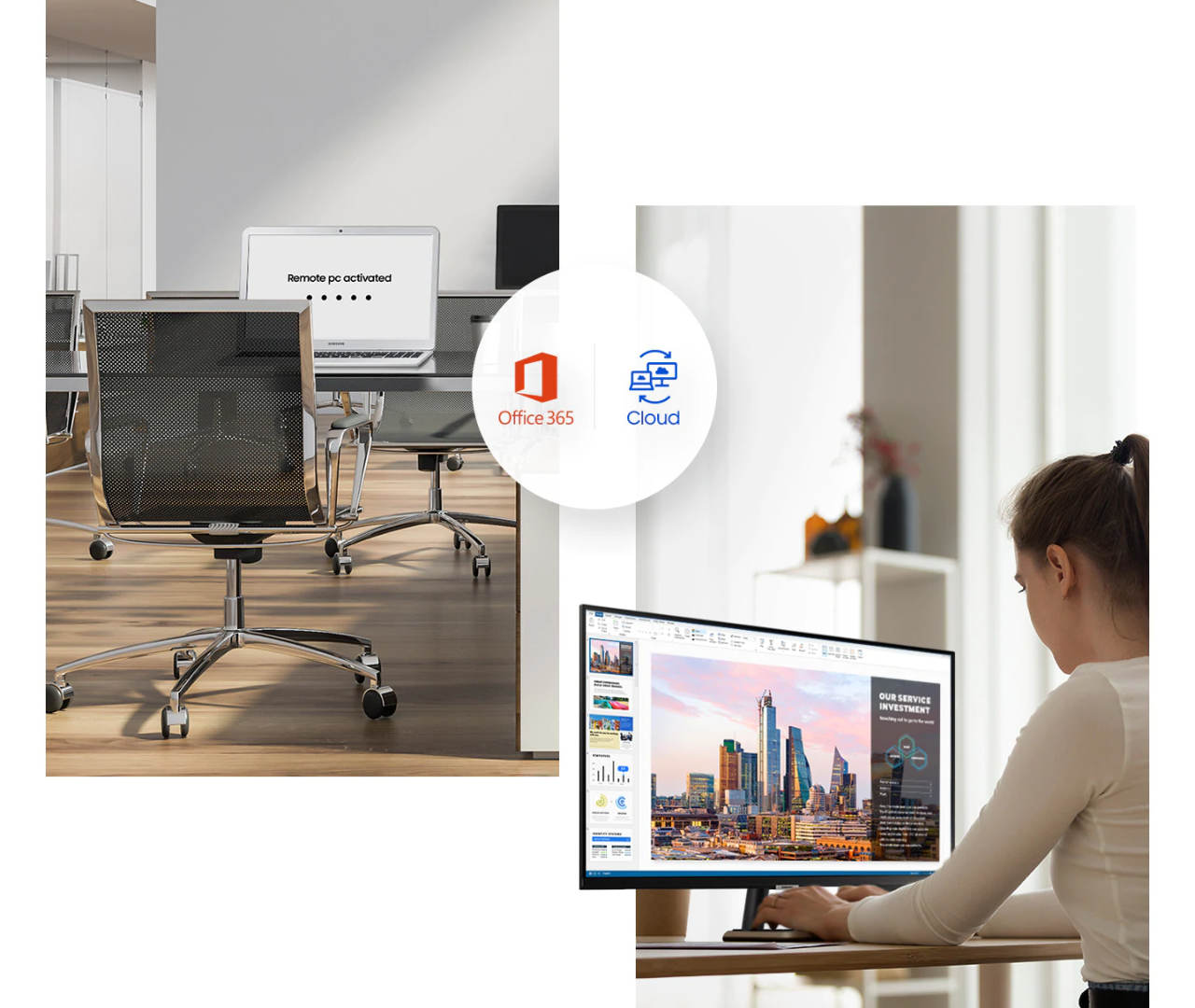 Perhaps more notably, both the M70A and M50A also feature full Office 365 integration. That's right. You can access your cloud-based Microsoft Office apps natively without having to use any of the wireless features we mentioned earlier. Again, be ready to whip out your dedicated keyboard and mouse for this feature, as you would most definitely not want to edit your spreadsheets using that remote. The interface can be a little sluggish and you certainly need an Office 365 subscription, but to access and edit your documents in the cloud being nowhere near a full-blown PC is a real convenience for some.
The Samsung Smart Monitor lets you work from home without a PC using one of three methods. Using a compatible Samsung smartphone that supports Samsung DeX for a desktop like experience. Use the integrated Office365 app to edit your documents in the cloud starting with your Office365 cloud ID and password. Finally, connect remotely to a PC or laptop via Remote Access. Protocols supported include RDP for Window users and Mac remote access via Screen Sharing.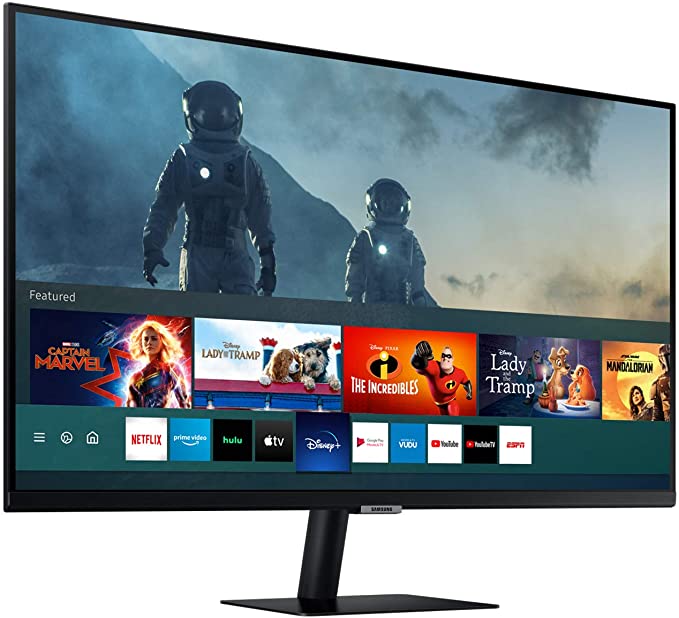 Search Samsung Smart Monitor M on Amazon
As for other features, they integrate well enough with its specs. Multimedia access, for example, provides most of what is popularly available. Netflix, Apple TV, Disney Plus, Prime Video, Hulu you name it. Built-in speakers have a very nice price-to-performance quality to it. Maybe a bit lacking in bass, but we can guarantee that this is more than what you would actually pay for both models. Compatible connectors and adapters may use the USB-C port on the 4K model to connect to a DisplayPort 1.4 port on certain laptops, if necessary.
Verdict: Very Good Value for the Money
The Samsung Smart Monitor definitely passes all quality and convenience checks of a typical monitor. That makes it quite predictable, though, because it doesn't really provide anything special as a monitor alone (moderate to low brightness, standard refresh rate and no real gaming support). However, what makes it great is its comprehensive suite of different use cases that combine very nicely with its very competitive price.
Due to this, we kind of value the M50A slightly more than the M70A, if only because the significantly lower price means that you can indulge its secondary/additional wireless monitor perks as an investment, instead of being just an entertainment medium.
Nonetheless, if you are in the market for a Ultra HD 4K experience, the M70A is an excellent buy, and would still be comparatively cheaper (performance ratio-wise) compared to other 4K models. USB-C monitors are still rare and hard to come by. One with all the bells and whistles like the Samsung Smart Monitor is virtually non-existent. Definitely worth a look.
A statement that we never thought we would ever comment on a Samsung product.