Right at the beginning of this year, Samsung unveiled to the world in an official update post and at CES 2022 for its upcoming newest lineup of displays for both productivity and entertainment. All three products were already quite phenomenal on their own. But the biggest surprise was the promoted specifications for each of these monitors.
Because yes, it seems like the paradigm of high-end in mainstream monitor technology is about to change once again.
Samsung Consumer Monitors CES 2022 Lineup Overview

4K UHD 240Hz Creamy Goodness: Odyssey Neo G8
The Workstation Duplicant: Smart Monitor M8
"Glare-Free" Graphical Masterpiece: High-Resolution Monitor S8
1. 4K UHD 240Hz Creamy Goodness: Odyssey Neo G8
At the main forefront of this huge announcement is the unveiling of Odyssey Neo's latest iteration, the G8. Not much technical specs has been revealed thus far, but according to the official update post, it will be the first 32-inch 3840×2160 (UHD) monitor with a 240Hz refresh rate. The first in the world, as Samsung righteously claims, because thus far, we've only ever seen standard upper refresh rates of 144Hz within the monitor product category.
At the heart of this already stunning spec profile is the use of Quantum mini LED backlighting technology. Basically one of the backbones of high-end HDR technologies today, of which the Odyssey Neo G8 itself is rated as Quantum HDR 2000.
Like other Odyssey Neo monitors, it will feature this sleek and futuristic curved design on its stand and supports, with a primary white theme complemented by blue and black similar to the later Neo G9. The screen will also be curved, at the typical aggressive 1000R, which is pretty much the standard an Odyssey monitor's "immersion factor".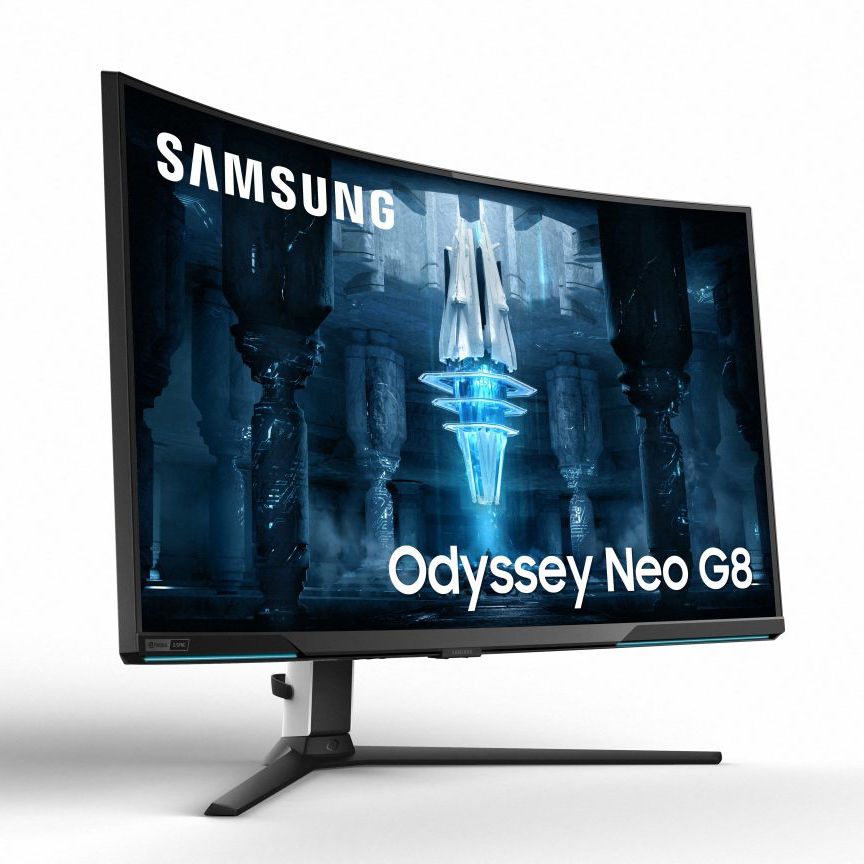 As for the market it is set to make a splash into, the main issue would probably be the practicality of achieving 240Hz when it comes to 4K gaming. Even with upscaling gimmicks like DLSS or XeSS, most GPUs today would still struggle to consistently max out current 144Hz 4K monitors. As such, consumers would very likely be happy keeping their Acer Predator XB323QK's around, or the world-class bang-for-the-buck Gigabyte M32U. And yes, that also includes other models there were also just newly announced, such as Viewsonic's Elite XG321UG 32-inch 4K Mini-LED gaming monitor.
What we can guarantee based on the previous G7 at least, is that the Neo G8 would most likely offer a future-proofing solution. The technologies available to it would ideally go in tandem with the high refresh rate, so that hopefully as the years go by, these features would still remain relevant, while GPU developers come closer and closer to the Neo G8's maximum intended potential (or at least considerably beyond 144Hz).
2. The Workstation Duplicant: Smart Monitor M8
The story becomes quite different when it comes to smart monitors. Instead on focusing directly on panel technologies, feature integration is a much more important consideration. This is well represented by the Smart Monitor M8, which was not really advertised with any breakthrough concept in mind. Samsung simply promised that the product will offer one of the best experiences when it comes to balancing productivity and entertainment.
First, is the front and center promotion of its form factor, which despite having a similar 32-inch 4K UHD configuration, the panel itself will only be 11.4mm thin. Complementing its reduced desk footprint is the introduction of its SmartThings control hub, a freely adjustable webcam (SlimFit cam), and various call app features, including Google Duo. But perhaps more notably, a native USB Type-C port that would enable 65W charging connections will be available, potentially turning it into a single-plug device for any (office work) laptop.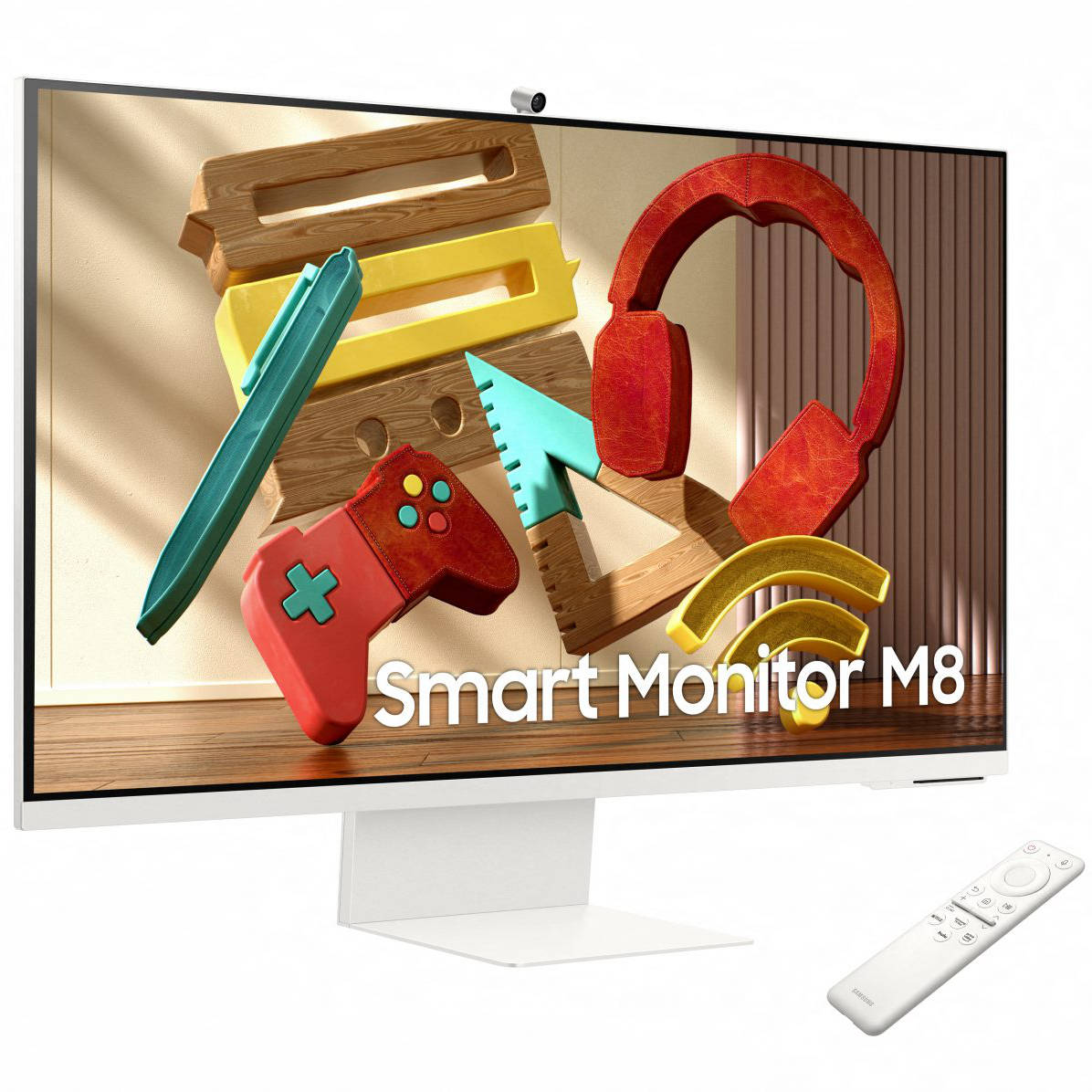 There is nothing much of note technologically when it comes to its specs. 99% sRGB, 400nit brightness, and supposedly "warm color" present out of the box. Lastly, no, there is no mention of its panel technology anywhere. So you can most likely expect this to be a fairly typical proprietary panel representing a mix of IPS and VA features.
Integrating a full suite of different hardware for a single huge monitor has been the concept of more and more monitors as of late. Going back to the M32U once more, it offers an internal KVM switch, also powered by a USB Type-C connection, to allow users to instantly switch between different PCs and devices using just one convenient connection.
Perhaps this is the exact same category that the Smart Monitor M8 is aiming for, and would thus be very attractive to users that may want to have a smart TV, while still keeping the pixel quality and clarity of productivity monitors. Though, Dell also announced at CES 2022 a similar conferencing-optimized 32-inch 4K monitor, the UltraSharp U3223QZ, which would most likely bump heads with this monitor in the near future.
3. "Glare-Free" Graphical App Masterpiece: High-Resolution (UHD) Monitor S8
And of course, Samsung also introduces its UHD Monitor S8, in a bid to keep up with the ever-increasing need to develop display products for professional work that requires the best color reproduction features possible. Having 98% DCI-P3 color gamut means that this one is poised for probably the best real-life photo editing experience depending on the additional features.
Along with its photorealism-optimized color gamut, the UHD Monitor S8 would supposedly be complemented by its HDR 600 certification, which means that this will at least have twice the base brightness of the Smart Monitor S8, though color range will be the same at 10-bit (1.07 billion). Light reflection is also almost eliminated, as Samsung claims that this will be the very first "glare-free" monitor, certified by Underwriter Laboratories.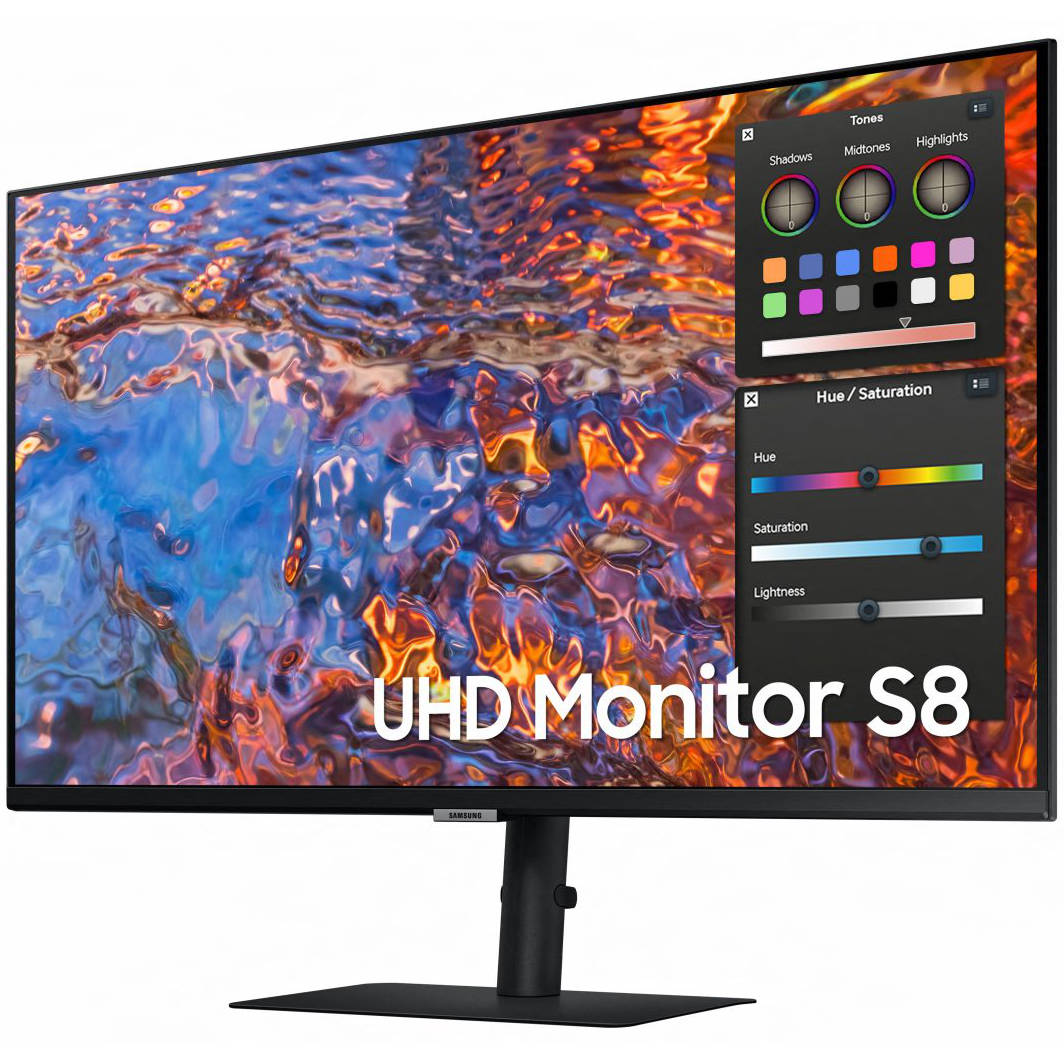 Unlike the previous two monitors, however, this monitor will be available in 27-inch and 32-inch flavors. It will also feature a USB Type-C 90w charging port to power the best laptops that could number crunch the video editing applications to be used on it.
Of course, the biggest competitors for the UHD Monitor S8 will be none other than monitors such as Asus' ProArt and BenQ DesignVue series (specifically the PA32UC and PD3200Q respectively). Most competitors here have at least 95% DCI-P3 color gamut, 10-bit color, and far higher than just 600 nits of brightness. More than just its "glare-free" gimmick, the combination of its convenient connectivity and device integration features, along with perhaps a bit more aggressive retail price, will be the key that would help its sales numbers upon official release.
BONUS: The Even Wilder Cards – Odyssey Ark, Odyssey G8QNB
For an even bigger reveal during Samsung's actual presentation, the company unveiled a gigantic 55-inch 4K screen that is named Odyssey Ark. Yes gentlemen, that curve transcends all the hard curves presented to use by any Odyssey monitor thus far, easily surpassing the G7 and the upcoming Neo G8.
At least according to how it was showcased, the viewing experience is specifically made for the Ark so that the screen effectively wraps around the user. The "immersion factor" being once again the most important advertising factor for the product. Although from our observation, it is most likely that the curve is also a way to maintain practical field of view fidelity, reducing potential eye strain if it was offered as a flat panel.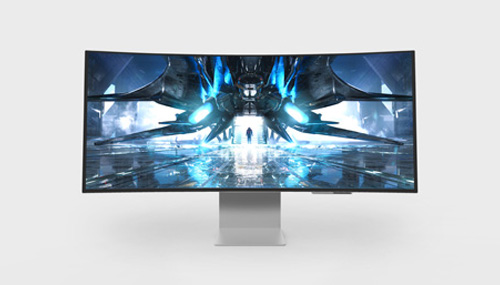 On the more practical side, each equal-area section of the screen may be allocated as a separate display, kind of like how multiple windows can easily fit into a side or corner in Windows 10. So in a way, the Odyssey Ark may become the ultimate multi-monitor experience, without any annoying bezels whatsoever!
As for the Odyssey G8QNB, it will be a 34-inch 3440×1440 (ultrawide) 175Hz gaming monitor, featuring what Samsung claims as the first Quantum Dot OLED display. It oddly won the CES Innovation Award despite not being showcased, keeping its air of mystery with just a picture and teaser specs. You can see the short description on its official CES 2022 page here.