If the price tags on HP Spectre 13 and Dell XPS 13 are hard to swallow and you still want high-end looks and parts in an ultra portable, the HP Envy 13 is your answer.
Superb specs, high end design, discrete NVIDIA graphics, thin and light laptop with a price you can stomach. HP Envy 13 has everything you want in an ultra portable.
In fact for what you are getting it's a bargain. The 14.9 mm thin machine weighs only 1.3kg with many appeals. Here are the reasons why you would decide to go with the laptop:
1. Design and Looks: Silver throughout, even the keys are colour co-ordinated. The silver finish gives the laptop an all-aluminium design that mimics a device with anodised metal. The lid extends to the back of the hinge.
When you open the lid, the extended angular edge on the back lifts the base and keyboard up to a tilted position, making it more comfortable for typing. While edges are squared off, the corners are soften with soften with gentle curves.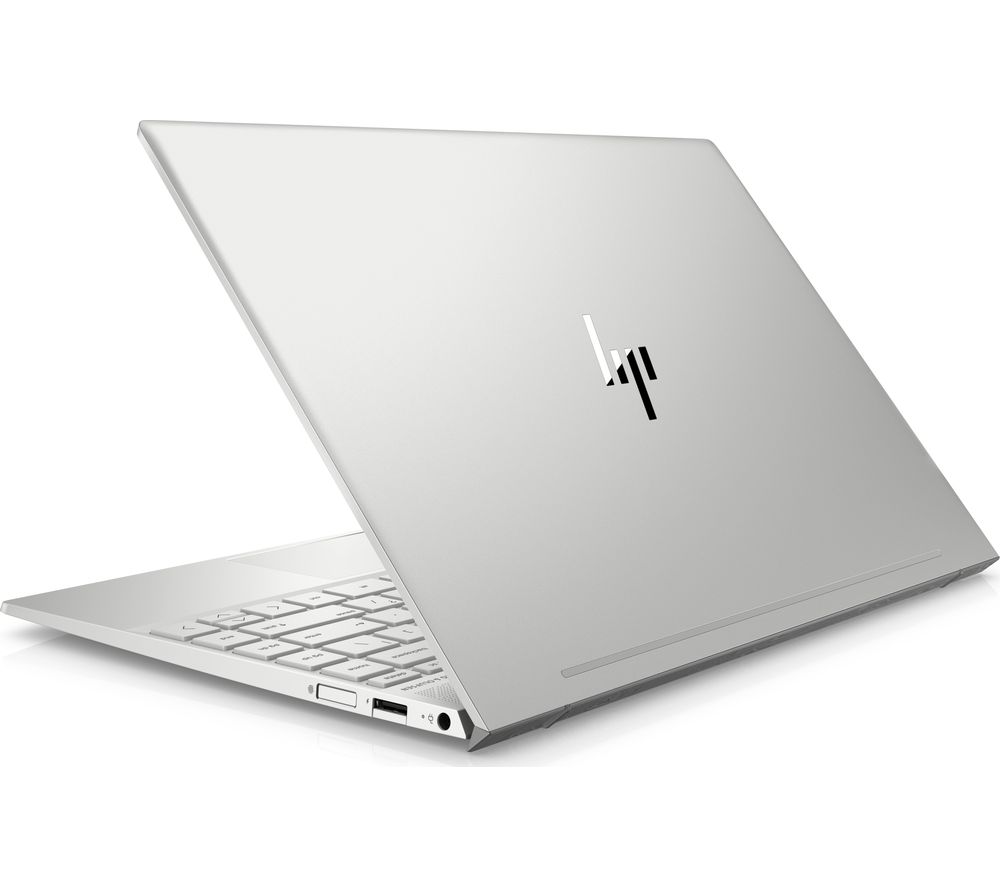 On the top of the keyboard, you will find a series of repeating pattern representing the speaker grille. To the left is the power button and on the opposite end is the Bang & Olufsen symbol.
All aluminium and glass finish makes this a super appealing laptop. It may not be slimmest where ultra portable goes but at 14.9mm thin and weighing only 1.3kg, it is an ultra portable nonetheless.
The chassis has a tapered design at the bottom of the palm rest and track pad. It doesn't really change the overall thickness of the device but it gives the impression that the device is thinner as we move further away from the hinge.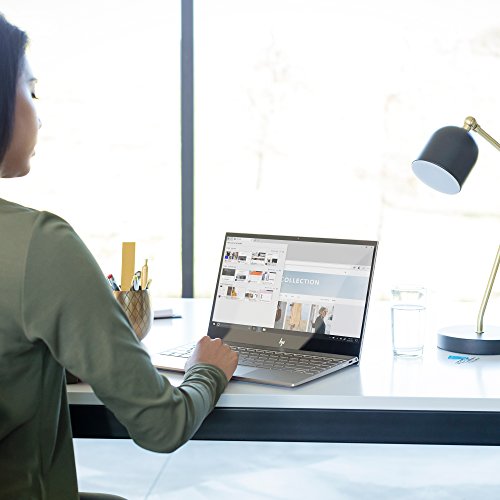 2. Display: The Full HD display on a compact 13.3-inch screen is more than sufficient for most applications. The screen features micro-edge bezels on both top and sides. It may not be as thin and small as the bezels on XPS 13's InfinityEdge but it is much slimmer than the standard laptop and is a good attempt on HP's part.
The WLED-backlit touchscreen could be brighter and the colour gamut, wider but you are still getting a lot for what you pay. The display is covered and protected with edge-to-edge Corning Gorilla Glass NBT for scratch and crack resistance. It makes the touchscreen a joy to use.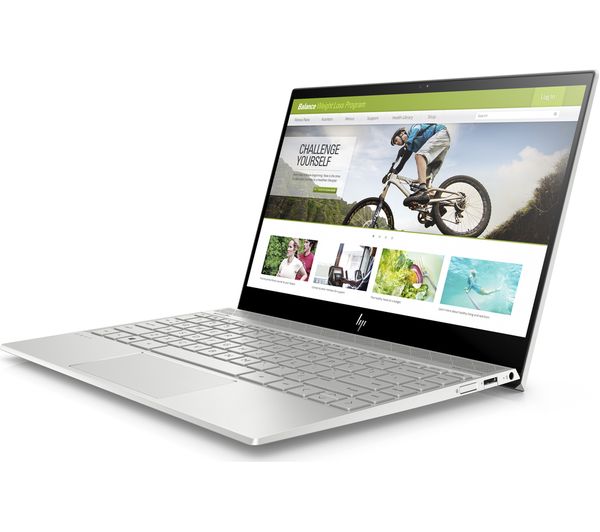 3. Power: The laptop is powered by a very capable, new 8th generation quad-core mobile processor from Intel. The Intel® Core™ i5-8250U has a base frequency of 1.6 GHz that can be boosted up to 3.4 GHz on demand at a push. Together with the spacious 8GB RAM and fast 256GB PCIe® NVMe™ M.2 Solid State Drive it's plenty for any processing and memory intensive applications including rendering 4K video, photo editing and music mixing with multiple streams.
If you are after even more power, choose the higher model based on the 8th generation quad core Intel® Core™ i7-8550U with 1.8GHz base frequency that can shift up to 4GHz with Intel® Turbo Boost Technology. The higher model also has double the memory and storage, at 16GB RAM and 512GB PCIe® NVMe™ M.2 Solid State Drive. To give you an idea of how the two processors compare, see chart below:
PassMark Average CPU Mark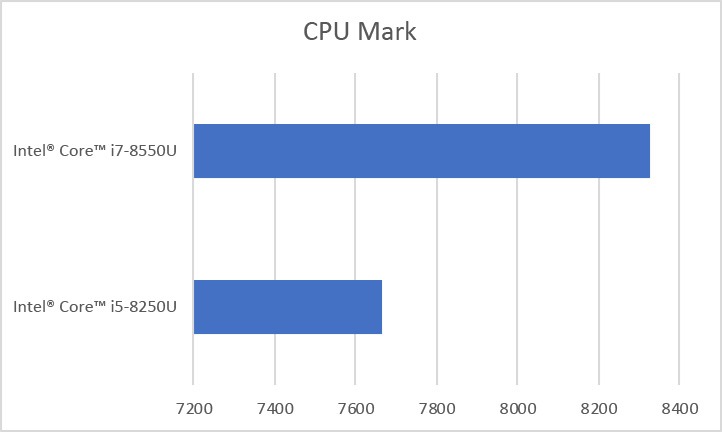 Intel® Core™ i5-8250U: 7666
Intel® Core™ i7-8550U: 8327
Source: cpubenchmark.net
Geekbench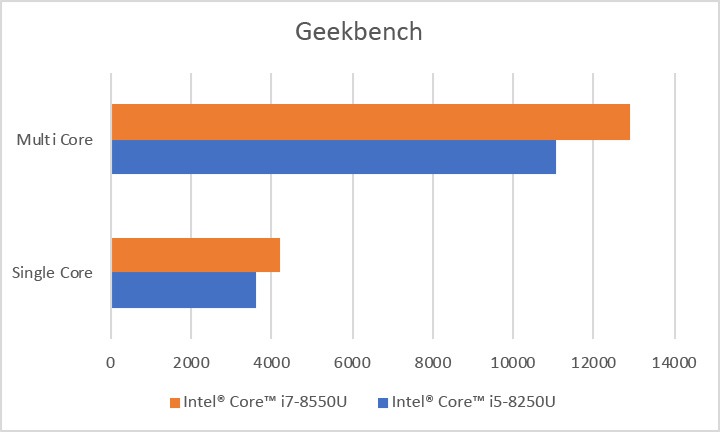 Intel® Core™ i5-8250U Single-Core: 3614, Multi-Core 11074
Intel® Core™ i7-8550U Single-Core: 4203, Multi-Core 12921
Source: browser.geekbench.com
4. Battery Power: On a full charge, the 8 hours battery life we got out of the device on mixed use isn't anything to shout about but is sufficient for most applications. This is no where near the 14-hours that HP claimed based on their Windows 10 Mobile Mark Battery benchmark but it all depends on what you do on the device.
5. Sounds the Part: The quad front firing HP speakers placed under the grilles above the keyboard are custom-tuned by Bang & Olufsen. HP also offers HP Audio Boost for when you need to raise the volume. B&O's involvement meant you get a balanced audio output and with four speakers, a wide soundstage. This arrangement is definitely better than your typical downward firing or speakers under the keyboard.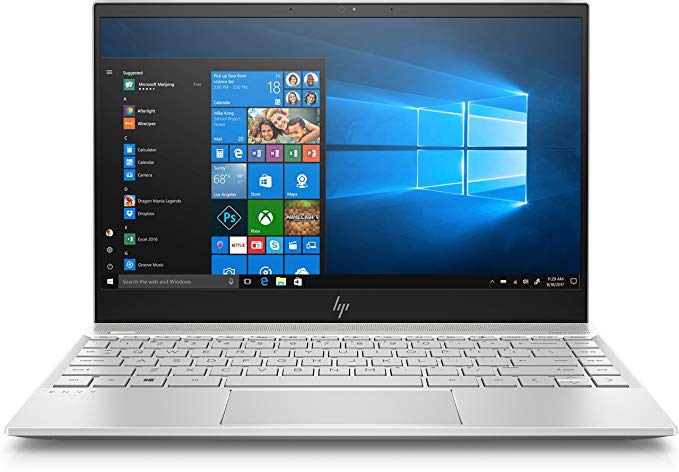 6. Good Keyboard and Glass Track Pad: The keyboard doesn't flex much and offers a tactile feel with sufficient travel and feedback. The silver chiclet keyboard has a low pitch and comes with slightly blue backlight. The lights come through the key's lettering and surround. The difference here compared to high-end model is the lack of lighting level control. You either switch it on or off.
The track pad has a glossy glass surface. It is responsive and the glide is no different to interfacing with a touchscreen. When clicking on the trackpad, it is responsive, registering clicks on both bottom corners. There is sufficient feedback when clicking.
The only qualm we have is that the rectangular track pad sufficiently wide but not quite as tall. All that space for the speaker grille above the keyboard has reduced the space for the palm rest and thus the track pad.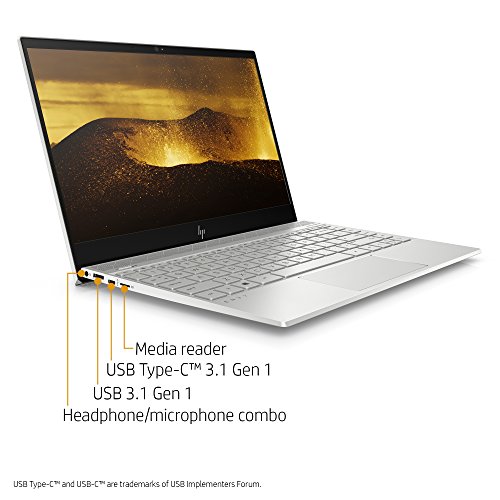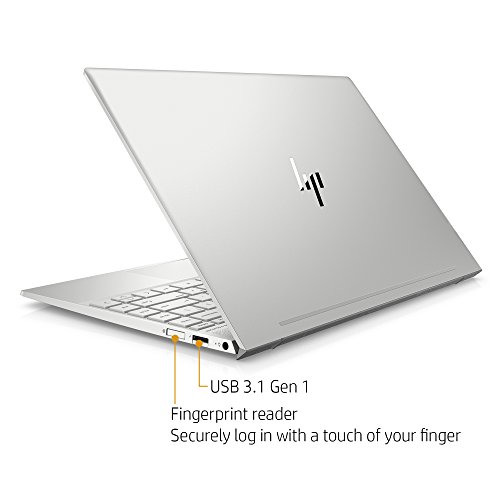 7. Ports a Plenty: On the left you have side you have a headphone and microphone combo socket, a USB 3.1 full size type A port, a reversible USB Type C and microSD card reader..  Almost an mirror to that on the left side is a dedicated round power socket, a single USB 3.1 type A port and finger print scanner are located on the right side. Given the audio and power sockets are located at the top end on either sides, try not to mix them up.
Also, It's not a convenient nor conventional place to have a finger print sensor but I recall a smartphone doing the same so it is not something new. Using the fingerprint login is quick and you can get used to swiping your finger on the side. Those unaware of this may be wondering what sorcery you used to unlock your computer.
Before you lament and go on about the lack of video output, HP has thrown in a USB Type-C™ to HDMI dongle with the laptop. So, you need not worry about that presentation you have to do or connecting to an external 4K UHD display.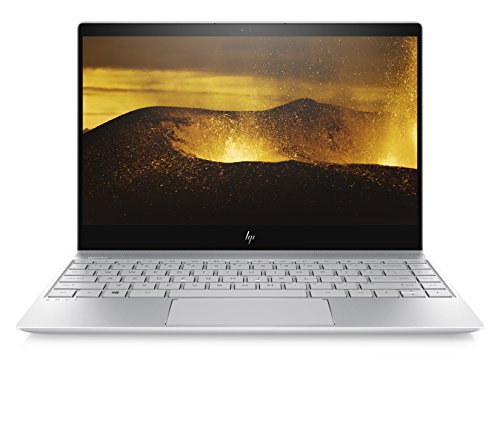 8. Bonus: Not many ultra portable can boast a discrete GPU, not even the Dell XPS 13 or the MacBook Pro 13. Still, HP was able to squeeze in an NVIDIA GeForce MX150 graphics processor with 2GB of dedicated graphics memory. This will out perform any integrated display adapter and allows you to enjoy a spot of gaming on the go.