For the ultimate performance from your storage, pick up one of these fourth generation solid state drive (SSD) with NVMe 4.0 Gen4 PCIe M.2 interface. Nothing comes close to our line-up. Not only do they come with big storage choices; 1TB, 2TB and up to 4TB but they offer blazing fast performance.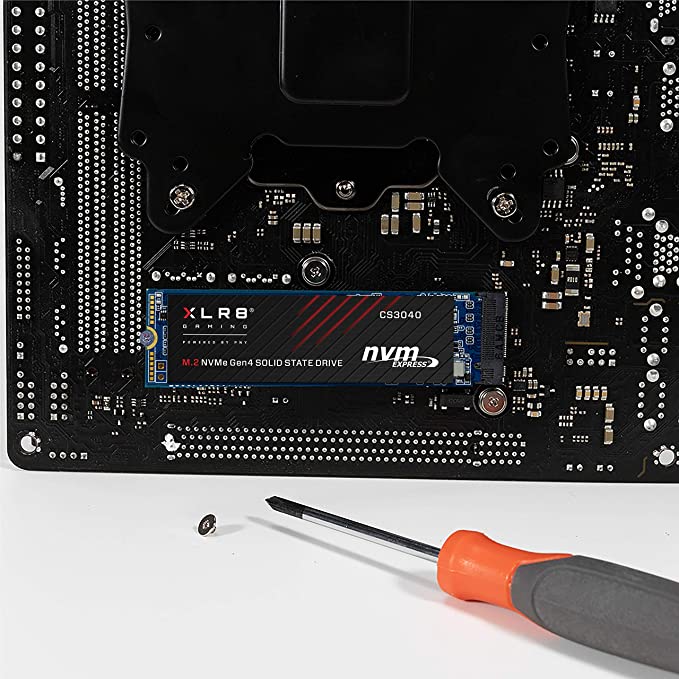 Obviously, you will need a motherboard that supports PCIe Gen 4 connector in order to take advantage of its blazing fast speed. Once you have the right storage and motherboard, you can achieve speeds of up to 7000MB/s. Otherwise, it will be limited to the speed of the interface i.e. PCIe Gen 3 connector will have a maximum speed of 3500MB/s and so on. In essence, every new generation of PCIe sees doubling in bandwidth compared to its predecessor. Now, if you compare it to the speed of SATA SSD like those 2.5-inch SSD with SATAIII interface, it is 12-13x faster.
RELATED: Budget 240/250/250GB SSD 2.5-inch SATA3: Affordable way to speed up your system
Are NVMe SSDs with PCIe Gen 4 interface worth it?
If you work on big files like videos music, graphics and high resolution photos and have to move them around a lot, say to a different disk or to a backup drive then you want to think about NVMe SSDs with PCIe Gen 4 interface. Games would not suddenly become faster especially during gameplay. But, it will certainly shorten the loading and saving times by a few seconds. The same goes to OS boot up and application start up time, with noticeable improvements.
If you are not one for paying over the odds for bleeding edge technology, the SSD with PCIe Gen 3 interface is still a viable option with speeds up to 3500MB/s. There are many reasons to save yourself some money and go for this. Chief among them is the fact that your motherboard may not support the PCIe Gen4 so why spend the extra.
Do I need the heatsink or heat spreader?
NVMe SSDs with PCIe Gen4 interface runs hotter hence the need for heat spreader or chunky heatsink. It is unlikely that with light use, the heatsink will play any role at all. But if you switch up the I/O activity for a sustained long period, the drive, especially the controller will start to heat up. On standard SSDs without heatspreader, the drive will throttle its performance to keep it within the safe operating temperature will ensure that the chips do not fry.
High performance NVMe PCIe Gen4 comes with heatsinks of all sizes pre-installed. For these you need to watch out for clearance inside your computer making sure that it does not get in the way of other components. Sometimes manufacturer offers their NVMe SSD without a heatsink as DIYers prefer to use custom heatsink or heat spreaders that come with their motherboard.
Overview of Our SSDs with M.2 PCIe Gen4x4
For these SSD to qualify to be on our list, it must have M.2 PCIe Generation 4.0 x4 interface. It must also achieve a comfortable read speed from 4700MB/s up to 7000MB/s. From our list, you will also see if heatspreader or heatsink options are available.
Next, we look at the performance of these super fast NVMe SSDs.
M.2 PCIe Gen4x4 Performance Comparison
Based on Read and Write ratings provided by manufacturer, we are able to compare the performance of the drives as no two drives are built the same.
For ease of comparison, we have constructed the following graph.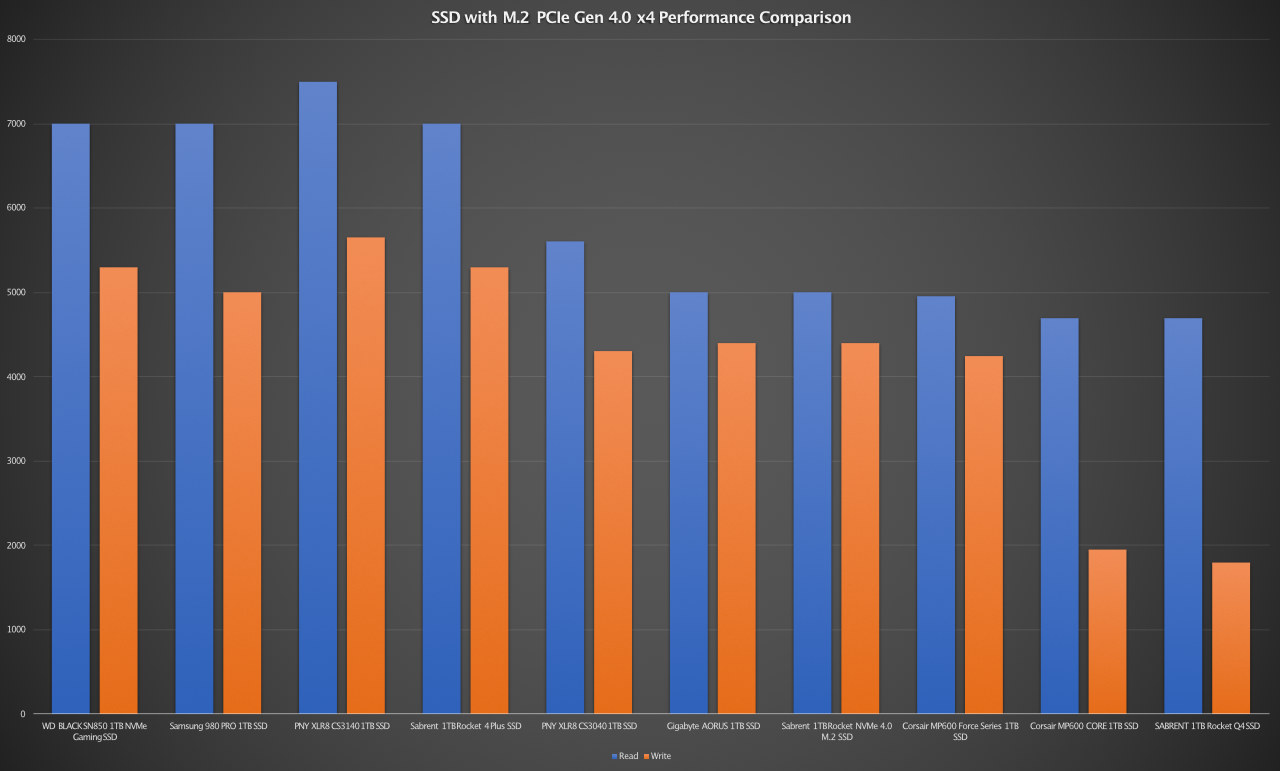 From the chart and graph above, our top four entries are capable of read and write performance up to 7500MB/s and 5650MB/s respectively. These are SSD from WD, Samsung, PNY and Sabrent. The next four entries are no less impressive with read and write performance up to 5600MB/s and 4400MB/s respectively. These are drives from PNY, Gigabyte, Sabrent and Corsair. If you had to choose between saving some money versus performance, any of these options are just as good as the other. At around 5000MB/s read rate, they are already quite fast. Finally, you might want to give the last two entries a miss given its poor write speed of up to 1950MB/s. The read performance on the other hand is still a respectible 4700MB/s. These are entry level SSDs from Corsair and Sabrent.
Sizes available: 500GB, 1TB, 2TB
Performance: R/W 7000/5300MB/s (1TB model)
With or without heatsink
One of the most highly rated and popular NVMe SSD storage preferred by gamers is the WD_Black SN850. Available as 500GB, 1TB or 2TB sticks, the storage uses the next generation PCIe Gen 4 interface. The 1TB model in particular can achieve speeds of up to 7000 and 5300 MB/s on read and write with up to 1000000 IOPS. The heatsink looks rugged and industrial, like it means business and you can use the WD_BLACK Dashboard software to customise the onboard RGB lighting and other settings. For dimensions, see image below or choose one without heatsink.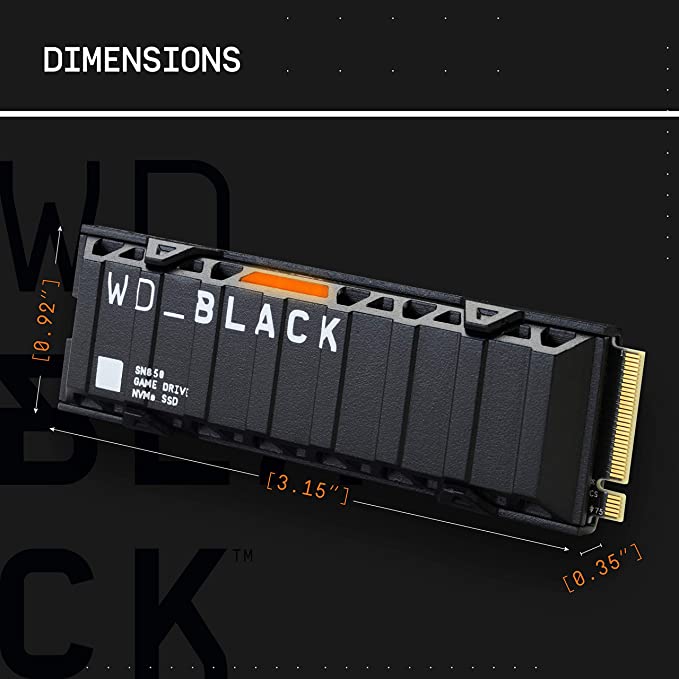 PCIe Gen4 Technology, up to 7000 MB/s read speeds, M.2 2280 4.9s15717 M.2 PCIe Gen4x4
Sizes available: 1TB,
Performance: R/W 7000/5000MB/s (1TB model)
Without heatsink
Next, we have another speedy entry, this time from Samsung, The Samsung 980 PRO 1TB can achieve a read speed of up to 7000MB/s and write speed of up to 5000MB/s thanks to NVMe and PCIe Gen 4×4. This makes it great for enthusiasts and hard core gamers. It doesn't however come with a heatsink but Samsung but includes smart thermal control algorithm to manage the heat and minimise performance fluctuations. Plus the controller is nickel coated and a heat spreader label help deliver thermal control effectively.

NVMe M.2 (2280) (MZ-V8P1T0BW) 4.8s487 PCIe Gen4x4 Read 7,000 MB/s
Sizes available: 1TB, 2TB
Performance: R/W 7500/5650MB/s (1TB model)
With or without heatsink
Highest rated as per manufacturer's specification is this next entry from PNY. The PNY XLR8 CS3140 is hefty with heatsink pre-installed. It will scale up to 7500MB/s on read performance and 5660MB/s on write. That's 30 times faster than HDD and 13 times faster than SSD with SATA interface. Available in 1TB or 2TB sticks, the one thing you have got to watch out for is clearance in your PC build. You can of course get it without a heatsink and use your own cooling option.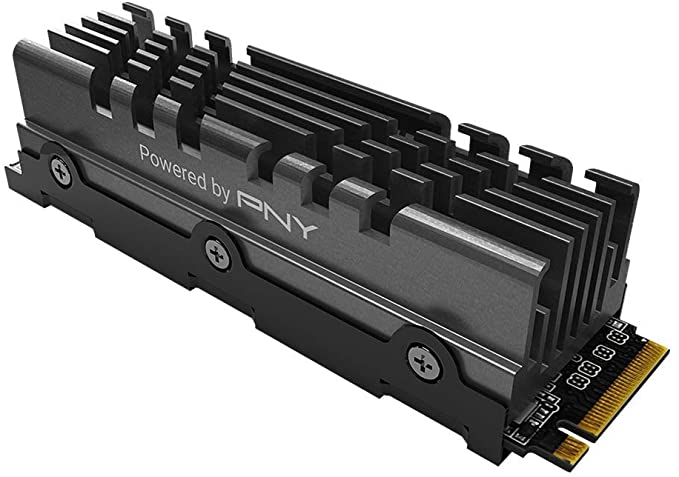 M.2 NVMe Gen4x4 Internal Solid State Drive (SSD) 1TB,PCIe Gen4x4 RW 7500/5650 MB/s (with or without heatsink)
Sizes available: 1TB, 2TB
Performance: R/W 7000/5300MB/s
Without heatsink
The flagship SSD from Sabrent is the Rocket 4+ NVMe based on PCIe 4.0 M.2 2280 interface. The high performance storage can achieve up to 7000MB/s on read and 5300MB/s on write. If you are going to run it at full speed on a motherboard that supports PCIe 4.0, you will need a heatsink. This will avoid thermal throttling so you can enjoy sustained and continuous performance.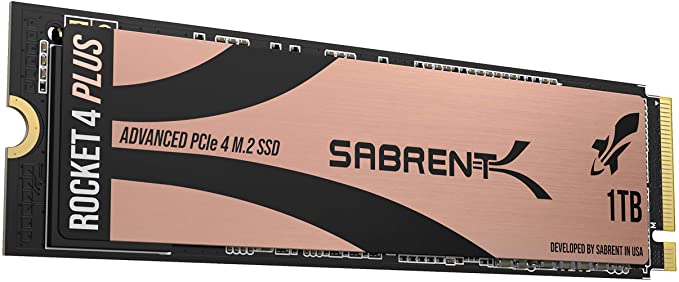 NVMe 4.0 Gen4 Ocie M.2 Internal SSD Extreme Performance Solid State Drive (SB-RKT4P-1TB) 7000/5300MB/s
Sizes available: 512GB, 1TB, 2TB
Performance: R/W 5600/4300MB/s
With or without heatsink
A second entry from PNY on our line-up. This time not as fast as the chart topping CS3140 but the CS3040 will still offer a healthy speed boost to any system. Also based on the PCIe Gen4 interface, hence it being an option here, the PNY XLR8 CS3040 is available with or without a heatsink and in sizes 500GB, 1TB or 2TB. Read performance and go up to 5600MB/s which is again the top end of the 5000MB/s range and write, up to 4300MB/s. Just like its bigger sibling, if you do not mind paying a premium for that extra performance, the CS3140 is one to go for.

M.2 NVMe Gen4 x4 Internal Solid State Drive (SSD) 1TB, PCIe Gen4x4 RW 5600/4300 MB/s (with or without heatsink)
Sizes available: 512GB, 1TB, 2TB
Performance: R/W 5000/4400MB/s
With heatsink
Nothing beats the Gigabyte AORUS 1TB stick when it comes to good looks. That copper finish heatsink not only shines but perform well too. Performance wise, it is not far behind from the CS3040 from PNY thanks to NVMe 1.3 technology and PCI-Express Generation 4.0×4. You get up to a respectable 5000MB/s read speed and up to 4400MB/s write speed. We just couldn't peel our eyes off the full body copper heat spreader design.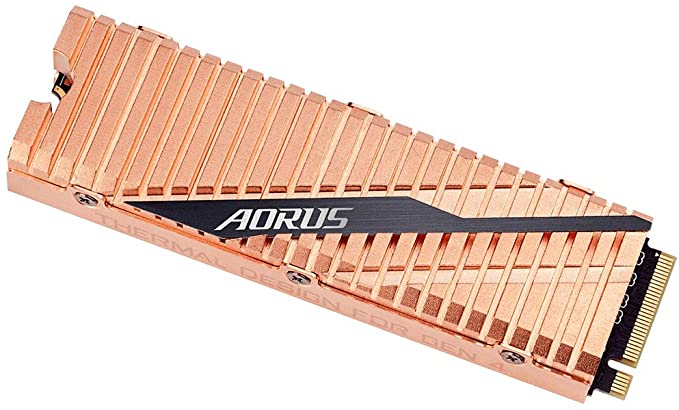 PCIe Gen4x4 RW 5000/4400MB/s with heatsink
Sizes available: 500GB, 1TB, 2TB
Performance: R/W 5000/4400MB/s
With or without heatsink
Another Rocket from Sabrent. This time a standard Rocket minus the PRO with read speed up to 5000MB/s and write speed up to 4400MB/s, the same level as AORUS above. You have a choice of one with heatsink or without. The former uses a combination of heat sink block, looped copper pipes (or coils), top heat spreader and carriage to carry everything. The entire unit is actually pretty impressive. Again, given its height, it will need lots of clearance in order to fit this on the motherboard.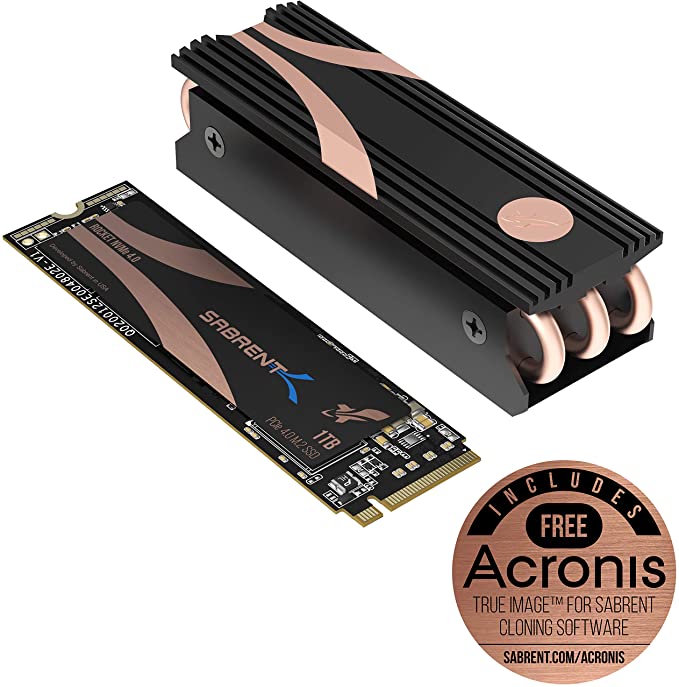 2280 (SB-ROCKET-NVMe4-1TB) PCIe Gen4x4 RW 5000/4400MB/s with or without heatsink
Sizes available: 500GB, 1TB, 2TB
Performance: R/W 5000/4400MB/s
With heatsink
First of two Corsair, the MP600 Force being the faster of the two. Corsair is known for offering good value memory sticks and it is no difference here when it comes to NVMe SSD storage. With PCIe Gen 4.0 x4 and NVMe M.2 SSD, you can expect a high performance from the storage with speeds up to 4950MB/s on read and 4250MB/s on write, just a slither below what the others in the 5000MB/s mark can offer, a small price to pay for some money in your pocket. You will also be glad to know that heatsink comes as standard.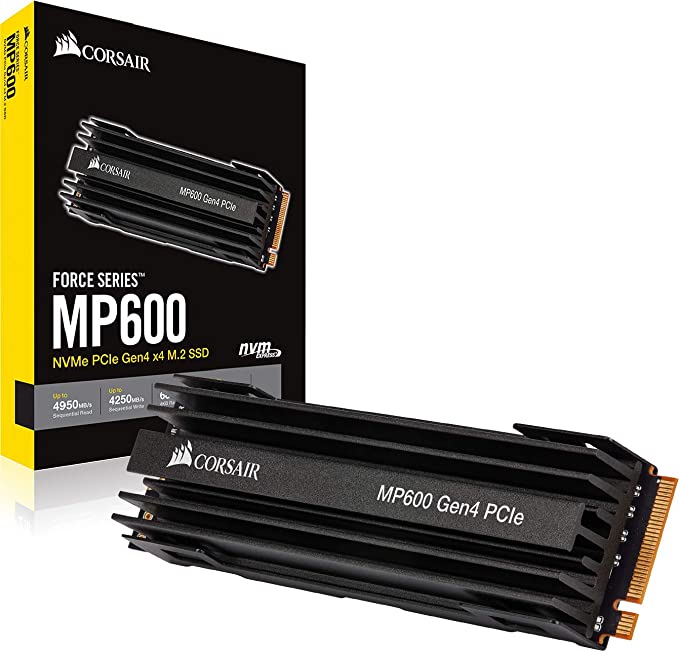 NVMe M.2 SSD RW 4,950/4,250 MB/s) PCIe Gen4x4 with heatsink
Sizes available: 1TB, 2TB, 4TB
Performance: R/W 4950/1950MB/s
With heatsink
If you look to spend even less on PCIe Gen 4.0 based NVMe SSD then look no further than the Corsair MP600 Core series. You will still get a good read performance at 4950MB/s but the write performance for the 1TB sticks is only up to 1950MB/s. Our advice is to avoid the 1TB stick, but instead go for the 2TB or 4TB stick if you must choose this with improved write speeds of up to 3700MB/s and 3950MB/s respectively.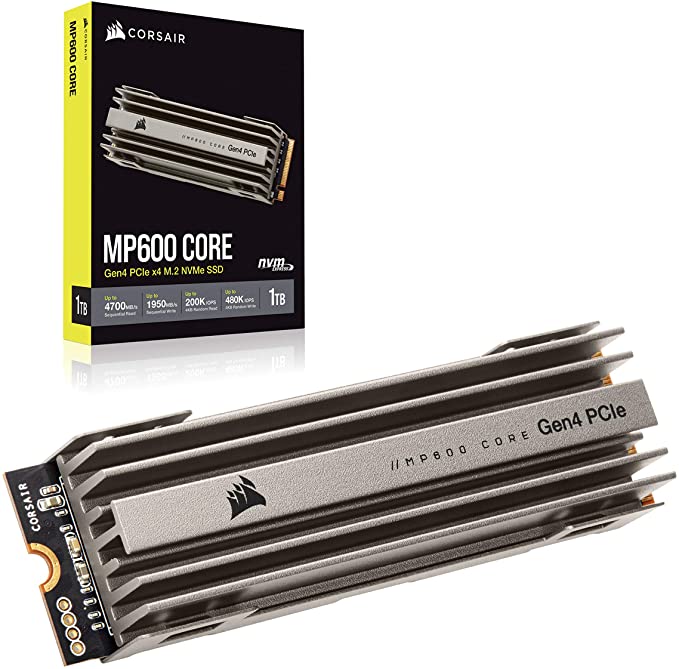 M.2 NVMe PCIe Gen4x4 SSD (Up to 4,700MB/sec Sequential Read & 1,950MB/sec Sequential Write Speeds, High-Speed Interface, 3D QLC NAND, Built-in Heatspreader) Aluminum
Sizes available: 1TB, 2TB, 4TB
Performance: R/W 4700/1850MB/s
With or without heatsink
Last but not least is this SSD from Sabrent. From the rocket family comes this mid-range option, the Rocket Q4. The 1TB version suffers the same write performance penalty like on the Corsair MP 600 Core 1TB with a read performance of 4700MB/s but a measly write performance of 1800MB/s. So, if you must get one from this series, choose the 2TB or 4TB option. Each with improved read and write  speed. With the 2TB stick, you get 4800MB/s read and 3600MB/s write performance. While the 4TB stick offers up to 4900MB/s read and 3500MB/s write, all made possible with high performance NVMe SSD and PCIe generation 4.0 inferface. Those that like the looks of those heat coils made from looped copper pipes, the Rocket Q4 serves this up again but with silver heatsink.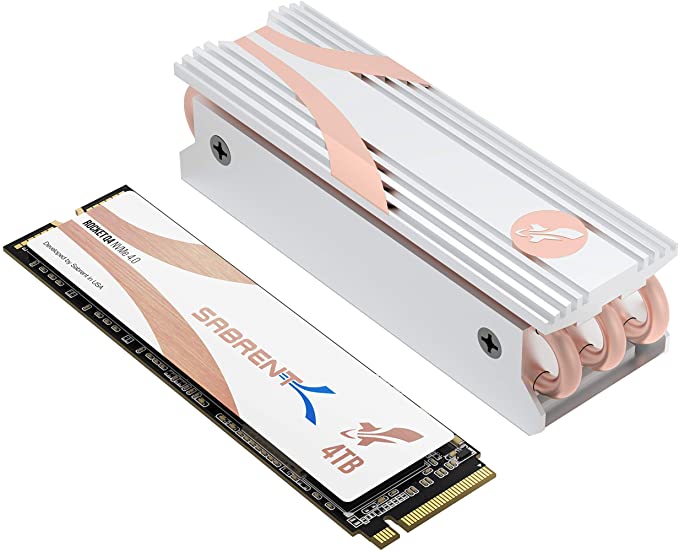 NVMe PCIe 4.0 M.2 2280 Internal SSD Maximum Performance Solid State Drive R/W 4700/1800 MB/s (SB-RKTQ4-1TB) PCIe Gen4x4 (with or without heatsink)
Final Thoughts
Apart from the need for speed, you must have very good reason to buy one of these super fast NVMe SSD storage with new fourth generation PCIe interface. The main one being longevity. The more you spend now typically translate to your machine having a longer lifespan with headroom to absorb any performance hit that comes with each update and software revisions. Newer software versions require faster storage, faster processor, more memory and so on. As long as your motherboard chipset supports it, getting a PCIe 4.0 based storage ensures that your system is futureproof and that you can enjoy the latest and fastest that NVMe M.2 SSD can offer.