Equipping your home office with the right tools is essential for productivity and comfort. Here, we aim to guide you through an array of innovative products designed to enhance your remote working experience. Whether you're a seasoned remote worker or new to WFH, these handpicked items are sure to take your work from home to a whole new level.
Of course, there are already those who have been living the home office life before this event. They're most likely already used to optimising all the items they need at home for everyday work. But for those still relatively new to this, or have yet to have a firm grasp of the sudden freedom of working at home, here's one for you. We have prepared a simple guide to all the nifty devices and gadgets that we can recommend.
Your Home Office Gadget Priorities
The base criteria for all of our item choice will be simplification. To optimize everything you need, you must invest only in what is absolutely necessary without sacrificing the quality. Sure, you can go crazy with all the Razers or Sennheisers, but do keep in mind that there will still be cheaper alternatives that will do the job just as well.
This means we are leaning into these minimalist factors:
Function – should have a straightforward, simple function. Should be introduced at a price that reflects such ease-of-use.
Feature – we will accept technologies that are only directly beneficial to your productivity setups.
Convenience – if it considerably speeds up or lessens the number of steps needed to accomplish something, then it counts.
Freedom of choice – must be represented as a legit alternative option to what is typically used/chosen.
Enhancement – the device must directly augment something to other devices or peripherals that it supports.
Economical – finally, it must deliver everything listed without the need to overspend on premium versions.
With that in mind, let's take a look at our nifty devices and gadgets for your home office.
1. Silent Keyboards and Mouse
It is often said that mechanical keyboards, once used, completely change the perspective of anyone who has yet to use them prior to that point. While this is true on many occasions, the supposed typing improvements due to the tactile feel that these keyboards represent are often overstated.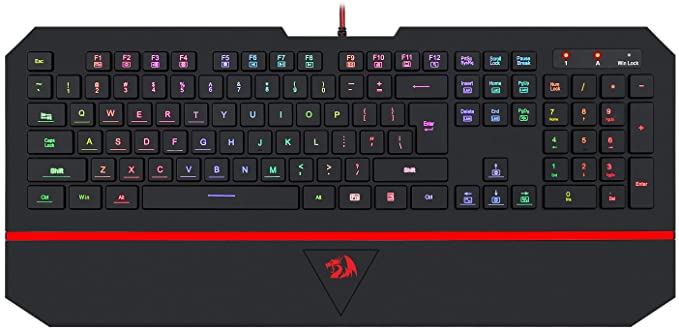 In fact, when we start comparing prices, we could argue that investing in silent keyboards and mouse is an even higher priority (regardless of whether it's mechanical or not) when preparing for the long workday ahead at home. Having a silent keyboard means that there is lesser noise generated while you work, meaning the lesser chance of bothering people around you, especially during odd times of the day.
As to whether you need a silent(-ish) mechanical keyboard or not, the answer depends on your budget. But, from an economy versus premium function perspective, it is usually recommended to get a high-quality membrane silent keyboard that offers both comfort and value for pro-longed use.
2. Backup Internet Connection
Use your phone, 'nuff said. But aside from using your phone as an emergency WiFi hotspot, you could also get additional peripherals that would preserve the internet connection of your home network, in case of certain emergencies. Yes, it is obvious. But a constant line of communication is an absolute must for any home office today.
One option is to consider the purchase of a spare WiFi router. In the event that your router suffers from a malfunction, you can swap out the home WiFi router and continue working. Remember to test and pre-configure your spare router behind keeping it safe. Some Internet Service Provider requires authentication to establish an Internet connection to your home. Having a standby router that you can simply just plug in at lets you carry on with your work with minimal disruption.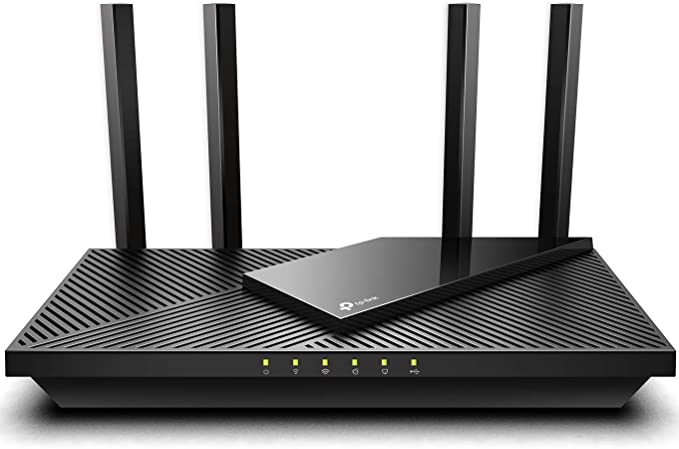 Another quick but more expensive way is to have two separate ISPs at your home. You will of course be needing two separate contracts. If you live in an area with cable, ADSL, fibre to the cabinet, fibre to the premise broadband or a mix then you can pick and choose.
Before attempting this, do check the terms and agreements of the separate ISPs first if concurrent network connections would be possible on the same residential address. If it is, you can choose the cheapest data option for your second ISP, since it is just a back-up connection and then route all other minor Internet-based activities there.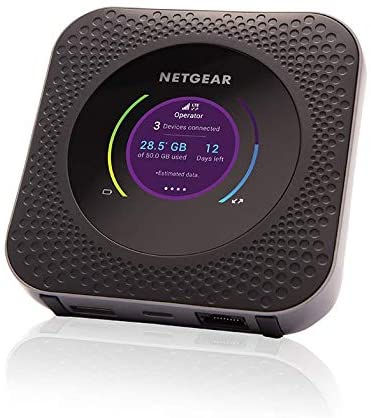 Then there is the 4G LTE broadband router option. Again, this will require either a contract or pay as you go / prepaid SIM from your local cellular provider. You can order a 4G mobile broadband data SIM with preloaded data for use with the 4G LTE broadband router. Some routers are battery power so you can even take this with you just like having your own personal hotspot, but from a dedicated Internet router vs running it from your phone.
3. Powered/Active USB Hub
If you only have your phone and your flash drive, chances are your PC would not really require a USB hub. But if you connect all sorts of accessories like game controllers, external microphones, peripherals, dongles, and adapters, then… you will need a port replicator or USB hub.
But, instead of just keeping to a standard USB hub, it may be wiser to invest in something like a powered USB hub. With a standard USB hub, all the extra ports would often need to share the same amount of power with the single connection that supports it. If too many devices are connected, some gadgets might not get enough power, or even stop working altogether (until the correct power is supplied).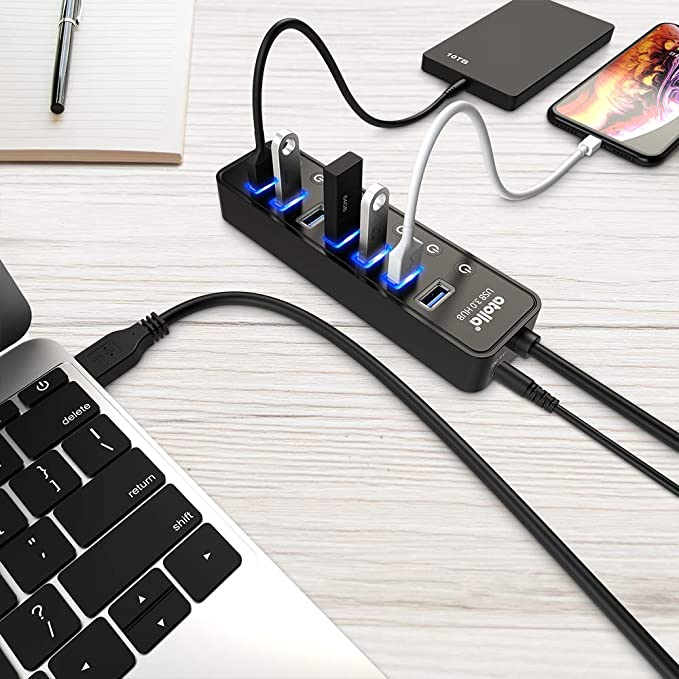 With a powered USB hub, each and every port receives the same amount of power as if it was the original port, preventing power inefficiencies from occurring. Not an absolute must for a home office, but certainly wins a lot of points for convenience, especially when you use a laptop with limited connectivity ports.
4. External Hard Drives
Basic USB flash drivers work perfectly for transferring files quickly across different terminals or machines. They're very portable too, and often can be carried discreetly without any issues whatsoever. That being said, investing in a bigger, external hard drive, means you never have to worry about hitting the storage limit.
For example, an external hard drive can function both as temporary data storage and a more permanent attached storage that can be plugged in for an indefinite amount of time. Specifically, this works well when dealing with much larger files, or files that would accumulate over, let's say, one month or two. It can also work as a back-up device for Time Machine on a Mac or File History on a PC to keep your data safe.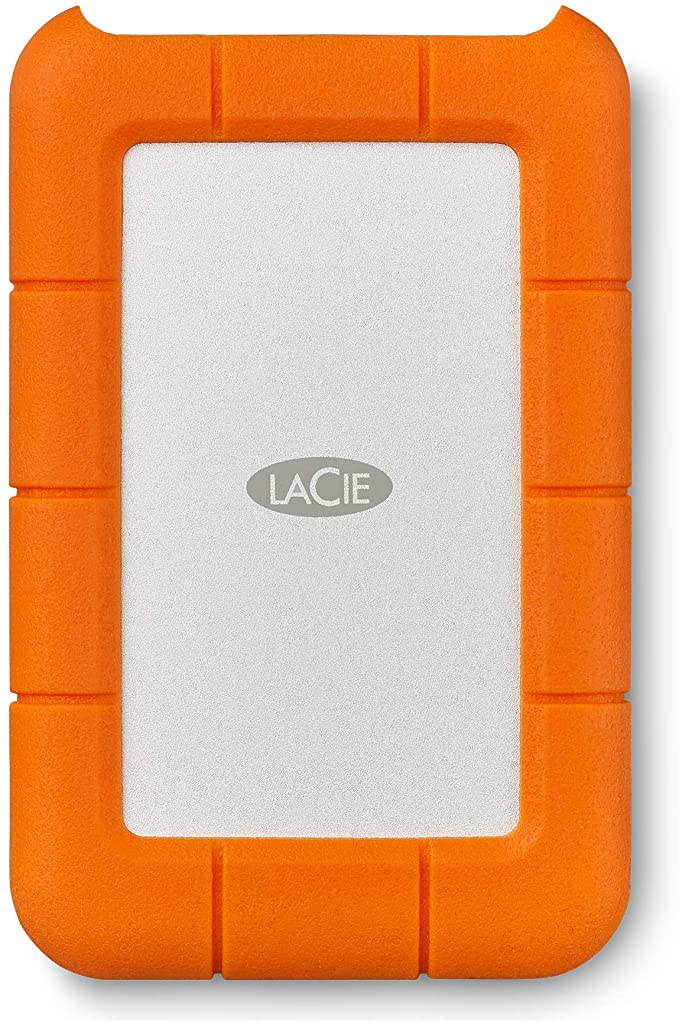 On standard flash thumb drives, you might have to cycle the files more often, deleting old files to make room for new but this is not the case for eternal hard drives. In fact, if you own a laptop, external hard drives can essentially be a permanent part of your system. It is always connected externally to your laptop, but can be plugged away at a moment's notice without the need to shut down your laptop.
5. Headsets and Microphones
In our current world of quarantine and restrictions, the idea of communicating via VoIP or other similar software has significantly gone up in popularity. While a regular speaker performs the task of audio output for these communication sessions well, using headphones is still generally the more efficient option. They often come with microphones too, so it's usually a package deal.
In choosing headsets, it is important that you don't go completely overboard with unnecessary premiums. Take note of baseline brands such as Logitech, or even Mpow, and choose the model that would have the best balance of quality and price. Noise cancelling is never really a necessity for communication. But, if you deem it necessary to always have clear calls then consider such technology according to what your budget would allow.

As mentioned, headset with microphones installed are sufficient for standard VoIP calls and web chats. But if you need studio quality sound, look for a better quality dedicated microphone, be it condenser or dynamic. Choose from a reputable brand such as Blue, Rode, Elgato, Audio-Technica, etc. Don't forget to factor in any other accessories you might need just as a stand, suspension scissor boom arm, shock mount, pop filter and foam cover.
6. Webcam
In addition to headsets and microphones, webcams have also become quite important in many remote working arrangements today. They offer the "presence" in telepresence, adds a more integral level of interaction, and is pretty much a necessity when communicating with many people in a single online session.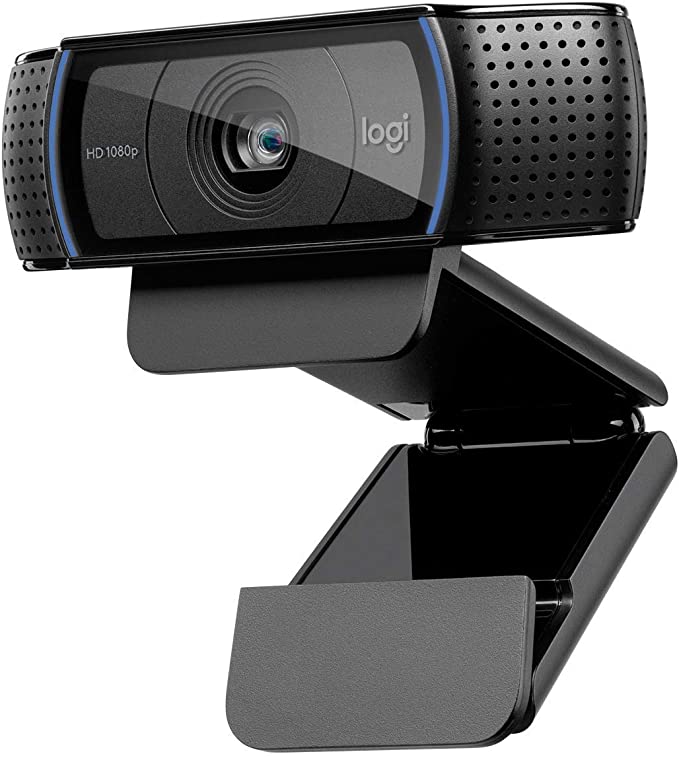 As for the specs, you can gauge it in a similar way to headsets. Go for quality, but never go beyond ridiculous prices. Something like a 720p camera would usually be enough. You don't need to go full HD or Ultra 4K when you're just using the visual information to confirm your presence. Even more so when your screen is split between a multitude of other screens during a group chat.
What we find helpful is to have sufficient light source from behind the camera. Don't sit with your back against a light source such as the window or all that your participants will see is a dark silhouette. A working desk lamp with an adjustable arm can also help, especially on an overcast or cloudy weather day.
More Gadgets to Consider
These other lower-priority devices can also be useful, though it depends on the situation and your applications:
Legacy USB cords – for interfacing with older gadgets you might want to reuse or salvage data from.
Spare WiFi adapters – Provide a way for your desktop or laptop to connect to your home network, in case of a faulty onboard WiFi adapter or the lack of cabled network connections to link up the device via its Ethernet port.
USB-powered LED desk lamp – for ultra-low power night time lighting.
Hard disk docks and adapters – for interfacing with older drives externally. Additional power bricks might be required for 3.5-inch drives.
Conference speakers – for dedicated meeting spaces, a speaker phone type communication may be useful for one-to-many or many-to-many conversations. These often come with a microphone array for clearer two way conversations.
Mobile USB charging station – not for portability, but to allow all devices at home to get their charge easily from a single point,
Uninterrupted power supply (UPS) – not really a "device" per se (more like an appliance), but can be very convenient during power fluctuations or sudden blackouts. Get a single dedicated UPS with only your main WiFi router connected to it to squeeze several hours more of Internet even without grid power!