The Honor MagicBook range of laptops are available with 14 and 15-inch displays. These are great value mid-range machines with ultra lightweight design, full display, fast charging and amazing performance to boot. We take a closer look at how these two laptops compare.
Before we start, it is worth noting that the only difference between the two laptops we looked at is just the size of the display and with that the dimensions of the laptop and weight. Everything else is the same, see table below.
| | | |
| --- | --- | --- |
| | HONOR MAGICBOOK 14 | HONOR MAGICBOOK 15 |
| COLOR | Mystic Sliver,Space Gray | Space Gray |
| DIMENSIONS & WEIGHT | 15.9mm, 1.38kg | 16.9mm, 1.53kg |
| SCREEN SIZE | 14 inches Full HD | 15.6 inches Full HD |
| PROCESSOR TYPE | AMD Ryzen 5 3500U | AMD Ryzen 5 3500U |
| PROCESSOR SPEED | Base: 2.1 GHz; Up to 3.7GHz | Base: 2.1 GHz; Up to 3.7GHz |
| PROCESSOR COUNT | 4 | 4 |
| RAM SIZE | 8GB | 8GB |
| MEMORY TECHNOLOGY | DDR4 2400MHz,Dual Channel,Chip on board | DDR4 2400MHz,Dual Channel,Chip on board |
| MAXIMUM MEMORY SUPPORTED | 256GB | 256GB |
| HARD DISK TECHNOLOGY | SSD | SSD |
| GRAPHICS CHIPSET BRAND | Radeon™ Vega 8 Graphics | Radeon™ Vega 8 Graphics |
| GRAPHICS CARD DESCRIPTION | 1200 MHz | 1200 MHz |
| GRAPHICS CARD RAM SIZE | Shared system memory | Shared system memory |
| NUMBER OF USB 2.0 PORTS | 1 | 1 |
| NUMBER OF USB 3.0 PORTS | 1 | 1 |
| OPERATING SYSTEM | Windows 10 Home 64bit | Windows 10 Home 64bit |
Essentially, picking between the two is a matter of choice, are you after a big laptop with 15.6-inch display or a small laptop with 14-inch display. To make it that big interesting, both models come with the same price tag. At the time of writing, they are also offered with a mouse, wireless Bluetooth headphones and bag or sleeve for free. You can trade all those free gifts and a bit more money for either the Honor Magic Earbuds with Active Noise Cancellation or the Honor Watch Magic.
Design
With that out of the way, let's look at what the MagicBook is about. Design wise, the laptops have a thin, light and durable aluminium chassis. It takes on a slightly tapered profile with a beveled edge. The 15 inch model weighs 1.53kg and measures 16.9mm thin at its thickest point. The 14 inch model weighs lighter at 1.38kg and measures 1mm less at 15.9mm thin at its thickest point.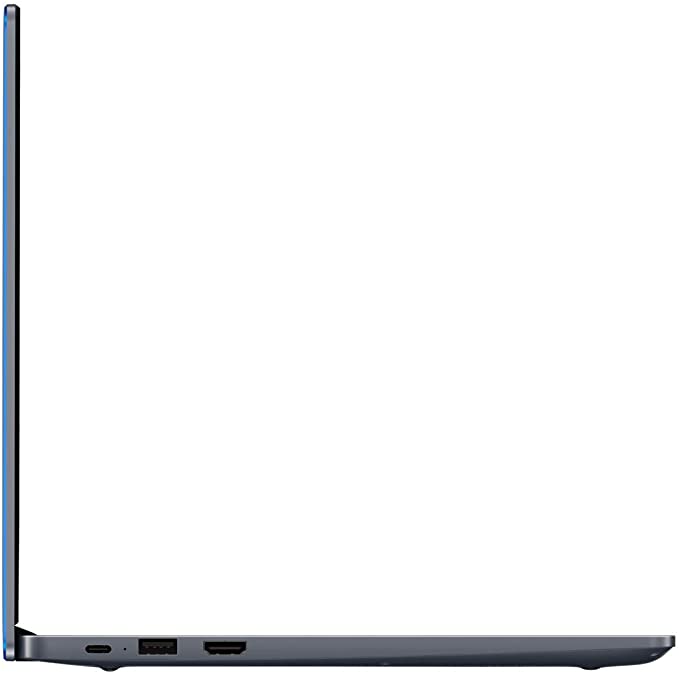 Both models are designed to be ultra portable with an Azure blue chamfer on the lid, one with a blue sheen to match the off-center HONOR logo. While you can choose between a silver or space grey colour for the 14 inch model, there is only space grey for the 15 inch model. While the laptop gives you the impression that it has a tapered design liken to the MacBook Air, it is nearly even back to front.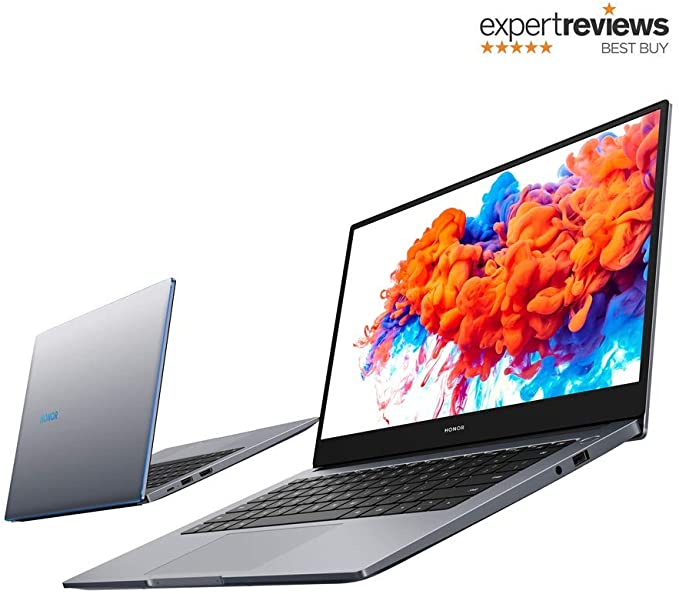 Display
Arguably the most important aspect of the laptop is its display. The one thing that you will be staring at even you are not using the keyboard, watching a live stream, TV show or movie. Here is where the laptops excel. It may not be a 2K or a 4K panel but at FullHD with 1920 x 1080 pixel resolution and IPS technology for wide angle viewing, the LCD display is sufficient for most applications.
Plus, it is wrapped with the smallest of bezels measuring only 4.8mm slim on the 14 inch model and 5.3mm thin on the 15 inch model. That's ultra thin territory making the display a FullView Display. Both displays are fully laminated to reduce reflection and to better cope when working under direct sunglight. In addition to that, both displays are TUV Rheinland certified making them easy on the eye even from prolonged used.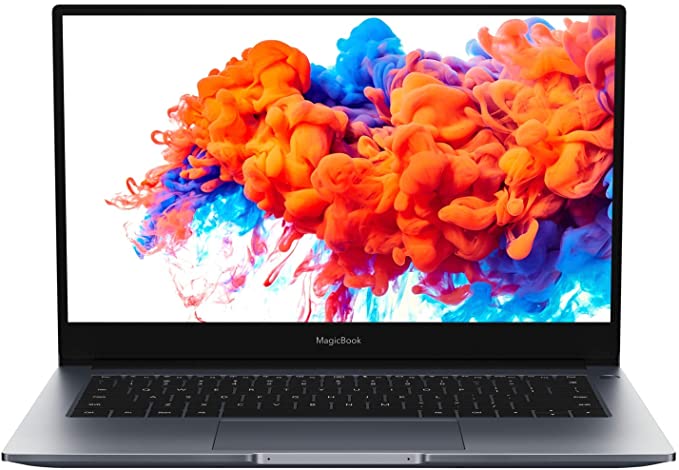 Performance
The laptops are powered by the same AMD Ryzen 5 3500U processor, the 12nm processor is both efficient and powerful. It will take on everyday tasks, multi-tasking, streaming and even the occasional gaming without breaking a sweat. It's the idea processor to strike a balance between performance and efficient power management.
The Radeon Vega 8 graphics processing unit is more powerful than the standard embedded graphics to give you fluid and fast performance during gaming.
For memory, it uses 8GB DDR4 dual-channel RAM memory for improved response, faster loading and switching between apps. As for storage, it uses 256GB PCIe NVMe SSD solid state drive for faster reading and writing. Together with the processor, these make for a mighty fast machine for everday tasks.
Battery Life
And if you think for a second that with all the power, you would be hard pressed to get through the day without charging, think again. Even the 14-inch laptop comes with a huge 56WH high density battery, enough to power the laptop for up to 10 hours between charge.
Very good battery life, fast windows performance, neat fingerprint sensor. It's also got the best track-pad I have ever used on a laptop. Great build quality. Powerful, portable, thin and so lightweight.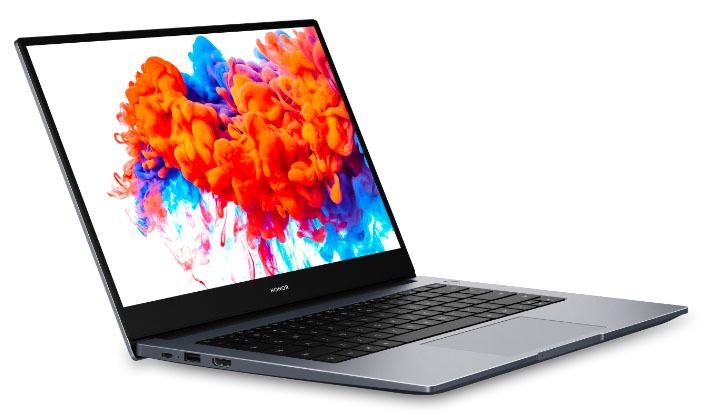 Dual Purpose Power and Fingerprint Sensor
The power button doubles as a power button and fingerprint sensor for added convenience. You wake up and log back into the machine quickly in one action. The button is on the far right corner on the base and is not part of the keyboard, a much preferred location.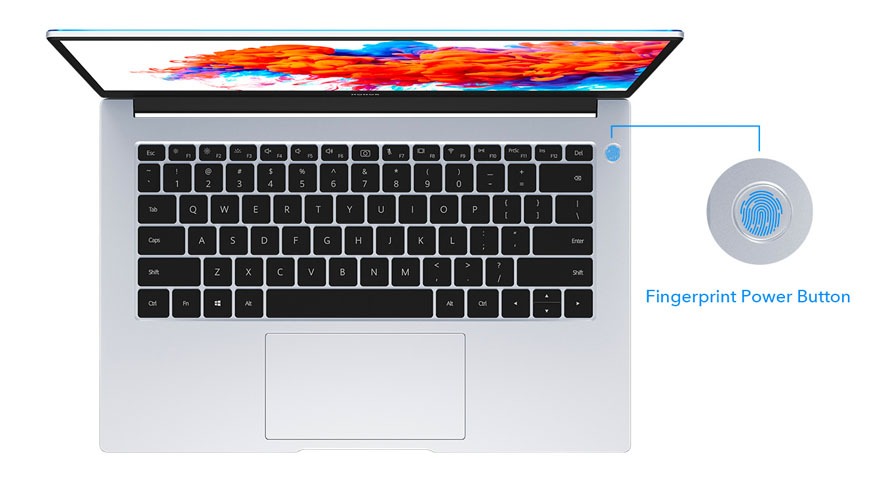 Pop-up Camera
In order to keep the top and size bezel ultra narrow for that FullView display, Honor moved the web cam to the keyboard and hidden away. When needed, you can quickly eject this and the key will pop-up at an angle with LED flash light and camera side by side. This can be a but it is great for security and privacy as the camera is physically blocked and hidden away when not in use.
However, that camera angle is not for everyone, instead of the conventional front center with view of the back during a video call, it points upward from the bottom towards the ceiling. We recommend looking down at the camera during video calls or the person at the other end will be thinking you are ignoring them.
Brilliant bit of kit. Looks nice, excellent battery life, starts up in seconds. Doesn't come full of nasty software too which is nice.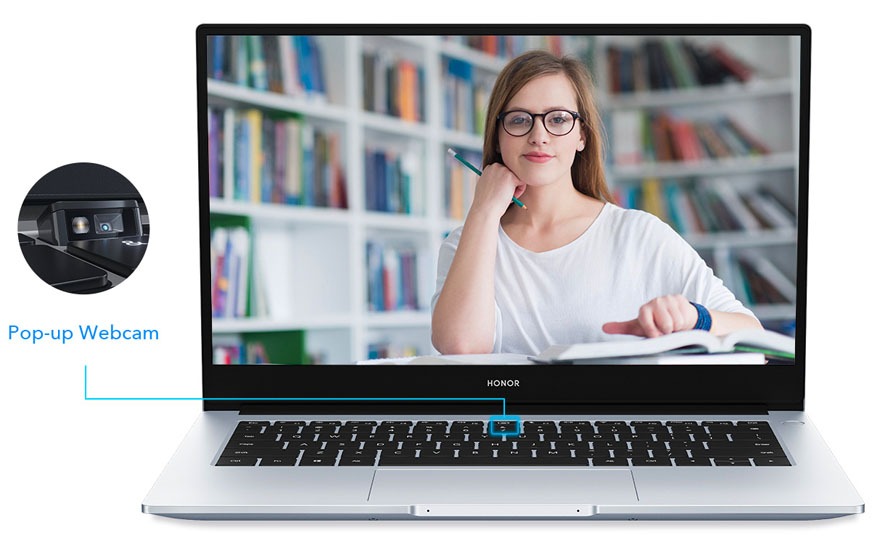 Battery
The laptops are equipped with high capacity long lasting batteries for all-day usage. When that runs low, top it up quickly with supplied 65W Fast Charger via USB Type-C port. The speed of charging is amazing, putting the charge level at over half (53%) in 30 minutes.
Value
Great product and excellent value for money for what it is. The laptop is a solid 10 when it comes to build quality and value for money. It is uncommon that a laptop with such high standard and build quality with a lightweight aluminium chassis and FullView display is available at such a price especially when supply, logistics and manufacturing is facing further pressure from the current lockdown.
An amazing laptop for the price. Starts up in seconds and the Ryzen 5 processor makes swift work of all you throw at it. Camera quality is good and I like the way it's hidden in a button however, my wife finds the angle unflattering. Would highly recommend this laptop. Small but nippy with an excellent keyboard and speakers.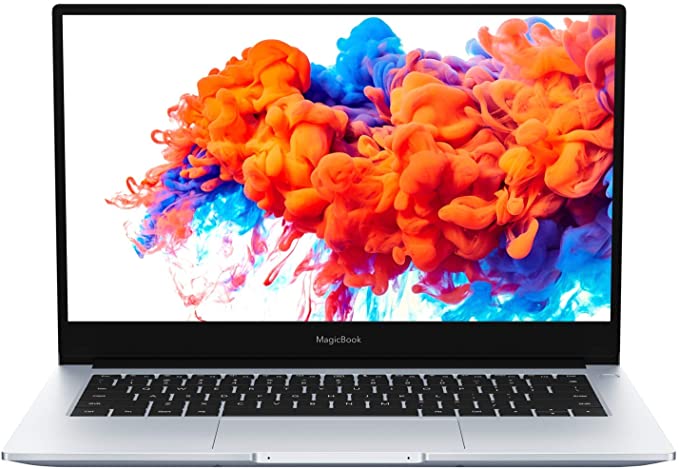 Multi-Screen Collaboration
Finally, HONOR has another trick up its sleeve with Magic-link 2.0. The app and software when loaded on the smartphone and laptop allows for pairing of the devices. This allows you to access the smartphone directly on the laptop. You can then use the laptop's keyboard and trackpad to control the phone, share clipboard and transfer files.
Key Features
Windows 10 Home
Full View Display with a screen-to-body ratio of 84%
Metallic body with a brushed aluminium finish available in space grey or silver
AMD Ryzen5 3500U with Radeon Vega 8 Graphics
The compact Type-C charger
Multi-Screen Collaboration
Fingerprint login
What Else Is Out There
If you are wondering, what else is out that with the same specification or around the same price points. We start with the almost identical, Huawei MateBook D14 and 15. Huawei is the parent company of HONOR with the latter being the sub-brand of Huawei, with the two brands sharing some of its products and platforms, just different badge and slightly different design.
The Huawei MateBook D 14 and 15
The identical twin to HONOR MagicBook 14 and 15, Huawei's offering may not come with the blue accent and offset logo favouring the more conventional look with the Huawei logo taking center stage in polished finish on the lid, a contrast to the brushed aluminium finish of the entire chassis.
Both laptops share the same weight and thickness as the MagicBook; 1.53kg and 16.9mm slim for the MateBook D15 and 1.38kg and 15.9mm slim for the MateBook D14. Both laptops has hinges that open up to 180-degrees with the lid folding over the base at the hinge.
Both laptops are powered by AMD Ryzen 5 3500U processor with PCIe SSD and dual-channel DDR4 RAM. The difference here is that on review, we find the HONOR offering is limited to 256GB SSD storage on both 14 and 15 while the Huawei MateBook D14 is offered with double the storage capacity at 512GB for a bit more money. At the time of writing except of the MateBook D14, the MagicBook 14 and 15 as well as the Huawei MateBook D15 shares the same price tag.