Apple's M1 Chip definitely made headlines over the past few months since it was officially released. Being one of the CPUs developed in the current Zen 3 and Rocket Lake era, it hits the news over and over with very competitive performance marks within its own mobile space.
In fact, it is so impressive (as Apple's first "home brew" attempt), that Intel seemed to have been compelled to respond by hitting them with benchmarks, something that we consumers haven't really seen with the company since AMD took the DIY center stage from them a couple of years back.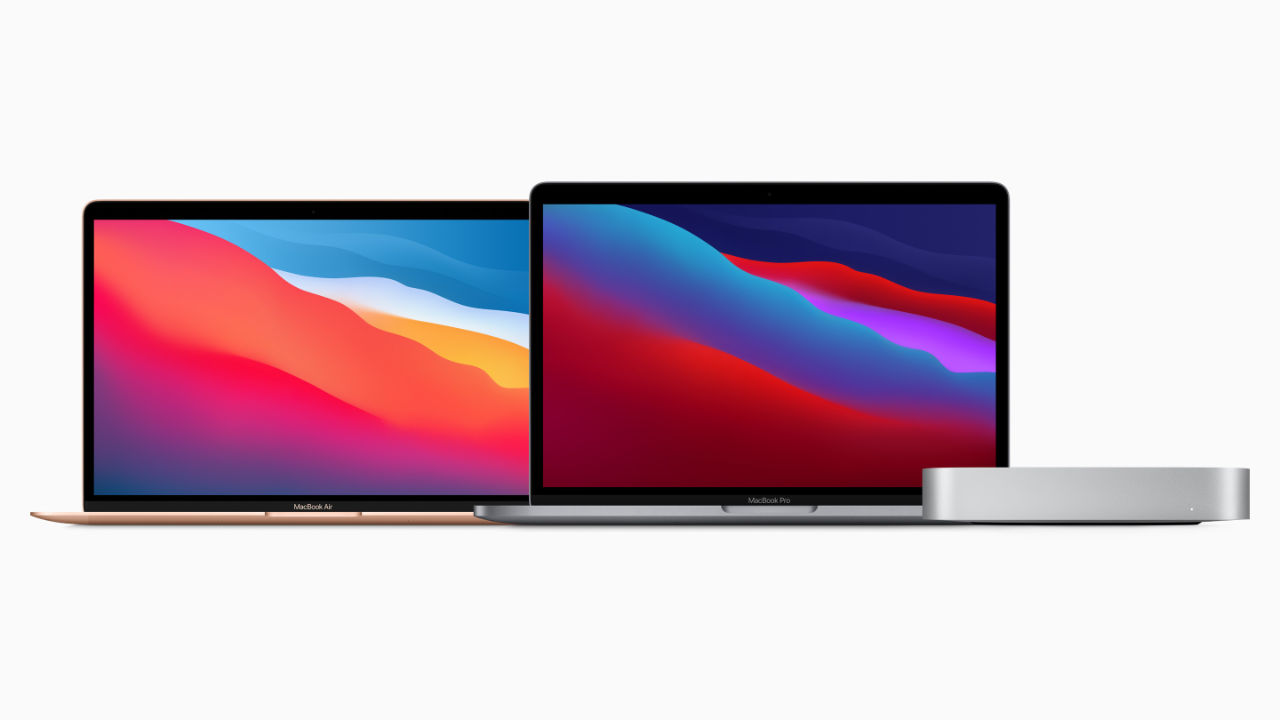 But, what exactly are we to expect with the new chip when it comes to apps and software? Here's a list of a few essential third-party apps that you definitely want checking out the M1 chip with.
1. Web Browsers! (specifically Google and Firefox)
First on the list (of course) are the ol' trust web browsers Google and Firefox. The two have since then been updated to be optimized for Apple's M1 chip. There were a few bumps along the way, as the initial releases apparently caused the new M1 Macs to crash randomly. But since mid-November 2020, things have been sailing quite smoothly for both browsers.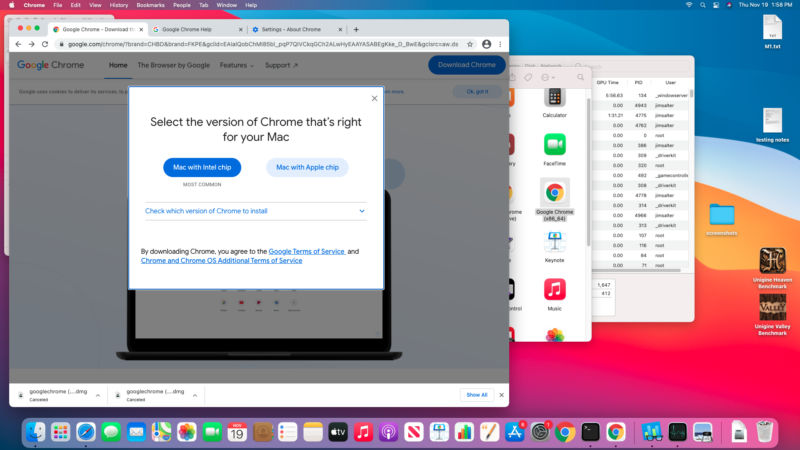 Just how smoothly? Apparently, not a single wave rocking it whatsoever. For Google, the M1 version was able to race through benchmarks at almost twice the rate that it is supposed to work for classic X86/x64 Intel chips. This is whether it is being "stressed" with multiple Web applications, gauging overall response rates and accessibility, and most importantly, the use of complex in-browser graphic techniques (to which the M1 chip actually managed a four-fold synthetic advantage).
The performance boosts were also more or less the same with Firefox 84.0, though there are few more additional updates such as WebRender support.
Update: Microsoft Edge, the Internet browser from Microsoft based on Chromium has also joined the list of browsers parsed natively for Apple Silicone.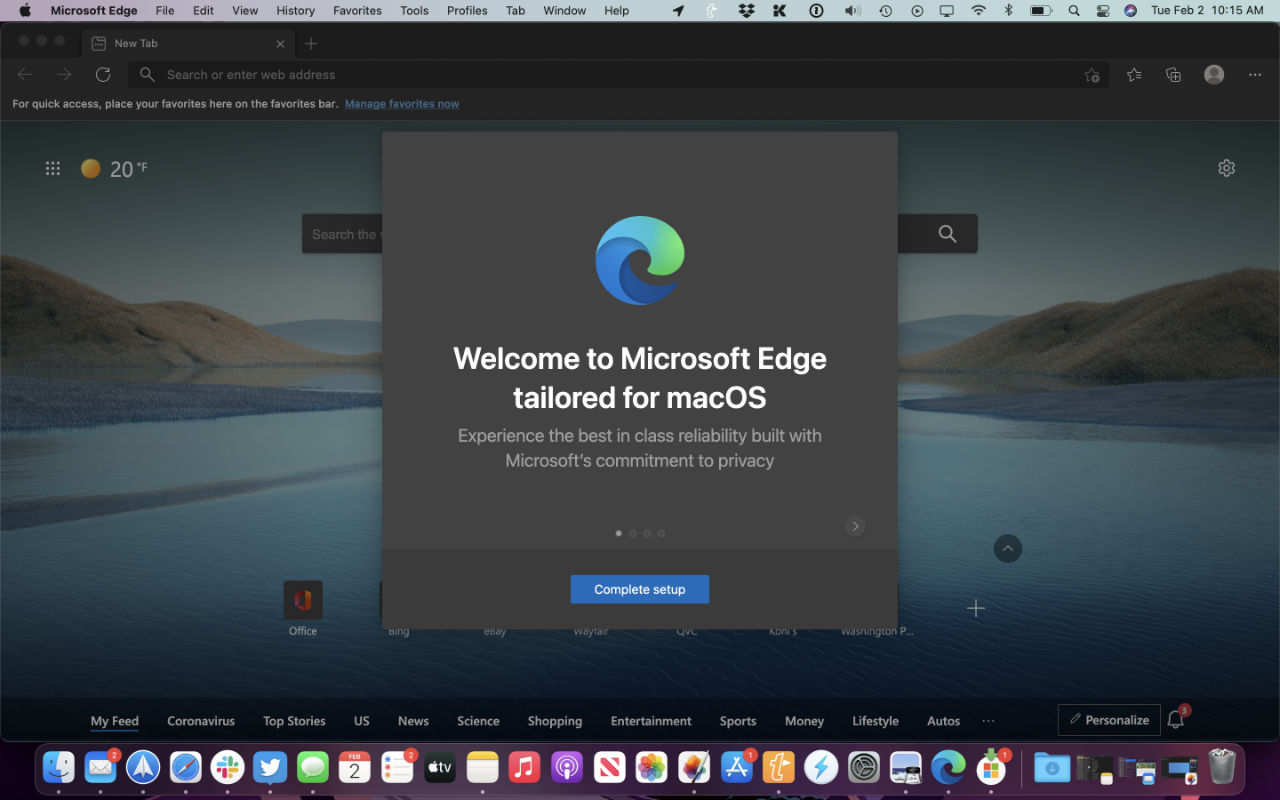 2. Microsoft 365
Indeed, what productivity suite would miss the opportunity to make itself perform at its optimum with the new chip. Speed and flexibility aside, there are at least a few other notable specific upgrades that each software of the entire package for the M1 chip.
First is a basic, somewhat subtle interface redesign. You're no longer sitting in a Microsoft bubble on an Apple machine with the classic bordered visuals. The programs now look, feel, work, and function as if it was a native app for Macbooks all along.
Second, is the Tell Me feature, rolled out as a natural language search feature that allows users to "ask" Office applications about data, actions, suggestions, or items that you may need at the moment.
Third, a slew of simpler, quality-of-life improvements within the multi-user office environment of Office 365 is implemented. Commenting on Word for (the M1) Mac for example, would now provide a quick access point to keep the focus on content building.
Lastly, is eventual native iCloud account support for Outlook. Very soon, you can conveniently organize emails, calendars, and contacts with just one app more than how it was integrated before.
3. Scrivener
Of course, what writing productivity machine would any Macbook be without the ol' trusty Scrivener. Unlike most third-party software on Macs, Scrivener was about a month late to the party. Version 3.1.5 wasn't exactly ready for M1 just yet, and 3.2 is still under development.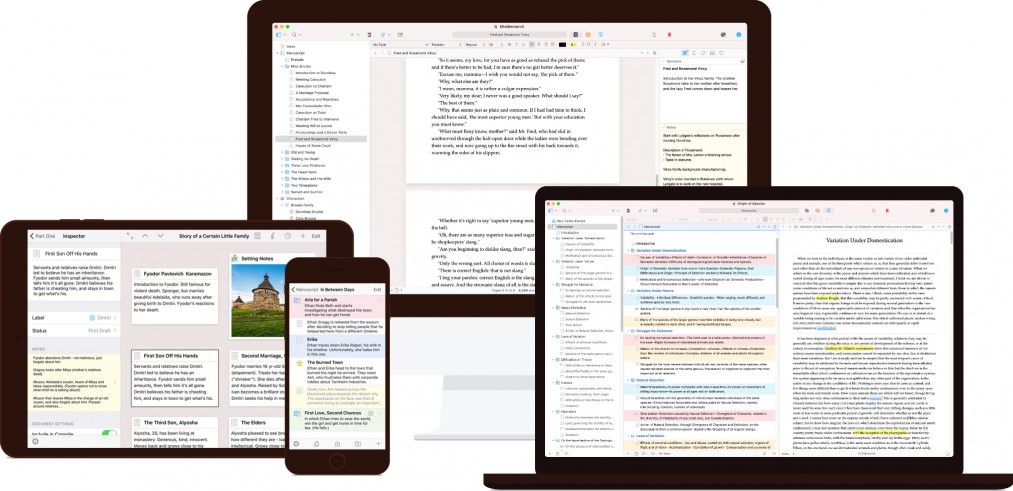 Today though, starting with version 3.2 though, the software finally embraces the full snappy optimization of the M1 chip. Starting, as always, with a slight interface upgrade, just to make it more at home with M1's accompanying Big Sur OS. There were also several minor tweaks and bug fixes. Though, the most notable feature is still its complete backward compatibility with either an Intel or an M1 Silicon chip.
4. Pixelmater Pro
Putting Photoshop and Lightroom aside at the moment, Pixelmater Pro is perhaps the prime M1 optimized app that you need to check out. Why? It is built from the ground up with M1-optimization in mind. This means in terms of compatibility (as an already existing software prior), Pixelmater Pro may be the best out there yet for M1. At the time of writing, only Adobe Lightroom is M1 optimised.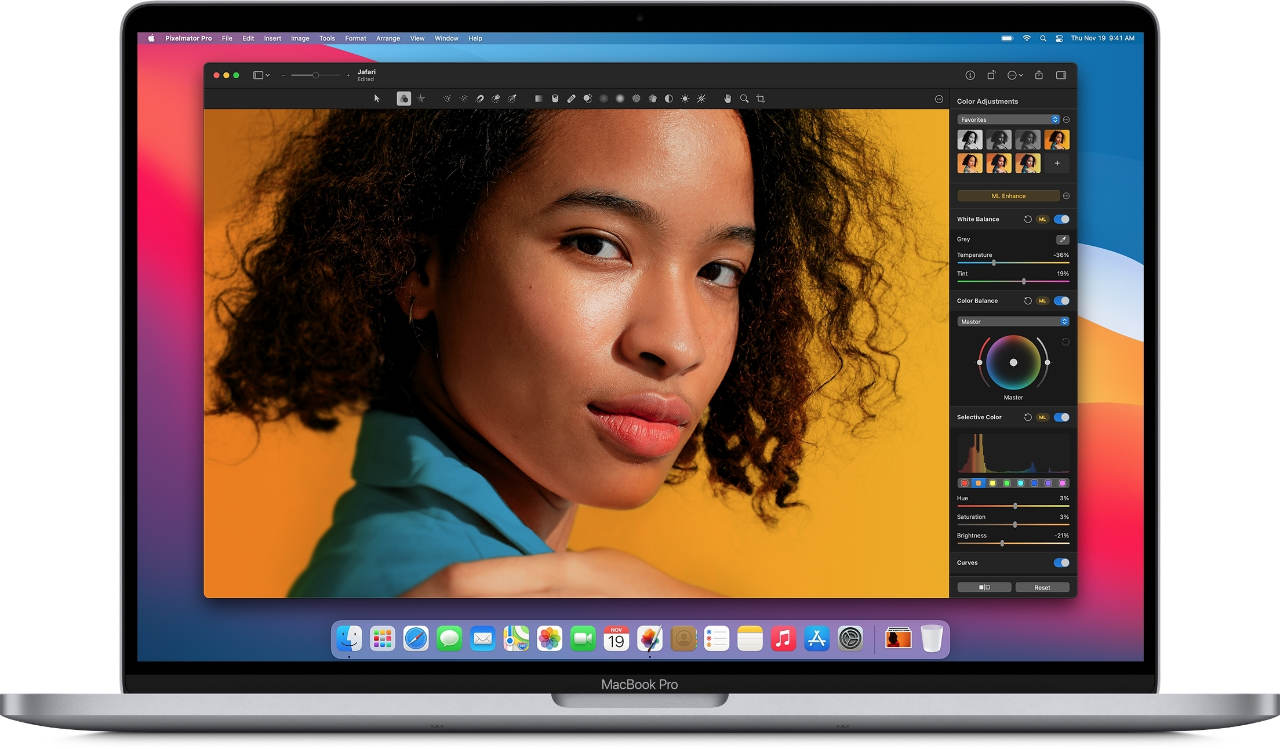 The biggest touted feature of the new Pixelmator Pro 2.0 is its Machine Learning (ML) Super Resolution feature (smart feature for analyzing patterns in images). As of the new Big Sur OS and M1 Macs, the developers claim that it is almost fifteen (x15) times faster than it was previously.
There's also the typical visual overhaul. While it is not exactly built with thematic consistency in mind, it does add extra menu editing perks to provide even more customization of your screen real estate.
5. Djay Pro AI
In the case of music mixing, Neural Mix-powered djay Pro AI sets the bar for what is possible for the M1 chip at the moment. Of course, some of the requested and kind of obvious updates don't exactly need a new CPU, such as macOS/iOS integration and extended media library access. But for the most part, many of these are added with the new chip's potential performance boost.

Among these, the most notable are all the upgraded Neural Mix-related features. We now have a significantly extended audio effects library. Neural Mix channel configuration can suit any mixing style, separate channels for editing loops, a couple of new video editing options, and streaming capability on at least four additional platforms (Beatport, Beatsource, Soundcloud, TIDAL).
6. VLC
As a basic multimedia indulgence tool, VLC has been one of the, if not the, prime app used on every outlet of media entertainment out there that supports third-party software or apps. Making it optimized for the M1 chip means that 4K and 8K video playback can be smoother and easier to execute than ever before.

Aside from more direct encoding, and faster performance, the new VLC 3.0.12 offers improvements for DASH, macOS audio, RIST, as well as Bluray. Do take note though, that before you get the actual M1-optimized VLC, you first have to download and install 3.0.12, and then update it to 3.0.12.1.
7. CrossOver Mac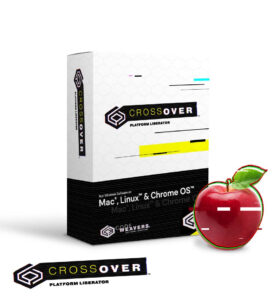 Next, this rather simple and straightforward app by CodeWeavers has allowed Mac users to enjoy Windows applications for quite some time. It might not be as optimized on a gimped Rosetta 2 chip, but it works, and for a good number of people, just the option to do so is enough of a benefit to keep using it.
With the new M1-optimized version of Crossover however, we are seeing something of an evolution. Just like many other apps mentioned here, the benchmarks show significant speed and response improvements, representing synthetic values that are at least 50% more than previous ARM-based machines installed with a dedicated Windows OS, such as the Surface Pro lineup.
So for certain apps, the virtualized Windows environment of Crossover will just be as snappy as with a real Windows on an x86/x64 chip, making it no longer just a convenience.
8. Simplenote
While Apple's own Notes is great as a cloud based notes app to synchronise all your notes between your iDevices, including notes from mail services such as Google Mail, the app is exclusive to MacOS and iOS devices. Enter the free Simplenote. If you work on different platforms, and wish to share your notes on them all, then Simplenote is for you. It supports not only iOS and Android, but Mac, Windows, Linux and in any browser.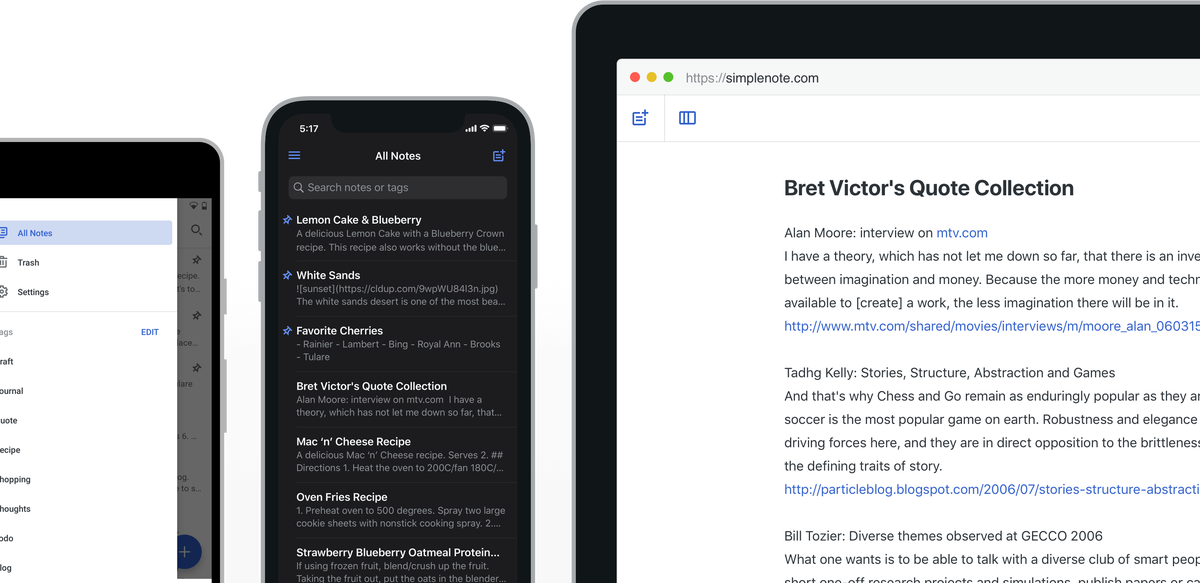 This means you can continue to work on your document on any of your devices as it is synced across the cloud in real time. Apart from that, it also supports tags to search and organise your notes, versioning, notes sharing and collaboration and markdown. It may not support inking, colouring and sketching, or even basic formatting like underline and bold but it will let you create lists and publish your work on app.simplenote.com
An alternative to Simplenote is Microsoft OneNote and Evernote. The former is not fully compatible with Apple Silicone but the latter is not at the time of writing.
9. Zoom
Who can ignore the online meeting application? While Skype, Teams and Webex are still relying on Rosetta 2, Zoom is first to come up with a native app for M1 Macs. No more relying on Rosetta 2 translation, which at times can be slow and eat away the battery power. With the app now running natively, you can expect it to be battery kind and fast. This will work a treat with M1 Macs with onboard cameras, like the MacBook Air and MacBook Pro but for Mac Mini M1, it will need a compatible web cam.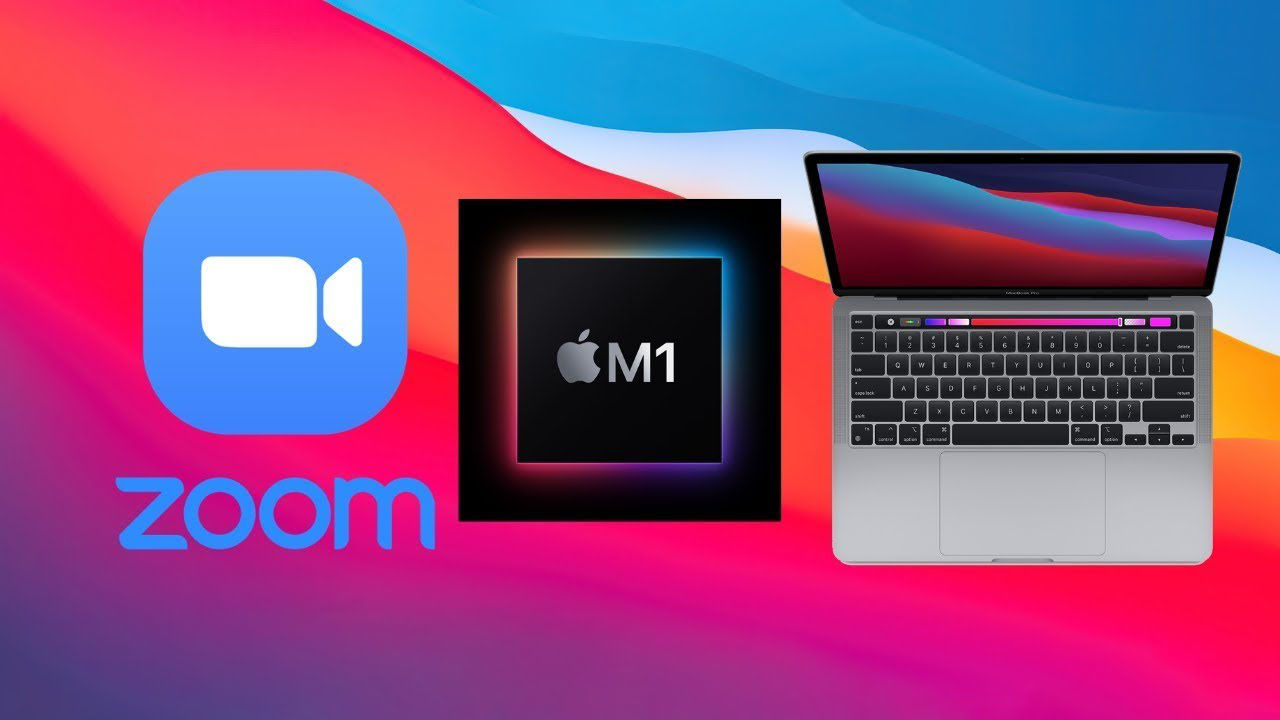 10. Affinity Suite (Photo, Designer and Publisher)
Affinity Photo is an alternative to Pixelmater Pro above (and Photoshop), while Affinity Designer is a viable alternative to Adobe Illustrator, a vector graphic designer app, both of which are optimised for Apple Silicon and specifically Apple M1 since January 2021 and December 2020, respectively. The third app from the same company, Serif is a desktop publishing app called Affinity Publisher. Together, the trio is a powerful combination to meet all your creative needs.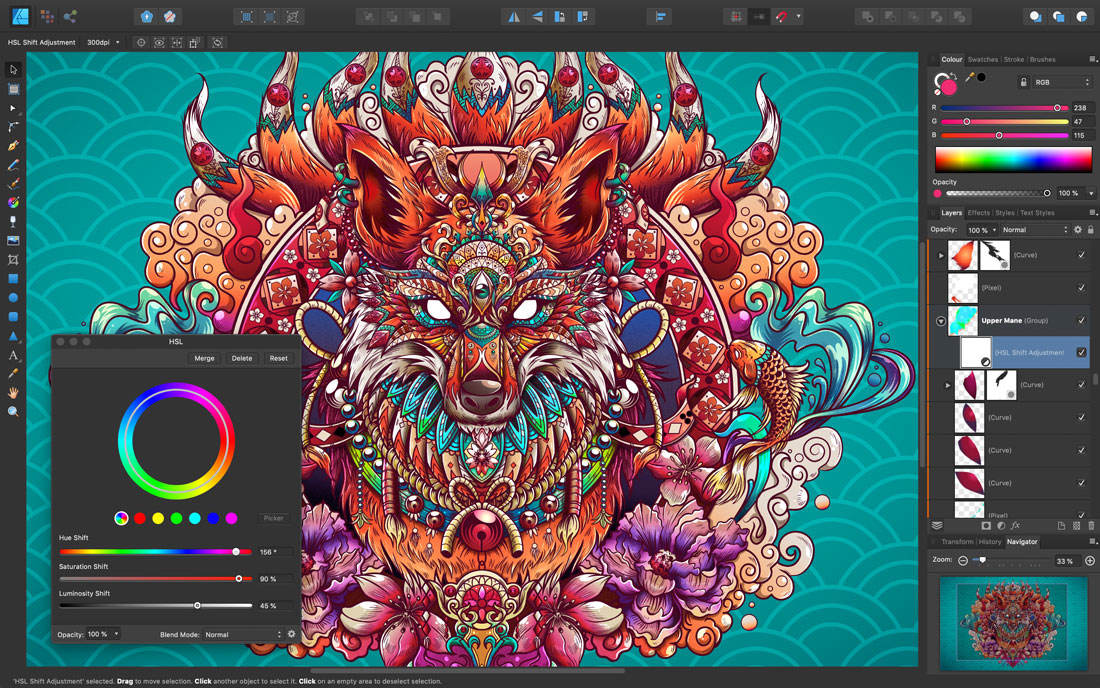 Not only are these available at a one-off cost over a subscription model, you will continue to receive free updates until another major release. The developers at Serif noticed a performance boost between 2.5 to 4x using the suite of apps on Apple M1 chip while working on plenty of layers, text and vectors in a heavy document. The illustrator alternative reaps the most benefits since it is CPU-based.
Final Thoughts
It is easy to see how things will catch on quickly where native apps are concerned. The clock is ticking, Apple's two-year time frame to fully convert their line of Macs to use Apple Silicone will soon be over. Judging from the first generation M1 chip for Mac, and Apple placing them in their entry level and cheapest MacBook Air M1, cheapest MacBook Pro 13 M1 and cheapest Mac Mini M1 simply means that what is to come is bound to blow your socks off. M2 or M1X would further unleash the power for Apple's 5nm Silicon. The question now is, are you ready to take the plunge?