Ever since Nvidia launched its flagship graphics card, the GeForce RTX 3080, laptops gamers have been salivating as to when they would be able to enjoy a piece of the cake. It is a graphics card that can rip through the latest games like a hot knife through butter at 4K resolutions. There were apprehensions too as the RTX 3080 is to date the most power-hungry card launched by Nvidia.
How laptop manufacturers would get Nvidia's beast to run on a limited power was a matter of concern for gamers worldwide. The RTX 3080 is the most powerful graphics card at the point of writing with the latest Ray Tracing and DLSS feature that provides cinematic level graphics in desktop and laptop gaming.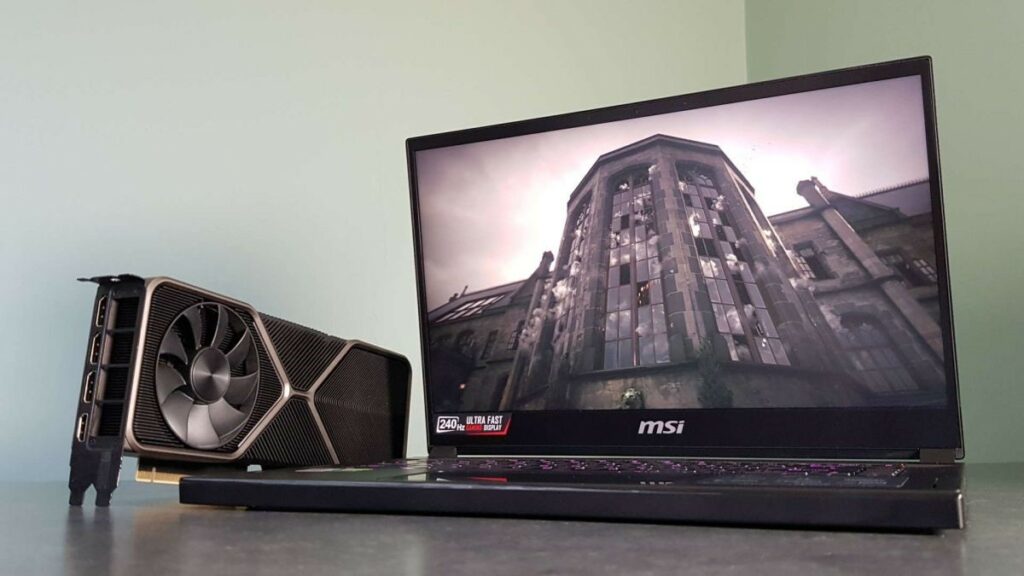 What is Max Q?
When we talk about mobile RTX 3080, there is a MAX Q variant we must talk about. Since the RTX 3080 is a power-hungry card and needs a lot of power, some portable and thin build laptops use Max Q to accommodate the RTX 3080.
3rd Generation Max-Q Technologies allows a beefy graphics card (in this case the RTX 3080) to fit into a slim chassis and performing at its peak efficiency level as per the available specifications. Hence the Max Q supported laptops come with Dynamic Boost 2.0, Resizable Bar, and DLSS where the clock speeds of a graphic card is reduced to suit the available power making the card perform at maximum efficiency.
So when you see Max Q feature on your mobile RTX 3080 graphics, it is a necessary evil, to make all that power available to your gaming laptop in a way that delivers both performance and efficiency.
Top 8 Best Gaming Laptops with Nvidia GeForce RTX 3080 Graphics
Here are some laptops with the Nvidia GeForce RTX 3080 that you can put your hands on and game to your heart's content.
1. ASUS ROG ZEPHYRUS G15 Ultra Slim Gaming Laptop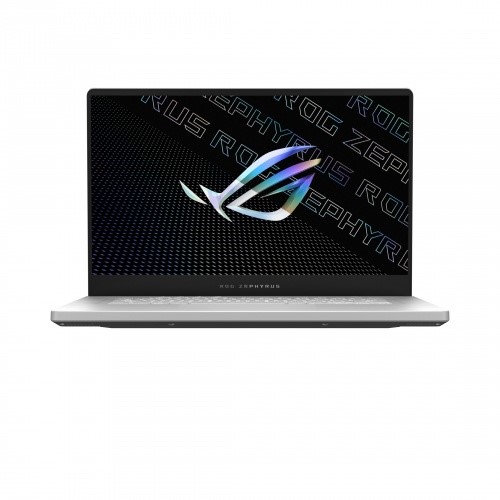 The ROG Zephyrus G15 is a thin chassis gaming laptop with the latest specs and impeccable looks. It has the latest processor from AMD and the latest graphics card from Nvidia. The laptop comes in an elegant looking, white-colored, durable aluminium-magnesium chassis that keeps weight under 2 kilos.
The 15.6-inch QHD screen with 165 Hz refresh rate and 100 percent DCI-P3 color saturation makes anything you run on it vivid and realistic. It has the latest octa-core Ryzen 9 5900HS processor with 32 GB of 3200MHz DDR4 RAM and a 1TB of SSD NVMe storage. There is 8GB of DDR6 memory on the RTX 3080 which is abundant to handle any game you want it to run.
Key Features and Connectivity Options:
AMD Ryzen 9 5900HS 3.1GHz (Turbo up to 4.5GHz)
Dual Aero Wave Fans for Cooling
Adaptive Sync Technology
Wi-Fi 6(802.11ax), Bluetooth 5.1
Ports: 2 x USB 3.2, 2 x Type C USB 3.2, 2 x Display Port 1.4, 1 x 3.5mm Combo Audio Jack, 1 x HDMI 2.0b
90WHrs, 4-cell Li-ion Battery
2. ASUS ROG STRIX SCAR 15 Gaming Laptop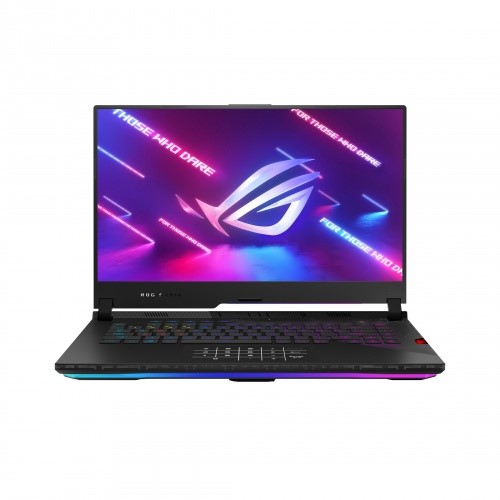 If the Zephyrus series maintains a low profile in gaming laptops, the ROG Strix Scar series makes no effort to hide its tanky chassis. It houses a very able Ryzen processor and Nvidia RTX 3080 graphics card. The lid has a ROG pattern at one corner and the ROG logo on the other. There are vents at the rear edge of the laptop for heat management and ventilation. The icing on the cake is a LED light bar that runs on the front edge of the laptop below the keypad.
We see a 15.6 Inch IPS panel on a Full HD resolution with a response time of 3 milliseconds and a 300Hz refresh rate. The processor inside is a mid-ranged Ryzen 7 5800H coupled with 16GB of DDR4 RAM at 3200 MHz frequency and an Nvidia RTX 3080 graphics card. A mechanical keyboard shines brightly to finish the rough and tough build of the ROG Zephyrus G15.
Key Features and Connectivity Options:
Intelligent Cooling with Thermal Grizzly Liquid
8GB GDDR6 Graphics Memory and 1TB PCIe SSD Storage
Wi-Fi 6 with Range Boost and Bluetooth 5.1
Ports: 1x Type C USB 3.2, 1x Display Port, 3x USB 3.2, 1x 3.5mm Combo Audio Jack, 1x HDMI 2.0b
90WHrs, 4-cell Li-ion Battery
3. GIGABYTE AORUS 15G YC Gaming Laptop
Gigabyte has been making headlines with its Aorus lineup of 15-inch and 17-inch gaming laptops gaining a lot of market share. The Aorus 15G has a sleek and elegant design with an Aorus logo on the lid. It has a large battery and a sports coupe-inspired edgy and angular design. It is powered by a 10th Generation Intel Processor and Max Q powered Nvidia GeForce RTX 3080.
The Core i7-10870H processor can hit 5GHz with Turbo Boost and has 8 cores with 16 threads to simultaneously carry out content creation, content rendering, and gaming. The display uses an IPS panel with Full HD resolution and a 240Hz refresh rate. The laptop returns a phenomenal 8 hours of battery life. The maximum RAM supported is 64GB 3200MHz DDR4 and there are two M.2 SSD slots, one carrying a terabyte of SSD and the other open for an upgrade.
Key Features and Connectivity Options:
AORUS Fusion Keyboard with Per Key Backlit
WINDFORCE Infinity Cooling Mechanism
Intel AX200 Wireless (802.11ax) Bluetooth V5.0 + LE
Ports: 3x USB 3.2, 1x USB 3.2, 1x HDMI 2.1, 1x mini-DP 1.4, 1x 3.5mm Audio Combo
Li-Polymer 99Wh Battery
4. RAZER BLADE 15 Gaming Laptop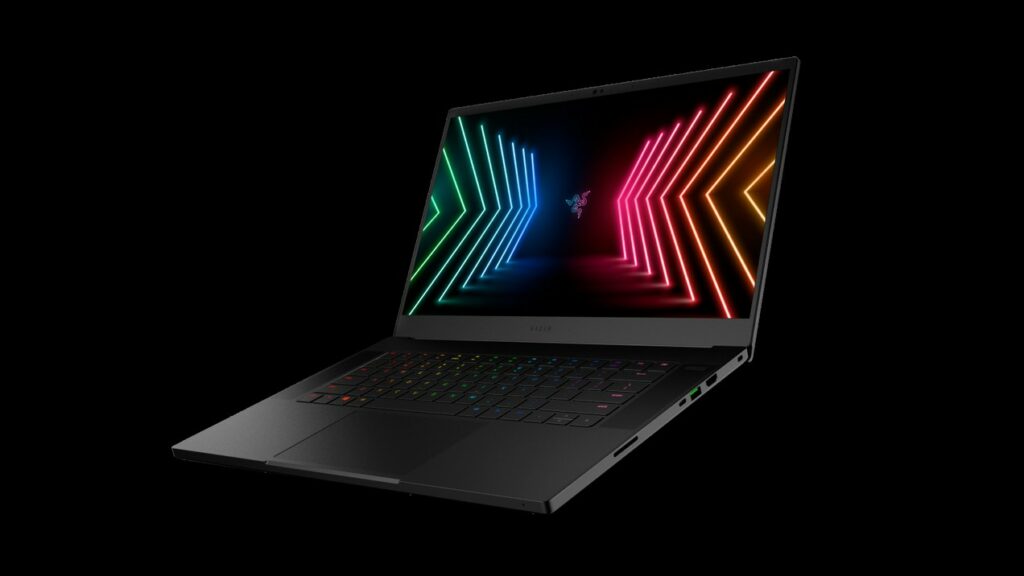 Razer made its name from high-quality peripherals and has since shifted its focus towards high-end gaming laptops. One such laptop is the Razer Blade 15. The matt finished body has a thin but sturdy design. The low-profile design is pretty simple and it would have been hard to tag it as having serious gaming capabilities without the Razer logo on the lid. It is powered by an Intel 10th Generation processor with the RTX 3080 to handle gaming requirements.
The powerful Intel Core i7-10875 processor exceeds 5GHz on load and can handle anything thrown at it and an RTX 3080 can blaze past games with its 8GB GDDR6 memory. The thin bezel display has 100 percent sRGB coverage and comes with a factory-calibrated QHD resolution. The screen refresh rate is set at 240Hz and the supplied RAM is 32GB dual-channel DDR4 operating at 2933MHz. There is a chicklet-type keyboard with a per-key RGB backlit.
Key Features and Connectivity Options:
Nordic Layout Keyboard with N Key Rollover
1 TB M.2 NVMe PCIe 3.0 + THX Spatial Audio
Intel AX210 Wireless (802.11ax) Bluetooth V5.2
Ports: 1 x Thunderbolt 3, 3 x USB 3.2, 1 x USB-C 3.2, 1 x HDMI 2.1
Li-Polymer 80WHr Battery
Other display options available for the laptop Razer Blade 15 includes 15.6-inch 4K OLED touch display with 60Hz refresh rate and 15.6-inch Full HD display with 360Hz refresh rate. All, powered by the Geforce RTX 3080.
5. RAZER BLADE PRO 17 Gaming Laptop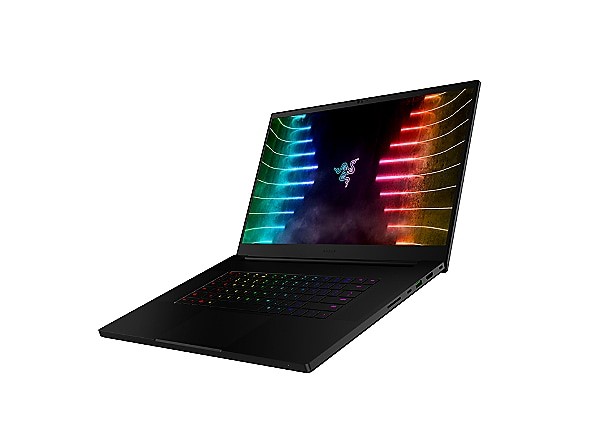 Up next we have the elder sibling Razer Blade 17 Pro. Although it carries the same processor and graphics combo there are improvements in utility segments that makes it a superb gaming plus business laptop. The build is similar to the Razer 15 with elegant looks and uniform thickness in the chassis all around. The screen is bigger and it supports a higher resolution.
The best part of Razer Blade 17 Pro is you can game on it using the RTX 3080 inside as well as use its 4K Touch Screen with 120Hz refresh rate for business and education purposes. We see 16GB of graphics memory in the portable form factor and 32 gigs of dual-channel DRR4 RAM operating at 2933MHz. The bezels are thinned down to 6mm and there is a 100 percent sRGB coverage.
Key Features and Connectivity Options
Stereo Speakers with THX Spatial Audio
1 TB M.2 PCIe SSD Storage
Intel Wi-Fi 6E AX 210 Wireless, Bluetooth V5.2
Ports: 3 x USB3.2, 2 x USB3.2 (Shared with Thunderbolt 3 Port), 1 x HDMI 2.1
70.5watt-hours lithium-polymer battery
Just like the Blade 15, the Razer Blade 17 Pro is also available with a Full HD display at 360Hz refresh rate for those who play lots of fast moving and action titles.
6. ASUS ROG STRIX SCAR 17 G733 Gaming Laptop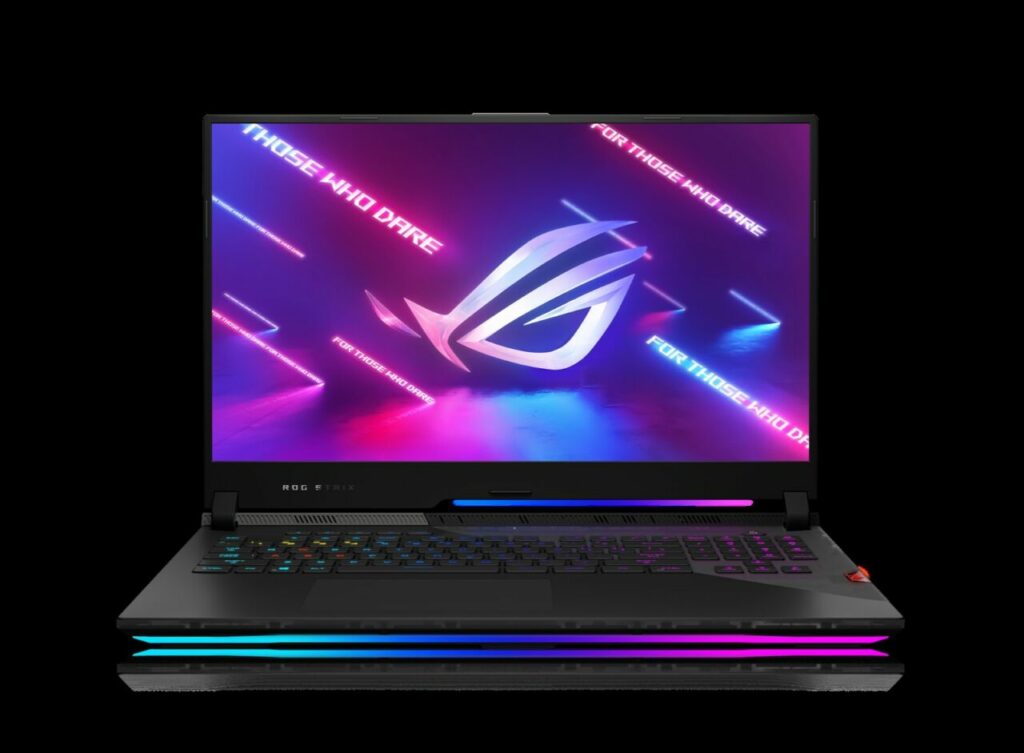 We have the best offering of the ROG Strix Scar series in Scar 17. The ROG Keystone is a small key at the right edge of the laptop that is useful for transferring and saving settings and profiles across devices. It is driven by AMD's powerful mid-range processor and the ever-reliable RTX 3080.
Ditching Max-Q, the RTX 3080 goes full throttle in the thick chassis of the Scar 17. With 16GB of GDDR6 video memory and ROG Boost, the RTX 3080 revs up to a maximum of 1645MHz clock speed.
The Ryzen 9 5900HX processor with 16MB of L3 cache and 32GB of DDR4 RAM makes multitasking and heavy gaming a breeze. A quirky decision from Asus is sticking to an FHD resolution when the 360Hz refresh rate screen, when the GPU is more than enough to support QHD resolution. The panel is IPS grade with a 3ms response time.
Key Features and Connectivity Options
Optical Mech Keyboard Per-Key RGB
1 TB M.2 PCIe SSD Storage
Bundled with FHD 1080P@60FPS external camera and Dolby Atmos Audio
Intel Wi-Fi 6 AX 210 Wireless, Bluetooth V5.1, Range Boost
Ports: 3x USB 3.2Type-A, 1x USB 3.2 Type-C support DisplayPort / power delivery / G-SYNC, 1x HDMI 2.0b, 1x 3.5mm Combo Audio Jack
90WHrs, 4-cell Li-ion
7. ASUS ROG ZEPHYRUS DUO 15 SE Gaming Laptop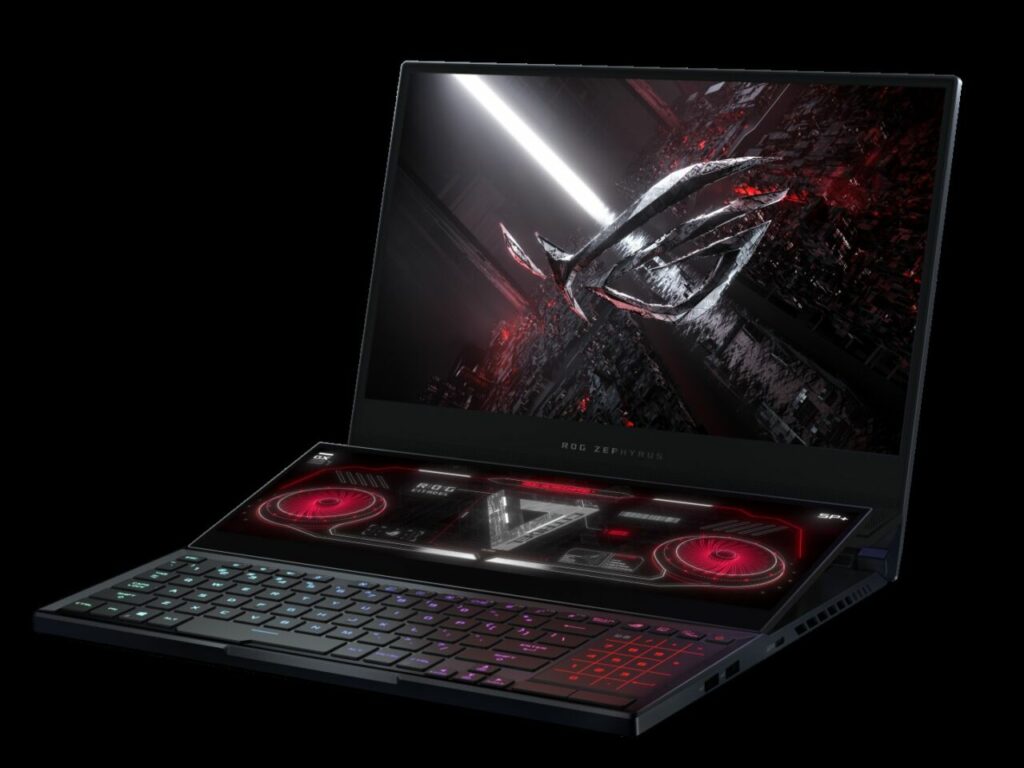 If you are looking for a head-turning gaming device look nowhere else than the Zephyrus Duo SE. The laptop has a secondary touch-enabled display above the keyboard and the keyboard has a touchpad to the right that doubles  as its number pad. The rest of the build has less flare and more utility to it. However, this design has left the laptop bereft of palm rest. The secondary display can be propped up, tilted at an angle for ease of access.
The Zephyrus Duo SE is driven by AMD's most powerful Ryzen 9 5900HX processor coupled with 16GB RAM at 3200MHz. The RTX 3080 runs at max 1645MHz clock rates and produces stunning life-like imagery on the 15.6 inch 4K screen. The display has an anti-glare coating and a response time of 3ms to suit esports and FPS titles.
Key Features and Connectivity Options
Free Sync Compatible
1 TB M.2 PCIe SSD Storage
Smart Amp Technology and Dolby Atmos Audio
Wi-Fi 6 Wireless, Bluetooth V5.1, Range Boost
Ports: 3x USB 3.2 Gen 2 Type-A, 1x USB 3.2 Gen 2 Type-C support, 1x HDMI 2.0b, 1x 3.5mm Combo Audio Jack
90-watt hours, 4-cell Li-ion battery
8. GIGABYTE AERO 15 OLED Gaming Laptop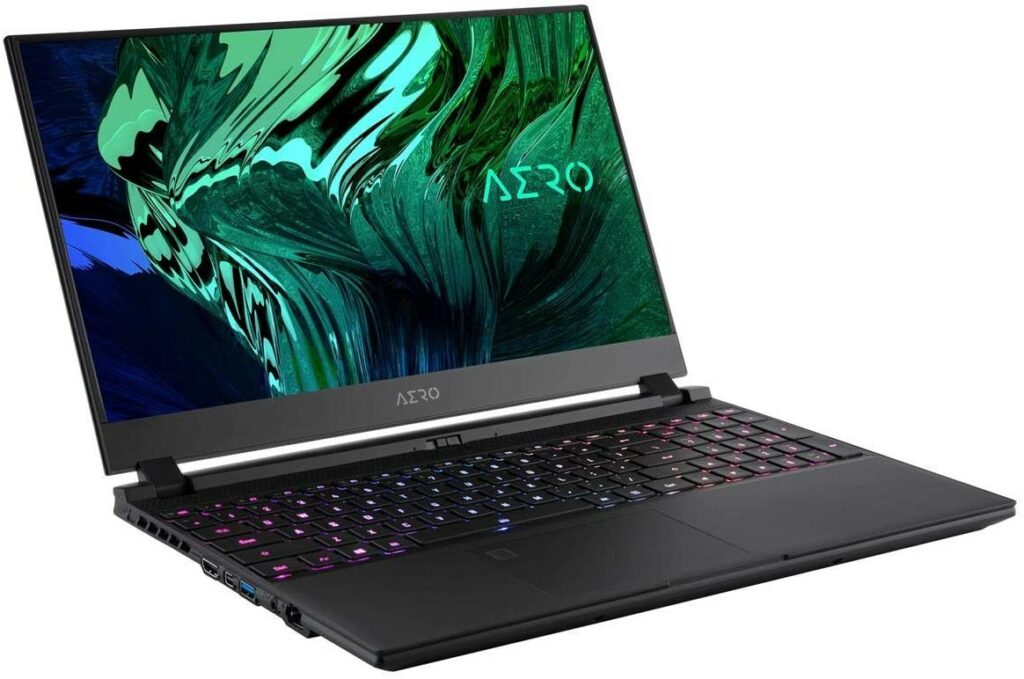 The Aero series from Gigabyte are laptops on a rather bland gaming chassis. There are a host of connectivity features and a strong and durable build to withstand the pressure of mainstream gaming. The Aero 15 has multiple heat vents and Max Q technology embedded for efficient heat management and gaming. The device is powered by Intel's 10th generation processor and RTX 3080 graphics.
The Aero 15 has a stunning thin bezel 4K UHD display that uses a Samsung AMOLED panel for the ultimate visual experience. That panel is certified HDR 400 and supports 100 percent DCI-P3 color coverage. The Intel Core i9-10980HK processor is capable of reaching 5.3GHz and the maximum supported RAM is 64GB on two slots. 8GB of GDDR6 video memory coupled with Max Q features like Dynamic Boost 2.0 and Resizable Bar amongst others make the Aero 15 from Gigabyte a capable gaming device on a somewhat gaming chassis.
Key Features and Connectivity Options
Optimus Max Q Technology
DLSS and Ray Tracing Support
WINDFORCE Infinity Cooling Mechanism
Intel AX200 Wireless, Bluetooth V5.0 + LE
Ports: 3x USB 3.2 Gen1 (Type-A), 1x Thunderbolt™ 3 (Type-C), 1x HDMI 2.1, 1x mini-DP 1.4, 1x 3.5mm Audio Combo Jack
99-watt hours Battery
Honorable Mention: MSI GS66 STEALTH 10UH Gaming Laptop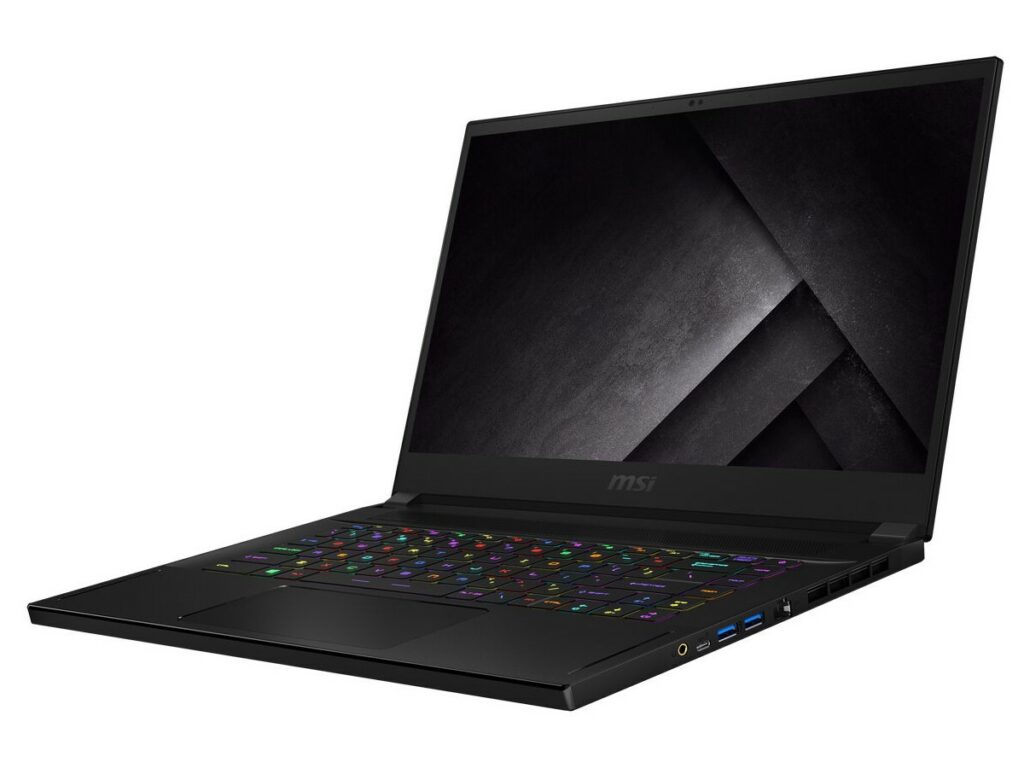 The GS66 Stealth from MSI is a gaming laptop in a thin chassis. There are two displays to choose from, one with a 4K resolution at 60Hz and the other with a 300Hz refresh rate at Full HD resolution. The processor driving the device is Intel's Core i9 10th Generation offering speeds up to 5.3GHz. The maximum memory supported is 64GB at 3200MHz and there are two M.2 SSD slots for storage.
The RTX 3080 operates with 8GB GDDR6 graphics memory with Max Q Technologies. The GS66 has DLSS AI, Ray Tracing and Dynamic Boost 2.0 improve gaming performance and offer excellent frame rates in top games. The keyboard has per-key backlit RGB LED and Duo Wave Dynaudio dual speakers complete the systems ability as a gaming and entertainment laptop.
Key Features and Connectivity Options
RGB Gaming Keyboard from SteelSeries
True Color Technology
Wi-Fi 6E and Bluetooth 5.2
Ports: 1x Type-C (USB3.2 Gen2 / DP / Thunderbolt™3) with PD charging, 1x Type-C USB3.2 Gen2, 3x Type-A USB3.2 Gen2, 1x RJ45, 1x (4K @ 60Hz) HDMI
99.9 Whr Battery
Conclusion:
The RTX 3080 is the most powerful graphics card from Nvidia that handles games and productivity with ease. It is capable of handling any 4K and VR-based content requiring heavy graphic processing. With Max Q Technology the same RTX 3080 returns unparalleled performance even on thin chassis builds. The RTX 3080 coupled with the latest generation AMD or Intel processor is all that you need to get your first gaming laptop that is sure to last for at least the next 5 years.