Flexible ultra portable with one of a kind watch band inspired metal hinge that lets you fold the laptop 360 degrees turning it into a slim 13.3-inch tablet.
10 Things You Need to Know About the Lenovo Yoga 900
If you are in the market for a convertible laptop, 2-in-1 tablet slash laptop device then the Lenovo Yoga 900 is worth a look. It has a well thought out nicely designed premium convertible with very impressive numbers and even more useful ports and features.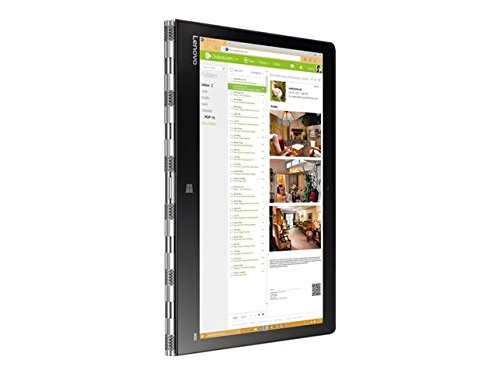 1. Slim and Lightweight
To give you an idea of how thin and light the laptop is, here is how the Lenovo Yoga 900 compare, pitched against laptops from major competitors with 13.3-inch display. While it may not be the slimmest or lightest, it is still very light and slim: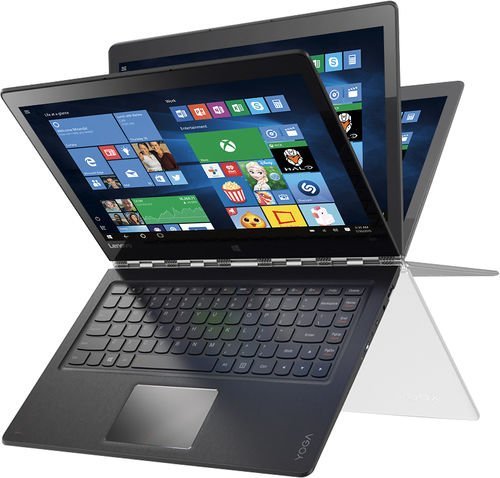 You can find other slimmer ultra portable laptops in our article showcasing 10 of the slimmest ultrabook laptops.
Let's get to the things that got us excited about the Lenovo Yoga 900 in the first place.
2. Watchband inspired Hinge
That eye catching metalic hinge is made from tiny links of metal akin to metallic watch bracelet. It is said to be made from 813 pieces of stainless steel bits. This is what makes the Yoga 900 stands out from the crowd from a noisy segment. The convertible segment is full of laptops at different price points, lots of them with mediocre hinge design. Plenty of thought has been put into the design of the hinge. Just think, how Lenovo has managed to hide the cables to the display for power and signal. It not only looks good but practical too as it allows user to rotate the screen way back to convert it into a tablet much like the spine on a book while holding the base and screen firmly in place. A closer look at the base of the hinge reveals some clever cooling vents that help keep temps down in this superthin hybrid. The hinges are also coloured to match the chosen colour; this includes clementine orange, champagne gold or platinum silver.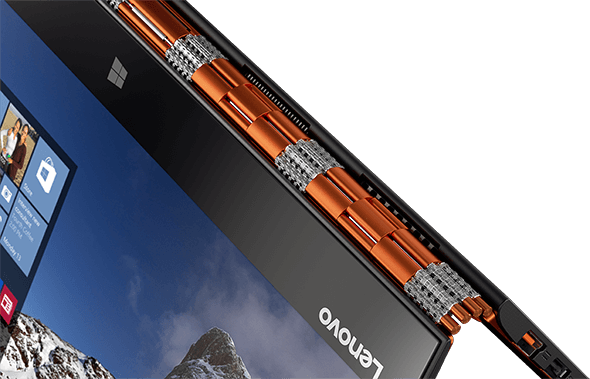 3. Multi-mode
Apart from the laptop and tablet mode, you can also use the device in presentation mode, rotate the keyboard around up to 270 degrees or more so the keyboard faces down, while the screen faces you. This is useful if you want to get closer to the action and do not need the keyboard especially for presentation
Don't worry, you can still use the touch screen for basic controls. Then there is tent mode where you can turn the laptop and place it on its long edges, standing up in like an upside down V, also to watch movies or TV show. The hinge provides enough resistance to not slip or move once set in place.
There is one other mode, which is not mentioned by Lenovo, and we like to call this the 'surface' mode when you put the screen and base flat with the hinge opened to 180 degrees.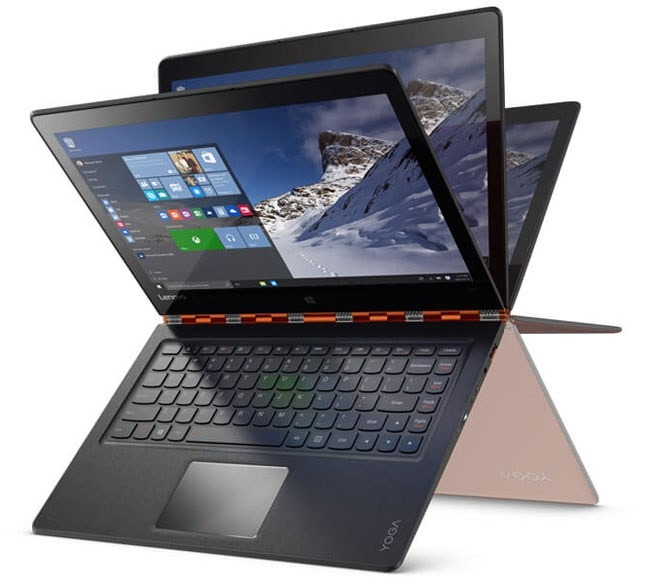 4. Keyboard
If you ever wondered what happens to the keyboard in tablet, tent or presentation mode, the keys on the keyboard are disabled automatically whenever you flip the screen around. This is to stop you from accidentally hitting the keys or touch pad when it is facing down or away from the screen. It comes back into action when you return the device to laptop mode.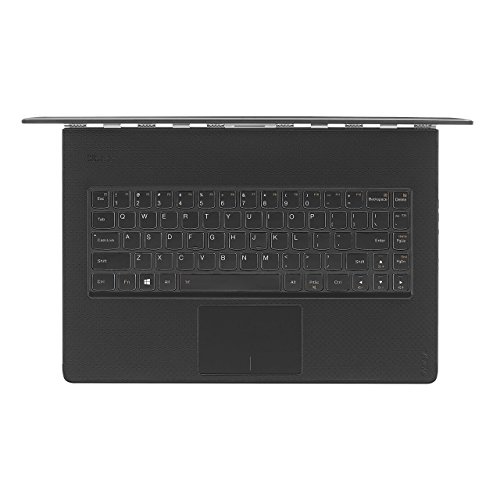 5. Premium Design
The Yoga 900 is an ultra-lightweight 13.3-inch device with one of a kind, watchband hinge. To make it stand out even more, the colour options are bolder in bright silver, champagne gold and eye catching orange. The top and bottom covers are also metal giving it a bit of weight but not too heavy that you can feel it.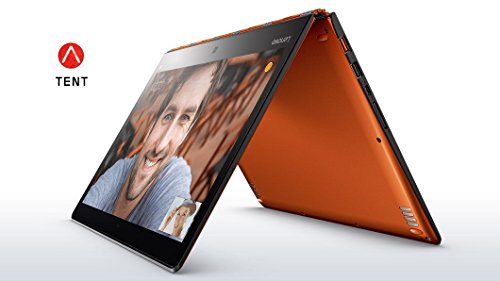 6. Performance
The Yoga 900 has plenty to offer in terms of performance with Intel Core i5 or i7 processors, 6th generation CPU, 8GB or 16GB of memory and 256GB or 512GB of PICe based solid state drive for faster data access and stability. With all the components put together, it makes for a powerful combination. The highest processor on the Lenovo Yoga 900 is the Intel Core i7-6500U clocking at 2.5GHz with turbo boost up to 3.1GHz.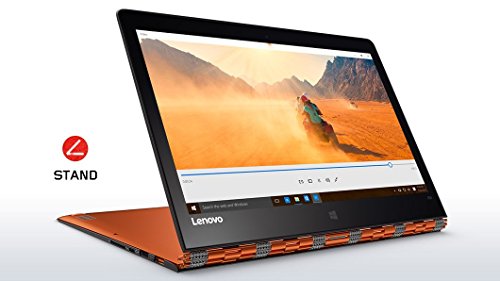 The laptop performs very well for video editing on Adobe Premiere Pro and for photo editing with Adobe Photoshop. It is only held back by its standard Intel HD Graphics processor which is a clear disadvantage if you are looking for a gaming machine. However, a spot of light gaming with less graphic intensive titles should not be a problem.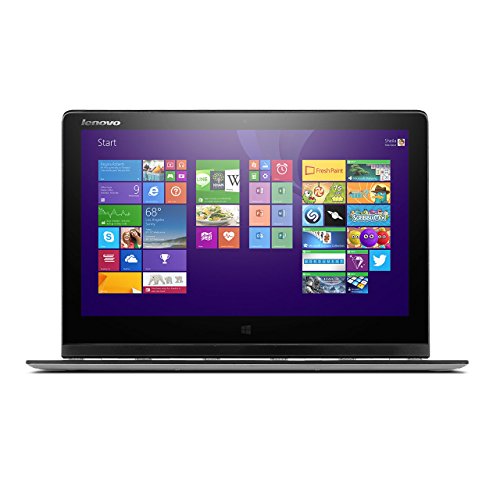 7. Display
It also has one of the highest resolution 13.3-inch display packing QHD+ with 3200 x 1800 pixel resolution and IPS technology to make everything look super sharp and colours vivid at any angle. The display looks great in any mode, even more so in tablet mode when you have only the display and the touch panel to interact with.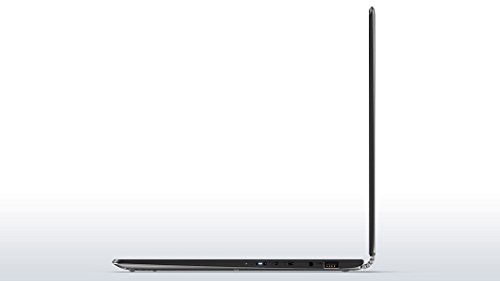 8. Ports
One of the biggest grip faced by ultra slim and ultra portable these days is the lack of ports. The Yoga 900 overcomes this offering plenty of ports for connectivity. It has two USB 3.0 ports and one USB 3.0 Type C port. There is a fourth USB 2.0 port which is also a power port, a Hybrid DC input port. This USB 2.0 port is colour coded and is Orange in colour. This is where the unit gets its charge with a supplied special USB charge adapter and cable. The cable can be unplugged both ways, from the laptop's USB and from the adapters USB port so you can use your own USB cable to charge your tablet or smartphone from the same adapter solving some travel woes when it comes to packing chargers. Apart from the USB ports, there is also a 4-in-1 card reader and an audio combo socket.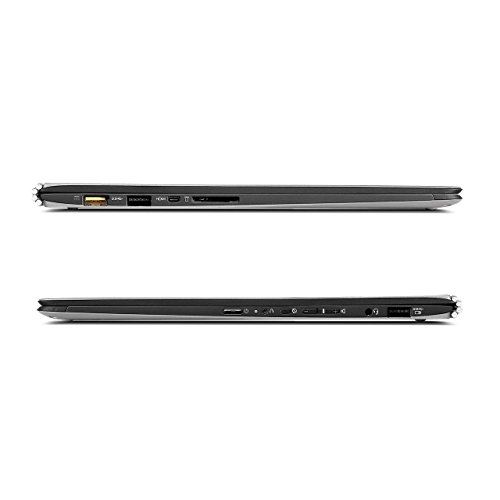 9. Battery
Lenovo claims that the laptop can last up to 9 hours per charge. In reality, this figure is much lower for multi use. You may push this number if you are only watching movies with moderate screen brightness 200nits and WiFi switches off. For combined real life use, this figure is likely to hover around 5 – 6 hours which is pretty standard for laptops in this category.
10. Sound
The other notable feature are the speakers. The built-in speakers pump out sufficiently loud and clear volume thanks to its JBL speakers that deliver rich stereo sound and premium Dolby® Home Theater® immersive experience. However, the sound can be a bit muffled in laptop mode as the speakers fire from the downward edge of the palm rest. Obviously, this would not be a problem when watching movies in tent mode which is what the multi-mode design is for.
Other Notable Features – Palm Rest, Keyboard and Track Pad
The palm rest has a leather like feel which makes it great when typing. The faux leather plastic palm rest doubles as a non-slip pad when you use the device in presentation or tablet mode. The full size keys on the keyboard are big enough and spaced out well. Travel distance is not too great but such is the design for ultra slim laptops. Even Apple have gone low travel with their Butterfly Mechanism keyboard on MacBook 12 and the new MacBook Pro 13 and 15. If you are looking for a keyboard with high key travel, you may have to look at bigger, thicker machines. The track pad is smooth and responsive, not overly big that you might accidentally hit it when typing.
Conclusion
Weighing only a mere 1.29kg and measuring just 14.9mm thin, the ultra portable still manages 9 hours of battery life per charge. The revolutionary watch bracelet inspired hinge is definitely a head turner and does not only look good. The strong hinge lets you use the laptop in four different modes common with convertible laptops with 360 degree hinge. It is made from 813 pieces of metal to make changing modes ultra smooth. The auto lock hinge also makes open and closing easy with one hand. To top if off, Lenovo has also equipped the Yoga 900 with JBL stereo speakers with Dolby DS1.0 Home Theatre certification making it great for both work and entertainment.
Specifications
Up to Intel Core i7 processor (6th Gen) Core i7-6500U 2.5GHz processor Turbo Boost up to 3.1GHz with 4MB smart cache| up to 16GB RAM (model includes 8GB RAM) | 256GB SSD SATA III | up to 9 hours of battery life.
Height: 1.49 cm x Width: 32.4 cm x Depth: 22.5 cm |  12.75″ x 8.86″ x 0.59″. Weight: Starting at 2.8 lbs (1.3 kg)