Manufacturers all over the world have been busy lately as the trend for powerful business laptops has picked pace. Microsoft doesn't seem to want to fall behind and they have come up with an improved Surface Pro 7 which they launched in 2019. This interim 2-in-1 convertible with some components and feature updates is called the Surface Pro 7+ (2021).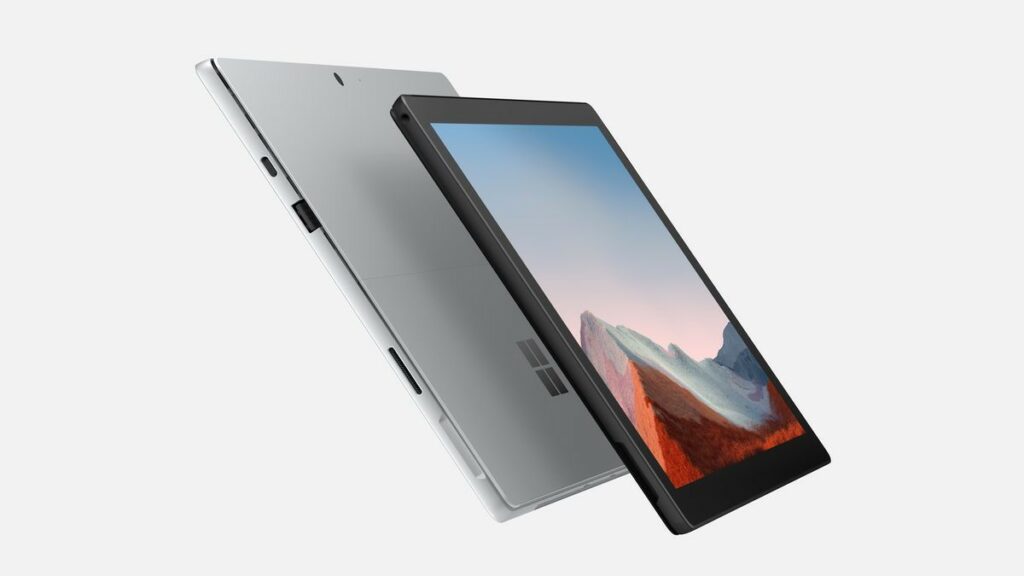 Search Microsoft Surface Pro 7 Plus on Amazon
We have been a fan of the original Surface Pro 7 since it launched in 2019. Although there were some glaring shortcomings of the Surface Pro 7 such as the lack of imagination and update to its design, those chunky bezels, we are looking at you, it was a capable device that could handle most business needs. With the right accessories, mainly the Type Cover keyboard, it is a truly versatile device both as a detachable tablet (like Surface Book 2) and a laptop. Let us see what Microsoft has brought to the table now with Surface Pro 7+.
Design and Display
The design of the Surface Pro 7+ remains similar to its predecessor the Pro 7.  The chassis is made of magnesium alloy and weighs about 1.7 pounds. The build is of high quality and the dimensions of 0.33 by 11.5 by 7.9-inch dimension give the Surface Pro 7+ a sleek and compact look.
Extremely portable and good looking but only until you turn it on. The thick bezels around the screen are still there. When every possible tablet from budget to midrange and premium have gone near full display with slimmed down bezels and displays with rounded corners, Microsoft stuck to the same design.
The keyboard still needs to be purchased separately which might be a big turn off for many but if you have already made your mind up, be sure to budget for it. The black Type Cover is cheaper than Signature Type Cover in colour (grey, maroon or light blue). Back to the chassis, there are vents on the top and sides like before. The trump card of the Surface Pro 7+ has been its built-in kickstand which lets you prop the tablet up and different angles and when attached with the keyboard makes it a device capable of giving many laptops a run for the money.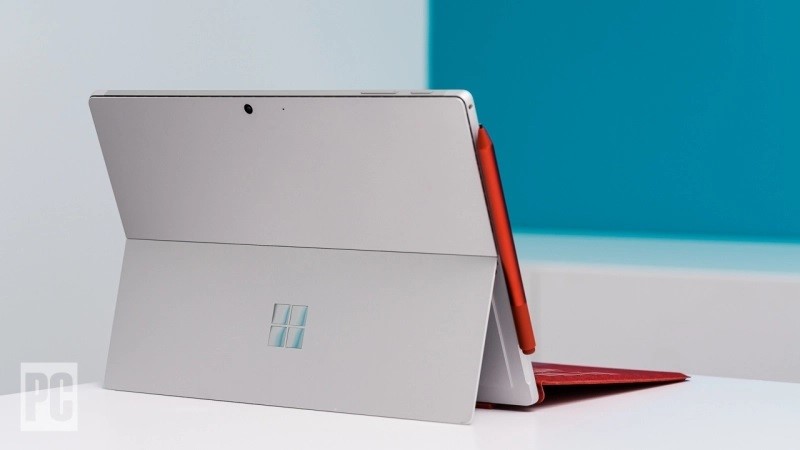 However, it is the absence of a physical keyboard that sometimes might be the deal-breaker for many. The whole point of a laptop is the ability to use a device on the lap. The Type Cover Keyboard needs to be procured separately is tiring to be used over long durations on the lap as the flexible nature of the keyboard does not give it a solid base and adds to its flimsiness on non-solid surfaces.
The revolutionary kickstand now becomes a nightmare as it's much less stable on your lap resulting in the device tilting on the sides. The posture and legs must be maintained at all times even to keep the tablet and keyboard in position.
The issue is resolved by working on a solid surface. With the kickstand deployed and the tablet sitting comfortably on the table, the Type Cover keyboard that attaches to the device using magnets can be un folded like a laptop. This offers a comfortable typing angle. The keys are responsive and the trackpad experience is very smooth and responsive. The difference here would push you to conclude that it is much better to use the Surface Pro 7+ on a desk or a flat solid surface than on a lap.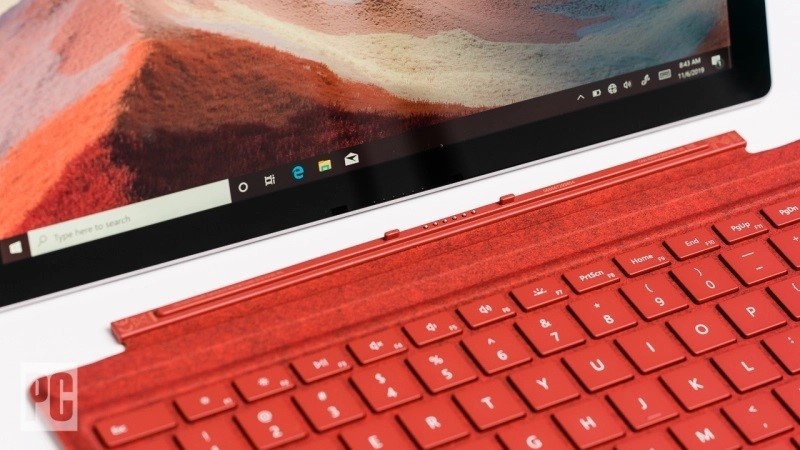 The Touchscreen Display
The device uses a 12.3-inch super high-quality display on a 3:2 aspect ratio. The screen resolution sits much higher than a Full HD screen at 2736 by 1824 pixels. There is an uncanny sharpness in the Pixel Sense display which is noticed when used in tandem with the optional Surface Pen in tablet or propped up mode. There is also a 1080p webcam that lets the users attend video calls on the impressive 2K display.
Performance and Connectivity
The new Surface Pro was launched with the latest 11th Generation Intel processor. With the latest developments of Intel in the Tiger Lake CPUs, the battery life and performance of the Surface Pro 7+ has improved by 15 to 25 per cent depending on the processor you opt for. There are 11 variants available between i3, i5 and i7 processors. The RAM provided changes with the processor you opt for, starting with 8 GB LPDDR4x in the i3 model to 32 GB in the i7 model.
It is worthwhile mentioning though that RAM is not upgradeable and probably has been soldered in. In addition to the performance improvement brought in by the latest generation processor, the Surface Pro 7+ also gets to use the latest Intel Iris Xe Graphics which pushes the device towards being a great business device with great entertainment and gaming capabilities.
The device remains cool even while using heavy video editing and multi-threaded applications. Internal fans for heat dissipation are limited to models with an i7 processor but the performance of lower models with limited thermal capabilities is still nothing less than spectacular.
A big turn off for the new convertible 2-in-1 is its lack of Thunderbolt support which means it does not support super speed Thunderbolt drives and docks or external graphics cards. The ports are the same as in the Surface Pro 7 with a single USB Type C port, a USB Type-A port and a 3.5 mm Headphone All in One jack.
The only good addition here has been an LTE Modem albeit at a higher price. It uses a Qualcomm X20 LTE Modem with a sim slot located behind the kickstand. This is particularly useful if you do not have access to Wi-Fi and need to get connected to cellular broadband. However, you would need a separate Internet plan with a sim if you plan on using the LTE connectivity option. As for other connectivity options, we have the latest generation Wi-Fi 6: 802.11ax and Bluetooth 5.0. The Wi-Fi response is fast with almost zero latency.
Storage and Battery Life
A standout feature introduced by Microsoft which is quite a few notches above the old Surface Pro 7 is swappable storage options. This has been made possible with a revamped Thermal Design Model which has also made space for a slightly bigger battery on the Surface Pro 7+. The storage can now be upgraded if you are running low on space.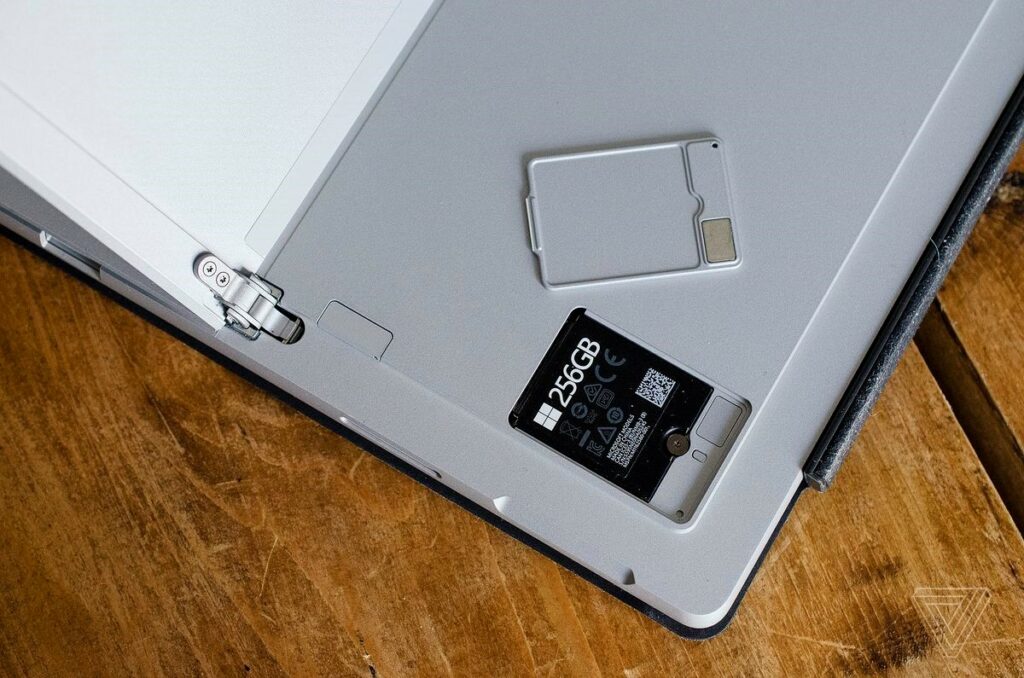 There is a small, square M.2 Type-2230 (30mm) slot which is accessible via a small door behind the kickstand. The highest capacity you can choose is a 1 TB SSD. The device comes with a variety of storage options based on which variant you choose out of the 11 available. You have in part the fast SSD to thank for the snappy performance of Surface Pro 7+ offer. This is reflected from the few benchmark scores we have furnished for you below.
Here is a grid with all the models and configurations you can opt for. The price increases as we move down the order.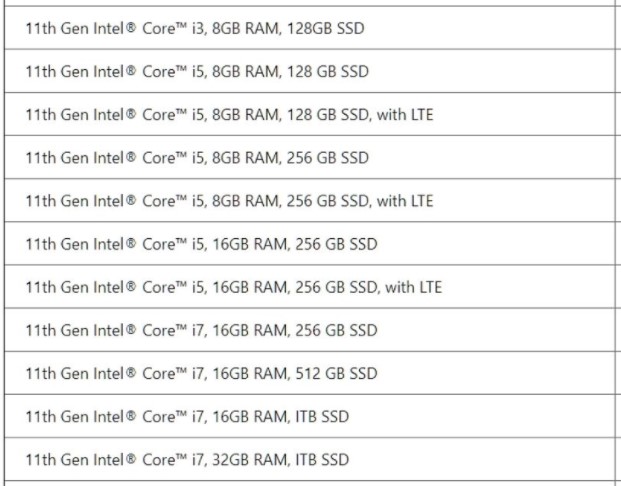 Battery Life
The Surface Pro 7+ comes with a slightly higher battery capacity than its predecessor. We now have a 50.4 Wh battery which returns an exploding 15 hours of back up on mixed usage in the i3 model. That's almost a 50 per cent increase when compared with Surface Pro 7's 10.5 hours. This is possible due to the pathbreaking 10 nm Super Fin technology used by Intel's Tiger Lake CPU's which is optimized for groundbreaking performance on a low TDP of just 12 watts on idle and 28 watts on load. The higher battery back up ensures you go a full workday extensively using the 7+ without needing to scramble for the charger in the middle of a presentation.
Benchmarks
Here is a comparison of the new Surface Pro 7 Plus in different benchmark applications as tested. The variant tested has an Intel Core i5- 1135G7 CPU installed. First, we have the CPU tester Cinebench R15 which tests the CPU for processor performance. This gives us an idea of the performance of the processor in CPU heavy tasks.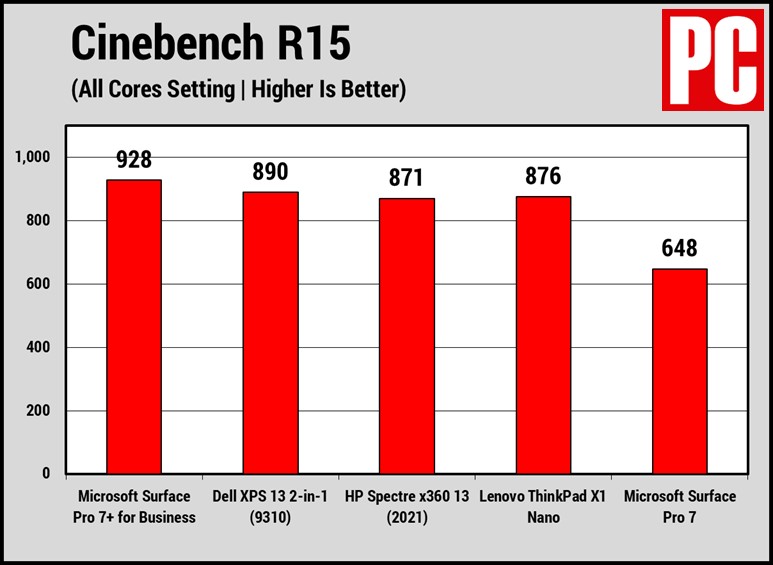 Next, we have results from 3DMark to judge the graphic capabilities of the Intel Iris Xe Graphics. The results suggest that a game or two during lunch hours won't hurt.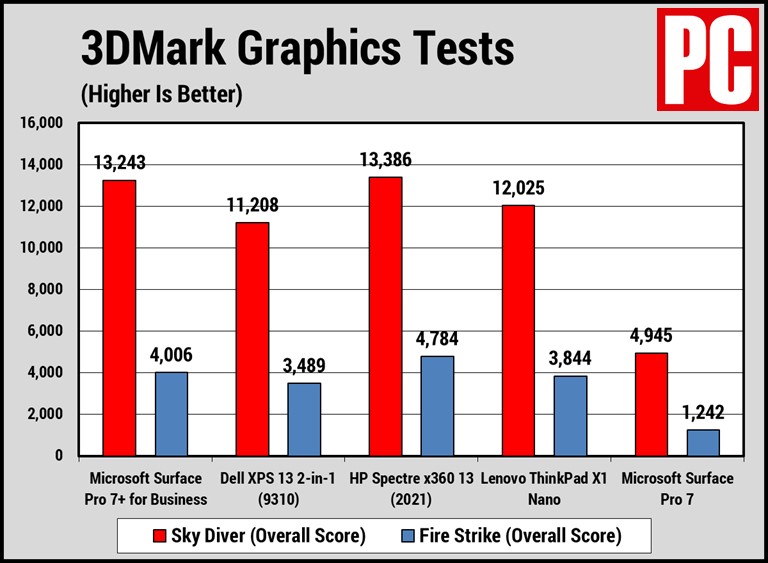 Finally, we have the battery test. A relief that forgetting the charger at home won't affect the day.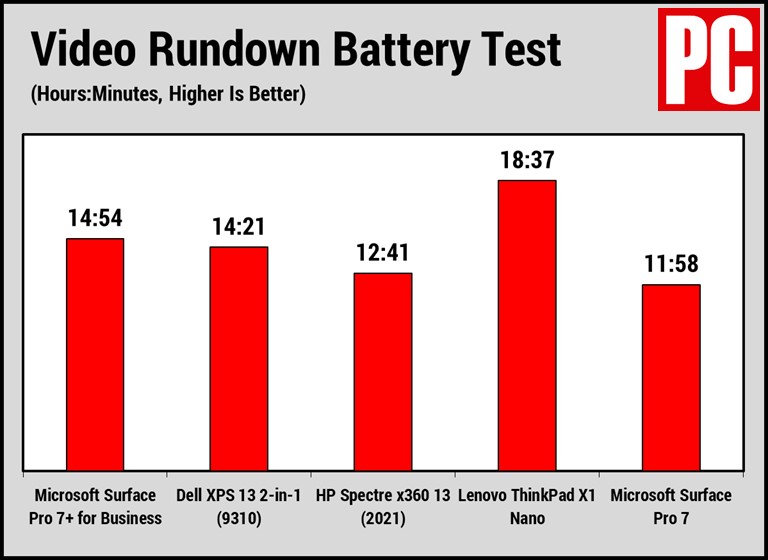 Pricing and Warranty Options
Microsoft Surface Pro 7+ is available through different Microsoft resellers worldwide. The prices vary as per the models. To start with we have the Core i3 (1115G4) model that is priced at $899 and comes with 8GB RAM and a 128GB SSD. This is the base model and we would advise you to go for this only if you are a beginner at convertible laptops. Next, we have the Core i5 (1135G7) model that runs at $1149 and is equipped with a Qualcomm Snapdragon X20 LTE modem. This is suitable for most average users who are not overly reliant on the device for every need. Although, it won't shy away from demanding tasks either.
Finally, a maxed-out Core i7 (1165G7) model with 32GB RAM and 1TB SSD can be yours for $2799 and is suitable for the most hardcore users who literally has to go to bed with the device. Do remember to add the price of the keyboard to the total bill. This will cost you $129.99 for the Type Cover Keyboard and $159.99 if you want the more elegant Signature Type Cover Keyboard with a dash of fabric and special coating on the keys.
Every Surface Pro 7+ is accompanied by a 1 year of limited liability warranty by default that includes mechanical breakdowns. If you want to protect your coveted convertible for longer, you can opt for an extensive plan with a coverage of 3 or 4 years at extra costs. This option is to be availed within 45 days of purchasing the device and covers everything of standard warranty and additionally provides a drive retention facility.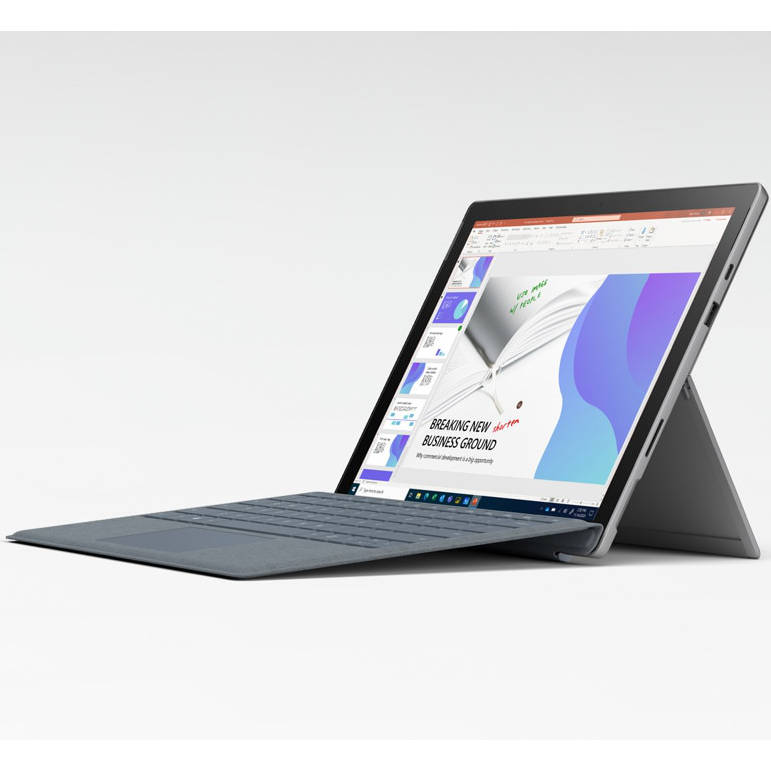 Search Microsoft Surface Pro 7 Plus on Amazon
The New Surface Pro and the Competition
Microsoft Surface Pro 7 Plus is a device that retains the same design as the Surface Pro 7 but that is only half the story. Underneath that surface, is a whole host of hardware upgrades to boost its performance.
The not so good
However, there are some drawbacks that Microsoft could address in Surface Pro 8. First is the keyboard factor. You can either choose to spend more on a keyboard or be left with an expensive tablet. The HP Spectre x360 13 for example has better specs, at a lesser price and is a proper laptop convertible. Next, is the lack of 5G. It is expected that a user would be using a device as costly as the Surface Pro 7 Plus for at least 2-3 years. With 5G becoming more common on mobile device, the lack of it on Surface Pro 7 Plus can be a hindrance.
The 7 Plus is thus not future-ready like the Lenovo Flex 5G or the HP Dragonfly G2. A user won't be able to use the super fast 5G network due to lack of support the convertible when it is finally rolls out worldwide. Then we have a dated design with thick bezels. This indeed could be a big deal-breaker for many as the world today is leaning more and more towards bezel-less or full displays. Finally, we have a lack of the latest generation Thunderbolt ports in the Surface Pro 7 Plus.
Thunderbolt ports are the need of the hour in laptops and convertibles for fast expansions, sadly they are missing in Microsoft's latest offering. The HP Elite Dragonfly G2 beats the Surface Pro 7 Plus hands down in this section.
The Good
From a different perspective, however, there are only a few that can stand up to the Surface Pro 7 Plus. That angle is productivity. For the business-focused, people who care less about style and more about performance would surely fall in love with the returns of this device. To start with, the power of Intel's latest generation CPU and Integrated GPUs is sure to rip through tasks like a hot knife through butter.
Only a handful of devices can outdo the new Surface Pro 7 Plus in price to performance numbers, namely the HP Spectre x360 13. Then comes the removable storage option which makes it possible to use this device for months and possibly years to come. We usually do not find removable storage in convertibles and this is a segment where Microsoft is miles ahead of many.
Finally, the phenomenal battery back up of near 15 hours can perhaps be bettered only by Lenovo ThinkPad X1 Nano which is seen from the benchmark scores.
Still, the new Surface Pro 7 Plus is a superb business convertible that is sure to give a lasting performance for quite some time and come in handy for all your business needs.