Here is the thing, while both MacBook Air M1 and MacBook Pro 13 M1 come with Apple's own silicon, they carry with it the same design as previous generation devices based on Intel processors. The MacBook Pro 14 and 16 launched at the end of 2021 use a whole new chassis design, Liquid Retina XDR display and above all, M1 Pro and M1 Max chips with up to 10-core CPU and 32-core GPU. With prices starting from $1999 for the 14-inch version, is it worth the extra?
10 Reasons Why the MacBook Pro 14 is Worth the Extra
Here are 10 reasons why you would pay for the MacBook Pro 14 2021 over last year's the MacBook Pro 13 2020.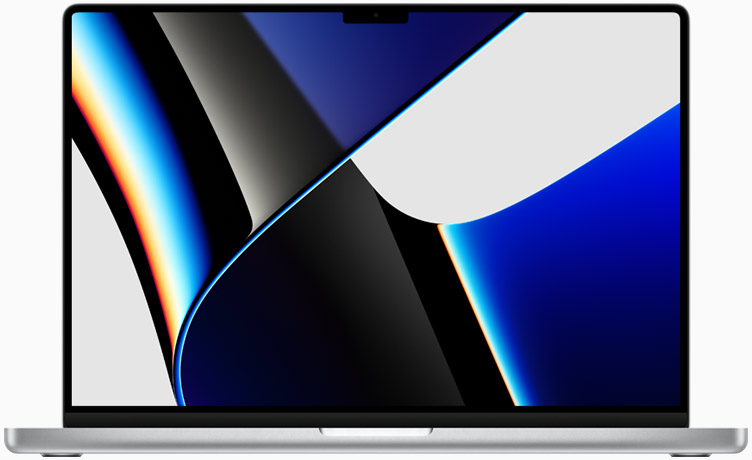 Search MacBook Pro 14 on Amazon
1. Faster & Even Faster Chips
Packing more CPU and GPU cores in the M1 Max and M1 Pro takes the already powerful M1 chip to stratospheric heights in terms of performance. The original M1 chip comes with 8-core CPU and up to 8-core GPU. With the MacBook Pro 14's choice of chips, M1 Pro moves the CPU cores up to 10 and add up to twice the number of GPU cores, up to 16 cores. While the M1 Max option retains the CPU cores at 10 but packs even more GPU cores, with 24-core and 32-core versions available. Here are your configurable options at the point of purchase:
Apple M1 Pro with 8-core CPU, 14-core GPU
Apple M1 Pro with 10-core CPU, 14-core GPU
Apple M1 Pro with 10-core CPU, 16-core GPU
Apple M1 Max with 10-core CPU, 24-core GPU
Apple M1 Max with 10-core CPU, 32-core GPU
Performance wise, two aspects of the chips are considered, the number of CPU core and GPU core. Let's start with the CPU core. While there is no great benefit in single core performance when comparing M1 (MacBook Pro 13) with M1 Pro / M1 Max (MacBook Pro 14), benchmarks for these produce the nearly the same result, its the multi-core processor performance where we see significant gain in performance. Moving from 8-core to 10-core CPU gave the M1 Pro and M1 Max up to 60% jump in multi-core processor performance.
As for the GPU cores, we see graphic performance gains as a figure directly proportionate to the number of GPU cores. M1 Pro with 16-core GPU is nearly twice as fast, 191.3% compared to M1 while the M1 Max with 32-core GPU is more than 3 times faster, 334.3% compared to M1 with only 8-core GPU. See GPU performance charges from apple insider.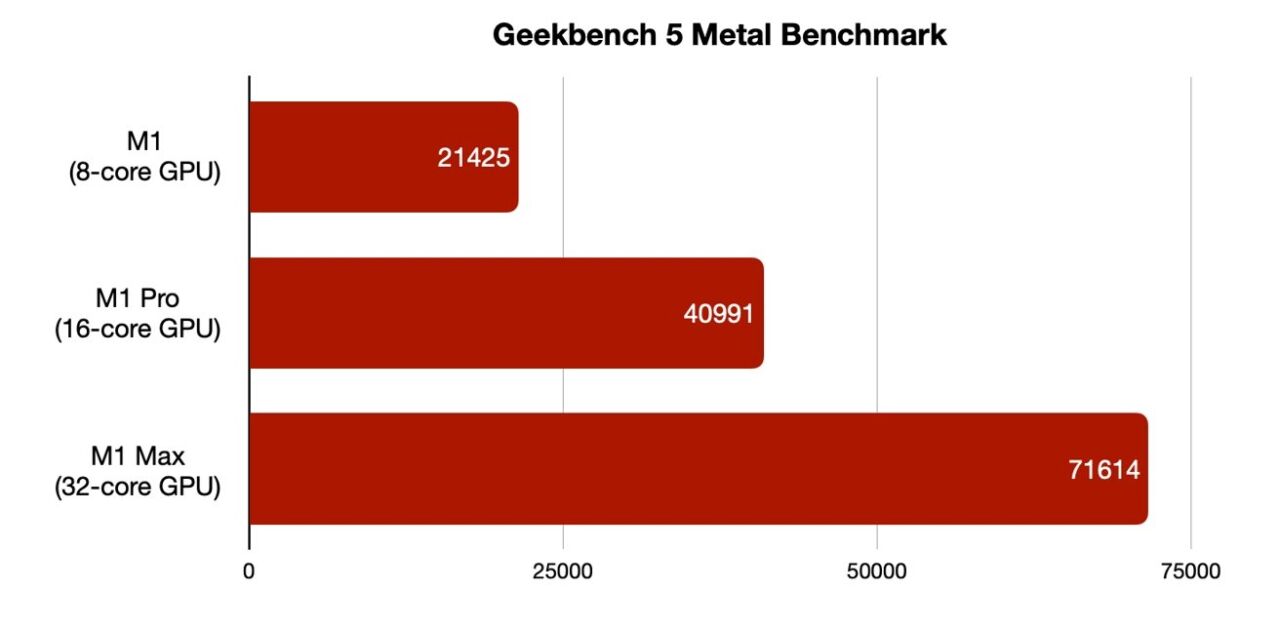 Basically, if you deal with graphic intensive games and applications such as 3D rendering, CAD, games programming and even video editing, you are going to want the MacBook Pro 14 with as many GPU cores you can afford be it M1 Pro or M1 Max.
Below is a quick table of comparison between the different chips' architecture:
 
M1 (2020)
M1 Pro (2021)
M1 Max (2021)
CPU Cores (Total)
8
8 or 10
10
CPU Performance Cores
4
6 or 8
8
CPU Efficiency Cores
4
2
2
GPU Cores
7 or 8
14 or 16
24 or 32
Neural Engine Cores
16
16
16
Transistors
16 billion
33.7 billion
57 billion
Foundry process
5nm
5nm
5nm
Unified Memory Capacities
8GB,
16GB,
32GB,
16GB
32GB
64GB
Memory Bandwidth
–
200GB/s
400GB/s
Media Engine
–
Video decode engine,
Video decode engine,
Video encode engine
2 Video encode engines
ProRes encode and decode engine
2 ProRes encode and decode engines
2. Double the Unified Memory and more memory bandwidth
As you can see from the table above, apart from the increase in transistors thanks to the inclusion of more cores for both CPU and GPU, the M1 Pro and M1 Max SoC (Silicon on Chip) also supports bigger unified memory, going beyond the 16GB limit on the M1. Here you can upgrade to 32GB on the M1 Pro or 64GB on the M1 Max. When I say upgrade, these have to be configured at the point of purchase as they are soldered onto the chip. No post purchase upgrade possible. Here are the memory limit for each chip.
Up to 16GB unified memory for M1
Up to 32GB unified memory for M1 Pro
Up to 64GB unified memory for M1 Max
Being able to address more memory beyond 16GB, up to 32GB for M1 Pro and up to 64GB for M1 Max means the chip needs to have bigger memory bandwidth. The memory bandwidth has been boosted to 200GB/s for M1 Pro and to 400GB/s for M1 max. Better at handling large chunks of data and codes quickly and efficiently.
With all this doubling of starting memory and maximum supported memory, it is also worth noting that the starting storage gets doubled too. The MacBook Pro 13 M1 starts with 256GB SSD but you get a starting storage of 512GB with the MacBook Pro 14.
3. Better at Video Editing
Other perks of going with MacBook Pro 14 with M1 Pro or M1 Max includes better video codec engine including ProRes codec support. If you are big on editing video at 4K or 8K, you are going to see significant gains, shorten processing time and more responsive editing on the MacBook Pro 14. This codec support is not present on the M1 chip. It doesn't mean that the M1 chip will not be able to handle video encoding. It will take take a longer time to complete the same tasks as one is optimised for it while the other is not.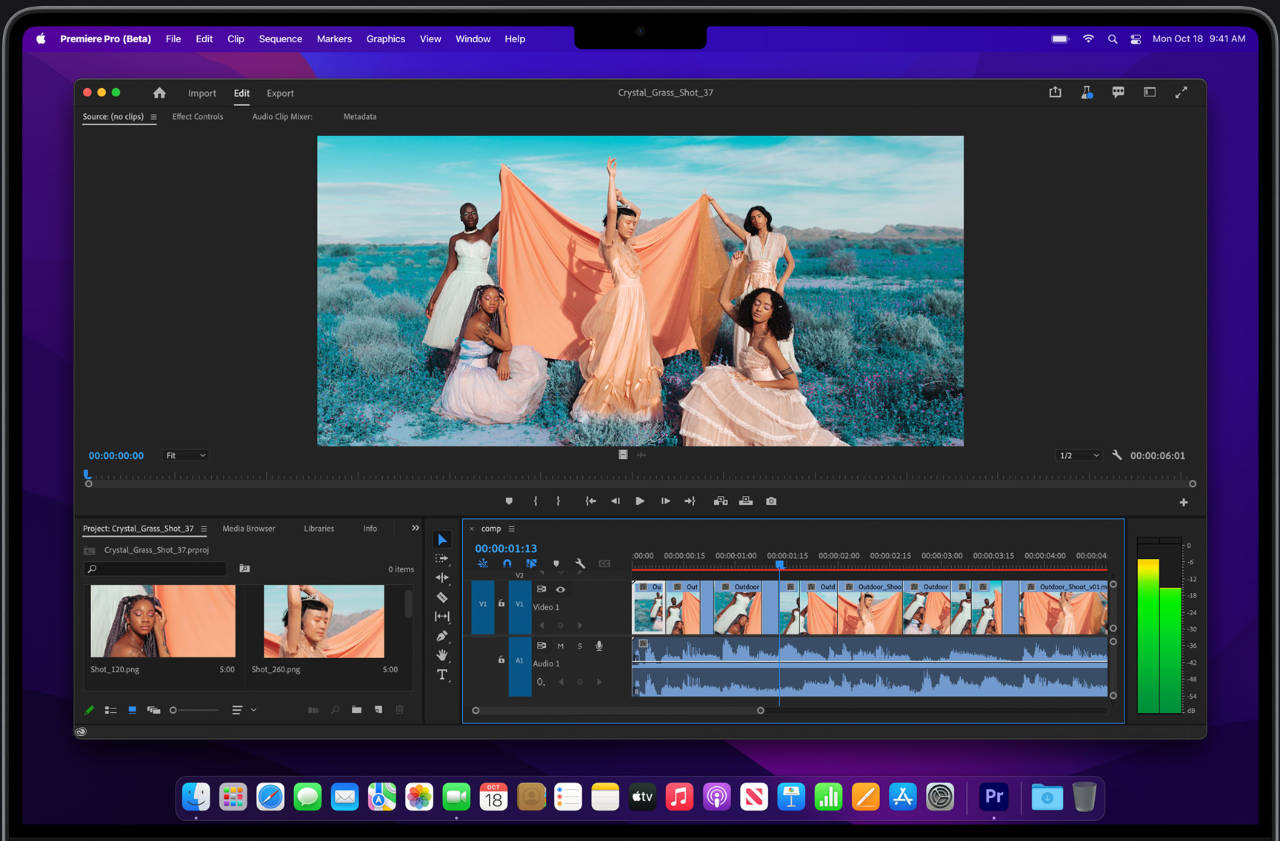 Now that we got the biggest reason for MacBook Pro 14, the processor, graphic and memory performance out of the way, let's take a look at other improvements.
4. Bigger, Better and Brighter Display
14.2-inch Liquid Retina XDR display
3024 by 1964 resolution, 5.9 million pixels, 254 ppi
A first for the MacBook Pro or any Mac OS devices for that matter, is the Liquid Retina XDR display. The first Apple device to feature this is the iPad Pro 2021 with M1 chip. Even the new iMac 24-inch M1 did not get the Liquid Retina XDR treatment. So what makes this the best display? The answers, contrast and brightness. The panel is augmented with an array of mini LED as independent backlight, 10,000 dimmable light sources to increase the contrast to 1,000,000:1 and brightness to 1000nits. The MacBook Pro 13 M1 only managers 500nits. At a push, it can even go up to 1600nits peak brightness.
Up front, you see a bigger display measuring 14.2-inch on the MacBook Pro 14 instead of 13.3-inch on the MacBook Pro 13. The display is also pushed closer to the edges leaving very little in way of bezels. This also means the introduction of a notch for the camera, one we have come to accept on the iPhone. Just like what iPhone did for smartphones in general, it's a first on a laptop but it won't be the last.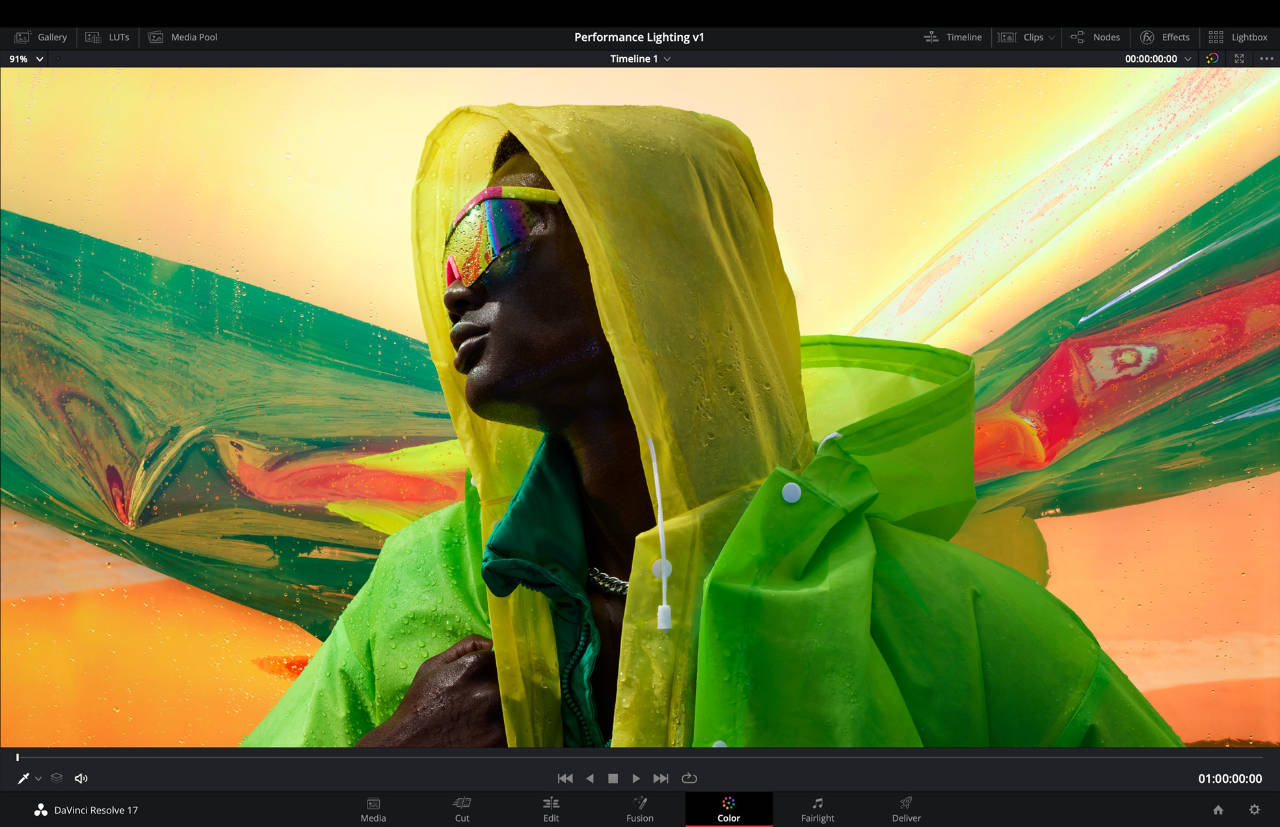 It will also support Extreme Dynamic Range and handle HDR content be it photo, video in all its vibrancy and colours. Perfect for entertainment be it streaming video or games and creative work, dealing with HDR color grading, photography, design, and print production. Also for the first time on a Mac device, is ProMotion. Apple's tech speak for highly fluid display with up to 120Hz refresh rate adapting to different content. This can also be fixed by video editors to match the video output.
5. The return of MagSafe, SDXC card slot and more Connectivity ports
Three Thunderbolt 4 ports, HDMI port, SDXC card slot, MagSafe 3 port
Everyone has been asking for this and Apple delivered. While you can still charge your device via USB-C ports, there is not a convenient and safe dedicated power port, the Mag Safe 3 to charge the MacBook Pro 14. We also see the return of SDXC card slot, a welcome return for photographers and videographers for sure as a quick way to transfer large chunks of video footage and high resolution photos. Then there are a further three Thunderbolt 4 port and a super friendly HDMI port, the former is great for peripherals and external display while the latter is widely available and more common among monitors and large screen TVs. MacBook Pro 13 only comes with two Thunderbolt / USB 4 ports.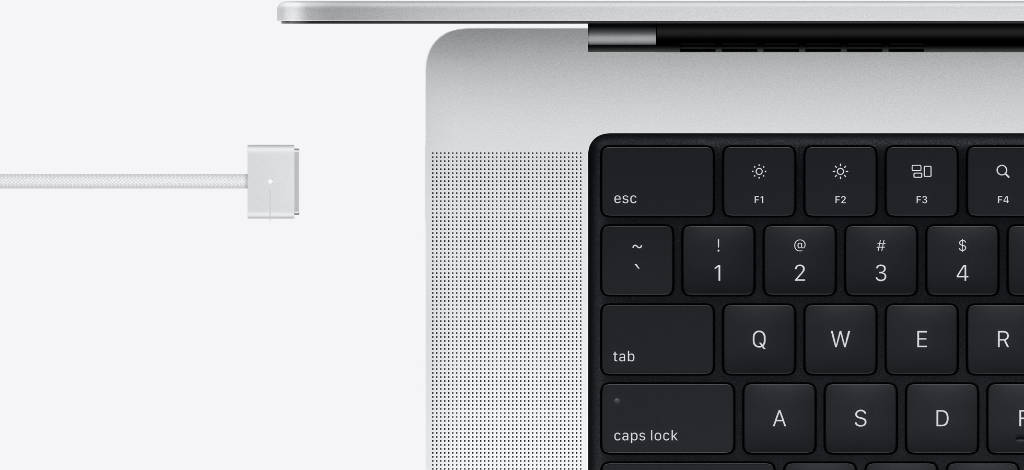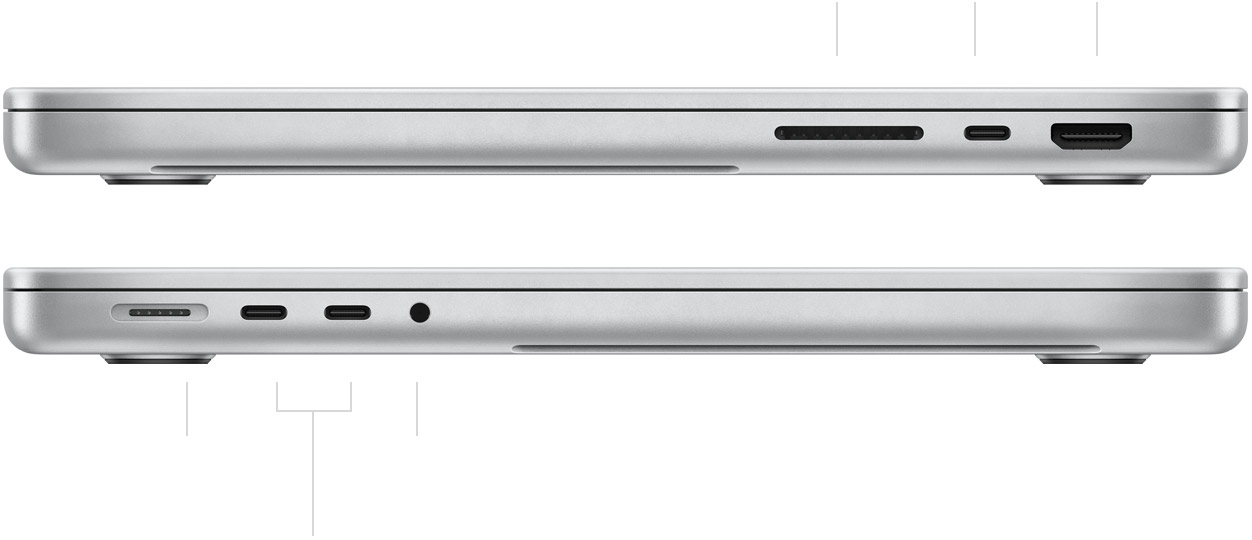 6. More External Display Support
On the subject of connectivity, you can now connect up to three Pro Display XDRs and a 4K TV with M1 Max or up to 2 Pro Display XDRs with M1 Pro. The MacBook Pro 13 M1 only supports one external display up to 6K resolution at 60Hz via the USB-C Thunderbolt 3 port. With the MacBook Pro 14, you can choose one of the following combinations
M1 Pro: up to 2 external displays up to 6K resolution 60Hz
M1 Max: up to 3 external displays up to 6K resolution 60Hz and 1 display up to 4K resolution 60Hz
7. Faster Charging
67W USB-C Power Adapter with support for 96W USB-C fast charger
The 67W power adapter is included with M1 Pro powered MacBook Pro 14 and can be configured to 96W for faster charging. The M1 Max powered MacBook Pro 14 comes bundled with 96W USB-C fast charger already. The only disadvantage with MacBook Pro 14 is the shorted battery life on a full charge compared to MacBook Pro 13. It lasts up to 11 hours instead of up to 17 when browsing the web, up to 17 hours Apple TV movie playback instead of 20 hours even though it has a bigger 70-watt-hour battery. But the real bonus is the support for quick charging. A quick 30 minutes charge will bring the battery back up to 50%.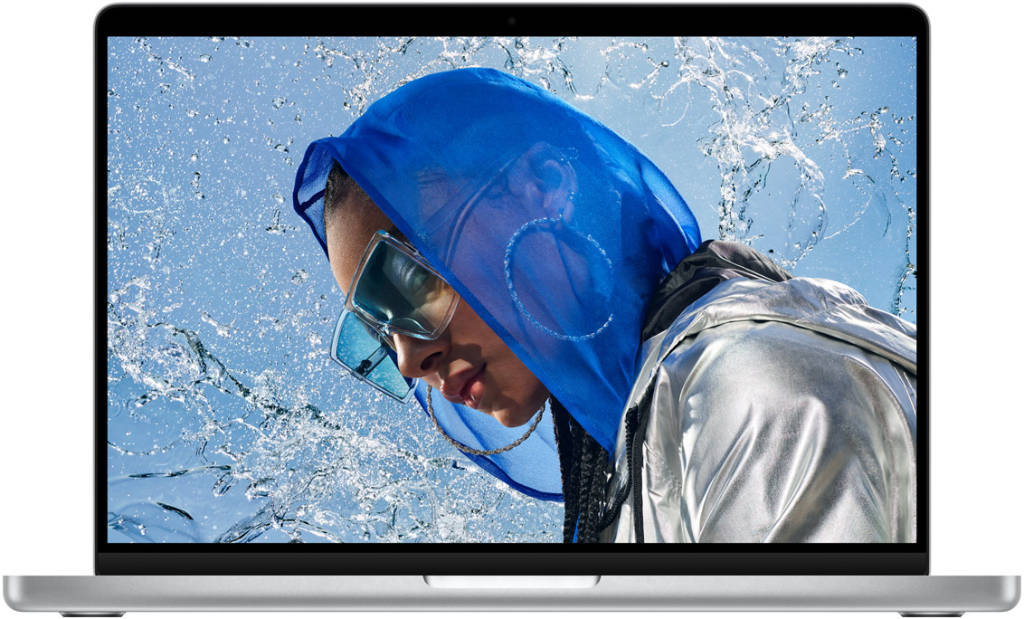 8. Powerful Sound System
Another feature not found on the MacBook Pro 13 M1 is the six speaker sound system. With more room in these new laptops, thanks to the compact SoC architecture, Apple was able to introduce six high fidelity speakers and four force cancelling woofers. The result, wider stereo sound and up to half-octave deeper bass, up to 80% more bass to be precise, sufficient to fill the room. As for those full range and tweeter drivers. they project a louder and fuller vocals so you don't miss anything.
As with MacBook Pro 13, there is support for spatial audio in the form of Dolby Atmos straight from the speakers or when used with Apple's own compatible headphones and earbuds. The latter includes AirPod 3rd gen, AirPods Pro and AirPods Max. These clever spatial audio algorithms creates a three dimensional soundstage and together with the amazingly high contrast, sharp and bright display, perfect as an entertainment station.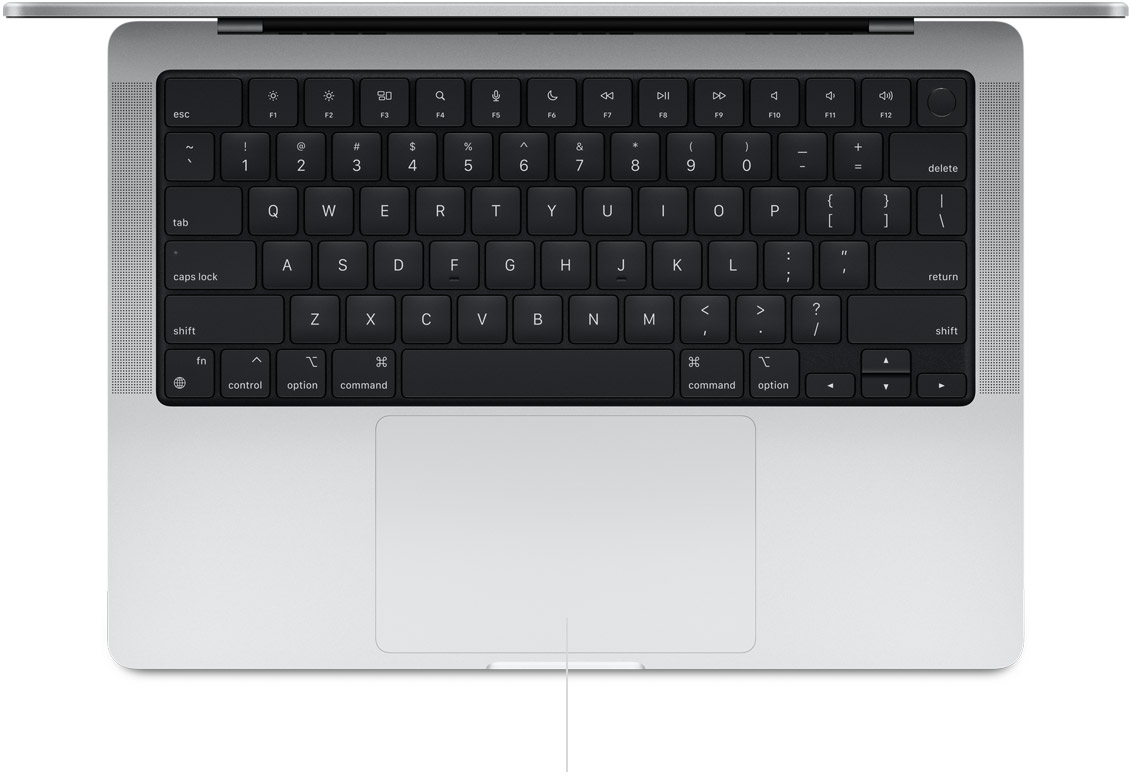 9. No Touch Bar
The new MacBook Pro 14 and 16 marks the return of the physical function keys. If you are only now considering the MacBook Pro and wondered what it's like to have a Touch Bar, you won't miss it at all. This is clearly the future, without Touch Bar. Apple also boasts that these function keys are now full height making it even more accessible. They also come with new keyboard shortcuts like Spotlight, Dictation and Do Not Disturb. On the far right corner is home to the Touch ID fingerprint sensor now with a tactile ring for easy finger placement.
10. Finally 1080p HD Face Time Camera
Even last years MacBook Air M1 and MacBook Pro 13 M1 stuck to 720p Face Time camera. This time around, the MacBook Pro 14 and 16 2021 gets a much needed Full HD 1080p web cam. That camera found in the notch also uses a wide aperture lens to allow more light to fall on the larger image sensor. The result, two times better low-light performance. You are guaranteed a sharper and more balanced video call.
Speaking of video calls, these MacBook Pro 14 and 16 also includes three studio quality microphones that surprises unwanted noise. With directional beam forming, it is also great at capturing your voice, so your caller can hear you clearly.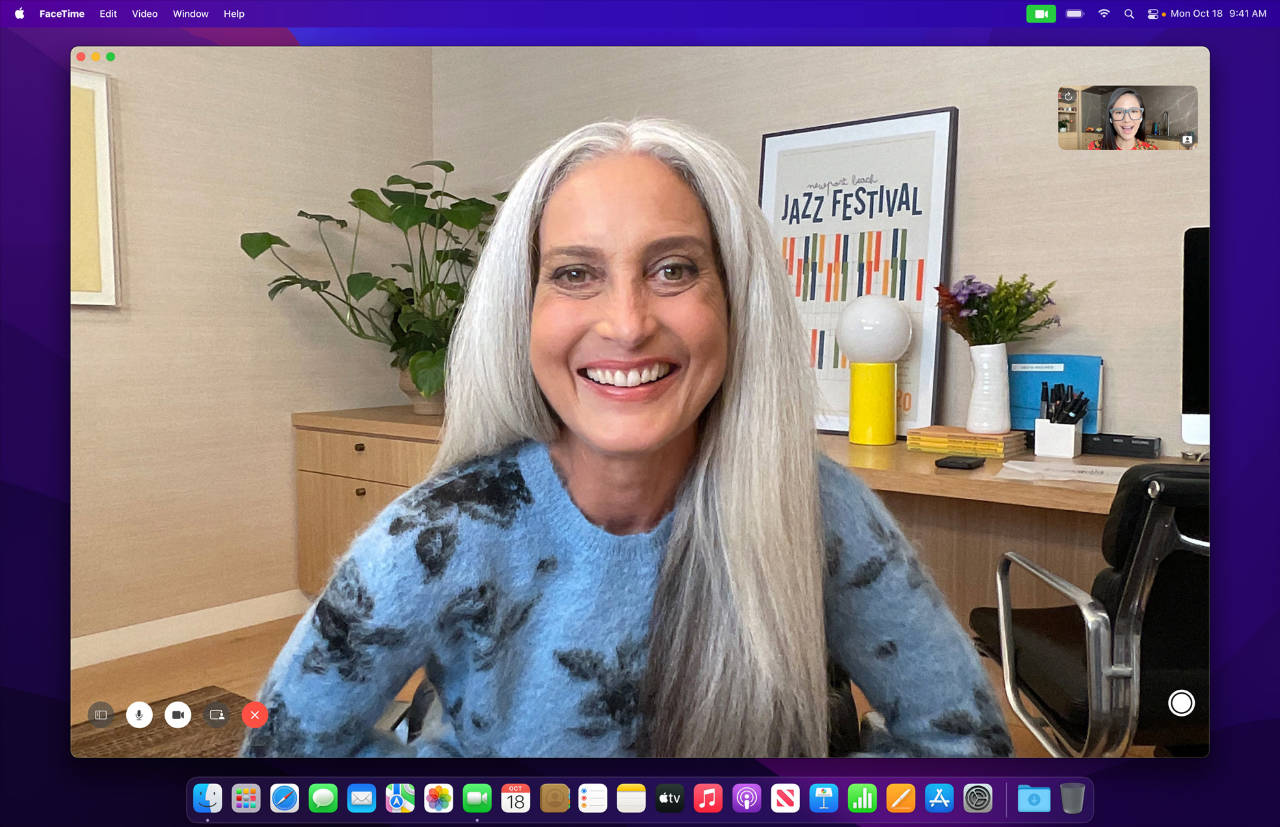 Final Thoughts
The new MacBook Pro 14 may be expensive, starting at $1999 but it comes with it many features that make the extra money well worth it. Depending on your applications, you may not be able to make the most of the new M1 Pro and definitely not the M1 Max chips. For most users even the original M1 is more than sufficient, but everything adds up.
Even if you go with the starter MacBook Pro 14 with M1 Pro that comes with 8-core CPU and 14-core GPU (at around 54% more expensive than the MacBook Pro), you still get double the memory, double the storage, more than three times brighter display, plenty of connectivity options include MagSafe 3, ability to connect up to 2 additional displays, six speaker sound system and not to mention better CPU performance with the combination of 6 performance cores and 2 efficiency cores. All that in a new one of a kind chassis, near full display panel with tiny bezels and soon to be iconic notch to house the all important 1080p Full HD web cam.
All that is definitely worth the difference. Again, even if you don't need all that processing power.
Search MacBook Pro 14 on Amazon