Research shows that more than half of computer users today understand cleaning a PC as grabbing a cloth and wiping off the stains and dirt on their computer. That is not exactly what is meant by deep cleaning a computer. In technical terms, the junk we are referring to are unused files and programs that are slowing your entire system down. In our series of How to Optimise Your PC, we look at paid and free applications to clean-up your PC.
Just as you clear out the weed off your backyard and rake off the dead leaves from your lawn, it's necessary to regularly clean your computer so that only the files you need remain and the ones you do not need are removed.
Other Articles in the Series
Maintaining Your PC
Computers, like unmaintained motorcycles or cars lose their speed, responsiveness and longevity over time. PCs will keep getting slower over time. When after less than half of its possible lifetime, you are probably ready to throw in the towel, burn a hole in your pocket on a MacBook blaming Windows for becoming a slouch. What we all need to understand is that like automobiles, our homes and most importantly our bodies, even computers need to be cleaned once in a while to keep them performing in tip top condition.
PC Cleaning Applications and Software
We look at some applications that you can download off the Internet, install on your system and run it once in a while to get rid of all the deadwood. Most of these applications are free to try for a limited period post which you need to pay for a Pro version that offers a deep clean service with more features and benefits.
1. Piriform CCleaner
The All-In-One Cleaner for Your Computer and Android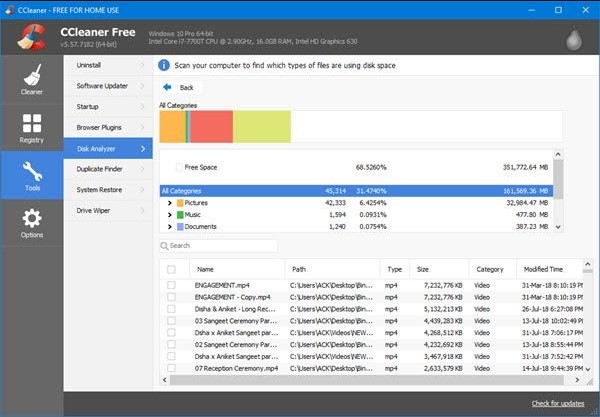 CCleaner is a reliable and easy-to-use system cleaner from Piriform that has a registry cleaner and application uninstaller inbuilt. The reason it is on the top of the list is there are very few applications that manage to cram all that CCleaner has to offer in a single package.
The software uses complex algorithms and checks to make sure the system and registry aren't corrupted while cleaning up the junk, cache and leftover registry files. It does so by checking for references to the registry entries and removing the ones it finds no reference to. What's more, it also gives you the option to backup your registry.
Besides its main function of clearing out cache, useless cookies and browsing data, it can also check start-up entries and gives you the option to remove start-up programs and hence improve a PC's boot time. The software has an easy-to-use interface with sections laid out on the left while pre-cleaning analysis is shown on the right side. You can choose to clean or delete after the analysis is complete. CCleaner is widely compatible with Windows OS, macOS and Android OS.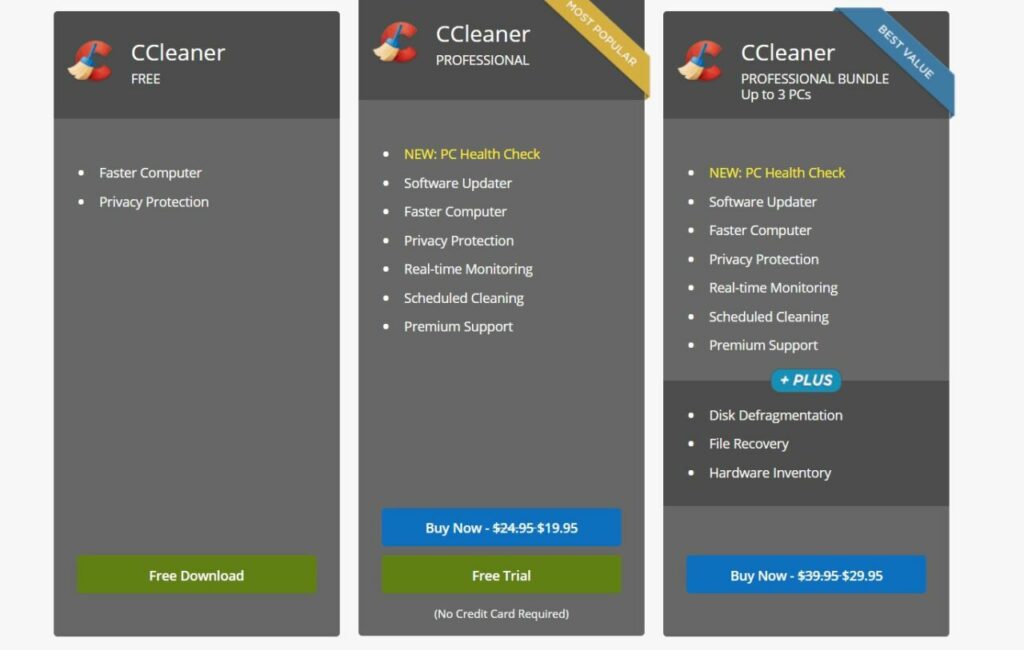 There is a free plan which of course, runs ads, but you can use the free version for as long as you want. The Professional version costs around $20 and adds a deep clean feature along with system monitoring capabilities. There is also a Professional Bundle version that comes with a disk defragmenter, file recovery, and hardware support.
2. Iolo System Mechanic
Cleans the Computer and Improves Performance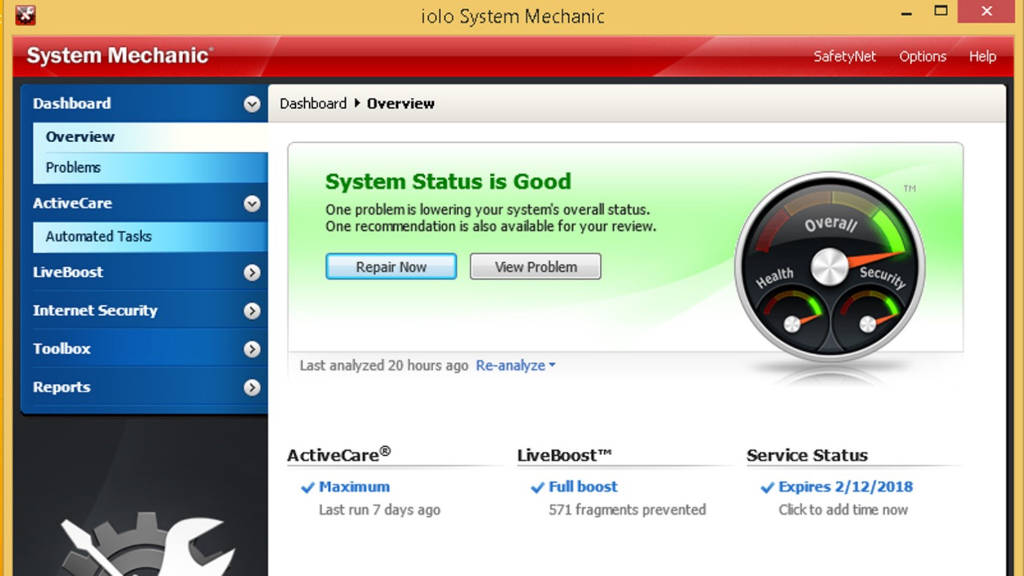 Iolo System Mechanic is an excellent system utility tool that will clear junk from your computer, boost system performance and perform other crucial tasks in the background to automate the cleaning process. It also has built-in antivirus protection (available in paid versions) to protect your PC from malware and other threats. The user interface is uncluttered with separate categories for different types of optimization such as Clean, Protect, Recover, Speed Up and Manage.
The software cleans over 50 different kinds of unnecessary junk files from your system. It also features advanced cleaning options and uninstallers. The software scans your system for unnecessary junk in the analysis phase and then cleans them all at a click of a button. There is a module that can boost your Internet speed by fixing network settings. It frees up RAM by stopping unnecessary services and the entire operation of cleaning works very fast and typically within 30 seconds.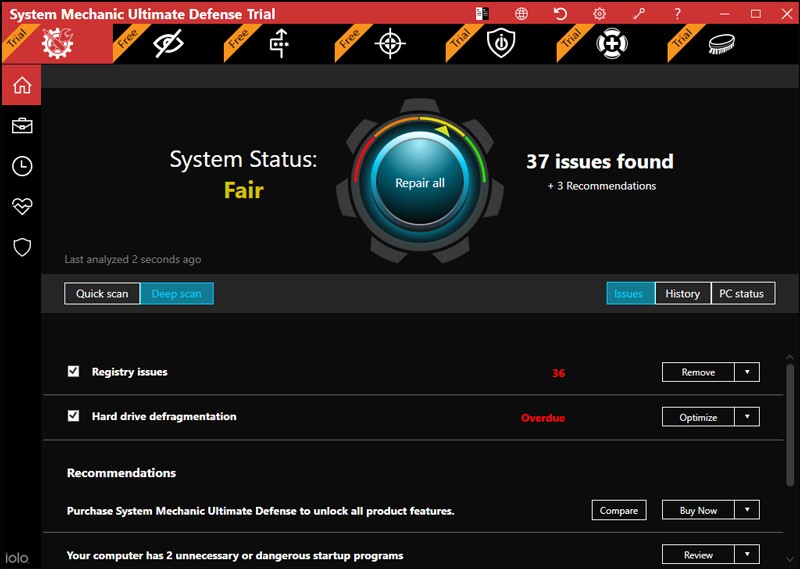 The Protect module features useful tools that can detect unwanted programs and fix loopholes in the internal security features of the OS such as a turned-off Firewall. The trial version of Iolo System Mechanic allows users to use all of its features for a full month before it becomes limited and asks you to purchase a paid plan. You can however opt to remain with the free plan and keep using the limited features indefinitely.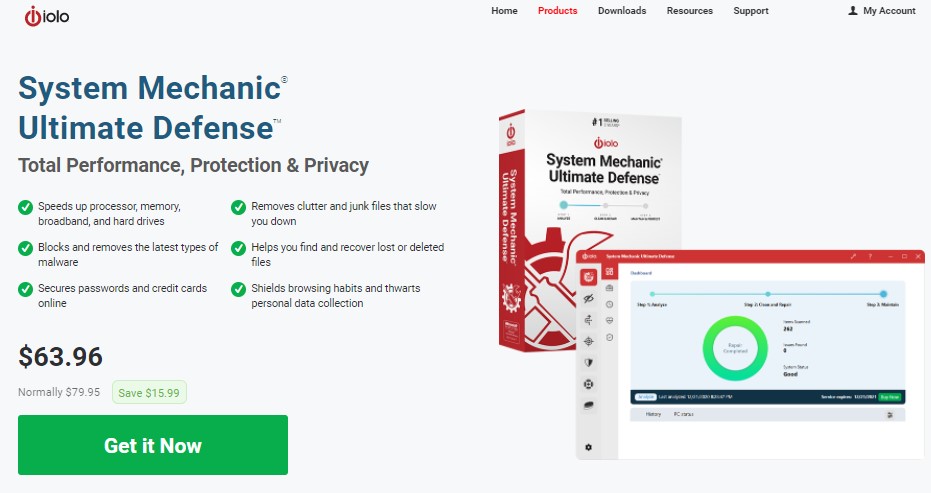 Besides the limited free plan, a basic System Mechanic plan costs around $40 per year and a Pro plan would set you back by around $60. This adds malware protection and data recovery features to the package. The costliest one is the Ultimate Défense plan that is around $65 and adds internet privacy features and a password manager.
3. Iobit Advanced System Care
Comprehensive System-Wide Performance Enhancement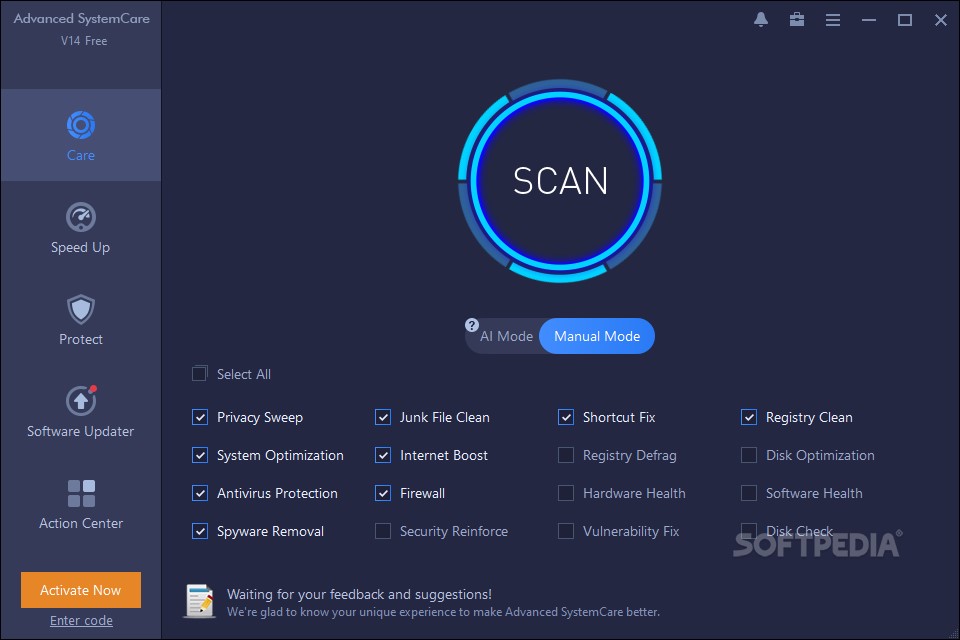 If you are looking for a comprehensive cleaner that specifically cleans every nook and corner of your PC, then look no further than Iobit Advanced System Care. It has a host of services ranging from registry cleaner to disk optimizer to improve performance during accessing files from the storage. A disk health checker is also included in the application that checks connected storage for bad sectors and attempts to fix them.
Advanced System Care comes with a cluttered user interface, but that is because it offers a bunch of utilities along with the cleaner. Other than cleaning junk files, the software also checks for Windows Updates, Spyware, Start-up items, Toolbars and Registry errors. It has a long track record of periodically improving the features it offers in every update and has recently come up with an AI mode that automatically takes care of your PC without manual intervention. A nice addition is the Performance Monitoring bar that keeps a track of RAM and CPU usage in real-time and a small utility within the toolbar to release RAM and boost speed.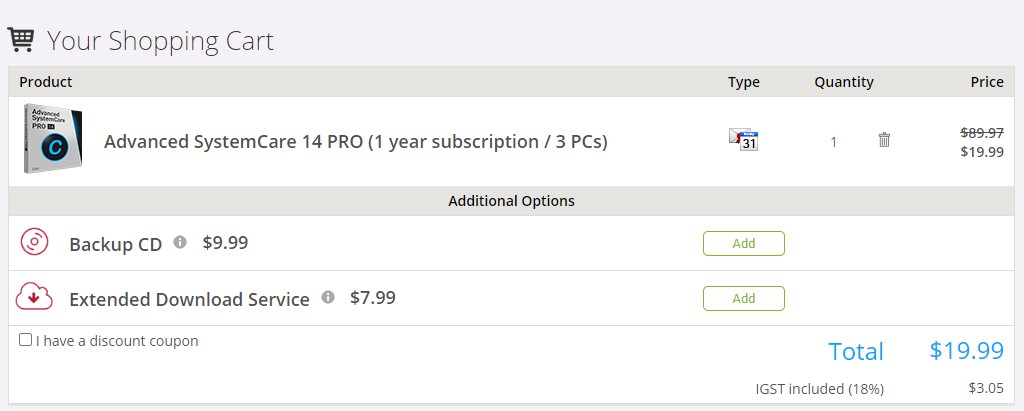 Advanced System Care offers a high level of optimization for your computer by letting you custom-tune your PC based on the purpose you use it for. There is a Game Mode that allows you to choose services you can disable and set it to be activated at the click of a button. Besides regular cleaning and optimization features, it also features a Software Updater that scans for outdated applications in your computer and updates them to the latest version. A special mention could go to its Auto Shutdown feature that as the name suggests, initiates an automatic shutdown at a scheduled time.
With the free version, you get limited features, but the Pro version unlocks all the features for an all-round PC care. The Pro license is valid for a year and can be used in three different PCs for a meagre price of around $20.
4. Ashampoo WinOptimizer
Scanning, Cleaning, Informing and Maintaining. It Does it All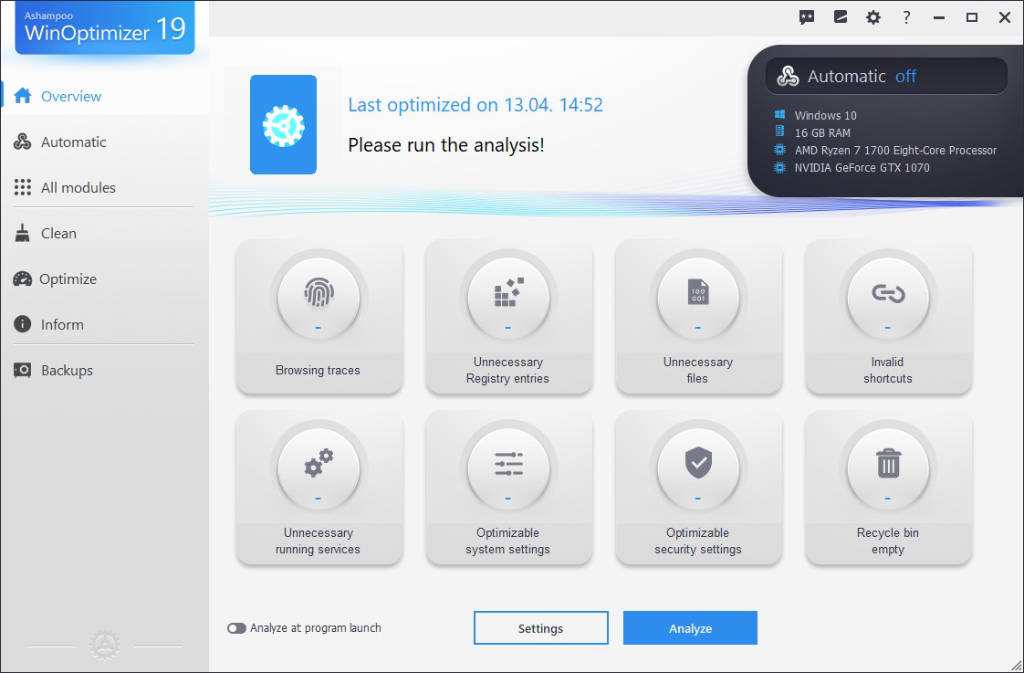 Silently making a name for itself is Ashampoo WinOptimizer that features subtle colour gradients and animations with clearer logos that makes the user interface lively and exciting for the user. The free version offers limited optimization options, but the pro version is a delight to use. Performance is improved manifolds as the software goes around sweeping all the junk in your computer.
The program starts by analyzing your system with a scan and reveals all the temporary Internet files, broken registry entries and cache files that are unnecessary and safe to remove from the system. At the end of the scan, each of the categories can be clicked to know more details about what the junk is and how it has affected your system. There are checkboxes that allow you to keep the files or proceed to removal. There is a high level of control over what you want the software to remove and what to keep. The details it provides allow you to make informed decisions about cleaning your computer. Single click Optimize now rids the system of all the junk that was slowing it down.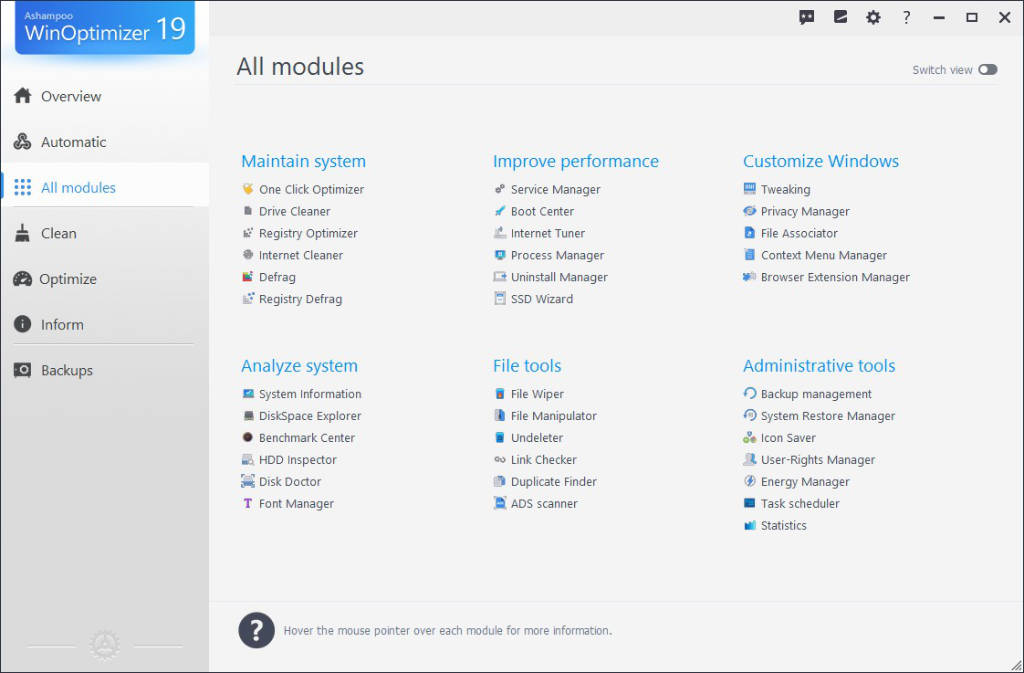 The settings menu gives more power to the user and allows you to set timelines for deleting back-ups, set passwords and choose sections you don't want to be scanned. The recycle bin for example is not cleared by default in case you want to restore accidentally deleted files. Ashampoo WinOptimizer also includes a tuning feature that allows you to disable processes and free up resources and a Game Booster that terminates non-essential processes and disables notifications to let you game without any distractions.
There are several performance-enhancing and maintenance focussed tools included in the application, such as registry cleaner, disk defragmenter, uninstaller and internet optimizer that does a great job at optimizing every aspect of the PC. All of these applications at a single location make the WinOptimizer a go-to tool for users looking for an all-in-one PC cleaner. If that is not all, there is also a benchmarking and backup manager tool that is not found in any other PC optimizer.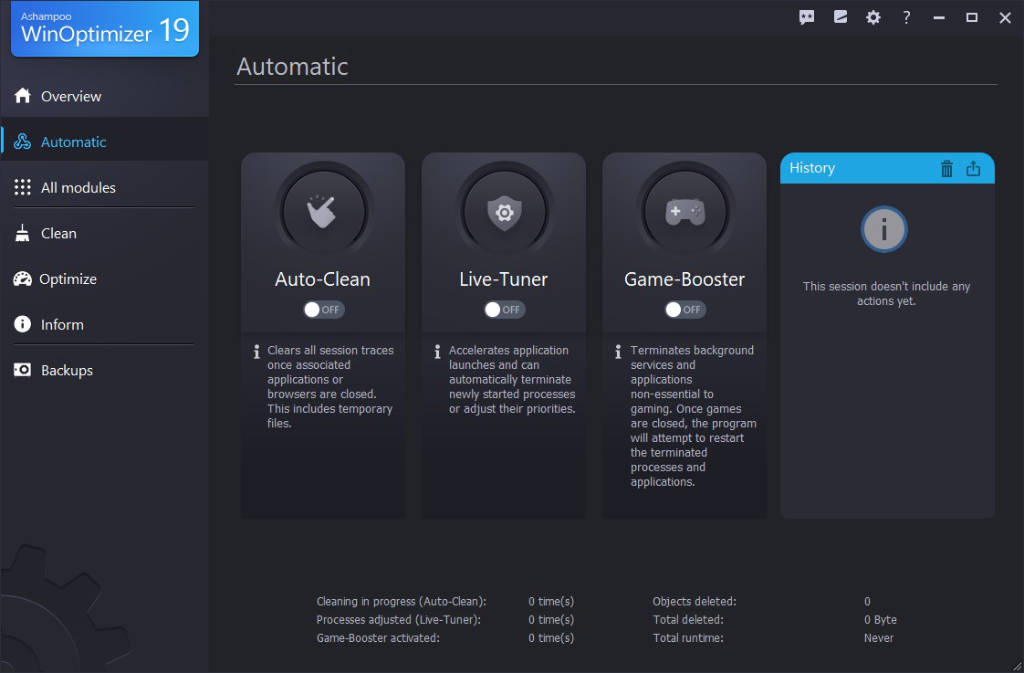 Besides the free version that offers limited scope for cleaning and maintenance, you can purchase a Pro license for about $50 (with the price going down to as low as $30 in some deals) and avail of the Pro version on 10 computers.
5. Avira Free Security
Free Protection, Free Security and Free Clean up. Forever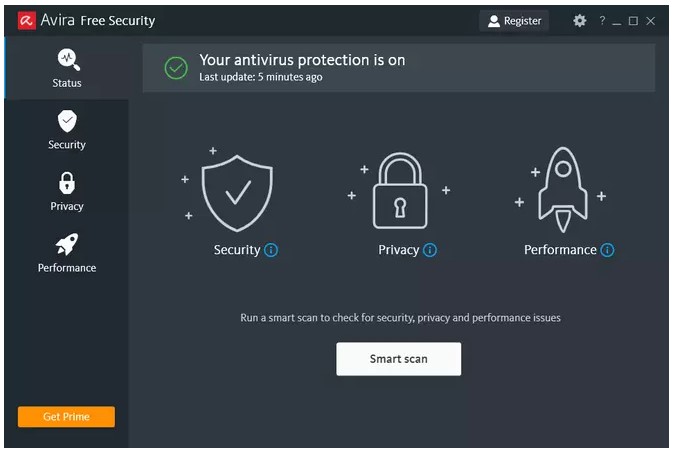 Quality products don't usually come for free, but Avira's business model and beliefs allow its simple yet powerful all-in-one PC protection to be used for 'almost' free. 'Almost' because a Prime version is available at extra cost that just lifts data restrictions from the VPN and adds an Automatic Software Updater which cannot be considered as a performance enhancement function.
Avira Free Security has a bland and simple user interface and does not offer a plethora of utilities and tools like some others on the list, but it excels at the simple tasks it was designed to execute. On the left, there is a Status tab that shows the current condition of the three core components Security, Privacy and Performance. You can start a Smart Scan to scan along with the parameters of the core components.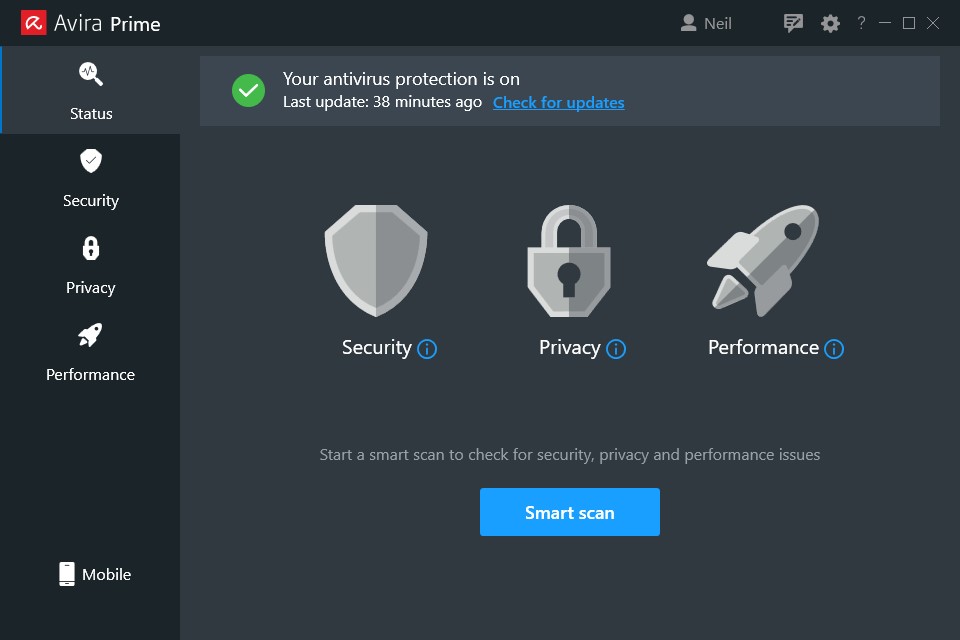 Security checks for malware, spyware, rootkits, and other anomalies like PUPs and disabled firewalls while Privacy checks are carried out on the network connections, wireless username and passwords, router access points, etc and Performance scan looks for junks, caches and temporary internet files. A red flag marks the component that needs attention after the scan. One-click Optimizer fixes the issues and offers advice on the necessary steps that need to be taken further.
The Prime version lifts the 500MB data transfer cap from the in-built VPN and adds an Automatic Software Updater for around $100 for 5 devices.