If you use Safari and iCloud, chances are the browser already remembers all your passwords and usernames for any website or app allowing you to login with FaceID or TouchID. But if you just need a reminder, you can still find out what the account details are without having to reset and remember a new password. You just need to know where to look.
Don't you just hate it when you had to use the "Forgotten password" link on a website only just to recall later when you original password is? By then, you probably reset a new password that you now have to remember. Instead of resetting your password every time you forget your old one, what if you can still find all your passwords for the different websites or apps.
Deep Integration with Apple's Ecosystem – iCloud, macOS and iOS
The caveat here is that you need to have used the account and password on the device and have the browser remember the details. And, if you move from one device to the next, such as iMac to iPad, these devices also need to link the same Apple ID and have Apple Keychain synchronised to the iCloud. Google Chrome has its own password management system secured by your Google account and synchronised to the cloud so you can login with the Google account on different browsers can have it autofill your account information and password there. Just remember to log out from Chrome if it is not your own computer.
Apple Keychain
What is Keychain? It is a password management system created by Apple to manage all your account informations and passwords in one place, making it available on MacOS or iOS as long as you remember your keychain password? That is to say, as long as you are logged in to your device be it via pin, password, Face or TouchID, you keychain is at the ready to automatically fill in the details to let you access your website or apps.
Further verification is required but it saves you from re-entering your login details every time you try to access your sites. By the way, you need to have setup a password on your system to secure your login. This system username and password is then used as your login keychain password. This is different to the password and account used for Apple ID. Also, when you synchronise your Keychain with iCloud, it also remembers things like your credit card details and WiFi passwords.
How to Recover Your Account Information & Password in Safari
As long as you can still login to your device (password, pin, FaceID or TouchID), you can recover any password for any website or apps you have previously ask the system to remember. Here are steps for macOS and iOS.
Recover your Website Passwords on macOS
Start Safari
From the top tool bar, go to Safari > Preferences
From the pop-up window, click on the Passwords tab then enter your login / keychain password to unlock all your passwords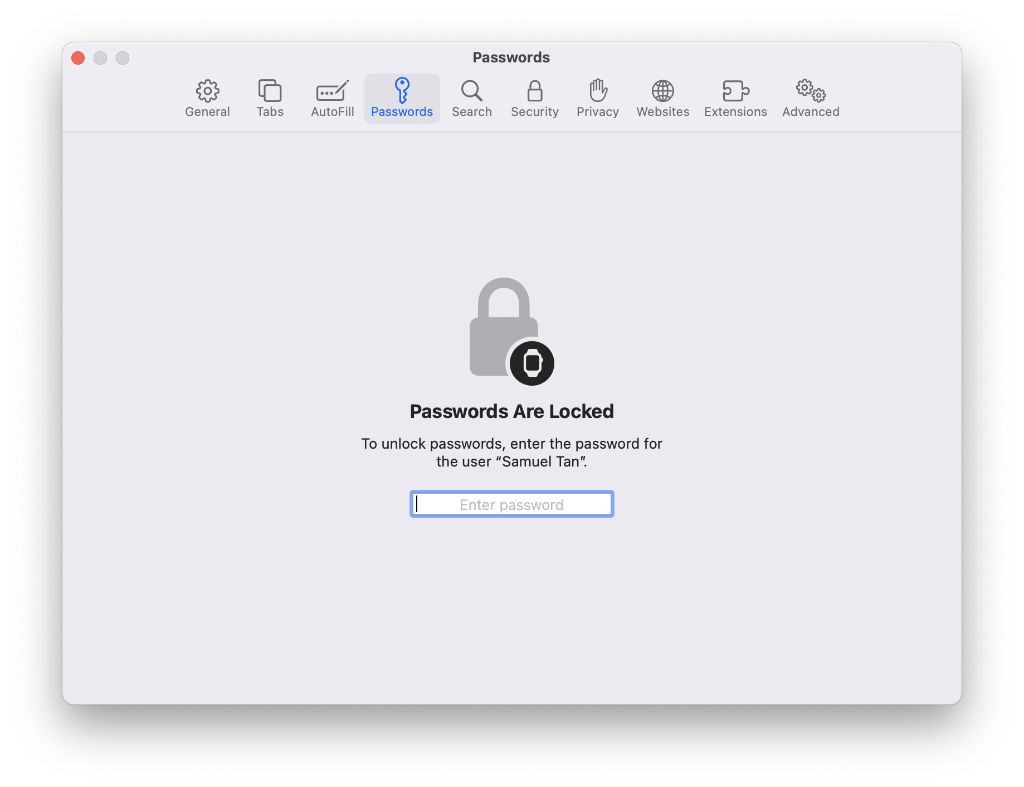 You can then search and select the site using the left pane and reveal the password by clicking on the dots in the password field in the right pane. Note: we have deliberately blanked out the details in the image below. You should see your own username and password.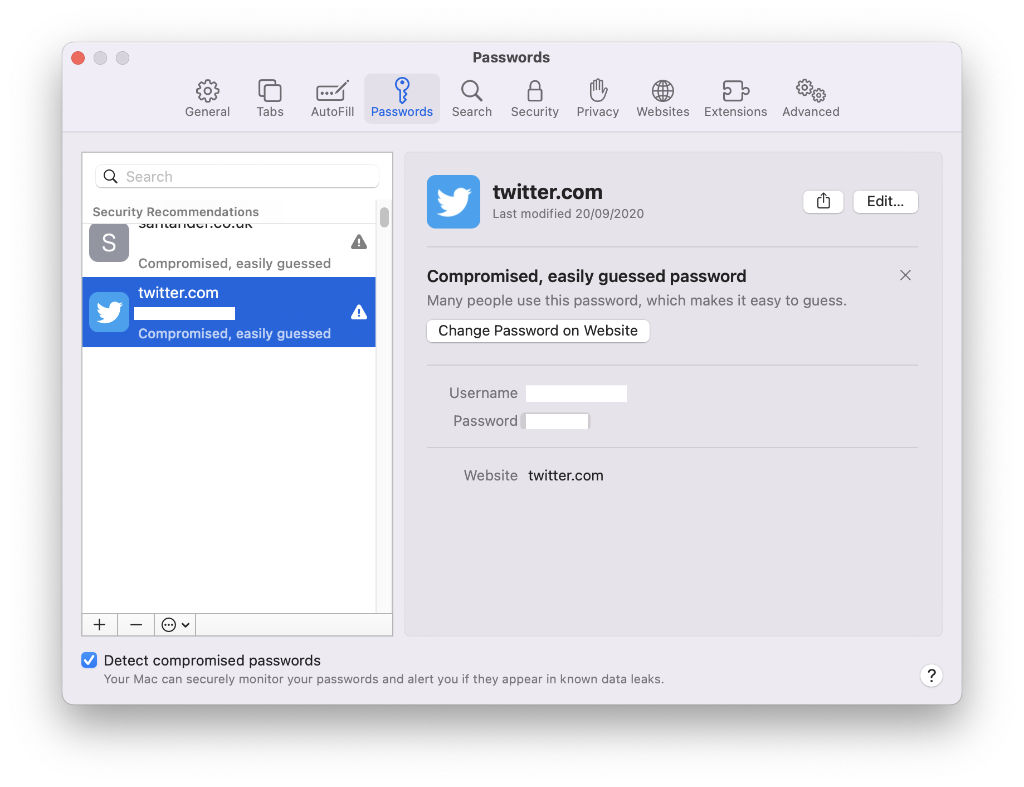 Also, apple has introduced a new feature where it securely monitors your password and alert you if they appear in known data leaks. Use the "Change Password on Website" button to change your compromised or easily guessed passwords.
Recover your Website Passwords on iOS
The steps on iOS are slightly different. Instead of starting in Safari, go to Settings
From Settings, scroll down to Passwords and tap on it to access account information and passwords for all known sites.
It verify you via pin, TouchID or FaceID depending on what is on your device.
You can then use Search or scroll to the site in question and tap on it to access the account information page.
Here you can tap on the Password field to reveal your password. You can also click on "Change Password on Website" to reset.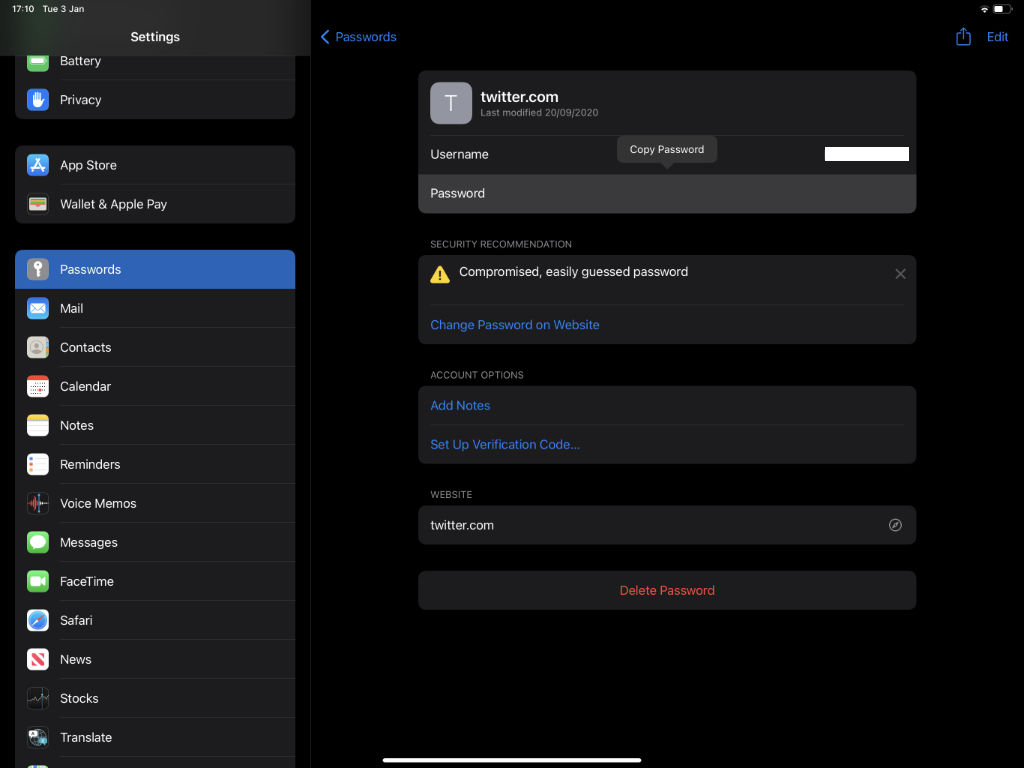 So, here is never having to remember any new passwords ever, just be sure to remember your keychain password. But, that is never going to happen as long as you can login with pin, TouchID or FaceID.
Keychain Synchronisation over iCloud
To enable Keychain synchronisation across all macOS (iMac or MacBook) and iOS device (iPad or iPhone), go to System Preferences in MacOS, click on Apple ID and make sure that Keychain checkbox is ticked, see screenshot below.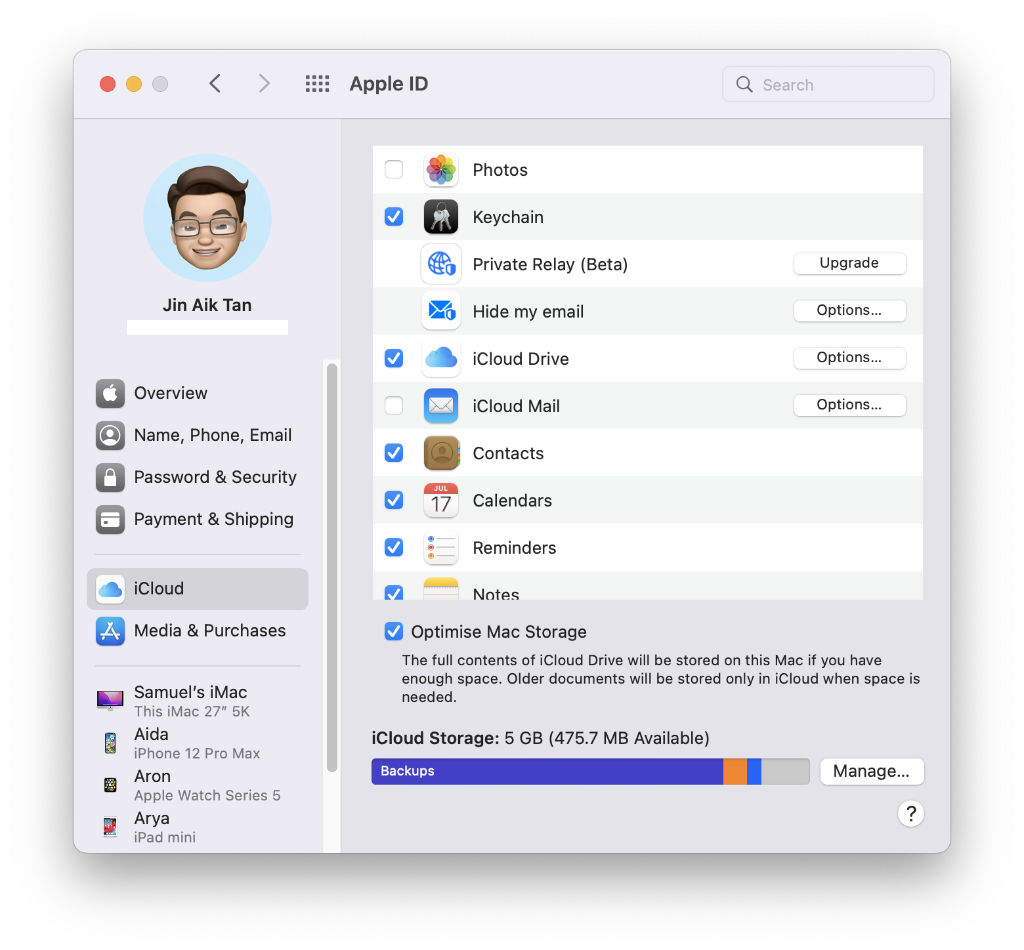 For iOS devices, go to Settings then tap on your profile icon or name. This brings up all the information associated to your Apple ID. Tap on iCloud then tap on Keychain. Be sure that iCloud Keychain is enabled.