There was a time when 'resolution' was the talk of the town and the focus used to be on gaming monitors supporting high resolutions. However, with gaming being more mainstream and eSports taking the centre stage in different gaming tournaments worldwide, refresh rates and response times have become more important than high resolution.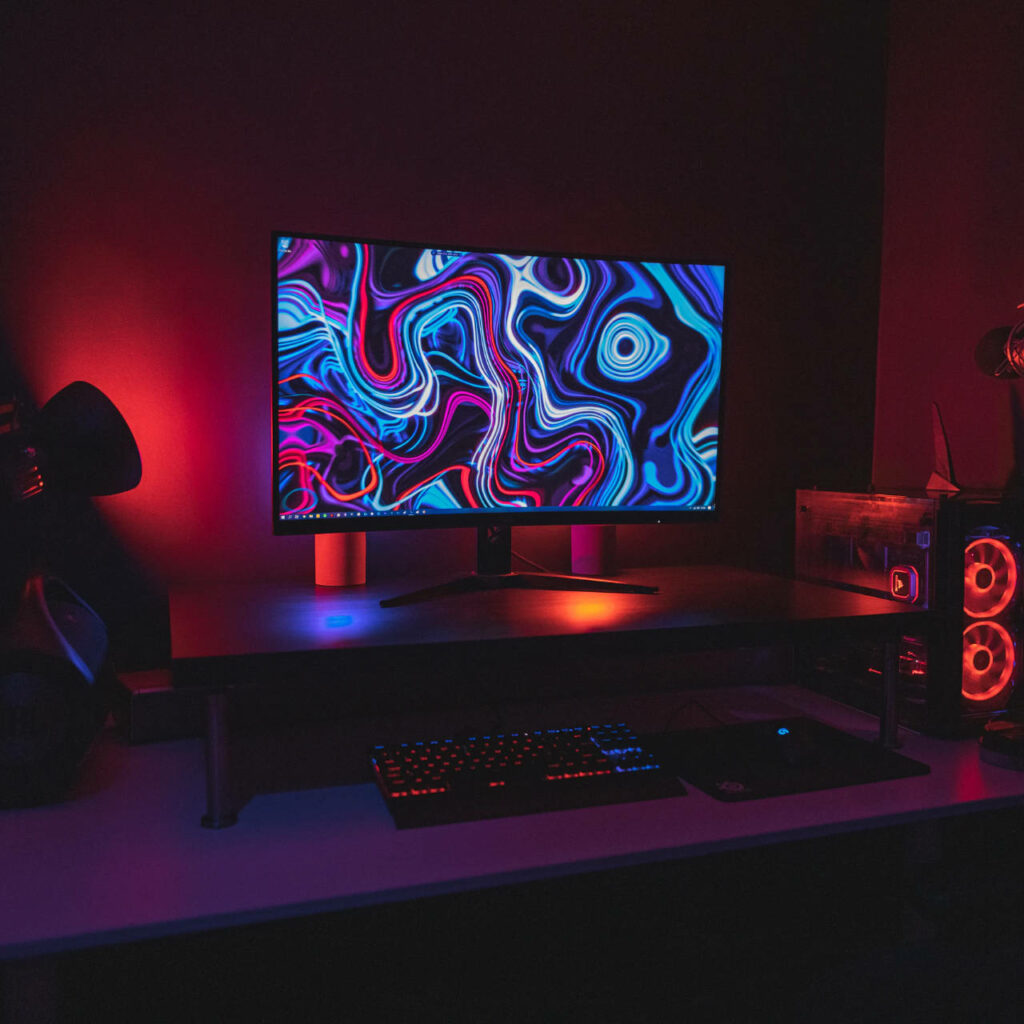 Refresh rate is the speed at which every second new and updated images (frames) are displayed on your monitor. Traditionally there have been plenty of monitors with a 60Hz refresh rate but in recent times, gamers have been opting for refresh rates more than 120Hz. A high refresh rate implies that there is less time between each frame being displayed. Response time is the ability of the monitor to switch colors in tandem with the updated frames. The lower the response time, the easier it is for the monitor to switch colors to match the high refresh rate.
Top 7 Best High Refresh Rate Gaming Monitors Reviewed
Here are some monitors we have for you today with high refresh rates you can choose to upgrade to get the best out of your games.
1. Acer Nitro XV2 Gaming Monitor

2K 144Hz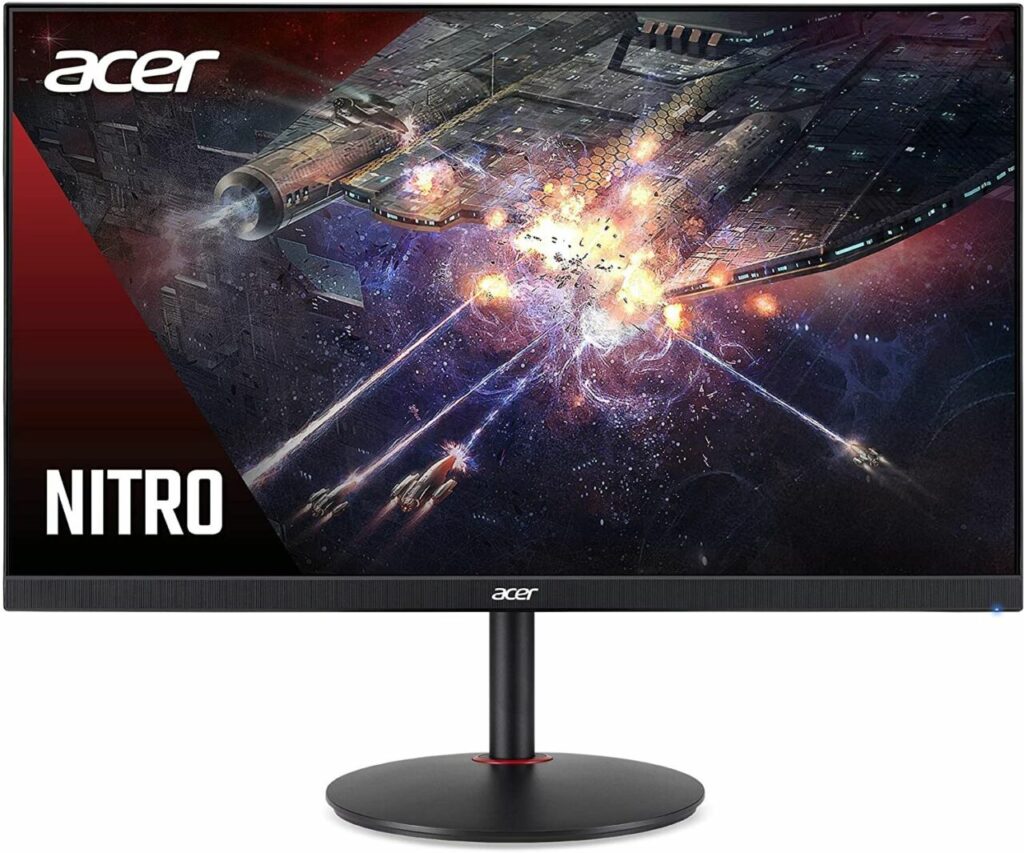 Our top pick is a feature-loaded monitor from Acer that is ahead of the others by quite a margin. The large 27-inch display supports a dual display set up and thanks to its WQHD resolution support, the image quality never takes a hit. It is compatible with AMD Free-Sync that makes sure your games don't suffer from frame tearing as you play the latest AAA titles on this monitor.
A capable graphics card would be able to utilize its 2K resolution supporting IPS panel to produce lifelike images and vibrant colors. It has a 1ms of response time and 144Hz refresh rate which is standard for most gaming monitors and it ensures negligible motion blur in fast-paced games like Apex Legends and other racing titles.
With 95 percent sRGB color coverage and VESA certified HDR400, the brightness and color saturations offered by the Acer Nitro XV2 are a must-have for optimum for gamers, producers, and editors.
The monitor has a sturdy build and comes with two 2-watt speakers at the bottom corners. The display can tilt, swivel, and is height adjustable. It has a standard 16:9 aspect ratio and 400 nits of peak brightness. There are two HDMI ports, a single Display Port, four USB 3.0 downstream ports, and a single USB 3.0 upstream port.
2. ASUS TUF VG27AQL1A Gaming Monitor

2K 170Hz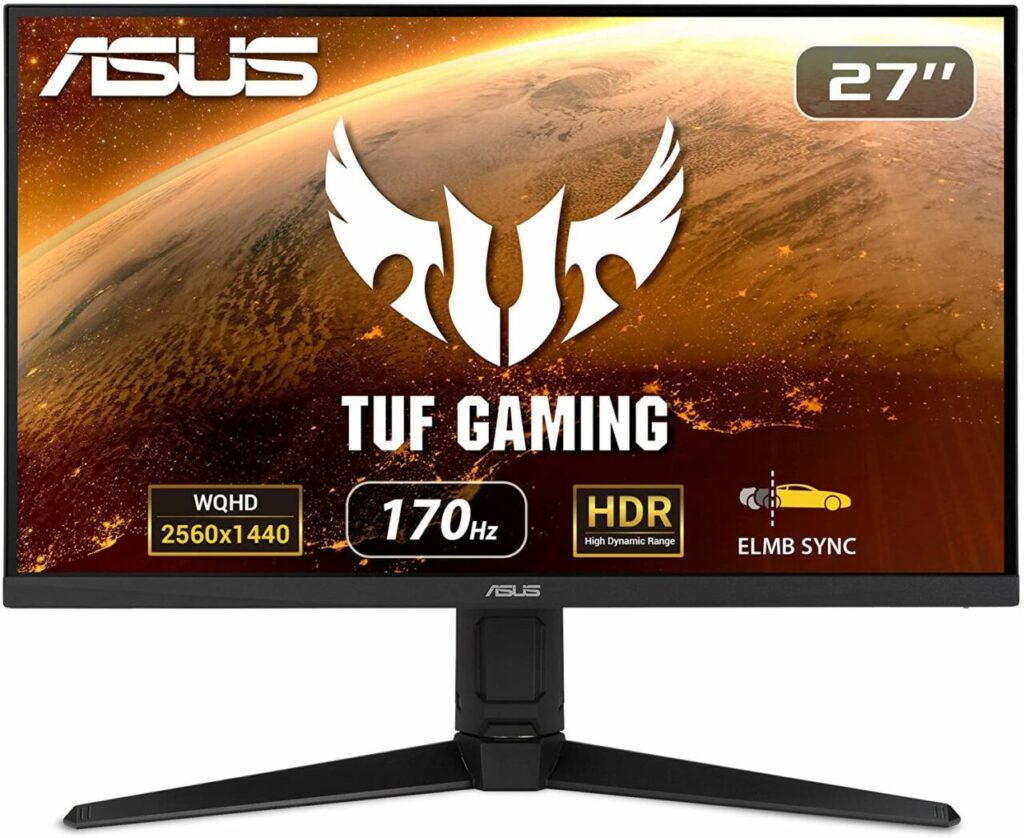 Putting up a fierce competition to Acer is Asus's 27-inch 2K display supporting gaming monitor. It matches the Acer Nitro in most features and bests some but loses a lot on the price. The IPS panel supports the same WQHD resolution and has a 1ms response time. In addition to it, the refresh rate is higher at 170Hz.
With most games offering the best performance at 144Hz, this refresh rate from Asus ensures that the TUF VG27AQL1A is going to be future-proof. The panel supports dynamic dimming and has an anti-glare coating to aid longer gameplay. There is dual support of AMD FreeSync and Nvidia G-Sync to handle frame tearing and choppy images.
VESA certified HDR400 makes sure the display has adequate brightness and 130 percent sRGB space with 96 percent color space ensures extreme detail and accuracy in terms of color reproduction. Additionally, the display has Asus's Extreme Low Motion Blur Sync Technology which when coupled with Adaptive Sync eliminates ghosting and tearing to ensure incredibly sharp visuals at high frame rates while gaming.
The build is futuristic with sharp angles at the back featuring wing-like elements that add much more than brownie points to the Asus TUF VG27AQL1A. There are a host of display enhancements like Blue light Reduction, Shadow Boost, and Game Visuals that can be accessed from the on-screen display menu that is sure to sweeten the deal.
The monitor has the same speaker set up as Acer's above and adding to the mechanical adjustments of Acer, this monitor from Asus can pivot at 90 degrees and supports VESA wall mounting. There are a couple of HDMI ports conforming to version 2.0 standards and a version 1.2 Display Port. There is a couple of USB 3.0 ports and a 3.5mm earphone jack.
3. LG 27GN750-B Gaming Monitor

Full HD 240Hz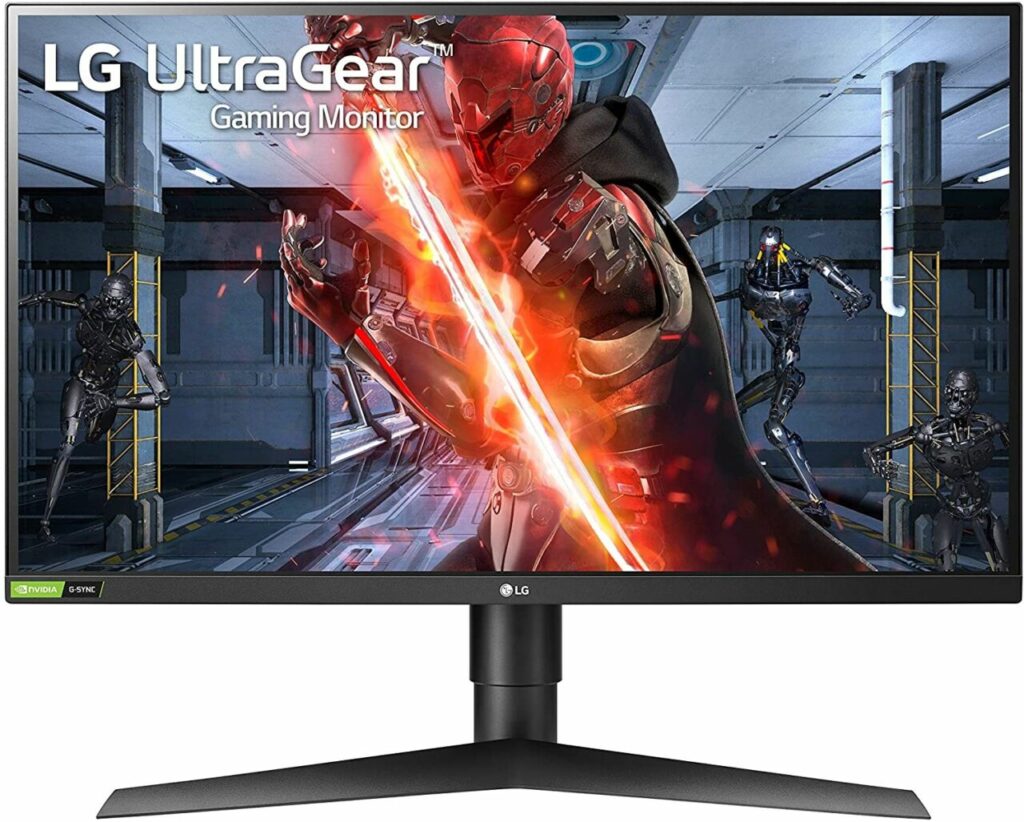 Not far behind the top two in our list is LG's 27-inch gaming monitor that offers a staggering 240Hz refresh rate. The superior refresh rate ensures that you can play the latest games with its maximum supported Full HD resolution with quality settings tuned to the maximum. There is a superb visual fluidity in the most demanding games at maximum graphics quality.
The monitor uses an IPS panel with a 1ms refresh rate and has 99 percent sRGB color coverage which is the highest yet and provides outstanding color reproduction and vivid scenes during entertainment and gaming. There is support for Nvidia G-Sync and FreeSync Premium which provides a faster lag and blur-free gaming experience with compatible graphics cards.
HDR10 provides utmost clarity and realistic details with a peak brightness of 400nits. Additional features include Dynamic Action Sync for greater real-time sync as the action unfolds, Black Stabilizer for improved visual details in dark areas, and trademarked Crosshair that aids in FPS games giving the players enhanced vision and pro-level accuracy.

The LG 27GN750-B has a stylish build with gamer aesthetics at the back. There is a gaming-inspired logo at the back and cut-out housing the connectivity ports. We find two HDMI and USB downstream ports. There is a Display Port, a USB upstream port, and a 3.5 mm audio jack while speakers are missing. The display can be tilted, the height is adjustable, and can be pivoted 90 degrees on both sides. Here is the LG 27GN750 sitting comfortably at a price point between the two we have reviewed above.
4. ASUS TUF VG279Q1A Gaming Monitor

Full HD 165Hz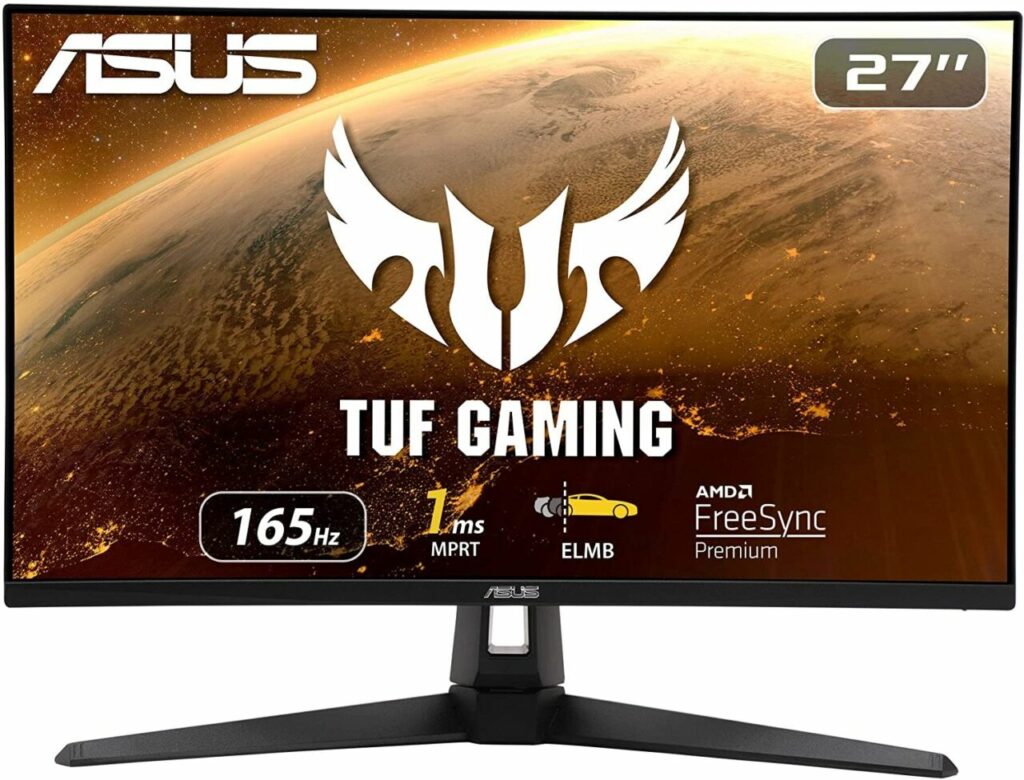 Our 2nd entrant for Asus is another 27-inch gaming monitor with a refresh rate of a modest 165Hz. Unlike its bigger sibling, this display only supports Full HD resolution but retains some features of its big brother. The IPS panel used has a 1ms of response rate which reduces blur on fast FPS and eSports titles. Then we have Asus's proprietary Extreme Low Motion Blur which pushes the blur to negligible levels.
There is support for both G-Sync and AMD FreeSync which enables users to enjoy sharp gaming visuals without any distortions in the image. Shadow Boost enhances image details in dark areas, brightening scenes and adding clarity to dark gaming cutscenes. The monitor is compatible with consoles but HDR is sadly missing in the Asus TUF VG279Q1A. Color distribution and contrast ratios are up to the mark but peak brightness is on the lower side.

The design features are retained from the earlier model and though the display can be tilted and swiveled, the pivot has been done away with. Flicker-Free Technology and Ultra-Low Blue Light find their space with Game Plus and Game Visual customization features accessible via the on-screen display. Connectivity options see a huge downgrade as a single display sports conforms to version 1.2 and a couple of HDMI ports are downgraded to version 1.2. USB ports are missing but the 3.5 audio jack is retained.
5. Dell S2421HGF Gaming Monitor

Full HD 144Hz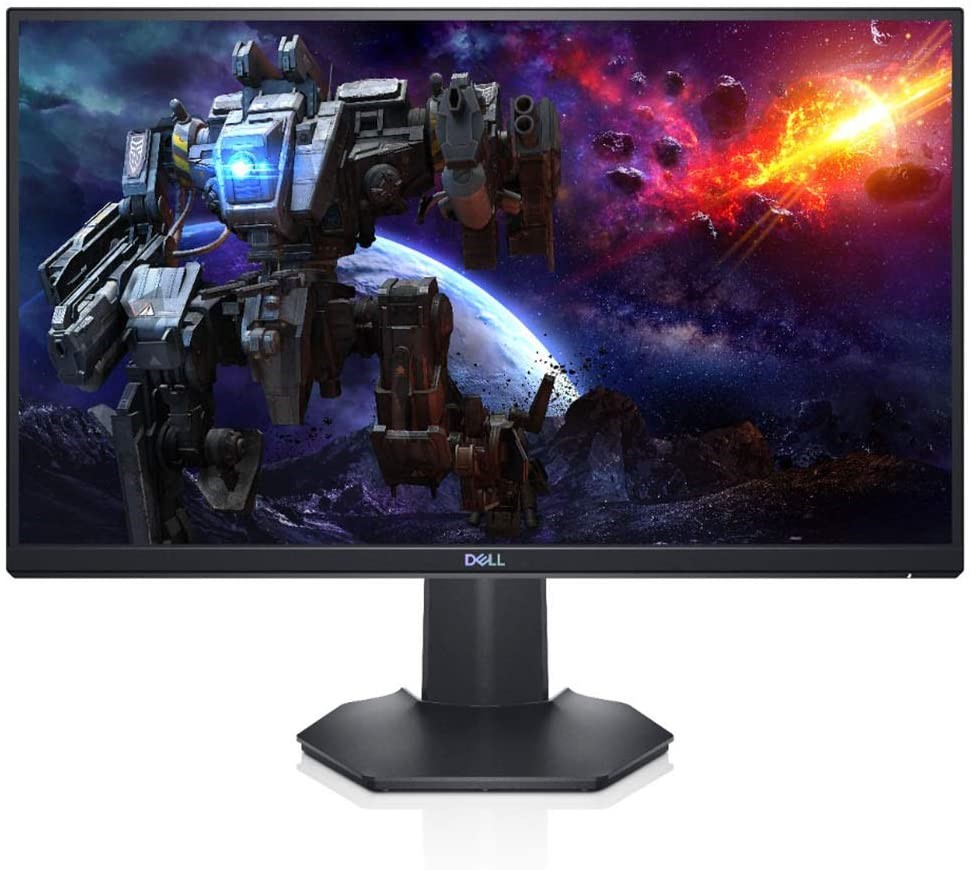 Here we have a more beginner-oriented 24-inch gaming monitor from Dell. A bit offbeat from the wide displays above, the Dell S2421HGF does a neat job at giving you a pleasurable, personal gaming experience. The panel used is TN and still manages to attain a 1ms of response time and 144Hz of refresh rate. This aids in rapid color changes and eliminates motion blur to keep you in the middle of the action.
The Dell gaming monitor here is priced competitively to be your first gaming monitor. The maximum resolution supported is Full HD 1920×1080 and has an Anti-Glare coating to reduce the detrimental effects of the blue light usually emitted from monitors. Adaptive sync capabilities are delivered by AMD FreeSync Premium. Typical brightness is set at 350nits and optimum color saturation ensures sharp, detailed visuals that take you deeper into the game.
The Dell S2421HGF does not have many fancy features to choose from as there is a fairly bland OSD menu. There is an FPS Counter and Dark Stabilizer that can be accessed from the buttons at the back of the monitor. HDR is missing and the display height can be adjusted as per requirement. The monitor can be titled but there no VESA mount support. There is a Premium Panel Guarantee from Dell to replace the panel in case of a dead or bright pixel found within the warranty period. This budget gaming monitor can be your first step towards gaming greatness.
6. AOC G2490VX Gaming Monitor

Full HD 144Hz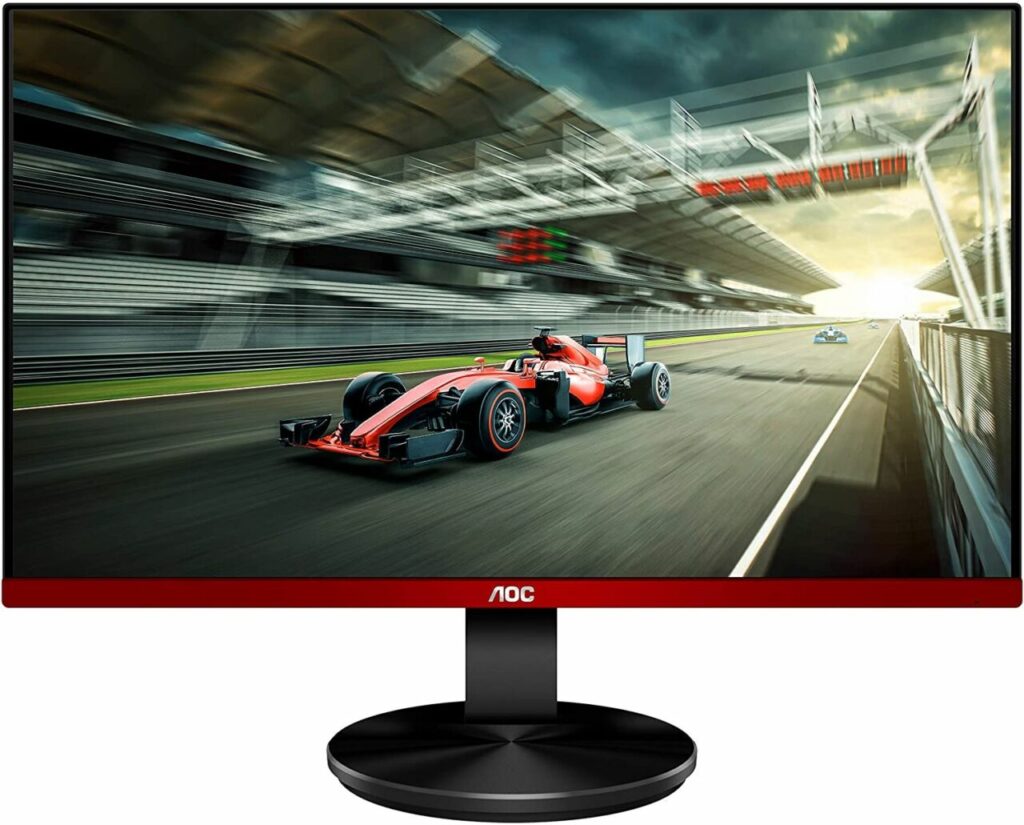 AOC has good reasons to market its 24-inch gaming monitor as a 'frameless display unit' as its bezels are embedded inside the glass top. The bezels are ultra-thin and on first look, it is easy to mistake it for being bezel-less. The panel used is of VA type and has a response rate of 1ms. This is a very capable display unit focussed on the budget segment as can be seen from the pricing.
HDR is missing and brightness is set a 350nits. A 144Hz refresh rate ensures that AOC G2490VX checks the most important boxes for a typical gaming monitor. Basic gaming is on the cards here at Full HD resolution with support for adaptive sync provided by AMD FreeSync Premium. The sRGB color distribution and contrast ratios are set unexpectedly high at 110 percent and 4000:1 respectively.
The OSD menu has basic frame adjustment settings and an option to enable Low Blue Mode that reduces blue light. The display is not height adjustable but can be tilted and surprisingly its stand can be removed for VESA wall mounting. There is a single HDMI port version 1.4 and a Display port version 1.2. There is extended warranty coverage for a replacement of up to three years in case of any dead or bright pixels.
7. Philips 242E1GSJ Gaming Monitor

Full HD 144Hz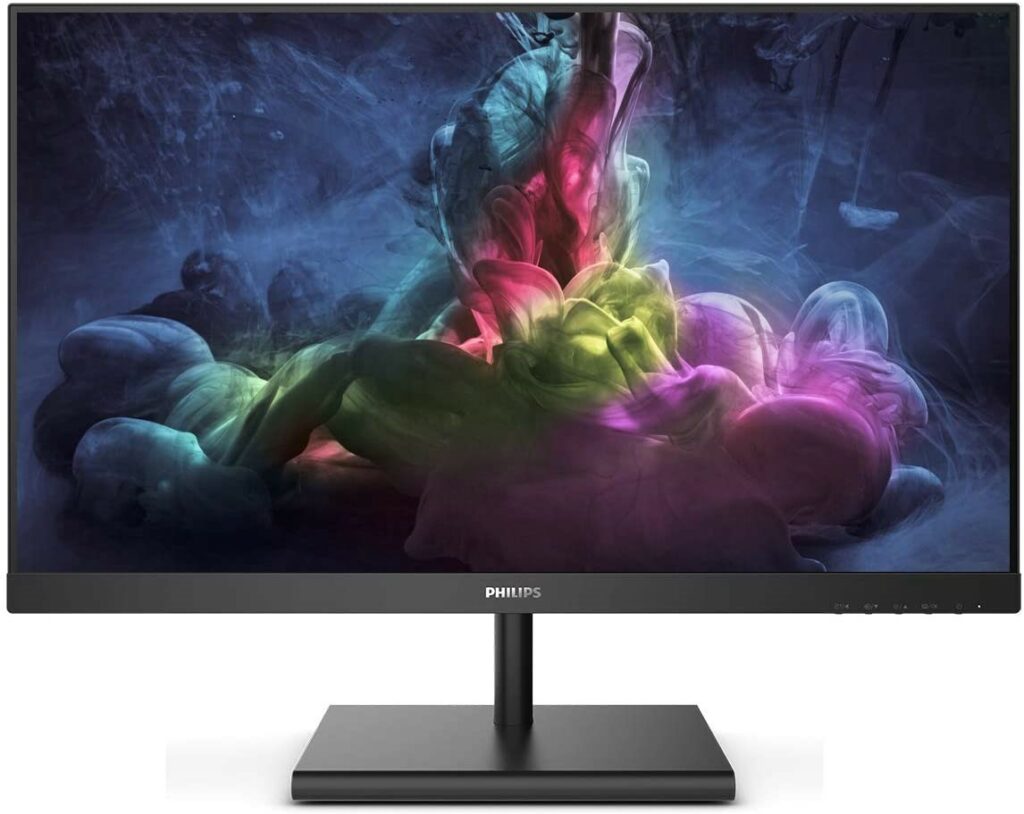 We end our recommendation list with the cheapest of them all. The Philips gaming monitor, though the least priced of the lot does not compromise on quality. It is a highly rated monitor available for purchase here at Amazon. This gaming monitor uses a VA panel and supports Full HD 1080p gaming with sync support from AMD FreeSync Premium. The panel has a 144Hz refresh rate and 1ms of response time that lets you enjoy AAA titles to their maximum capacity.
Ultra-low input lag and zero screen-tearing make it the best budget gaming monitor you can wish for. Philips has equipped this gaming monitor with Ultra-Wide Colour Technology that delivers vivid colors with above 96 percent sRGB. The greens look more natural, the blues are deeper and the reds are more vivid. Smart Contrast Technology enhances the darker areas of the display with better detailing.
HDR is missing and brightness is set at a modest 350nits which just gets the job done. Contrast ratios are good at 3500:1 and there is a basic OSD menu accessible from the bottom edge of the display. There is an HDMI port and a Display port at the back along with a 3.5mm audio output jack. The monitor is backed by a 4-year advanced replacement warranty from Philips.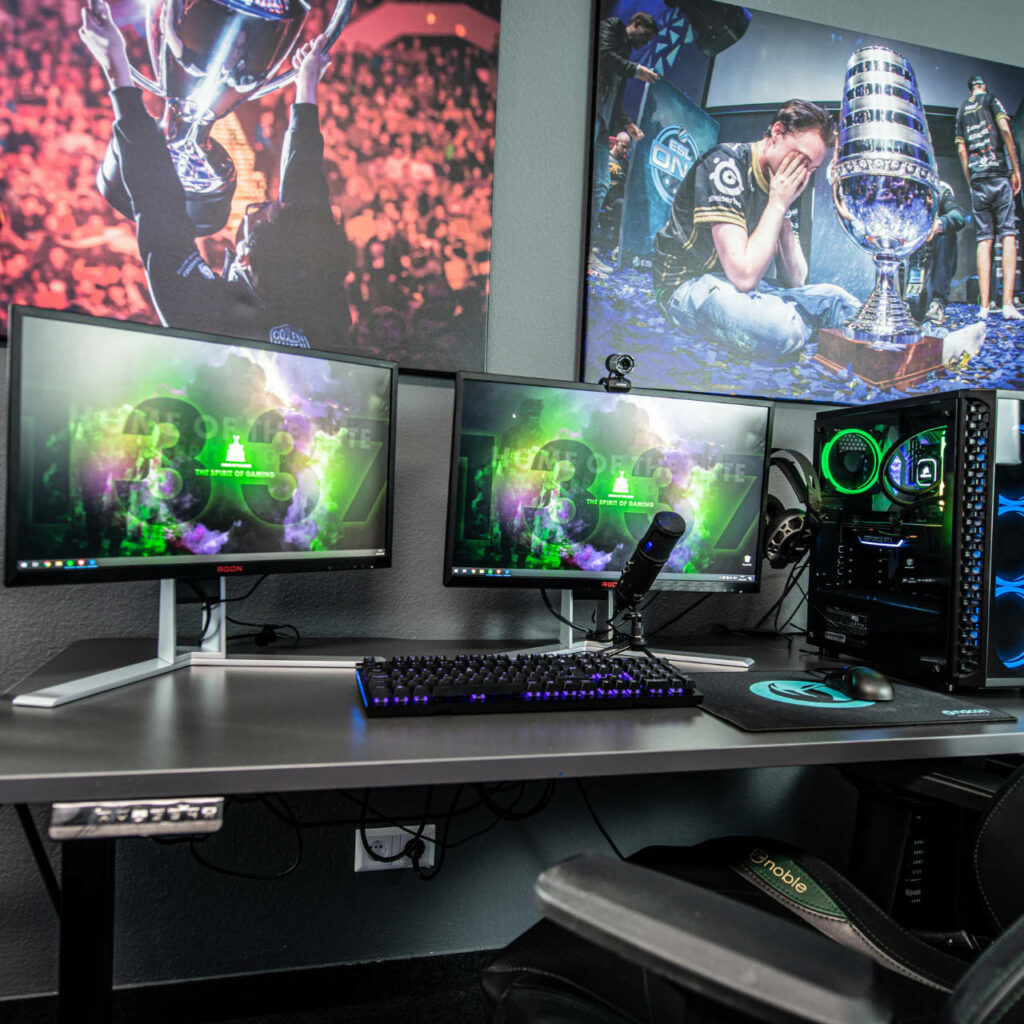 Conclusion
It is a misconceived notion that powerful graphics cards would give you the best graphics. However, in reality, no matter how powerful the graphics card is, if the display unit cannot display the frames as fast as they are being processed by the GPU, you don't actually gain much from the powerful GPU.
A high refresh rate monitor can give you the edge in fast-paced games as you get to see every frame processed by your GPU in real-time. On a lower refresh rate display, the same would seem as the enemy is moving from spot to spot. Hence, it is always advised to go for a high refresh rate monitor that matches the processing capabilities of a good graphics card.