Most say that gaming is good if you have a powerful graphics card to process the detailing that a AAA title needs. Some focus on the processing power of the CPU. When it comes to building a PC for gaming, only a few start with the monitor.
From experience, I have built many gaming PCs and have always started shortlisting a monitor first. What I have always believed is that since it is the monitor where the gameplay will be displayed, it ought to be vivid, immersive, and highly detailed so that the in-game experience comes through in first grade quality. The point here is that your gaming would be as good as you view it on the monitor and in the case of curved monitors, it is like placing you in the middle of the action.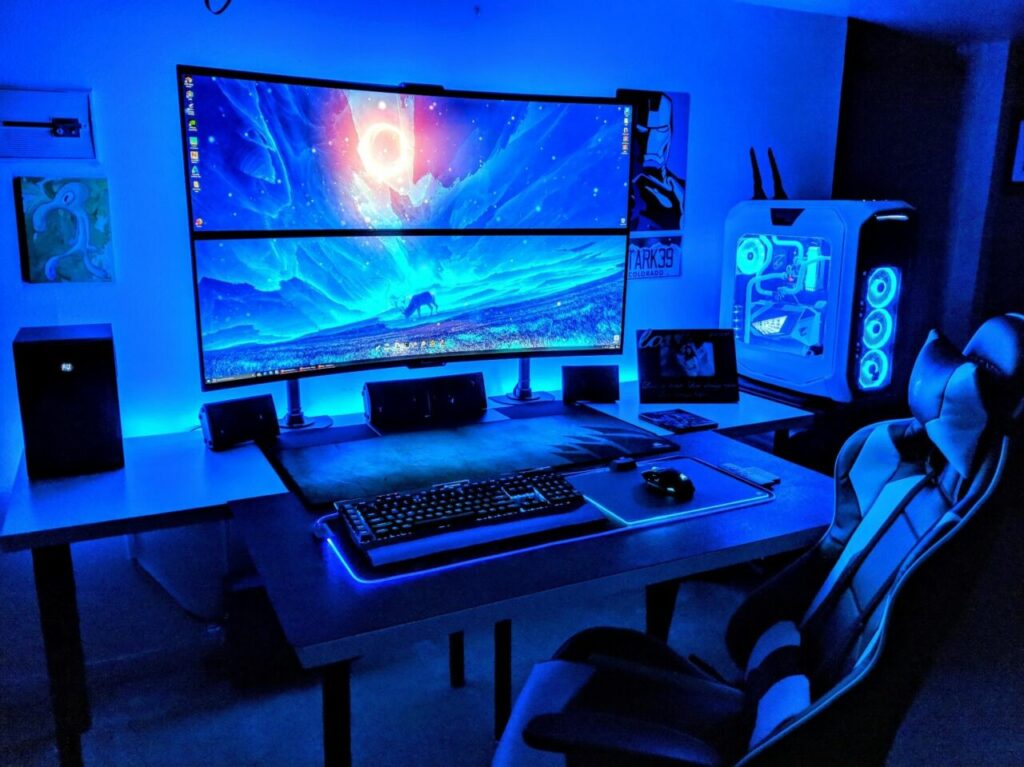 A curved display unit covers a huge part of your viewing angle cutting out most distractions so that all you can see in front of you is the action on the screen. As you hem in to come close to the action on the screen, a curved screen monitor pulls you into the action. Its unique build covers your entire peripheral vision and tricks your subconscious to make you feel like you are actually a part of the action on the screen.
Top 8 Best Curved Screen Gaming Monitors Reviewed
In this article, we have some of the best curved screen monitors that you can choose to game on and experience actions like never before.
1. SAMSUNG 49-inch Odyssey G9 Gaming Monitor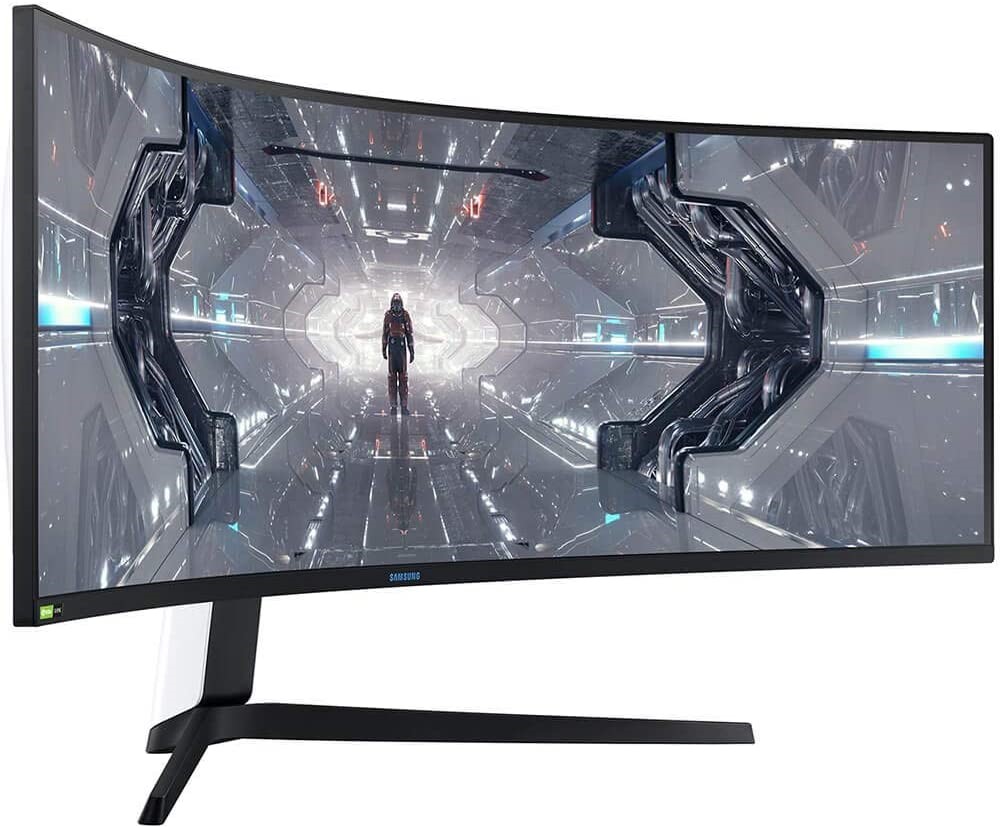 As customary, we have the best at the top. The Samsung Odyssey G9 is a humongous 49-inch Dual QHD monitor that provides the ultimate curved screen gaming experience. It is equivalent to two 27-inch screens put side by side and has a 1000R curvature. The display can be swiveled and tilted and its height can be adjusted.
The Samsung Odyssey G9 is Nvidia GSync and AMD Free Sync Premium Pro compatible and comes with HDR1000 and supports 1.07 billion colors. The images are pin-sharp, detailed and comparable to professional-grade macro images. The VA panel has a response time of 1 millisecond and a maximum refresh rate of 240Hz.
The contrast ratio is set at 2500:1 and the sRGB color gamut is at a staggering 125%. The default aspect ratio is set at 32:9.
Connectivity Options:
1x HDMI 2.0
2 x Display Port Version 1.4
USB 3.0 Hub
2. SCEPTRE Curved 30-inch Ultra-Wide Gaming Monitor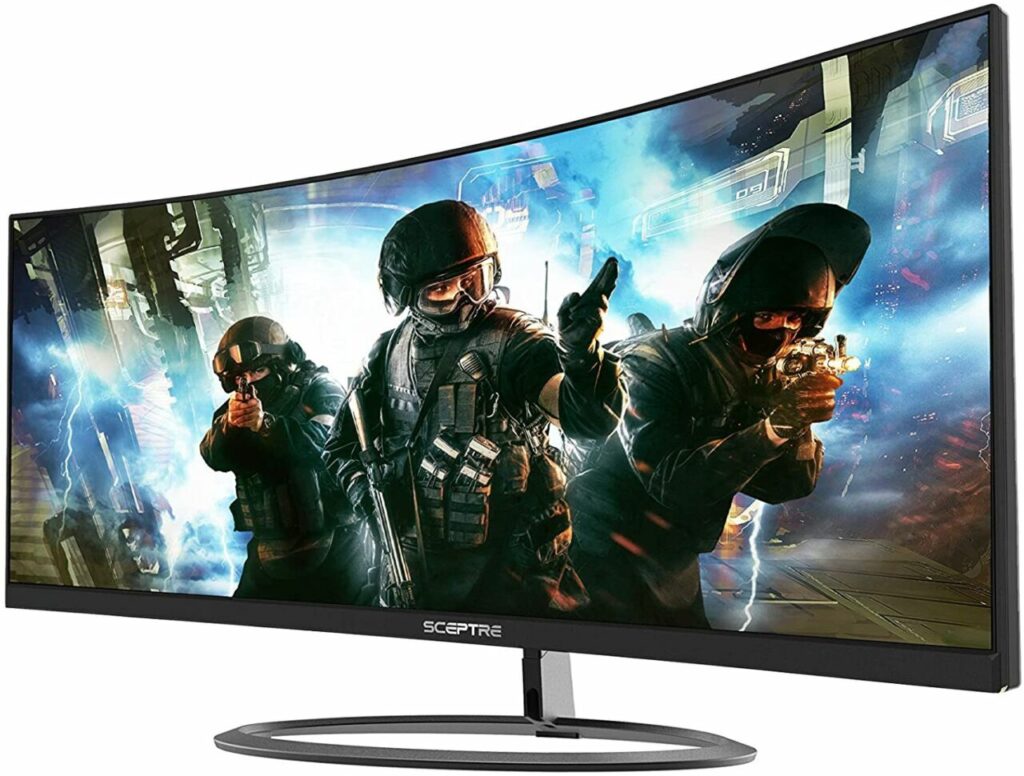 The Sceptre 30-inch curved monitor has an Ultra-Wide Full HD resolution that is sure to make you feel you are in the gaming paradise. The monitor is almost bereft of any bezel and carries an aspect ratio of 21:9. The display has a 12-degree tilt range and is VESA mountable. It is a highly rated display for its value for money features like a blue light filter and AMD Radeon FreeSync support.
The monitor uses a VA panel that has a stupendous contrast ratio of 3000:1. This allows a wide variety of color shades and accurate color reproduction. There may be slight blurs in sports titles due to 8 milliseconds of response time and the maximum refresh rate supported is 85Hz and the screen has a 1800R curvature. The OSD menu has options to choose from amongst various display temperatures, game presets, and picture presets. The color coverage is 90 percent of sRGB color gamut and peak brightness is set at 350 nits.
Connectivity Options:
2 x HDMI
1 x Display Port
3.5 mm Headphone Jack
3. ASUS TUF Gaming 32-inch Curved Gaming Monitor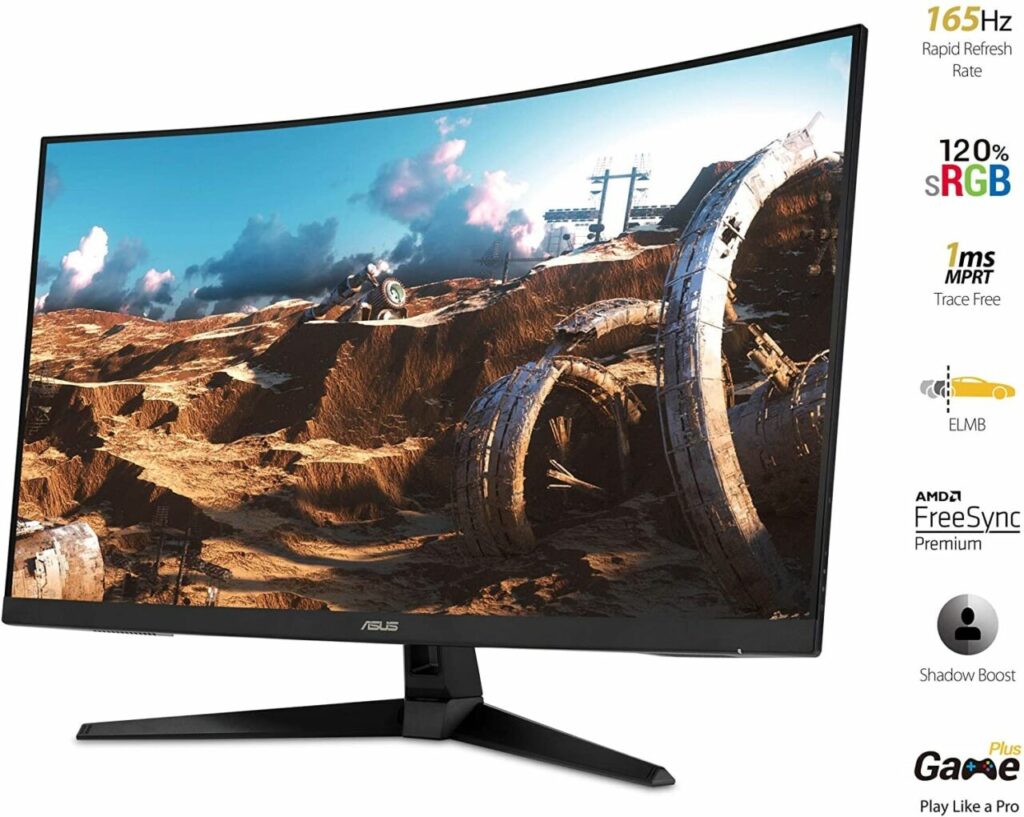 The Asus TUF 32-inch monitor has a host of innovative technologies embedded in its curved gaming monitor. It is VESA mountable and has Extreme Low Motion Blur technology that reduces motion blur on top of its already impressive 1 millisecond response time. There are a host of enhancements accessible from the on-display menu that aids in gameplay and changing picture presets as per preference. The display has a 1500R curvature and neat cable management features. It also has a 15-degree swivel angle and a 23-degree title angle.
The Asus TUF has a refresh rate of 165Hz which we believe is just optimum for quick reaction games from Sports, FPS, and RTS genres. The maximum supported resolution is Full HD at an aspect ratio of 16:9. The panel has a 120% sRGB color gamut and Shadow Boost that adds more detail to low light gameplays. The monitor also has dual adaptive sync support from both Nvidia GSync and AMD FreeSync.
Connectivity Options:
1 x HDMI 2.0
1 x D-Sub
1 x3.5mm Audio In
1 x 3.5 Audio Out
4. Dell UltraSharp 34-inch Curved Gaming Monitor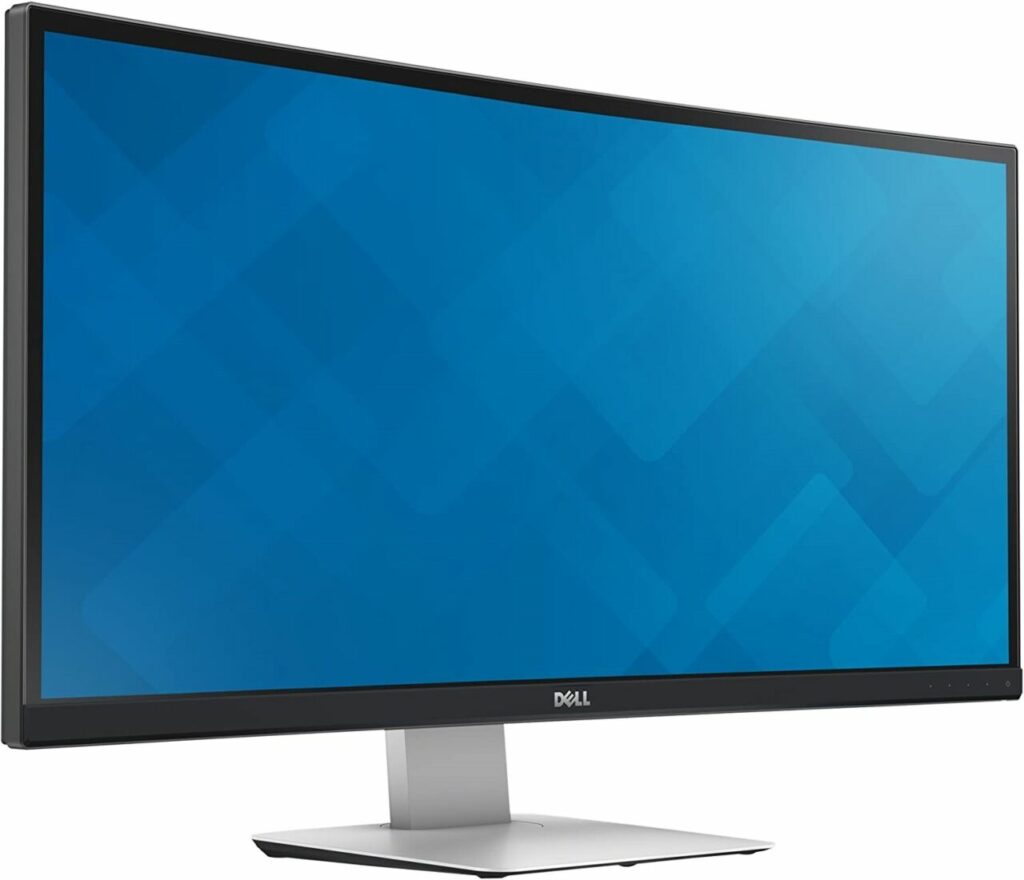 The Dell UltraSharp 34-inch curved gaming monitor enters our list due to our utmost desperation in bringing variety onto the plate. It has the least curve of all the monitors on the list but splendid picture quality. The display can be VESA mounted and is height adjustable when used with the stand. It has a WQHD resolution and an aspect ratio of 21:9 and the in-built speakers produce superb distortion-free sound.
The Dell monitor is best at what it is supposed to do. The IPS panel in the Dell UltraSharp has a 1000:1 contrast ratio and 300 nits of brightness. There is an anti-glare coating for a reduced strain on the eyes during long gaming sessions. Gaming on the responsive panel is a pleasure due to its large number of supported color shades. The images displayed are vivid and naturally colored due to their 99 percent sRGB color gamut.
Connectivity Options:
1 HDMI (vr2.0)
1 Mini DisplayPort
1 DisplayPort (version 1.2)
1 DisplayPort out (MST)
1 Audio Line out1
5 USB 3.0 ports – Downstream (4 at the back)
2 USB 3.0 port – Upstream
5. Philips 32-inch Curved Gaming Monitor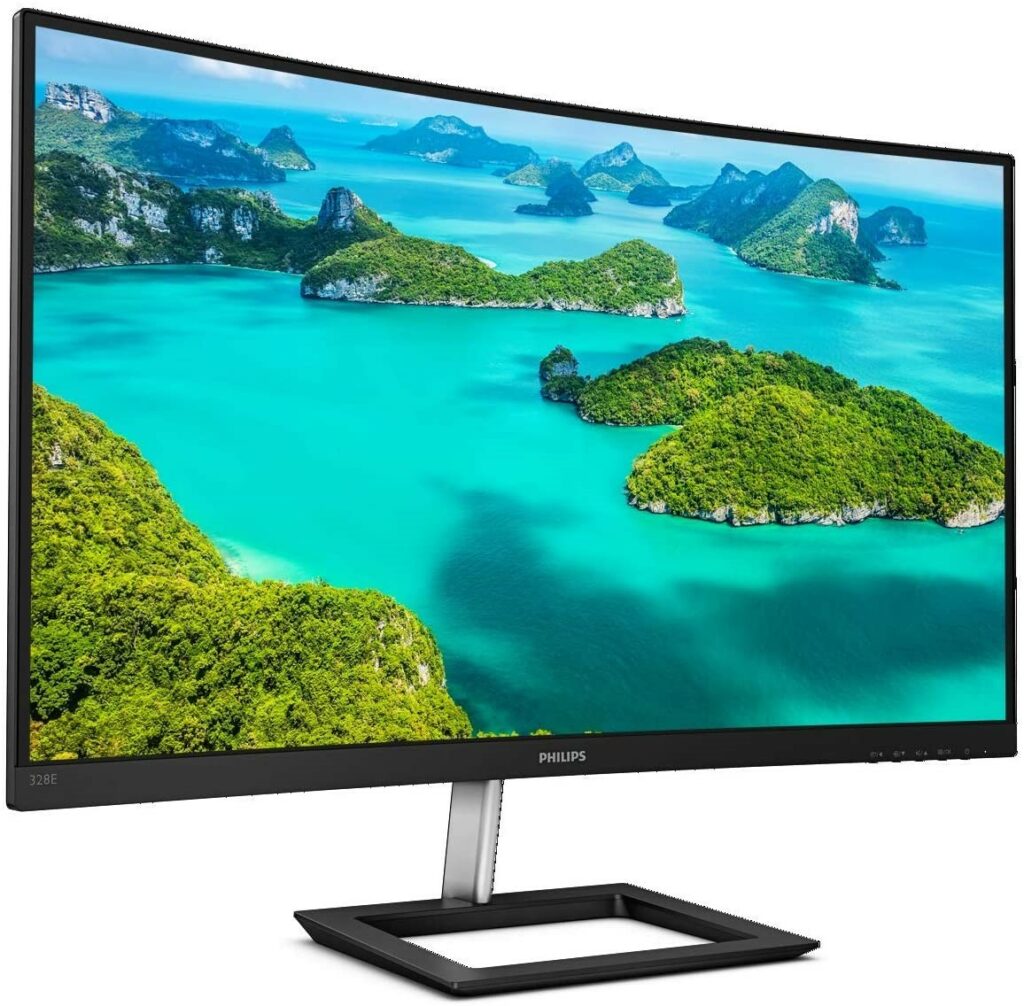 Imagine gaming on a big screen with a 4K resolution and breath-taking clarity. That is what you get with the Philips UDH 32-inch gaming monitor. Supporting more than a billion colors and an extremely high color coverage ratio at similar prices to that of some contenders on this list, this Philips monitor is the ultimate value-for-money option for gamers. The monitor is not height adjustable and has a tilt of up to 20 degrees.
The monitor uses a 1500R curved VA panel that has an Anti-Glare coating and a 2500:1 contrast ratio. The maximum response time is 4ms and makes use of Philips Ultra-Wide Color Technology to deliver natural-looking greens, vivid reds, and deeper blues for imagery that is vivid and realistic. The supported aspect ratio is 16:9 but the maximum brightness is a bit on the lower side at 250 nits.
Connectivity Options:
1 x Display Port 1.2
2 x HDMI 2.0
1 x Audio Out
6. MSI Optix 27-inch Curved Gaming Monitor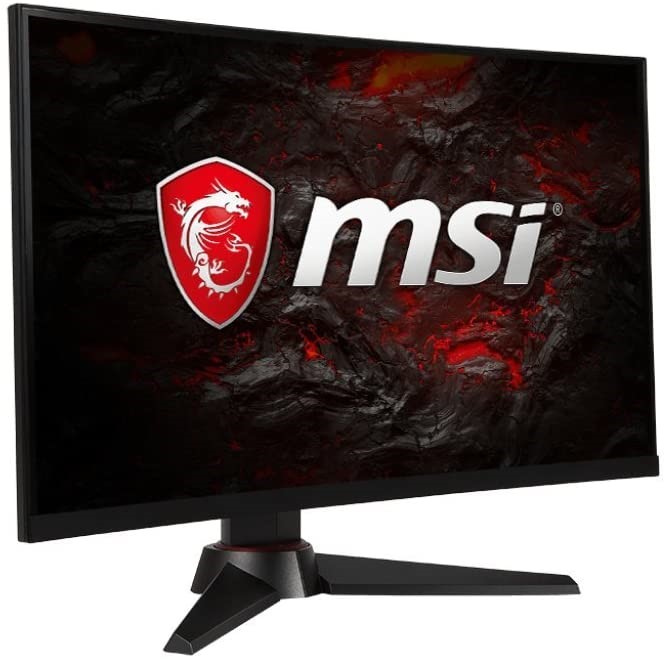 The MSI MAG27CQ is a 1800R curved gaming monitor that lets you game in 1440p resolution. It is a FreeSync enabled 2K resolution monitor that has a narrow bezel and gives you an almost bezel-less gaming experience. It has a good contrast ratio of 3000:1 and supports a wide range of color shades. The display has a 15-degree tilt and 30-degree swivel. The height is also adjustable up to 65 millimeters.
The monitor has 110 percent sRGB coverage and VESA mounting with an anti-glare coating on the screen. The supported aspect ratio is 16:9 and it operates at 250 nits brightness. The VA panel has a 144Hz refresh rate that deals with choppy frames and aids in smooth gameplay. The display is flicker-free and has a blue light filter that reduces fatigue when used for prolonged periods.
Connectivity Options:
1 x Display Port Version 1.2
1 x HDMI Port Version 2.0
1 x DVI Port
1 x Audio Combo Port
7. Sceptre 35-inch Curved Gaming Monitor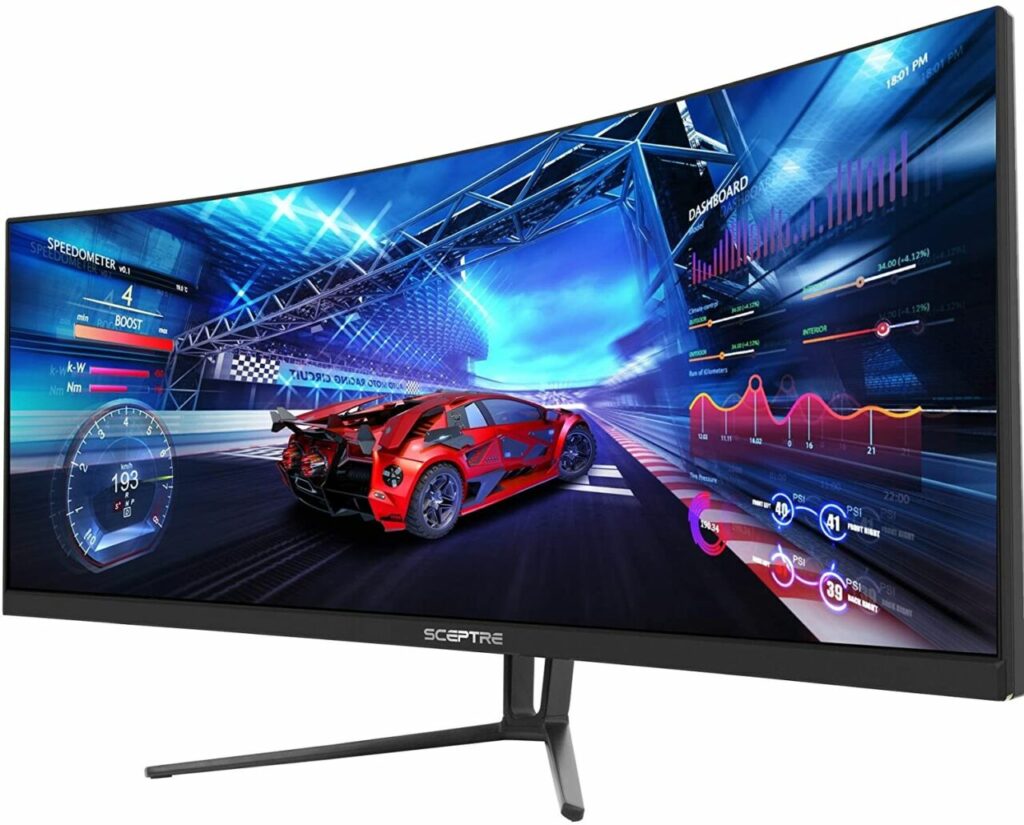 Here we have a second entrant from Sceptre that is an ultra-wide curved gaming monitor with an aspect ratio of 21:9. The VA panel C355W monitor has 1800R curvature and operates on QHD resolution. The display has a 5 to 15 degree tilt angle and has a fixed height. It can be VESA mounted and has various picture presets in the OSD menu. The display has a toughened glass on top and an anti-glare coating to reduce eye strain.
The Sceptre C355W operates at a peak brightness of 320 nits and a 3000:1 contrast ratio. The color gamut is 95 percent but we have seen better sRGB coverage from most other monitors. The response rate is fairly high at 4 milliseconds and the refresh rate is set at 100Hz. There are FPS and RTS game presets available from the OSD menu.
Connectivity Options:
1 x HDMI 2.0
2 x HDMI 1.4
1 x Display Port 1.2
3.5mm Headphone Out
8. Acer 27-inch Curved Gaming Monitor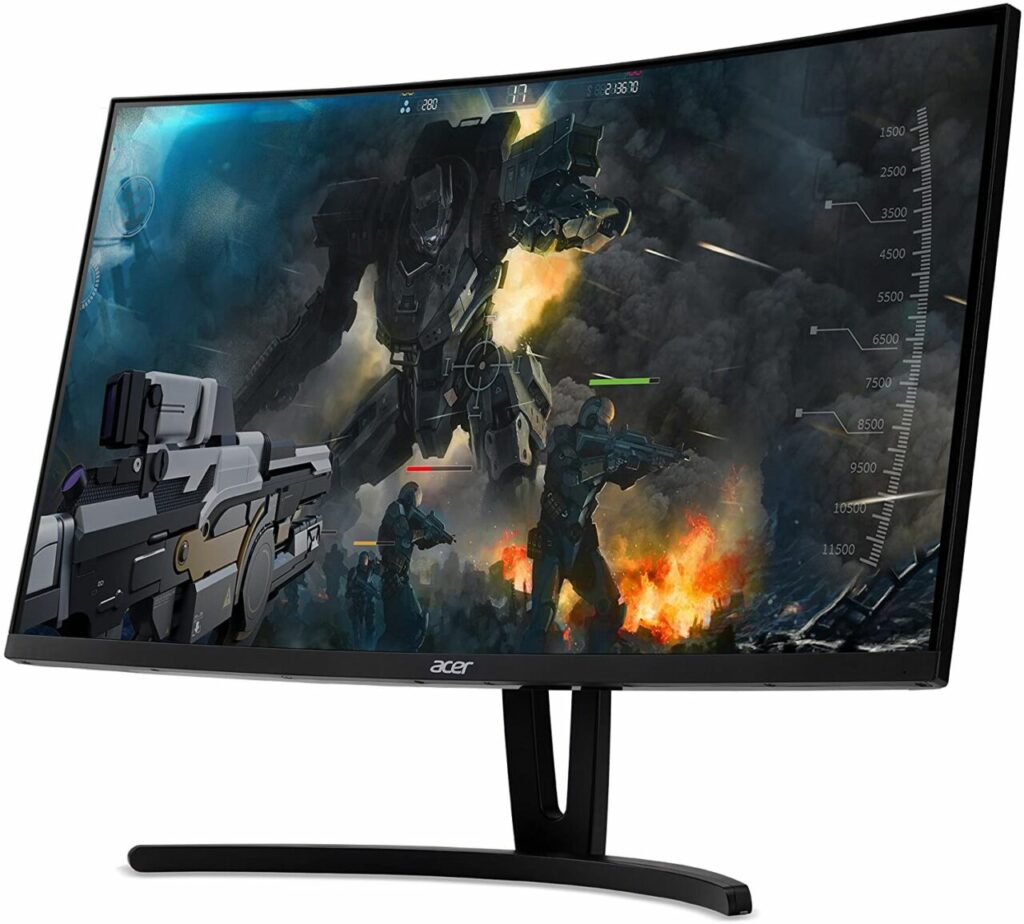 Our final entrant in the recommended list is Acer ED273 that works on Full HD resolution and offers a lot of value at a sub $300 price range. It has a 1800R curvature that pulls you into the action on its 1080p screen. There is native support of Nvidia GSync that removes frame tearing and aids in smooth rendering resulting in cinematic gameplay. The screen has a small tilt and cannot swivel or be height adjusted.
Acer's 27-inch curved gaming monitor has a VA panel and a response time of 4 milliseconds and a refresh rate of 144Hz on the Display Port. Acer Vision Care Technology incorporates Flicker-less picture, Comfy View, and Auto-Dimming feature to ensures that the emitted blue light is filtered and soft on the eye. The maximum supported brightness is 250nits and has an aspect ratio of 16:9. The display has a good contrast ratio and color gamut percentage and produces images that have good clarity and optimum colors. We also find  dual 3 watt speakers for entertainment.
Connectivity Options:
1 x Display Port
1 x DVI Port
1 x HDMI Port
It's high time you got rid of that old flat screen monitor and bring home a jewel that deserves to be the crown of your gaming rig. Here is our list to help you pick your first curved screen display.
Conclusion
A curved gaming monitor enhances your experience by providing you with immersive gameplay. As the screen is curved and goes past your peripheral vision once you sit close to the display or hem-in, you only get to see the action in front of you. This results in realistic gameplays where you are free from destruction and the display covers your entire vision. Curved screen monitors are very much mainstream that you can surely get your hands on one of these to enhance your gameplay further.